Organizing in a small apartment – 10 ways to neaten a studio space
Organizing a small apartment? Maximizing space without sacrificing on style is the goal – here's how to achieve it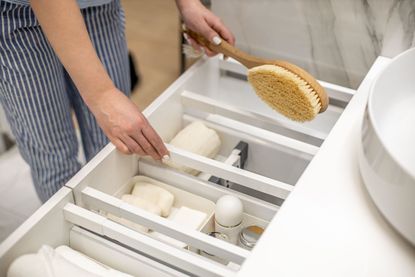 (Image credit: Alamy)
If you're organizing in a small apartment, you'll know that every inch counts. Without the luxury of plentiful space, finding space for everything (and keeping it neat, orderly and looking good) may feel like an impossible task. But it can be done. By getting a little creative with your organization and storage solutions, you can double your small apartment's square footage – or feel like you have at least.
Rule number one when organizing small spaces – ensure everything has a home. From cutlery to clothing, medicines to makeup, toys to toiletries, we mean everything. This is the case for home organizing ideas of any size, but particularly so when organizing small spaces or looking for apartment layout ideas for compact spaces. When space is at a premium, there's simply no room for clutter – literally.
From streamlined layouts and multi-purpose furniture to space-saving storage ideas, tips and tricks, we've collated the best advice from the experts to ensure you're organizing in a small apartment to best effect.
Organizing a small apartment
When organizing a small apartment, the key is to think like a minimalist. To achieve a tidy scheme – and maintain it going forwards – you'll need to be picky about what you bring into your home.
Before buying anything, try and separate what you want from what you need, and always have in mind where you think it'll go. Instilling the 'one-in-one-out rule' can be helpful; for every item brought in, get rid of something else you no longer need.
This, and great storage, is particularly important when considering small living room apartment ideas, since this is the room in which you'll spend the most time, as will your guests, so you'll want it to be neat.
1 Streamline your 'stuff'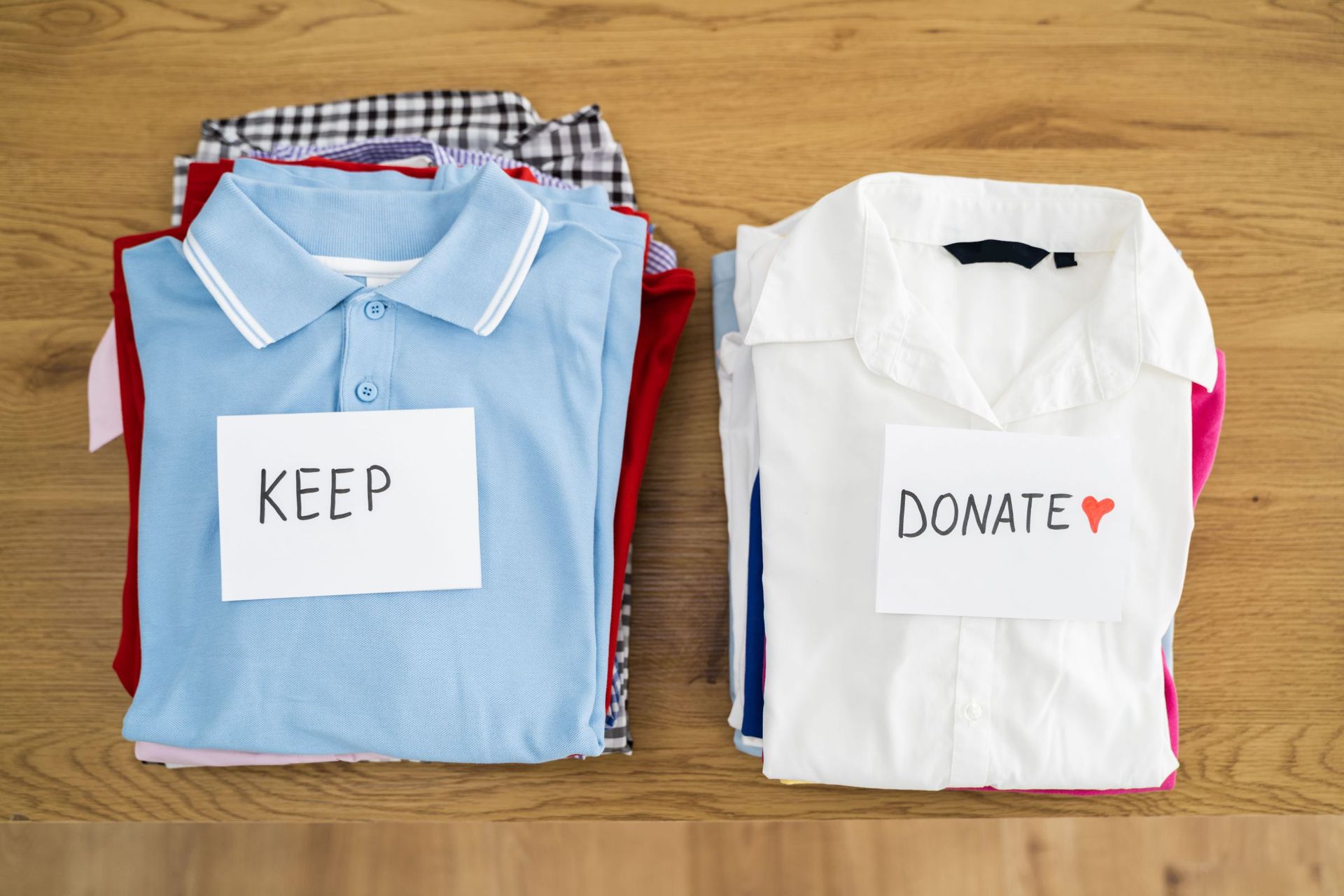 Whether you're moving into a small apartment or restoring order in your existing one, decluttering is the best place to start. Rather than paring back all your belongings at once, tackle it one room at a time – (you're living in an open-plan or studio apartment, do it by hypothetical 'rooms'). Start with the bigger items, then move on to organizing drawers and closet organization ideas.
If you haven't used something in a year, you don't use it. Either plan it into your routine or get rid', advises author and professional organizer Kathryn Lord of More to Organising. 'If you're struggling to let go of some things, pop them in a box and put them somewhere in your house. If you don't use it within the next three months, it's time to let go'.
For items that aren't broken or damaged, donating or selling is a sustainable choice, but depending on what it is, can be emotional. Chicago-based home organizer Jessica Litman of The Organized Mama recommends thinking about where you'd like them to go prior to sorting: 'this allows you to visualize others enjoying them, which makes it easier to part ways', she says.
2. Turn every inch into usable space
In a small apartment, you need to get a little creative when it comes to finding space for things. A blank wall or a tricky corner isn't to be overlooked; if you're clever about it, it can be utilized in all manner of helpful ways, even creating a whole new 'room' in some instances.
'Most small apartments won't have a home office, but you can easily create one by installing a desk that folds up to the wall. A rolling cart that holds all your office essentials can tuck underneath for easy access, then be stored elsewhere when you're done for the day', says Jacqueline McLeod, ADPO's Communications Director and founder of Bancrofts Organisation Services.
Other small home office ideas include shelving out alcoves or an unused fireplace, putting up bookshelves above a doorway or if you are organizing a small kitchen, mounting hooks under kitchen wall cabinets to hang cups or utensils.
3. Separate the space into zones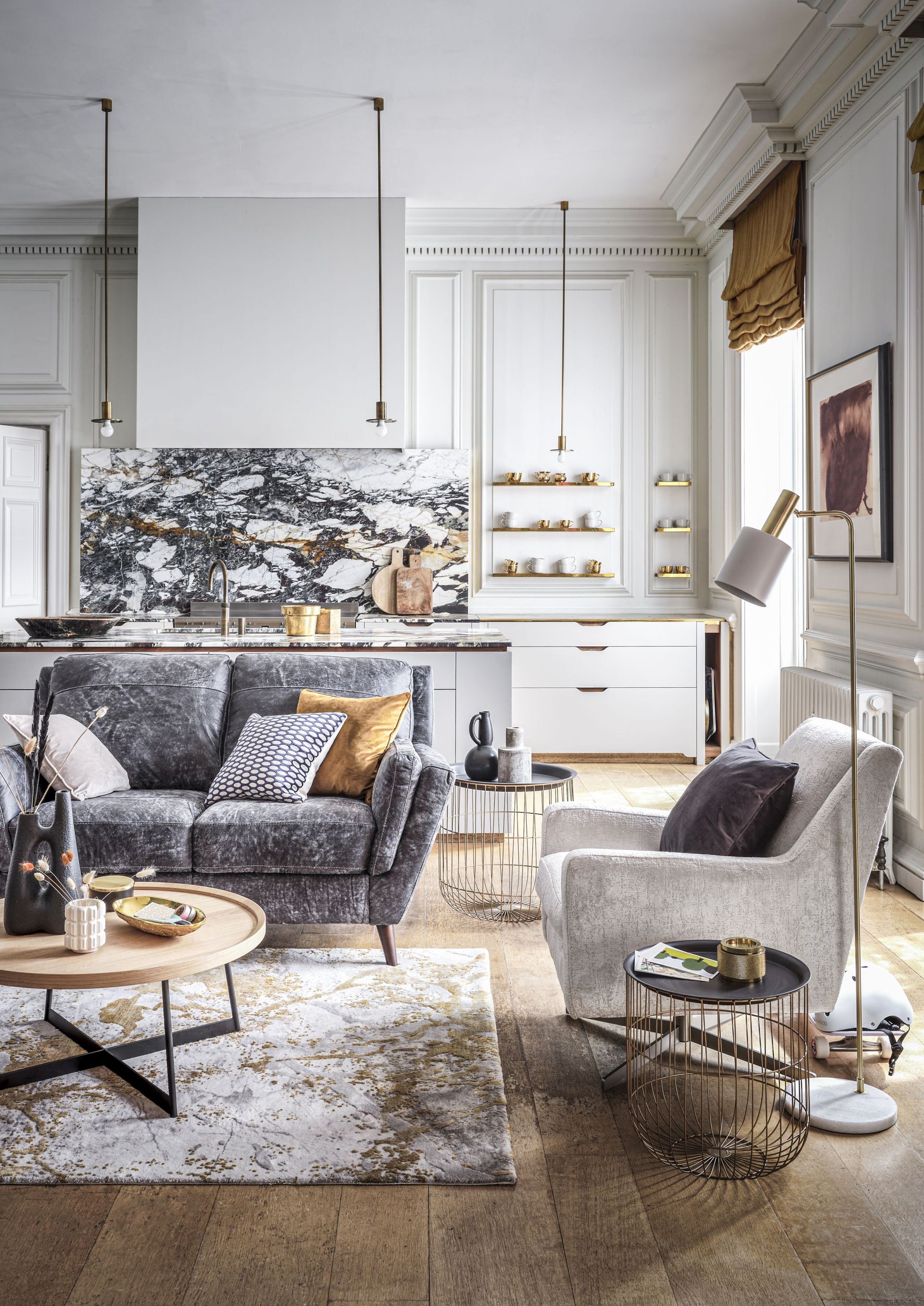 If your small apartment has an open-plan area, it's important to ensure separate zones are clearly defined. 'For smaller open plan spaces, clever zoning can make all the difference', says George Miller, home designer at Neptune. It can also make a small living room look bigger.
'Simple additions, like a rug and coffee table will help to define your seating area, even if it's a matter of steps from the dining table. Artwork can be used in a similar way, whether framing a workspace, reading nook or eating area', he says.
Furniture can also be used in a similar way. 'Cubby hole units are great for storage if you're clever with positioning and are also a handy zoning tool – one side can be defined as a 'bedroom', while the other side can be your 'home office', says Jacqueline McLeod.
If your cubbies are open ended, consider positioning half the baskets so they pull out into the 'bedroom', the other half into the 'home office', then fill with related items.
Successful small apartment layouts are even more essential if you're dealing with a studio apartment – it's impossible to relax in a cluttered space, so creating a bedroom 'zone' will make it easier to switch off, even if there is a dish or two left out on the kitchen counter.
4. Invest in dual-function furniture
Smaller apartments require a little bit of creative thinking when it comes to furniture choices. Aside from taking up valuable floor space, bulky furniture is a hotspot for hiding clutter you don't need.
'Think about investing in pieces that can be used for more than one purpose', advises professional organizer Brenda Scott of Tidy My Space. In the interests of reducing clutter, you'd ideally want one of those purposes to include storage of some kind. 'An ottoman can offer up a coffee table, an extra seat or hidden storage, for example', Brenda says.
You don't have to buy pieces specifically designed for multiple uses, in fact, you don't necessarily have to buy anything new at all. Think about ways you could adapt your existing furniture. A small bookcase as a nightstand or a storage trunk that doubles up as a seat in the hallway to take off your shoes, for example.
'If you are buying new furniture, look for pieces with legs; maximizing visible floor space opens a room up and gives the illusion of more space', recommends Irene Gunter, founder of Gunter & Co.
5. Double up on storage and décor
Whether on surfaces, open shelving or displayed on walls, meaningful, artistic arrangements can add aesthetic value to a small apartment while contributing towards space-saving organization at the same time.
'Styling can often be an undercover organizational tool for open storage', says Heather Hoerzen, design editor at Havenly. 'For example, creating a little vignette with a tray, diffuser and pretty faux plant not only sparks joy, but it can also serve as a reminder to put things back as you found them'.
If you do go down this route, bear in mind that keeping bookshelf ideas tidy will be an ongoing commitment. If left to look cluttered, it will make the space feel smaller. To achieve a pleasing aesthetic, a good rule of thumb is to stick to classic techniques for organizing a bookshelf: group items in odd numbers and allow for space around them.
It's also important that you're selective with what you put on display. Choose items that are as beautiful as they are functional. Stylish hats hung on hooks in the hallway make for a unique wall feature, while a carefully curated grouping of kitchen items (such as an elegant pestle and mortar, rustic wooden chopping board and neatly stacked dishes) can add personality to a kitchen countertop. Woven baskets, decorative boxes and sleek stacking containers are great for hiding away any unsightly essentials, and add to the overall aesthetic, too.
6. Enlist storage helpers
Whether you're organizing a medicine cabinet, dealing with awkward corners or kitting out a closet, integrating additional storage solutions inside cabinets, closets and drawers is a great way of utilizing space to its best potential in a small apartment. From baskets and bins to risers and carousels, there's all manner of options, whether you're looking for kitchen organizers or vanity organizers, for example.
'If you're organizing a small kitchen for example, use a sink caddy that attaches to the inside of the sink rather than in a container on the countertop. Make use of cabinet doors to hang dish towels, use under sink shelving and racks to store your spices', advises Jacqueline McLeod.
While bespoke solutions do work well, we'd recommend fewer permanent fixtures to ensure longevity – you never know when your needs might change. Be sure to take measurements before investing. You want as snug a fit as possible to make the most of the space.
7. Switch to a storage bed
Utilizing underbed storage ideas is always a good idea but pulling out storage boxes from underneath isn't always possible in a small apartment with limited floor space. Instead, Jacqueline McLeod recommends investing in an ottoman bed.
'Ottoman beds provide generous extra space, but don't feel like you have to fill it to the top – it's always a good idea to declutter before you get to that stage. Use it to store out-of-season clothes, bedding or shoes; items that you don't need access to every day', she says.
For bulkier items, consider vacuum packing them to save on space. Invest in quality bags and avoid overfilling them. Don't forget to label what's inside – items can look different when they're compacted right down.
8. Maximize closet space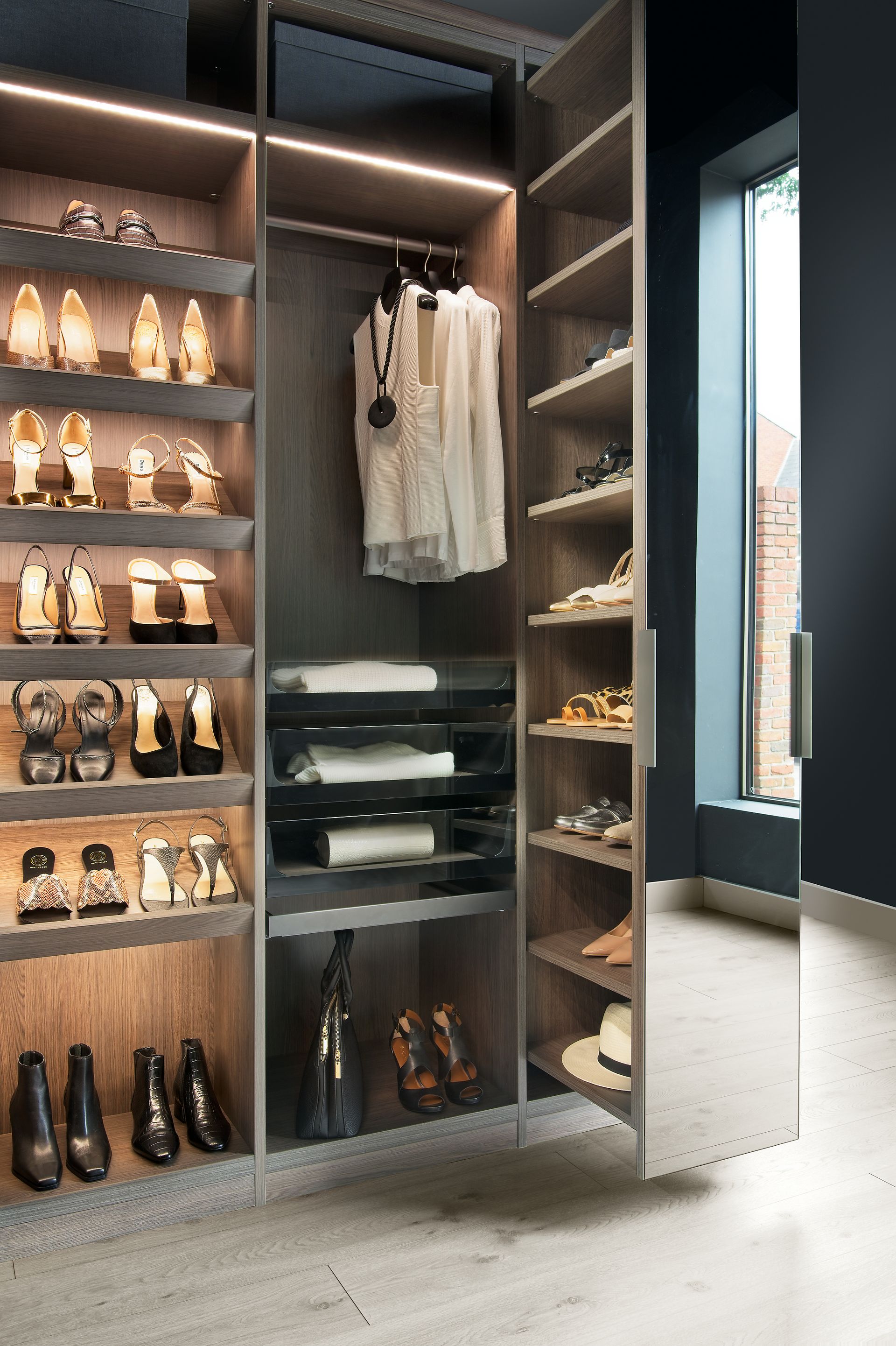 If you're organizing a small apartment, having the space to tidy away as much as possible out of sight is the key to clutter-free living – particularly important in a bedroom, where you go to relax. Sorting the closet is a great place to start. Think about what you want it to store and optimize the space by adapting your closet accordingly – if you need to fit in shoes and handbags, it's worth sacrificing a little space by including a hanging organizer, for example, or if you're using it for organizing makeup and organizing jewelry, leave a shelf free to create a hidden 'dressing table'.
'By zoning your hanging items, you can create extra space for baskets to sit underneath your shirts for example, which aren't going to hang as low as dresses and trousers', suggests Kyra Blades, home designer at Neptune.
Maximize shelving space with labeled bins and baskets, and file fold clothes where you can, so they're stacked vertically – this saves on space and makes them easier to find, particularly if you arrange them by category, too.
9. Go vertical
When you're constrained by dimensions, thinking vertically is a great way of claiming back space. Vertical surfaces – including those behind the backs of doors – offer plenty of storage potential, from shelving and hooks to cubby-style hanging organizers. What solutions you choose will depend on what room you're working with, and what you're organizing.
'Try and make use of floor to ceiling storage to get the most out of the space you have', advises Vicky Silverthorn of You Need a Vicky. Think about ways you could make it work harder, such as carving out a desk space in the middle of bookshelves for a home office, or a dressing table in a bedroom.
10. Do a daily declutter
As much as we all love a neat and tidy space, it's worth remembering you're only human – your small apartment is where life happens every day, so it's not going to stay pristine all the time. Little and often is enough to keep on top of things and avoid clutter building up again.
'We urge our clients to declutter at least once a day', says Kate Pawlowski, professional organizer and co-founder of Done & Done Home. 'Relocate anything that belongs elsewhere, put dirty dishes in the dishwasher and wipe down flat surfaces – this five-minute task sets you up for the following day'.
How do I organize my small apartment?
The best way to organize a small apartment is to implement simple, easy to follow organizational systems that make the most of the space available to you. This can be different for everyone, depending on household and lifestyle – the key is to make sure they're easy to follow. If it's too complicated, you're unlikely to stick to it.
To make the whole process feel more manageable, we recommend tackling your small apartment one room (or even one cabinet, drawer or zone) at a time. Organizing and decluttering go hand in hand, so assess each item carefully and think about when you last used it. Once you know what you've got to work with, you're well placed to work out what systems will suit you best.
How do you hide clutter in a small apartment?
While regular decluttering is the ultimate solution, there are easy ways of concealing items that you use everyday, but that you probably don't want out on show. We like the 'hide them in plain sight' mantra; investing in storage solutions that contribute to – or at least blend in with – the decor of your small apartment, whatever room you're organizing.
Stylish baskets and containers work well for corralling toys, shoes and smaller essentials, notepads, chargers, pens and the like, while dual-purpose furniture such as a storage bench or an ottoman bed offer generous storage space as well as other necessary functions.
Sign up to the Homes & Gardens newsletter
Decor Ideas. Project Inspiration. Expert Advice. Delivered to your inbox.
For 10 years, Tara King worked as a Content Editor in the magazine industry, before leaving to become freelance, covering interior design, wellbeing, craft and homemaking. As well as writing for Ideal Home, Style at Home, Country Homes & Interiors, Tara's keen eye for styling combined with a passion for creating a happy – and functional – family home has led to a series of organization and cleaning features for H&G.