Organizing a medicine cabinet – 10 ways to keep medical supplies safe
When it comes to organizing a medicine cabinet, prevention is better than cure… here's how to ensure you're prepared for any situation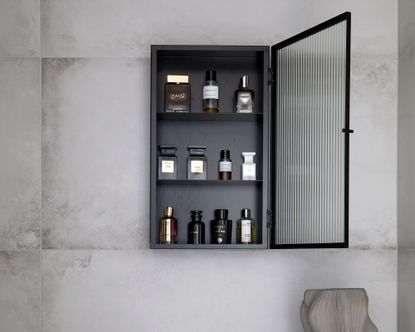 (Image credit: Future)
Whether you require everyday access to one or not, organizing a medicine cabinet is a task worth tackling. There's nothing worse than rummaging through your medicine cabinet in relief of an aching head or runny nose, only to find expired bottles of cough syrup and half empty packets of painkillers.
Luckily, implementing a few simple bathroom organization ideas and clever storage methods is all it takes to remedy the situation. Filling your medicine cabinet to bust with medicines and supplies might seem like a sensible precaution but taking a minimal and orderly approach is the best way to maximize its usefulness.
'A well-organized medicine cabinet can be a lifesaver in a medical emergency – quite literally. Most homes have at least a few basic items, such as bandages and pain relievers; taking the time to inventory your supplies and ensure they're properly labelled and stored can make all the difference', says Oberon Copeland, CEO and founder of Very Informed.
Whether you're organizing a medicine cabinet large or small, these expert tactics will ensure yours gets the best treatment possible.
Organizing a medicine cabinet
Before you start organizing a medicine cabinet, first consider where you're storing your medicines. It's essential that all items be kept well away from small children and pets. If you're storing items in a medicine cabinet, consider mounting it up high or positioning it inside a locked drawer or cupboard. Any low-down storage, such as organizing under a bathroom sink for example, will need a child-proof lock attached straight away. You may also want to consider organizing a bathroom countertop to ensure any harmful medicines are kept out of reach.
Although an organized bathroom cabinet is often the primary choice for storing medicines, it doesn't always offer the best conditions. The bathroom can get very hot and humid from showers, which can alter the chemistry of your medication, making it less effective and potentially harmful to take.
'As a general rule, the perfect place to store medicines is somewhere cool and dry, so keep them away from water and hot appliances and check the information supplied for any specific storage instructions', adds Jennifer Rodriguez, Chief Hygiene Officer at PRO Housekeepers.
1. Streamline your supplies
Before organizing bathroom shelves for your medicine cabinet, treat it to a declutter. Start by setting aside any unneeded or unused medications, as well as anything past its expiration date. Going forwards, mark prescriptions and over-the-counter medications with the date of purchase and throw them out after a year.
'Taking an expired medicine isn't necessarily dangerous, but it's likely that it won't be as effective', says Teri Dreher, president of Nshore Patient Advocates. 'An important part of medicine cabinet maintenance is disposing of drugs and medical paraphernalia safely and responsibly. Many pharmacies offer year-round 'take-back' services, details of which can be found on the DEA website'.
2. Sort medicines into categories
Organizing a bathroom closet and grouping your medicines and first aid supplies by category will mean you can find what you need in a hurry. There are several ways you could group them, so think about what makes the most sense to you and your family. Categorizing by ailment works for some people but can result in cross over. To avoid confusion, we'd recommend organizing by type: pain killers, vitamins, allergy medicines, children's medication, first aid supplies and so on.
3. Remove bulky packaging
When it comes to organizing a small bathroom or organizing a bathroom vanity, you will need to consider the storage of bulky items. Removing excess packaging can be a useful space-saver, providing the items are easily identifiable (be sure not to remove any packaging that is in place for sterile purposes; plastic wrappers on bandages, for example).
'Do not remove items from boxes that you cannot easily identify. For example, one white tablet looks the same as any other, so keep these in their original packaging', advises professional organizer Dee Middleton.
4. Choose clear containers – and label them
Efficient labelling is an essential part of any organization method, but particularly so when it comes to medication. Group like-items in clear containers (to keep the medication labels and other supplies in clear view) and label the sides; erasable labels are handy for updating dates, ailments, etc.
'If you take multiple prescription medications, consider writing the purpose/ailment for each medicine directly onto the label to help you remember what each medicine is for. This can be particularly useful for those that you don't use that often, and for when you need to request refills', says Dee Middleton.
5. Consider easy access
For extra efficiency, create a smaller group of regularly used medications and storing them in prime position, towards the front of the cabinet. Place them in baskets to keep them clearly separate from the rest of your general medicine collection.
When it comes to positioning other, lesser-used items within the cabinet, think about what you use most and prioritize access to them. It sounds simple, but this can make a huge difference, both functionally and aesthetically – less rummaging around usually results in a neater, tidier space overall.
Jennifer Rodriguez also recommends taking the time of year into account: 'you could give allergy medicines prime position at the front of the cabinet for spring, then swap them for cold and flu medicines when winter rolls around'.
If space in the bathroom is limited, you may also consider an organized linen closet as an alternative place for medicine storage. Organizing under a bathroom sink is another solution worth considering.
6. Invest in a pill organizer
If you take medication daily, consider investing in the best vanity organizers and pill organizer with separate sections for days of the week; Small and compact, they'll free up space by reducing the number of bottles on the shelf and serve as a useful reminder of whether you've taken what you need on any given day. They're handy for traveling, too. Organize in advance, then relocate the overflow supplies elsewhere to free up shelf space for other items.
7. Create separate areas for family members
'If more than one person is storing medication in the cabinet, consider assigning them their own shelf or colored storage container. 'This will eliminate the chance of grabbing the wrong item and reduce time wasted rummaging through bottles and tubes trying to find the right one. Each shelf could then be further organized by grouping items that are frequently used together', says professional organizer Brenda Scott of Tidy My Space.
8. Maximize storage space – and efficiency
To organize medication efficiently in a cabinet large or small, you'll want to ensure everything is as visible and accessible as possible.
Clear, stackable containers are great space-savers, plus have the added benefit of pulling right out so you have a proper rifle through. If you have the space, home organizer Emma George of Declutter with Emma recommends positioning a lazy Susan inside your cabinet; 'they keep bottled medicines in place and rotate so you can easily access what you need without having to rummage around and knock things over', she says. Remember to position items with the labels facing outwards.
9. Use the door
If you're still struggling for space, think vertically instead. 'A rack system on the door is a great place for storing taller bottles or awkward shaped packets that won't fit on shelves', says Brenda Scott. 'It's also a great place for pinning up doctor's info, emergency contact numbers and medicine schedules, if you require one'.
Consider hanging a chalk or dry erase board on the inside of the door. Write up reminders of when what medication to take (and when to take it) or use it to keep a running shopping list of items in need of replenishment.
10. Stay on top of organization
Investing in storage containers aplenty isn't enough – if you're not consistently sorting through them, clutter will build and you're right back at square one. Be sure to schedule regular clear outs to ensure you're not hanging on to items you don't need; we'd recommend once a year.
As tempting as it is to stock up on medicines 'just in case', it's a good idea to only buy what you need. Having too many means more packets to rifle through, plus they often get forgotten and not used in time, resulting in unnecessary clutter and waste.
How do I organize my bathroom medicine cabinet?
To organize your bathroom medicine cabinet efficiently, start by paring the contents down to medical supplies only – anything else should be found at home elsewhere if possible. Discard anything you don't use or that's past its expiration, then replenish items you need, including general pain relief and first aid supplies as well as prescription medications.
Once you know exactly what needs to be stored in your medicine cabinet, look for clear containers and organizers that will utilize the space to best effect. Don't forget the back of the door; hang a rack or pin up a medication schedule if you need one. Remove any unnecessary packaging and use pill organizers to save on space.
Group like-items together and position those you need access to most frequently in prime position. Consider creating separate areas for family members to avoid any confusion. Keep on top of organization by scheduling a routine clear-out, at least once a year.
What should be stored in a medicine cabinet?
Ideally, a medicine cabinet should be reserved for just that – medicine. Make a list of products needed to stock it, including prescription medication as well as more general pain relief and first aid supplies, so you're prepared for any eventuality.
If you're organizing a small bathroom, chances are your medicine cabinet plays host to other bathroom essentials, too – shampoo, shaving cream, make-up, toothpaste to name just a few. Ideally, these are better stored elsewhere, but if that's not possible, consider assigning them their own storage container or shelf within the cabinet to keep them separate.
Sign up to the Homes & Gardens newsletter
Decor Ideas. Project Inspiration. Expert Advice. Delivered to your inbox.
For 10 years, Tara King worked as a Content Editor in the magazine industry, before leaving to become freelance, covering interior design, wellbeing, craft and homemaking. As well as writing for Ideal Home, Style at Home, Country Homes & Interiors, Tara's keen eye for styling combined with a passion for creating a happy – and functional – family home has led to a series of organization and cleaning features for H&G.