Organizing under a bathroom sink – 10 ways to keep your space ordered
Enlist our top tips for organizing under a bathroom sink to keep essentials orderly and easy to find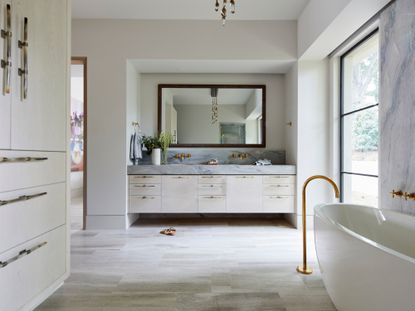 (Image credit: Adam Murphy)
Organizing under a bathroom sink offers up great storage for all manner of essentials, from cosmetics and toiletries to medicines and cleaning products. While this is great, it does mean it can easily descend into a dumping ground if not organized properly.
When organizing a bathroom, particularly one with limited bathroom storage space, it can be tempting to pack under-sink space full. However, with so many different items to house, taking a minimal and orderly approach is the best way to maximize its usefulness.
With that in mind, multipurpose bathroom storage ideas are a must, along with a methodical organizational system. Whether yours has cabinets, open shelving or pipes to work around, these expert tactics will ensure everything has its place – and stays neat and tidy within it, too.
How to organize under a bathroom sink
Whether you are organizing a bathroom vanity or organizing bathroom shelves that just happen to be under a sink, knowing how to tackle the space cleverly can make a huge difference to your daily routine, assuming it's done properly. We've spoken to the experts and gathered some of the easiest ways to organize under a bathroom sink, from storage to decluttering tips, to help you keep staples well ordered, whatever they may be.
1. Clear clutter and clean
Often a catch-all when it comes to bathrooms, under-sink space can quickly descend into chaos, so a good declutter is often necessary before you put any organization system into place.
One of the best tips is to get everything out first. It's much easier to work out what you want to keep/what you have too much of when it's all laid out in front of you. Start by getting rid of anything that isn't bathroom-related, then move onto duplicates.
Don't forget to check use-by dates – skincare, makeup, medicines and cleaning products all have these, so go through them all one by one and discard anything that's past its best. Alternatively, there are charities that can make use of old or used items, such as Wands for Wildlife, which uses discarded mascara wands to clean the fur and feathers of wild animals at rehabilitation facilities.
If you've got beauty and skincare products within date but that you no longer want, don't just throw them away. 'If the product is unused, consider donating it to a local charity or shelter,' suggests professional organizer Lauren Saltman of Living Simplified.
While the cabinet is empty, give it a quick clean – it's not often it's completely clear, so make the most of it.
2. Group like items together
Once you've established what you'd like to store under the bathroom sink, start grouping like-items together – this works well when organizing a bathroom cabinet, too.
'Use categories such as makeup items, nail care items, hair care items and so on. Alternatively, divide items into those you use every day, lesser-used items and top ups (extra things like shampoo and loo roll). This will make your daily routine that much simpler and faster', says Ann Marie Cousins, founder of AMC Design.
Kathryn Lord, home organizer at More to Organising emphasizes that 'with children around you should not put anything dangerous under the bathroom sink. If you do, put a child lock on it,' she says.
3. Consider containers
Next, start thinking about the best way to contain your items. Experts recommend using plastic vanity organizers (ideally transparent ones so you can easily locate what you need) for organizing under a bathroom sink.
'These won't be damaged by water, so they are ideal for bathroom use,' says Gary Lyons, managing director at Plastic Box Shop. 'If you have any products that need to be kept in an air-tight environment to stay fresh, such as fresh face masks or medicines, make sure to place them in boxes with lids for additional protection from moisture.'
For cleaning products, use a handled caddy so you can transport them easily around the room, and put them back again afterwards.
4. Prioritize access to often-used items
Now you've established your categories and contained them, you're in a good position to assess which items you use most and prioritize access accordingly. This will not only make your life easier but also keep your under-sink space tidier in general – less rummaging around to find what you need. How you do this will depend on the space you're working with. As a general rule, founder and director of Juliettes Interiors, Juliette Thomas recommends:
'Have separate sections for different uses, such as moisturizers, bath products, cleaning products, make up etc. Keep the top shelves or drawers for the items used the most and lower storage for items not so often used.'
Professional organizer Stephanie Linn of Find Your Tidy adds: 'If you're storing extra supplies, position the most recent purchases at the back and bring the previously purchased items forward. This helps track your inventory so you don't buy extras, and you won't lose skincare and haircare products that could expire.'
5. Work around the plumbing
Finding effective storage that fits around pipes and plumbing can be tricky when organizing under a bathroom sink, but there are ways to customize storage systems, so they work for you.
According to Paige Anderson, interior design architect at Nitido Design, modular or stackable storage systems are your best bet. 'These help you make the most of vertical space in your cabinet while also preventing objects from getting lost in the back,' she says.
Before you invest in any sort of storage system, Paige recommends taking accurate measurements of your cabinet door opening. 'Most bathroom cabinets are 20in deep, so check if your organizers are designed for this depth.'
Katie Thomas, founder of interior design company KTM Design, also suggests using tension rods as a clever hack for storing cleaning products. 'They can be used across the cabinet which will then allow you to hook spray bottles onto the rod. This allows for extra room underneath for any boxes, maximizing the space available.'
6. Don't forget the door
In the same way as you would when organizing a bathroom closet or indeed organizing a linen closet, maximize space by making use of the inside of the door. A simple rail or hook is ideal for hanging washcloths and hand towels, while a rack offers extra surface space for everyday items that you need easy access to, such as toiletries or makeup.
'To save rooting for hair clips, nail cutters and similar items, you could purchase a magnetic strip to stick on the inside of a cupboard door so that all those essential health and beauty tools are easy to find', advises Richard Roberts, director at Sanctuary Bathrooms.
7. Factor in aesthetics
If you're working with open shelving under your sink, you'll need to factor in aesthetics as well as functionality to avoid your bathroom feeling – and looking – cluttered in the same you do when you're organizing a bathroom countertop. Think of ways you can combine storage and style; stacks of washcloths or towels and groups of good-looking toiletries, for example.
For smaller items such as cotton balls, soaps, bath bombs etc, 'remove packaging where you can and decant into jars or clear containers with their own labels – it looks beautiful, will help keep the space orderly and is incredibly satisfying,' advises Trinity Owhe, design expert at Victorian Plumbing.
8. Add another level of storage
One of the main challenges when organizing under a bathroom sink is that the space is often open, with limited or no shelving. While fitting bespoke shelving is an option (particularly if you're working around pipes), shelf risers offer a less costly alternative and make good use of vertical space. Position them to the back of the cabinet with products lined up on top, then use the cubby hole underneath to store duplicates or less-used items.
9. Make a lazy Susan work hard
Despite what the name may have you believe, a lazy Susan is one of the most hardworking organizational tools you can employ in your home, particularly when you're dealing with awkward spaces or tight shelving – often the case when organizing under a bathroom sink. Alexandra, co-founder and interior designer at Clairrow, recommends using one for storing cleaning products.
'It rotates, so you can quickly access what you need, even if it's stored in the back of the cabinet, she says. 'Consider adding a wire basket or simple command hooks to the back of the cabinet doors for extra storage options, too.'
10. Keep an eye on shelf life
It's not just medicines that have expiration dates; you'll know if you've been organizing makeup, toiletries or cleaning products, that they do, too. Whatever you're storing, be sure to schedule in a regular clear out to ensure you're not hanging on to items you don't need.
'Routinely assess your products and get rid of anything you don't use to keep clutter under control and avoid bacteria build-up or product expiration,' advises Catherine, co-founder and interior designer at Clairrow.
It's also a good idea (and a sustainable one) to only buy what you need going forwards. While it's tempting to hoard extra supplies, having too many means they often get forgotten and not used in time, resulting in unnecessary clutter and waste. It's also a sound strategy if you're organizing a small bathroom when space is very precious.
How do you organize the space under a sink?
Start by decluttering. This will free up room and give you an idea of what you want to store. Next, start grouping like-items into containers – clear plastic ones are a good option as they're easy to clean, plus you can easily locate what you need, too. Consider other organizational helpers, such as a portable cleaning caddy, a spin board or lazy Susan, shelf risers, pull out systems etc. Be sure to measure up before you buy anything.
When deciding what goes where, think about how often you use items. For example, store everyday makeup, skincare, and regularly used cleaning products in prime position, while lesser-used items such as extra supplies and specialist cleaning products can go towards the back. Don't forget to factor in height – store taller items at the back, as well as stacks of toilet roll, to avoid knocking anything over when you reach in.
How do I add storage to organize under my bathroom sink?
If you only have one big space under your sink, it's a good idea to add extra shelving or integrate a slide out system. This creates more surface space, which in turn offers up more storage potential. For a less costly alternative, consider positioning shelf risers along the back of the cabinet. Store items you're using along the top, and extra supplies in the cubby holes underneath.
Modular storage is a great option for under-sink space, as you can adapt it to fit around pipework, while stackable storage makes great use of vertical space.
Consider installing a rack on the back of the cabinet door; it's got the benefit of quick and easy access, so fill it with everyday essentials. If you don't fancy drilling, there's plenty of over-the-door storage systems available to buy, some with multiple shelving. Hooks and rails are also handy for hanging hand towels and washcloths.
Sign up to the Homes & Gardens newsletter
Decor Ideas. Project Inspiration. Expert Advice. Delivered to your inbox.
For 10 years, Tara King worked as a Content Editor in the magazine industry, before leaving to become freelance, covering interior design, wellbeing, craft and homemaking. As well as writing for Ideal Home, Style at Home, Country Homes & Interiors, Tara's keen eye for styling combined with a passion for creating a happy – and functional – family home has led to a series of organization and cleaning features for H&G.