Organizing a bathroom cabinet – 10 ways to bring order to storage
These approaches to organizing a bathroom cabinet will make essential supplies neat, tidy and easy to find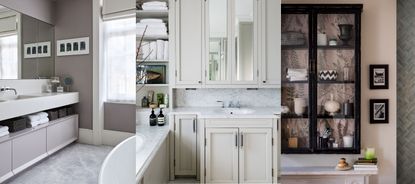 (Image credit: Future)
Successfully organizing a bathroom cabinet is an important factor in creating a room that is uncluttered and orderly.
We ask that our bathrooms be tranquil and a lack of well organized storage will always preclude that. But it's also vital that we can make use of every bathroom in a home in an efficient manner because these are functional spaces often used in a hurry, and it's for that reason as well that organizing a bathroom successfully is vital.
With these smart bathroom ideas for organization, you can keep your space looking stylish and store the essential items, too.
Organizing a bathroom cabinet
A neat and tidy bathroom cabinet is an essential factor for a stylish and easy to use bathroom, and below we're sharing the techniques to achieve it.
What is kept inside this piece of furniture will naturally vary according to individual circumstances and the other storage furniture fitted in the room. However, whatever its contents, there are strategies for organizing a bathroom cabinet that will keep items accessible and safe.
1. Decide on the contents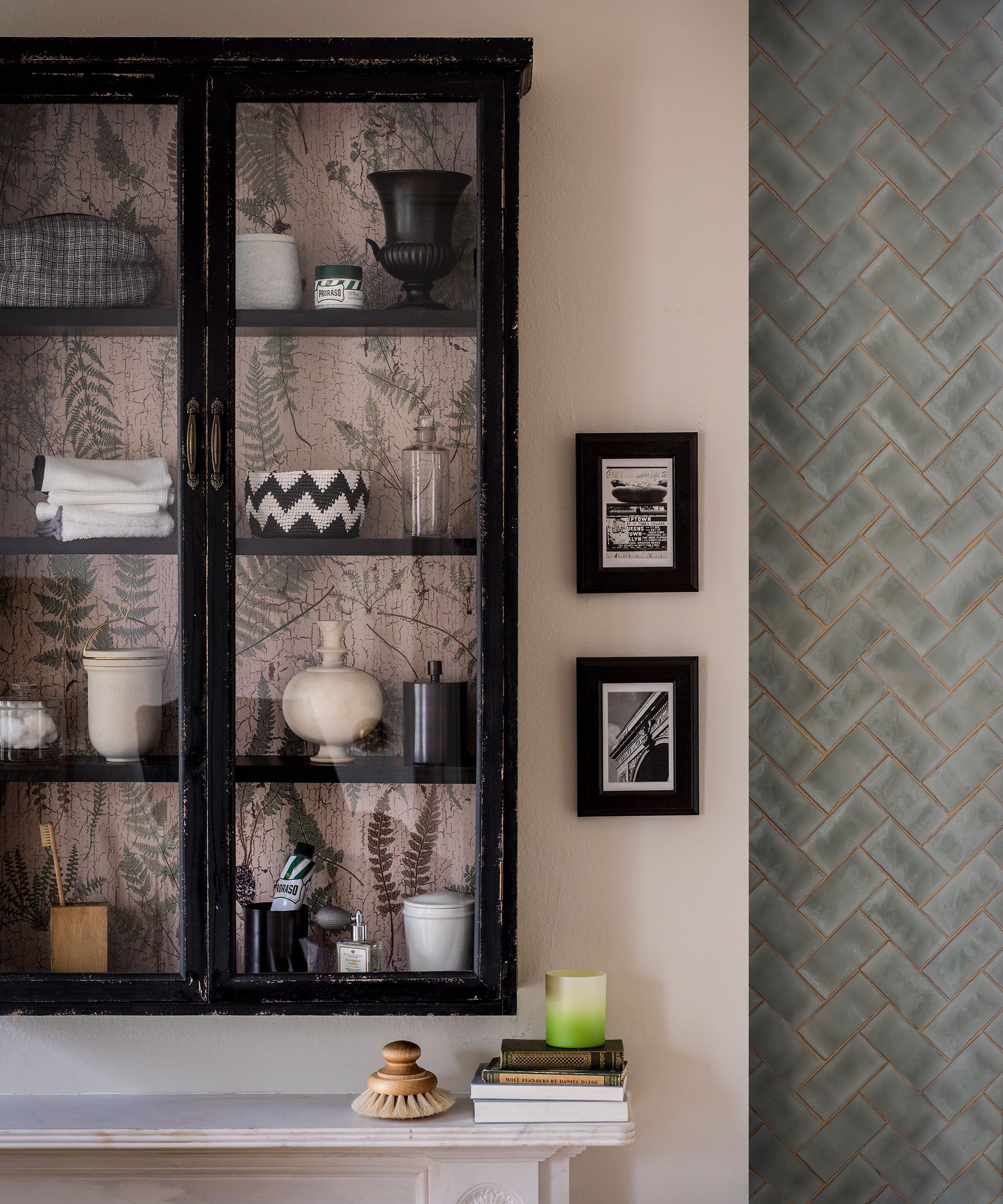 Before you start organizing a bathroom cabinet, assess exactly what should be kept there.
'A bathroom cabinet should just be for your essentials, the things you need every day,' says Dan Cook, HiB product manager. 'So, when organizing your bathroom cabinet, remove anything you've not used in over a year and try to reduce the number of items to those that you use every day.
'Some bathroom cabinets feature mirrored back panels, which can look stunning when enjoyed as part of an organized cabinet but can multiply the amount of items stored within through the reflective surface, making it feel cluttered and untidy.'
2. Zone a bathroom cabinet
Whatever the size of the bathroom cabinet, think about the space inside in individual zones in the same way you do when organizing a bathroom vanity.
'Organizing a bathroom cabinet by sorting the products for where you need them on your body makes it easier to find things,' says Kathryn Lord of More To Organising. 'I always advise that medicines and nail scissors be kept up high.'
Note that although the bathroom cabinet is the location many people choose for storing medicines, it is not always the best place for them. Some deteriorate in hot and humid conditions. Depending on how the bathroom is used, this may not be an issue, but always take it into consideration and check the information supplied with individual medicines.
3. Observe good hygiene practices
Prioritize bathroom cabinet space for those bathroom storage ideas and essentials that need to be kept behind closed doors. Airborne particles can contaminate toothbrushes, for example, so these should be among the items kept there or, as an alternative, stashed as part of organizing under a bathroom sink.
'Bathroom cabinets can sometimes feature useful technologies such as electric toothbrush chargers, toothbrush head storage and shaving sockets, making them the ideal space to store these and keep them fully charged,' says Dan Cook. 'It also helps to keep these items protected and hygienic.'
4. Organize to maximize space
Consider how interior space could be best used when organizing a bathroom cabinet.
'Although it's tempting to go by the old adage "out of sight, out of mind", this should not be the case for your bathroom cabinets,' says Steven Jaques, national development manager for Pelipal at InHouse Inspired Room Design. 'Ensure as much of your cabinet storage and small bathroom storage space is as usable as possible.
'Hanging attachments utilize the vertical space on the back of the door, and labeled boxes keep your bathroom products organized. Shallow drawers and good bathroom vanity ideas keep makeup brushes readily available and easy to find. Also, take advantage of the available technology – whether this is a built-in tissue or soap dispenser.'
5. Focus on style and function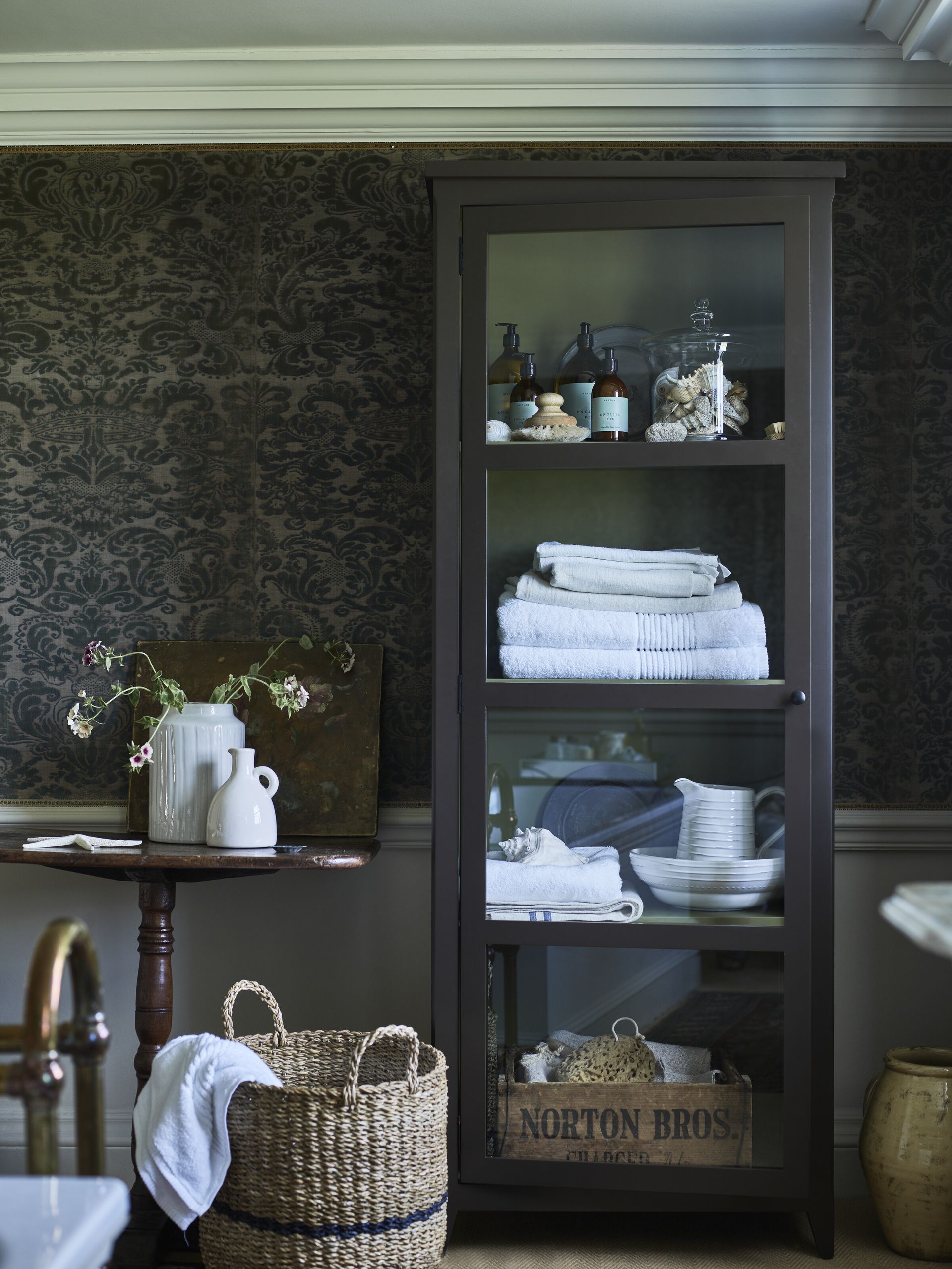 If you've opted for a glass-fronted or other version of a bathroom cabinet that allows a view inside, remember that the storage containers will be on show so should be attractive as well as functional.
And whether the cabinet is wall hung or floorstanding, it's imperative that the contents are not overcrowded in this scenario. Follow the same rules you would in organizing bathroom shelves and ensure individual bathroom shelf ideas aren't filled completely from side to side nor top to bottom. This will also make items easier to remove.
6. Make regular checks
Bear in mind that organizing a bathroom cabinet is not a one-time job. If you are keeping medicines in there, avoid stashing those that can no longer be used. 'Going through your medicines to check the dates is essential,' says Kathryn Lord.
Cosmetics and hair and body products can also expire before you've used them up. Follow the guidelines of Jacqueline McLeod, APDO's communications director and founder of Bancrofts Organisation Services, who says, 'Eye shadow can last up to a year, lipstick up to two years, nail polish a year, mascara three to four months and concealer and foundation up to a year, body cream up to two years, perfume one to two years, and make sure you get rid of your makeup sponges after four to six weeks.'
7. Keep towels tidy
If you're looking for storage options to complement your small bathroom ideas, then bathroom cabinets are a strong option.
You may want to keep washcloths inside bathroom cabinets, and hand towels inside larger versions. Consider rolling washcloths to ensure they don't take up too much space inside the cabinet and it's easy for each family member to access a fresh one.
Larger towels are best folded, and stacked in piles with those of the same size so that it's easy to identify one of the desired size.
8. Ban bulk supplies and more
There are some essentials worth banning when organizing a bathroom cabinet, or organizing a bathroom countertop. Our advice is to keep cleaning products elsewhere as a general rule, or certainly in a dedicated piece of storage furniture. If you have young kids in the house, this should be out of their reach.
Keep bulk supplies of toilet paper out of the bathroom cabinet, too, as these will hog the space that should be given to other necessities.
And while it's worth keeping washcloths and smaller towels in a bathroom cabinet of adequate proportions, only the largest of rooms can accommodate all your bath linens – organize a bathroom closet to make access to these easy instead, or make space for them away from the bathroom by organizing a linen closet to fit them.
9. Think of the view
Opening a bathroom cabinet should provide a pleasing view – it's part of what makes the room a sanctuary and a space in which to calmly prepare for the day or unwind at its end. With this in mind, think aesthetics when organizing.
Perfumes and lotions can be lovely enough in their own right, but anything that's plain or downright unattractive should be decanted.
10. Make access easy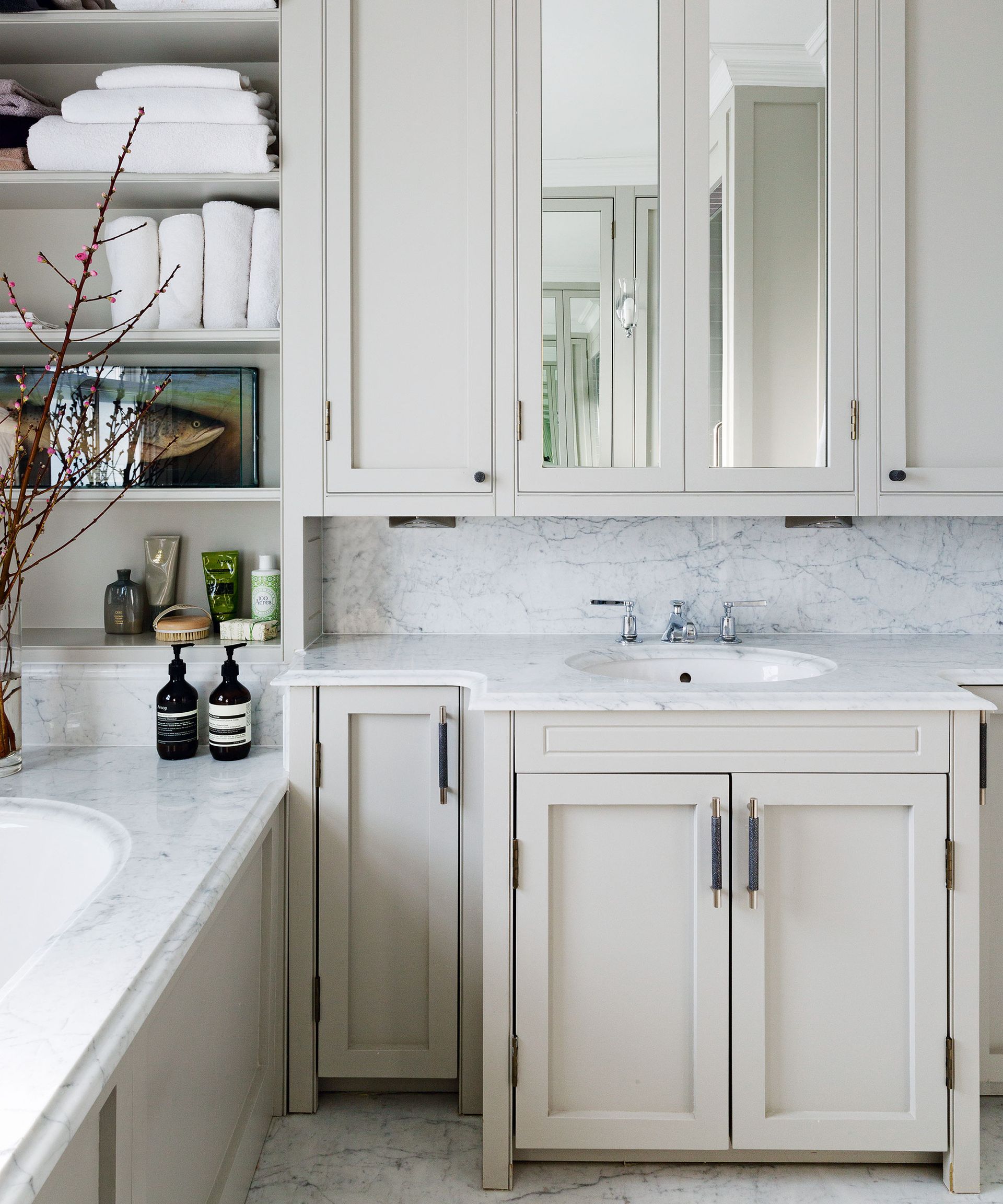 Smaller items can get lost within bathroom cabinets, and some are better organized on to small trays on the shelves to corral them and allow them to be slid out easily. Another neat way of organizing small supplies is in vanity organizers such as pretty containers, either store-bought or repurposed. As for daily necessities such as cotton wool balls, consider using clear glass containers, so you know when you're running low.
However if you are organizing a medicine cabinet, access needs to be restricted, either by ensuring it is high up on the wall and well out of reach of young children, or lockable.
How do you use deep bathroom cabinets?
Deep bathroom cabinets are ideal for items such as towels, larger products that you might then decant into smaller storage containers, and tissues. But they can stay organized when filled with smaller items as well. The key for these, however, is to group them in containers such as baskets and boxes so they don't get lost at the back, and can be slid out when needed.
What goes in a bathroom cabinet?
The items you need close at hand should go into a bathroom cabinet whether you're organizing a small bathroom or a larger room. This might include toothbrushes and toothpaste, mouth wash, soap, face and eye cream, body lotion, cosmetics, makeup brushes, cotton wool, nail scissors, shaving equipment and so on in a small cabinet.
Scale up to a larger version and there could be space for washcloths and towels, supplies of bathroom essentials, and toilet paper.
Sign up to the Homes & Gardens newsletter
Decor Ideas. Project Inspiration. Expert Advice. Delivered to your inbox.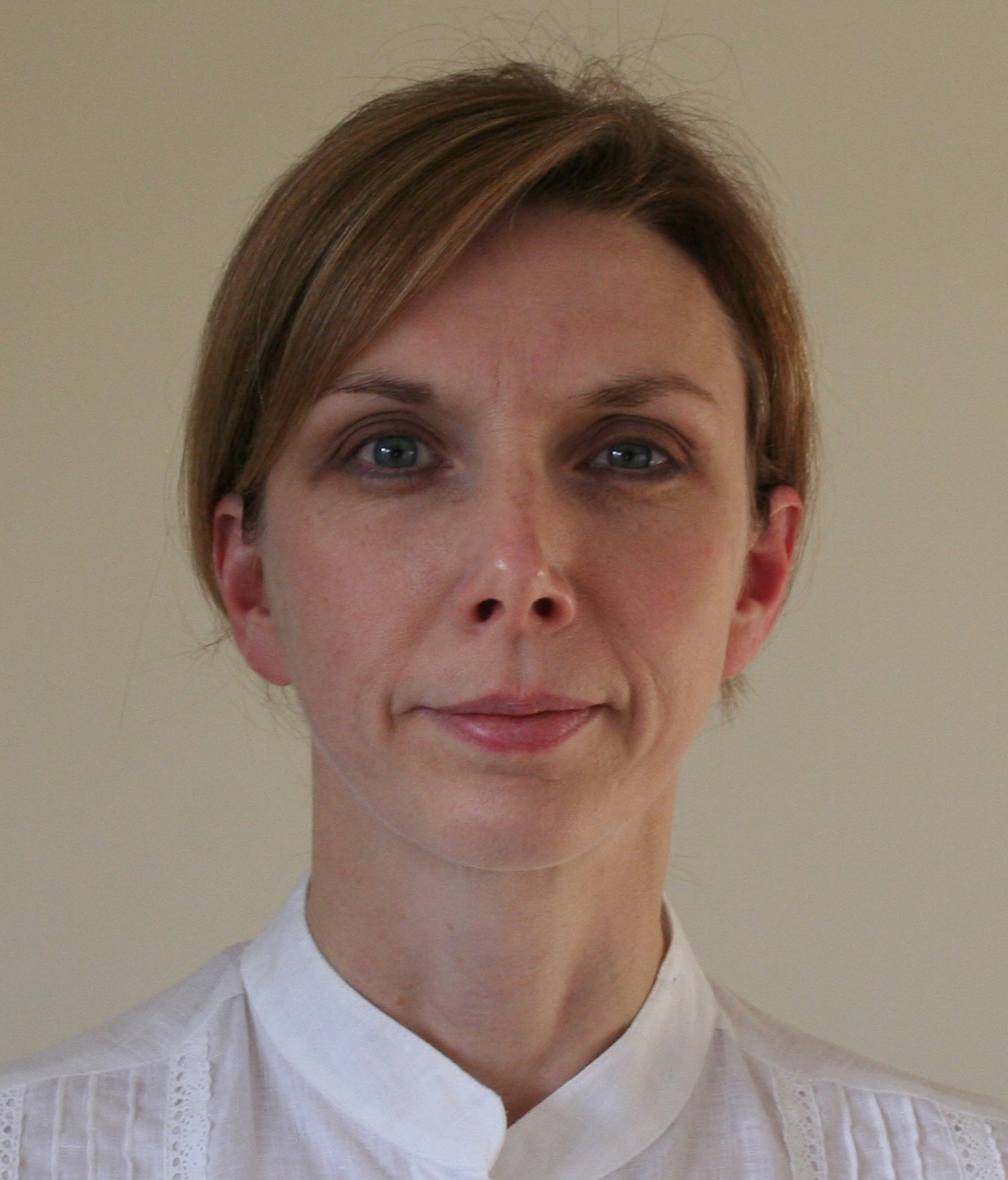 Sarah is a freelance journalist and editor. Previously executive editor of Ideal Home, she's specialized in interiors, property and gardens for over 20 years, and covers interior design, house design, gardens, and cleaning and organizing a home for H&G. She's written for websites, including Houzz, Channel 4's flagship website, 4Homes, and Future's T3; national newspapers, including The Guardian; and magazines including Future's Country Homes & Interiors, Homebuilding & Renovating, Period Living, and Style at Home, as well as House Beautiful, Good Homes, Grand Designs, Homes & Antiques, LandLove and The English Home among others. It's no big surprise that she likes to put what she writes about into practice, and is a serial house renovator.