Vanity organizers – 10 elegant options for a well-kept dressing room
These vanity organizers are the missing piece to your process of getting dressed up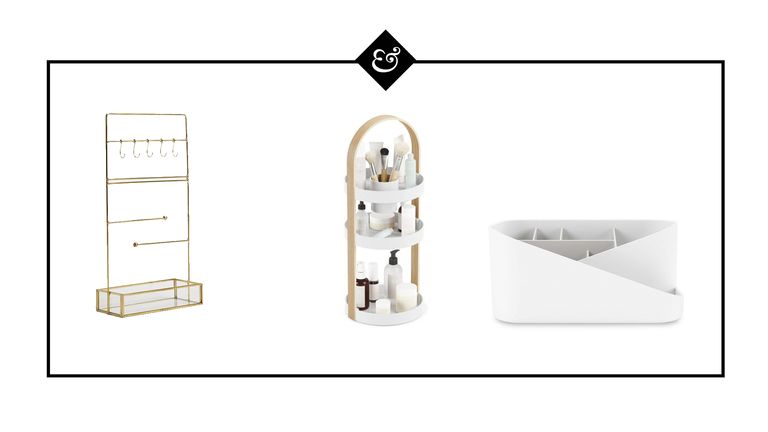 (Image credit: Future)
Vanity organizers can make storing makeup, skincare products and perfumes on your vanity a neat, elegant and stress-free affair.
There are plenty of different ways to organize a bathroom vanity and integrate storage into your bathroom vanity ideas – from rotating tabletop stands to hidden shelves within a mirror. If you like to display your lipstick collection or keep your moisturizer where you can see it, then opt for an acrylic unit. Or, if you prefer to keep things out of sight and out of mind, then there are luxurious storage boxes that will suit your carefully articulated decor perfectly.
So, whether you are designing a bathroom vanity or just looking for neat ways to organize a bathroom countertop, these vanity organizers are for you.
---
10 vanity organizers to ensure a polished look
1. This tabletop vanity with storage has ample room for your cosmetics
2. A vanity storage mirror is an ultra-subtle way to keep your make-up close to hand
3. Use this vanity makeup organizer to display your favorite lipsticks
4. Categorize your makeup with help from these vanity organizer drawers
5. This vanity with storage drawers is your one-stop to organization heaven
6. This stand is perfect for jewelry and trinkets on top of your vanity
7. This vanity organizer box is perfect for smaller essentials
8. A vanity organizer tray for jewelry and more
9. Fit everything into this sleek, minimalist vanity counter organizer
10. A vanity storage solution that's complete with a shelf
---
Browse more vanity organizers...
Everyone will have a different vision in mind when it comes to vanity storage, especially when it comes to meshing your cosmetics storage with the rest of your room's design. Browse more vanity organizers, from our favorite retailers.
Molly is the Ecommerce Writer for Homes & Gardens and spends her time searching the internet for the next best thing for your home, with a focus on shopping edits and buying guides. Before joining Homes & Gardens, Molly graduated from the University of Exeter with a degree in English Literature, with previous internships undertaken at The Economist in her summer breaks.