Organizing a linen closet – 15 tricks to try this weekend
It's really worthwhile organizing a linen closet – do it properly and you'll never hunt for bedlinen or towels again on wash day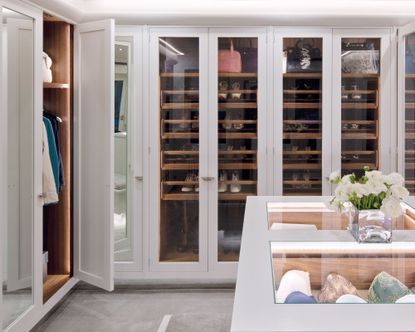 (Image credit: Smallbone)
Organize a linen closet properly and you'll wonder why you never found the time to do so before. After all, there's nothing more frustrating than trying to find all the elements of that matching bedlinen set or that missing guest towel when you could be doing something so much more fulfilling.
If you're lucky, your linen closet might well be a roomy space in your laundry room, making bed and towel changeover day so much easier to organize, and part of your entire laundry room organization plan. However, even if it is simply a chest of drawers in a guest bedroom, there are many ways in which to organize linen like a pro – and we share the best below.
Organizing a linen closet
Linen closets are amongst the most crucial of storage ideas in a home, but they can also be amongst the most frustrating. Unlike when you are organizing a closet in your bedroom, the whole family's linen is all in one place, meaning you need clever tactics to make everything easy to find – and to ensure it emerges from the linen closet as fresh and neatly pressed as it went in. These tips for organizing a linen closet will tell you how.
1. Empty the linen closet
You only have to read our essential decluttering tips to know that the first step to organizing a linen closet – and any other space – is to empty it out first, so that you can really assess the space you have, how it might be improved – and what needs to go back in.
2. Dust and clean the linen closet
Linen closets can quickly become dusty and, with dust, comes a must smell. So, vacuum up any dust then, using a cloth dipped into a solution of soapy, warm water, wipe out the entire closet, beneath shelves and all, to ensure it's dust-free. Allow it to dry fully – that will ensure the laundry goes back into a linen closet that won't make it damp.
3. Hang a scented cushion to make a linen closet smell fresh
A posy of dried herbs, such as lavender, a scented cushion, even dryer sheets can make a linen closet smell fresh – and can banish those musty odors.
4. Discard old linen, make a list
While your linen closet is drying, start to sort through your linen, discarding any that is old, damaged, or discolored.
'Update/replace linen that is showing signs of wear and then donate to charity for repurposing,' says Robert Lancaster-Gaye, Co-Founder Tielle Love Luxury. 'Don't hoard! A maximum of one spare set per bed will avoid too much clutter.'
This done, make a list of what you have on a piece of paper or chalkboard and fix it to the back of the linen closet door.
5. Ensure the linen closet is ventilated
Just as you would when organizing a bathroom, it's vital to ensure your linen closet is ventilated to keep sheets and towels fresh. The best way to do this is with neat (decorative) holes in linen closet doors, sides or, failing that top or back.
6. Plan the linen closet's layout – and label
Now you know what you have, you can begin to plan the linen closet's layout. However, we all know a well-planned system you put in place for organizing a linen closet won't necessarily be adhered to by other members of the household. Therefore a label system on each shelf, or a dedicated drawer for each person, might help keep order.
This can be as simple as 'Joe's bed' or 'guest towels', and it might help them be more enthusiastic about getting involved in changing their own linen (we live in hope).
7. Put often used items front and center
Just as you would when organizing kitchen cabinets, storing items you swap or reach for regularly front and center in the linen closet will make finding what you need more efficient. Everything else can be put somewhere less convenient, such as on top or bottom shelves or drawers.
8. Organize a linen closet by type or set
'Keep your linen in size sets to avoid loose items getting mixed up and appearing untidy,' advises Robert Lancaster-Gaye of Tielle Love Luxury.
Jonathan and Emily Attwood, Founders, scooms, agree: 'Make sure that it's always easy to find a matching set of washed and ironed linen.'
9. Organize linen by color
If each household member has their own linen color – picked to match the color scheme of their bedroom or bathroom – it is much easier to keep linen closets organized.
'One client had a king-sized bed, and a small double for their children and the bottom sheets kept getting mixed up. Let your child choose a color theme so that doesn't happen any more. The teenager had white sheets and the younger child had pinks, that way, it was easy to pull out,' says Kathryn Lord, a home organizer from More To Organising.
10. Organize linen by family member or room
Another variation on organizing a linen closet is to do so by person – or room, whether or not colors match. So, as we suggested above with the label 'Joe's bed' would simply become 'Joe's', and guest towels simply 'guest room'. Simple, but efficient.
11. Organize a linen closet like a professional
There are a few staple tricks professional organizers use for linen closets. They are:
The pillowcase storage trick:
'Store your bedlinen sets together by folding them neatly after ironing and storing the whole set inside one of the pillowcases,' advise Jonathan and Emily Attwood of scooms.
'Putting the folded sheet and duvet cover inside the pillow case means one set is neatly ready for change-over day,' agrees organizer Kathryn Lord.
Folding fitted sheets the right way:
There is a technique to folding a fitted sheet so that it doesn't become a balled mess. Marie Kondo's fitted sheet folding video is our favorite.
Storing duvet covers inside out:
'Storing the duvet cover inside out makes it easier to pull over the duvet,' advises Kathryn Lord of More To Organising. 'By putting your hands inside at each corner, grasping the duvet, then shaking, you will be able to put it over the duvet more easily.'
12. Maximize linen storage with clever buys
You can also put a closet organizer to use to help maximize storage potential in a linen closet. Whether you need something to help you distinguish and separate bedlinen sets or it's for ensuring this space looks neat and tidy at all times, that is.
Just as when organizing kitchen drawers, you may find that extra storage buys will help you really get your linen closet organization to the best place it can be. Whatever you choose, it should ideally be breathable for linen – such as woven baskets – or sealed in lidded boxes, if you are storing household cleaning products in your linen closet.
13. Use the linen closet door for extra storage
Sometimes, we just need a bit more space, so consider whether you could use any area of the back of the linen closet door for extra storage, whether hooks or hanging shelves. The sides of a linen closet can be used for hooks, too, ideal for hanging items that need a little more time to dry after washing.
14. Make room for household cleaning supplies
It's possible your linen closet is home to linen-related products, such as fabric softener, detergent or dryer sheets. Make space for these on a central shelf, since you will need to access them regularly, but well out of reach of young children. Store them in a lidded box to guard against spills – and make them lockable if you have toddlers who will put anything in their mouths.
15. Make space for ironing supplies in the linen closet
If your linen closet is in a laundry room and you have space to house your ironing board, iron and spritzer bottle inside it, it will make life so much easier, and the room so much neater, especially if you need a quick-fix press for items that have become wrinkled in the linen closet. Though with these linen closet organizing tricks, that's unlikely now.
How does Marie Kondo organize a linen closet?
Marie Kondo organizes a linen closet by grouping similar items together in categories – for usage, size and color. She then rolls them and stacks them vertically into baskets. Her rolling and folding technique is also one she employs in linen closets, especially for towels. Both folding and rolling the way Marie Kondo does it minimizes creases in linen.
What should be in your linen closet?
Depending on its size and where in the house it is, this is what to keep in a linen closet, by priority:
Bedlinen including comforters and shams;
Bath towels;
Beach towels;
Extra blankets and throws;
Pet towels;
Laundry products, including iron/ironing board;
Kitchen towels;
Tablelinen;
Household cleaning supplies;
Bathroom products;
Toiletries.
Sign up to the Homes & Gardens newsletter
Decor Ideas. Project Inspiration. Expert Advice. Delivered to your inbox.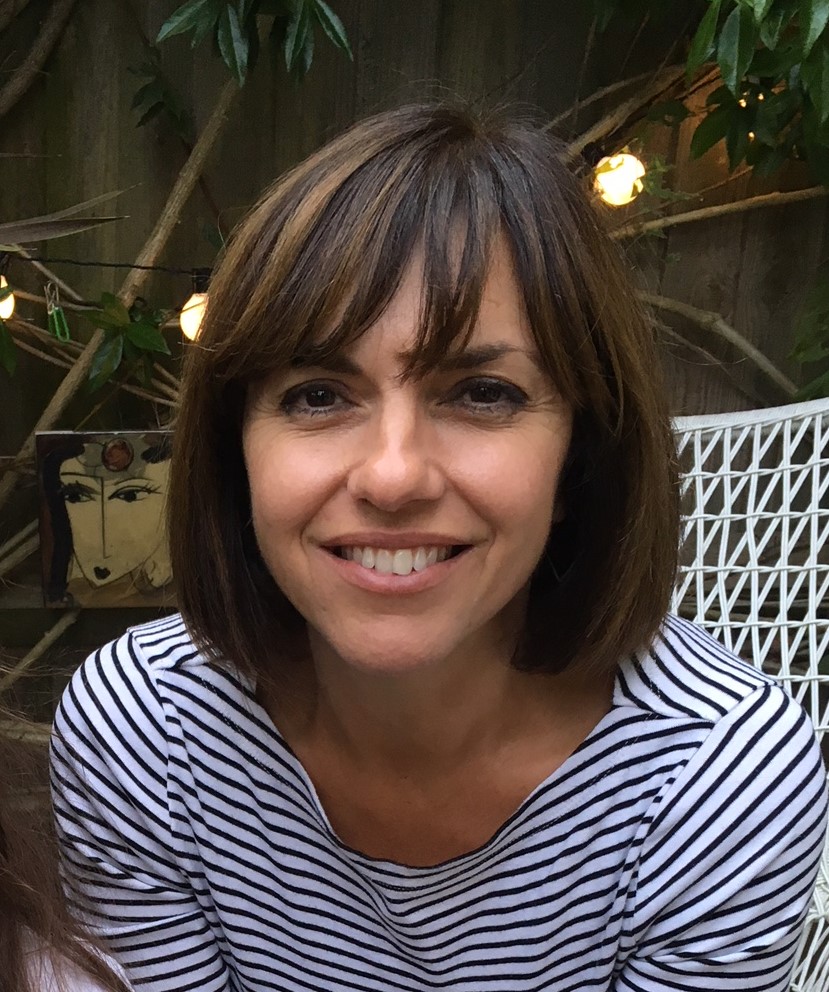 Lucy Searle has written about interiors, property and gardens since 1990, working her way around the interiors departments of women's magazines before switching to interiors-only titles in the mid-nineties. She was Associate Editor on Ideal Home, and Launch Editor of 4Homes magazine, before moving into digital in 2007, launching Channel 4's flagship website, Channel4.com/4homes. In 2018, Lucy took on the role of Global Editor in Chief for Realhomes.com, taking the site from a small magazine add-on to a global success. She was asked to repeat that success at Homes & Gardens, where she has also taken on the editorship of the magazine.