Closet organization ideas – 10 ways to keep clothes neat, tidy and ordered
Arrange your wardrobe like a professional with these expert closet organization ideas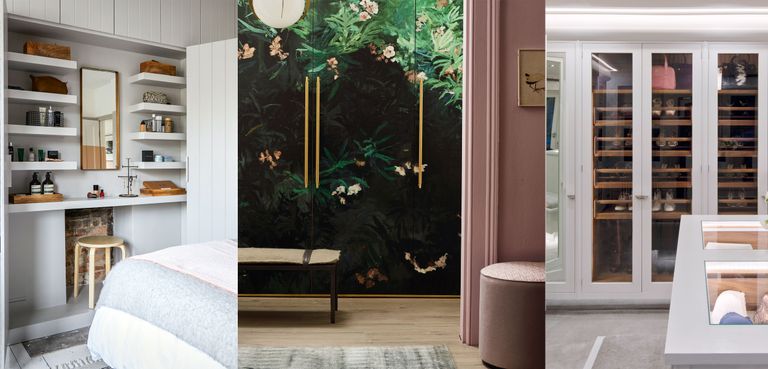 (Image credit: Future)
Smart closet organization ideas can really transform how you use your closet each and every day. By re-arranging clothing, and donating the ones you no longer love, you can make finding individual garments so much easier – saving time and stress – and keeping your bedroom clutter-free in the process.
As well as being easier to navigate, a tidy closet is great for boosting well-being, too – a theory much advocated by professional organizers, including consultant Marie Kondo, founder of the KonMari method.
Here's the best expertize on how to organize a closet to put together with your other bedroom ideas for a space that is practical and welcoming – and helps life at home run more smoothly.
Closet organization ideas
Your bedroom should be a sanctuary, not bursting with clutter. Plan your bedroom storage ideas well, and your space can be turned from a nightmare into a dream.
If space permits, then a walk-in closet or bespoke fitted closet system built around your needs is the ultimate in closet storage, offering plenty of room for all your items to have a designated place. However, more storage space does not necessarily mean a more organized closet.
If your issue lies with separating your clothing to keep things looking organized and easy to find, then perhaps it's worth browsing for closet organizers to promote a neat and tidy space. And to help separate your pants from your leggings, your short sleeve T-shirts from your long sleeve T-shirts, and plenty more.
Here are some simple tips you can follow to improve the functionality – and look – of your closet, no matter the size or style.
1. Give everything a place with a bespoke storage system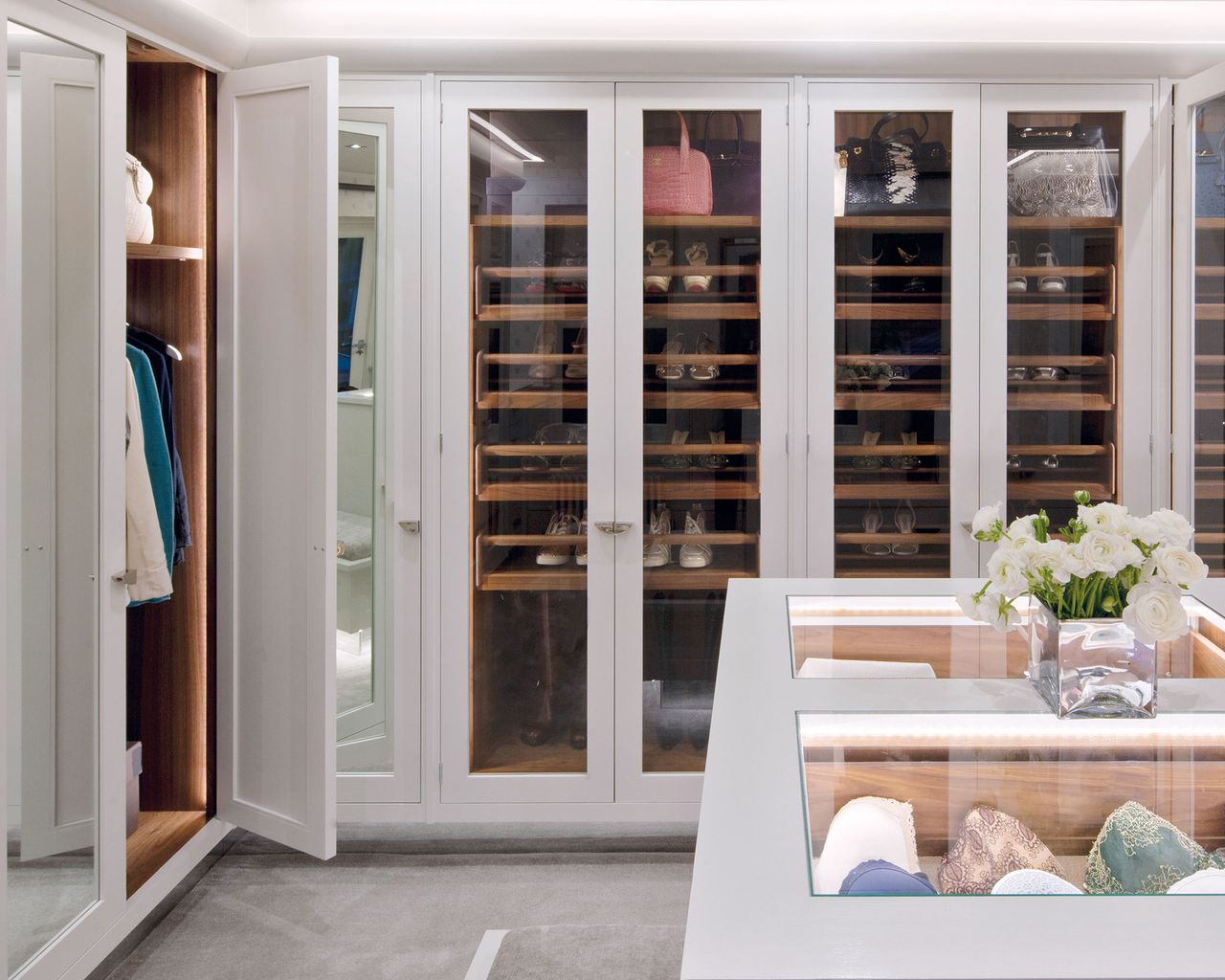 One of the best closet organization ideas is to make sure everything has a designated place. As well as enjoying small bedroom storage ideas that's sized to the location, there are other reasons why you might prefer fitted closets to off-the-shelf freestanding versions. Bespoke closets are great for rooms with features such as alcoves and sloping ceilings as they can fit in where a freestanding wardrobe just wouldn't go.
Plus, a made-to-measure option also means that your small walk-in closet can accommodate a plethora of functional internal storage solutions. Here, a mix-and-match combination of fixed or pull out clothes rails, drawers and shelving can be installed, but first you'll need to do an honest audit of your clothes.
Another good habit to abide by is to put clothes away at the end of the day. Make sure everything has a home – if you have to question where this is, then it's not obvious enough.
2. Know what to fold and what to hang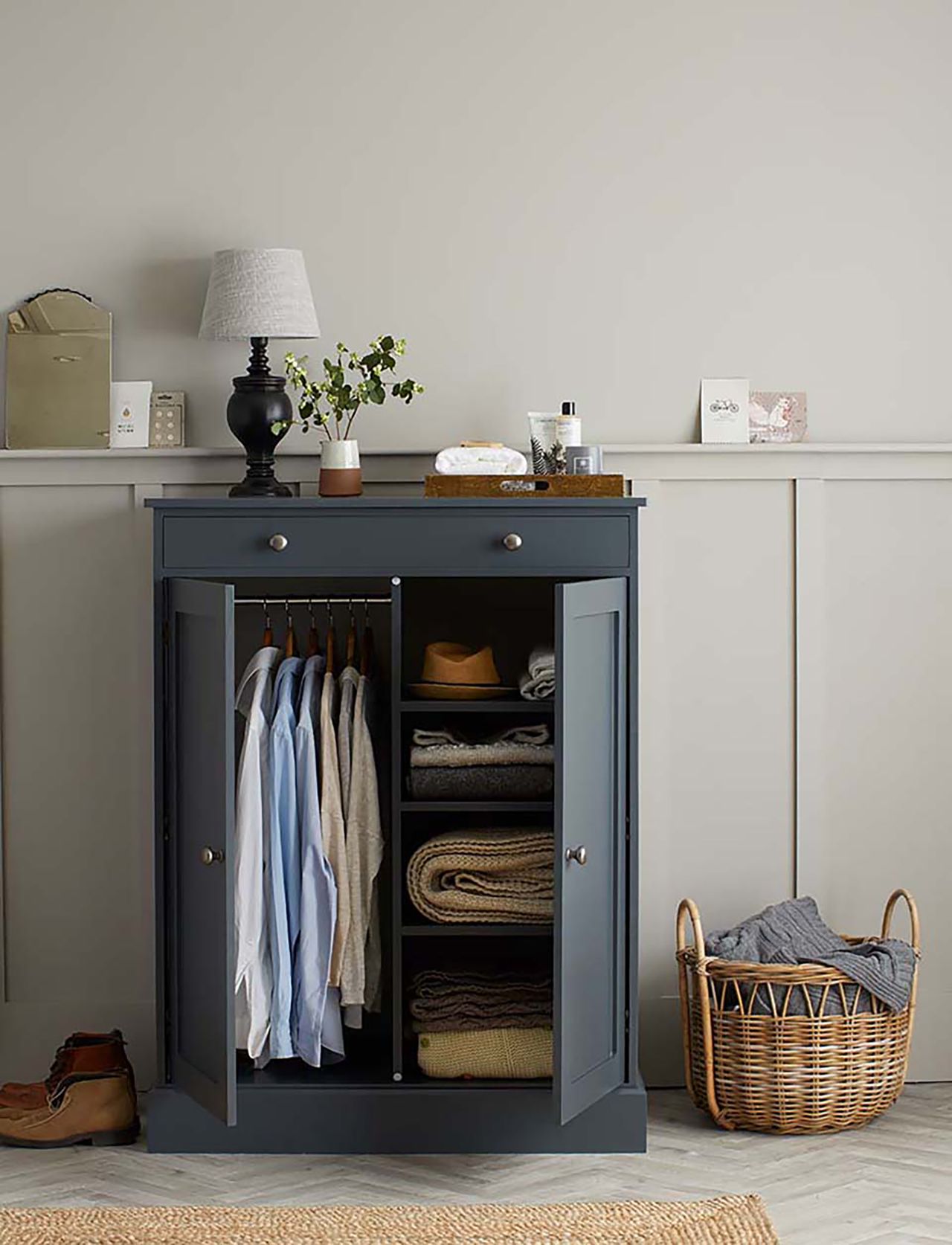 Generally folding clothes neatly is the most economic way to store them, however, some items are best hung up, such as coats, suits, blouses, dresses, and garments made from fabrics that will crease easily if folded.
One thing to remember is that you should never hang any sweaters made from wool or cashmere, as they can become misshapen, and form unwanted dimples in the shoulders. Instead, wool and cashmere sweaters should be folded and placed on shelves.
If you are packing away your wardrobe for the winter, then place cashmere and wool in breathable bags made from linen or cotton to protect them from moths. You can also place cedar balls inside – which will help repel them.
3. Try the hanger technique
Go for an open wardrobe so you can find favorite outfits easily. A clothes rail also makes a great overspill if you have a large hoard of clothes or like to organize them seasonally, plus it's handy for guest bedrooms, too.
Remember, a crammed closet will lead to crumpled clothes, so ideally you need a gap between each garment to give them space to hang and breathe. However, in reality, many of our wardrobes are stuffed full with clothes we rarely wear. To help thin it out there is a simple technique you can use to identify what to keep and chuck, explains Atlanta Bartlett and Dave Coote in their book Relaxed Living, Happy Home (Ryland Peters & Small).
'For a closet that is bursting at the seams, try the coat hanger experiment. Turn every hanger in your closet the wrong way round, then as you wear each item, replace it with the hanger the right way round. After a while, you will see exactly which items you wear and which items you can live without.'
4. Organize clothes into categories
Some experts claim that arranging clothes by priority and occasion will help make finding things much easier. By placing your most worn, everyday items in an accessible place – and storing occasion and party wear out of the way – does make practical sense.
However, others, such as Marie Kondo swear by the grouping by garment method. Alternatively, you could do a combination of the two, advises Brenda Scott of Tidy my Space. 'Group clothes into categories: work, casual and party – in those categories, I like putting similar color items together and like items together. So black shirts hang together, grey shirts together and so on. Follow the Marie Kondo theory of hanging items dark or heavy on the left to light /lighter fabric on the right, to achieve a sense of lightness and uplifting as you go left to right.'
Ultimately, choose the best method that works for you, but do make sure there is an order!
5. Create harmony with color
While it may not appear to be of practical use, arranging clothes in order of heavy fabrics to light, and in color order to create an ombre effect, will make your closet look visually appealing and harmonious. This method is widely reported to make you feel happier, according to Marie Kondo.
Maximize hanging space in a wardrobe by using skinny hangers for shirts and removing bulky items, such as jeans, to store folded on shelves instead. Ensure long items are hung at one side to free up space for a small shelving unit or drawers. Use these spaces to organise smaller items, such as rolled T-shirts and scarves, or to stack shoes and sandals, adding boxes for jewellery or belts
6. Fold and file every item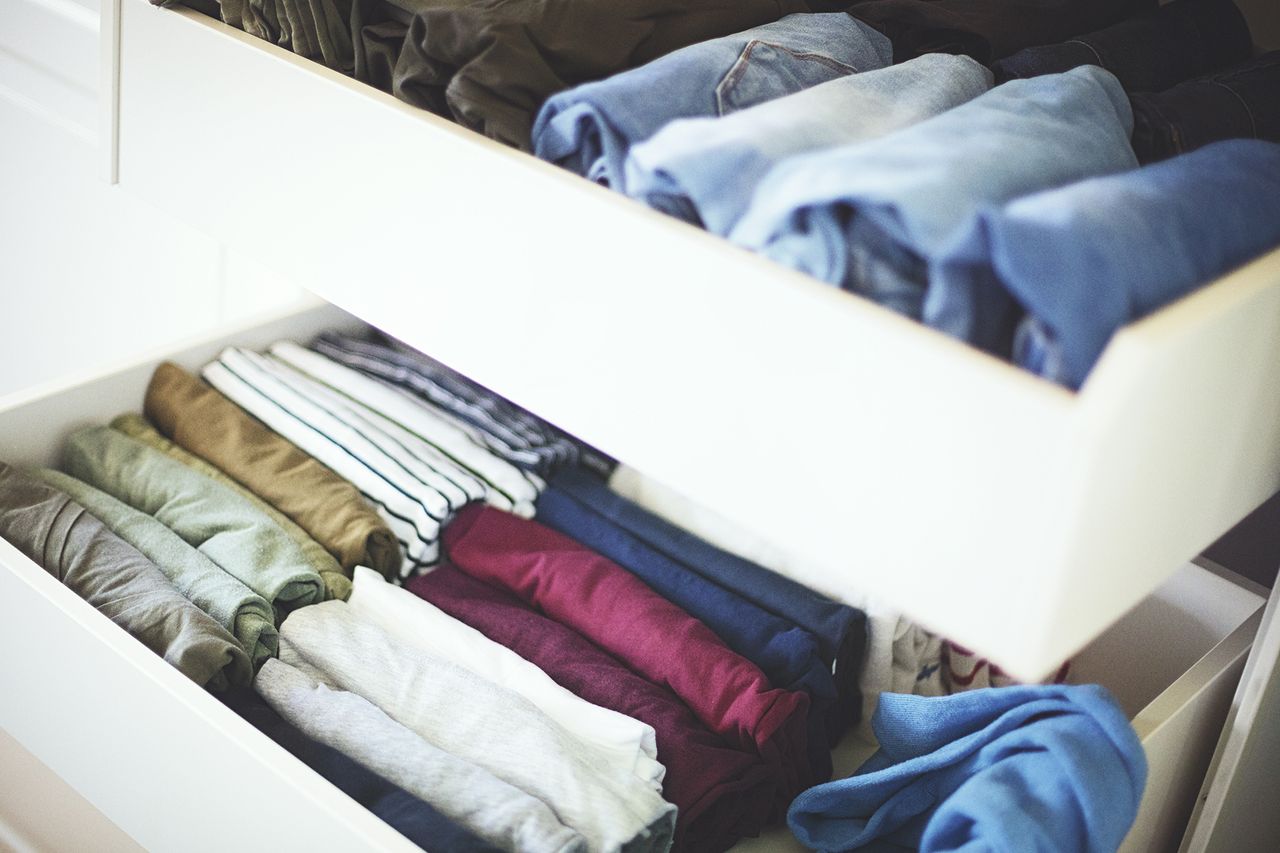 Folding clothes and placing them in piles makes them difficult to retrieve from the closet, instead, consider placing them vertically in drawers a bit like you would papers in a filing cabinet; it's a technique the experts swear by.
'Fold, fold, fold those jumpers and T-shirts,' says Michelle Ogundehin in her book Happy Inside. 'Here, Marie Kondo's advice on drawer management is frankly genius. With each item in a drawer folded and stacked vertically, rather than laid in flat piles, it becomes easy to see what you have too much of, or do not regularly wear, and hence could probably let go.'
7. Make room for shoes and bags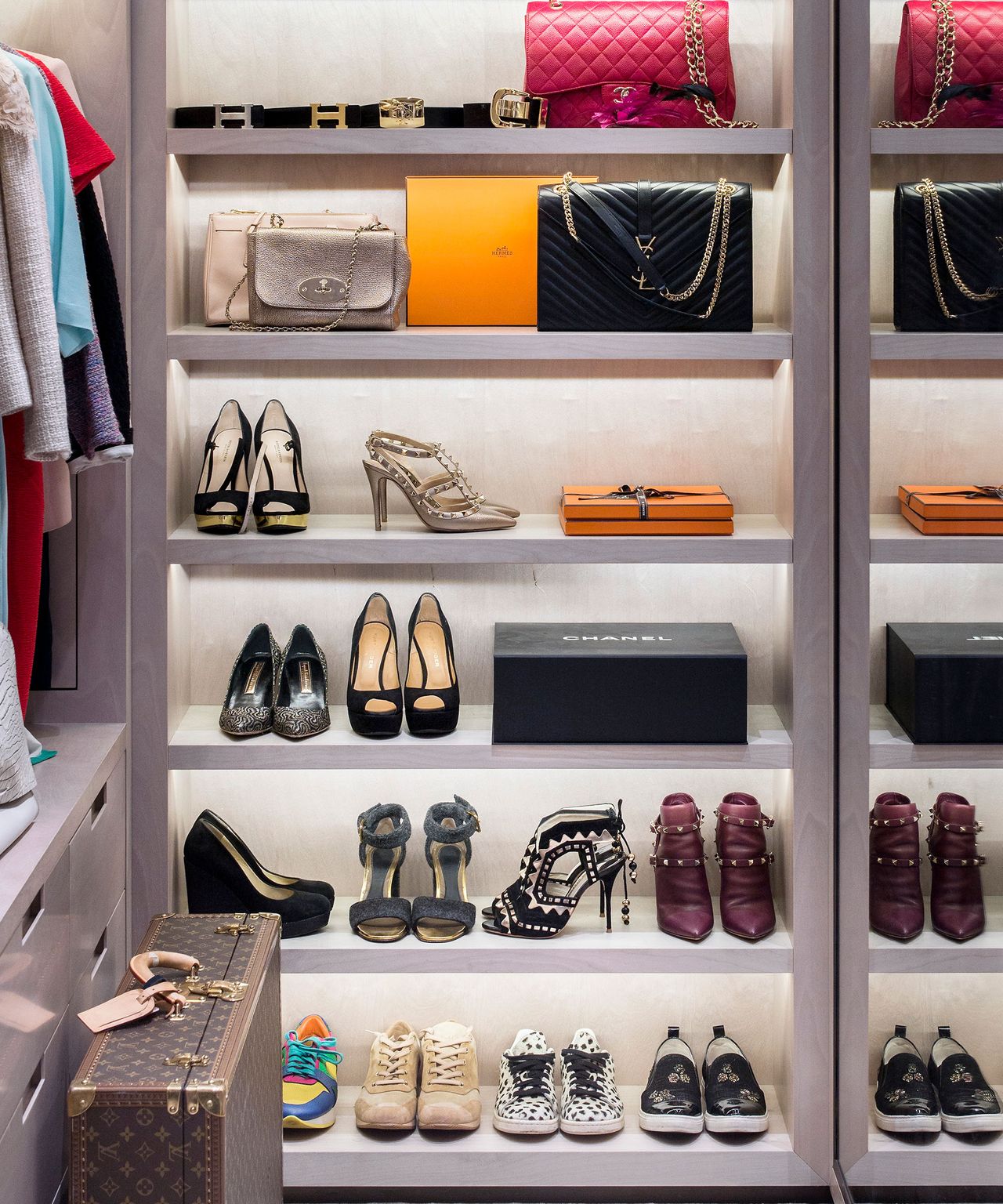 Organizing your closet – or dressing room – is a smart move and doesn't always require as much space – or effort – as you think. Your walk-in closet ideas can start small, as clever bag, hat and shoe storage – whether commissioned or bought off the peg,– will maximize every square inch of your room. Another reason to keep them organized is that it makes them easier to find, you know, that morning rush when you can't find one of your favorite items, or you simply want to keep your closet neat and tidy.
The key to good shoe storage is first to determine the types of and amounts of shoes you have. The most useful and practical type of shoe storage on offer features a pull-out shoe larder, and mirrors. Plus, box shelves can be used to store handbags, which can be fitted as part of a walk-in closet or as part of the interior of a bespoke closet.
Don't be tempted to store shoes in shoeboxes, says Shira Gill. 'I am not a fan of cluttering up your closet with old dusty cardboard shoe boxes; those can hit the recycling bin. I prefer to display my shoes like art,' she says in Minimalista. 'You do have my permission to store seasonal or occasionally worn shoes on a high shelf or in individual clear shoeboxes to prevent dust.'
Box shelves are a good way to store and show off your favorite handbags. However, if you're tight on space and have many bags, displaying one handbag per shelf is pretty indulgent. The best thing to do is limit it to a few. For other bags, try the ingenious Marie Kondo technique of storing bags within bags.
8. Opt for drawers with compartments
Have you spent hours searching for that missing sock? Whether you've got a full wall of storage or simply a standard-sized closet, make it work for you by tailoring the interior to suit your specific needs. Customizable fittings, foldable drawers and dividers give greater flexibility so you can choose exactly how many rails, shelves, drawers or baskets you want – and are a less-pricey alternative to built-in closets.
What's more, designate jars and boxes or add a hanging basket to hooks in the bedroom to store spare change, pens, batteries – all those miscellaneous items that end up cluttering surfaces or drawers.
9. Invest in discreet, hidden storage
For homes with limited space, like period homes or coastal cottage, consider a discreet dressing room within your walk-in closet.
This small bedroom idea discreetly sits amongst the wardrobe doors and, providing ready access to clothing, accessories and jewelry while still providing a welcome space to sit when getting ready to leave the home. A clever addition of concertina doors means that space is saved in the room even when opened, and a neat stool can be easily slipped underneath the table when needed.
Make sure to keep everything in designated areas, and avoid over-crowding this small space, otherwise this neatly organized closet can go from curated to cluttered in an instant.
10. Store away sentimental and bulky out-of-season clothes
Storing away lesser-worn – but precious – items will instantly create more room in a walk-in closet. 'Sentimental and out of season items should be stored away. I fold my cashmere sweaters and winter coats in baskets above my closet,' says Anastasia Casey.
However, there are different schools of thought on whether to pack away your summer and winter clothes. If you have a small closet, then storing bulky coats and jackets out of the way once winter is over to make way for summer dresses makes practical sense, however, it can be a nuisance switching things around. If you have a larger closet, provided you have done a good sort and edit beforehand, then consider keeping all your clothes in one place, says Brenda Scott of Tidy my Space.
'If you have the room in the closet, just leave out of season clothes in there because you can layer up and use all season tops, blouses and some dresses all year long. If you don't have the space, I recommend that you clean and store out of season items in clear totes either on a top shelf, in another closet or in a separate storage room.'
If storing away your winter or summer wardrobe, clothes should be placed in cotton bags to prevent them getting dusty or fading. Using clear storage boxes can make things easier to locate.
What order should I put my clothes in my closet?
To achieve a well-organized wardrobe many professional organizers recommend ordering your clothes according to garment type, creating different zones for each item type e.g. skirts, blouses etc. This will help you to find what you're looking for quickly and easily but will also help you to keep track of what you have. Different garments are suited to different methods of storing for example jumpers can be folded while blouses are best hung, so ordering clothes according to garment type makes practical sense, rather than storing different outfits together. Within each zone try ordering items by fabric weight and color – the Marie Kondo technique – to create a harmonious flow.
'When it comes to organizing your wardrobe, the key thing to think about is to create "zones". Have an area for your shirts, another for your trousers, and a section for your dresses so everything is easy to find,' advises Kyra Blades, Home Designer at Neptune.
'Utilize your shelves with storage baskets so you can keep your jeans and woollen jumpers neatly tidied away without taking up precious hanging space. By zoning your hanging items, you will create space for your baskets to sit; underneath your hanging shirts for example, which aren't going to hang as low as your dresses and trousers. Reserve higher up shelving for the lesser needed accessories, such as scarves and seasonal items.'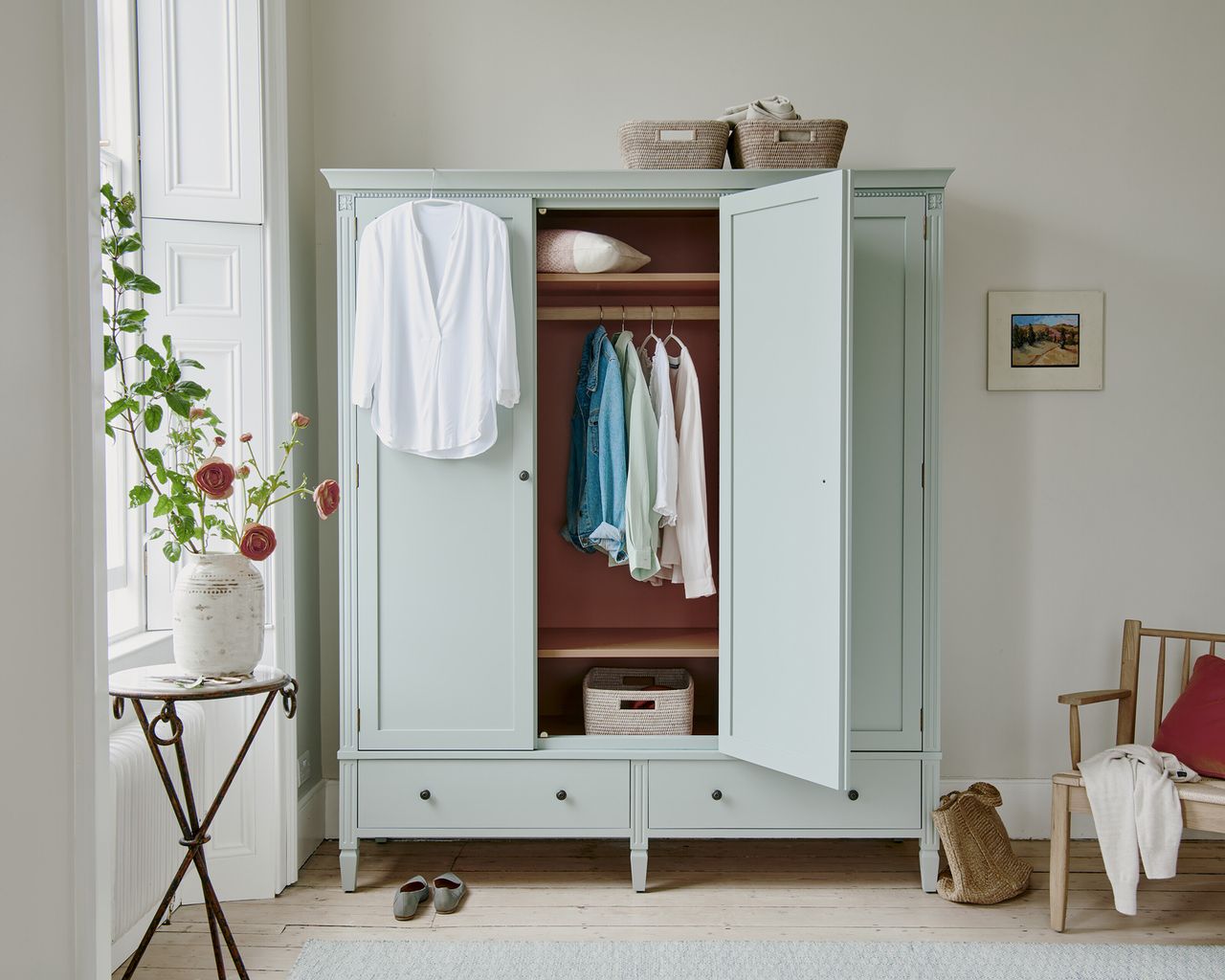 How do I declutter my closet?
Having a well-organized closet will bring so many benefits, however, before you begin to re-organize your closet it's important to first do an audit of all your clothes. Being honest with yourself and questioning whether the clothes in your current wardrobe truly reflect your personal style – and the person you are – is a good place to start explains says Shira Gill in her book Minimalista: Your step by step guide to a Better Home, Wardrobe and Life.
'Understanding and elevating your personal style is often the catalyst for bigger and deeper change in your life. Once you curate your closet to reflect who you are and where you want to go you'll show up in the world as a more present, intentional and confident version of yourself.'
How to organize your closet – tips from the experts
Work category by category – 'Working through your wardrobe one category at a time will help you identity the diamonds in the rough, and it will make what feels like a daunting task manageable in the time you have,' says Shira Gill in Minimalista.
'Does it spark joy?' – If you're struggling with deciding what to keep and what to part with then try asking yourself this question advises Marie Kondo in The Life-changing Magic of Tidying.
The 12-month rule – If you're prone to deliberation then trying strict rules may be what you need. 'If you've not worn something in the last 12 months then get rid of it,' suggests Megan Baker of My Fitted Bedroom.
Quality of quantity – 'It's all about quality over quantity. Don't get rid of everything, just keep the things you love,' says Anastasia Casey of The Identitè Collective. 'Most importantly, as you decide what to purge and what to keep, ask yourself "Would I pay full price for this item again today?" If you wouldn't, it should go.
One in, one out – Only adding to your wardrobe if you are planning to get rid of something is a good tactic for keeping on top of a neat and orderly closet, plus it helps promote mindful consumerism as Michelle Ogundehin explains in her book Happy Inside. 'Because we are retraining ourselves to consume mindfully, we will now only be purchasing that which we truly require. In other words, shopping only to replace items that have become worn out or irretrievably damaged. Avoid temptation by limiting online browsing or idly perusing the shops of a Saturday, unless you have a will of steel. What you don't see you can't desire.'
Pippa is Content Editor on Homes & Gardens online contributing to Period Living and Country Homes & Interiors print issues. A graduate of Art History and formerly Style Editor at Period Living, she is passionate about architecture, creating decorating content, interior styling and writing about craft and historic homes. She enjoys searching out beautiful images and the latest trends to share with the Homes & Gardens audience. A keen gardener, when she's not writing you'll find her growing flowers on her village allotment for styling projects.