Laundry closet ideas – 11 practical and pretty laundry closets
Let's make it more pleasurable with laundry closet ideas that are super stylish – and functional, of course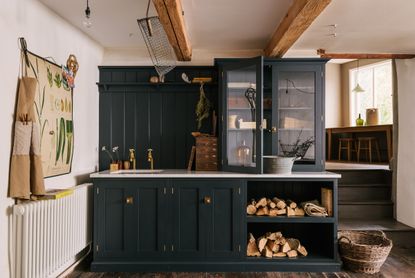 (Image credit: deVOL)
An essential part of the home, a laundry closet is a space that needs to tick all of the boxes: it should be practical, work hard, be easy to organize – and good looking.
Really good laundry closet ideas will enable you to keep your kitchen space free from the noise of the washer and dryer, too, which is always a bonus. And this is where good planning comes in – you need to approach the planning of laundry closets with as much precision as you would new kitchen cabinetry. Here, we show you how.
Laundry closet ideas
If you're looking at laundry room ideas now, you'll need to include laundry closets into your design. Whether your laundry room is hidden away in a closet or designed to look more like a mud room, these laundry closet ideas will inspire you to create a space that you want to spend time in – even if it's for ironing and folding clothes for an hour or two.
1. Laundry closets needn't be the poor relation of the kitchen
'Laundry closets used to be the "outhouse" where all the dirty chores got done, they were cold, rustic and hardy and far from pretty,' explains Helen Parker, Creative Director at deVOL.
'In recent years people have started to lust after these old fashioned laundry rooms again and this time round they are not just functional but beautiful.
'If you need appliances, go for big stainless steel industrial ones, or hide away white goods behind closed doors. Spend money on a great big sink with good strong taps and space for a watering can.
'We love the idea of stone or marble for a sink – controversial to the houseproud folks out there who want pristine, but this natural material is so authentic and although it may not stay perfect it will be perfect, just because it's happy to be knocked and stained and marked because that's just the real purpose of a working room.'
2. Or hide a laundry closet behind closed doors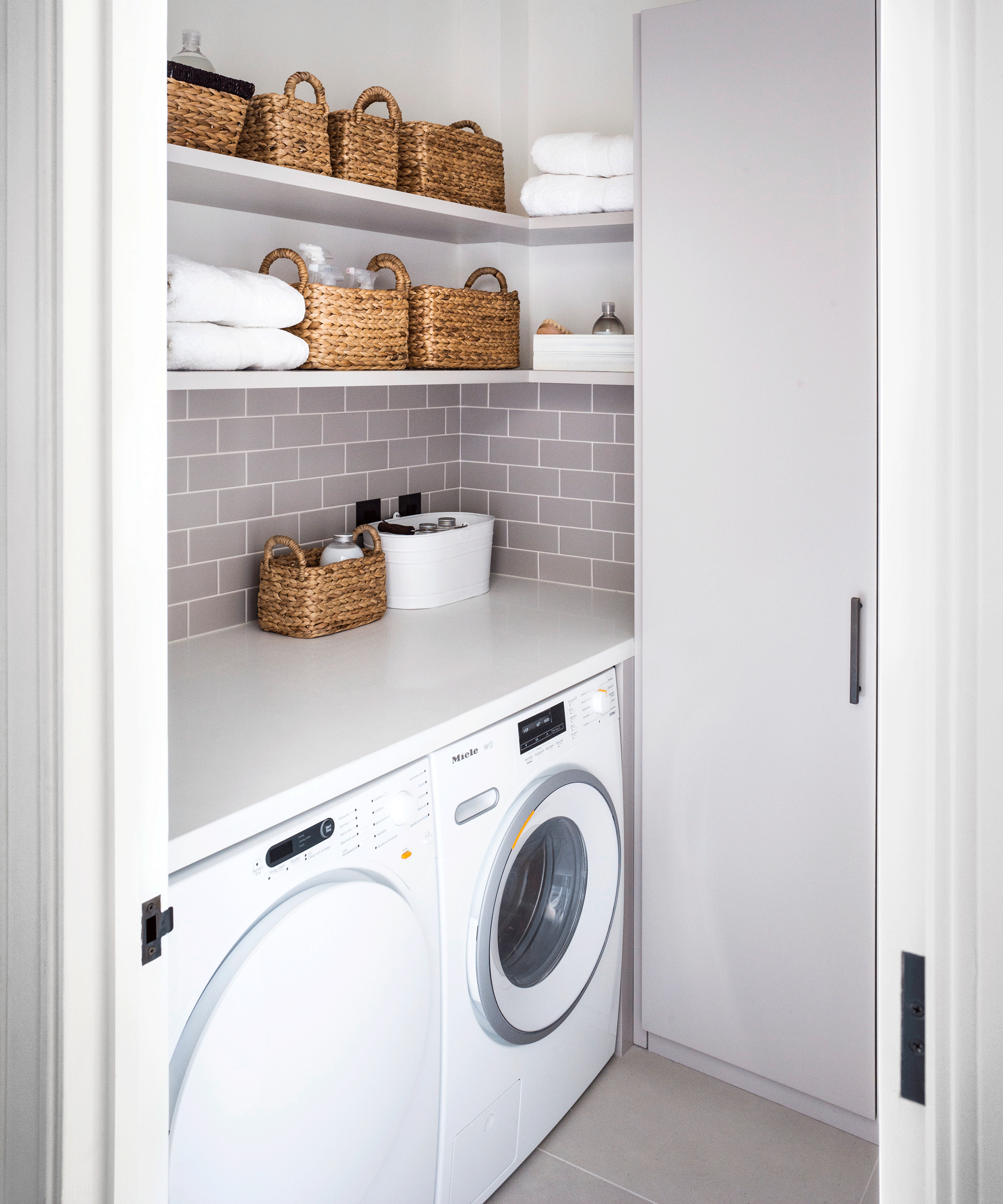 If you want your laundry closet to be hidden, or if it is small, putting it behind sliding, folding or double doors is a great option. With clever planning, you can still fit in all the laundry room storage ideas you really need, and the space can remain really practical, without taking up too much of a footprint.
3. Open shelving makes for easy-to-see essentials
We love the open shelving look as laundry closet idea, it makes life easier in terms of being about to see what you want quickly and to organize a laundry room – but the downside is that you ideally need to keep it spick and span.
It is a design feature that works particularly well in a laundry closet, though. Keep the unsightly items hidden away and pop the beauties on your shelves – that's our advice. Use kitchen shelving ideas as your inspiration to get the look of your laundry room shelving ideas just right.
4. Opt for different-sized units for practicality
A laundry closet is really an extension of your kitchen – and you can use the same cabinetry to keep it cohesive. Tall laundry closets are best installed for items like ironing boards and upright vacuums. It's those kind of practical pieces that you may want to hide away so go tall for them and use standard heights for cleaning products. Then you can reserve smaller laundry room cabinet ideas alongside for more compact items, such as washing detergent.
5. Keep it stylish with offcuts of wallpaper
That extra roll of unused wallpaper that you can't bear to throw away? It may be the perfect amount of your laundry closet, the same goes for those leftover tubs of paint too. Ideal if you're planning a mini laundry room makeover.
There's no reason for your laundry closet to be as dull and dreary as the work you may have to do in it – and if you are spending hours ironing away it may as well look as lush as you want it to, right?
6. When it links directly from the kitchen, opt for a dramatic contrast
We love how this laundry closet by Farrow & Ball is painted in jet black with patterned floor tiles, yet the kitchen is off white with wooden boards. The two spaces are clearly defined yet still link via the use of wood in other areas.
You can really have fun with your design process with these two key spaces, and the glass door allows both spaces to be seen. The key is to have subtle links so they're not totally separate visually.
7. Your laundry closet is practical, but can still be pretty
Love big florals but they don't work anywhere else in your home? Then pop them up in your laundry closet instead. It's the place that can take a stronger look – rather like a powder room – and those favorite tiles/paint/flooring will be used in smaller quantities, too, so won't break the banke. This gives you carte blanche to create whatever look you like, as far as we're concerned...
8. A spot of shiplap for a Shaker style scheme
Shiplap's a great option for creating a textured feel in a room, and it lends itself perfectly to a Shaker style laundry closet like this stylish space.
When space is tight be clever with your storage options, you can easily add a shelf or two and if it has pegs then all the better – they're fabulous for hanging cleaning brushes, spare candles and baskets from.
A wooden countertop adds contrast between these two similar toned shades whilst the white gives a pop of contrast. However, if you want a truly practical surface within your laundry closet, use kitchen countertop ideas as your inspiration for laundry countertop ideas – stones and composites are tough and just about maintenance-free.
9. Go for a bold and beautiful color scheme
Anything goes in a small laundry room, and it's often a hidden space, so those favorite kitchen color ideas you've always fancied but haven't dared to embrace can make an appearance.
Haymarket No. 47 by Myland gives this small laundry closet a burst of color that will stop you nodding off whilst doing the chores. It will brighten up a dark space and we love the contrasting crimson that's used on the shelving. It's called Huguenot No. 49, and has hints of magenta and orange to add depth.
10. Give your laundry closet design as much thought as you would your kitchen
We asked Rhian Williams, Senior Kitchen Designer at Tom Howley what the most common design mistakes are when considering a laundry closet:
'The biggest design crime committed with a laundry closet is that it is considered last. Poor things! Typically, they are behind a closed door and are considered a necessary yet secondary "overflow" to the kitchen.
'It is tempting and common to mis-proportion a project's budget and spend as little as possible on the laundry closet. This usually translates to an inferior countertop surface and fewer cupboards – in the space that takes the most abuse and needs to squirrel away all the bits and bobs. Then you have the inevitable countertop pile-up and… "it's a mess", "please excuse the state of the laundry closet" and "shut the door!"
'My advice is to invest in a hard-wearing countertop surface that can handle muddy boots and paint splatters – and ensure you have enough versatile storage. If you are worried about overloading the space, then simply design it to be future-proof by giving yourself the ability to add to it as life changes and develops.'
11. Use vertical space with a hanging airer
Let your home dictate the design of your laundry closet – this beautiful old cottage naturally lends itself to an old armoire for storing linens and baskets for laundry.
'Authenticity is so important these days too, so we recommend good old fashioned quarry tiles, cold and sturdy and functional and an absolute must for a laundry room,' says Helen Parker, Creative Director at deVOL.
'We recommend simple shelving so everything is easy to store and pile up and get to without opening cupboard doors. This means having the right baskets and watering cans and terracotta pots. You have to get the look spot on and you really can if you stick to things that are original, fit for purpose and good quality.
'Hanging your laundry to dry is very much part of a laundry room and it's so nice to use wind power once in a while, so be sure to have a laundry maid.'
How do I organize my small laundry closet?
To organize a small laundry closet you need storage and more storage – you can never have too much. Just like when organizing a linen closet, laundry closets need peg rails, shelves, hooks, peg boards and cabinets are all your friends in a small space. Keep the floor clear too, hang the ironing board if you can't fit in a tall cabinet and use doors to hang pieces from too. Only keep what you need and use, bin what you don't. It's all about streamlining and keeping your laundry space functional and not full of clutter.
How do I upgrade my laundry closet?
A paint revamp is one of the quickest ways to upgrade, and of course wallpaper and flooring. Shiplap is fast becoming the Next Big Thing and it can transform the look of your walls in no time, and it can be painted.
New cabinets and countertops are more of an investment in terms of upgrading but can also enable you to store items better and more effectively.
Sign up to the Homes & Gardens newsletter
Decor Ideas. Project Inspiration. Expert Advice. Delivered to your inbox.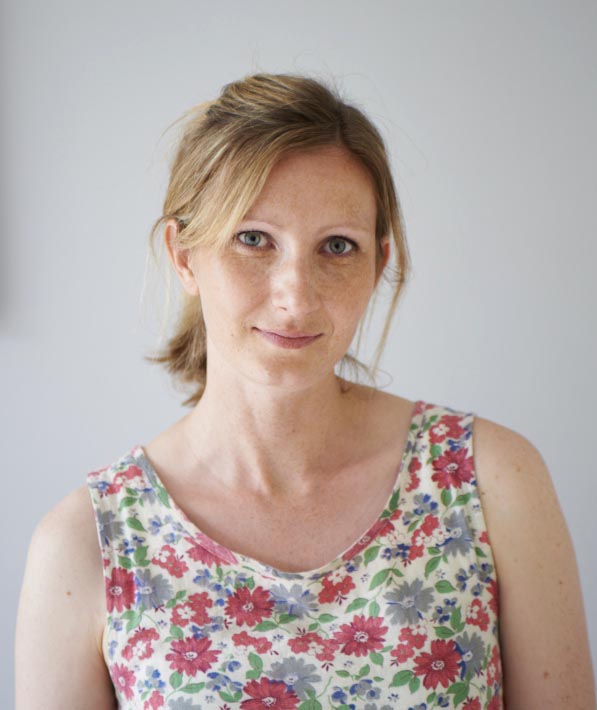 Sophie has been an interior stylist and journalist for over 20 years and has worked for many of the main interior magazines during that time, both in-house and as a freelancer. On the side, as well as being the News Editor for indie magazine, 91, she trained to be a florist in 2019 and launched The Prettiest Posy where she curates beautiful flowers for modern weddings and events. For H&G, she writes features about interior design – and is known for having an eye for a beautiful room.