Laundry room countertop ideas – materials and layouts that work best
Beautiful laundry room countertop ideas to help you choose a material, layout, and more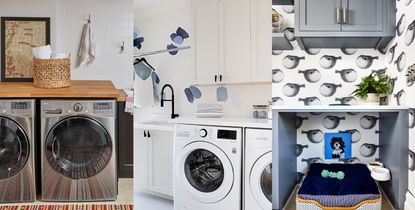 (Image credit: Rebecca Hay / Elizabeth Gill)
Sign up to the Homes & Gardens newsletter
Decor Ideas. Project Inspiration. Expert Advice. Delivered to your inbox.
Thank you for signing up to Homes & Gardens. You will receive a verification email shortly.
There was a problem. Please refresh the page and try again.
The right laundry room countertop ideas can offer a handy place to spot-treat stains, a surface for delicates to lay flat to dry, or a clean area to fold clothes as soon as they come out of the dryer (no more wrinkled heaps left in the laundry basket for days on end). In other words, having countertops in the laundry room makes the process of washing your clothes a lot smoother.
At the same time, counters can bolster your laundry room ideas from a style standpoint, bringing a finished look to the space and enhancing laundry room organization.
Feel like your laundry room could benefit from a countertop? Keep reading.
Laundry room countertop ideas
We've rounded up the best types of laundry room counters to use, layouts that will help you maximize your counter space and more, below. Should you match your laundry room countertops to your kitchen countertop ideas? If the rooms are adjacent, it's a definite yes, though you may choose a real stone for the kitchen and a less expensive lookalike for the laundry room, which will really only be seen by you and your family.
1. Add a butcher block countertop
A butcher block countertop can be part of a larger laundry room makeover if you're adding in new cabinetry, but it's also an easy standalone project that provides a major upgrade to your space. For the latter, have a sheet of butcher block cut to fit over the top of your washer/dryer, like in this space by Rebecca Hay Designs, then fasten it to the surrounding cabinetry or mount it to the wall.
'Counters provide a functional worktop to fold clothes before transporting them,' says interior designer Julie Khuu. 'A great place to carve out space for one is beside the washer/dryer with another section right above it if you have front loading appliances.'
2. Try a quartz laundry room countertop
If you're looking for a high-quality, long-lasting laundry room countertop be inspired by one of the best countertops for a kitchen: quartz. The engineered stone offers all the beauty of natural stones like marble or granite, but it's a much more low-maintenance option because it's non-porous. This is especially important for laundry room countertops since there's a good chance they'll be splattered with detergents and cleaners on a regular basis.
Quartz is one of the most expensive laundry room counter ideas, not only because of the price of materials, but because it'll need to be cut by a stone fabricator and installed by a professional.
3. Tuck the dog bed under the laundry room counter
If your laundry room doubles as your pet's room, try making space for Fido's bed underneath your laundry room counter. You'll love this laundry room storage idea because the bed will be out of the way, and your pet will love it because the semi-enclosed space creates a cozy, denlike feel.
The design above is by Elizabeth Gill Interiors.
4. Include a laundry room 'island'
Whether your laundry room is wide open, like the one above, or it's a small laundry room idea you're after, placing a table or island in the center of the room is a versatile way to add utilitarian surface area.
'Under the spherical fixture is a round table with a stainless-steel top for folding laundry, doing craft projects with the grandchildren, wrapping gifts, or just stacking up laundry,' says Nathan Taylor, whose firm, Obelisk Home, designed the room above.
5. Install a counter above the washer and dryer
One of the most convenient laundry room countertop ideas is to install it above your washer and dryer. This creates a useful surface for folding clothes when they come out of the laundry, and you can use it to stash laundry baskets or lay clothes flat to dry in the meantime.
6. Run a counter along an entire wall
If your laundry room cabinet ideas are long and narrow, take a cue from designer Stephanie Brown, and install a narrow countertop along the length of the room. Use it to queue up your laundry baskets, stack each family member's laundry pile, or if the surface is durable enough, a place to iron clothes.
7. Use counters to create laundry bin storage
If you've got enough space for a standalone laundry room countertop, consider leaving the area beneath it empty, instead of adding a cabinet. The storage space you'll create underneath the counter will become the perfect place to park a pair of rolling laundry carts, like in this laundry room by Swan Architecture.
8. Create a luxe laundry room with marble countertops
If laundry closet ideas or appliances are taking up most of your potential countertop space, take a cue from this room and install the equivalent of a kitchen island. This room by The Fox Group is full of high-end details, including marble countertops, though note that your island countertop ideas needn't match the rest of your room's materials. The sleek stone is hard to beat from a tactile and aesthetic standpoint, but if you're looking for a lower-maintenance option, a marble-look quartz achieves a similar result.
What can I use for laundry counters?
There are lots of materials suitable for laundry room countertops. A few top choices include:
Butcher block. Butcher block or wood countertops are durable, readily available, and easy to cut and install. Wood can warp in warm, high humidity areas, so it's important to seal butcher block counters. When properly treated, they offer longevity and durability.
Solid surface. Solid surface countertops, like those made form acrylic, are smooth and non-porous, which means they won't absorb heat or moisture from your laundry room like a wood countertop can. Still, you should avoid ironing on the countertops as this can melt the surface.
Quartz and engineered stone. Quartz countertops are a premium laundry room countertop choice. The material is one of the most expensive countertop options, and it will require custom fabrication to fit your space. However, quartz is also incredibly durable and will last a lifetime.
How do you support a countertop for a laundry room?
The configuration of your space will determine the best way to support a countertop for a laundry room.
The simplest method is to install a countertop over your washer-dryer, and secure it to the surrounding walls or cabinetry using L-brackets. If you're using a butcher block countertop, this is a straightforward job you can do yourself. If you're opting for a hard-surface counter, you'll want to leave this task to the pros.
Sign up to the Homes & Gardens newsletter
Decor Ideas. Project Inspiration. Expert Advice. Delivered to your inbox.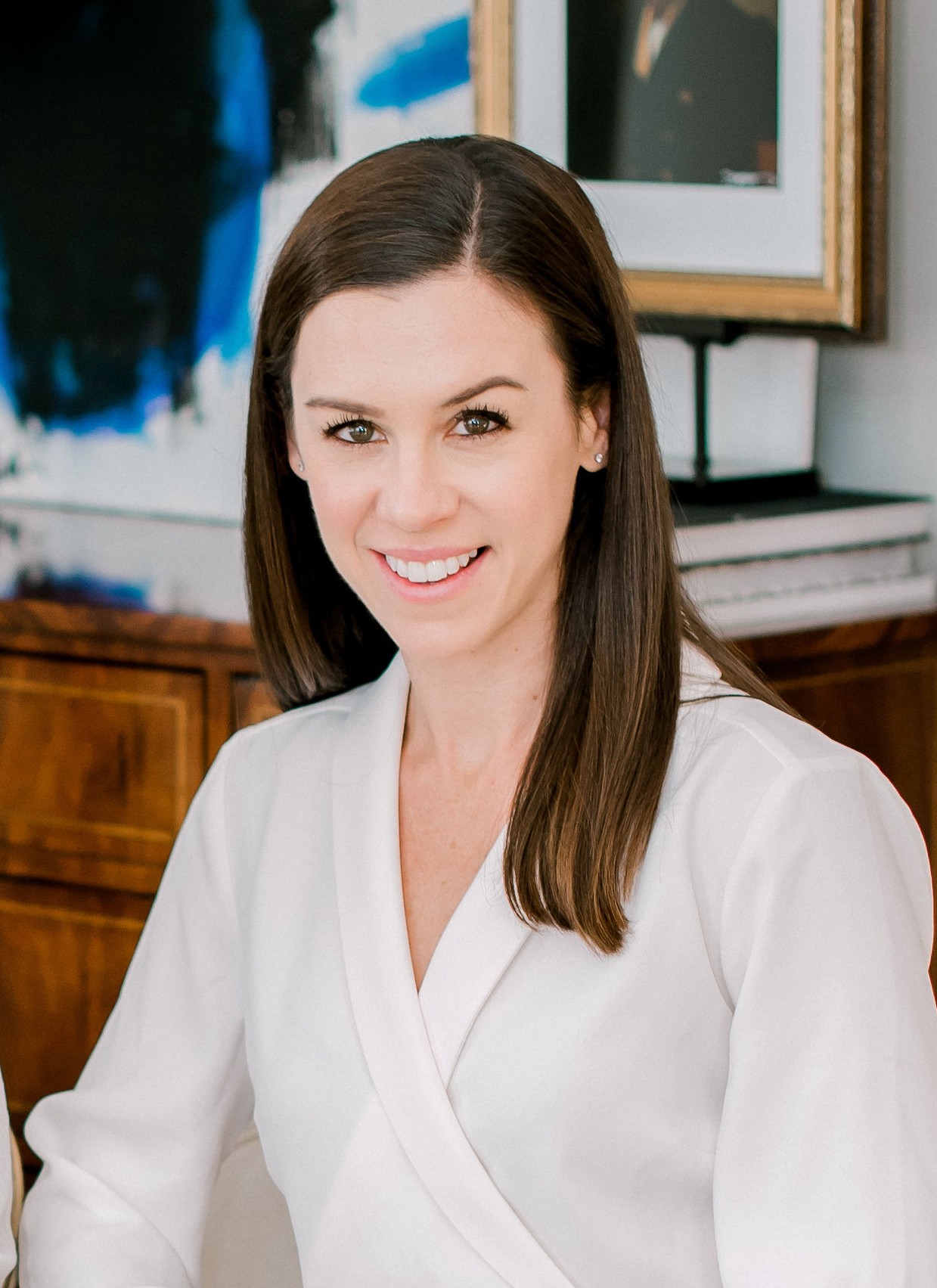 Executive Editor, Homes & Gardens
Kaitlin Madden Armon is a writer and editor covering all things home. Her work has appeared in Real Homes, Architectural Digest, Martha Stewart Living, Refinery29, Modern Luxury Interiors, Wayfair, The Design Network, and lots more. She graduated from Northeastern University with a degree in journalism and currently lives in Connecticut with her husband, three kids, and black lab.