Small laundry room ideas – 19 compact designs that are guaranteed to save space
Our space saving small laundry room ideas prove that it is possible to achieve a stylish and workable utility area no matter the size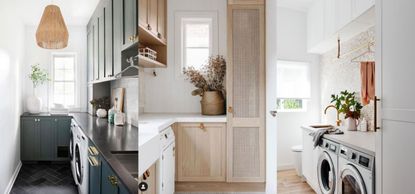 (Image credit: Lori Paranjape/ Gigi + Gray /Norsu Home /)
Small laundry room ideas need to make the very most of every inch so everything you require from the room can be included despite its limited dimensions.
Whether you are reworking an existing small room, have gained space following an addition, or simply dream of one day having an area dedicated solely to washing and drying, clever laundry room ideas will ensure it delivers on all the items on your wishlist.
Here, we've put together plenty of small laundry room ideas along with expert advice on designing and organizing a laundry room to inspire you.
Small laundry room ideas
From built-in cabinetry to shelving with plenty of rustic appeal, these small laundry room ideas offer stylish solutions that are equally functional.
1. Work a laundry room into an awkward space
If you are working with a historic home that offers plenty of quirk, character, and awkward angles, consider how this might be of benefit to your laundry room design. Here, a space with a sloping ceiling has been transformed into a stylish, compact laundry area.
Irene Gunter from Gunter & Co. Interiors provides the following insight: 'Often laundry rooms are tight on space, so when designing one, storage and organization are key.
'We relish the challenge, and work with our clients to think about their day-to-day requirements to optimize the room and make it function as efficiently as possible; what equipment do they use regularly, what needs to be accessible quickly and what can be stored away.' When it comes to storage, think about a place to keep appliance manuals and a guide to laundry symbols as well as laundry detergents and so on.
2. Rely on storage solutions to make the most of small laundry room ideas
If you are keen to kit out a small laundry room to its full potential, clever laundry room storage ideas are essential.
Here, a wall drying rack – which can be neatly folded back – provides extra space for air drying without being a permanent feature when the tumble dryer temperature guide rules out machine drying. Plan to leave space on a countertop below or adjacent to a wall rack for folding towels and rolling towels, as well as for tasks such as folding fitted sheets.
3. Choose one shade for a cohesive finish
If you are renovating an existing laundry room on a budget, consider painted kitchen cabinets for a quick and effective update.
Opting for a single shade that can be used on walls, cabinetry, paneling and more will achieve a high-end, cohesive finish for little to no money. Here, a deep shade of blue is effective in framing the space and provides the perfect backdrop for accessories in neutral tones.
4. Opt for open shelving in a small laundry room
A great alternative to traditional laundry room cabinet ideas, open shelving is a clever option for those seeking to maximize storage without creating a boxy feel within a small laundry space. Just make sure you're displaying your most delightful crockery.
Concerned your laundry room shelving will become a dumping ground for clutter? Consider investing in some well-placed rattan baskets.
5. Invest in custom carpentry for a high-end finish
Even a tiny laundry room can achieve a high-end finish with the help of an expert.
Not only will bespoke carpentry ensure you maximize your space, making the most of every awkward angle, but working with an experienced designer is also an effective way of building a functional scheme that will help to organize a laundry room.
6. Combine storage solutions for a modern rustic finish
And if the uniform look isn't for you, go the opposite way by combining a variety of textures and storage solutions for a homey, unfitted finish.
Here, a shallow shelf beneath fitted cabinets provides the perfect spot for trinkets, which inject character into what might otherwise be a purely functional space. Consider concealing appliances behind a counter curtain to ensure that they are hidden away, but still easily accessible for tasks such as cleaning clothes, washing sheets and for washing pillows and washing weighted blankets, too.
Recreate the look with the shade Dead Salmon, by Farrow & Ball.
7. Incorporate a laundry room into an existing space
If you cannot dedicate an entire space to the laundry room, why not consider working utility room ideas into an existing niche, perhaps by incorporating a laundry area into your bathroom ideas.
Here, a reasonably sized bathroom doubles up as a laundry room, with the sink serving a dual function and clever storage solutions ensuring the space is maximized.
Installing a hanging rack is a useful option for shirts, that may save you at least a little time ironing.
Whether you're creating a dual purpose space or have a separate laundry room, bear in mind that if you're using bleach in laundry this, along with detergents, needs to be stored so young kids can't access it.
8. Inject texture into small laundry room ideas – and a neutral color palette
If neutral tones and natural materials appeal, consider how texture might be used to divide your space and create interest.
Here, rattan is used to finish one of the floor-to-ceiling laundry room closet ideas, and the result is a space packed with plenty of character.
9. Choose the best storage to ensure your space stays neat and tidy
The goal of laundry room makeovers is to create spaces that are neat and organized, so you'll need to prioritize quality storage.
Louise Wicksteed, design director at Sims Hilditch provides the following advice: 'We recommend bespoke storage to help maximize space, particularly in small laundry rooms.
'You might like to recess shelving into the walls and stow wicker storage baskets inside, as a neat and aesthetically pleasing vessel in which to store bits and bobs.'
When planning the storage, think about the detergents you'll need from time to time, such as those for washing a silk pillowcase or washing a woollen blanket, as well as everyday detergents and fabric conditioners to ensure you don't run out of space.
10. Plan an L-shaped laundry room
If you are looking for narrow utility room ideas, opting for an L-shaped laundry room layout may be the best option to help you truly maximize every inch of space.
Here, gorgeous blue-green cabinetry is teamed with white paintwork to achieve a stylish finish. Choosing to maximize storage potential on one wall, while leaving the other bare, prevents the space from feeling overwhelmed. A traditional sash window at the end of the room floods the space with light.
11. Tuck your laundry room behind a partition
If you're keen to work a laundry room into an open plan kitchen or living space, this smart set-up, complete with folding doors, is certainly an option worth considering.
Complete with laundry room essentials including a sink, washing machine, and plenty of storage, it is easily accessible on laundry day but can be concealed quickly if you have spontaneous guests.
Louise Wicksteed, design director at Sims Hilditch, says: 'Don't forget that your laundry room is an extension of your home, so it should follow the same themes that occur throughout the rest of your kitchen ideas, including color scheme and materials used.'
12. Choose shiplap paneling to make your space appear larger
Horizontal paneling is effective in making a space appear larger, longer and wider, which is why it is a popular option for small spaces – including utility and laundry rooms.
Aside from this, shiplap paneling is a trendy solution that promises to add plenty of rustic appeal to any small laundry room ideas.
13. Invest in a ceiling airer to maximize space
A pulley drying rack is a clever way to make space for clothes – including those that aren't suitable for drying even on the delicate setting on a tumble dryer – but it's ideal if you're washing a mattress cover and the weather precludes its being dried in the yard, or for airing larger items such as bedlinen and towels.
To maximize its practicality, hang it over a sink so that really wet items can be lined up to drip dry; if it is near a window that opens, too, all the better.
14. Install heated towel rails for a one-wall laundry room
Small laundry room ideas have to be clever to really work, and this is one of our favorites: a series of wall-hung heated towel rails that can dry items without taking up any floor space at all.
Another way to create an efficient drying area is to line your walls with hanging racks and install underfloor heating instead of heated rails.
15. Use a freestanding cabinet to house laundry room essentials
In a tiny laundry room, storage is everything. If your space is lacking ample storage, try designating a laundry cabinet in a spot in your home that's close to your laundry room. A freestanding wardrobe or large cabinet can house washing-day essentials neatly behind closed doors.
16. Add wall hooks to a tiny laundry room
There's no space to waste in a small laundry room. That means utilizing your vertical square footage, too. One of the best ways to do this is by adding wall hooks. They aren't as deep as shelving, so won't crowd a tight space, and they're useful for holding everything from laundry bags, to air-dry items, to clothes hangers.
17. Hide your washer and dryer in plain sight
If you don't have space for a dedicated laundry room, hide your washer and dryer behind custom cabinetry.
When closed, the cabinet doors make this laundry area by Camden Grace Interiors look like simple built ins. When the doors are open, the spot turns into a full-on laundry station thanks to the countertop, which acts as a handy place for tasks such as spot cleaning when you can't wash memory foam pillows, as well as sorting, and folding clothes.
18. Add multi-purpose shelving
Storage shelves and a hanging bar are must haves for an efficient laundry room. If you can't carve out a dedicated zone for each, try a shelf with a built-in hanging bar at the bottom, like this version from Rejuvenation.
You can store your laundry soap, the dryer balls necessary for tumble drying a duvet or tumble drying a comforter, or scrub brushes on the shelf, and stash hangers on the rack so you can hang up clothes straight from the dryer.
19. Add a functional laundry pedestal
Laundry pedestals are handy for front-loading washer-dryers because they eliminate the need to bend over every time you flip the laundry or clean a washing machine. A laundry pedestal with built in drawers, on the other can, can save your back and create valuable storage space in your laundry room.
How do you maximize space in a small laundry room?
Well-organized storage is key to maximizing space in a small laundry room. As well as wall and base cabinets and pull-out drawers for stashing smaller items (batteries, bin bags, paper towels, etc), don't forget a tall cabinet for keeping an iron, ironing board, mop and bucket and vacuum cleaner.
Often, a very big or deep sink such as a robust Belfast style is top of a utility wish list for washing whites and colors than need to be cleaned by hand, rinsing off muddy wellies and football boots, washing stuffed animals and cleaning bath toys, and even washing the dog if you are combining your laundry room with practical mudroom ideas. A faucet with a pull-out or extendible spray valve is perfect for general cleaning, as well as filling buckets and washing down bulky items.
Make sure there is a decent amount of work surface around the sink and elsewhere in the kitchen for sorting through laundry and stacking baskets – or tuck them out of the way in a nearby niche.
Where do you put your laundry in a small house?
If you live in a small house, you may not have any laundry room at all. But, if you still need a spot to fit a washer and dryer, here are a few spots to consider:
In a closet. A stacking washer/dryer can fit in a small hall closet. Use bi-fold doors to maximize traffic flow when you're doing laundry. A walk-in closet (even a small one) in an upstairs bedroom is also an ideal spot for laundry.
In a bathroom. Your bathroom can be a convenient spot to install laundry because you'll already have the plumbing sited. If your existing bathroom layout doesn't all space for your laundry, consider converting a bathtub to a shower stall to make room for a stacking washer/dryer.
Rethink existing space. If you have a room in your home that doesn't get a ton of use, like a powder room or sunroom, consider transforming it into (or taking a piece of it for) a laundry room.
In the basement. Of course, there's always the basement. While it may not be the most luxurious spot in your home (unless you're lucky enough to have a finished basement), it's a practical spot for your laundry. You can spruce things up a bit with bright lighting, an indoor/outdoor rug, and some paint on the walls (yes, even if they're concrete).
Sign up to the Homes & Gardens newsletter
Decor Ideas. Project Inspiration. Expert Advice. Delivered to your inbox.
Emily first (temporarily) joined the Real Homes team while interning on her summer break from university. After graduating, she worked on several publications before joining Real Homes as Staff Writer full time in mid-2018. She left the brand in 2020 to join the police force but continues to write for Homes & Gardens about interiors.