Can you wash a mattress cover?
Wondering whether you can wash a mattress cover? Whether yours is fixed or removable, we've got all you need to know about keeping your sleep surface hygienically clean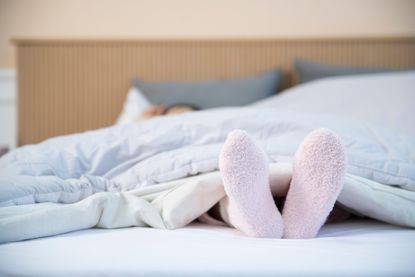 (Image credit: Alamy)
You may want to know if you can wash a mattress cover if you have just invested in a new mattress – or want to extend the use of your existing one for years to come. So, can you wash a mattress cover? The answer is: yes, but there are a few things to consider first.
Mattress covers can be fixed or removable and you can also buy separate mattress covers, aka mattress protectors. Many modern foam mattresses have zip-off covers that are designed to go into a washing machine at around 104ºF, so you can make space to clean them part of your laundry room ideas.
Zipping them back on can be tricky, particularly if your mattress is king size or bigger, but once on, they stay in position perfectly and mean you don't need to buy an additional mattress cover.
Traditional sprung mattresses made from natural fibers like cotton, wool and bamboo tend to have fixed mattress covers, sewn in, that cannot be removed. In this case a mattress protector – sold separately – is the way forward. For any of these options, be sure to check the laundry symbols on the tag for washing advice.
'Prevention is always better than cure when it comes to cleaning a mattress and we recommend a good mattress protector to keep the sleep surface clean and sanitary,' says Ross Thurston, operations manager at Millbrook Beds. 'Not only does a protector minimize the risk of stains but it can be easily washed in the washing machine, unlike a mattress.'
If you are looking for more tips on cleaning a bedroom, and also want to add an extra layer of comfort, it's worth knowing that most of the best mattress toppers come with machine washable covers, too.
How to wash a mattress cover
Removable mattress covers and protectors are usually designed to be machine washed and you should do so approximately once a month depending on soil levels and usage. Use these cleaning tips.
1. Check the care label Before you start, just as you would when washing pillows or washing a down comforter, check the care label for specific instructions on temperature, spin speed and drying.
2. Set the cycle as hot as possible to kill germs Set the wash programme according to the care label. Around 104ºF at 1200rpm is standard for a cotton or polyester mattress cover but, just as when washing bed sheets, go as hot as possible (according to the manufacturer's recommendations) to effectively tackle bacteria.
3. Halve the detergent and rinse well Use about half the detergent you would normally put in a full load to reduce the risk of allergies and ensure all the detergent is rinsed sufficiently. A non-biological laundry detergent is best for sensitive skin.
Can you put padded mattress covers in the washing machine?
Some mattress protectors have a small layer of padding or quilting. Not quite thick enough to be called a topper, but thicker than a single-layer cover, such mattress protectors offer a little extra luxury and softness to your sleep surface. Again, you must check the care label before machine washing but most will be machine washable, even feather-filled mattress covers, although they may require a delicate cycle to prevent clumping.
As with washing a weighted blanket or washing a woollen blanket, never overload your washing machine; not only will the cover not wash properly but it can damage your appliance. A double or king size padded mattress cover should fit in most front-loading machines comfortably, but a super-king may require an 8kg drum or bigger. If you can't fit your hand into the drum once the cover is inside, consider taking it to a professional instead.
How to freshen a mattress cover without washing it
If your mattress cover is starting to smell a little stale cleaning with baking soda is an easy way to give it a quick refresh that will soon have it smelling box-fresh, according to Annie McWilliam, co-founder of natural cleaning brand Colt & Willow.
'Strip off your bed linen and sprinkle the cover very liberally with baking soda, covering the whole surface area,' she says. 'You can add a few drops of lavender essential oil which is a soothing restful scent. Let this soak in for as long as possible, 24 hours if you are not using the bed, or do it first thing in the morning. Finally vacuum or brush off all residue of baking soda to enjoy a beautifully clean and fresh-smelling bed.'
How to remove stains on a mattress cover
Even the best mattress will suffer the odd stain but it's important not to saturate a fixed mattress cover, or any cover cleaned in situ. Aim for a surface clean only; any water allowed to soak into the mattress below will take an age to dry and dampness can quickly lead to mould.
'If there is a small stain that needs treatment, you can try using a fine mist of water, followed by fabric stain remover, on the area,' advises Vicky Whiter, managing director of Peters' Cleaners. 'Clean off the stain remover with the water mist and a white cloth, taking care not to soak the cover. Let it dry thoroughly before putting your sheets back on.'
Can you vacuum a mattress cover?
Experts recommend vacuuming your mattress cover, with the upholstery attachment, regularly. And, particularly in the case of mattress covers that can't be removed and machine washed, vacuuming can be one of the best and easiest ways to keep dust mites and other allergens under control.
However, it is very important to check with your mattress supplier before you vacuum, especially if you have a traditional sprung mattress. 'We always recommend that mattresses which use natural fibers should be brushed rather than vacuumed as this can damage fillings and affect the sleep surface,' explains Ross Thurston.
How do you dry a mattress cover?
Line drying is best for the environment and your wallet. Dry in direct sunlight if possible. It's important to get your mattress cover bone dry before you put it back on the bed.
But as with drying a duvet and drying a comforter, a tumble dryer can produce the quickest and most reliable results, especially in winter, and the tumbling action will leave your mattress cover nice and soft. Always check the care label before you tumble dry any mattress cover as even a little shrinkage can make them much harder to get back on.
Look for a square symbol with a circle inside, which indicates it is safe to tumble dry. If the circle has one dot inside, you'll need to use a low heat. Two dots indicates that you can tumble dry on a high heat. An X across the circle means do not tumble dry.
Can you tumble dry waterproof mattress covers?
It's even more important to check the care label when it comes to both washing and drying waterproof mattress covers, especially if there's a layer of vinyl on the inside, which may melt in a machine if the wrong temperatures are used. Never iron or dry clean a waterproof mattress cover unless specific instructions state otherwise. If you have young children, it's wise to have an extra waterproof cover on standby so that you're not rushing the wash process.
Sign up to the Homes & Gardens newsletter
Decor Ideas. Project Inspiration. Expert Advice. Delivered to your inbox.
Linda graduated from university with a First in Journalism, Film and Broadcasting. Her career began on a trade title for the kitchen and bathroom industry, and she has worked for Homes & Gardens, and sister-brands Livingetc, Country Homes & Interiors and Ideal Home, since 2006, covering interiors topics, though kitchens and bathrooms are her specialism.