How to wash bed sheets – for optimum comfort and hygiene
Find out how to wash bed sheets whether they're made from cotton, silk, linen or even sustainable bamboo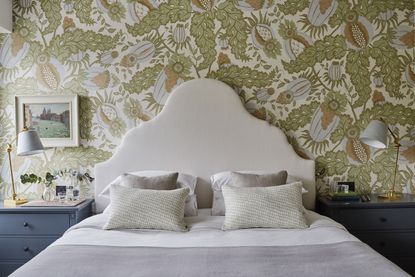 (Image credit: Sims Hilditch)
Knowing how to wash bed sheets correctly will ensure that climbing under freshly laundered sheets at the end of another hectic day remains one of life's simplest, yet most rewarding, pleasures.
Laundry room ideas you love will make keeping up with the task easy, and most bed sheets can go into a regular washing machine, but it's worth taking a little time to get to know the best wash program and heat setting for each material.
Cotton bed sheets are easy to wash, as are linen, but the latter are prone to shrinking in a hot tumble dryer. Tencel and bamboo sheets, made from sustainably sourced fibers, are fairly robust but benefit from cooler wash temperatures. Silk and satin sheets are a touch more temperamental and the laundry symbols on their tags will show you should use low wash temperatures and slower spin cycles plus specialist detergent.
'Keeping your sleeping environment clean is also important for your health,' says James Higgins, CEO of Ethical Bedding, who recommends washing sheets weekly to help keep them, and you, in peak condition.
Whatever fabric you prefer for your sleep space, we've got the lowdown on how to wash bed sheets to keep them clean and fresh, in just five easy steps.
How to wash bed sheets
Knowing how to wash bed sheets correctly to prevent any common bedding mistakes should keep them looking as good as new, and will also preserve how they feel to sleep under – and if you've invested in the best bed sheets, it's well worth getting savvy. Below, experts advise on the proper way to launder them.
1. How to wash bed sheets in a washing machine
You can wash most bed sheets in your washing machine. And, unless you send all your laundry out to a cleaning service, we recommend you never buy sheets that are dry clean only. Life is too short! Check the care label on your sheets and make a mental note of any specific instructions, before you pop them in the drum.
Adopt the same policy as when you're washing pillows, washing electric blankets, and washing down comforters, and don't overload the washing machine. If you can't get your hand in the drum alongside the sheets, then it is too full, and they won't wash properly. If possible, wash your bed sheets together, without any other clothing that might leach color. 'Especially avoid mixing sheets with clothing that has zippers as they can be harmful to the more delicate sheets,' adds Lily Cameron, cleaning supervisor at Fantastic Services.
2. Check bed sheets for stains
It's always worth checking bed sheets for stubborn stains as they're best tackled pre-wash. Andrew Bramley, owner of pro cleaning business Pure Freedom, recommends mixing baking soda and water into a thick paste and applying it to the dampened stained area. 'Let it dry out until it's flaky. Brush off the dried paste and run the sheet through a regular wash cycle,' he says.
3. Add the right amount of detergent
The amount of detergent you add is dependent on the size of the load. Always follow the guidance on the packaging with regards to recommended amounts, and where to place the detergent – in the drum or detergent dispenser drawer. Too much detergent can lead to excess water use and sludge build-up in your washer's inner pipes, which can lead to damage. Less is more.
The type of laundry detergent you buy will usually come down to budget and personal preferences. Laundry detergent is either biological, which means it contains enzymes, or non-biological, which doesn't. Enzymes break down dirt and help remove stains, but they can cause skin irritation for those with eczema and sensitive skin.
Non-bio detergents are the best choice for babies or those with allergies and are generally capable of cleaning normal amounts of dirt. 'For slightly grubby looking or discolored sheets, a nifty trick is to add around 50ml of lemon juice to the wash cycle. You'll find sheets look brighter and fresher when they come out of the wash,' adds James Higgins, CEO of Ethical Bedding.
Just like when you're washing towels, skip the fabric softener as it can reduce the absorbency of natural fibers and weaken the fabric, and always use silk-friendly detergent on silk sheets as you should when washing a silk pillowcase.
4. What setting to wash bed sheets?
It's important to check the recommended temperature on your bed sheet's care label as some fabrics will shrink in a hot wash. 'Always wash bed sheets with the hottest water temperature setting listed on the care label,' recommends WeThrift's homes expert, Nick Drewe. 'Polyester blends are best washed using warm water, while cotton can tolerate hot water. Hotter water kills most germs and also takes care of dust mites that thrive in bedding.'
Silk bedding should either be hand washed or put on a woollen or delicates cycle in the machine – no hotter than 86ºF/30ºC.
5. What spin speed to use for bed sheets?
Spin speed is also important when considering how to wash bed sheets. Aim for around 1000-1200rpm (800rpm or less for silk). Anything faster can cause excessive creasing, knotting and even potential damage to your sheets. A lower spin cycle will just mean your sheets take longer to dry.
6. Dry your bed sheets thoroughly
Sheets dried outside on a clothesline are hard to beat for freshness, especially on a warm summer's day. 'Sheets on the line ideally should be in the sun and breeze, but remember if your sheets are colored, turn them inside out to reduce the risk of the colors fading in the sunlight,' says Vicky Whiter, managing director of Peters' Cleaners.
But as when drying a duvet, drying a comforter and drying a weighted blanket, it's possible to use a tumble dryer. Machine drying sheets usually produces softer results and the opportunity to add scented sheets. 'Opt for a low heat setting, regardless of the fabric, and consider adding dryer balls. They will help dry your bedding more quickly and efficiently by creating air gaps to allow more air to circulate around your laundry. Dryer balls also agitate the fibers in your bed sheets, making them feel softer and cozier,' adds Emily Attwood, founder, Scooms.
How often to wash bed sheets?
Experts recommend washing bed sheets at least once a fortnight, depending on personal circumstances and the season. 'Some people spend more time in bed than they do in their clothing, in which case it makes sense to wash sheets more regularly,' points out Nick Drewe, homes experts at WeThift.
Hotter weather, night sweats, and illness can all make it sensible to increase the frequency of washes but don't overdo it. Excessive washing will shorten the lifespan of your bedding. Also, don't be too impatient to get clean sheets back onto your bed. Even slightly damp sheets can lead to mould and skin irritation so it's important that they are fully aired and dried. Alternating two or more sets of bedding is a great way to give your sheets sufficient time to dry between washes.
Is it bad to wash sheets with hot water?
It can be bad to wash sheets with hot water, and the temperature you should use to keep them at their best throughout their life depends on what they're made from. Always check the tag to find out the hottest temperature recommended by the manufacturer.
'You can use a lower temperature to save energy, but don't exceed the maximum temperature given on the sheet's label,' says Lucy Searle, global editor in chief of Homes & Gardens. 'If the person who uses the sheets has been sick or has allergies, always opt for the highest temperature indicated.'
Sign up to the Homes & Gardens newsletter
Decor Ideas. Project Inspiration. Expert Advice. Delivered to your inbox.
Linda graduated from university with a First in Journalism, Film and Broadcasting. Her career began on a trade title for the kitchen and bathroom industry, and she has worked for Homes & Gardens, and sister-brands Livingetc, Country Homes & Interiors and Ideal Home, since 2006, covering interiors topics, though kitchens and bathrooms are her specialism.