Best linen sheets – for effortless elegance and breathability
Linen sheets are among the most luxurious and eco-friendly bedding options; these are the best linen sheet sets we've tried and tested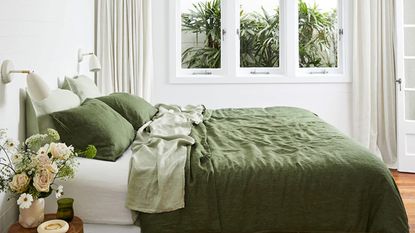 (Image credit: Bed Threads)
When it comes to bedding, linen is one of the most popular options for its breathable, temperature-regulating, and moisture-resistant properties. It's also one of the most luxurious materials for your bed; it lays elegantly and relaxed across a bed, with a smooth appearance. When cared for properly, linen bed sheets can last you for years; in fact, it gets softer with each wash.
Linen is derived from the stem of the flax plant, and most of it is sourced from Europe, specifically Belgium and France, due to the gentle climate. It's durable, dubbed three times stronger than cotton while remaining lightweight and airy. Linen has a looser weave, which helps you sleep cool. It's also hypoallergenic, making linen amongst the best bed sheets for anyone with allergies or skin sensitivities.
Linen cultivation is admired for its sustainable and eco-friendly roots, with production requiring much less water than its cotton counterparts. Farming involves natural rainfall, while flax itself is a renewable resource that can grow and regrow quite quickly.
Good linen sheets can help you sleep better year round, from the warmest summer nights to the chilliest winter ones. 'It is a natural temperature regulator, meaning you'll stay cool in the heat yet toasty when it's cold – and it has a higher moisture absorbency than cotton and silk combined,' says Genevieve Rosen-Biller, Founder of Bed Threads. 'It softens and becomes increasingly comfortable with every wash, is stronger and more durable than other fabrics, and can hold up to 20 times its weight in water, meaning you can say farewell to sweaty sleeps.'
Best linen sheets
You can trust Homes & Gardens. Our expert reviewers spend hours testing and comparing the latest products, helping you choose the best for you. Find out more about how we test.
Our guide to the best linen sheets will have you achieving coastal grandmother status in no time. We've slept in nearly a dozen sets of linen throughout the warmest months of the year to bring you the best linen sheet options available, considering feel, construction quality, available options and price.
1. Bed Threads Linen Sheet Set
Best Linen Sheets for Year Round Use
Specifications
Sizes: Twin, Twin XL, Full, Queen, Special Queen, King, Cal King
Colors: 21
Type: French Flax
GSM: 170 GSM
Matching Duvet available: Yes
RRP: $220-$300 / £210-£240
Reasons to buy
+
Each piece comes packaged in its own linen bag
+
Soft enough to use out of the package
+
Great color assortment
+
Sustainably made in Australia
Reasons to avoid
-
Amount of linen bags packaged in feels unnecessary
-
Advised not to tumble dry or iron
The 170GSM is midweight, and suitable for year-round use, thanks to linen's temperature regulating properties. All of the pieces are OEKO-TEX 100 Certified and dyed with eco-friendly dyestuff.
It's immediately soft, though it's after three washes is when it seems to reach its peak softness and lived-in feel that makes linen so lust-worthy. After that first wash, it went onto the bed, and I noticed it didn't wrinkle too much. Granted there were wrinkles, but none to the extreme of some of the others I've encountered.
Bed Threads operates as a fully carbon-neutral business, and they donate $1 from each order to charity through a partnership with i=Change. Their signature flax is grown in France by registered farmers and suppliers and then turned into sets in China under ethical working conditions.
Bedding is available as a sheet set with a flat and fitted sheet with pillowcases, bedding set with a fitted sheet and duvet cover with pillowcases, or piece by piece. They're available in an expansive 21 colors, and you can add contrasting scalloped euro shams. Packaging is plastic-free; each item is wrapped in a protective linen bag, and supported with cardboard to maintain shape.
And while the Australian company's namesake infers bedding as their primary focus, they've also expanded into other accessories including table linens, baths, and sleepwear to turn your home into a linen lair.
2. Cultiver Linen Sheet Set
Softest Linen Sheets
Specifications
Sizes: Twin, Full, Queen, King
Colors: 18
Type: European Flax
GSM: 165 GSM
Matching Duvet available: Yes
RRP: $385- $415 / £245- £310
Reasons to buy
+
Soft enough to use straight out of the packaging
+
Tons of colors
+
Sustainably made in Australia
Reasons to avoid
-
Sheds a bit and produces a lot of lint in the dryer
While linen sheets are known for getting softer with each wash, Cultiver's linens felt ready to go, soft enough to go on the bed straight out of the packaging. Cultiver uses an enzyme wash that recreates that soft vintage feels from day one.
Made from 100% European flax with 165 gsm, the fabric feels weighty yet breathable and should help you sleep comfortably all year long. A thin elegant border around the entirety of the flat sheet offers a laid-back appeal. Interestingly enough, they only offer one size of the flat sheet, so those with queen-sized beds will have ample material as opposed to a king or Cal-king bed.
Cultiver also offers a mulberry silk front linen pillowcase option as well, as linen is not always the friendliest to hair and delicate skin. This keeps the different materials from disrupting your bed scheme unless you prefer various textures and mixing and matching. Though, if you opt for the standard pillowcase, they have a generous center envelope closure design that will keep your pillow secure.
The set can be machine washed and tumble dried on low, but it does collect large amounts of lint.
3. Brooklinen Washed Linen Sheets
Best lightweight linen sheets
Specifications
Sizes: Twin, Twin XL, Full, Queen, King, Cal King,
Colors: ~10
Type: European Flax
GSM: 145 GSM
Matching Duvet available: Yes
RRP: $239-$329
Reasons to buy
+
Soft
+
Airy
+
Available in various sets and colors
Reasons to avoid
-
Delicate
-
Sheer can reveal logos on protector/ pillows
-
Limited Edition colors can sell out
It's airy and light, and oh so soft, which gets softer with each wash. Made from European Flax in Portugal, the fabric is OEKO-TEX certified and each garment is individually dyed in small batches. The set features signature elements of Brooklinen like the envelope pillowcase design and the fitted sheet with their convenient short and long side tags.
The core color options stay pretty neutral, but if you're after something more vibrant you can opt for the seasonal colors that create a bit of a flurry as a limited edition drop. We chose the limited-edition Petal pink color and the color is absolutely dreamy, like the color of sherbet, without being too sweet. It's often sold out, but a color they have brought back again due to demand. Colors rotate out seasonally, though you may find yourself lucky finding Last Call colors and a discount, though sizing may be spotty.
However, this linen set is on the delicate side. The company recommends keeping pets away in case their nails may snag, and I spotted a tiny hole on the envelope closure of a pillowcase that came when I arrived. It's in an out of sight place, but if I noticed it on a more obvious spot, I'd be disappointed, and I'll be monitoring if it gets bigger. The Brooklinen team was swift to send pillowcase replacements too.
4. Sijo French Linen LuxeWeave Linen Sheet Set
Best linen sheet set for first timers
Specifications
Sizes: Full, Queen, King, Cal King,
Colors: 10
Type: French Flax
GSM: 175-180 GSM
Matching Duvet available: Yes
RRP: $155-$275
Reasons to buy
+
Made in small batches from French Flax
+
Sustainably produced
+
Option to buy flat sheet or not
+
Perfectly soft
Linen is the product that put Sijo on the map for bedding. Since they've expanded in other amazing fabrications as well, at its root, linen is where it's at. Their luxurious linen is sourced in small batches from France, Normandy if we're being precise, and then assembled in China.
Due to its small-batch process, Sijo's linen varies between 175 and 180 GSM, which is commonly seen as an indicator of quality. The sheets feel perfectly weighty and well-crafted. However, Sijo also calls attention to its sustainability and production methods to create a soft, well-made product. Its production is pretty sustainable in that it requires less water and frequent washing than cotton.
The sheet set is stonewashed to be soft and ready as soon as you unpackaged it. Over time they will get softer, as linen tends to do. It has a tightly beautiful woven weave, but if you hold it up to the light, you can really see the unique variations of the fabric. More on the fabric, linen's revered for its relaxed look, but the Sijo fabric does not appear to wrinkle to the extremity that some other versions do, which is especially noteworthy for those who like a smooth bed
5. Quince European Linen Sheet Set
Best linen sheet for value
Specifications
Sizes: Twin, Full, Queen, King, Cal King,
Colors: ~10
Type: European Flax
GSM: 150 GSM
Matching Duvet available: Yes
RRP: $130-$190
Reasons to buy
+
Affordable
+
Good color options (including pinstripes)
+
Fits mattresses up to 16"
+
One year trial
Reasons to avoid
-
Stiff at first
-
Only available as a set
Don't question the price tag, Quince holds its own among some of the biggest brand names. By cutting out the middle man, Quince sends you goods straight from the factory (my bedding arrived from India faster than some of my go-to department stores) and instead offers prices that blow past the competition.
No corners have been cut either, the 100% European Flax Sheets come in several colors, are packaged similarly to their high-end counterparts ( in a linen cloth bag), and you have a year to decide if they're right for you. You'll want to give these sheets a wash before you put them on the bed, they're a little stiff at first, but they get softer with each wash, and you essentially have a year to try them out.
6. The Citizenry Stonewashed Linen Sheet Set
Best stonewashed linen sheets
Specifications
Sizes: Full, Queen, King, Cal King,
Colors: 16
Type: French Flax
GSM: 185 GSM
Matching Duvet available: Yes
RRP: $275-$325
Reasons to buy
+
Made in Portugal
+
Pretty hem detail
There's a lot to love about The Citizenry's linen sheet sets. First, you notice their soft hand thanks to a stonewashed finsh, and then the pretty eyelet detailing along the hem of the flat sheet and pillowcases.
The Citizenry works with the oldest, family-run linen mill in Portual, the Machado Linen Mill to make its linen bedding, woven of finest French flax, Oeko-Tex certified and made sustainably in a fair trade working environment. The sheets are available in a selection of muted colors designed to be mixed and matched.
The Machado Linen Mill says its sheets are known for being given as the standard wedding gift in Portugal, showcasing its a product designed to last the length of a marriage.
7. Coyuchi Organic Relaxed Linen Sheets
Best organic linen sheets
Specifications
Sizes: Full, Queen, King, Cal King,
Colors: 7
Type: French Flax
GSM: 185 GSM
Matching Duvet available: Yes
RRP: $538-$598
Reasons to buy
+
Available in sets or individually
+
Sustainably Sourced
+
Use low-impact dyes
+
Naturally insulating and breathable
Reasons to avoid
-
Very Expensive
-
Only fit mattresses up to 15"
While most linens, especially the ones of this list, have sustainably focused roots, Coyuchi's entire brand identity is around organic bedding, specifically their relaxed linen sheets.
They're naturally insulated for year-round comfort, and at a weightier 185 gsm, they're going to be the most durable set you've come across, while only getting softer with age. Due to their breathable nature, they suit those who sleep either hot or cool. They're available in seven different colors, all using low-impact dyes that are gentle on the earth and your skin, and can fit mattresses up to 15".
The organic linen is woven in Portugal from flax grown in France, and MadeSafe certified. The production story is almost as interesting as the finishing product, and they're extremely transparent about the linen's process. According to Coyuchi, only one percent of the world's linen can qualify as organic. Since flax can only be planted on the same land once every seven years, and in the meantime, that land has to follow organic practices, Coyuchi supports a community of farmers that include flax as part of their rotation of organic crops — including wheat, fava beans, alfalfa, and winter oats.
8. Linoto 100% Linen Sheets
Best heritage style linen sheets
Specifications
Sizes: Twin, Twin XL, Full/Double, Queen, King, Cal King, Split King, European Queen, European King, Olympic Queen
Colors: 29
Type: Italian Flax
GSM: 190-210 GSM
Matching Duvet available: Yes
RRP: $299-$469
Reasons to buy
+
Made to order in New York from Belgian Linen
+
Tons of colors, sizes, and even pillowcase style options
+
Swatches are available before you purchase
+
Unique Zero Waste Policy
Reasons to avoid
-
Very Expensive
-
Long lead time
Linoto started out of founder Jason Evege's apartment in 2007 out of a quest to find pure linen sheets that didn't cost $1,000 or have to be slowly shipped from Europe. Even as a textile expert and Garment district veteran with access to all the fabric New York had to offer, he couldn't find what he was looking for. So he made it himself. Of course in the last 15 years, linen's popularity and availability have exploded, and the Linoto business has since grown and expanded as well.
Linoto offers a unique proposition, with an artisanal standard designed to take you back in history with smooth and sturdy linen. The Black-owned business sources Italian and Belgian Flax that is then handmade in New York — Westchester County to be exact. The incredible technique goes into the linen's creation: Every item is marked on the cloth with chalk, cut with tailor shears, expertly measured, expertly sewn to the same standards as a designer dress, then washed with natural laundry soap and shipped in plastic-free recycled packaging.
Due to the handmade nature, and large color variety, the sheets have a longer lead time, of 3-4 weeks. And some special sizes and colors will be marked special order, meaning even longer.
The color offerings seem to be endless, 29, and so vibrant. Most colors have a GSM of 190 while the neutral undyed fabrics are a thicker 210 GSM. If you're stuck between a few, you can even order swatches. You can also choose between an envelope-closure pillowcase or sham, as well as standard, deep and shallow fitted sheets or opt for the European style with two flat sheets.
The company also follows its own Linoto Zero Waste Program, with the goal to minimize fabric waste to less than 2% across all product lines. Fabric scraps are used to make face masks, boxer shorts, and tea towels as well.
---
What is GSM?
Throughout this article, you've likely seen the term GSM thrown around a few times.
'Rather than thread count, linen is given a GSM (grams per square meter) rating which measures the weight and density of the fabric,' says Genevieve Rosen-Biller, Founder of Bed Threads. 'The lighter the sheets, the less weight there is billowing around you. Still, it is weighty enough to keep you warm as the seasons change."
Typically, you want linen bedding to be between 150 - 190 GSM, says Haley Seidel, VP of Design & Development at The Citizenry. 'Linen bedding with a low GSM will be very lightweight and more breathable, while sheets with a higher GSM will be thicker and more durable. Our [The Citizenry] sheets have a GSM of 160, meaning they are lightweight and airy but are also durable and long-lasting.'
What makes linen a sustainable choice
Flax linen is one of the most environmental fabrics you could choose. For one, its production uses the entirety of the flax plant, requires much less water and fewer pesticides, and it's both biodegradable and recyclable.
'Whereas silk harvesting endangers millions of rare silkworms, and cotton production demands excessive amounts of water – over 20,000 liters are used to produce a single kilogram of cotton – flax plants do not compound our pollutive footprint in the same way,' explains Rosen-Biller.
Why is linen so expensive?
While beloved and effortlessly sustainable, linen falls on the pricier end of fabrics for a number of reasons.
First of all, Linen is also much more rare than other materials, says Seidel. Flax seed growth is limited to a limited region, most of the world's flax farming comes from Western Europe, where, fortunately, fair labor laws, are in place. Meanwhile, cotton can be grown worldwide.
Linen production is also more laborious that other methods, from extracting the linen fibers from flax stalks to looming it on machines that usually operate at lower speeds, which decreases production and increases cost.
Linen vs Cotton
Linen and cotton are often compared to each other for their natural and breathable qualities, making them both excellent sheeting options. Though when it comes to look, feel, and even price point, the two vary, and it can truly come down to personal preference.
Linen has a more textural, organic feel while cotton is crisp and smooth, summarizes Seidel. 'Linen is woven from flax fibers which are actually hollow, making it highly breathable and ideal for hot sleepers. Cotton sheets are a bit thicker, making them cozy year-round and perfect for us cold sleepers. As for overall appeal, linen offers a relaxed look with an organic drape whereas cotton has a more clean, classic look with a smooth drape.'
Meanwhile, Nicolle Sullivan, Founder & CEO of CULTIVER, highlights the environmental benefits of linen and its natural absorbency. 'As it becomes softer, pure linen fabric holds creases less, and attains a silky yet substantial feel and beautiful drape. The weightiness and softness is luxurious but not stuffy or stifling.'
How to care for linen?
When handled properly, linen gets better with time, and softer with washing. It's relatively low maintenance and can be either hand-washed or machine washed with a gentle detergent and then tumble-dried on low or line dried. Adding in wool dryer balls will also make sheets extra fluffy. Avoid fabric softeners that can weaken the fibers and coat them reducing their absorbency and moisture-wicking properties.
Wrinkles are part of the allure of linen sheets, but if you're an advocate of wrinkle-free sheets, you can give them an ironing on low, or pull them from the drier just before they're fully dry to release any wrinkles.
Rosen-Biller reminds us to 'Store your linen in a dry, cool space and avoid plastic bags or containers as they may contribute to discoloration.'
Sullivan recommends an all-natural detergent or a detergent that does not contain optical whiteners or brighteners, and to 'minimize prolonged and direct sun exposure where possible to safeguard the linen from uneven fading.'
Jaclyn is H&G's eCommerce editor and oversees all things shopping. She's also a bonafide sleep expert, and previously managed all sleep content on Homes & Gardens and Real Homes– in fact, she has passed our five-step certification process to become a verified customer advisor on mattresses. She regularly scouts out the best of the best for buying guides to help you fill your home with only the best. She joined the team in January 2021. She has previously worked with Apartment Therapy, The Kitchn, The Spruce, The Spruce Eats, and MyDomaine. When Jaclyn's not working, she loves browsing real estate listings, unwinding with a chilled glass of Rosé, and entertaining her Cavapoo, Reese.