Bed sheet types – which materials suit you, your budget, and the weather
What's best for cool sleepers, warm sleepers, and everything in between, according to experts...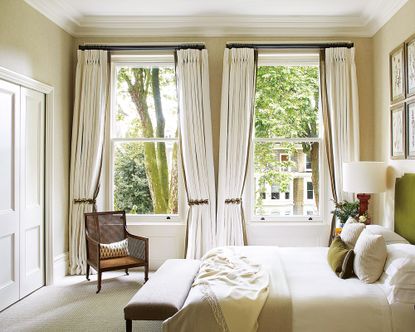 (Image credit: Kitesgrove)
As we spend around a third of our lives in bed, investing in the right bed sheet type is essential if you want to ensure that you have a good night's sleep.
Not only are certain types of bed sheets better for keeping you warm in winter and cool in summer, some breathable fabrics, like linen, can actually improve your sleep quality. And, side note, did you also know that you can pick certain bed sheet colors to improve sleep, too?
A term you're sure to come across when shopping for the best bed sheets is 'thread count'. The thread count refers to the number of horizontal and vertical threads per square inch of fabric, and higher thread counts often indicate softer high-end sheets. However, there is a happy medium at around 400-600 thread count that will give you a good balance between quality and price.
As there are so many types of bed sheets on the market, it can be confusing when trying to decide what is best for your needs. So, we turned to the experts to break down the pros and cons of each type and make the decision easier for you.
Bed sheet types: the lowdown
From jersey and flannel to cotton and linen, see our guide to the bed sheet type that's best for you below.
1. Cotton sateen
For a luxurious, slinky feel to your bed sheets, cotton sateen is the ideal option. Look for a thread count of at least 300 to get a good-quality set.
Sateen weave is a type of cotton weave, which is one thread over and three threads under. This is different from the percale cotton weave – the traditional one thread over and one thread under. These additional threads make sateen slightly warmer on the skin, so it's great for cooler sleepers.
'Sateen is thicker in nature which makes it a great option for the colder months,' says Aja Tilghman, division merchandise manager, Lulu & Georgia. 'Through a more intricate weaving technique, sateen provides both an extra soft feel and has the ability to better trap heat, making sure you stay warm on those chilly nights.'
Do remember that sateen is not as robust as other cotton options, like percale, but is a beautifully soft choice.
The experts at Bed Bath & Beyond say: 'Sateen is exceptionally soft and silky but is not as durable as other bed sheet types.'
2. Satin
Made in the same weave as sateen, but usually in a synthetic material like polyester as opposed to cotton, satin bed sheets are perfect for anyone that wants to create a romantic bedroom aesthetic.
'Satin is great for sensitive skin and allergy sufferers however it is harder to clean and more expensive than most sheets,' says Bed Bath & Beyond.
Look for a thread count of at least 400 for better quality satin sheets, but do remember they are one of the more fragile options, and some are even dry clean only.
3. Microfiber
'Microfiber sheets are very soft, wrinkle-free and typically less expensive than traditional cotton,' says Bed Bath & Beyond. 'However, it can wear down more quickly and is prone to pilling.'
Offering a cozy, soft finish thanks to its tight weave, this option is also great for allergy resistance.
Microfiber is a good option if your budget is a little tighter and, as it's wrinkle-resistant, it's perfect if you're not a fan of ironing. However, it might not be the first choice if you're looking for an upscale aesthetic.
4. Cotton percale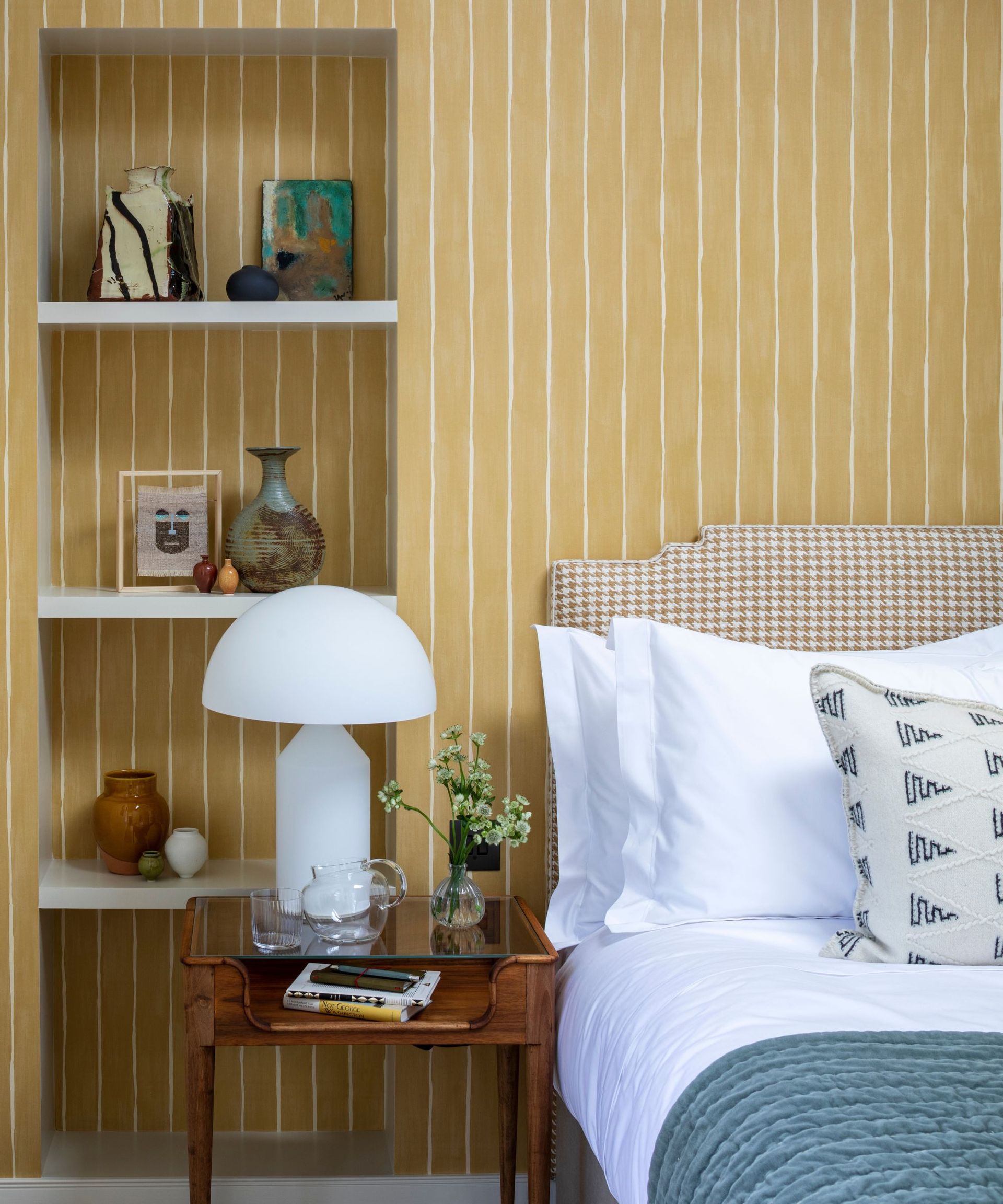 A durable, lightweight fabric, cotton percale is a good option for anyone that sleeps warm and needs a little cooling.
Percale refers to the type of cotton weave used to construct the sheet and consists of a traditional criss-cross pattern of one thread over and one thread under.
A thread count of 200 to 400 will feel luxurious and high quality in percale cotton. This fabric is a hugely popular choice for bed sheets and is often found as the bed sheet of choice in many hotels.
'Percale has a crisp, cool feel but is not as soft and cozy as others,' confirms Bed, Bath & Beyond.
5. Jersey
A soft, stretchable fabric, Jersey is a breathable option that has good temperature-regulating, although it may be a little too warm for hot sleepers.
Wrinkle-resistant, affordable and easy to maintain, but not particularly elegant, jersey sheets are a great bedroom idea for teenagers or kids room idea.
'Jersey feels like your favorite T-shirt and is wrinkle-resistant, but not ideal for someone who sleeps warm,' says Bed, Bath & Beyond.
6. Flannel
A go-to fabric for warm bedding, flannel is ultra-cozy and perfect for cool sleepers and the winter months.
It's recently been enjoying an upsurge in popularity, and keeps you so toasty you can turn the thermostat down at night.
As well as keeping you warm, it's also usually machine washable and tumble drier-friendly. The downside? It's likely you'll need a different bed sheet type come summer.
'Flannel is great for cold months as it's made of thicker fabric with a soft feel,' says Bed, Bath & Beyond. 'However, this is not a year-round sheet option for most climates.'
7. Bamboo
Widely recognized as an eco-friendly option, bamboo sheets - made from the fibers of the bamboo plant – are soft, luxurious, and breathable and can even boost the quality of your sleep thanks to their temperature-regulating qualities.
Moisture-wicking and cooling, bamboo is ideal for anyone who sweats or overheats at night. It's also naturally hypoallergenic and anti-bacterial, so ideal for anyone with sensitive skin, asthma, or allergies. The moisture-wicking properties work to repel dust mites on sheets, which can cause common indoor allergy symptoms like nasal congestion and sneezing.
Crafted with naturally long fibers, bamboo is super-durable and is unlikely to pill or tear. And, as it doesn't absorb moisture (unlike cotton), it won't take on natural oils from your skin, meaning it's less likely to discolor and more likely to last longer.
'Bamboo has similar benefits to sateen,' says Bed, Bath & Beyond. 'It provides a silky smooth sensation and tends to be cooler to the touch than cotton. However, bamboo tends to be more expensive and requires more careful cleaning.'
8. Linen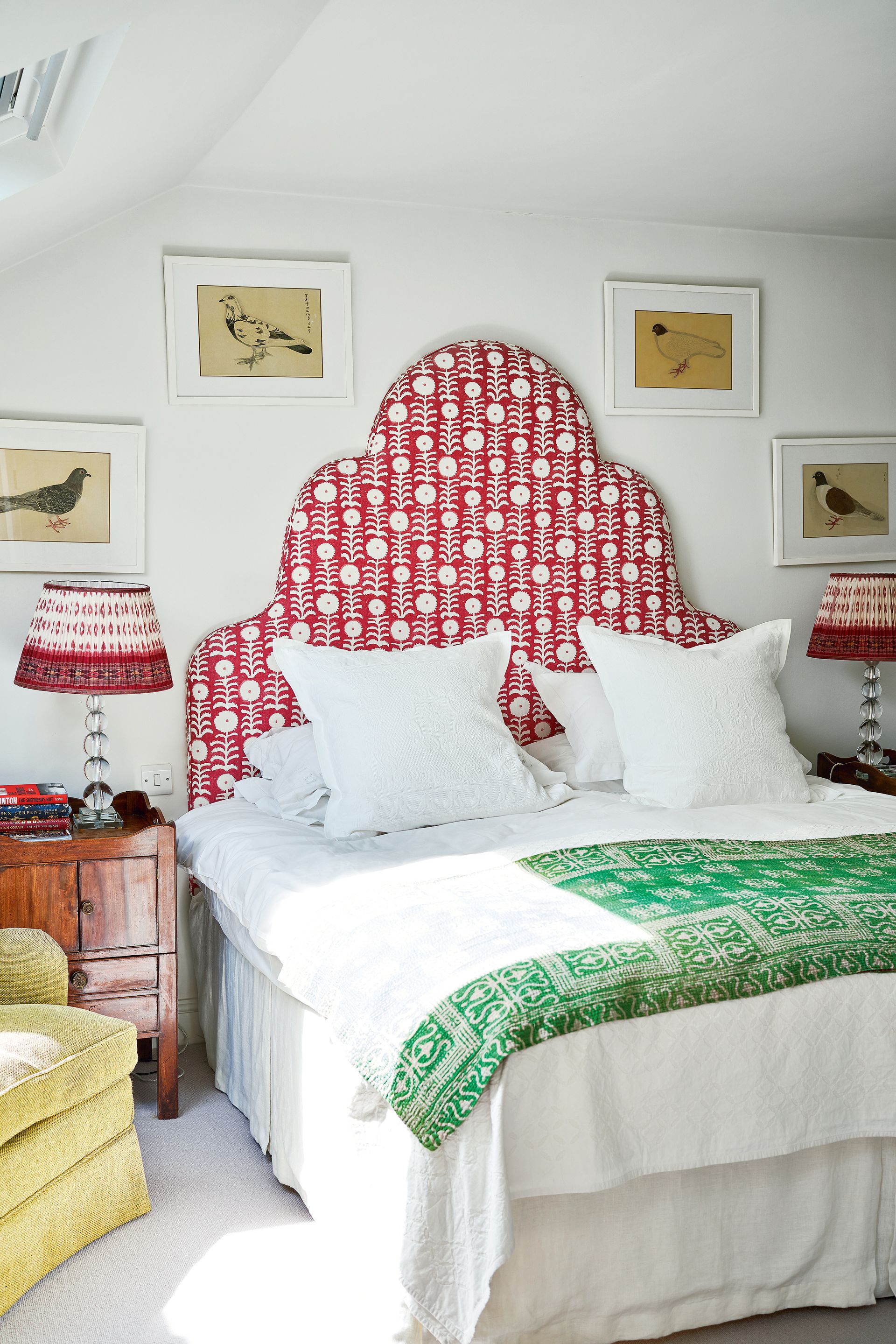 Linen is one of our favorite bed sheet types here at Homes & Gardens. Why? Let us count the ways:
Linen is very durable, which makes it a great investment as it can last for years.
Its moisture-wicking properties are a brilliant boost to better sleep. It can hold as much as 20 times its weight in moisture, so you can enjoy a dry, clean, uninterrupted night's sleep.
It's also good for people who like to keep a bedroom cool, as it boasts excellent temperature-regulating properties too.
It's ideal for anyone with sensitive skin or allergies. Sheets crafted from 100% flax linen are often recommended for those who are prone to breakouts. The natural fibers of linen are not only hypoallergenic and resistant to dust mites, but they can also suppress bacteria, fungi, and microflora.
It gets softer with every wash. We've all had that bedding that starts to pill and look tatty once it's been washed a few times. With linen, however, the opposite happens: every wash makes it softer, shinier and even more luxurious. The reason this happens is down to the material's superior moisture absorption qualities, which deepen with each wash. That's what linen is often passed down through generations – it just gets better with age.
It's environmentally friendly and sustainable. Nearly all parts of the flax plant are used during harvesting, it is minimally processed, and it doesn't require much irrigation. It's also completely biodegradable. Linen is made from flax, one of the strongest natural textiles you can find. Toxic pesticides and herbicides are not needed to grow it. Moreover, once it has been harvested, its roots cleanse and fertilize the soil so the next batch can grow.
Linen's laidback, lived-in modern-farmhouse-meets-Scandi aesthetic is highly desirable and also doesn't require ironing.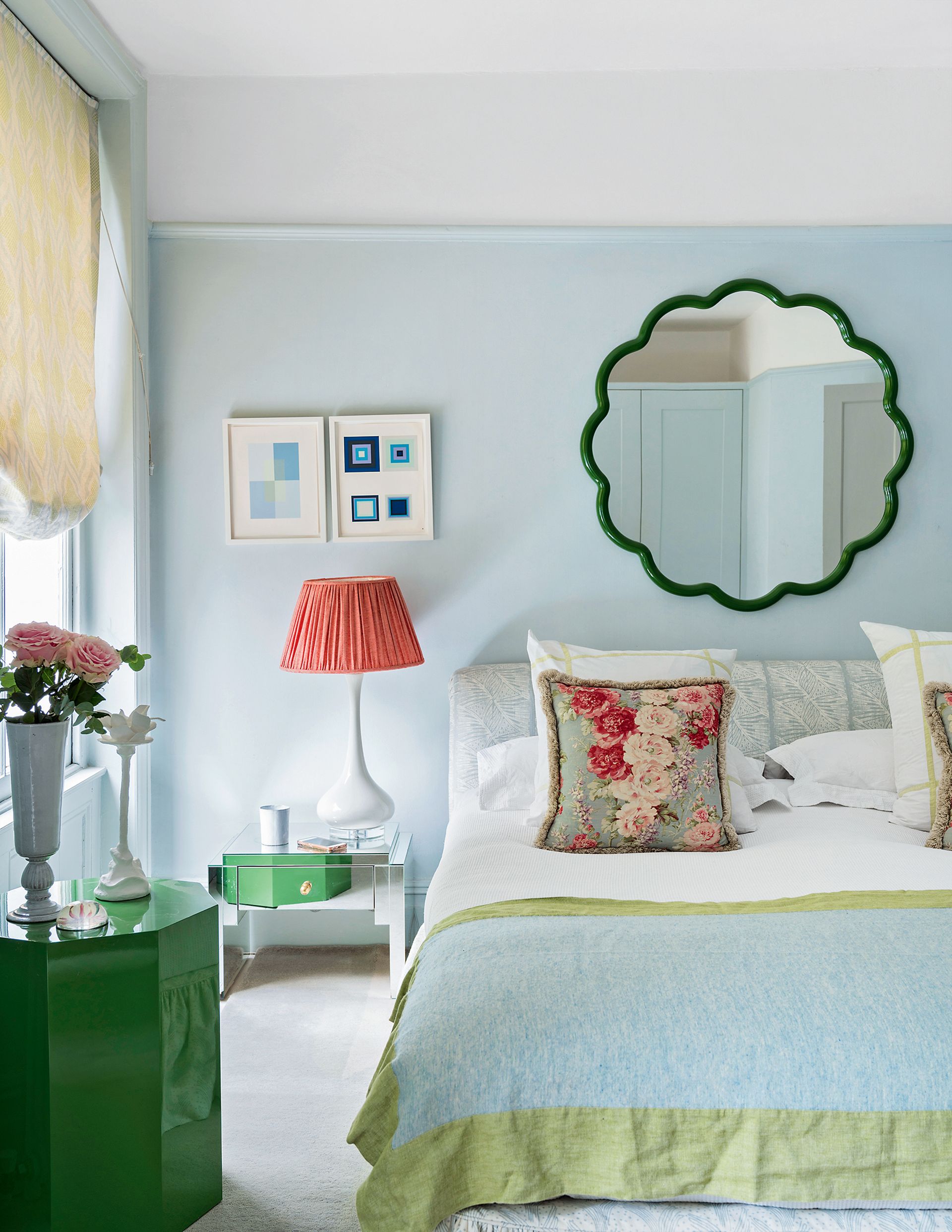 What is the best type of material for bed sheets?
'Cotton tends to be the most popular material for bed sheets, boasting both durability and comfort, but there is a distinct variation in quality, so it pays to do your research,' says Wayfair's resident style Advisor, Nadia McCowan Hill.
'Typically the higher the thread count, the softer the cotton with anything in the 500+ range offering a more luxurious and silky finish. Egyptian cotton bedding is a popular choice for anyone looking for great quality cotton bedding.'
Do remember that the best type of material for bed sheets differs per person depending on a number of factors, including things like whether you sleep hot or cold if you're looking for an easy-to-clean material or a long-lasting material.
Lulu & Georgia's Aja Tilghman says: 'Bedsheet material choice really depends on preference. Linen is a great light and airy option that is exceptionally versatile and adapts to all seasons - keeping you warm in the winter and cool in the summer. It gets softer over time while maintaining its beautiful natural elegance.
'Cotton percale is great for sleepers who prefer a cooler and crisper feel. It is effortlessly smooth in both look and feel and is a great option for those with warmer body temperatures.
'Cotton sateen is great for those who prefer a heavier, warmer option. While it is heavier it still provides a silky, buttery softness that will make you feel like you are sleeping at a luxe hotel.'
Which material bed sheet is best for winter?
'While cotton makes a great choice for bed sheets in either summer or winter, flannel and brushed cotton are excellent options if you are looking for something a little bit more toasty, soft and cozy,' says Nadia.
If you prefer a lighter, smoother feel, cotton sateen is an ideal bed sheet material choice for the winter months, thanks to its thicker weaving technique and ability to trap heat.
What sheets are good for hot weather?
In hot weather, you can't beat linen sheets, which are super breathable and have a relaxed bohemian vibe.
'Linen is exceptionally breathable and is a go-to for the summer months,' says Aja Tilghman, of Lulu & Georgia. 'It has an airy, breezy quality that will keep you cool and its natural fibers provide an effortlessly elegant look. Cotton percale is also a good option for hot weather as it is inherently cooler in nature and provides a lighter, crispier feel.'
Wayfair's Nadia McCowan Hill adds: 'The rumpled look of linen is very much on trend, but if you prefer a more sleek finish, invest in a handheld steamer to smooth out any creases and do this once your bed is already made. Steaming is much faster than ironing and works wonders on linen.'
What fabric is most comfortable for bed sheets?
'The most comfortable fabric for bed sheets is a personal choice, but linen or cotton are great options if you like a cool, breathable finish,' says Nadia. 'Luxury lovers may however favor silk sheets for that touch of romantic opulence.'
Aja Tilghman says you 'can't go wrong' with linen, cotton percale, or cotton sateen, adding: 'It is a personal journey to find your favorite material. Linen offers a more textured feel and gets softer with every wash.
'Cotton percale offers that light, crisp feel from the start and sateen provides that silky heavyweight feel that will mold to your body.'
What is cotton percale vs cotton?
Percale is the style or design of weaving that makes the material strong, whereas cotton is the material itself.
'The difference is in the weave,' says Aja Tilghman. 'Cotton refers to the overall material, where cotton percale is created through a crisscross weaving technique that results in a more soft, delicate, and durable feel.'
Is flannel the same as brushed cotton?
Although they are often referred to as the same thing, there is a subtle difference between flannel and brushed cotton bed sheets.
To give a super-cozy finish, flannel is brushed on both sides, while brushed cotton is only brushed on the face side. For this reason, flannel is often fuzzier and warmer than brushed cotton.
However, flannel sheets can be made of cotton, wool, or synthetic fibers, leaving brushed cotton a good balance of breathable and warm.
According to Parachute, brushed cotton is 'ideal for people who love the classic look of percale but want something a little softer and cozier. The fabric also appeals to those who like sateen but prefer a slightly lighter material. Not too hot, not too cool, undeniably snuggly and lightweight with a tasteful appearance, brushed cotton bedding checks all the boxes, making it a top choice for year-round use'.
Ruth Doherty is an experienced digital writer and editor specializing in interiors, travel and lifestyle. With 20 years of writing for national sites under her belt, she's worked for the likes of Livingetc.com, Standard, Ideal Home, Stylist and Marie Claire as well as Homes & Gardens.