Best clothes dryers 2023: our expert selection of dryers
The best clothes dryers don't leave you or your clothes in a tangle and tumble. They're the smart, stylish, and effective appliances, which you need in your laundry room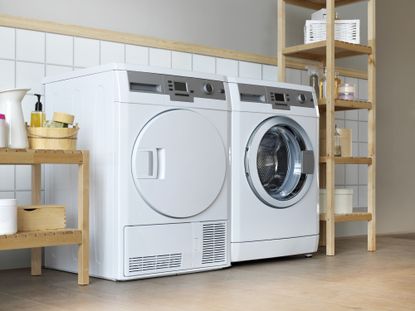 (Image credit: Getty Images)
The best clothes dryers on the market leave your clothes warm, dry, and crease-free in minutes. Innovations in drying technology mean that many new models are incredibly fast and efficient. However, they can carry sizable price tags. When it comes to laundry, you don't want to pay the price for a poorly planned purchase.
I've thoroughly researched the best models on the market, looking for appliances which balance time and temperature, saving your clothes from damage and damp. I've scoured professional, expert, and customer reviews to see which brands can live up to their claims.
G.E, Samsung, and LG are all names you'll see in our roundup of the best washers. I am confident that these are the best appliances on the market, covering a range of household needs, from compact to large capacity dryers.
Quick Menu
Best smart dryer
1. Samsung Smart with Sanitize
Best smart dryer
Specifications
Dimesnions: 44 11/16 x 27 x 30 1/4 inches
Capacity: 7.4 cu. ft.
No of cycles: 12
Reasons to buy
+
Reliably dry clothes
+
Steam cycle
+
Smart vent monitors
+
Moisture sensor
+
Easy to use app
+
Energy Star certified
Reasons to avoid
-
Not stackable
-
Slanted top makes folding clothes tricky
Why you should buy it
Stylish, smart and efficient
What we love
The Samsung dryer is not just a pretty face, even though it looks very stylish. Its smart capabilities allow you to control, schedule, and check on the maintenance of your dryer from your phone. The inbuilt moisture sensor will adjust the runtime and temperature according to your load, so that your clothes never get heat damage.
The range of cycles, from Quick Dry and Freshen Up to Heavy Duty and Bedding, cater to every need. Even better, this dryer is certified as efficient with an Energy Star rating, so you don't need to worry about your energy bills. The four way ventilation system makes positioning easy too, because the dryer can sit almost anywhere in your home.
Good to know
The one grievance people have with this dryer is the slanted top. The angle makes it difficult to fold clothes on the top of and also means that it isn't an option if you're looking for a stackable dryer.
Best large capacity dryer
2. LG DLEX8900B
Best large capacity dryer
Specifications
Dimensions: 29 x 40 ¾ x 32 ⅛ inches
Capacity: 9.0 cu. Ft.
No. of cycles: 12
Reasons to buy
+
Large capacity
+
Easy to load and unload
+
WiFi connective
+
Range of settings
+
Reversible door
+
Energy Star certified
Reasons to avoid
-
Wider than standard appliances
-
Expensive
Why you should buy it
If you've got lots to wash but very little time
What we love
Ideal for large households, LG's dryer is designed for big, busy homes. Aside from the huge capacity, one of the most popular features of this dryer is the elevated and angled drum. It sounds basic, but it makes a big difference to loading your laundry. There are lots of other, simple, but well-designed features: a mini compartment which slides open to store small items, such as pegs and rogue socks. There's also a reversible door, so that you don't have to trip over yourself in the laundry room.
Users found a versatile range of settings, including options for steam, sanitizing, and more heavy duty clothes and bedding. People also really liked the smart capabilities because they deliver on their promises. The technology can auto-select a drying cycle, so that your clothes reach the optimum level of freshness: too much heat will damage the fibers of your clothes. The dryer can be voice controlled though smart technology, so you can treat them like your Alexa or Google smart assistants. For another level of smart technology, ThinQ Care app notifies you on your dryer's cycle status and will let you know if you need to do any maintenance.
Good to know
It's inevitable that a large capacity dryer will demand more space in your home. This isn't for you if you're tight on space, but it is stackable if you really want to squeeze it in. It's also expensive for what it is. It cost around $1,700, which isn't far off our most premium choice.
Best dryer for pet owners
3. Speed Queen Dryer
Best dryer for pet owners
Specifications
Dimensions: 26.9 x 28 x 42.75 inches
Capacity: 7 cu. ft.
Reasons to buy
+
PetPlus for pet hair removal
+
Steam and sanitize function
+
Good capacity
+
Reversible door
+
Technology to prevent over-drying
+
Energy Star certified
Reasons to avoid
-
A little noisy
-
No user manual
-
Not stackable
Why you should buy it
If you've got some furry friends
What we love
Speed Queen's specialised PetPlus hair removal technology is the solution to your pet hair problems. The ten minute cycle can remove clinging pet hair from clothes before washing. This alone is enough to satisfy many owners of the Speed Queen, but this dryer is also praised for its capacity and Energy Star rating for efficiency too. The 7 cu.ft. drum isn't far off our dryer for large families, so if you're a big household with pets too, this is ideal. Users also frequently commented on the reversible door, because it can suit a range of laundry room layouts and doesn't feel flimsy.
Customers were almost unanimous in agreeing that the drying results from this are good. It has special Over-Dry Protection Technology to stop any unnecessary wear on your clothes, but rarely leaves clothes damp.
Good to know
Although it's relatively intuitive to use, many users would have liked to have a user manual. You can find the user's guide online, but it's nice to have in the first place. The control panel means that it isn't stackable, so you'll need a spacious laundry room to fit this in too. It can also be a little noisy.
Best quick dryer
4. GE Smart Dryer
Best quick dryer
Specifications
Dimensions: 28 x 32 x 39.75 inches
Capacity: 7.8 cu ft
No. of cyles: 12
Reasons to buy
+
Smart capabilities
+
Good capacity
+
Looks professional
+
4 way vents
+
Energy Star rating
+
Matching washer
+
Quick dry setting
Reasons to avoid
-
Smart features only work with matching washer
-
Fiddly lint trap
Why you should buy it
A dryer for the people; thousands of customers love it
What we love
Users often bought this as their first premium dryer and were not disappointed: the smart technology means you can connect it to your home assistants and WiFi, so you can keep an eye on your cycle. It's costly, but reasonably priced for what it can do. The Energy Star for efficiency means that it won't drive up your bills and the four way vents allow you to put the dryer in more of a range of places at home.
People love it for its appearance, especially when paired with the matching GE Smart Washer. They look good as a duo and are designed so that you can stack them on top of each other too. Users said that it was easy to use, partially owing to the big display, but also because the controls are so intuitive. The drum's capacity is 7.8 cubic feet, so it's well suited for big, busy households, but not so much that it's a bulky appliance. The quick dry settings also mean that even big loads don't take a long time.
Good to know
Whilst the smart features are great, they only work if you have bought the matching washing machine. Without them, this is an expensive appliance for what it does. However, the main grievance users have with the dryer is the lint trap. It's fiddly to clean and not the best at gathering lint.
Best compact dryer
5. Miele Heat Pump
Best compact dryer
Specifications
Dimensions: 23.5 x 25.45 x 33.5 inches
Capacity: 4 cu. ft.
Reasons to buy
+
Small footprint with large capacity
+
No need for outside venting
+
Plugs into regular 120V outlet
Reasons to avoid
-
Limited capacity
-
Expensive
Why you should buy it
For compact size without any power compromise
What we love
If the LG's size puts you off, this Miele is the dryer for you. It's compact, but still has the same power and performance of larger dryers. The honeycomb drum is designed to inflict less damage to your clothes and reduce wrinkles. Users and reviewers agree, saying that it performed well and that the range of programmes helped to keep clothes fresh. The drum reverses directions to prevent your clothes from creasing and tangling, which lots of users liked too.
This is a ventless dryer, which means that it doesn't need to be connected to an outdoor wall. Instead, you can plug it in to a 120 volt outlet. All you need is a socket and connection to water and this is good to go. A compact, heat-pump dryer that doesn't have an unnecessary premium is rare, so this is a great appliance.
Good to know
This performs well, but it is expensive for its size. The capacity is half of LG's and that isn't reflected in the price. Even though it's efficient, if you'll be doing large loads, this isn't for you.
Best steam dryer
6. Electrolux Stackable Dryer with Steam Dry
Best steam dryer
Specifications
Dimensions: 38 x 27 x 31.5 inches
Capacity: 8 cu. ft.
Reasons to buy
+
Stackable
+
Excellent steam function
+
Range of settings
+
Good capacity
+
White and titanium color options
Reasons to avoid
-
A bit loud
-
Needs to be maintained well
Why you should buy it
Steamy, clean, and a go-to for allergies
What we love
Steam settings on dryers are a great way to give clothes a refresh and reduce their wrinkles. However, dryers with a good steam function come with an unwarranted price tag. In this case, every dollar is well spent. Users cite this as a go-to if you suffer from allergies and if you need a larger capacity dryer. There is a good range of cycles, from Perfect Steam to Instant Refresh, all of which perform well. The 15 minute fast dry setting is a particular favorite amongst users too.
Good to know
Customers say that it's louder than they expected, so probably not one to use early in the morning. Make sure to clean your lint filter too: some users were pleased with how well it collected, but others found that it was not as thorough as they hoped. Electrolux's Customer Service team speculated that this could be down to dishwasher maintenance. If you don't regularly empty the lint filter, it won't be able to do its job.
How I Researched
We like to test every product we feature, but in some cases, we unfortunately cannot. Dryers are more difficult to individually test for a prolonged period, so I turned to research instead.
I read countless articles and guides about the best dryers on the market. After creating a shortlist, I read hundreds of user reviews, professional reviews, and expert reports on each dryer. Collating all of this information, I assessed whether each dryer lived up to their reputation. This is the list of those which made it through each stage. For more about how we test, visit our dedicated page.
FAQs
How to pick the best clothes dryer
Clothes dryers shouldn't leave you tied up or in a tumble, they're appliances to make your life easier. To make the most of your dryer, you'll want to consider the following:
Vented, condenser, or heat pump
Vented dryers pump the air out of the dryer, so will need to be near an outside wall or venting kit. Condensers use heat exchange to condense, collect and drain away the water. This won't produce as much damp outside, but you'll need to empty the condenser tank or have it attached to a drain. Heat pump models are newer to the market and use hot air to evaporate moisture from your clothes. These tend to be more expensive, but they are effective.
Size
You need to consider about capacity. If you have a large washing machine and will need large laundry loads drying at once, you'll want to consider a dryer with a large drum. If you're likely to be doing smaller washing loads, there's no point in buying a large dryer.
Features
Whether they are vented, stackable, or smart, different dryers can cater to a variety of needs. Think about your space and what you'll need from your dryer before missing out on useful settings or spending money on unnecessary features.
Efficiency
These are large appliances that will need a considerable amount of energy, so look for dryers which have energy star ratings. Vented dryers typically need the most energy, then condensers, then heat pumps. If you keep your lint filter clean, use a high spin on your washing machine, or can give your clothes an air dry where possible, you'll help the efficiency greatly.
What is the best clothes dryer?
This will depend on your needs. Overall, I think the Samsung Smart Dryer is worth the money. It's expensive, but you reap the rewards of your investment. The smart technology is sharp and responsive; the drying results are unfaltering; and the capacity is generous. The only criticism people have is that it isn't stackable.
How do I clean my clothes dryer?
These don't need a huge amount of maintenance, but if you do these simple things, it will make a big difference to the efficiency and safety of your appliance.
-Clean the lint filter after every use
-Drain the water tank, if you use a condenser or heat pump dryer
- Leave the door a little open afterward to prevent wear on the seal
- Wipe external surfaces with a damp cloth when needed
Do I need a clothes dryer?
Whilst air drying fresh laundry sounds nice, it depends on time, space, weather, and effort. Having a dryer can save you on all of these and make the laundry much less of a chore. They can also help save you from extended ironing sessions thanks to their steam settings. If you want dry clothes quickly and have room for the appliance, then it's a good investment.
What is the best clothes dryer for pet hair?
The SpeedQueen dryer has special technology to remove pet hair. It performs really well and has great feedback from both users and reviewers.
What is the best way to dry my clothes?
This depends on your situation. If you haven't got much time or space, a clothes dryer is a brilliant way to have your washing ready to wear, pack, or fold in under half an hour. However, dryers do take more of a toll on your clothes. You can also buy heated drying racks, which will air dry your clothes. This will be cheaper, but might require more effort ironing, and laying out the clothes to be folded away.
How do I avoid shrinking my clothes in the dryer?
The best way to avoid clothes shrinking is to air dry them. It will depend on the material, because wool shouldn't ever be tumble dried and other fabrics will have specific instructions on the label. Always check this first. As a general rule, don't over-dry your clothes or have the dryer set too hot.
Our Verdict
In an ideal world, the Samsung Smart Dryer would be my go-to dryer. I think it's a great addition to any spacious laundry room: it looks the part and performs exceptionally well. However, if you want a stackable dryer, GE would be my choice. I selected all of the appliances on this list because they strike the balance between time and temperature, minimizing the wear on your clothes and price of your bill. Any of these would be a welcome addition to every laundry room.