How to organize a laundry room – expert step by step advice
Our top tips for how to organize a laundry room are a must if you are to get your space in order and breeze through washday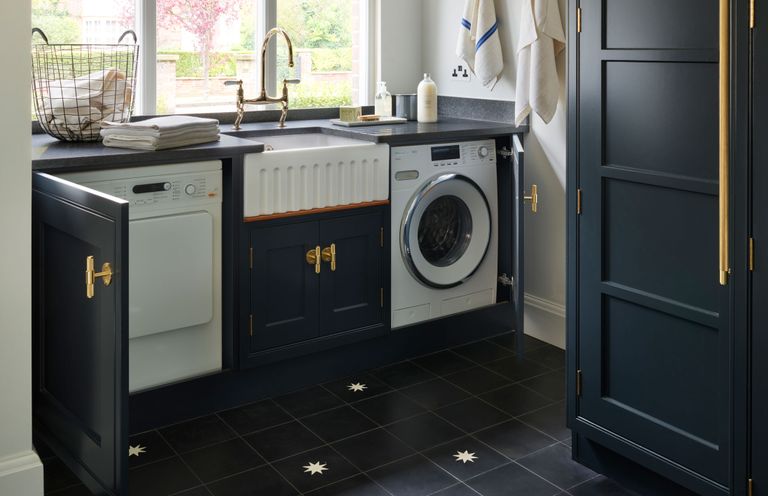 (Image credit: Martin Moore/Darren Chung)
By Jennifer Ebert published
You can bring a smile to wash day if you follow our advice for how to organize a laundry room (honestly).
Of course, to get on top of laundry tasks, it helps to have a dedicated space, especially if it's one you can close the door on. And when planned with care using clever laundry room ideas, this is one asset you'll never want to be without.
How to organize a laundry room
Use these expert tips and steps to organize your laundry room perfectly – many of them will be useful for organizing a kitchen, too.
What makes a good laundry room?
Regardless of whether you are looking for small laundry room ideas or have a large area at your disposal, a well organized laundry room should include space for the following:
sorting dirty and clean washing
handwashing
drying
ironing
How do I declutter my laundry room?
To declutter your laundry room, it needs to be organized like a well-oiled machine, geared up for sorting, laundering, drying, ironing and airing clothes and bedlinen, with you at its center, a whirlwind of efficiency.
Start by emptying the laundry room entirely to give it a good clean.
Then, discard anything you can't or won't use or have too much of – you needn't assign them to the garbage; it may be that you can find a grateful home for them.
Improve laundry storage. There are a whole host of laundry room storage ideas to choose from: fit cupboards, create drawer or shelf space, hanging racks and pegs, and invest in rolling carts for awkward under-countertop spaces.
Assign cupboards or zones in your laundry room for different purposes or laundry tools. This is key to ensure it remains functional as it will allow you to be sure you don't double up on too many things in future.
So, you may have one zone for dirty laundry, one for folding, one for stacking, one for laundry powder, one for drying – and so on. These zones need to be little more than a rack, basket, a shelf in a cupboard or a countertop space, but keeping them distinct will help the laundry room feel organized.
Once you've decluttered your laundry room, consider whether this space can be used to take pressure off other areas of your house.
A cupboard for brushes, brooms and cleaning products could provide extra kitchen storage solutions that will free up kitchen space. And although a steamy laundry room isn't advisable for storing foods that can spoil, it would be fine for canned and bottled goods, or perhaps to take a second freezer or a wine cooler.
If the hallway has become a dumping ground for the family's coats and shoes, your laundry room could also include mudroom ideas, with hanging space for damp jackets and a low bench by the back door with shoe storage beneath, handy as a quick perch when changing boots or sports gear.
How do you maximize space in a laundry room?
To maximize space in a laundry room, first and foremost, the room needs a clear flow and unobstructed doorways.
The ironing board, which should be hung on the back of the laundry room door or tucked into a tall cupboard, will need floor space to be folded out for ironing – and an electric socket will need to be usefully placed to make setting up and ironing easy.
Fitted units will make the most of every inch of space. Depending on the shape and size of your laundry room, utility room storage can be fitted in a single or double run or a U-shape.
Wall units will increase storage space – or you can use wall space to hang drying racks. Don't forget to allow enough room for cupboard doors and drawers to open.
Either way, the use of vertical space is important: a laundry room needn't feel spacious, like you might want your kitchen ideas to – practicalities come first.
Laundry appliances and the sink will need to be connected, so if you intend to move them or are setting up an entirely new room, speak to a plumber at an early stage of the project in case there are any pipework restrictions.
To make the most of space, consider choosing a combined washer dryer or stack the dryer on top of the washing machine in a purpose-built unit.
Don't fret if your house or apartment is seriously short of space as, with a bit of creativity, utility room ideas can be incorporated into even the tiniest of spaces. For example, a mini wash station could be set up under the stairs or in an alcove, with the washer and dryer stacked, and cupboards and a small worktop alongside.
What does every laundry room need?
With the right balance between storage and work space, a laundry room becomes a model of efficiency – and this is what it needs, other than the obvious appliances.
Tall storage is a must for the ironing board, mops and brooms. In a larger room the ironing board could be left out all the time but in a bijou room a fold-out ironing board integrated into a cupboard is a neat solution.
Counter space makes light work of baskets for folding and sorting clothes.
Detergents and cleaning products, plus the iron should be stored behind closed doors away from the inquisitive fingers of young children. Wall mounted-cupboards with child-proof locks are a must.
Below the countertop, a roll-out laundry sorter will keep dirty linen out of view.
Fortunately, no-one needs to spend wash day up to the elbows in suds any longer, but a good sink or deep basin is still an essential for hand washing delicates and woollens, cleaning off muddy boots or even rinsing the dog.
Traditionally, the sink is positioned in front of the window for the best light. Fireclay ceramic sinks are the classic option, with a deep bowl to accommodate larger items.
Fitted with a high-spout bridge tap or tall pillar taps to allow enough height to fill a bucket or bowl for handwashing, the sink will be a focal point of the room. For an industrial look, opt for a stainless steel sink, or for contemporary chic, choose a composite sink.
On days when rain threatens the classic laundry room drying rack comes into play. Strung from a pulley, it can be lowered for easy loading, then hoisted out of the way. Wall-fixed racks that fold out when needed are another option.
Look out too for country-style hooks or a rail to take shirts and dresses on hangers.
Step up the decorative elements with a generous laundry hamper, open wicker baskets and peg bags in fun prints.
Think about incorporating an extractor fan to improve the ventilation; a dehumidifier is great for getting washing dry quickly, especially on rainy days, and will help stop the room from smelling damp.
How do you organize towels in a laundry room?
If your laundry room is also the place where you keep towels, organizing them so that they feel fresh and welcoming at bath time is important.
Ideally, a cupboard that has some ventilation – such as simple, drilled holes in the cabinet door or side – and with adjustable shelves will help you keep towels soft and well organized in a laundry room.
Assign one shelf to bath towels, one to hand towels, one to guest towels, one to beach towels – and so on.
Jennifer is the Digital Editor at Homes & Gardens. Having worked in the interiors industry for a number of years, spanning many publications, she now hones her digital prowess on the 'best interiors website' in the world. Multi-skilled, Jennifer has worked in PR and marketing, and the occasional dabble in the social media, commercial and e-commerce space.
Over the years, she has written about every area of the home, from compiling design houses from some of the best interior designers in the world to sourcing celebrity homes, reviewing appliances and even the odd news story or two.