Organizing kitchen countertops – 13 ways to keep workspaces neat
Nothing says 'stylish' like organized kitchen countertops. We spoke to the experts to discover how to organize kitchen countertops like a pro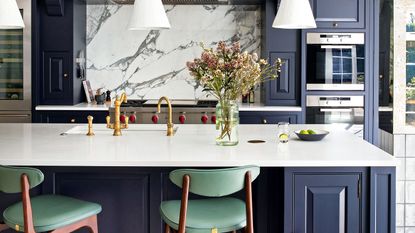 (Image credit: Future / Paul Raeside)
It's an on going project, but organizing kitchen countertops and keeping them clear of clutter will serve you well in more ways than one. Not only does a clear or well-ordered worktop result in a much smarter looking kitchen overall, but it also frees up cooking space and makes for an easy clean-down afterwards.
While there is a case for leaving a few everyday essentials out on the side, minimalism is key when it comes to organizing a kitchen – and especially countertops where everything is on display.
The less you can leave out the better. Those items that do make the grade should not only be functional, but beautiful too, worthy of a well-thought-out display that not only creates a smoother cooking experience but brings aesthetic value to your kitchen.
From curated groupings and stylish storage ideas to top decluttering tips, we've compiled a list of steps you can take when organizing kitchen countertops – with a little help from the experts – to ensure they stay organized, and beautifully organized, at that.
Organizing kitchen countertops
Organizing kitchen countertops is, in truth, a never-ending chore. Clearing it of clutter is a daily task, but you do need to rethink your kitchen countertop ideas once every few months to ensure that what's out is a) good-looking and/or b) useful. Make sure you consider other countertops, too. These ideas are also handy for laundry room organization and utility room organization.
1. Do a daily declutter
'Because the kitchen is often the heart of the home, lots of 'stuff' tends to accumulate; bills that need paying, kids' schoolwork, reusable grocery bags, etc. To ensure countertops remain neat, tidy and well-organized, we urge our clients to declutter at least once a day,' says Kate Pawlowski, professional organizer and co-founder of Done & Done Home.
'Relocate anything that belongs elsewhere, put dirty dishes in the dishwasher and wipe down every flat surface – this five-minute task sets you up for the following day'.
2. Have much used utensils to hand
If you're short on drawer space, keep utensils such as spatulas and wooden spoons on the counter, too. Stash them in a purpose-made container or improvise with a tall jug, and follow the rule on handedness, positioning this to the right of the stove if you're right handed and the other side if you favor the left.
3. Group much used ingredients on countertops
What you always need when you're cooking might be stored there also, but don't locate these supplies directly on the surface. 'Use trays to gather oils, condiments etc,' says Kate Hatherell, founder of The Interior Designers Hub. 'Not only does this look visually better, but it is super important especially if you have porous worktops like stone.'
4. Keep much used appliances out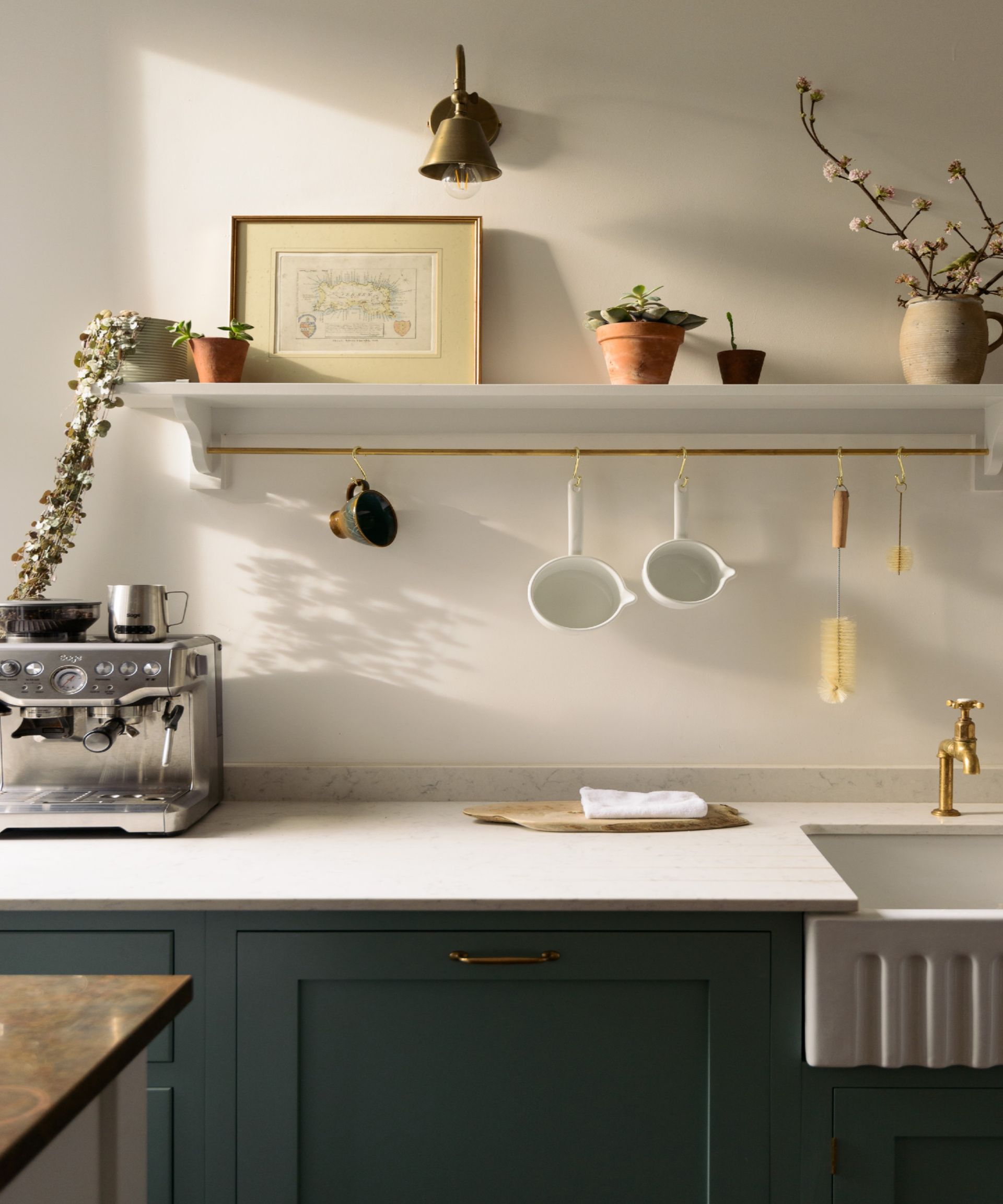 Assess any small appliances first: those that are used daily or very often (say the toaster and coffee machine) can stay out; those that aren't use as frequently (say the slow cooker) should go away into a cupboard (but don't forget the store low rule if an item you're tidying away is heavy). If you have a coffee machine on show, you might want to keep supplies along with it on the counter so you can brew up easily in the morning perhaps along with what you need for making tea.
5. But put other kitchen appliances away
Minimalism is key when it comes to organizing kitchen countertops. 'A kitchen full of gadgets is not conducive to a calm, organized space,' says Helen Parker, creative director at deVOL. 'My advice is to be very selective with what you purchase – buy appliances seldomly but make what you do buy good. A really beautiful coffee maker on display is far more impressive than a random plethora of stuff you've inherited, bought or been gifted.'
A good rule to go by is to only keep out gadgets you use daily – store the rest away. It's worth remembering that kitchen storage ideas don't have to be in the cooking zone. Think outside of the kitchen – particularly if you're looking for small kitchen storage ideas. 'I have a sideboard in the dining room, right next to my kitchen, where I store my bulky crockpot and air fryer,' says Alexandra, co-founder and interior designer at Clairrow. I don't use them every day and relocating them means I free up both countertop and storage space'.
If you're rethinking kitchen layout ideas, consider having as many appliances built in as possible. Think about opting for a hot water tap – that way you won't need to factor in a kettle.
6. Stick to a scheme
As well as investing in good-quality (and good-looking) appliances, it's worth taking material and color choices into account, too when organizing kitchen countertops.
'It's helpful to buy counter appliances in a color similar to your wall, tiles and countertops so they blend into their surroundings', says Stephanie Nix, kitchen designer at Neptune.
Professional organizer Darla DeMorrow not only agrees, she suggests you apply this tactic more widely: 'As well as appliances, I'd also stick to a single color across soap, sponges and anything else you have out on show; this makes for an orderly look and creates an overall feeling of calm.'
7. See the beauty in the everyday
It's worth bearing in mind that a totally clutter-free kitchen can look stark – not to mention somewhat impractical. You'll want to inject some personality, it is a living kitchen, after all. According to Heather Hoerzen, design editor at Havenly, the trick is to choose items that are all about form, as well as function.
'While I'm all for pragmatic kitchen countertop organization, it's more than worth it to invest in and display everyday items that not only get the job done but look beautiful while doing it. Good examples include a marble pestle and mortar, vintage-inspired salt and pepper grinders, richly grained wooden cutting boards, a ceramic garlic stash, woven baskets for storing produce and a crafted wooden dish scrub'.
The same goes for utensil holders and coffee canisters, too — you'll want both of these on your countertop for ease, but it's important to ensure they look the part.
8. Create artistic displays
Similarly, it's important to put as much thought into how you display individual items on your countertops as you do the items themselves. Meaningful, artistic arrangements can add aesthetic value while still contributing towards an organized, efficient workspace.
'We often recommend pairing a large linear item like a cutting board with a horizontal item, such as a few stacked cookbooks. Then introduce a couple of sculptural items, such as a bowl of lemons or salt and pepper mills. Voila! Useful, organized and so pretty', says Heather.
9. Group items together on trays
As we've established, a less cluttered worktop makes for a well-organized one. A tray reads as one item on a countertop as opposed to several, not to mention it brings like-items together nicely – something experts always advise doing when you are organizing kitchen cabinets.
Interior stylist and author of The New Mindful Home (Laurence King Publishing), Joanna Thornhill recommends them for storing your most-used ingredients for cooking. 'You can use trays to contain key condiments such as oils and seasonings, alongside spreads or salad dressings which don't require refrigeration, and it allows everything to be lifted up in one go when you need to wipe down the sides,' she says.
As well as looking better visually, it protects your countertops from spillages – particularly important if you have a porous material, such as marble.
Where you position your groupings is also important. Think about how you move around your kitchen daily. It makes sense to place a jar of utensils next to the cooker where they're easy to grab, for example. Follow the rule on handedness and position on a countertop to the right of the stove if you're right-handed, and to the left otherwise.
10. Choose stylish storage for smaller items
Instead of organizing kitchen drawers to create more space when they are perhaps already over-burdened, consider countertop storage that you don't mind having on show.
'Woven baskets, bread containers or other decorative boxes also work really well to hide clutter. You can store small items like daily vitamins and supplements in a larger decorative container to hide the visual clutter and access easier than in a deep cabinet,' says Stephanie.
To maximize on space, opt for storage ideas with a thin profile – think small risers, vertically stacked jars and fine-metal grid baskets, for example. Choose the same style of storage, or pieces that look good when grouped together, for a coherent look.
11. Decant dried food into containers
Storing cooking supplies on your countertop is practical, but too much food packaging out on show can look garish. Joanna advises decanting dried foods into tightly sealed glass storage jars, just as you might if organizing a pantry, and we're fans of using transparent containers when organizing a refrigerator and organizing a chest freezer, too.
On the countertop, glass jars make for a stylish display, plus ensure it is easy to spot when you're running low on ingredients.
'Use a chalk label to write on any best-before dates as well as the product type, to keep things organized,' she recommends.
Thinking of organizing spices this way? Keeping them out of the light is recommended, so think of putting them into kitchen cabinets, or stashing them neatly as part of organizing deep pantry shelves instead.
12. Make wall space work overtime
An easy way to claim back workspace – especially if you're organizing a small kitchen – is to think vertically. A cumbersome knife block can be replaced by a kitchen organizer such as a wall-mounted magnetic strip for example, while bulky cook books are better suited to wall-mounted shelves rather than stacked on your counters.
While open kitchen shelving ideas are the obvious go-to for clearing countertop clutter, the humble hook has the potential to add flair to your kitchen design, whether hung from a rail or simply mounted on a wall. They can even be used for organizing pots and pans.
'Hooks are one of the most creative (and homely) solutions. They can turn your apron collection into textured wall art, your chopping boards into wooden focal points and your backsplash into an untapped storage spot, all while freeing up other space too', says Al Bruce, founder of Olive & Barr.
13. Hide behind closed doors
'Modern kitchen design features such as bi-folding breakfast cupboards enable countertop items such as appliances, storage caddies and food containers to be hidden away yet still easily accessible for an uncluttered finish that frees up countertop space', says George Forsyth, director of Drew Forsyth & Co.
You could also look to your dresser or pantry for extra worktop space: 'You can have these fitted with outlets at the back so you can store and use appliances, then simply close the doors on clutter,' says Emma Cowburn, kitchen designer at Harvey Jones. Pantry organizers can be used to keep foodstuffs and other items neat in here, too.
When it comes to organizing under the sink – we're talking dish detergent, sponges, dishwasher tablets, cleaning products, etc – store them in caddies attached to the inside of the under-sink cabinet so they're hidden out of sight but still close to hand.
How do I keep my kitchen counters clutter free?
As the hub of the home, the kitchen tends to accumulate a lot of 'stuff', so a daily declutter is essential for keeping counters clear. Move everything back to its original position, file bills, receipts, mail and any other paperwork that's come in that day, put dirty plates in the dishwasher and wipe down surfaces.
Keep appliances to a minimum, just one or two that you use every day, such as a sleek coffee machine. Store the rest behind closed doors. Try to arrange items in deliberate groupings where you can, ideally on a tray to keep them as one – tea and coffee making essentials, cooking oils and seasonings, for example. Decant items from their packaging into coordinating containers where you can. Smaller items can be stored together neatly in stylish storage boxes – designate one for your keys and wallet rather than leaving them out on the side.
Whether it's a portable kitchen island or freestanding kitchen, creating more countertop space is one way to ensure you avoid a cluttered feel, particularly in a small kitchen. Similarly, a slimline trolley positioned at the end of a run of units is handy for keeping jars, packets and cartons off counters but still within easy reach.
What should be left out on kitchen counters?
A kitchen must foremost be functional, so it's inevitable that some items will remain out – not to mention a totally clutter-free kitchen can look a little stark. However, err towards clearer countertops, particularly if you're following Marie Kondo's advice on organizing a small kitchen.
When making your decision, ask yourself two questions – do you use it everyday? Secondly, is it attractive? If the answer is yes to both, then it's a contender.
Ultimately, you're looking for items that combine form and function, to ensure your kitchen remains both stylish and practical. Vintage-inspired salt and pepper grinders, richly grained wooden cutting boards, a ceramic food waste pot, for example.
Cooking ingredients are handy when left within easy reach but group them together on trays to avoid a cluttered feel and rid yourself of packaging by decanting dried goods into glass jars. Similarly for utensils and knives, invest in an attractive container or block, or consider a wall-mounted magnetic strip or rail and hooks as storage options instead.
When it comes to appliances, the same questions apply, but stick to just one or two – a good-looking coffee machine can make a striking statement when allowed to take pride of place.
For 10 years, Tara King worked as a Content Editor in the magazine industry, before leaving to become freelance, covering interior design, wellbeing, craft and homemaking. As well as writing for Ideal Home, Style at Home, Country Homes & Interiors, Tara's keen eye for styling combined with a passion for creating a happy – and functional – family home has led to a series of organization and cleaning features for H&G.