Utensil holders – 13 statement designs for completing your kitchen
Cook with efficiency – and style – with help from these utensil holders. To nestle all of your culinary tools on your countertop, neatly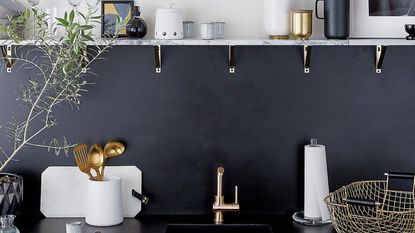 (Image credit: CB2)
These smart utensil holders are a practical and polished way to store all of the essential tools you need for cooking, whilst adding a touch of elegance to your kitchen countertop or cabinet. With ample space for storage and handy features to assist with use, you'll never find yourself scrambling around for your spatula or whisk again, and will be able to find everything in one easy-to-reach place.
There are different ways to store your utensils to suit the look of your kitchen, and that's reflected in the varying designs of these excellent holders. Utensil crocks that sit on countertops are the most traditional option and allow for easy access to the equipment needed. Those who prefer a minimalist countertop might be swayed by in-drawer utensil holders, which may be slightly easier to arrange.
Regardless of which utensil crock you choose, one of these convenient holders is bound to streamline your culinary process. Owning a kitchen utensil holder is just one of the brilliant ways you can organize your kitchen countertops to make for a tidy space.
---
13 standout utensil holders that deserve a place in your kitchen
---
Browse more utensil holders...
Should you still be searching for the perfect utensil holder for your kitchen countertop, then see below for our favorite retailers and have a further browse at stylish picks.
Molly is the Ecommerce Writer for Homes & Gardens and spends her time searching the internet for the next best thing for your home, with a focus on shopping edits and buying guides. Before joining Homes & Gardens, Molly graduated from the University of Exeter with a degree in English Literature, with previous internships undertaken at The Economist in her summer breaks.