Small kitchen storage ideas – 28 clever ways to optimize space
Be inspired by small kitchen storage ideas that will maximize the room's potential and keep it looking stylish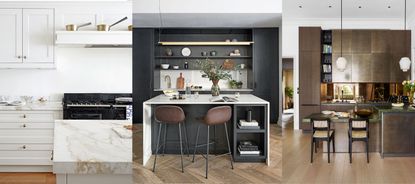 (Image credit: Future)
Small kitchen storage ideas are an essential part of designing a kitchen where the room's square footage is low.
While we all dream of generous pantries, well-stocked larders, and endless storage, for many of us, the size and layout of our kitchens quickly put an end to these grand visions. However, this doesn't mean that you can't have the kitchen of your dreams. Thankfully, there are lots of other clever kitchen storage ideas that will maximize your floorplan and ensure your kitchen is always ready for action.
Whichever kitchen ideas you've fallen for, storage is a vital element and needs to be both sufficient and efficient to keep your small kitchen ideas functional, and feeling spacious.
Small kitchen storage ideas
When it comes to small kitchen storage ideas, consider both the best small kitchen layouts and the full gamut of storage options including the types of cabinets, drawers, and shelving, and even the nitty-gritty of cabinet interiors. Below is both inspiration and expertise to make the very most of a small kitchen.
These small kitchen storage ideas are perfect for tiny cooking spaces. But you can also use them if you're looking for storage for your mudrooms, pantry ideas, larders, and, of course, larger kitchens to stretch a room's proportions, too.
1. Opt for a peninsula over an island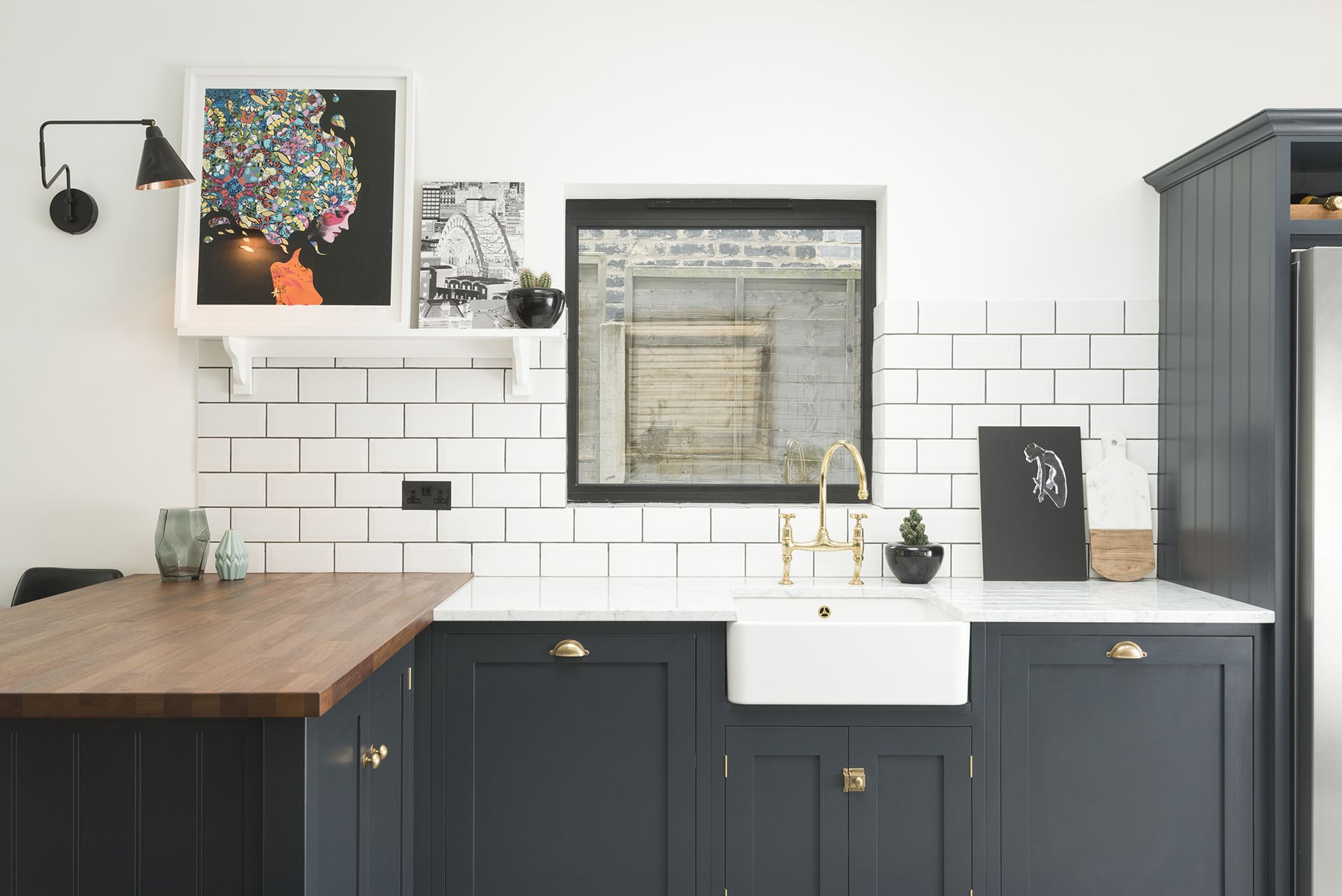 For a kitchen island to be successful, it must have at least one-meter walkway around each side. However, in a small kitchen, this is often impossible to achieve –even with small kitchen islands. At the same time, it is impossible to disregard the storage potential that a kitchen island holds.
This is where kitchen peninsula ideas come to the fore. Offering plenty of small kitchen storage ideas, enough to rival a larger kitchen island, while occupying a more compact footprint, the peninsula offers the perfect solution.
2. Combine storage with decor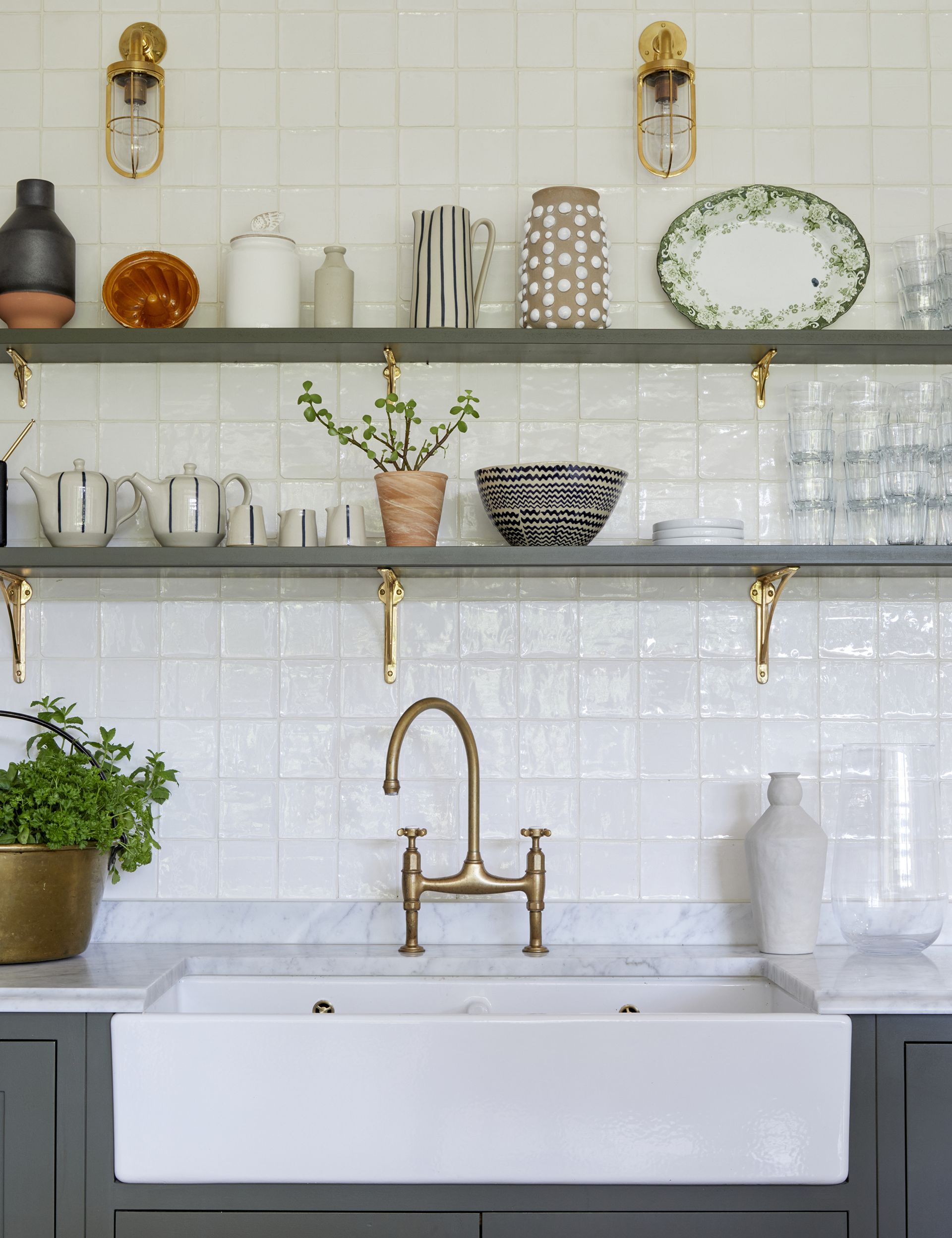 Kitchen storage doesn't have to be invisible – in fact, open kitchen shelving ideas can provide a valuable decorative element to your scheme.
'Open shelving provides both form and function while opening up the space. When decorating shelves, the key is to keep it simple by adopting a minimalistic approach. For a practical yet aesthetically pleasing shelf, decant your dried food items into mason jars and use jute or woven baskets to hide any possible clutter,' says Al Bruce, founder of Olive & Barr. You can then pair this with glass, unused vases and serveware to add further depth to the scheme.
3. Make a use of all dead space
Fireplaces were once an integral part of the kitchen, the remnants of which are often still present today. Typically, the unused fireplace is used to house a range cooker, however, this is not the only use. If you have a traditional kitchen, it is likely that you will have to contend with unusual spaces. This is where knowing how to commission bespoke joinery will prove invaluable.
This kitchen, designed by Hush Kitchens, has adopted the silhouette of a traditional surround and mantelpiece to fill the space with bespoke cabinetry and modern ovens.
4. Make the use of spaces outside of the main kitchen
Freestanding kitchen furniture is a great way to curate your kitchen design to your specific needs. If you have a spare space – possibly behind your dining table – consider adding a dresser or freestanding cabinetry. This design from Sims Hilditch has created the perfect breakfast station – which is not only practical but also frees up space in the main cabinetry.
5. Assign a purpose to each small kitchen storage zone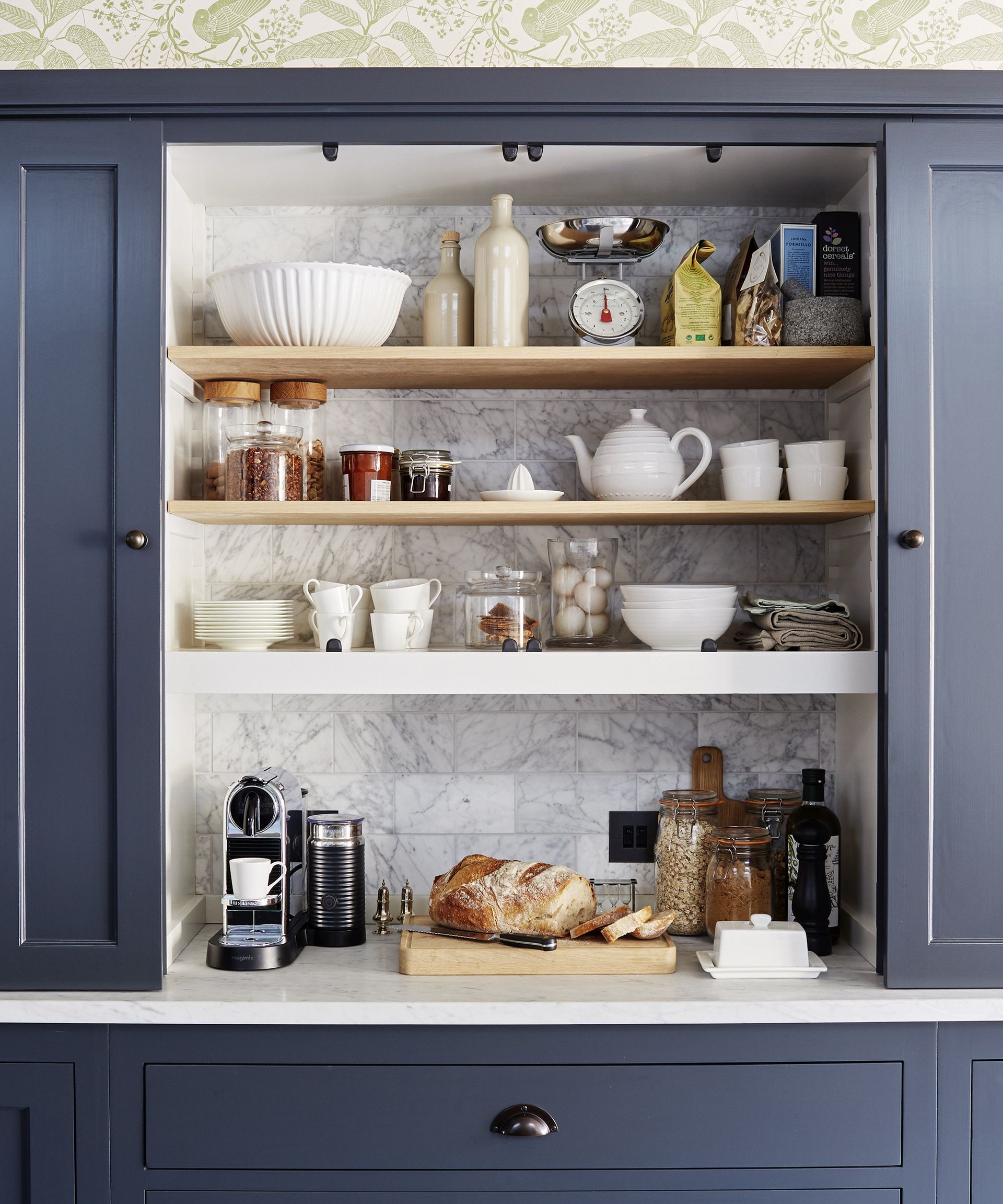 If you're wondering how to plan a layout for a small kitchen to maximize storage potential, it is worth thinking, at the outset of the project, about the amount and type of storage that you need.
Then zone it per area as above, where open shelving and kitchen cabinet ideas cater to breakfast and coffee breaks perfectly.
'After all, this is the place at home where you will probably spend most of your time, so being able to find what you need quickly and easily is going to make cooking more enjoyable,' says designer Emma Sims-Hilditch of Sims Hilditch. 'I really do believe that an expertly organized kitchen space makes you feel calmer and happier.'
If two people will be working in the room at the same time, make provision to do so at a distance. 'Where zones are close together or cross over, that's where trays and baskets are important so that you can take everything you need to another area if required,' says Emma Cowburn, kitchen designer at Harvey Jones.
It would be smart to use this space to store your coffee canister and utensil holder, to keep these off your countertop to allow for more cooking space.
6. Create a curated display
A smart kitchen idea that will make a statement is to paint shelves and the backdrop in a coordinating color. Keeping the lighter color at the top will help enhance space.
To style the shelves up – always a good idea if you're wondering how to make a small kitchen look bigger – group similar items together and create small vignettes, ensuring there are a variety of shapes and sizes, leaving room around them so that the eye rests on the display.
To keep shelving uncluttered, maximize the space inside cupboards using under-shelf baskets, stacking shelf inserts or racks for pans, lids or organized Tupperware.
7. Show off glassware in glass-fronted cabinets
If you want to put certain pieces on display but still need practical storage, why not choose glass-fronted cabinets?
Glass-fronted kitchen cabinet ideas, like the example shown above, can be used to make a focal point with your best glassware, for example, but everything inside will stay clean and ready to use.
The upside of this small kitchen storage idea is three-fold: the glass reflects light; it allows you to see beyond the doors into the depths of the cabinet, which creates the visual trick of making the space look bigger; and it can be lit from within, which is perfect for night-time.
8. Use slim, tall units to maximize small kitchen storage
'Pull-out larders are a space-saving storage option that offers ample opportunity for storing food, appliances, utensils and more. The pull-out mechanism gives easy access and displays available food with ease, which can, in turn, minimize food waste,' says Daniela Condo, designer at Life Kitchens.
'Designed to make life easier when gathering ingredients and accessories for a meal, the larder discretely blends in with the rest of the kitchen, giving a seamless finish.'
9. Use versatile storage fittings to max out space
'Traditional kitchen corner cabinets can be notoriously difficult to access and store items in, but there are solutions available, such as racks that slide along and out when the door is opened. This simple addition utilizes all available space and makes the kitchen more user-friendly,' says Daniela Condo.
'Pull-out kitchen cupboard storage ideas are also highly efficient and perfect for tidying away herbs and condiments, whilst the pull-down option offers greater accessibility for those with high set cabinetry.'
10. Use an awkward alcove to hide away a pantry
If your kitchen has alcoves – perhaps either side of a chimney breast – or uneven walls caused by boxed-in pipework, a larder cupboard is worth its weight in gold for storing dried and tinned goods, arranged in the way you live.
Cupboard pantry door ideas can be used for stashing different boxes of herb teas, and the shelves for pulses, nuts and seeds in recycled glass jars. A hand-held label printer makes it easy to make simple, neat stickers for each container.
A pocket door that slides neatly into a hidden cavity, like the one above, makes this pantry idea less intrusive in a small kitchen.
11. Swap out cabinets for drawers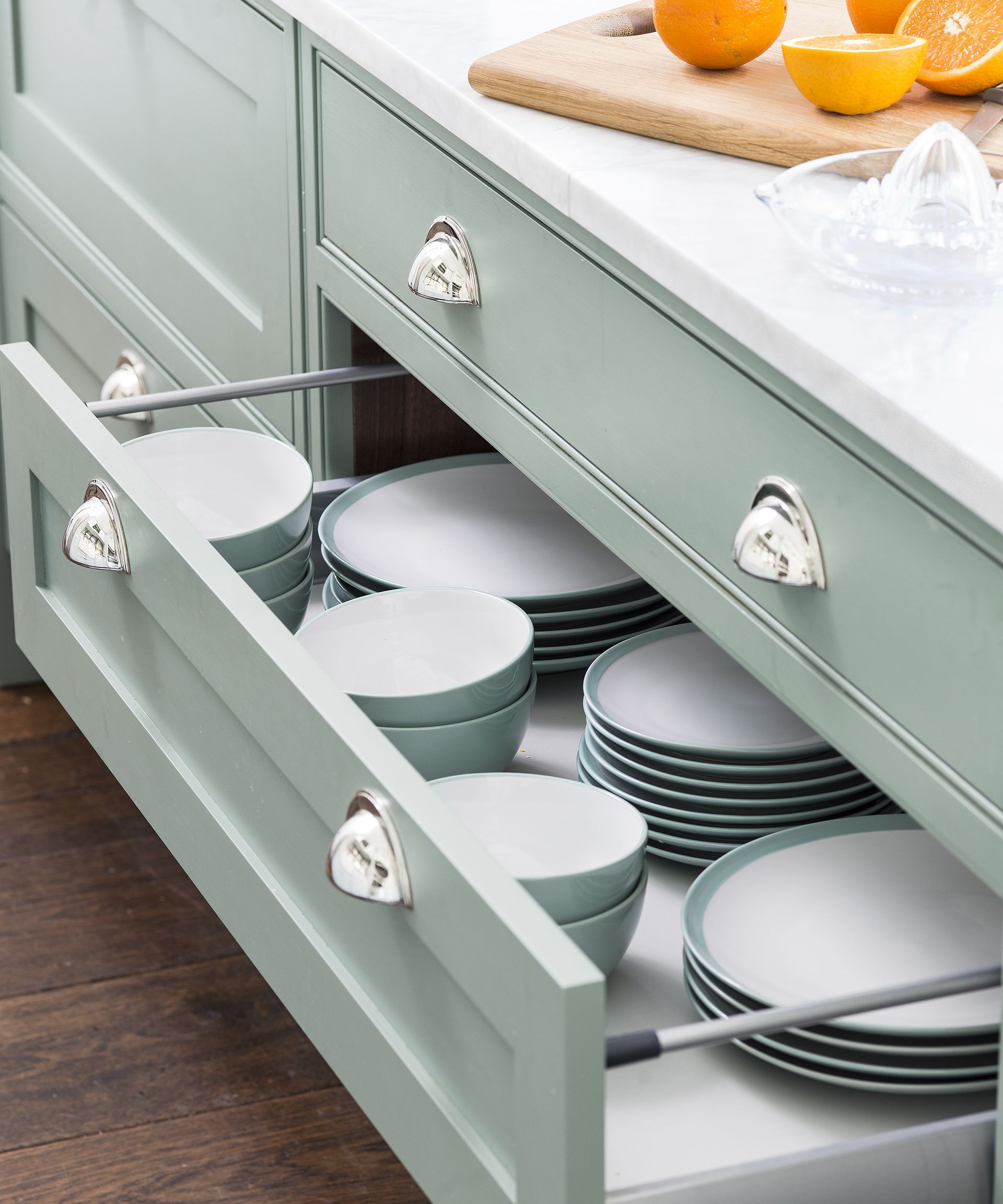 'Drawers are an essential part of kitchen layout ideas and design. Providing multiple storage options, whether deep or shallow, the addition of drawers will bring ultimate versatility to the space,' says Daniela Condo.
'Deeper drawers are perfect for storing pots and pans, and the addition of shallow drawers layered on top is great for keeping cutlery, spatulas, corkscrews and more. There is also the option to add drawers inside a cabinet to offer additional storage possibilities.'
12. Opt for multi-functional islands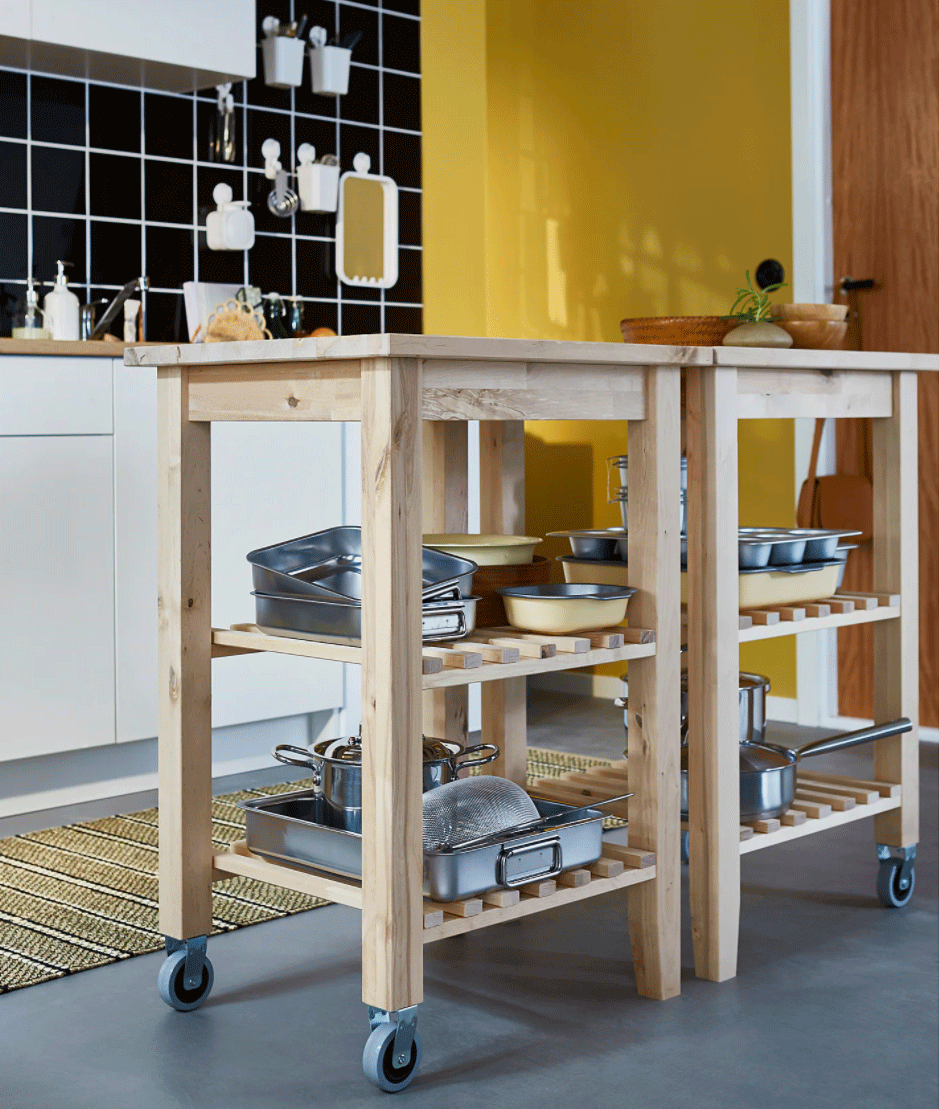 'A small kitchen island is a practical way to get more out of your kitchen,' says Daniela Condo.
'Entirely functional, islands can offer alternative storage opportunities. The ends can be designed to store and display cookbooks whilst the drawers and cabinetry can make the body of the kitchen island. Alternatively, a freestanding island is a compact solution that offers both storage and flexibility in the space.'
Portable kitchen island ideas, like the one shown above, offer brilliant small kitchen storage solutions, allowing you to create a vertical space that you can adapt to your needs.
13. Add storage helpers
If you're wondering how to organize a kitchen, your cupboards and drawers are your biggest storage resource but it's likely that they're not being used fully.
Internal kitchen storage solutions will make the most of them, so think about retrofitting wire racks that pull out of corners or slim cupboards, or using drawer dividers for utensils, cutlery, spices, pans or plates.
'To elevate your cutlery drawer consider integrated wooden dividers,' says Ben Burbidge, managing director, Kitchen Makers. 'Opting to combine painted kitchen cabinet ideas and wood finishes creates a contemporary feel that will remain on trend for years to come.'
Boost your storage further with a mobile solution, such as a bar cart trolley or butcher's block on castors, or think about popping baskets or containers on top of your wall cupboards. Just keep a sturdy stool nearby so you can reach them.
14. Introduce open-shelving to make a small kitchen seem bigger
Open shelving is a great way to add extra storage space to a room, as well as wow factor.
Adjustable shelves, smart small kitchen lighting ideas and neat joinery will enhance the look of a piece like this, as well as offering a way to group favorite items and add impact to a scheme.
The materials and kitchen colors you opt to use for an open shelving unit can really make a difference to the overall scheme.
Consider combining pale and dark timbers, or using a timber and painted finish combination, or even incorporating other materials, such as kitchen wallpaper ideas or fabric, which can make interesting back panels.
15. Factor in freestanding furniture
If you don't want a fitted look in your kitchen or if you want to supplement existing storage, consider a free-standing larder cupboard, lined with shelves, bottle racks and drawers. Those with stepped shelves allow you to see and reach items towards the back.
A kitchen dresser enables you to display your favourite jugs, platters, vintage china and family heirlooms, usually with drawer space below, while a sideboard can work as a serving area and a useful link between kitchen and dining zones.
You might also want a butcher's block or work table on wheels, so that you can move it around the room to where you are cooking.
16. Choose flat-fronted small kitchen storage to enhance space
Technological advances in push-open and close doors means that it has become possible to dispense with handles in both wall and base cabinets, as shown in the U shaped kitchen above.
If you prefer not to have push-open cupboards, then recessed handles provide the same sleek look and can be lined with contrasting colors and materials to add interest.
Whether you're after handleless cupboards to make the most of a small space or keeping a large space open and light, it's important that clutter is kept at bay.
Too many objects on work surfaces can spoil the look, so ensure you have as much storage space as possible by incorporating the latest drawer systems into your kitchen.
17. Get small kitchen storage super-organized
Decanting your cooking supplies into neat matching jars yields a certain amount of satisfaction, and makes it easy to spot if you are running low on any ingredients. As well as keeping your shelves looking tidy, your dry goods will also be kept airtight.
This type of shelving does require some dusting, but we think the styling benefits are worth the extra bit of effort.
Even if you don't have a pantry, pantry organization ideas will give you more inspiration for small kitchen storage.
18. Use reclaimed wood to boost character
For a country kitchen, modern shelving may look out of place. Why not have a shelf built from reclaimed wood to add instant character and provide the perfect ledge for your rustic bowls and utensils?
'In compact kitchens multi-use open shelves are useful for storing items which are used at every mealtime,' says Richard Turner, Pronorm national sales manager for UK & Ireland. 'Open shelving is also a good way to break up runs of cabinets in smaller kitchens and avoids the design feeling boxy. It can give the illusion of space and light, while adding design interest and personality into a scheme.'
19. Fake a dresser
If you love the look of this traditional Welsh dresser in the open-plan kitchen shown above, but don't have the room, why not wall-mount just the top section of a unit?
Paint the dresser top in the same color as your kitchen cabinet ideas, and use it to display mugs, glasses, and plates.
20. Fake a pantry space
If you are able to use an existing anteroom or carve off a corner to make a new room, you may want to consider a walk-in pantry for your favorite ingredients, organized so that most-used items are at eye level.
It can also be used to store large platters and serving dishes, and bigger pots, such as a preserving pan or fish kettle.
Traditionally built with wooden shelves and a cold marble slab, and constructed in the coolest, darkest part of the house (most foods prefer to be stored away from direct sunlight), a modern-day pantry is a great way to be able to see what you have in store, and to use an otherwise challengingly dark corner.
Alternatively, you may want to include utility or laundry room ideas into your plans, to keep drying clothes out of the way, provide storage for cleaning materials, iron and ironing board, pet food and vases.
21. Divide your drawer storage neatly
Small kitchen storage ideas aren't just about the big picture. You can make the most of every inch of your new drawers with clever organization.
Choose from adjustable dividers and boxes that allow you to compartmentalise interiors as you wish, or purpose-made fittings to store sharp knives, cutlery, utensils, jars, bottles, cling film and foil.
Non-slip surfaces, moveable pegs and plate holders ensure the safe storage of china and pans, so that they don't slide about each time you open the drawer.
22. Swap wall cabinets for convenient open shelving
Kitchen storage ideas can come in many forms other than traditional wall cupboards, whose bulk can make a small space feel more crowded.
Open kitchen shelving ideas are a great option if you are the proud owner of an impressive crockery collection, or are a keen cook who appreciates having ingredients close at hand.
Having everything on display, however, is not for the faint-hearted as it requires a certain amount of dedication to keep shelves looking smart.
23. Work around an island
Smart kitchen island ideas are a great way of bringing heavy blocks of furniture off the walls.
Replace crowded walls with storage in the island, as shown in the white kitchen above.
Drawers can be used to store integrated bins, a dishwasher, and cleaning materials close to an island sink or utensils and pans below an island hob.
24. Play hide and seek with small kitchen storage
In open plan spaces, pocket doors which slide open and then fold into the cabinetry are brilliant for revealing the kitchen just when you need it.
This bespoke green kitchen sits within an open-plan living area and has been designed with full-height doors painted pale green to match the space, concealing contrasting worktops and shelving inside.
25. Stack appliances to maximize storage
This small kitchen storage arrangement wins on two fronts. Its streamlining of three appliances stacked one upon the other makes for a neat kitchen layout, allowing for lots of useful vertical storage. Then, of course, it offers wine storage that's always to hand.
26. Fit small kitchen storage into banquette seating
We've saved the cleverest of small kitchen storage ideas until now because we felt it was worth the wait.
This is how to make space for dining (thank you, space-saving banquette seating) and storage in one place, with pull-out baskets packed out with all those things you need to keep to hand (or somewhere, at least), but don't use often.
27. Make small kitchen storage stand out
Ever wondered how to paint kitchen cabinets?
Interior designer Tiffany Duggan, founder of Studio Duggan, believes it is important to personalize small kitchen storage, and painting cabinetry a contrasting color is the perfect way to do so.
'When our studio first opened in 2011, kitchens all seemed to be neutral in color, whether they were classic or contemporary,' she says.
'Now, in line with current trends throughout the house, we are seeing more demand for brighter and bolder kitchen color schemes with pattern and personality, which is probably another reason why the Shaker style is so popular.
It can be customized easily: the interiors of a glass-fronted cabinet can be painted in one color, the door frames in another, or the handles changed as you wish.
'For individuality, I also recommend adding an antique china cupboard or sideboard to the room, preventing the fitted cabinetry from looking too "samey".'
28. Create space for bottles
It may not be possible to fit a wine cooler into a small kitchen, but a place to keep bottles needn't hog too much valuable kitchen real estate. Here, a wine rack has been accommodate above pan drawers.
Follow this room's lead by choosing wood for the wine storage drawer to create warm contrast to white cabinetry.
29. Use a wall for growing fresh herbs
Growing herbs in the kitchen means they're always available to flavor dishes, but where to put them when countertop space is at a premium? Look to the walls instead to provide a place to keep them.
A modular self-watering green wall system like this one is convenient, but shelves will make a great location for these fresh ingredients, too.
30. Opt for a bank of cabinetry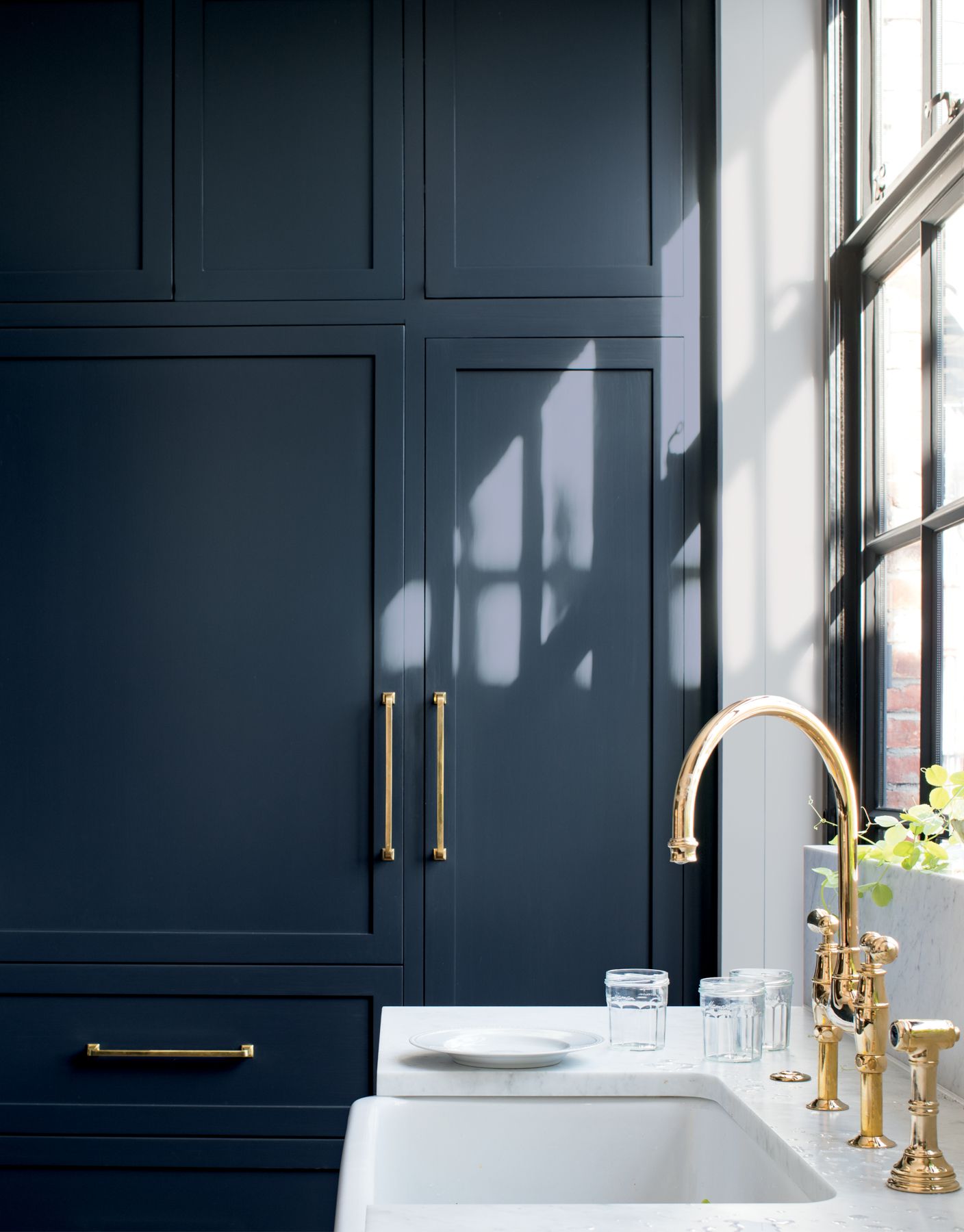 One of the small kitchen storage ideas that can optimize the space available is to plan a bank of cabinetry into the room's design.
'Creating a bank of cabinetry along one wall is a great way of streamlining and opening up the space,' explains Ben Burbidge. 'Tall wall units are particularly suited to narrow, galley style kitchens as using this space ensures the area feels less cramped than if filled with larder style dressers.'
31. Give small appliances a home
Small appliances like toasters and coffee makers can take up a relatively large amount of space in a room of limited dimensions, so factor them in when assessing small kitchen storage ideas. 'Consider hiding appliances in a breakfast cupboard to keep the space looking streamlined and free up countertop space,' suggests Daniel Bowler, director for Eggersmann UK.
If a full-size cabinet is more than can be dedicated to this zone of the kitchen, think about alternatives such as a pull-out shelf to provide a place for essential appliances.
32. Benefit from a hidden extra
It might seem as if you've made the best of every inch of a small kitchen, but the cabinets can have hidden potential. Fit drawers into the recess and you'll still achieve the finished look a toe kick provides, but there's also a place to put away slimmer items, such as baking trays and racks.
Our advice? Don't put your most frequently used items down here, as it isn't the room's most easily accessible storage. But it is ideal for cookware you need from time to time.
How do I add storage to my small kitchen?
To increase storage in a small kitchen, it's good to design the space with specific contents in mind. Smaller items will benefit from a shallow drawer with numerous compartments to keep items separated and easy to locate.
Consider whether any cupboards will benefit from integral electric sockets, allowing you to charge gadgets out of view.
The cases for DVDs and games tend to come in standard sizes so shelving can be fitted at precise heights to get more in, and the same is true of spice jars, which can slot into racks on the back of an easily accessible cupboard door.
Many modern kitchen ideas and furniture ranges are now designed to morph into dining and living room furniture, enabling full coordination throughout.
'Choose cabinets with feet rather than solid plinths to provide the freestanding look that's more familiar in dining and living rooms,' recommends Hayley Tarrington, Creative Director, Plug in Design.
What is the best way to organize a small kitchen?
It's still possible to organize a small kitchen with few cabinets. Cupboards were traditionally considered the building blocks of the kitchen, but their popularity has been on the wane for a few years now.
Base units with fixed shelves can make contents difficult to reach, especially in the far-flung corners at the back. Whereas drawers offer ordered and accessible storage space.
Look for fully extendable models that allow you to reach contents right at the back, and sturdy drawers that are built to carry substantial weight (some average-width drawers can take as much as 30kg).
Drawers can offer considerably more capacity than fixed shelves, simply because you can position them closer together, yet still reach the contents at the back. If cabinets and drawers are not an option, then utilize wall space with an arrangement of open shelves.
Open shelving can create a real statement in a room and is both practical and visually pleasing. It is also a more economical option than a fully enclosed storage unit. It is particularly suited to small recesses in areas, helping to visually correct uneven proportions.
Keep things organized. 'Items placed in groups or in lines of threes, fours or fives will prevent the shelves looking untidy,' advises Anne Haimes, Anne Haimes Interiors.
'When choosing the overall look, decide if you want the shelves to be made in a material which is a statement in itself, or if you want them to have a less prominent role, allowing your display to do all the talking.'
How do you organize small appliances in a small kitchen?
It can be difficult to know where to put appliances in a small kitchen.
While drawers make great use of space below hip level, you may also want to make the most of the ceiling height of your kitchen with a section of tall cabinets to house an integrated fridge, freezer and eye-level oven and coffee machine, as well as dry food larder storage.
'This kitchen trend is about lots of storage hidden behind sliding doors, so that the kitchen can be shut away when not being used,' says Alex Orosia at Porcelanosa.
Slide and hide systems can create, when closed, a feeling of uncluttered space, with the advantage that everything is within easy reach when open. Pocket doors which open, pivot and slide into side recesses, leaving contents directly accessible without doors in the way, are also particularly useful here.
How do you declutter a small kitchen?
The best way to declutter a small kitchen is to start by having an honest clear-out of all the things you never use.
Then it's easier to see how much storage you really need, and to plan for large and special items, such as stock pots, preserving pans, antique serving dishes or fine glassware, and all those extras, such as children's toys or a drawer to stash and re-charge phones and tablets.
Precision planning is the best way of keeping your kitchen from descending into chaos. In a multi-use, open-plan space, try to allocate dedicated storage in each area, not just the kitchen cupboards. This is your opportunity to design your kitchen to suit you.
For example, window seats with deep pull-out drawers are perfect for stashing away toys and ensuring that there's at least one drawer or shelving unit near the TV for tidying away remote controls and game consoles.
'Installing an island with cabinets on both sides helps maximize storage in the dining area for formal crockery and glassware,' adds Tony McCarthy, Commercial Director at Crown Imperial.