How to plan a layout for a small kitchen — top tips to make the most of your space
Advice on how to plan a layout for a small kitchen from a panel of industry experts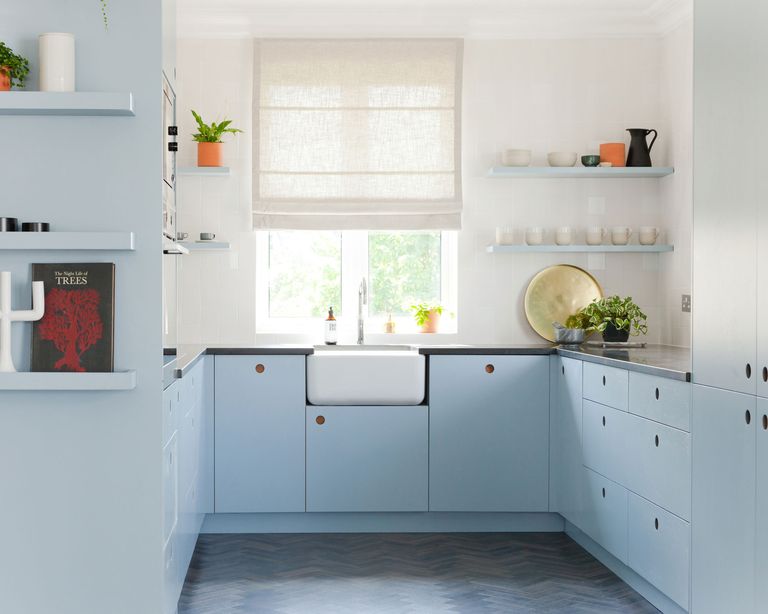 (Image credit: Naked Kitchens)
Not all homes have room for a spacious kitchen but small can most definitely be beautiful when planning a small kitchen layout, if you are clever with the design.
A good designer will be able to generate many small kitchen ideas for a compact footprint, especially one who is a city-based designer and used to the challenge.
Be clear about your priorities. Are you a keen cook who needs versatile appliances and plenty of storage? Or perhaps it is more of a social space and you would like to squeeze in a seating area.
Paring back on pans and utensils before you start will help find a place for everything, resulting in clutter-free useable workspace. And do make the most of wall space for magnetic knife holders, spice racks and utensils. Employ every clever little trick you can think of to get the most out of every inch of space.
How to plan a layout for a small kitchen
Where do I start when planning a small kitchen layout?
Always start small kitchen layouts with the essentials of hob, refrigerator and sink - ensuring there is usable prep space next to each.
The golden rule for small kitchens is to use as much height as possible without crowding out the space.
Tall cupboards housing a pantry, refrigerator and built-in oven are efficient but only if that doesn't gobble up all useable counter space. This is where wall cupboards and open shelving are great kitchen ideas for smaller spaces.
With any kitchen you need to consider lighting, power and ventilation at the planning stage, and be aware that drainage can impinge on where features can go. Do your homework around extraction.
Hobs with built-in extraction look efficient on the surface but the ducting will take up precious under-counter space. Conventional models that duct up through a wall cupboard may be a better choice for a smaller room.
Small kitchen lighting ideas can make a space feel bigger, but need to be planned in advance, before the plastering and decorating takes place.
Where should I put my kitchen appliances?
Look at a good range of sizes of appliances and strike the balance between what you think you need and what will actually fit.
A single oven is quite often enough. Team it with a compact built-in microwave if you know you really do need both and build into a tall unit, giving storage space for pots and pans above and below.
An induction hob gives a flat surface that can double as prep space and it boils a stove top kettle quickly, so no need for an electric one taking up counter space.
Don't settle for a small built-under fridge if you know you need bigger. 'Steal' space just outside the room if that works. The joy of a compact home is most things are usually close enough.
How do I design a new kitchen layout?
A small space may have limited options in terms of layout, but do look at them all when remodeling a kitchen. Don't assume you have to go with the first design offered or similar to what is already there.
'Galley kitchens make efficient use of a small space,' says Graham Barnard of Matrix Kitchens. 'Tall units are hard to avoid for fridge freezers and the convenience of eye level ovens, but they can be imposing so I tend to place these first.'
'Wall units,' continues Graham, 'can cramp the space but the trend for glass-fronted wall units lighten the look. Being able to see beyond the solid front of a regular wall unit will make all the difference.'
While it's tempting to shoe-horn in storage, keep in mind that this needs to be a safe and comfortable space to work in. Factor in enough clearance space for doors and drawers (600-800mm) and ensure a safe entry/exit point away from the hob and oven.
'In a very small galley kitchen, a great way to save space is to fit pocket doors at the entrance. These doors slide into the wall, meaning you don't have to worry about a full, traditional door obscuring any cabinetry,' says Tom Howley, Design Director at Tom Howley.
How should I tackle storage in a small kitchen?
When it comes to storage for small kitchens, drawers offer more accessible storage than cupboards. Place them following your work flow, so pans are close to the cook zone, chinaware and cutlery close to the exit point.
This gives room for two cooks to work together without criss-crossing and getting in one another's way.
As well as drawers, look to internal fittings and racks in all cupboards, especially corner cupboards.
'Fit deep cabinetry and pull-out drawers or a cage system for a multi-layered, discrete and effective storage system,' adds Tom Howley.
A slim pull-out larder unit can store a surprising amount with everything easily accessible.
If your room has high ceilings, go upwards with high cupboards for storing lesser-used items. And view every opportunity through the lens of potential kitchen storage ideas.
Room for a small bench? Make it fitted with storage below.
Keeping worktops clutter-free will not only give more usable surfaces, it gives the illusion of space too, so make use of open shelving and wall racks for things you like to keep to hand.
'Paint shelving in the same colour as the walls so that they seemingly disappear,' say the team at deVOL. 'And consider clever solutions like wall-mounted magnetic knife strips, rails to hang utensils, pans, mugs, spice jars and cutlery bins.'
'Think about what you need to have to hand every day, such as chopping boards, wooden spoons, washing-up liquid, and what can be stored away until needed.'
How do I find more space in a small kitchen?
Where space is tight, bespoke kitchen cabinet ideas really will make the most of every inch. Include lots of nooks and crannies tailor-made for the things you own.
If it is beyond your budget, look for a kitchen company with a wide range of unit sizes, as this will give the most functional cabinetry with the least fillers.
A slimline dishwasher can be a busy cook's best friend, as well as being creative with your hob.
A two-pan induction hob plus wok-burner might give you all the cooking capability you need in a standard 60x60cm format. This modern kitchen has a hidden induction hob and a section of worktop lifts up to create its own splashback.