Designing a small kitchen – how to make a compact room feel spacious
Discover the clever strategies the experts use when designing a small kitchen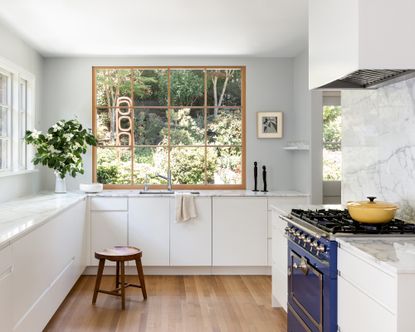 (Image credit: Lisa Staton Interior Design/Haris Kenjar)
Designing a small kitchen can feel like a huge challenge. Fitting all the features required into the space, providing adequate room to prepare, cook, and serve, and incorporating the storage necessary all need to be addressed for a successful remodel.
But a kitchen with less generous dimensions than you'd like definitely doesn't have to mean compromising on either functionality or style. What is essential, however, is an approach to the design that takes account of the room's lack of square footage.
With a considered approach to aspects such as layout, lighting, the color and materials palette, and more, a small kitchen can feel as practical, and look as beautiful as one with larger proportions, and fulfil everything on your list of kitchen ideas.
Designing a small kitchen: expert tactics
When you're designing a small kitchen, pay attention to all the aspects important to making a small room feel spacious as well as practical and comfortable to use. Our guide will assist you in considering all the vital factors with advice from the experts that can help you perfect your small kitchen ideas and plans.
Write a wishlist for a small kitchen
A small kitchen demands the same methodical approach as you'd follow when designing a kitchen generally, starting with a list of what the room would ideally include.
Consider everything from cabinet styles to appliances, materials, colors, and more. The elements can be refined later working with your designer and taking account of the room's proportions.
Draw up a floorplan
While a design professional will draw up a complete floorplan later in the process, it is worthwhile creating your own at the beginning of the project. 'The makings of a floorplan are simple enough to draw up at home,' says Daniel Bowler, director for Eggersmann UK.
'All the must-haves should be included in the floorplan, so that you then know how much extra space you have to play with, or not as the case may be,' he explains. 'Begin with set fixtures such as doors, windows, plumbing, and electric points, then add the furniture and any storage ideas where possible.'
Consider the layout
During the process of designing a small kitchen, it will be necessary to consider the various small kitchen layout ideas a designer might present you with.
'Small kitchens usually favor an L- or U-shape depending on how small the space,' says Matt Baker, Harvey Jones kitchen designer. 'Opting for an L-shape will give the room an open feel and is more inclusive, so it's easier for family and guests to interact.'
A galley kitchen layout is a further possibility with a single run of floor cabinets with wall cabinets above. 'It may be compact but a galley kitchen can still provide a good working triangle with the oven and stove in the middle and the sink and refrigerator at opposite ends,' says Simon Collyns, marketing and retail sales director at Symphony Group. 'The disadvantage is a distinct lack of workspace.' A double galley with a run of base and wall cabinets (or open shelving) on walls facing each other to create a corridor effect can add the counter space required.
Like the idea of a kitchen island? That will depend on the dimensions of the room. 'If you take a standard galley kitchen to have a 6ft (1.8m) width and a 12ft (3.7m) length, island and peninsular counters are rarely an option in this sort of space,' says Tom Howley of the eponymous kitchen company. Instead, you might want to consider more space-efficient breakfast bar ideas for small kitchens to provide extra dining and prep space.
Amongst the questions that might pose themselves when working out how to plan a layout for a small kitchen, it is the space available for walkways that should determine which features are included. 'Always leave 3 feet (1m) of walkway space either one or two sides of your counter, island, or peninsula counter,' says Tom. 'This is a functionally and aesthetically effective dimension to keep in mind.'
But even without an island or peninsula, it can still be feasible to provide seating in a small kitchen. 'Incorporate a small bistro table and chairs at the end of a counter if space allows,' says Neil Matthews, director, Lewis Alderson. 'This is particularly good in a galley kitchen where there is often no space to incorporate a table.'
Think storage
Creating sufficient storage despite the room's dimensions is crucial when designing a small kitchen. 'To add storage, try to make one wall of cabinetry full height,' say Mark Williams and Niki Papadopoulos of Mark Williams Design.
You might need to be creative to maximize small kitchen storage ideas. 'In this cottage kitchen we placed a walk-in pantry under a stairway and concealed the entry behind cabinetry for a cohesive look,' they explain of this room.
Bear in mind that good kitchen cabinet organization ideas are key to providing sufficient storage in a small room. 'Put as much thought into the interior organization of the cupboards as you do the overall aesthetic,' says interior designer Katharine Pooley. 'Everything need to be planned meticulously before you start construction (I am unbelievably passionate about cupboard organization and labels!) If everything has its place, nothing will be left on the counter to ruin your beautiful new kitchen.'
A utensil holder makes an easy job of holding large utensils that might be too large to squeeze inside your flatware drawer. Choose an aesthetically pleasing design and place it on your countertop, or display it within open shelving, for convenience.
Don't forget about other storage buys such as coffee canisters. It's important that these fit in with your decor, especially if they are going to be on display. Wave goodbye to plastic packaging.
Choose cabinets for a small kitchen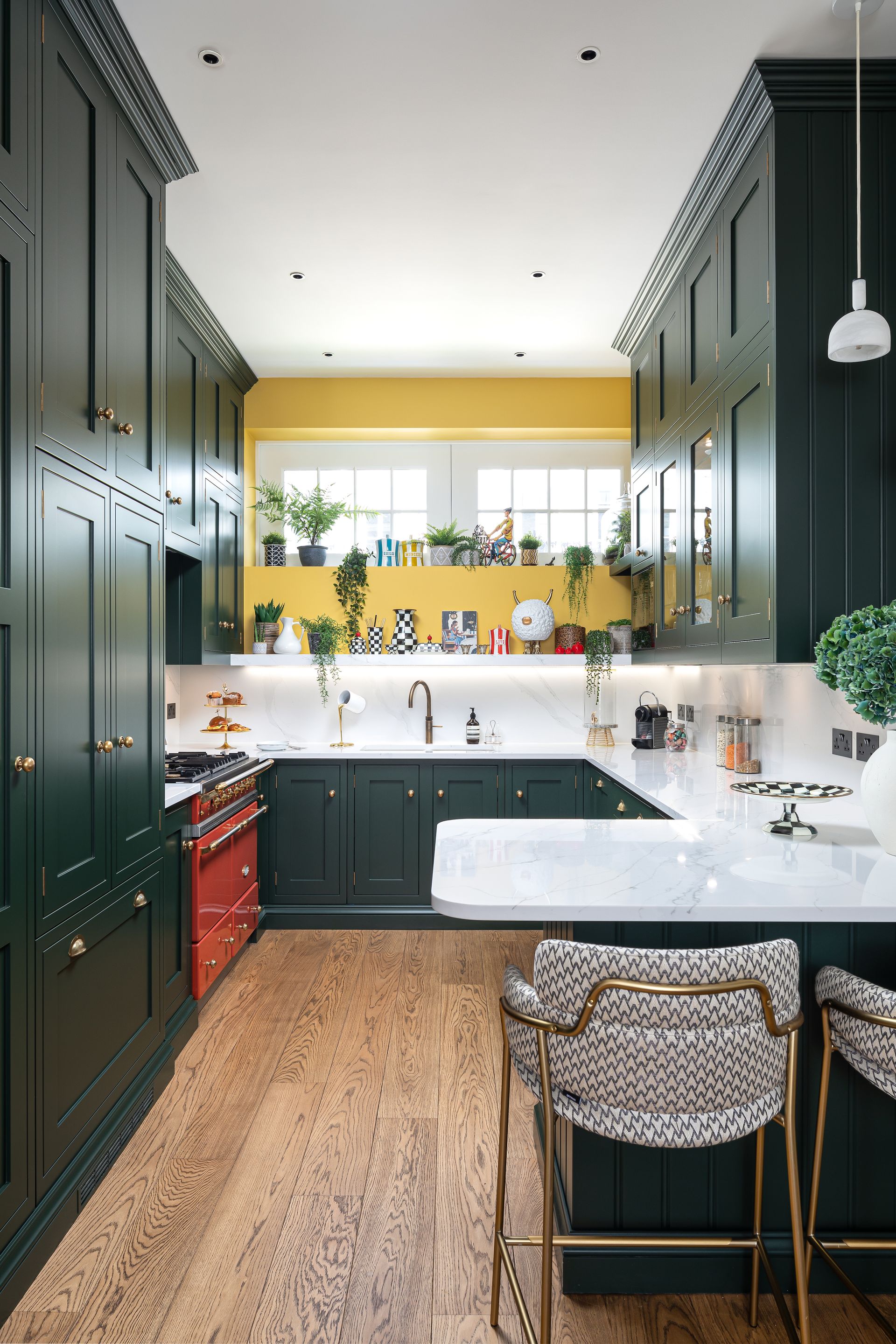 A range of different cabinet styles might be chosen when designing a small kitchen but as a rule it's better to keep to simpler designs.
Think Shaker kitchen ideas for a look that has interest without fussiness if a timeless design is preferable, or perhaps beadboard for a small cottage-style kitchen; it provides provides neat verticals that can make a low ceilinged room feel taller by drawing the eye up.
The more ornate detail of a traditional kitchen might be better suited to a larger room; however, a transitional style which introduces some traditional elements but has cleaner lines could be a strong choice in a small kitchen.
A contemporary look with slab doors is another option to make a small room feel sleek and more spacious, and inset or handless designs can be space-efficient, especially in a narrow galley kitchen.
Select a color palette and materials
Both the color and materials palette are vital considerations when designing a small kitchen. 'To keep an open feel choose light paint colors and reflective materials such as bright quartz or a mirrored splashback,' recommends Tom Howley.
White or cream is certainly far from the only option, however. 'A great compromise is a smoky gray scheme, using a smoked oak wood paired with a matte gray paint,' Tom says.
Bringing in color a preference? 'Go for warm earthy tones or pastels if you want to incorporate colour into a small kitchen,' says Graeme Smith, head of retail and commercial design at Life Kitchens. 'Taking a more subtle approach to color will bring interest into the space without making the kitchen feel enclosed.'
What's key is thinking of the room's elements as whole. 'Cabinet finishes and surfaces should form part of the same tonal narrative; it will give an airy and considered feel,' says Katharine Pooley.
Find the best appliances for a small kitchen
While a small kitchen may not allow you to include every item on your appliance wishlist, clever choices can ensure a successful design. 'When it comes to cooking, there are an array of options in multifunctional appliances which are a great space-saving choice,' says Annabelle Riches of Miele GB. 'Combination ovens provide versatility and convenience by operating as a conventional oven with the option of either a steam or microwave capability.
'For very small or galley kitchens, look for appliances with handleless doors – they will deliver a sleek, seamless and uninterrupted look helping to create the feeling of space,' she adds.
Meanwhile, choose a refrigerator that allows storage space above it; consider putting small appliances into a breakfast cupboard to keep countertops clear; and swap a kettle for a hot water tap for a sleeker look in a small room.
Plan lighting for a small kitchen
A layered scheme with task, ambient, and feature lighting is as essential for a small kitchen as a larger one.
'Embrace the full range of small kitchen lighting ideas available from pendants and wall lights to recessed and track lighting, which will allow you to create a space that is both practical and atmospheric,' says Marketa Rypacek, managing director, Industville. 'Not only does this provide complete coverage in the space, it helps create a pleasant overall atmosphere and allows customization of the lighting level in specific areas. With different lighting layers, you can adjust the illumination depending on the time of day and task at hand.'
If your challenge is lighting a narrow galley, try this approach from lighting designer Sally Storey, author of Inspired by Light. 'Two downlights or double fixtures directed to both sides will provide a wall wash effect on the cupboards or the wall opposite. This will increase the brightness, with light reflecting off the units and the wall. The next step is to introduce localized task light: lighting under cabinets using individual LEDs or linear strips. It is the essential working light in every kitchen.'
Pick flooring for a small kitchen
Small kitchen flooring should be a considered part of the color and material palette for the room. A flooring in a light-reflective tone and finish is a good tool to make a small kitchen look bigger, with options such as tile and wood possible.
If tile is preferred, consider using a large format version. 'A smaller tile results in lots of grout joints which can enclose the space and detract from the tile,' explains Isabel Fernandez, director at Quorn Stone.
A wood floor, meanwhile, could correct the proportions of a small kitchen. With the planks running from side to side a narrow kitchen might feel wider, while laying them lengthwise will make it feel longer.
What kitchen shape is most efficient for a small kitchen?
U and L shaped layouts as well as single or double galley versions are popular for a small kitchen. But be aware that unlike in a larger room, there may not be a choice. 'Usually the space will dictate how the layout is to be,' explains Matt Baker. 'The majority of small rooms are either going to be one run, U or L shaped kitchens to maximize on the space and storage.
'I would usually go about looking to see if a larder cabinet can fit. Utilizing corner spaces is another key aspect as you will more than likely need some form of pull-out mechanism for ease of access.'
Where do you put a microwave in a small kitchen?
To fit a microwave in a small kitchen, you might consider one as part of a combo oven reducing the number of appliances required without compromising cooking options.
For an individual microwave, it might be integrated into cabinetry at below or above counter level, and could be located above an oven to group appliances for a modern look.
Budgeting a small kitchen design
Finally, how much does it cost to design and install a small kitchen? As with any kitchen the final bill will be down to the materials you work with, the changes to layout required and the grade of appliances you use. However, you can expect to pay from $100 to $300 per square foot (£800 to £2,400 per square meter), while a custom kitchen installation can cost from $5,000 to $125,000 (£3,700 to £93,000).
Sign up to the Homes & Gardens newsletter
Decor Ideas. Project Inspiration. Expert Advice. Delivered to your inbox.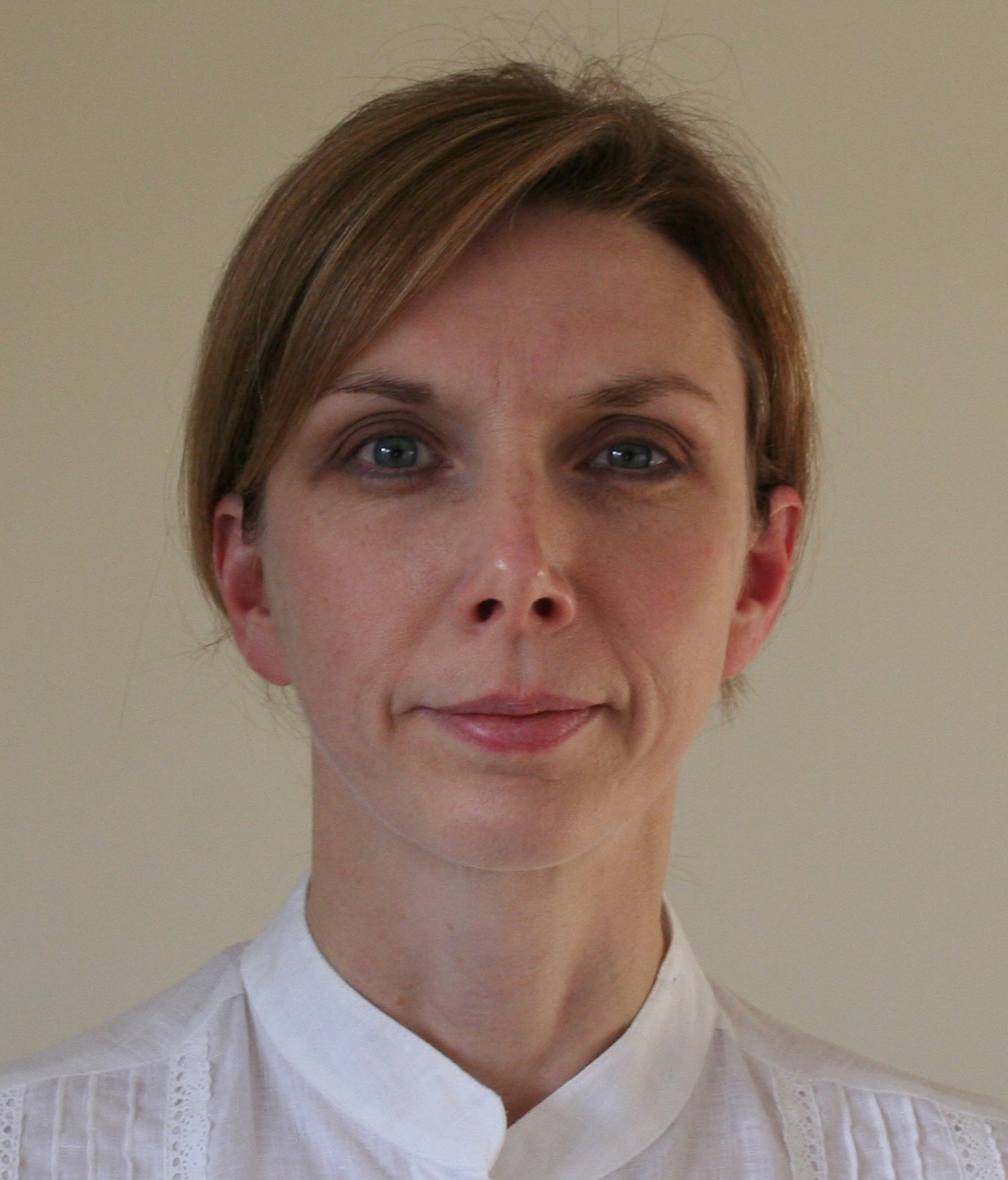 Sarah is a freelance journalist and editor. Previously executive editor of Ideal Home, she's specialized in interiors, property and gardens for over 20 years, and covers interior design, house design, gardens, and cleaning and organizing a home for H&G. She's written for websites, including Houzz, Channel 4's flagship website, 4Homes, and Future's T3; national newspapers, including The Guardian; and magazines including Future's Country Homes & Interiors, Homebuilding & Renovating, Period Living, and Style at Home, as well as House Beautiful, Good Homes, Grand Designs, Homes & Antiques, LandLove and The English Home among others. It's no big surprise that she likes to put what she writes about into practice, and is a serial house renovator.