Shaker kitchen ideas – 10 ways to embrace classic simplicity in your home
Embrace beautiful simplicity with these Shaker kitchen ideas that will add classic charm to your home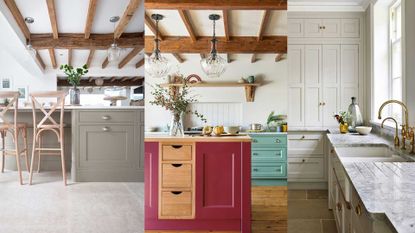 (Image credit: Quorn Stone/Future/Martin Moore)
Shaker kitchen ideas are universally loved for their clean lines, timeless style and beautiful utilitarian design. Instantly recognizable by their wooden cabinetry, recessed paneled doors and modest style, the timeless beauty of Shaker kitchens stems from the fact their designs were born out of necessity and a desire for usefulness and practicality over fads and trends.
Shaker kitchens are one of the most versatile kitchen ideas and can be found in nearly every style of home from the most modern apartments to the grandest of period homes.
'The clean lines, simplicity and use of natural materials in Shaker-style kitchens is very appealing to homeowners and evokes a sense of calm and order in this hectic, busy world we live in,' says Gail E. Jamentz, principal at Soul Interiors Design.
What are Shaker kitchen ideas?
Shaker kitchen ideas originate from the Shakers in the 18th-century.
The Shakers are a Protestant religious group who came to America from England in 1774 and practised a belief that God was at the center of everything, nothing was beyond his reach or his eye. Shaker aesthetics were orientated around that thought, everything they created followed the philosophy of form, function and proportion. In fact it was a Shaker belief that simplicity and beautiful craftsmanship were both forms of prayer.
Shaker kitchen ideas are defined by the tenets which this religious group lived by. 'The guiding Shaker principles of honesty, utility, and simplicity found expression in various crafts,' says Nicholas C. Vincent from The Metropolitan Museum of Art.
'Rejecting excessive ornament because it ostensibly encouraged the sin of pride, Shaker furniture makers focused on form, developing creative solutions such as asymmetrical drawer arrangements and multipurpose forms to add visual interest without resorting to pure decoration,' continues Nicholas.
Of course, the majority of modern Shaker kitchen styles take inspiration from these aesthetic designs, rather than prescriptively following the tenets behind then. Modern kitchen ideas see the beautiful Shaker-style cabinetry paired with bright colors, patterns or decorative details to create an individual style that reflects your own personality. These painted kitchens are often matched up with freestanding kitchen ideas, too, such as dressers and freestanding islands.
1. Embrace classic Shaker kitchen ideas
Epitomizing quintessential Shaker style, this Real Shaker kitchen from Devol brings to life the key tenents of Shaker design. Each piece is beautifully crafted, both inside and out, exuding simplicity and sophistication in equal measure. Nothing in the space is there for purely decorative reasons, everything has a purpose, from the large glass bottle on the counter to the herbs growing on the windowsill.
Pale cream cabinetry, with the classic fielded doors, emphasizes the character of the kitchen's original features, instantly drawing the eye to the rustic ceiling beams and the worn original wooden floor. It is through these natural and architectural elements that the character of the space is achieved, rather than through ostentatious cabinetry.
2. Opt for unpainted cabinetry for an authentic Shaker look
While the majority of Shaker kitchen ideas seen in homes today feature characterfully painted cabinetry, traditional Shaker kitchen ideas would have embraced the natural patina of the wood; seeing the grain was an essential part of their beautiful furniture.
Unpainted kitchen cabinet ideas have fallen out of favor in recent years, but, when used correctly, it can bring warmth and character to a space that may otherwise feel cold and clinical. Keep your natural wooden elements to a minimum, and if having more than one ensure there is contrast between tones and textures to prevent the space looking homogenized.
In this kitchen, honey-toned wooden Shaker cabinetry has been set against a white shiplap paneled wall and ceiling, which brighten the space, and has been topped with a bright marble countertop – though there are plenty of other kitchen countertop ideas that would also work well in this kitchen. The kitchen island features the same paneled look as the walls but has been painted in a dark shade which provides depth.
'Consider ways to bring interest to the kitchen with light fixtures, knobs and countertops. This way you will still have some personality in your space but keep true to the core of the Shaker aesthetic of clean lines and flat surfaces,' says Georgia Zikas, founder of Georgia Zikas Design.
3. Consider storage when designing your Shaker kitchen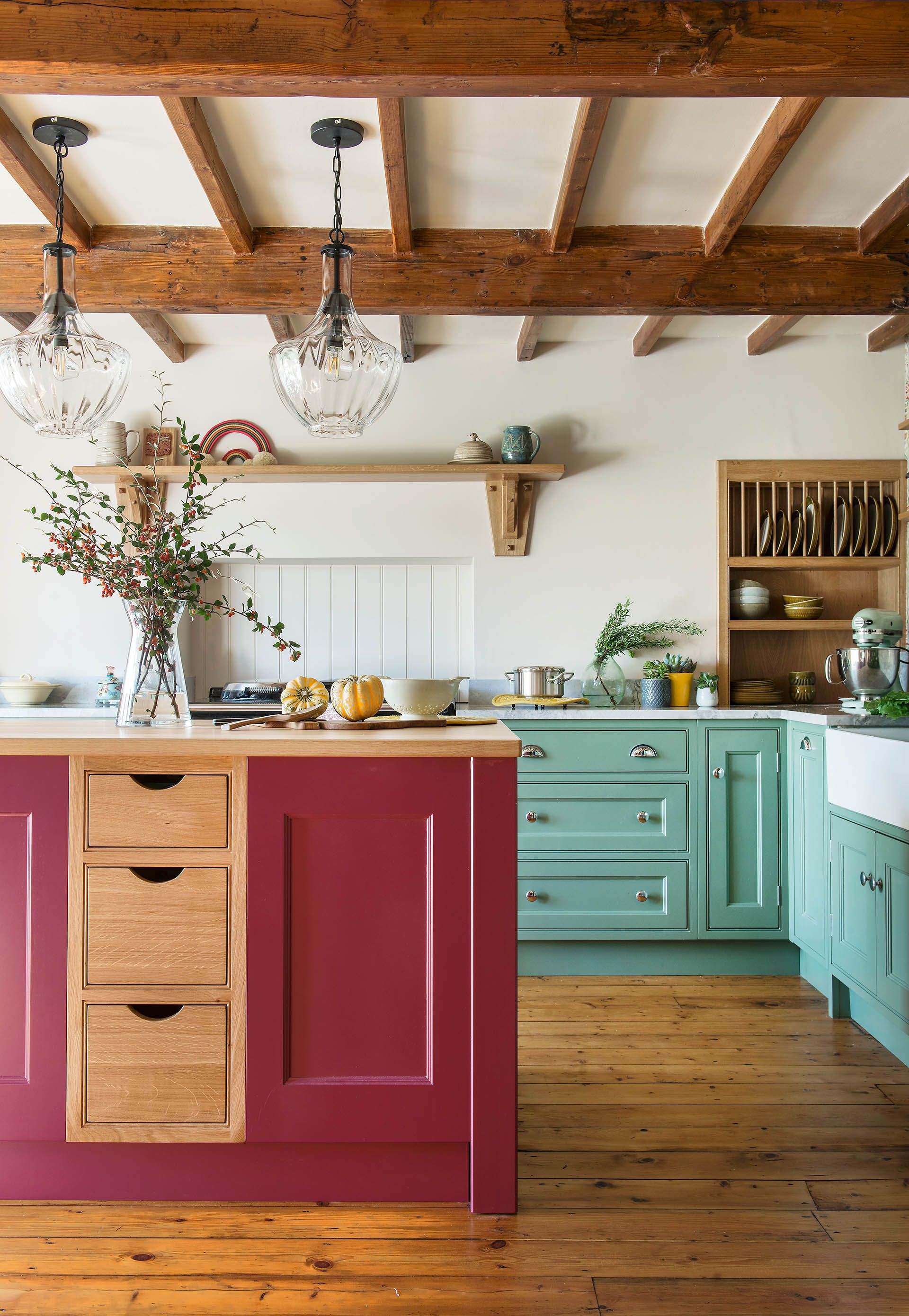 The secret to a minimalist look, which is essential for achieving your Shaker kitchen ideas, is organization. Shaker design was informed by the belief that every item should have a place, so it is vital to factor storage in when designing a kitchen.
Make a list of all the things you need to store in your kitchen, from the obvious plates, cutlery, pots and pans, through to food, gadgets, kitchen linens and white goods. Then ensure each element has a place to go. There are plenty of good kitchen storage ideas that will be able to help you out.
This kitchen combines an island with cupboards and drawers in various sizes to store the essentials, while base cabinets house pan drawers, spice racks and an undersink cupboard. A plate rack and wooden mantelpiece adds functional decoration, drawing the eye while also offering space to store both plates and bowls.
4. Opt for Shaker cabinetry to instantly imbue your kitchen with charm
Shaker kitchen ideas are instantly recognizable for their iconic cabinetry. Featuring clean lines and a simple recessed panel, the cabinetry's simple aesthetic creates the perfect backdrop to define your own kitchens style.
'My best tips for designing an impactful Shaker kitchen would be to play with color and hardware. Consider painting your lowers one color and your uppers another, so that you create some interest and contrast,' says Jennifer Markowitz, founder of JNR Designs'Also, play with hardware. The flat surface of a Shaker cabinet is the perfect canvas for intricate or interesting kitchen hardware that brings some design "wow" into the kitchen'.
However, the beauty of Shaker cabinetry was not just superficial. The Shakers believed that God was everywhere and could see everything, therefore the back of the cupboard should be as beautiful as the front. This is something to keep in mind when deciding on pieces to comprise your Shaker kitchen ideas. Look for solid wood kitchen cabinet ideas, constructed with strong dovetail joints for pieces that exude the Shaker ethos.
5. Use patterned wallpaper and color to add character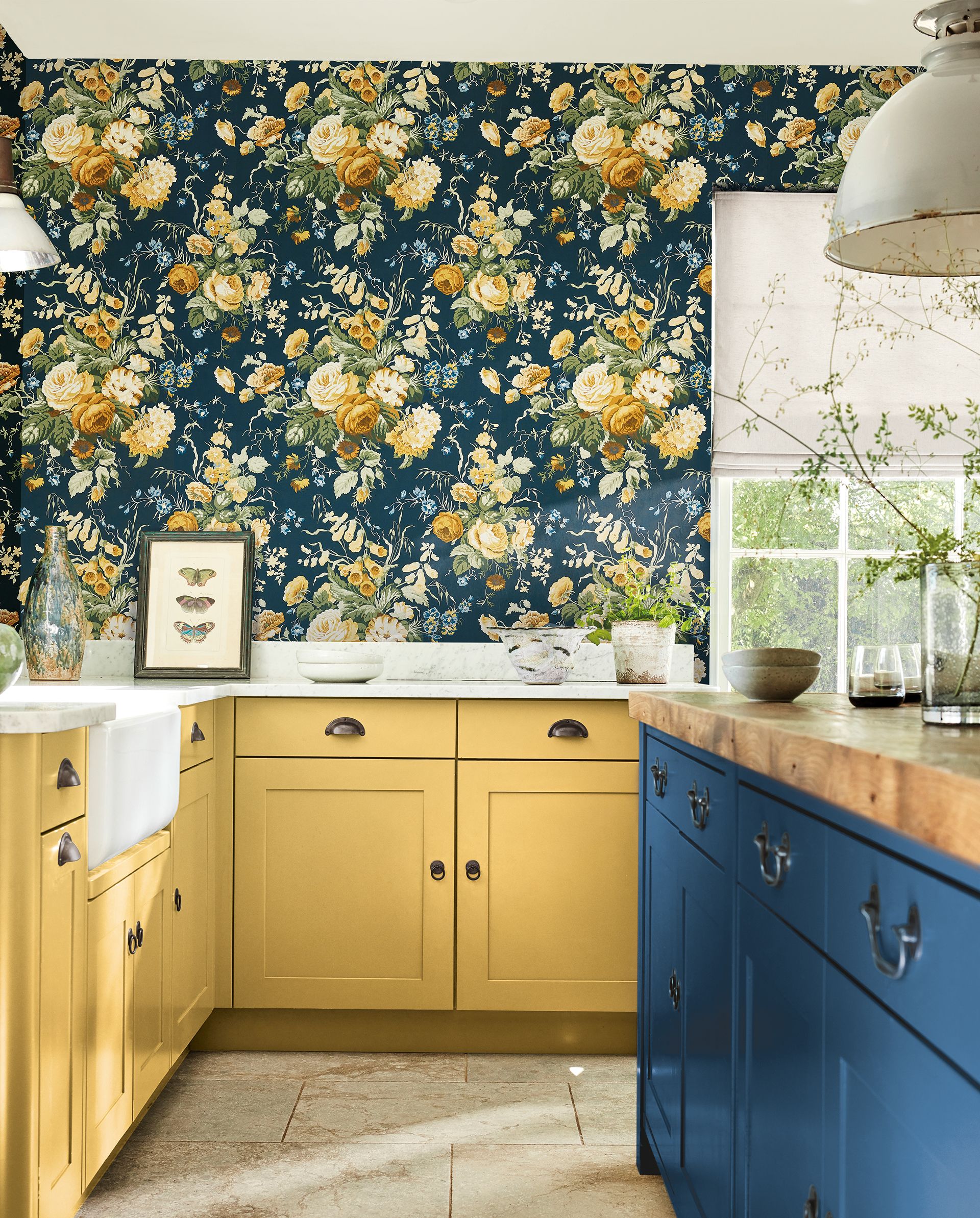 While authentic Shaker kitchens would have been minimalist and exuding rustic kitchen ideas, modern Shaker kitchen ideas give you the opportunity to add your own personality to your space. Wallpaper and color are great ways to give this classic style a new lease on life.
'The great thing about a Shaker kitchen is how clean and minimal the look is, which gives you a lot more flexibility in bringing different design elements, like color, texture and pattern, into the kitchen and not crowding the space in the process,' says Georgia Zikas.
Opting for a heritage-inspired print imbues your home with classic charm, which you can use to define the palette of your Shaker kitchen ideas. Pull the prominent shades to paint your cabinetry. Consider painting your island in a contrasting tone from the same palette to create visual interest without overwhelming the space. This blue and yellow scheme creates a buoyant atmosphere that oozes the joys of spring.
6. Make the most of awkward spaces with fitted cabinetry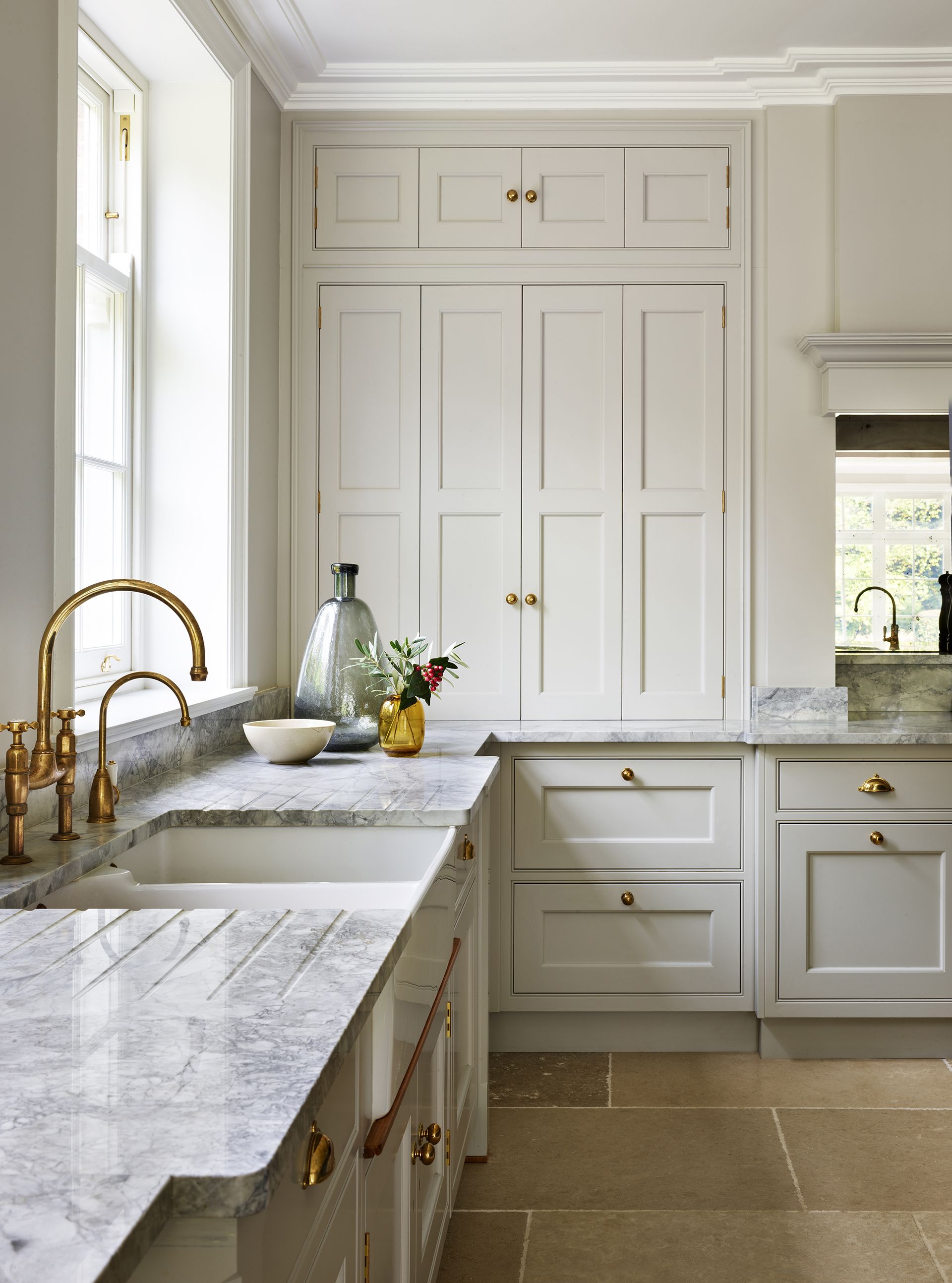 Pantries, and other kitchen storage ideas, are essential for maintaining a sense of calm within your shaker kitchen ideas. Pantries would have been an essential part of every Shaker kitchen, a space to store food and perishables, and while, today they are becoming increasingly popular, whether as a dedicated room or a pantry cupboard, not every kitchen has space to incorporate one into their Shaker kitchen ideas.
Tall cabinets, that reach ceiling height, can operate in the same way as a pantry offering plenty of storage space that will help you to achieve the same organized sanctuary as you realize your Shaker kitchen ideas.
Regardless of how you decide to incorporate pantry ideas into your kitchen style, it is vital that you consider pantry organization ideas too, as this will help you to keep an ordered space.
7. Embrace natural materials from ceiling to floor
There is nothing more beautiful than the natural world, and as such natural elements were a favored material in Shaker kitchen style. Handcrafted wooden cabinetry was designed to be beautiful both inside and out. Traditionally made from fruit trees, it would have been unpainted and unadorned.
However, the use of natural materials did not end there. Incorporate the natural materials that are used to construct your home, like beams or stonework, into your kitchen design and celebrate them, then pair with other natural, or naturally inspired materials.
There are countless stone flooring types that will complement Shaker kitchen ideas. However, if you're wary about using stone flooring in your kitchen, porcelain stone-effect tiles, like these from Quorn Stone, look just as great and will help to bring your Shaker kitchen to life.
The timeless style of Shaker kitchen ideas paired with the prioritising of natural materials makes this a great style of kitchen if you are hoping to incorporate more sustainable kitchen ideas into your space.
8. Factor in quintessential Shaker elements
Nothing more than a length of wood featuring a series of hand-turned rounded wooden pegs, a peg rail was an essential element of a shaker home. They featured in nearly every room of the house, including the kitchen.
Peg rails work as great small kitchen storage ideas, especially in spaces that embrace more rustic kitchen ideas. They offered the perfect place to hang pots and pans, keeping them on hand while also adding interest to the room. The peg rail itself would have been expertly created, handcrafted and each element would be individually beautiful in its own right.
Of course, this look only works if the things you are displaying themselves are beautiful too. Opt for stainless steel or copper pans alongside drying herbs and pretty shopper bags. The key is minimalism, the peg rail should be visible, or else it will simply look like a cluttered corner of your kitchen which will stand at odds with your other Shaker kitchen ideas.
9. Incorporated Shaker kitchen ideas with other looks to create a unique space
Make your Shaker kitchen ideas your own by combining with different cultures and styles. Shaker kitchen ideas are highly versatile and, as such, elements can be incorporated with other looks to create a sophisticated and characterful kitchen design.
The fundamentals of this vibrant yellow kitchen are routed in Shaker kitchen ideas. The recessed paneled cabinets, the shiplap wall and the tall open shelving all exude Shaker-style. However, the cheery yellow shade of the Shaker cabinetry and the darker shade which frames the recessed panels introduce a French farmhouse vibe, drawing the eye without compromising the cabinetry's simplicity. There are plenty of French country decor ideas that you could combine with Shaker kitchen ideas to create your own characterful space.
The extractor fan, which while practical is not beautiful, is covered with a similar styled box to mirror the effect of the base cabinetry. Rustic pots hang above the range cooker, a practical yet characterful addition, while a more inherently French wall sconce completes the look.
10. Add a timeless sink to bring continued charm
Continue the ethos of Shaker kitchen ideas into the other areas of your kitchen design. 'There is an increasing appreciation that a sink can make a huge difference to the overall look of the kitchen, so it's important to get it right,' says Jonathon Britton, brand manager at House Of Rohl. Belfast sinks are the perfect companion to a Shaker style kitchen. With their practical, spacious interior and their simple glazed ceramic exterior, Belfast sinks combine beauty with usefulness. This pretty fluted Bowland design from Shaws of Darwen fits seamlessly into deVOL's Shaker kitchen design.
Thinking about craftsmanship when making these design ideas will ensure that your kitchen is practical as well as beautiful. 'When it comes to your taps, look for quality, first and foremost,' continues Jonathon 'It is the most used object in the kitchen, and the true test of a tap is how it works after two or three years – it should look and feel as good as new.'
Are Shaker kitchens old fashioned?
No, Shaker kitchens are not old fashioned, in fact they are timeless. Despite originating in the 19th-century. They are an enduring look that are just as stunning in a modern apartment as it does as part of in a rustic cottage.
How do you make a Shaker kitchen look modern?
Adding color and pattern are great ways to make a Shaker kitchen look modern. Pairing contemporary elements with traditional cabinetry keeps the character of the Shaker kitchen but updates it to work seamlessly in a modern home.
'Run your subway tile in a stack bond (more modern) layout, as opposed to the ubiquitous running bond layout. Also, the room's lighting can be upgraded to include an eye-catching, modern design in a pop color, as opposed to a period light fixture,' advises Gail E. Jamentz.
'Colorful artwork framed in a modern way can add interest to the kitchen, as well as changing out the cabinet hardware to a more modern look. And lastly, selecting an unexpected style for bar stools or dining furniture will create some juxtaposition and interest in the room and make it feel fresh.'
Sign up to the Homes & Gardens newsletter
Decor Ideas. Project Inspiration. Expert Advice. Delivered to your inbox.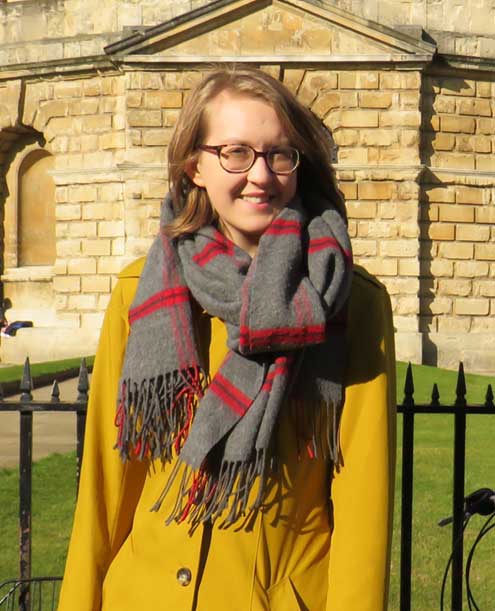 Content Editor and Sub-editor
Having graduated with a first class degree in English Literature, Holly started her career as a features writer and sub-editor at Period Living magazine, Homes & Gardens' sister title. Working on Period Living brought with it insight into the complexities of owning and caring for period homes, from interior decorating through to choosing the right windows and the challenges of extending. This has led to a passion for traditional interiors, particularly the country-look. Writing for the Homes & Gardens website as a content editor, alongside regular features for Period Living and Country Homes & Interiors magazines, has enabled her to broaden her writing to incorporate her interests in gardening, wildlife and nature.