French country decor ideas – take a continental approach to rural style
Understand the principles behind the perfect Gallic feel in any room with our French country decor ideas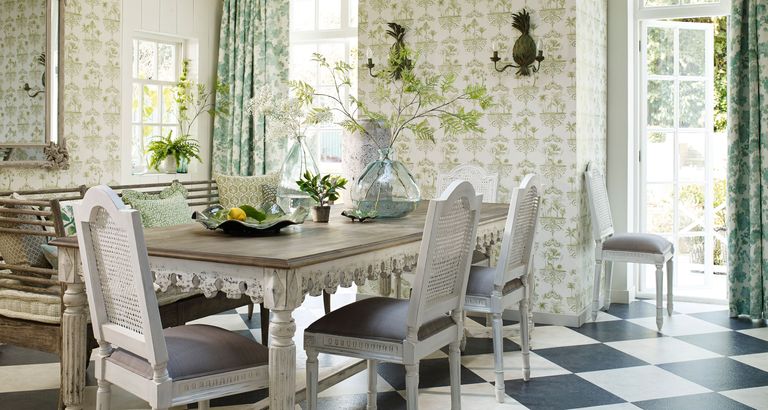 (Image credit: Future)
If you want a lighter, more refined version of traditional country decor, then look to our French country decor ideas for inspiration. 
'French country style is soft, rustic, elegant and casual, with traditional freestanding furniture, lots of wood and exposed stone walls, and a penchant for off-whites, soft blues and yellows,' explains fabric designer Vanessa Arbuthnott. 
It's an easy look to recreate as it doesn't rely on closely coordinated accessories, matching suites of furniture or lots of designer pieces. Instead, its eclectic, mismatched style is all part of the charm. 
Begin with a colour palette of soft pastels, creams and white, across paint and stylised wallpaper; layer on fabrics, either plain linen or traditional toiles, ticking and classic florals; and curate a collection of antique and rustic furniture in pale wood and rattan. 
The finishing touches are what weekends browsing brocantes and rural markets are made for – collecting vintage treasures that add character and patina to your room scheme. 
1. Curate your country colour palette
Washed-out pastels are your go-to shades for creating the French country look – sage green, sky blue, primrose yellow, chalky creams and every shade of white. 'But one colour prevails and there is even an official name for it – French Grey,' says Arianna Brissi from lifestyle store Brissi. 
'We have featured French Grey since we launched the business 20 years ago, when grey interiors were not at all fashionable. A touch of blue will pair well with French Grey, especially in the kitchen.' Use a matt paint to give a dresser or sideboard a country look; we like French Grey paint by Neptune and Light French Grey by Sherwin Williams.
2. Create the wow factor with wallpaper
The French approach to wallpaper is immersive – why have a feature wall when you can cover all four walls, and even the ceiling, in a riot of stylised pattern? 
'Wallpapering instantly transforms a space, and traditionally it has been used in French country decorating to evoke a sense of grandeur, even in the simplest homes,' says Ruth Mottishead, Creative Director of Little Greene. 
'Within French country decor, wallpaper patterns can be highly detailed and layered, but the colours are often tonal, which makes working them into a scheme easier than expected. Motifs such as curlicues, fleur-de-lis, stylised foliage and trompe l'oeil, as seen in classic 17th and 18th century French wallpaper designs, are enduringly popular. The Palais design from our Révolution Papers collection, which features flowers and garlands, is an interpretation of French wallpaper panels produced from the late 1700s.' 
The blowsy rose bouquets look as at home in a simple country bedroom as they would in a grand chateau.
3. Go Gallic in the living room
The classic French country sitting room contrasts the rustic beauty of stone features such as fireplaces and window surrounds with elegant additions that elevate the look – a crystal chandelier that sends sparkles of light around the room, and paintings displayed on the walls. 
'The essentials are chairs and a sofa in white linen, loaded with cushions for a splash of colour,' says Jane Summerill, Founder of Summerill & Bishop. A scattering of additional pieces brings a sense of ease and informality. 'Consider adding side tables filled with books and candles. And a couple of old wicker chairs always work for the country feeling,' Jane suggests.
4. Channel chateau style
French country properties span from cottages to manor houses, chalets to chateau, but whatever their size, they are united by an easy elegance. 
'French country décor means effortless chic – visions of a manoir dotted with romantic accents such as chandeliers, painted furniture and old linen sheets on the beds,' says Arianna Brissi. 
Classic details include a tiled or painted chequerboard floor, decorative wall sconces and ornate mirrors, offset with charming fabrics in toning pastel shades.
Photography / Chris Everard
5. Look for vintage linen
'It's very important in France to have lovely linen. It can be passed on through generations and an armoire filled with beautiful piles of bed or table linen, all beautifully ironed, is normal,' says Jane Summerill of Summerill & Bishop. 
There are plenty of places now to source gorgeously soft linen bedding and tablecloths, including Loaf, La Redoute and Piglet – look for French grey, pale blue and baby pink for a contemporary spin on the look. Or hunt for classic undyed or crisp white from antique fairs and flea markets. 
'I love to throw a monogrammed linen bed sheet over a table to make a grand tablecloth,' says Carolyn Westbrook, homeware designer and author of A Romance of French Living (Cico Books). 'I have always adored linen, and when it is white, it serves as a base and does not compete with other elements in the room.'
6. Source characterful furniture
Country brocantes and antique fairs are a treasure trove of unique pieces that bring personality, patina and panache to French country homes. 
'The French respect the past and while they update and modernise, they prefer to go for furniture that will stand the test of time, or pieces they really love, regardless of whether they are en vogue or not,' explains Georgia Metcalfe, Creative Director and Founder of The French Bedroom Company. 
'Furniture will typically feature acanthus leaves, sweeping curves, scrolls, crests, swirls, lion feet and cabriole legs.' Rather than the high shine of polished antiques, this look is softened for country homes with furniture featuring bleached and painted woods, rattan and rush seating.
Photography / Ben Edwards, Ryland Peters & Small]
7. Select shutters
One of the rituals of staying in a French country home is closing the shutters at night and flinging them open each morning. 'Although the French are renowned for their fabrics, they often choose shutters as a window treatment rather than heavy curtains; using pretty nets in the day to diffuse the sun,' says fabric designer Vanessa Arbuthnott. 
Paint interior or exterior shutters in the softest tones of blue, cream and yellow for a classic French country look – we like Blue Marguerite by Benjamin Moore.
Photography / Nick Pope
8. Gather the right ingredients
The kitchen is the heart of the French country home, with a welcoming warmth created by an accumulation of eclectic pieces. 'Architecturally, a French country kitchen often features rough, natural finishes such as exposed stonework, which adds to the rustic feel and is further enhanced by earthier tones and warm neutral colours,' explains Neptune design manager, Simon Temprell. 
'The look is less "put together" than English kitchens. French design relies on "found" pieces and an informal look, with freestanding furniture and fixtures, that hark back to the past, such as traditional brass taps, honed marble draining boards, Belfast sinks, vintage and antique accents, toile fabric, and dark wood furniture.'
Photography / DeVol
9. Give your bathroom a brocante look
A roll-top bath and vintage-look vanity made from a reclaimed table or cabinet will bring a relaxed rustic look to the bathroom. Open shelves and wire or woven baskets hold beauty products, face cloths and classic cubes of Marseille soap, while glass canisters with shining silver or brass tops provide a pretty way to organise cotton balls and other essentials. 
'Introduce monogrammed towels to bring in a touch of the manoir, and use a painted towel rack to display them,' suggests Arianna Brissi from lifestyle brand Brissi.
10. Decorate with herbs & flowers
No French country room would be without flowers and foliage gathered from the garden and hedgerows – think bunches of herbs in the kitchen, dried lavender in the linen closet and bouquets on the table and mantlepiece. 
'I prefer bottles or jars with single flowers and leaves; I like them to look like botanical prints,' says Jane Summerill, Founder of Summerill & Bishop. 'The table should be very simple with pots of herbs, wild flowers and leaves, and napkins tied with string and a sprig of lavender.
What is the essence of French country decor?
'There's a romantic feeling to French country interiors. Beyond the search for elegance and comfort, there's something intangible – "fantaisie" – that excites the soul,' enthuses Georgia Metcalfe, Creative Director and Founder of The French Bedroom Company. 
'One of the principles of French interior design is that they don't really go in for trends. Effortless, refined and sophisticated, combining old and new with seamless ease, French country homes are always unique to the person who lives there.' 
'What all French rooms share is a personalised mise-en-scène (staging and styling) – a harmonious assemblage of colours, materials and textures that create a relaxed, romantic look.'
What are on-trend colors for French country decor?
'Colours in French country interiors tend to lean towards soft whites, muted greens and pastel blues,' explains Ruth Mottishead, Creative Director of Little Greene. 
'These shades are perfect for a classic French country look as not only do they sit together in a palette that's true to the style, but the tonality of these colours allows for a look that can transition throughout the seasons while remaining consistent.'
What furniture is typical of French country decor?
'The French style is probably less comfortable than we are used to. It tends towards more upright seating and upholstered pieces, with carefully selected antique furniture, rather than the squashy chintz sofas of British or American country style,' suggests Caroline Inchyra, textile designer and founder of Inchyra. 
For a country look, the French style is softened with whitewashed wood and rustic rattan pieces.