French country kitchen ideas – 50 designs with Gallic charm
Give your kitchen a certain je ne sais quoi with French country kitchen ideas that touch on Provencal, farmhouse and shabby chic styling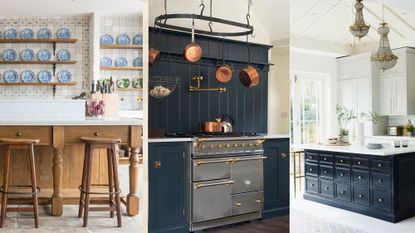 (Image credit: Rupert Bevan/Devol/Jo Henderson)
French country kitchen ideas are characterised by their classic appearance while still being able to embrace new trends and tastes. Its versatility and enduring elegance makes it unique among all the other kitchen ideas and styles out there.
A huge farmhouse table for gathering around, an armoire for housing china and glassware, open shelves displaying stoneware and canisters in neat rows, and shining copper pans hung above a stove are all quintessential elements of the look.
'A typical French country kitchen is rustic but always chic. Using a mixture of organic materials, old and new furniture and exposed stone, creates a convivial and warm feeling. A perfect place for preparing typical French cuisine,' says Tom Howley, design director at Tom Howley (opens in new tab).
French country kitchen ideas
The ethos of French country design is not too dissimilar from English country kitchen ideas. Channelling soft styling and practical elements mixed with organic materials like wood and stone, the country kitchen is a space designed for you to spend time with your family, enjoying good food and company. The French flair is seen in a more muted palette with a rustic edge, accentuated by French vintage finds and antiques.
'To create a French country feel in a kitchen, we would typically use a color palette made up of easy whites punctuated with gentle pastels. Rustic elements like rough plastered walls, wooden furniture and wooden floors boards also feature heavily, often arranged in a way that feels like it has evolved over time,' says Louise Wicksteed, design director for Sims Hilditch (opens in new tab) interior design.
1. Add color and character with a patchwork of tiles
Add a backsplash of colorful rustic tiles at the back of the stove or behind the sink to bring color and naive charm to the space. There are plenty of backsplash ideas for kitchens that would be perfectly suited to French country kitchen ideas.
'French country kitchens often feature large sinks with beautiful traditional taps and encaustic tiles that add a wonderful element of color and pattern,' says Tom Howley.
Even in neutral kitchen ideas, colour still plays a significant role in bringing character to the space. Here, an otherwise utilitarian kitchen has been brought to life with an artistic tiled backsplash. Curated from an array of hand painted tiles in a warming green and cream colour palette. Search out designs with a hand-cut and hand-painted look for an artisan feel that enhances the rural-style setting, and accessorise with chunky chopping boards and fresh herbs tied in bunches.
2. Make a feature of a wooden kitchen island
An island dominates a kitchen's design, and therefore it must work hard to earn its generous footprint. When designing a kitchen island also think about kitchen island seating ideas and kitchen storage ideas to maximize its usefulness.
This wooden island, expertly crafted by Rupert Bevan (opens in new tab), makes a feature of the wood's caramel tones and is paired with a generous marble worktop for a touch of luxury. A marble divider keeps the integrated appliances from view. Behind, rows of blue and white plates and hand painted delft tiles add provencal flair.
3. Celebrate the architecture of your home
If you are lucky enough to have stone walls and wooden beams in your kitchen, be sure to celebrate them. Leave stone walls exposed to provide a character backdrop to cabinetry and open-shelving. Pair with practical and decorative elements collected at vintage fairs and brocantes to add flair to your French country kitchen ideas.
4. Choose a reclaimed dining table for heritage flair
The table is a centerpiece of French country kitchen ideas so ensure it is not overlooked. A workhorse used for everything from prep to serving and dining, it should be a sturdy piece that is able to withstand everything you could possibly throw at it. Opt for a reclaimed design, rich in heritage and personality and pair with rattan backed chairs for added country charm.
5. Curate a display on open-shelving
Open shelving is a great way to combine storage and décor and there are lots of kitchen shelving ideas from which to choose. However, the balance between laid-back and cluttered can be hard to achieve. Be careful not to overwhelm your shelves. Start with a few pieces that you want to store; this might be a sugar bowl, some dishes or a chopping board. Then add pieces that bring colour and texture to the look. Finally finish with a bouquet of forage wildflowers, artfully displayed in repurposed vessels. If you have room, consider backing the display with a freestanding mirror to accentuate the sense of space and depth, as seen in this kitchen designed by Leanne Ford Interiors (opens in new tab).
6. Opt for French designed appliances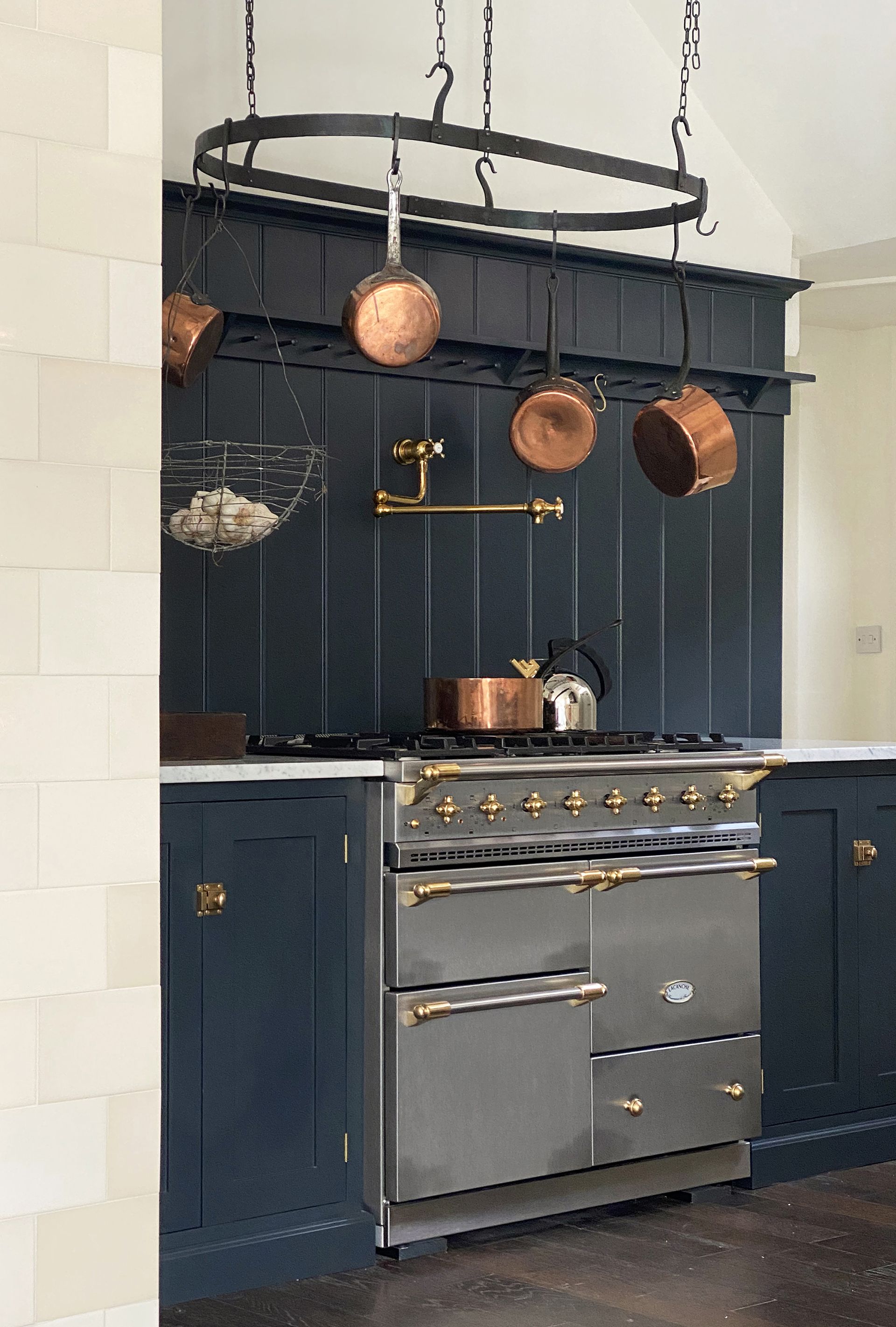 The stove is a vital piece in every kitchen, not only is it essential for cooking but it also makes a prominent mark on your interior design. In French country kitchen ideas, French design is a must, especially when it comes to range cookers. Lacanche (opens in new tab) have been making their signature pieces for nearly two centuries, combining technological expertise with chic design. This eye-catching chrome range cooker is the hero of this kitchen designed by Devol (opens in new tab), and sings against the navy tongue and groove panelling and matching cabinetry. A hanging display of copper pans completes the country style.
7. Don't overlook wallpaper in your French country kitchen design
If you want to make a bold statement in your kitchen, but still want to honour the French country style, then let your design decisions be guided by nature. Wallpaper ideas are a great way to add color and pattern to an otherwise neutral space, and, so long as it is paired with hard wearing backsplash ideas for kitchens can be a great addition.
'Combining this flora and fauna inspired wallpaper with naturally weathered oak counter stools and reclaimed parquet flooring creates a real country feel to this light and airy kitchen. The country aesthetic is further enhanced by the use of a subtle sage paint on the traditional cabinetry.' says Jamie Watkins, co-founder of Divine Savages. 'Our beloved Crane Fonda wallpaper features the elegantly fabulous Grey Crowned Crane strolling amongst lush palm trees reminiscent of the French Riviera.'
There are plenty of kitchen wallpaper ideas that are guaranteed to bring color and interest into your French country kitchen ideas.
8. Hide away modern details in antique furniture
Embracing traditional kitchen ideas doesn't mean you have to compromise on your modern luxuries. In this kitchen designed by The Refined Group, a French-inspired Armoire strikes a classical silhouette against the back wall of this kitchen-diner. However, all is not what it seems as its vintage façade hides a television, wine fridge and bar storage, helping to maintain the French aesthetic.
9. Integrated antique-style brassware for added warmth
Adding warmth to the scheme, antique-style brassware brings with it a heritage charm that is perfect for a French-style country kitchen interior. Paired with wooden worktops and a white ceramic sink it sings in the sunlight.
10. Opt for delicate window dressings for a country look
It can be hard to dress a kitchen window, even with so many window treatment ideas from which to choose . Unlike other rooms of the home where privacy is a key, in a kitchen, durability and decor are more prominent factors. For a classic French look neutral linens are a popular choice. Yet on the other hand, blinds offer a canvas onto which you can inject character and personality, perfect for a country scheme.
11. Lay herringbone wooden flooring for an elegant backdrop to your scheme
When deciding on the right kitchen flooring ideas for your French country kitchen, think rustic and characterful, opting for natural materials. Warm wood kitchen flooring creates the perfect backdrop to a French country kitchen design. Laid in a herringbone pattern, it works to visually elongate the space while adding texture and contrast to the scheme.
12. Focus on the color scheme
While there's always an exception to the rule, French country kitchens ideas and palettes tend to be focus on paler tones.
'The space between traditional and elegant is where most French country kitchens fall,' says Larry Greene, president of Case Design/Remodeling (opens in new tab) in Indianapolis. 'You have free reign to use lots of bright whites and weathered neutrals – these colors will complement any rustic stone accent or warmly toned farmhouse-style cabinet that you choose.'
Another traditional combination to tune into is blue and white. 'This can look particularly beautiful as a patterned, country-inspired backsplash – as in the above Cape Cod kitchen. It's also commonly used as color inspiration for kitchen islands and the surrounding cabinets.'
13. Bring on baroque styling
For a look that's more manoir than rustic, it pays to pile on the decorative details.
'French country kitchen ideas can create a warm, inviting space. It's an instantly historical reference that imbues a European casual, textural experience with rustic baroque carved embellishments,' explains Kellie Burke (opens in new tab), an award-winning designer based in Connecticut.
'Typically, think of walnut, cloaked in thick chunky layered paint, done in multi-tonal, highly distressed, neutral pallet. Habersham Home (opens in new tab) is my go-to expert in this layered historical luxe cabinetry.'
14. Layer your look
The most instinctive, creative interiors never look off-the-peg; there's a sense that the style has evolved over years.
'French country kitchens ideas have a formula for livability, offering a layered look that ages well,' explains Denver-based interior designer, Jaqueline Chavanu of The French Design Formula (opens in new tab). 'Upon entering a French country kitchen, you instantly feel at home, with comforts that are both relaxed and refined.
'Elements include light oak wood matte finished flooring or limestone floors, which create a timeworn look.'
15. Turn up traditional touches on cabinetry
The French country kitchen look references period styles for some of its classical, decorative details.
''French country cabinetry takes more inspiration from traditional furniture than the sleek and minimal cabinets you might find in a modern-styled kitchen,' says Larry Greene, President of Case Design/Remodeling in Indianapolis.
'Most traditional French country kitchen ideas include detailed range hoods or crown molding, while the modern version prefers accents that are just as functional as they are eye-catching.'
16. Add a refined touch
'French country kitchens ideas are at once casual and refined. The timeless elegance, muted color palette and functionality of a French country kitchen make this style a client favorite,' says New York interior designer, Phillip Thomas (opens in new tab).
'I always like to say that good design is in the mix – that push and pull – whether it be high mixed with low, or traditional mixed with modern. A French country kitchen is just that. Textures mixed with shiny elements, muted creams and cornflower blue mixed with rich reds or yellows, natural or white-washed wood tones with marble countertops, elegant but not fussy.'
17. Take a tip from chic cafés
'French scroll light fixtures, cafe-style chairs at the countertops, and decor with an antique appearance can all give you the French country style that you want,' says Indianapolis-based interiors expert, Larry Greene of Case Design/Remodeling.
'Don't shy away from wrought iron or copper, either – they'll add French country flair to your kitchen and give you permission to go antique shopping and go bold with drawer pulls, faucets and the range hood. Make sure, whichever finish you do choose, that it doesn't overwhelm the rest of the design.'
18. Mix your finishes
French country kitchen ideas are a chic amalgam of high-end design, complemented by raw and rustic finishes. This kitchen by interior designer Kellie Burke, for example, places ornate cabinetry within a barn-style setting.
Heavy beams are offset by a scrolled island. A lime-washed finish on the kitchen is contrasted with the faded paint on the ceiling. And antique statues are set against sleek appliances and smart fabrics.
It's an approach common in country decorating ideas, given an extra touch of French flair.
19. Make the stove the star
A gleaming range cooker is the Chanel handbag of the French country kitchen – a timeless, statement piece that elevates any look. Indeed, it's a staple of country kitchen ideas in the US, too.
'A range that is the centerpiece of the kitchen,' agrees Jaqueline Chavanu of The French Design Formula. 'Alongside this, there should be lots of prep space to cook, with honed marble, quartz, or reclaimed wood countertops.
Decorative elements complete the look. 'I look for "treasure" finds, such as antique ironstone dishes, copper pots, antique china and artwork,' says Jaqueline.
20. Take your French country kitchen outside
'French provincial style has been on our radar for quite some time now, says Texas-based interiors expert,' Stefan Bucur, from Rhythm of the Home (opens in new tab). 'There are some fundamental features that all French country kitchen ideas share, whether we're talking about original rural buildings in France or revival versions in the United States.
'Traditional French country kitchen designs include arched windows, warm color schemes and patterned designs, while the typical materials used for the facades of the homes are brick or stone. Those characteristics give French country kitchen ideas a feeling of texture both indoors and outdoors.
'Whether we're talking about an independent outdoors summer kitchen that was built for the purpose of enjoying nature – another strong element of the French country style – or the main kitchen of the home, the style balances traditional and some rustic elements with a good dose of sophistication to make the design feel more elegant. Because there is such a strong focus on texture the colors are usually chosen carefully to be harmonious with the natural surroundings.'
21. Look to nature
It's time to go au naturel when you're considering your French country kitchen ideas.
'Warmer colors rooted in nature work best for painted cabinetry,' explains Sarah Barnard (opens in new tab), an LA-based interior designer who has created numerous French-style kitchens. 'For darker palettes, I prefer deep earthy tones of green or warm mushroom grays – colors you may find on a forest floor during a quiet walk. For lighter tones, milky whites and shades of dove feel bright and familiar and can soften the space.'
Sarah has an interesting take on a key kitchen feature.
'Because range hoods are often so decorative and focal in a French country-style kitchen, I like to think of them similarly to statement jewelry. They should be beautiful and exciting in their own right, but they should also speak to other elements of the space and help bring the kitchen to life.'
Antique or patinated metals work well, either as a complete hood or as accent detailing. 'Similarly, decorative stone and wood can be an attractive option, though I suggest avoiding anything overly ornate or austere – there should still be an approachable quality,' Sarah says.
22. Go Gallic in a butler's pantry
This gorgeous monochrome butler's pantry exudes French charm. Taking chic white cabinetry as the starting point, the scheme features matt black café-style glass racks and a complementary pendant light.
Gleaming silverware and fresh roses upgrade this simple galley into the epitome of Gallic style.
23. Use stone as a splashback
This stunning kitchen by Parisian design duo Alon & Betsy Kasha of Kasha Paris (opens in new tab) harnesses the original stone of this period property to create a simple rustic look.
Keeping the decor in similar tones creates a serene setting that blends contemporary style with rustic authenticity.
24. Repurpose Champagne baskets for storage
'We use traditional French baskets in our schemes to create scale and height,' explains Phoenix-based interior designer, Dana Lyon, principal designer of The Refined Group (opens in new tab). Placing them on the top of cabinets draws the eye upwards, emphasising a high ceiling while also adding natural texture that brings refined rusticism to the scheme.
25. Decorate with plates
Don't restrict your love affair with French cuisine – or rather, crockery – to the table. Ceramics picked up from yard sales, markets and brocantes bring a delightfully informal style to your French country kitchen ideas as well as bringing polka dots of bright color to a white decorating scheme.
26. Create a freestanding feel
'Integrating antique piece as cabinetry provides a sophisticated country look,' says Dana Lyon from The Refined Group, which created this kitchen scheme.
Here, fabric panels inside the glazed cabinets shield the contents from view, simplifying any visual 'clutter'. Taken with basketry and brick flooring, the look successfully melds refinement with authentic French country style.
27. Inject a touch of Provencal blue
The color associated with the Mediterranean and the South of France brings a classic Provencal look to a country kitchen. Keep the look light by using this strong blue as an accent color in tile and accessories, or go bold and paint cabinets in the shade.
28. Aim for a chic country look
'French country is an elevated, elegant style with perfectly aged woods, curved silhouettes, and soft colors,' says Glenna Stone from Philadelphia decorators, Glenna Stone Interior Design (opens in new tab).
'Like so much of French style, it walks the line of effortlessness without tipping into messiness. It's the home design equivalent of a beautifully tailored coat paired with a scarf that's undone just enough to be chic but not sloppy.'
When you're translating this look to your own French country kitchen ideas, think about pairing rustic timber beams and painted wooden cabinets, with chic marble or quartz countertops.
'We designed this stunning kitchen with exposed beams, leathered quartzite countertops veined with blue, and a hand-cut glass mosaic tile backsplash that incorporates blues, grays, and hints of white,' says Fuscia.
29. Consider a limestone hood
Setting a range cooker within a chimney breast is a classic touch when you're establishing your French country kitchen ideas. But you can elevate the look further with your choice of material.
'We like to use antique limestone fireplaces as the hood surround as it adds an authenticity and an architectural element,' shares The Refined Group (opens in new tab)'s Dana Lyon.
30. Add glamor with marble
In a smaller French country kitchen, refined surfaces elevate the space – think marble backsplash, polished wood flooring and a smart but neatly sized range cooker. This design by interior design firm Kasha Paris puts all the elements in place for a chic but compact space.
31. Include copper accents
'When I'm creating a French country kitchen design, I'll use copper or brass instead of nickel or chrome,' says California-based interior designer, Alison Kandler (opens in new tab). 'It instantly adds warmth to any kitchen.'
Lighting is an attractive way to include these rich metallic accents. You could also use copper pans, brass handles and hardware, and decorative accents to add this classic French touch to your cooking area.
32. Incorporate antique furniture
The elegant shapes of antique furniture add a touch of refinement to a rustic-style kitchen – even one as elevated as this design by Clive Christian Furniture Co (opens in new tab).
Here, the curved wooden chairs echo the color of the polished wood floor, bringing both warmth and sophistication to the scheme.
Oliver Deadman, head of design, Clive Christian Furniture (opens in new tab) says, 'A French kitchen is typified by the immediate feeling of the space being one of familiarity but in equal measure elegance. Featuring our Architectural cabinetry collection, this design by interior designer Heather Hungeling (opens in new tab), echoes this sentiment.
'Traditionally hand painted, French style kitchens predominantly adopt an off white or cream base accented by warm tones to soften the palette, creating a balance between geometry and structure and a touch of femininity. Though we are a British cabinetry designer and maker, the sentiment of timelessness is something I would say we share in this space, which this kitchen and Heather's design brings to life.
Interior Design by Heather Hungeling.
33. Display art creatively
'Buy vintage art at flea markets, sticking to a theme if possible, such as dogs, flowers or landscapes,' suggests interior designer Alison Kandler. 'I like to use art in unexpected places, such as under upper cabinets to hide electrical outlets and add color and charm.'
34. Hang antique doors
'Incorporating antique or reclaimed doors into a French country kitchen scheme makes it timeless,' suggests Dana Lyon from The Refined Group.
Look for glazed doors and beautiful detailing to bring the refinement of the French look. By leaving woodwork bare, you will retain a rustic aesthetic that takes the formality from grander designs. Part of the charm is the visible knots and marks of time.
35. Create space for elegant dining
'Compared to other country styles, French country is the sophisticated older cousin who mixes vintage pieces with new and makes it look soft, livable, and fabulous,' says interior designer Glenna Stone.
'This kitchen space includes a breakfast area with chairs featuring handwoven rope backs and cream upholstery paired with the client's vintage dining table.
'Overhead, we added an unfussy chandelier in antique brass with black shades for that "just enough" feeling.'
36. Mix old and new effortlessly
A key idea in French country kitchens is to mix old and new pieces.
'Collect vintage items, such as French enamelware or old wicker baskets, and use them to create a colorful display,' suggests interior designer Alison Kandler.
37. Opt for detailed cabinetry design
For a French country look with a hint of haute couture styling, look to add decorative details to your cabinetry and trim.
Beaded cabinet door fronts, ornate mantels, kick plinths and pillars all give a more refined look to country kitchens.
'A French kitchen is typified by a feeling of familiarity and elegance in equal measure,' says Oliver Deadman, Head of Design, Clive Christian Furniture.
'Featuring our Architectural cabinetry collection, this design by interior designer Heather Hungeling echoes this sentiment. Traditionally handpainted, French-style kitchens predominantly adopt an off-white or cream base accented by warm tones to soften the palette, creating a balance between geometry and structure and a touch of femininity.'
38. Find your flair for color
Although the French palette is often thought of a subdued, the country look can be bolder and brighter – just think of classic Provencal linens.
'Don't be afraid to mix in bold colors,' agrees interior designer Alison Kandler. 'I always start with a multicolored fabric that inspires me. I pull out all of the colors and create a palette.'
This expert approach is easily replicated when you're refining your own ideas for your French country kitchen look.
39. Focus on patina
Mix historical and modern styles to create a layered, lived-in French country look.
'In a newer kitchen with modern cabinetry, you can achieve this by using patinated hardware, handmade stoneware and antique furnishings,' says Torre Lisi from New York design firm, Bespoke Only (opens in new tab), which worked on this project by architect Simpson Jacoby.
Open shelving is a considered way to display your favorite pieces. Not a fan of the open look? Opt for glazed cabinets instead when you're planning your French country kitchen ideas.
40. Be brave with tile
A strong tile design is a quintessential element for a French country kitchen and a great idea when you have a large area to cover.
Be brave and don't be afraid to choose a graphic design that will add interest to your scheme – in a soft palette, it won't overwhelm the room. You can pick out the key color and paint your island or peninsula in the same shade.
Taking the tile up from counter to ceiling creates a coherent, modern rustic look.
41. Switch to wall lights
'To enhance a relaxed, French rustic atmosphere, we prefer to use wall sconces in lieu of less flattering overhead light,' shares Torre Lisi from Bespoke Only. 'This softens the light quality and creates an ambient glow perfect for slow, country living.'
Wall lights can be used to illuminate the dining table. 'The heart of any French country kitchen is the dining table,' explains Lisi.
'We like the idea of finding a salvaged table and mixing up the seating with vintage bistro chairs and a bench. This creates a casual, communal vibe while promoting the sharing nature of country-style dining.'
42. Take a free and easy approach
Even if you're creating your new French-style kitchen from scratch, it should look as if it's evolved over time, with an eclectic mix of pieces that could have been passed down as heirlooms, found at a country brocante, or repurposed from another room.
If the main kitchen features fitted cabinets, aim for at least one standout, freestanding piece.
'Dishes and utensils may be stored in an armoire – the large wooden cupboard, originally used as a linen store, found in nearly every French country home,' says Henrietta Heald, author of La Vie est Belle (Ryland Peters & Small). Glazed doors or doors with chicken-wire panels allow the contents to be kept in view.'
43. Add a luxe touch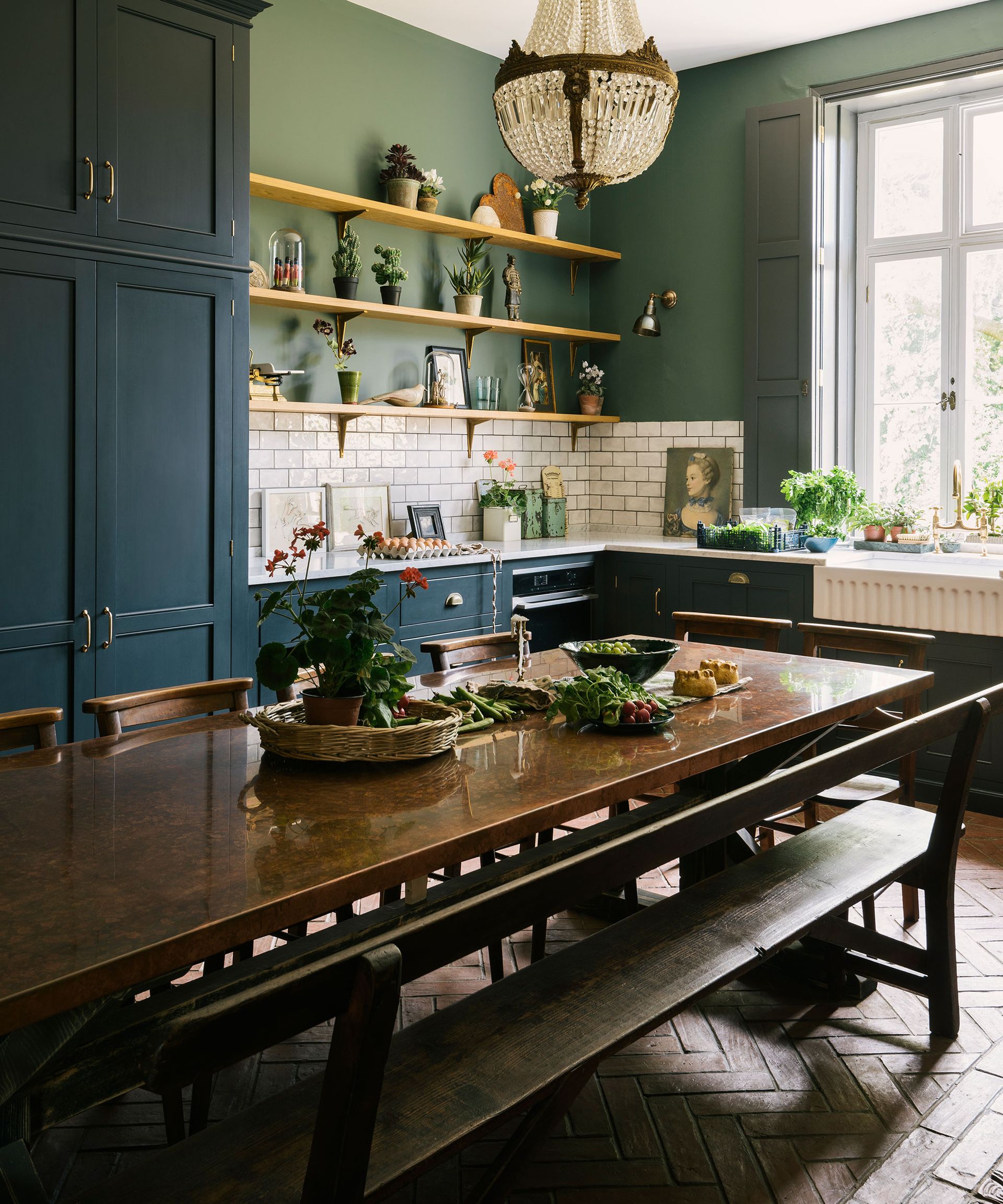 Just because your French country kitchen ideas focuses on rustic style doesn't mean it can't feature a little chateau chic – in fact, it's this contrast that adds just the right element of je ne sais quoi.
French country kitchens often feature large decorative canopies over the hob and elaborate, decorative light fixtures in vintage brass or iron.
Consider suspending an oversized pendant light or antique chandelier over a timeworn farmhouse table for the perfect high-low design mix.
44. Pick a natural palette
Think France and you think glorious landscapes and delicious cuisine, both of which inspire the country's kitchen decor.
Color schemes look to the natural landscape – stone, slate and clay, accented with soft pastels – or to deliciously rich tones of mustard, saffron, claret and olive.
'Architecturally, a French country kitchen often features rough, natural finishes such as exposed stonework, which adds to the rustic feel and is further enhanced by earthier tones and warm neutral colors,' says Simon Temprell, interior design manager at Neptune (opens in new tab).
'This look suits rich but muted shades such as sage, earthy reds and warm cream. Our new Saffron or Olive seasonal shades would work brilliantly, especially when paired with a warm neutral like our Honed Slate.'
45. Celebrate rural architecture
You don't need a converted barn or renovated stables to house a French country-style kitchen, but there's no denying that original architectural features enhance the eclectic, put-together look.
'Exposed rafters and stone walls with rustic, timber open shelves are typical features,' agrees Tom Howley.
Exposing a small area of brickwork or stone, laying the floor with reclaimed flagstones, or adding a chunky stone work surface or scarred and scrubbed butchers block, will introduce a raw and rustic feel if distinctive period features aren't a part of your property.
46. Include a classic stove
While an English country kitchen might have an Aga or Rayburn range cooker, its French equivalent is likely to feature a stove from Lacanche or La Cornue.
'The stove is a classic piece of equipment for those who appreciate elegance, as well as traditional and quality craftsmanship in their kitchen. It's not only a cooker but a symbol of the French lifestyle and gastronomic culture, and is linked to the conviviality of a French country kitchen,' explains Maxime Gossiome of La Cornue (opens in new tab).
For the ultimate French country taste test, Maxime suggests a set of copper pans hung from a bar above the stove, a rotisserie, 'and, of course, the smell of delicious dishes simmering for the next meal'.
47. Layer up with linens
'The French country kitchen is always softened with textiles – it makes the space feel more relaxed and homely but employs classic patterns such as toiles and stripes,' says Ben Burbidge, managing director at Kitchen Makers (opens in new tab).
You could keep it simple with a classic French glass cloth or tea towel for drying dishes, or enhance the look with a linen tablecloth (look for vintage linen sheets in brocantes and flea markets), muslin voile at the window, or a curtain instead of a cabinet door front beneath the sink.
48. Make the table the focal point