French country kitchen ideas – take a rustic approach to fixtures and furnishings
Give your kitchen a certain je ne sais quoi with French country kitchen ideas that touch on Provencal, farmhouse and shabby chic styling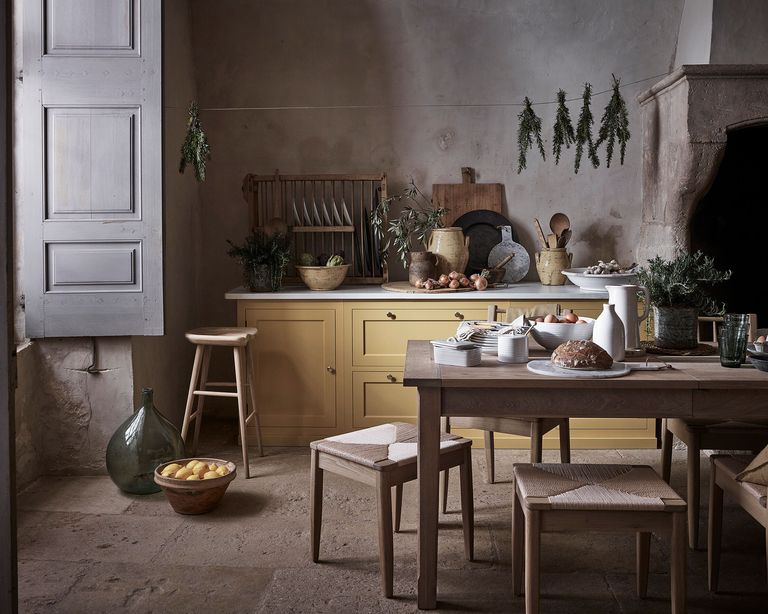 (Image credit: Neptune)
Just like French food, French country kitchen style is continually updated to account for new trends and tastes, while never losing the classic ingredients that make it unique. A huge farmhouse table for gathering around, an armoire for housing china and glassware, open shelves displaying stoneware and canisters in neat rows, and shining copper pans hung above a stove are all quintessential elements of the look. 
'A typical French country kitchen is rustic but always chic. Using a mixture of organic materials, old and new furniture and exposed stone, creates a convivial and warm feeling. A perfect place for preparing typical French cuisine,' says Tom Howley, Design Director at Tom Howley. 
Discover how to recreate the look in your own home with our expert design tips.
1. Take a free and easy approach
Even if you're creating your new French-style kitchen from scratch, it should look as if it's evolved over time, with an eclectic mix of pieces that could have been passed down as heirlooms, found at a country brocante, or repurposed from another room. 
If the main kitchen features fitted cabinets, aim for at least one standout, freestanding piece.
'Dishes and utensils may be stored in an armoire – the large wooden cupboard, originally used as a linen store, found in nearly every French country home,' says Henrietta Heald, author of La Vie est Belle (Ryland Peters & Small). Glazed doors or doors with chicken-wire panels allow the contents to be kept in view.'
2. Add a luxe touch
Just because a French country kitchen focuses on rustic style doesn't mean it can't feature a little chateau chic – in fact, it's this contrast that adds just the right element of je ne sais quoi. 
French country kitchens often feature large decorative canopies over the hob and elaborate, decorative light fixtures in vintage brass or iron. 
Consider suspending an oversized pendant light or antique chandelier over a timeworn farmhouse table for the perfect high-low design mix.
3. Pick a natural palette
Think France and you think glorious landscapes and delicious cuisine, both of which inspire the country's kitchen decor. 
Colour schemes look to the natural landscape – stone, slate and clay, accented with soft pastels – or to deliciously rich tones of mustard, saffron, claret and olive. 
'Architecturally, a French country kitchen often features rough, natural finishes such as exposed stonework, which adds to the rustic feel and is further enhanced by earthier tones and warm neutral colours,' says Simon Temprell, Interior Design Manager at Neptune. 
'This look suits rich but muted shades such as sage, earthy reds and warm cream. Our new Saffron or Olive seasonal shades would work brilliantly, especially when paired with a warm neutral like our Honed Slate.'
4. Celebrate rural architecture
You don't need a converted barn or renovated stables to house a French country-style kitchen, but there's no denying that original architectural features enhance the eclectic, put-together look.
'Exposed rafters and stone walls with rustic, timber open shelves are typical features,' agrees Tom Howley, Design Director at Tom Howley. 
Exposing a small area of brickwork or stone, laying the floor with reclaimed flagstones, or adding a chunky stone work surface or scarred and scrubbed butchers block, will introduce a raw and rustic feel if distinctive period features aren't a part of your property.
5. Include a classic stove
While an English country kitchen might have an Aga or Rayburn range cooker, its French equivalent is likely to feature a stove from Lacanche or La Cornue.
'The stove is a classic piece of equipment for those who appreciate elegance, as well as traditional and quality craftsmanship in their kitchen. It's not only a cooker but a symbol of the French lifestyle and gastronomic culture, and is linked to the conviviality of a French country kitchen,' explains Maxime Gossiome of La Cornue. 
For the ultimate French country taste test, Maxime suggests a set of copper pans hung from a bar above the stove, a rotisserie, 'and, of course, the smell of delicious dishes simmering for the next meal'.
6. Layer up with linens
'The French country kitchen is always softened with textiles – it makes the space feel more relaxed and homely but employs classic patterns such as toiles and stripes,' says Ben Burbidge, Managing Director at Kitchen Makers. 
You could keep it simple with a classic French glass cloth or tea towel for drying dishes, or enhance the look with a linen tablecloth (look for vintage linen sheets in brocantes and flea markets), muslin voile at the window, or a curtain instead of a cabinet door front beneath the sink.
7. Make the table the focal point
Centre stage in any French country kitchen is the table – prep area, dining table, brioche bearer and casserole server… 
Unlike British country kitchens, where painted chairs are often gathered around the table, French seating tends to be softly polished wood. 
Chairs are traditional in style, with rush seats and bentwood or ladder back frames – although a pew seat picked up from a country brocante may well make an appearance. 
8. Channel your inner French chef
'The essence of a French country kitchen is its equipment. Rather than being hidden away, the pots and pans, knives, chopping boards and mixing bowls that make up the batterie de cuisine are displayed on open shelves,' explains Henrietta Heald. 
'These often well-worn items are made from natural materials such as stoneware, wood and terracotta.' Despite its culinary promise, the look is a million miles from the clinical steeliness of a professional kitchen. 
Brass and copper details shine, scrubbed wood and stone add warmth and texture, while those on-display ingredients add tasty pops of colour.
9. Curate a patchwork of tiles
Add a splashback of colourful rustic tiles at the back of the stove or behind the sink to bring colour and naive charm to the space.
'French country kitchens often feature large sinks with beautiful traditional taps and encaustic tiles that add a wonderful element of colour and pattern,' says Tom Howley, Design Director at Tom Howley. 
Search out designs with a hand-cut and hand-painted look for an artisan feel that enhances the rural-style setting, and accessorise with chunky chopping boards and fresh herbs tied in bunches.
10. Add a contemporary touch
French country style can include ultra-contemporary elements, such as concrete work surfaces and metal-framed windows, as much as traditional-style elements. 
'This mix-and-match, retro-chic approach is the essence of country kitchens in France,' confirms Maxime Gossiome of La Cornue. 
'Think of it as balance between essential elements such as cabinets, pots and pans, elegant details including family silver and crystal glasses, and an atmosphere of welcome. Ultimately, the kitchen is a place to share meals – and great moments – with friends and family.'
What is a French country kitchen?
French country kitchens are characterised by an informal elegance,' explains Ben Burbidge, Managing Director at Kitchen Makers.
'Cabinetry and furniture tends to feature curves and scrolls, while kitchen designs make use of a broad range of materials anchored around wood and stone. These materials have a feeling of strength, honesty and simplicity but are honed to produce a decorative, chic finish,' explains Ben Burbidge, Managing Director at Kitchen Makers. 
'Elegant yet humble, these devices make the kitchens feel unmistakably French, with the use of local materials, traditional designs and a considered colour palette.'
What colours suit a French country kitchen?
'Natural, restful colours such as greys and shades of white are very typical in French country kitchens,' explains Tom Howley, Design Director at Tom Howley. 
The further south you go and the warmer the weather gets, the richer and bolder the colours become. 'Yellows, blues and terracotta colours are traditionally used in the Provence region,' Tom says.
What is the difference between French country and English country kitchen decor?
'French country kitchens are often less "put together" than English kitchens,' says Simon Temprell, Interior Design Manager at Neptune. 
'French design relies on "found" pieces and an informal look, with freestanding items that hark back to the past, such as traditional brass taps, honed marble draining boards, Belfast sinks, vintage and antique accents, toile fabric, and dark wood furniture. English country style can often seem more polished, with a cleaner aesthetic and lighter colours.'