15 kitchen flooring ideas – stylish but practical floors for kitchens
Complete your space with these kitchen flooring ideas – chosen for their practicality and, of course, their looks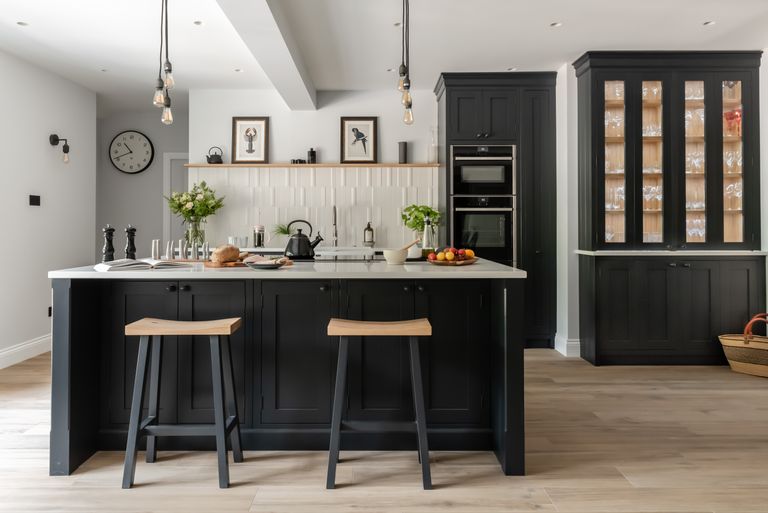 (Image credit: Domus)
In need of kitchen flooring ideas? The floor of your kitchen is likely to be one of the largest surface areas in the room, so its selection deserves careful thought. It needs to perform on many levels – durability, safety and ease of cleaning – and it must look great, too, so give it as much consideration as your cabinetry.
In terms of kitchen ideas, your floor should work together with the rest of the room, so take the look and material of your units into consideration when picking flooring.
Materials such as durable laminate and matt porcelain will look great in modern schemes, while natural stone tiles and warm wood suit traditional designs. A popular, contemporary flooring material is polished concrete, which gives a chic, industrial edge.
Budget carefully to include all fitting costs and extra expenses for underlays, fixatives and grouts. If you're hoping to lay underfloor heating, do check it is compatible with your flooring before you buy.
Kitchen flooring ideas
There is a wealth of kitchen flooring ideas to choose from – so let us help you narrow it down with our top materials, styles, finishes and designs.
1. Choose a herringbone wood kitchen flooring for an elegant look
With so much choice available in terms of both material and pattern, it can be daunting to find the right option. Herringbone styles are currently very popular, either in ceramic or wood, and they're an ideal way of introducing subtle yet beautiful pattern and a welcome sense of texture into even the simplest floor, instantly making it a focal point.
There has been an increase in the popularity of patterned wood floors. Larger herringbone pieces often look more contemporary. If it's for an open-plan space, a distressed chevron or herringbone floor will stand up well to general wear and tear. Choose a delicate parquet if you want to give a nod to a feature floor without being too over the top.
Classic parquet flooring can be laid as individual blocks, or the effect can be copied by engineered wood planks, which are easier to fit.
2. Pick real wood for warmth
Warm and welcoming underfoot, solid wood will need careful treating and maintenance to make sure it doesn't warp as it is less resistant to water damage than engineered wood (a thin layer of wood veneer).
However, if your scheme is open plan, you could run the same floor throughout the space to give a visual link in different a zone – dining, cooking and lounging, for instance.
'Engineered timber is better in kitchens than solid wood, as the layered construction of the boards creates a very strong and stable surface. This is particularly important if you are installing underfloor heating or a cast iron cooker,' says Peter Keane, Director of The Natural Wood Floor Company.
3. Pick kitchen flooring materials to complement cabinetry
'Anyone who has ever designed a kitchen will know that it's vital to choose kitchen cabinetry at the same time as the flooring,' says Homes & Gardens Editor in Chief Lucy Searle.
'It makes sense that cabinetry comes first, but choosing the flooring should be the next big decision – ideally taken hand-in-hand with picking out countertops. My best advice, if you don't have an experienced interior decorator choosing for you, is to bring a sample of the cabinetry you have chosen into the kitchen, along with samples of flooring and countertops.
'Hold the cabinetry sample vertically so that the light hits it at exactly the angle it would when installed, then sit the flooring and countertop samples against it, but horizontally, so that, again, the light hits it at the right angle. Observe the different tones it takes on in daylight and under artificial light – only then can you really ensure you have chosen well.'
4. Pick wood-look laminate or vinyl for a practical option
If you are remodelling a kitchen in a rental property – or need a temporary solution, both luxury vinyl tiles and laminate (wood particleboard with sealed and protected printed paper over the top), which is laid in planks that fit together for easy installation, are good-looking alternatives to real wood and stone.
Make sure you choose a laminate that is suitable for kitchen use, as some are not suitable in damp environments.
5. Go for a practical wood-effect porcelain tile
'Timber-effect plank-shaped porcelain tiles are also popular, not least because they introduce a sense of character and movement,' says Jules Archard of Domus.
'Previously, their totally flat printed surface used to give away the fact that the planks were not made of real wood, but now, a woodgrain is pressed into the surface of the tile before it is printed, so their texture is realistic too.'
6. Pick reclaimed wood for a rustic, country look
Reclaimed wood floors are not only full of charm, character and history but buying anything salvaged is environmentally responsible and spot-on for today's recycling trend.
Whether it's oak beams recovered from old American barns or Burmese teak parquet reclaimed from a remodelled school, salvaged boards bear the unique marks of time, much like a slice of history at home.
'You can't get more green than buying reclaimed timber flooring,' says Nick Newman at celebrated British salvage specialists Lassco.
'It is environmentally responsible and will have been sourced relatively locally, had the nails removed by hand by us, then sorted and stacked. Reuse reduces landfill while curbing the need to plunder the earth's resources. Salvage generally has not travelled very far so it bears a comparatively tiny carbon footprint.'
7. Pick a matte finish stone for a relaxed look
'We are seeing a move towards kitchen floors that create a very relaxed feel with a reassuring warmth, and soft, matte limestone-effect porcelain tiles, fit the bill well,' says Jules Archard at Domus.
'This finish is also easier to keep clean than polished or very textured tiles. Consider large format tiles, such as 1.2 x 2.4m, if you want to create a sense of scale and drama, even with a neutral tile.'
8. Choose natural materials for an elegant look
'If you prefer to use a real stone, such as limestone, for its natural beauty, you do need to embrace the fact it is porous and may stain and weather over time, requiring regular maintenance to keep it looking its best,' says Jules Archard, showrooms manager of Domus.
9. Pick terrazzo for a contemporary kitchen flooring idea
'Porcelain tiles are by far and away the most popular material these days, because they are robust, non-porous, highly stain and scratch resistant and work well with underfloor heating, and because they come in such a huge variety of designs, colors and formats,' says Jules Archand.
'Stone-, wood-, concrete- and terrazzo-effect porcelain tiles score highly; it's crazy how faithful some of the reproductions are.'
10. Make a dramatic statement with patterned floor tiles
If you want the soft powdery colors and pattern of encaustic (concrete) tiles without the maintenance requirements, consider an encaustic-look porcelain, such as Puzzle from Domus (above). Or create a bespoke floor by combining shapes: it is amazing how many different designs you can create with a triangular format in a range of colors.
11. Pick the right stone kitchen flooring
Choices include natural stone and man-made ceramic, terracotta and porcelain. All are hardwearing and easy to clean, with porcelain being the most hardwearing of all.
'By far the most popular material for kitchen floors these days, porcelain tiles are robust, non-porous and highly stain and scratch resistant,' says Jules Archand of Domus. 'They work well with underfloor heating, plus they tend to come in a huge variety of designs, colors and formats.'
For a kitchen floor with individual character and natural beauty, look no further than natural stone: no two tiles will ever be identical, so your floor will be unique.
Stone offers a classic and luxurious look and tends to improve as it acquires the 'patina' of age. Smooth marbles and honed limestones are a sophisticated and smart choice or choose a weathered flagstone that sits comfortably in a country kitchen.
Make sure your tiles are treated before laying to avoid staining.
12. Pick kitchen flooring ideas to add a pop of color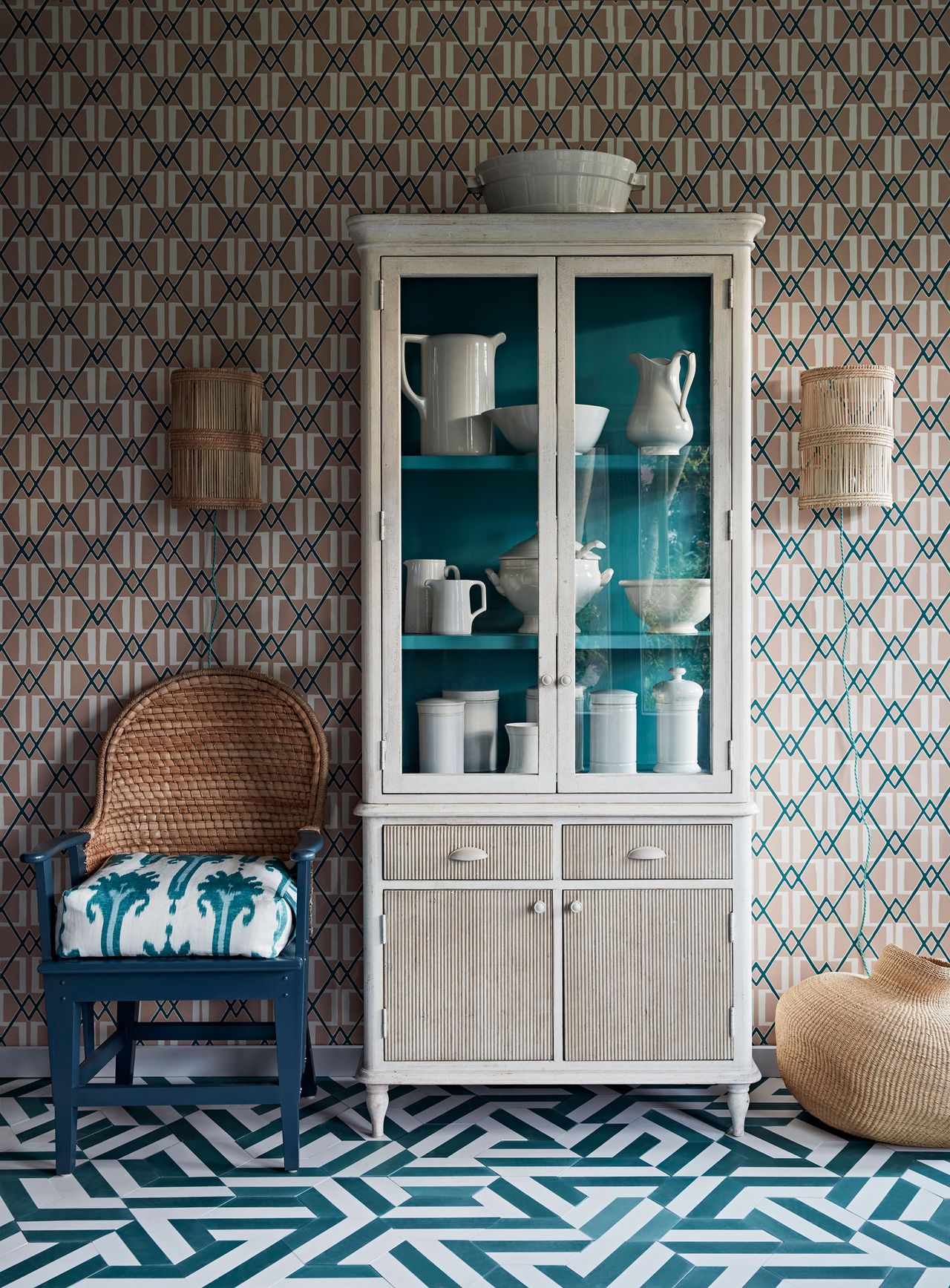 We're so accustomed to standard tiles that it is often easy to forget that the variety in size and manufacturing processes gives rise to a huge number of design possibilities. The floor is a beautiful way to experiment with bold, distinctive pattern choices, especially if you choose to keep the rest of your kitchen neutral.
'We've found that tiles of this nature were commonly used in smaller spaces, such as shower enclosures, cloakrooms and kitchen backsplashes, but as we've grown to know and love playful patterns, we're branching out to using them in large kitchens and open-plan spaces,' says Katy Harris, at Verona.
13. Pick concrete kitchen flooring for an industrial flavor
Far from being ordinary construction materials, the raw unfinished beauty of plaster and concrete find a very stylish home in the kitchen. In their exposed, uncovered state, both plaster and concrete have a bold, utilitarian quality, and an almost brutal sophistication.
Concrete, in particular, is a hardwearing and versatile material that can be cast into shapes and slabs, or poured, smoothed and polished, making it suitable for floors, countertops and even part of the kitchen itself if it's an industrial look you are after.
14. Be bold with pattern for a lively, fun space
Love a dramatic scheme? Bold geometrics and exotic Moroccan designs are a particularly contemporary and versatile choice as they have a timeless appeal that means that they're equally at home in both modern and traditional kitchens.
15. NICE AND EASY
In a small kitchen, 'keep it simple and don't use too many different tile formats, colors and finishes,' advises Dorothee Junkin, Dorothee Junkin Design Studio. 'Less is more when it comes to bold flooring so use pattern selectively. It loses its effect when there is too much of it or when there are other patterns competing for attention.
'Try a classic diagonal checkerboard or a very defined and crisp geometric so that the eye can catch the defining principle of the pattern with just one glance.'
What is the best flooring for a kitchen?
Natural stone is the best kitchen flooring: it should last forever and acquire a lovely patina over time, but it can be cold and unwelcoming underfoot, so ensure you couple it with underfloor heating and rugs.
Wood planks are a timeless classic but can be expensive and need regular after-care, while tiled floors can be cold and unforgiving underfoot (underfloor heating will help).
If you have an open-plan kitchen living room, you may want to use contrasting floor materials to define zones, or else use the same floor throughout for a fluid, seamless space (a good option for smaller kitchens).
What is the most durable floor for a kitchen?
Again, natural stone is the most durable floor for a kitchen, closely followed by porcelain tile. A kitchen floor needs to be tough, long-lasting and hardwearing, so consider comfort, durability and maintenance issues as well as pattern, finish and looks.
It is always better to get your floor laid by a professional, whichever type of material you choose; they can advise on substrate, quantities and any special finishes or treatments that will extend the life of the floor.
Limestone, slate, granite, sandstone and travertine (a limestone/marble mix) come in many sizes, formats and finishes depending on the color and finish you want. Not all stones are equally durable though, so ensure your choice is sealed against splashes and stains.
What is the easiest kitchen floor to keep clean?
Single sheet kitchen floors are easiest to keep clean – poured rubber, concrete and vinyl sheet are all really resilient to dirt; they scratch, chip or stain but all can be damaged if not swept regularly, as constant treading in of small stones or grit can eventually mark the surface. A quick mop with a general cleaning solution will finish the task.
Polished concrete will need resealing every three to nine months, but other than that you can treat it like any other durable floor and sweep and mop it to keep it clean.
See: How to design a kitchen – an expert kitchen planning and layout guide
Stone floors are tough, won't harbour dust and are easy to maintain with a quick vacuum and mop with a mild detergent, although pitted tiles and grout lines will attract dirt.
Laminate is durable, but needs a good vacuuming (with a hard floor attachment) before being cleaned. Use a general floor cleaner diluted in warm water, but as you would with wood, make sure no pools of water sit on the floor as you clean – a damp wipe with the mop is perfect.