Kitchen wallpaper ideas – 10 statement designs for the heart of the home
Use this curated selection of the best kitchen wallpaper ideas to bring heart to your home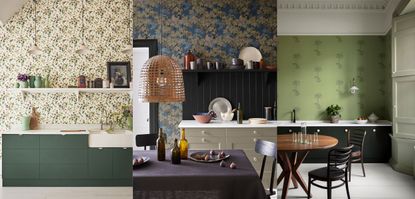 (Image credit: Future)
Kitchen wallpaper ideas are a brilliant way to bring color, pattern and character into your home. As the room at the heart of our homes, in which so much of our time is spent, it makes sense for kitchens to reflect our unique personal style, and decorating with wallpaper is an instant way to achieve this. Plus, there are so many to choose from.
Everyday spaces, a kitchen should be an uplifting, positive space in which we enjoy spending time. Therefore, adding kitchen wallpaper ideas are a great way to introduce mood-boosting color and pattern to the space. Kitchens are also practical, high traffic areas, so it's important to bear this in mind when choosing what type of wallpaper to use and where to position them.
Whether you're designing a brand new kitchen, or simply looking to update an existing scheme with new kitchen ideas, then you're in luck as there are so many wallpaper ideas perfect for kitchens to get you inspired – we've rounded up an selection of our favorites alongside some expert tips to help you choose the right paper for your space.
Kitchen wallpaper ideas – key things to consider
Decorating with wallpaper in a kitchen is a great way to channel your unique, personal style as it is one of the most used rooms in the home and the space in which guests usually congregate. Wallpaper is easy to apply and can instantly alter the look and feel of a space depending on what color, pattern and scale you choose, plus there are so many wallpaper trends to choose from.
While kitchens offer a brilliant canvas to stamp your style and introduce beautiful colours and patterns, kitchens are also functional spaces meaning there are some practical considerations to take into account when deciding which papers to use.
'Wallpapers with vinyl coating are best suited for kitchens where there may be more moisture present, and it's definitely not recommended to put it directly against a sink or stove,' says Paula Taylor, head stylist and trend specialist at Graham & Brown.
'However, our wallpapers are durable, and we see many customers combining tiled walls with wallpapers to great visual effect – in fact, people seem to go bolder in the kitchen as it is a creative space,' she adds.
To further prevent wallpapers becoming damaged from splashes and grease, it's a good idea to wallpaper above a durable splashback rather than flush with a kitchen worktop. Alternatively, you could consider adding a perspex screen over the paper.
1. Bring classic elegance with floral designs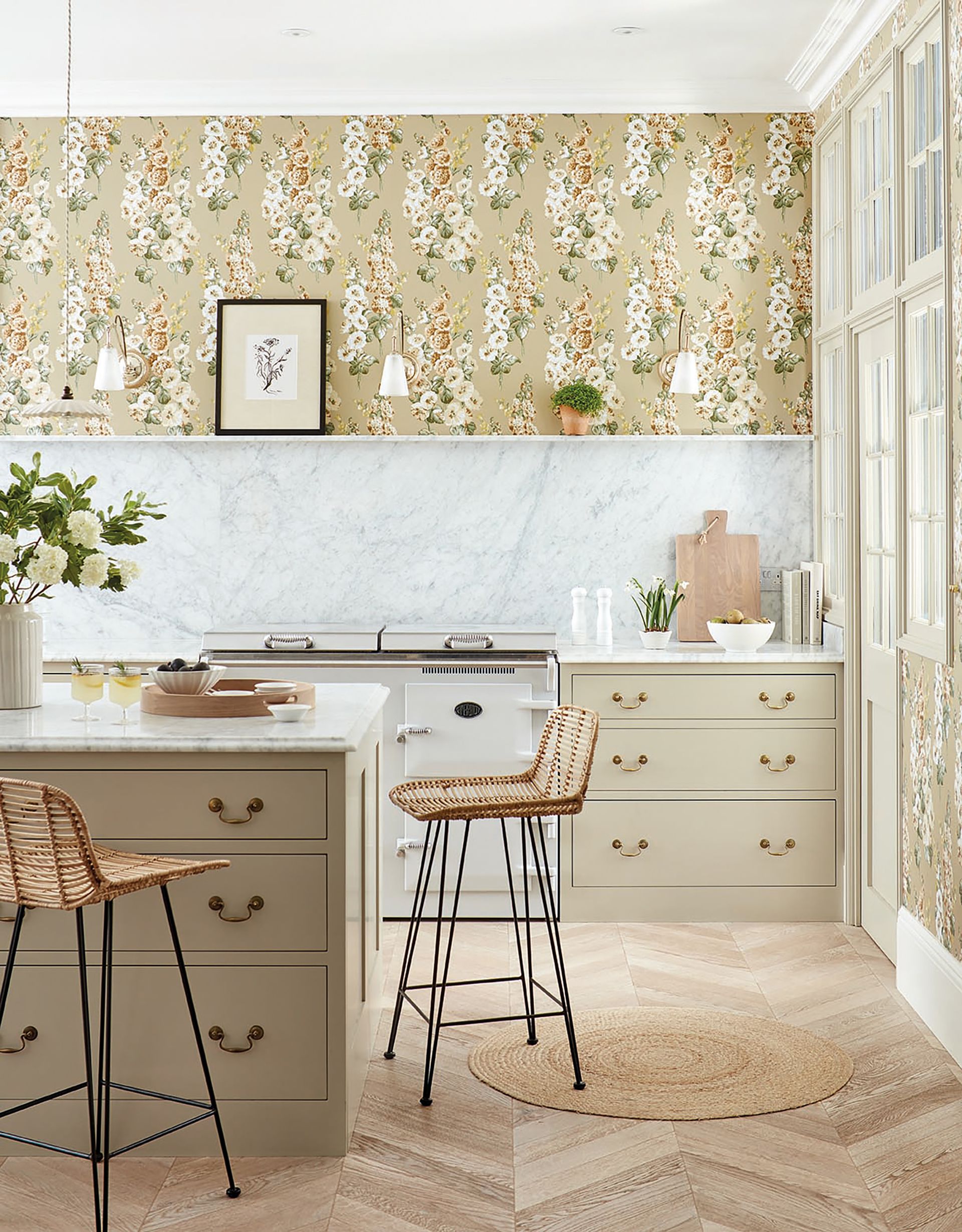 If you're looking to create a feminine, elegant yet fresh feel in a kitchen you can't go wrong with a vintage floral design from Sanderson – this Hollyhocks design is wonderfully on trend and a perfect choice if you are looking at country kitchen wallpaper. An archive print taken from a 1930s document, and recently launched as a wallpaper in fresh contemporary colorways, the print would be perfect for a period home or vintage scheme.
For a lighter dose of pattern consider papering above a large backsplash – this will also prevent the paper from being damaged. This treatment is a great choice for kitchens with tall ceilings, too, as it will help divide up large expanses of wall, making the kitchen feel more intimate, homely and welcoming.
2. Use wallpaper to create a beautiful feature wall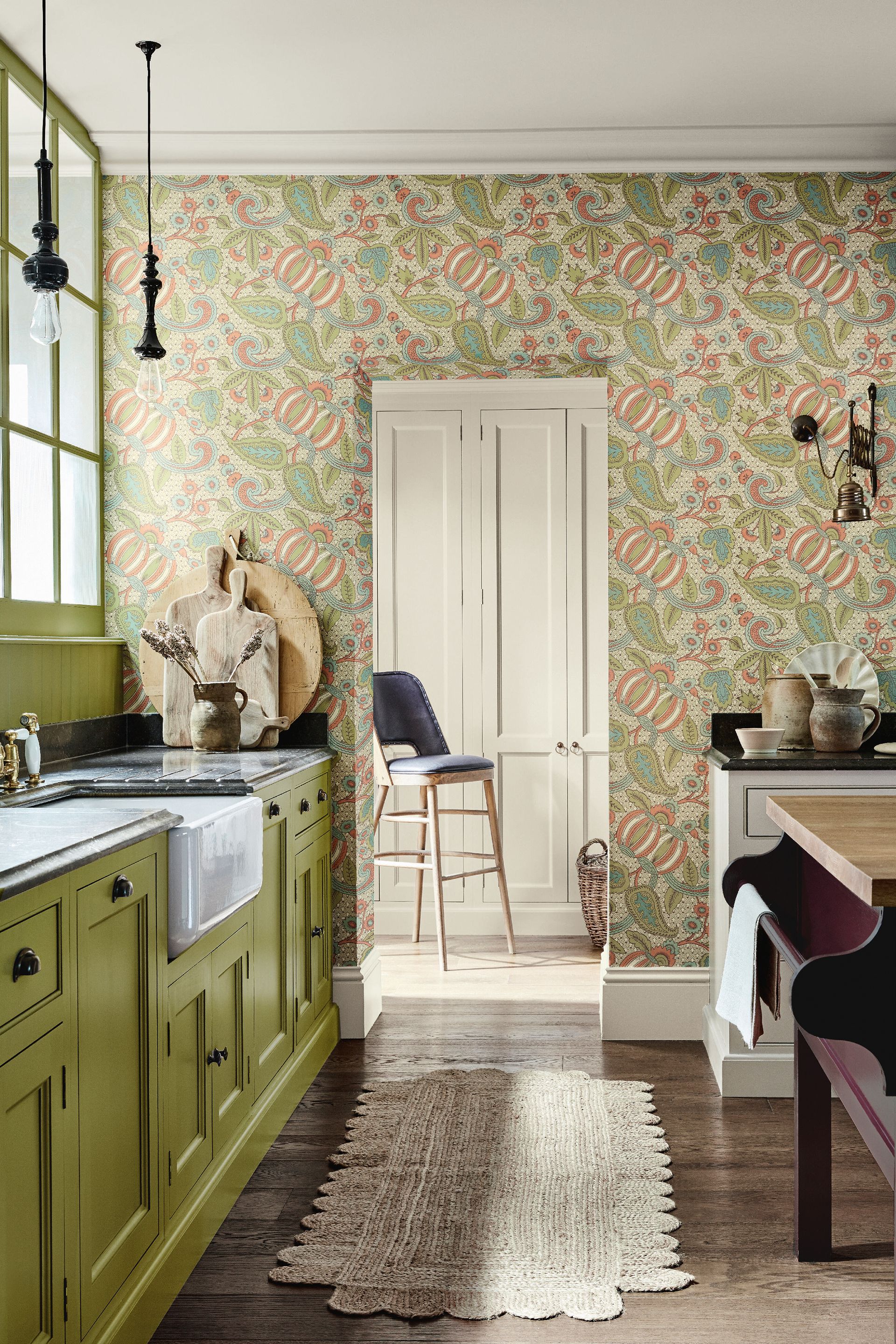 When thinking about kitchen wallpaper ideas there's no reason why you can't opt for bold prints, says Ruth Mottershead, creative director of Little Greene. In fact, often bold prints make great for feature and accent walls because they have so much scope for complimentary colors to use on kitchen cabinets.
'Don't be afraid to use strong color – and consider a wallpaper design with complementary tones that you can utilize on your cabinets. This will help you to create a cohesive palette, all Little Greene wallpapers have three suggested coordinating colors to make the color selection process a little simpler,' she says.
'Choose a bold wallpaper pattern such as Pomegranate in Bazaar, a rare and early Baroque paisley design which creates a focal point when used on a single wall. For a fresh, vibrant finish that exudes energy, pair with the bright green tone, 'Citrine' and 'Portland Stone Pale' on surrounding walls to bring balance to the scheme.'
3. Opt for fresh and versatile botanical greens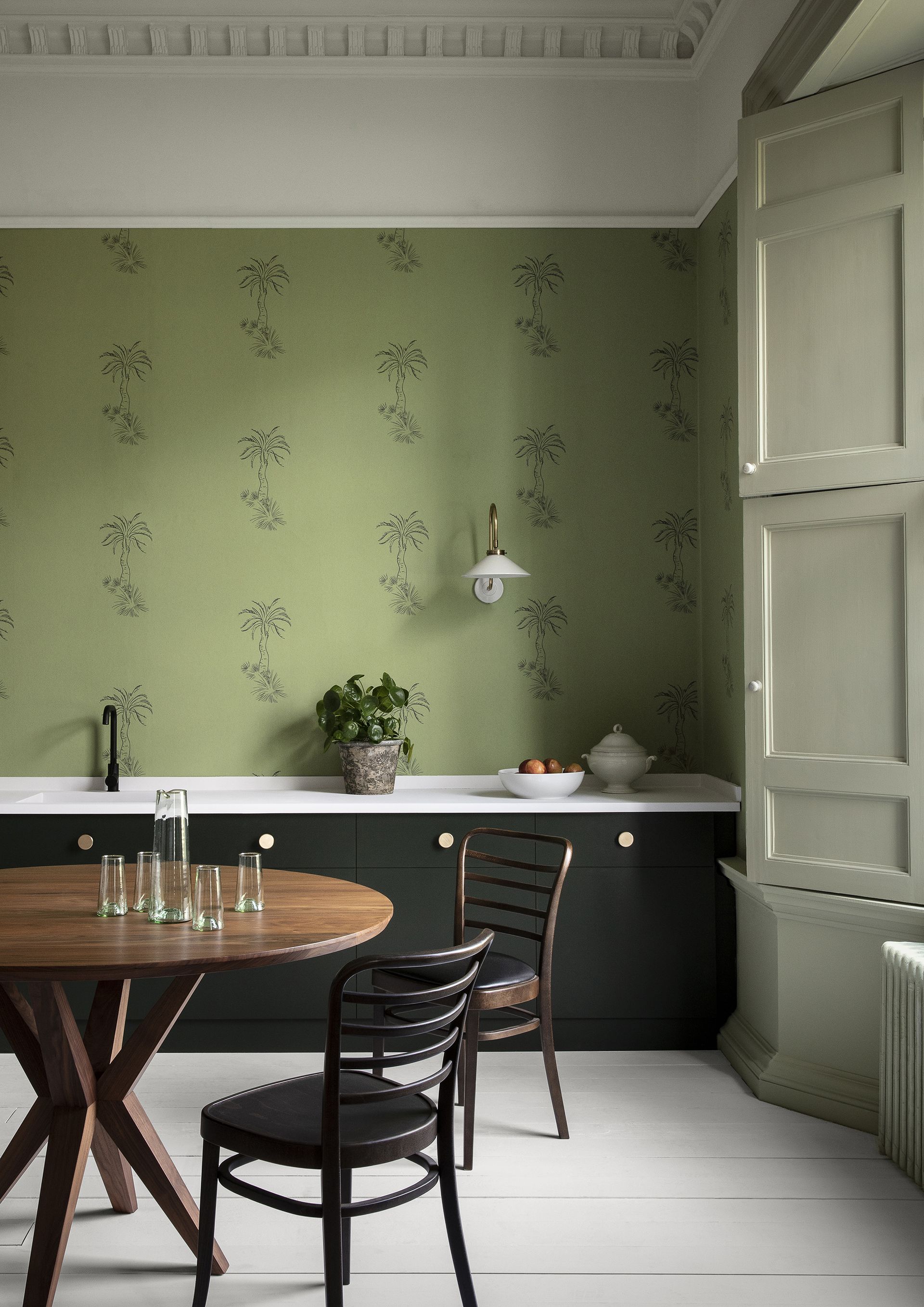 For a kitchen color scheme which will stand the test of time you can't go wrong by decorating with green. Entwined with the enduring beauty of nature, greens are a brilliantly versatile color, making them perfect for everyday spaces. Fresh yet serene, full of vitality yet timeless, there's guaranteed to be a green to suit whatever atmosphere you are looking to create.
'Green is heavily associated with nature and healing. Often used to bring the outdoors in, it helps connect us with the natural world, which helps our emotional wellbeing. It has a soothing, non-threatening energy, making us feel safe and at peace,' says Francesca Wezel, founder of Francesca's Paints.
4. Create a quirky look by pairing ditsy florals and sleek lines
Introduce a contemporary take on kitsch into the kitchen by contrasting wall-to-wall dainty florals with sleek base cabinets. Pictured in a revived palette of Autumnal Multi on Cream, this archive Sweet Pea Lathyrus Odoratus design from Cole & Son adds real wow-factor when teamed with striking forest green units.
5. Choose stripes for a timeless feel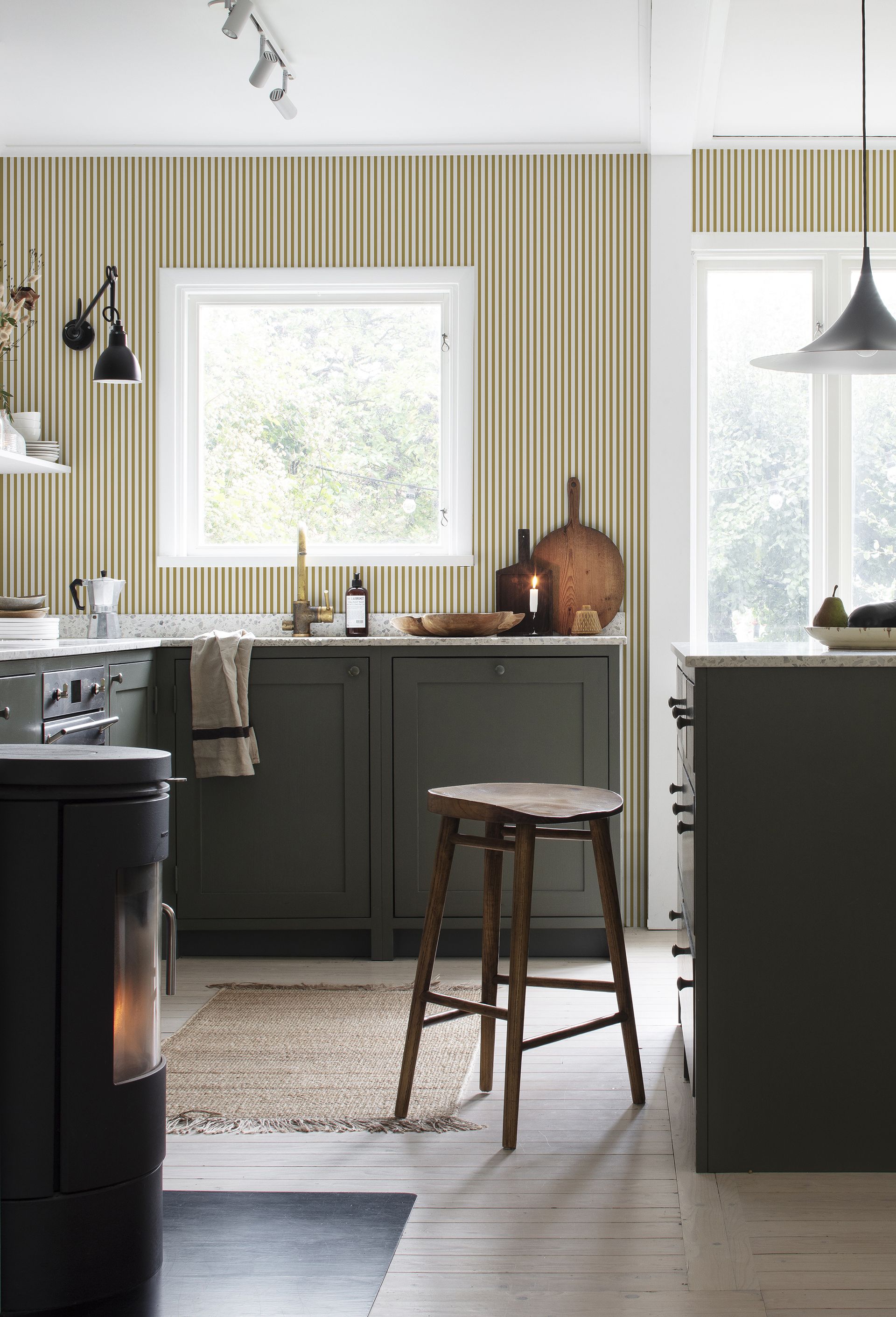 While you may be tempted by a dramatic large-scale floral or bold geometric design kitchens are a big investment and spaces in which we spend so much time, so if you're unsure what dramatic print to use it might be better to opt for a subtle wallpaper such as a delicate stripe which will bring just a hint of pattern.
Swedish wallpaper brand Sandberg offer a wide variety of simple stripes and clam, pared-back prints perfect for embracing slow living.
6. Co-ordinate your wallpaper with your upholstery
For a unified scheme consider introducing the same print over the walls and on kitchen upholstery. If you are hoping to use a dramatic wallpaper, then this will help tie the design into the rest of the room.
If you are thinking of doing this consider playing with scale to create rhythm in the room. Larger in scale, the Anna Spiro fabric on the chairs creates impact, whilst the smaller repeat print on walls allows the pattern to be seen in full and is slightly more subdued.
7. Use wallpaper to zone spaces within a kitchen-diner
Kitchen-diners can run the risk of looking cold and bland. Wallpaper is a brilliant device for zoning a dining area in a kitchen-diner as it will help give the space its own identity whilst still being part of a wider scheme. Consider picking out a shade from your chosen wallpaper to use on kitchen cabinetry to help coordinate the look.
Uplifting and full of zest, this recolored Fruit print from Morris & Co's Simply Morris collection is guaranteed to bring sunshine and cheer all year round.
8. Use small-scale prints in smaller kitchens
Large, statement designs often require space to breathe, so when it comes to smaller kitchens, small-scale repeat designs are often more effective.
'When deciding what wallpaper to use in kitchens – it depends on how light it is. I tend to use darker wallpapers, small patterns or stripes in small kitchens and brighter more fun ones in larger kitchens – Ottoline for example,' says Penny Morrison, interior designer and founder of The Fabric Collective.
Don't be afraid of using dark colors in small spaces either, as used wall-to-wall they can actually give the impression that a kitchen is larger than it is. Furthermore, if you love darker colors, then teaming them with crisp white worktops can help brighten the scheme as this green and white kitchen proves.
9. Celebrate design heritage with an archive print
If you live in a period home or simply love historic prints, then you may want to consider a wallpaper inspired by archive documents. Little Greene offer a wide array, including this Vine design which is taken from the archive at the Whitworth Art Gallery.
Not only is the design have a beautiful Arts & Crafts feel to it, the wallpaper has been printed using a traditional surface printing technique which gives a luxurious, raised, hand-printed feel. If you are thinking of using a surface printed design ensure not to use it near the sink or stove where it can easily be damaged.
10. Use an ornate paper above painted panelling
Kitchens are high traffic areas, so papering to the floor may not always be practical, particularly if pets and young children are running around. For a more durable solution, consider wallpapering a kitchen above a section of wall paneling or a section of plain wall painted in a washable formula - of if you're feeling adventurous, look to ceiling wallpaper ideas.
If you're looking for a wallpaper to pair with wall paneling then a classic William Morris design makes a perfect complement as together they create a beautiful vintage look, plus, the paneling can help balance the intricate detail of the design.
Is wallpaper in the kitchen a good idea?
Decorating with wallpaper in a kitchen is a brilliant way to capture your unique, personal style within interior design, allowing you to showcase your favorite colors, patterns and design motifs. Wallpaper is easy to apply and is one of the quickest ways to alter the look and feel of a space, plus, there are endless designs to choose from.
As well as being a canvas to get creative with interior design, kitchens are also functional spaces meaning there are some practical considerations to take into account when selecting the right papers to use.
What type of wallpaper is best for a kitchen?
The best type of wallpaper to use for a kitchen is ultimately a matter of personal taste but as kitchens are high traffic, practical spaces where moisture is present then consideration should be given to the material, printing method and durability of the wallpaper before making a final decision as well as the type of print.
'As kitchens are humid areas, be sure to opt for wallpapers which are washable or made from vinyl as these are hard wearing and will withstand the humidity and moisture in the kitchen,' says Shalini Misra, interior designer and founder, Shalini Misra Ltd.
'If you do decide to go for a regular wallpaper, then it is possible to coat it to make it suitable for use in the kitchen. Be sure to avoid wallpapers that are hand-painted or have embroidery as they are more susceptible to damage,' adds Shalini Misra.
Where should you use wallpaper in the kitchen?
'Depending on the quality of the wallpaper, you may want to install it in the least damp or steamy areas to avoid it peeling itself from the wall,' suggests Amy Stansfield from Wallsauce.
'You could also consider installing your kitchen wallpaper next to a breakfast bar area. This will help to slightly separate this eating space from the cooking area, creating the sense of a room within a room. If you have an open plan kitchen and dining room, install the wallpaper on the wall next to the dining table to achieve the same look.'
What color wallpaper looks best in a kitchen?
'Wallpapers with mid to large-scale patterns, nature motifs and a neutral palette tend to work best in kitchens,' suggests Lisa Rickert, Creative Director and CEO of Jolie Home. 'You'll want to be sure that the colors in your wallpaper tie into your cabinet color, and any adjacent painted walls so that the space remains cohesive.
'A few of my favorite colors for country kitchens include warm whites, beiges and earthy greens. Consider layering different shades of the same color – for example, a wallpaper with a beautiful, deep green looks great paired with cabinets or walls painted in a lighter shade of green.'
Sign up to the Homes & Gardens newsletter
Decor Ideas. Project Inspiration. Expert Advice. Delivered to your inbox.
Pippa is Content Editor on Homes & Gardens online contributing to Period Living and Country Homes & Interiors print issues. A graduate of Art History and formerly Style Editor at Period Living, she is passionate about architecture, creating decorating content, interior styling and writing about craft and historic homes. She enjoys searching out beautiful images and the latest trends to share with the Homes & Gardens audience. A keen gardener, when she's not writing you'll find her growing flowers on her village allotment for styling projects.