7 dining nook ideas – perfect for small spaces that want to go big on style
Harness high-octane décor and space-savvy solutions for a dining nook that's packed with personality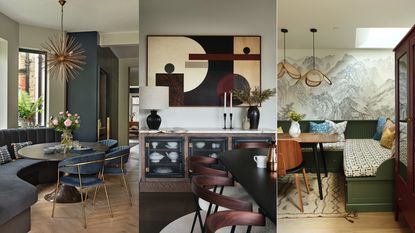 (Image credit: Caz Myers/Nick smith / Hetherington Newman/Artisan Interiors/Darren Chung / Cat Dal/Racheal Smith)
Formal dining rooms may well be on the out, but casual dining nooks are thriving. Whether tucked into the corner of a cozy kitchen, combined with a living room, or squeezed into an alcove, dining room nooks are fast becoming everyone's favorite home hangouts.
Creating a comfortable dining nook when there is limited room to maneuver can prove challenging. The aim is to make it look purposeful, not apologetic, and our design experts are here to help. All agree that comfort is king when contemplating a dining nook. Seeking out seating with sufficient padding to suit a relaxed Sunday brunch with the papers is a great starting point.
We asked interior designers to talk us through how they create these cozy but chix informal but sophisticated spaces and why they can work even better and get far more use than a dedicated dining room.
7 small dining nook ideas
If you are a keen follower of interior design trends, you may have noticed that traditional dining rooms are starting to slightly fall out of fashion. In-kitchen dining spaces are far more relaxed and sociable, and we think a dining nook is far chicer and more effective use of space than a standard table and chairs set up. Plus, they can look so much more chic, and there's usually more opportunity to get creative with colors, patterns, and finishes.
1. Work the curves
When dealing with narrow kitchen ideas, including any kind of dining nook can be tricky but not impossible. Curves are your friend in this scenario and will draw attention away from an elongated layout, and help support smooth passage between spaces.
This sculptural dining nook designed by Caz Myers tucks right into the bay window to allow a free-flowing kitchen diner. 'The combination of the upholstered banquette as well as the chairs and large oval bespoke dining table maximizes the number of people able to sit and socialize and creates a lovely informal feel which has become the hub of this beautiful family home,' says Caz.
Caz Myers Design is an Internationally acclaimed award-winning studio creating beautiful, timeless spaces. In 14 years of running her own practice, Caz and her team have been fortunate to work on transforming many unique properties. Sourcing striking one-off pieces and designing bespoke, beautiful joinery pieces for clients is a speciality.
2. Source outsized art
Go big with art to give a small dining nook a strong presence – this design trick is especially effective for open-plan kitchens where zoning different spaces is key. 'Large pieces of art can work to anchor a small dining area, particularly if you have the advantage of high ceilings, as we did here,' adds interior designer Sarah Vanrenen, who sourced outsized prints and had them framed in colorful frames.
'I always love mixing traditional with modern and used a bright geometric design on one print and an old-fashioned fruit print to go next to it,' she recalls. 'The banquette was the most comfortable and aesthetic way to incorporate the table within this open plan kitchen and sitting room.'
Sarah Vanrenen has worked as an interior designer for more than 20 years and describes her style as modern but loves mixing old with new so that the result does not look contrived. Sarah's growing range of furniture, lighting, cushions and other accessories are all made in the UK and echo her love of colour and pattern.
3. Add interest with layers of texture
Don't overlook the power of texture for bringing a compact dining corner to life. 'This home had fantastic proportions, but a lack of natural light, particularly in this dining/kitchen room situated in the basement,' recalls interior designer Cat Dal. 'We wanted to give this area a transportive feel, so we added a dreamy landscape wallpaper panel, and then introduced layers of upholstery with textures and patterns for depth.'
Drawers beneath the built-in seats provide much-valued additional kitchen storage. 'We also updated their existing glazing cabinet with a rich burgundy, and added yellow and green cushions, with a pop of burgundy trim and natural materials such as rattan for extra tactile quality,' says Cat.
Born in Copenhagen, Cat currently lives in London where she founded her design studio specialising in luxury residential projects. With a focus on craftsmanship, natural light and playful moments, the studio is reputed for delivering inspiring and considered interiors.
4. Zone the nook with a rug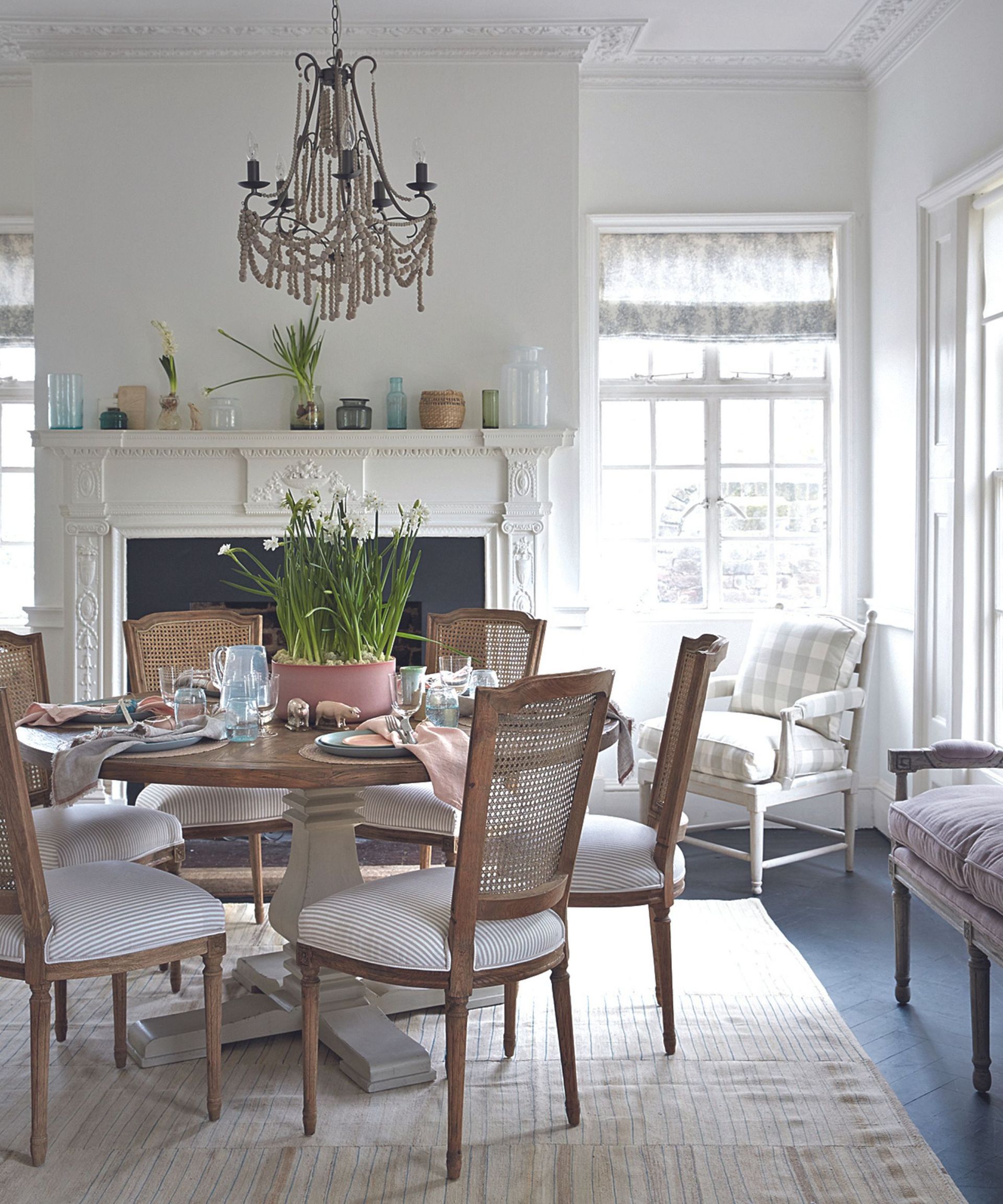 If your dining nook ideas are part of a larger open-plan kitchen or living arrangement, it can help to start by zoning the area to establish its role in the wider setting.
Interior designer Roger Higgins often uses a rug to anchor a dining nook in the room. 'Make sure that your dining room rug doesn't feel too small in the space,' he advises. 'A good rule of thumb is to ensure that your dining chairs are fitfully on the rug, even when pushed back from the table.'
5. Get the table shape right
In a dining nook seating is often a mix of benches and chairs, so the shape needs to work for both of those. By their nature, dining nook are often smaller, so more often will benefit from the fluid shape of a circular or round table, especially if your table sits in a corner so you want to contrast the angles.
A round or oval table is designer Juliette Byrne's go-to shape for small dining nooks. 'They are ideal for small spaces as they can allow for circulation areas behind the chairs and also have no sharp edges,' explains Juliette. 'We will often suggest adding in a discreet leaf so the table can be extended when needed. If space is tight, make a paper template in a couple of different size to see how they work in the space and check there's sufficient room for the type of chair you have chosen.'
6. Add a touch of formality with symmetry
Establishing a sense of symmetry using art, lighting, and furniture positioning can heighten the sense of grandeur in a smaller dining nook. 'Harnessing the power of symmetry provides elegance, while keeping clutter at bay,' agrees interior designer Charlotte Crosland, who likes to establish a smart décor scheme without being too formal in small dining areas.
'I opt for neutral walls with subtle hints of color and pattern elsewhere,' she explains. 'By embracing simplicity along with interesting touches, you can create a dining nook that is not only smart but also inviting.'
7. Play with pattern scale
Combining patterns of different scales is a great way to make an impact in a small dining space. 'Choose patterns that harmonize with each other, either in terms of color or design: the two patterns here are tonally the same and both feature lines as the basis of their designs,' says Tim Walters, Managing Director, George Spencer Designs.
'Using a larger scale pattern on the floor also makes the space feel larger, whereas the small print on the chairs adds decorative interest,' adds Tim. 'Choosing patterned tiles like this in a compact space is a practical solution as it defines the space and removes the necessity for a rug in a small area.'
What is the difference between a nook and dining room?
While stuffy, formal dinner parties may be old news, most modern dining room ideas still focus primarily on dining. A dining nook, on the other hand, is typically just one part of a multi-use room. Dining nooks, sometimes called breakfast nooks, are a popular feature in kitchen diner ideas, but they can also be found in the corner of a living room or garden room. Some of the most successful dining nooks we've seen involve some form of built-in or banquette seating, which can really help achieve a larger dining area in a smaller footprint.
---
A dining nook, whether you opt for a banquette, built-in approach, or just dedicate a corner of your kitchen to an eating space, is the perfect way to bring a dining space into a kitchen in a subtle and seamless way. Plus, you can create these spaces in other rooms too, if your living room doubles as a dining room, a nook can be the best approach.
Sign up to the Homes & Gardens newsletter
Decor Ideas. Project Inspiration. Expert Advice. Delivered to your inbox.
Linda graduated from university with a First in Journalism, Film and Broadcasting. Her career began on a trade title for the kitchen and bathroom industry, and she has worked for Homes & Gardens, and sister-brands Livingetc, Country Homes & Interiors and Ideal Home, since 2006, covering interiors topics, though kitchens and bathrooms are her specialism.