How do you decorate a dining room that doubles as a living room? Designers offer expert tips on dual purpose spaces
Designers reveal their top decorating tips and tricks for creating magnificent living spaces made for multitasking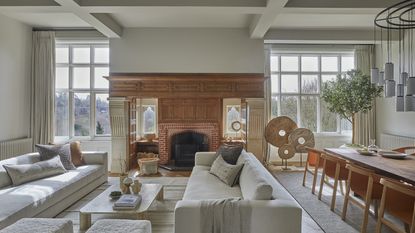 (Image credit: Cherie Lee Interiors/Ray Main)
Whether your dining and living facilities are shared out of choice or due to lack of space, decorating a room that serves two very different roles can prove a tricky balancing act. The aim is to create visual distinctions between the two zones, while simultaneously maintaining a cohesive look. Easier said than done.
Success lies in meticulous planning. For dining room ideas and living room ideas that work in blissful harmony, mood boards are your friend. The layout of furniture should be plotted to scale (on paper or screen) before you buy to avoid annoying pinch-points or overcrowding. And don't forget to ensure sufficient storage provisions for the paraphernalia associated with both eating and relaxing.
How to decorate a dining room that doubles as a living room
Dual-purpose spaces are always slightly more tricky to design and decorate, but get these rooms right and they can be hardworking, efficient hearts of the home. We ask designers for their tips on how they tackle these spaces, and what's important when wanting to get the most out of the floorplan while still considering the overall aesthetic.
1. Use rugs to zone
Furniture can sometimes appear disjointed or marooned in large open-plan spaces, but a little subtle zoning is all it takes to coral some order into the room. 'Placing a rug under the dining table helped to zone the dining area in this home, grounding the table and giving that part of the room a clear purpose and personality,' explains Amy Hicks, Lead Designer, Blakes London. 'The dining room rug also helped soften the acoustics in the room and offered a softness to contrast with the marble table.'
Amy recommends if you are going to put a rug under a dining table, go oversized. 'Aim for 40cm clearance from the table or all sides to allow chairs to sit comfortably on top of the rug. Also be aware that chair legs can snag some types of rug – look for a flat weave that's not too thick, and ideally washable.'
2. Carry colors across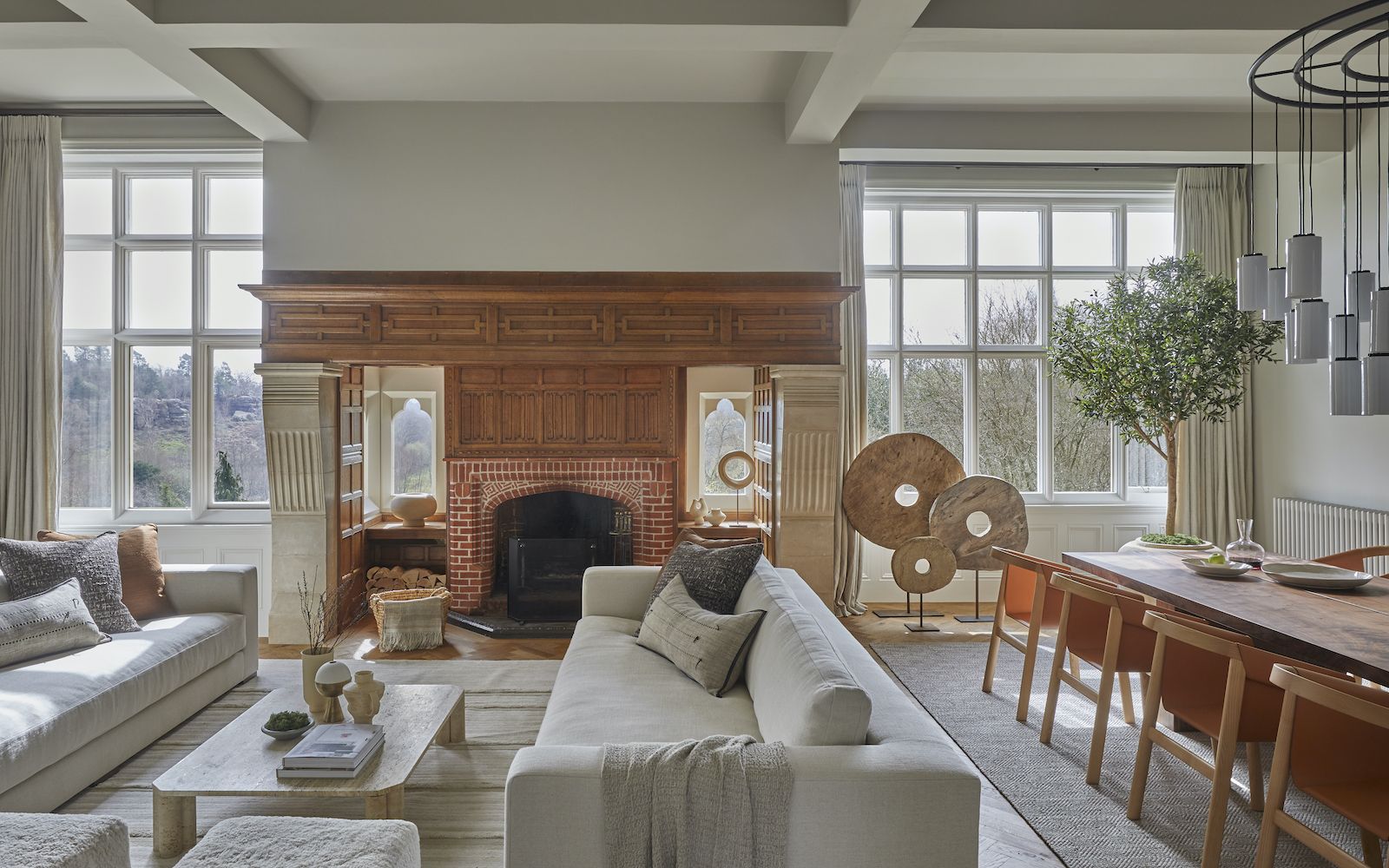 The best living room layout ideas that include dining feature clear color connections so that the overall design has a shared aesthetic. Cherie Lee, Director of Cherie Lee Interiors, demonstrates how it works in this open-plan space
'The restored period fireplace creates a bold and impactful statement within the room. Not wishing to compete with this feature, but keen to ensure that the space would hang together and feel restful and cohesive, we pulled the copper rust tones from the timber and brick surround and reflected these back in the tonally matching tan leather dining chairs,' she explains. 'Using complementary tones within a varied and luxurious pallet of textured materials created a calming and sophisticated effect within the room.'
An accomplished interior designer with an impressive client list peppered with a few household names, Cherie's refined style amalgamates period features, often within listed buildings, with a contemporary aesthetic. Based in a newly renovated Medieval Barn in Hertfordshire, Cherie and her team create relaxed yet beautifully sophisticated interiors that are synonymous with quiet luxury.
3.Tie the space together with the outdoors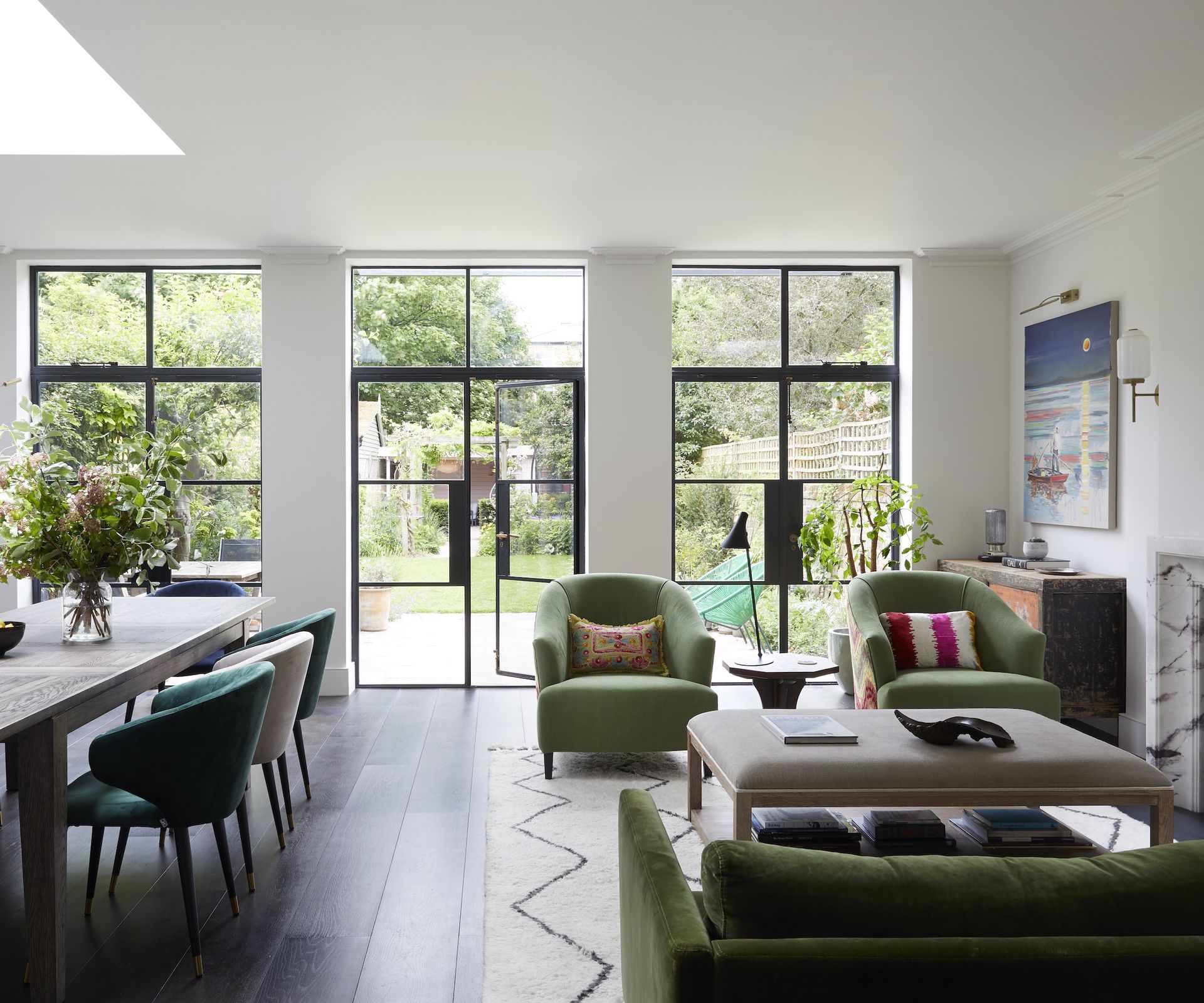 Those who appreciate how to bring the outdoors in say the mood boosting benefits are huge. So, if you're blessed with a dining/living room with great connections to the garden, use the greenery beyond as the moodboard for your décor scheme.
'I always view green as a neutral and embrace the garden as an extension of the home. Greens work beautifully against bold patterns and with sleek marbles, warm woods, and shiny brass,' says interior designer, Naomi Astley Clarke. 'In this project, the grassy green sofa and armchairs pair with the dark teal dining chairs, providing a subtle link to the lush hues visible from the garden through the floor-to-ceiling Crittall doors.'
Named one of Andrew Martin's Top 100 in the World 2022, Naomi Astley Clarke is an established and highly experienced interior design practice that mixes fine British craftsmanship with design flair from around the world, creating timelessly elegant, bespoke spaces. Naomi Astley Clarke is a Member of the British Institute of Interior Design and a BIID Registered Interior Designer.
4. Layer natural textures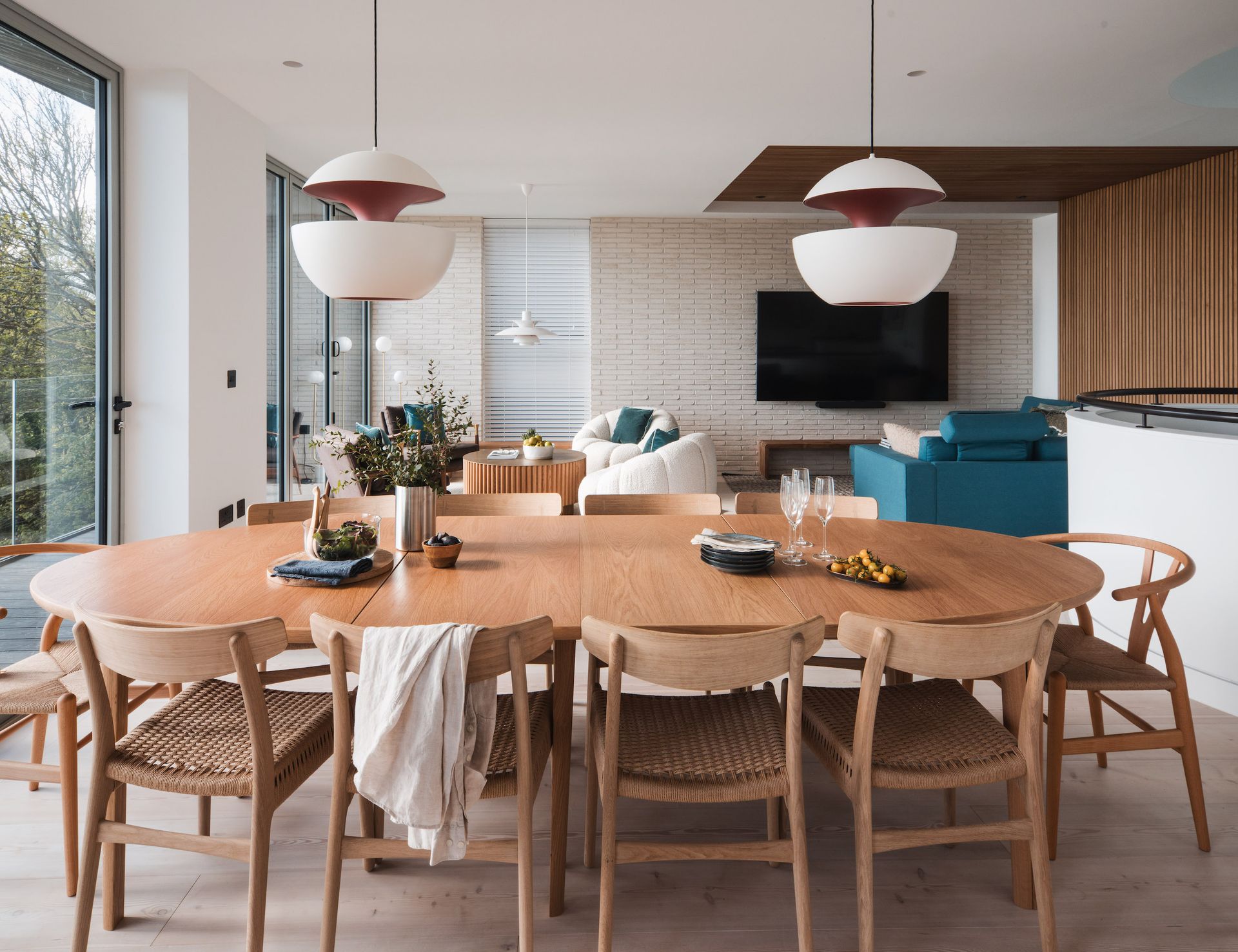 Use nature-inspired materials and finishes to create a relaxing and inviting living-dining space that's united in its simplicity and comfort. Interior designer Nicola O'Mara harnessed the raw beauty of wood, rattan, and copper finishes to warm up this contemporary apartment.
'The sharper lines and textures of the fluted wall paneling draw the eye up and over, defining what would otherwise be a large open space,' she explains. 'The natural shapes and materials used in the furniture soften the focus, from the copper insets in the light to the rattan seats. The use of wood throughout helps the scheme to age timelessly, while a simple color palette ensures that all elements work harmoniously and cohesively together.'
5. Work the curves
Shape-wise, both dining and living room furniture can lean towards blocky, angular silhouettes. When it's all in the same room, the look can easily become a bit 'furniture showroom' and makes it difficult to achieve smooth ergonomic flow through the space.
The solution, says interior designer Jenni Lauri, is to work in some curves, which is also a huge interior design trend right now too. 'We used curved furniture to create a sense of tranquil and understated luxury when designing this open living room. Picking soothing colors and rich, textured fabrics like mohair or bouclé create a harmonious setting with your curved pieces,' explains the founder of Lauri Design Studio.
Arranging furniture in a nice, friendly circle, will make it all the more inviting. 'For an extra touch of comfort, we added a plush chair with rounded edges, creating a snug nook ideal for reading or lounging,' adds Jenni.
Jenni Lauri is a Los Angeles-based interior designer specializing in residential and commercial projects. Jenni has an impressive portfolio that includes luxury homes, apartments, office spaces, multi-family buildings, and large-scale developments. Drawing inspiration from her Scandinavian and Finnish heritage, Jenni incorporates neutral palettes and cultural touches into her designs.
6. Vary the lighting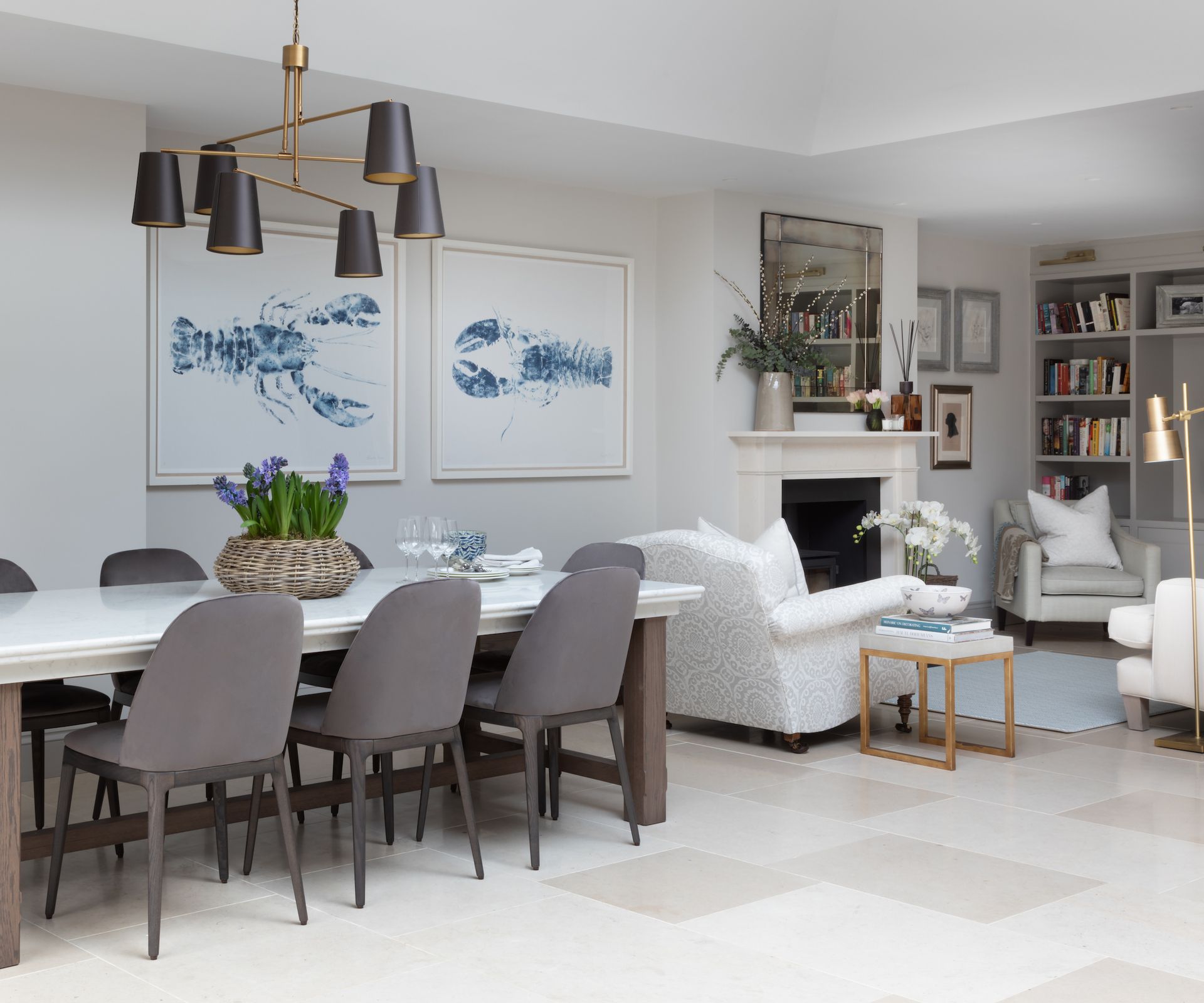 'Creating the perfect ambiance in a combined dining and living space is all about mastering the art of lighting,' says Louisa Eggleston, creative director at Humphrey Munson. 'In this project for instance, it was a key part of the overall lighting design to go big and bold with a statement pendant over the dining table. Remember to always use a dimmer switch to create a soft and subtle evening vibe.'
When it comes to living room lighting, Louise recommends thinking cozy library vibes, which is where wall lights are ideal. 'The odd floor lamp for reading will also work really well,' she adds. This variation of heights, from low-slung pendants to ceiling spotlights, wall lights, and floor lamps, will all help to define the two different areas, giving them separate identities in the space.
Louisa's top tip for selecting a dining table in a sociable dining-cum-living space is to choose one with a quartz top. 'Not just because quartz is stylish, but it's also pretty much child-proof,' she explains.
7. Mix old and new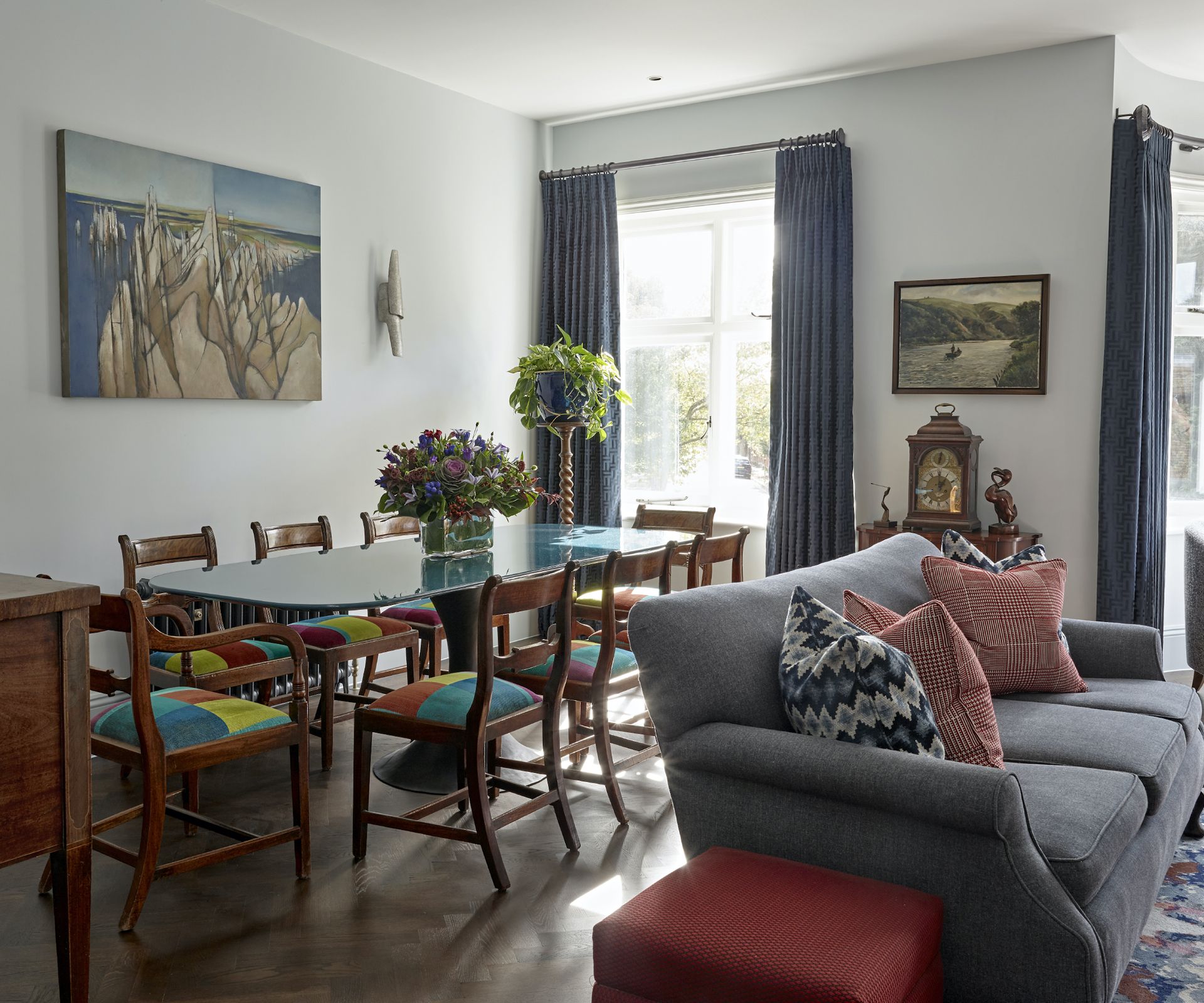 A confident mix of antiques and new furnishings can bring life and soul to your dining living room ideas. Rather than starting from scratch, retaining, and restoring if necessary, existing long-loved furniture is also an ethical choice that's gaining ground as one of the most important interior design trends of the year.
Interior designer, Clare Gaskin is a firm advocate and likes to start new projects with a discussion about whether there are any favorite pieces that can be re-purposed and enjoyed in a new way.
'Creating this living dining room was all about balancing the functional uses of the space as well as mixing wonderful existing antique pieces with interesting new elements,' explains Clare. After discovering the owners loved the sofa for its comfort and capacity, Clare had it reupholstered in a practical plain, while their much-loved dining chairs were treated to a French polish and bold new seat cushions. 'The joy of mixing old and new is the room looks completely different and fresh but also reflects the owners' personalities and is filled with pieces that have stories behind them,' she says.
Interior designer, Nicola O'Mara, also recommends mixing furniture and fittings with of heights in an open-plan living-dining scheme. For example, a mid-height dresser, low-level ottoman and statement light pendant. 'It helps to draw the eye around the room with each element creating a point of interest,' she explains.
Clare Gaskin is an award winning, British Interior Designer who creates timeless and well-designed homes that bring joy to those who reside in them. In addition to the Studio's residential projects they recently created the Artists' Studio at WOW! House and seek out opportunities to contribute to the industry more widely – partnering with charities United in Design and Furnishing Futures.
8. Consider round tables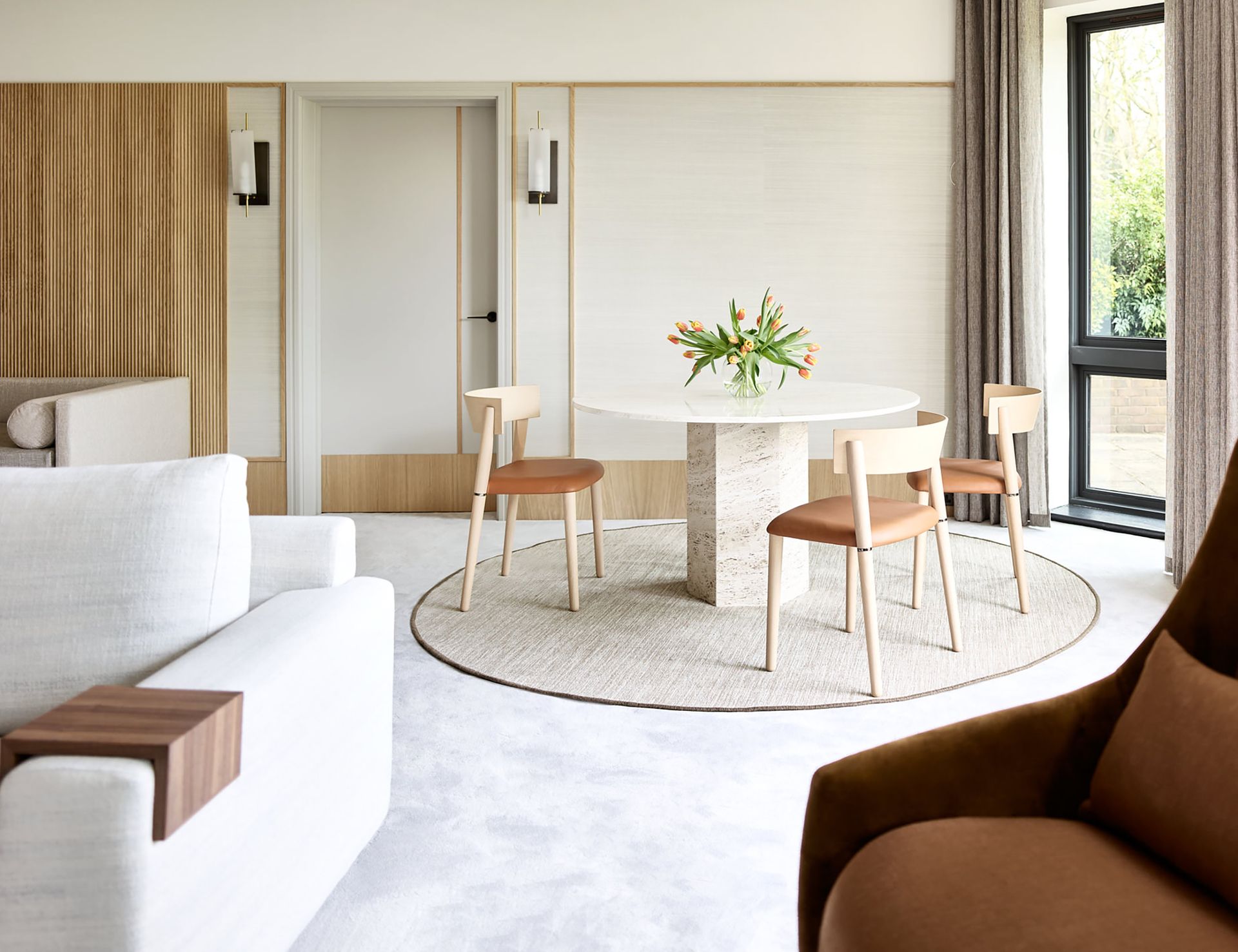 Depending on how many people can fit around your dining table, switching to a smaller, round dining table can make a lot of sense in a living space that serves dual roles. Round tables also support more convivial dining, as every diner has eye contact. And with no table legs to straddle, you can often squeeze in a couple of extra quests for the occasional intimate supper when required.
'We chose a round table in this multi-functional living space because it felt sculptural and softened the corners of the rectangular room. It's versatile as it can be used for dining, working or just look good with flowers and ceramics like a hall table,' says Audrey Carden, Director, Carden Cunietti. 'The material was also key as we wanted to use earthy organic colors and the travertine texture worked well with all of them.'
How to make the most out of a living room that doubles as a dining room?
There's a lot to love about combining living and dining in one room, but, with so much going on, it can also dissolve into chaos all too easily. When thinking about how to make the most out of a living room that doubles as a dining room, we have one word to share: storage.
By planning in sufficient storage for your living and dining needs, adjacent to the sofas and dining table of course, you can help keep clutter controlled and make it easier to use each space for the correct purpose. 'Do invest in adaptable furniture pieces,' adds Dara Huang, of Dara Maison. 'Consider a dining table with extendable leaves or a convertible coffee table that can be raised to dining height. Modular seating also offers flexibility.'
Interior designer, Nicola O'Mara, also recommends choosing furniture and fittings with different heights in an open-plan living-dining scheme. For example, a mid-height dresser, low-level ottoman and statement light pendant. 'It helps to draw the eye around the room with each element creating a point of interest,' she explains.
---
Designing a living room that doubles as a dining room is no small feat, but get it right and this can turn into a much-loved, much-used space. They become the social hub of the home, and there are so many pros to this kind of dual-purpose layout. Just get the furniture combinations nailed and the layout perfectly formed for how you want to use the space and you'll be sure to get the most from the room.
Sign up to the Homes & Gardens newsletter
Decor Ideas. Project Inspiration. Expert Advice. Delivered to your inbox.
Linda graduated from university with a First in Journalism, Film and Broadcasting. Her career began on a trade title for the kitchen and bathroom industry, and she has worked for Homes & Gardens, and sister-brands Livingetc, Country Homes & Interiors and Ideal Home, since 2006, covering interiors topics, though kitchens and bathrooms are her specialism.