How many people can sit around your dining table? Interior designers decide
Don't squash guests around your table when hosting – here's how to work out your table's capacity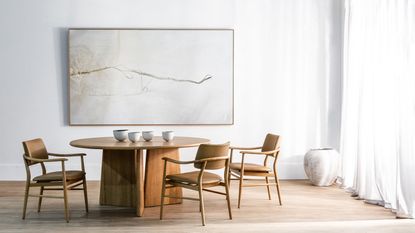 (Image credit: Satara Austrailia)
When hosting a dinner party – especially during the holidays, it can be tempting to invite everyone first and worry about seating later.
This leads to too many squashed guests fighting for space when trying to eat. But how do you work out the capacity of your best dining table?
Here, interior designers and furniture experts have shared their tips for working out how many people can sit around your dining table.
How to work out the capacity of your dining table
Of course, working out how many people can sit around your dining table is much easier if you have a standard square or rectangular dining table – especially if you accurately judge how big a dining table should be compared to the room. All you have to do is put chairs around the table until no more fit comfortably beneath.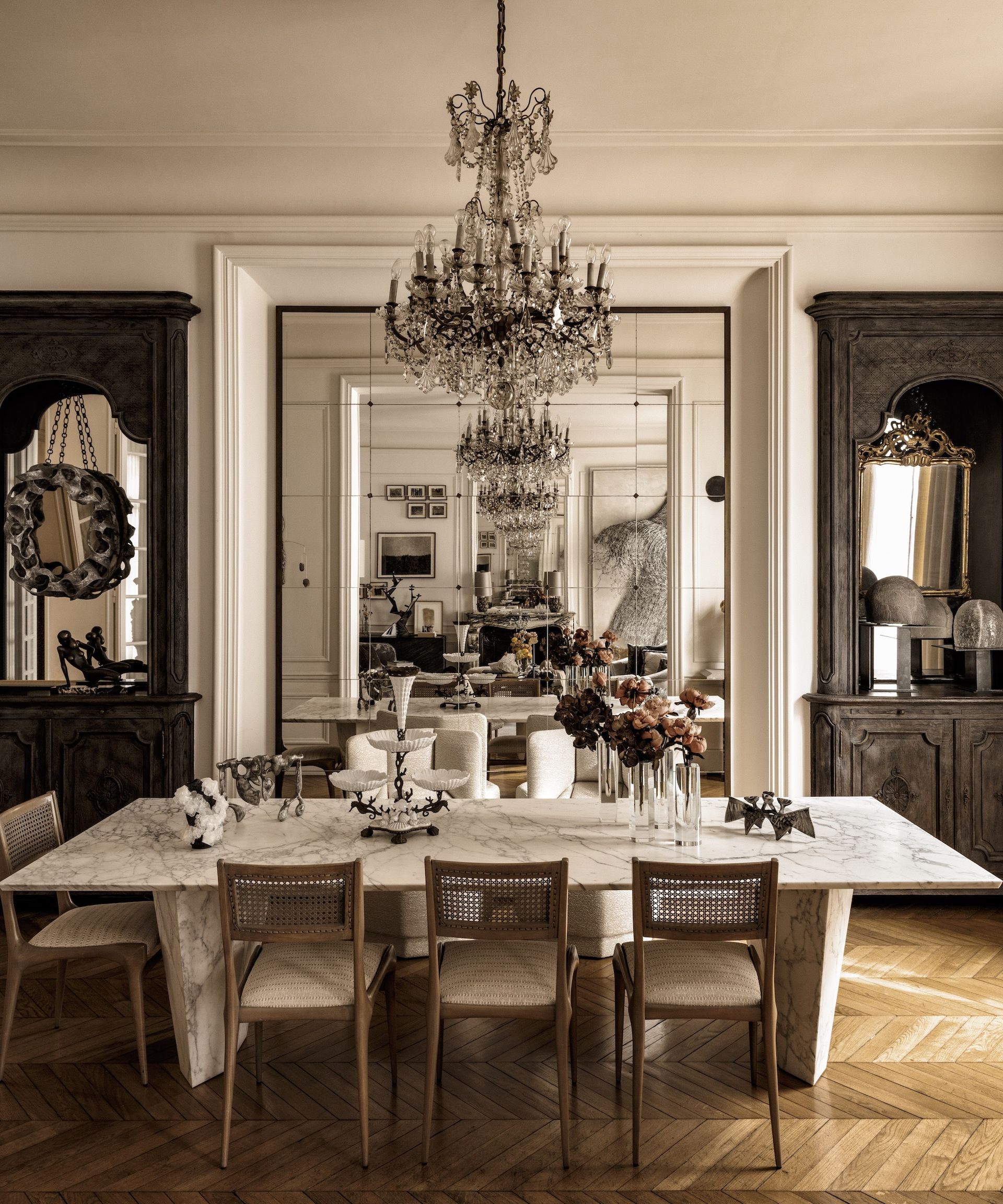 If you have a round dining table, however, things can get a little trickier. Luckily (or unluckily depending on how you view math) there is a simple formula to help you work it out, says Artem Kropovinsky, interior designer and founder of Arsight:
'When determining seating capacity for any table, always start with the idea of personal space. At a dining table, ensure each person has about 24 to 28 inches of space. This ensures not just physical comfort, but ease in conversation flow,' he explains.
'For round tables, a good starting point is its diameter. Subtract 12 inches (to account for the table's centerpiece and breathing room) and then divide by the aforementioned 24-28 inches. For instance, a 60-inch round table can comfortably seat five to six people, giving each person ample space.'
Based in New York, Artem Kropovinsky, founder of Arsight, has a decade of extensive and considerable global design experience. Prioritizing minimalism, sustainability, and authenticity, Artem, alongside his team of professionals, works on projects in the US and worldwide.
It is not just the size of your table that you have to consider, but the type of seating you are using, your dinnerware sets, glassware sets, and your dining table decor too, Artem continues.
'Overcrowding isn't just about the number of people. Think about table settings and centerpieces. Opt for taller, slender centerpieces over wide ones. This maximizes your table surface area,' he suggests.
If you have worked out your table capacity and don't have enough space, it is important to remember the rules about adding more people, Virginia Frischkorn, hosting expert and founder of Partytrick and Bluebird Productions adds.
Rather than adding extra seats to a small dining room, Virginia suggests setting up a separate serving area at the side of the table to allow guests to refill their drinks and plates at will in a more casual setting to keep table space free for people to sit and eat.
Alternatively, you could swap out the seating itself for options that allow more people to sit more comfortably together, such as 'benches mixed and matched with traditional dining chairs,' she adds.
'One key piece of advice to remember is just because you can add more seating to a round table does not mean you have to,' she continues. 'The comfort of your guests is what is important so try to keep a round table to a maximum of eight guests to avoid them butting elbows.
With the goal of helping hosts elevate their own gatherings, Victoria Frischkorn founded Partytrick – a digital party planning platform that provides hosts with the tools they need for the perfect party. As the founder and owner of Bluebird Productions in Aspen, CO, Frischkorn is recognized as one of the top luxury event planners in the US by Vogue, Martha Stewart Weddings, Brides, and more.
The Guide to Hosting and Entertaining
Covering a range of social occasions, from Christmas to christenings, via dinner parties, hen dos and children's parties, Debrett's latest etiquette guide offers timeless and practical advice on all aspects of hosting and hospitality to help you care for your guests with confidence and calm.
FAQs
What should you do if you don't have enough space inside to host a dinner party?
If you do not have enough space inside your home for a dinner party, then it can be a good idea to take the party outside – using some smart and stylish ways to stay warm when dining outside in the chillier months. Dining al fresco is a great way to keep the party together without the restrictions of walls and seating space.
Can you fit more people on a round or rectangular table?
More often than not, you can fit more people around a round table than a rectangular one, especially if the diameter of the round dining table is on the larger side. Round tables are also easier to squeeze more people around if you absolutely have to, thanks to the absence of sharp corners, which can be seen as wasted space to some degree.
---
Sometimes, the size of our table defeats us and our plans and there is a point where you simply can't squeeze more people in comfortably no matter how hard you try. In these instances, Virginia Frischkorn, hosting expert, reminds us to keep in mind that, at times, 'it's more practical to have two separate tables rather than attempting to squeeze all the guests around a single large table.'
While this does divide up the conversation a little, it is more comfortable than being sat on top of one another. You can always move the party on to another room after dining to socialize together.
Sign up to the Homes & Gardens newsletter
Decor Ideas. Project Inspiration. Expert Advice. Delivered to your inbox.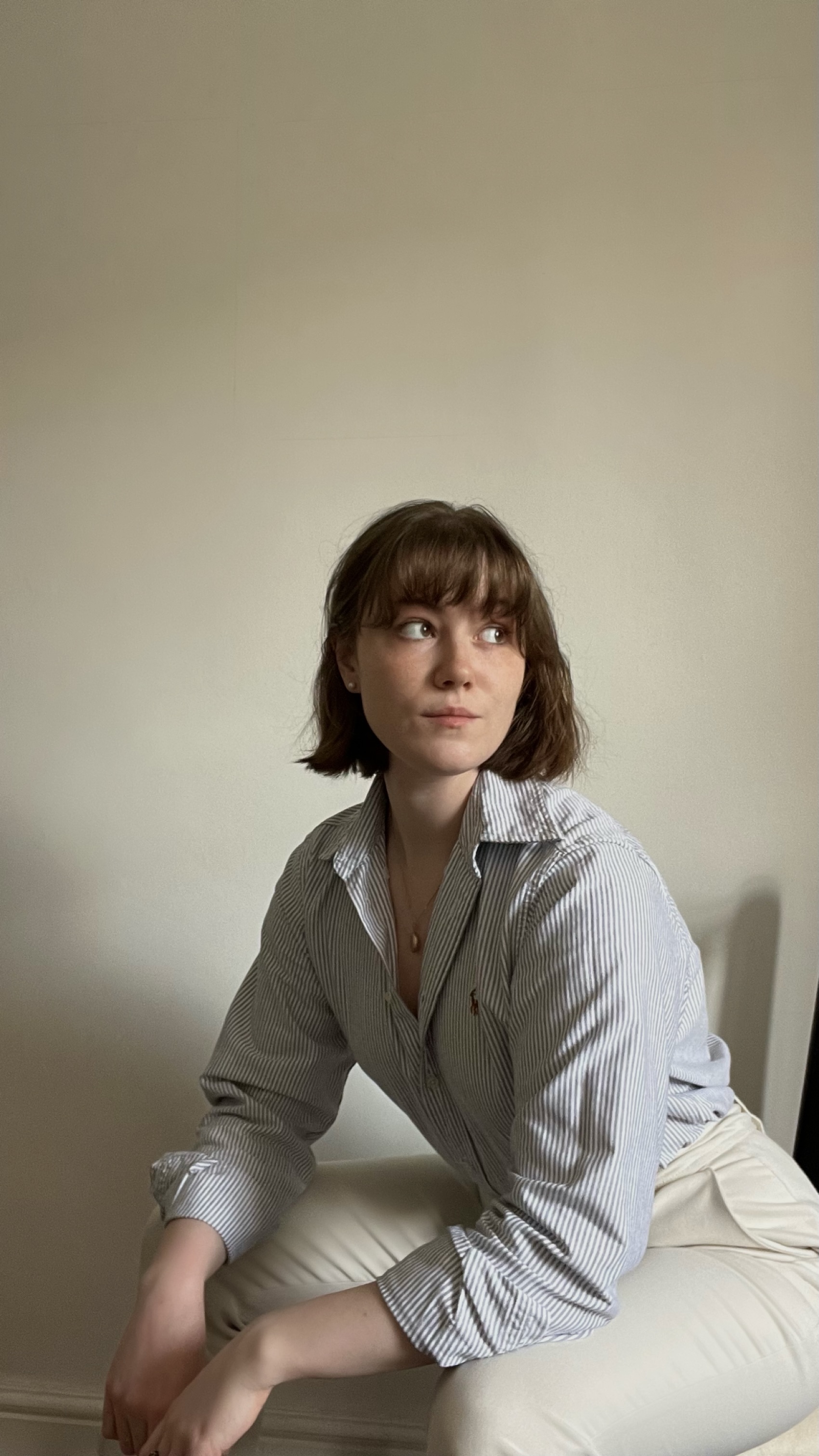 Chiana has been at Homes & Gardens for a year, having started her journey in interior journalism as part of the graduate program. She spends most of her time producing content for the Solved section of the website, helping readers get the most out of their homes through clever decluttering, cleaning, and tidying tips – many of which she tests and reviews herself in her home in Lancaster to ensure they will consistently deliver for her readers and dabbles in the latest design trends. She also has a first-class degree in Literature from Lancaster University.