Dining table decor ideas – 10 tips for beautiful tablescapes to wow your guests
Dining table decor ideas are the centerpiece of every meal in your home, so ensure they live up to the occasion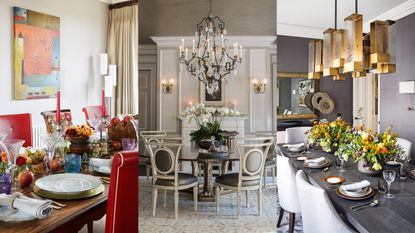 (Image credit: Davide Lovatti/Rinfret Ltd./Neil Landino/Paul Raeside)
Dining table decor ideas are at the heart of every dinner party you throw and every meal you share with the family. Making sure they live up to the occasion – whether big or small – will make the space feel special from day to night.
They may be more flexible than other dining room ideas, but they always need to be present. 'You don't want to create a dead space with a blank table, especially a long or large dining table,' says interior designer Cindy Rinfret, who also suggests getting creative with your decorations.
'Dining table décor doesn't always have to be flowers,' she says. 'We love to use found objects, architectural details and textures to make an interesting tablescape.'
Dining table decor ideas
'Laying a dining table is the perfect opportunity to get creative and think outside the box,' adds interior and tableware designer Birdie Fortescue. Whether you're not sure where to start or are looking for inspiration to take your dining table decor ideas to the next level, we have found some stunning tablescape inspiration and asked the experts to share their top tips.
1. Consider your table shape
When choosing your decor, the first step is to think about the shape of your table – a long table will require a completely different approach to something square or round. 'Table shape depends on the shape of the room,' says Rinfret. 'A rectangular or long table is good for a rectangular room and you can add leaves or extend them when necessary. I love a round table in a relatively square room and it's conducive to conversation.'
Not only is a round table great for small dining room ideas, but it creates a clear centerpiece for any space – which you can boost with your own central table decor. 'A round table is a wonderful way to create a social environment in your dining space,' says interior designer Emma Sims-Hilditch. 'We often place an arrangement of beautiful seasonal flowers in the centre to draw the eye and reflect the natural beauty of the home's surroundings.'
2. Make your everyday table special
Floral table decor need not be 'reserved for a special occasion', says Sims-Hilditch. 'An everyday table arrangement can also be brought to life with the inclusion of flowers and foliage, either in the centre or placed around the room on shelves in windowsills.'
'For everyday, a large orchid, a cluster of vases or some personal objects from travel are always great,' adds Rinfret. 'Even adding two hurricane lamps makes it feel more dynamic and lived in.' In and among the grey dining room ideas here, Rinfret's inclusion of planted orchids provides everyday blooms that last much longer than cut flowers.
If flowers aren't your think, make the tableware feel special. 'For a family breakfast, go for lots of color, mixed patterns and prints on linens, colored glassware and a mixture of crockery,' says Fortescue. 'The key is to keep it fun and totally informal.'
3. Choose a statement vase
Lighting a dining room with a dramatic chandelier isn't the only way you can make a statement with something a little sculptural.
'With a newfound appreciation for the finer, more decorative details at home, there has been a huge surge in popularity for our vases and centrepieces for the dining room,' says Helen Pett, Design Ambassador for Arteriors.
'What we like about this trend is that the vases and bowls aren't simply used as a place to hold flowers or store fruit, they become the main feature of a dining table and often the only part of the tablescape arrangement.'
'Statement vases and centrepieces in a well thought out cluster – think varying heights, mixed materials and elaborate detailing – beautifully dresses and elevates a dining room scheme. These designs are now looked at as a standalone piece of art and as investment pieces to admire.'
4. Tablecloth or no tablecloth? Do both
The big question on everyone's lips when thinking about how to dress a dining table is 'to tablecloth, or not to tablecloth?'
According to Fortescue, you don't have to make a decision one way or another.
'I try to alternate between tablecloths and bare tables to keep things interesting,' she says. 'Both surfaces work in different ways once they're laid with linens, crockery and glassware.'
In this example by Fortescue, the tablecloth creates a color contrast with complementary red detailing against the green walls, and leads the rest of the decor on the table. Without it, the decor would still work, but it creates a deliberate base.
5. Inject color into a neutral space
Table decor has the ability to completely overhaul your dining room color ideas, and give a whole new look to the space – especially if it has a neutral backdrop to make its mark on. In this example, a palette of mixed warm and cool neutrals is invigorated by blue glass candlesticks and tableware, which can easily be switched out at a later date to change the mood.
'Another great way of injecting some life into a dining room is to include colored napkins as part of your tablescape,' suggests Sims-Hilditch. 'These might pick out accent colors throughout the rest of the room, such as in the artwork of upholstery of the dining room chairs.'
6. Go long with a runner
If you're looking to play with the proportions of your space, using a runner is one of the dining table styling tricks. For long banqueting tables, a runner helps connect one end of the table to another. On the other hand, it will also help elongate squarer tables and add a sense of grandeur, as demonstrated in this example. As well as traditional fabric runners, think about alternatives.
'Interesting runners are always fun,' says Rinfret. 'A long piece of gauze down the center adds an ethereal touch or buy fabric by the yard and match something else in the space. You can also use a long garland of bougainvillea or a 'runner' of sand or shells. It doesn't always have to be fabric.'
7. Use not one flower arrangement, but many
Faced with filling a long dining table? It may not be one centrepiece you need, but several. In this example, three medium-sized floral displays have been used running down the length of an Easter-themed table, interspersed with eggs and rabbit ornaments. Alternatively, you can chop up your flower arrangements into even smaller, more numerous batches.
'Rather than a single floral arrangement at the centre try styling a series of bud vases along the length of the table with a slighter larger vase in the middle,' says Fortescue. 'This look can be so effective with wildflowers and garden foliage.' This tip works particularly well for outdoor dining ideas giving the gentle sense of the garden running through the table.
8. Mix it up with fruit and veg
For many, entertaining for is all about the food – so don't restrict it to the dinner plates. Instead of flower arrangements, consider giving guests their five a day through the table decor.
'You can use artichokes, fruits and vegetables – it's unexpected and bold!', says Rinfret. 'For an Italian table, you can use lemons and bunches of basil. Herbs are a fragrant and fun way to switch up the classic florals. Think out of the box. It's a treat to do things that are unexpected and a time where more is better.'
Consider this set up for your kitchen diner ideas to create a stronger thematic link between both areas.
9. Soften a modern scheme with florals
If you've kept things crisp and cool throughout your dining room design, allow yourself to let loose a little with your table decor. For modern dining room ideas like this one that are filled with metallics, hard lines and sleek surfaces, balance this with a softening natural element in your centerpiece. Here, vibrant bunches of flowers with rounded leaves and petals make the space feel more welcoming for guests, and make the space more gently appealing for daytime meals.
10. Choose rustic pieces for a farmhouse scheme
For farmhouse dining room ideas, keep your table decorations relaxed and rustic, says Fortescue. 'If you're laying a table in a farmhouse setting go for fairly plain crockery, raffia or wooden placemats, linen napkins and mismatched glassware for a relaxed, rustic look.'
While a simple approach works really well for day to day farmhouse tables, this example uses layers of patterns and textures to dress up the space for guests. A vibrant yellow runner is bedecked with simple ceramic flower vases, while the naturally textured placemats are topped with charger plates, bowls and napkins in varying but linked patterns and colors.
What should I put on my dining table?
First and foremost the answer is 'something'. Just like a long stretch of blank dining room wall ideas, an empty table will create something of an aesthetic black hole in the space. Ensure there is some form of decor on the table, even when not in use.
If you're looking for a permanent piece of decor to inhabit the table between meals, choose something with some height to make sure it's impact is visible even when not sitting down. These pieces can be really simple like a central vase and a couple of hurricane candle holders. Choose a vase that doubles as a piece of art, and it will still make an impact even when you don't have fresh flowers to hand.
A tablecloth is not always necessary, but is a great way to change up the look – either for a seasonal refresh or a special occasion. If you're looking for something in between a bare and fully dressed table, a runner works well as a halfway house.
How can I make my dining table look nice?
The first thing you'll need to do is consider the table itself, as well as the decor of the surrounding dining room. Fitting your decor in with the shape of your table is crucial. For round tables, focus on a single centerpiece – but be sure not to make it so tall that your guests can't see each other. If you have a long rectangular table, consider multiple smaller pieces of decor that run the length of it, ensuring the interest continues all the way down the table.
Investing in tableware that ties into the decor of your whole dining room is essential for making mealtimes feel curated and thoughtful. Consider picking out colors from the walls and artwork, and choosing plates and napkins that match.
Sign up to the Homes & Gardens newsletter
Decor Ideas. Project Inspiration. Expert Advice. Delivered to your inbox.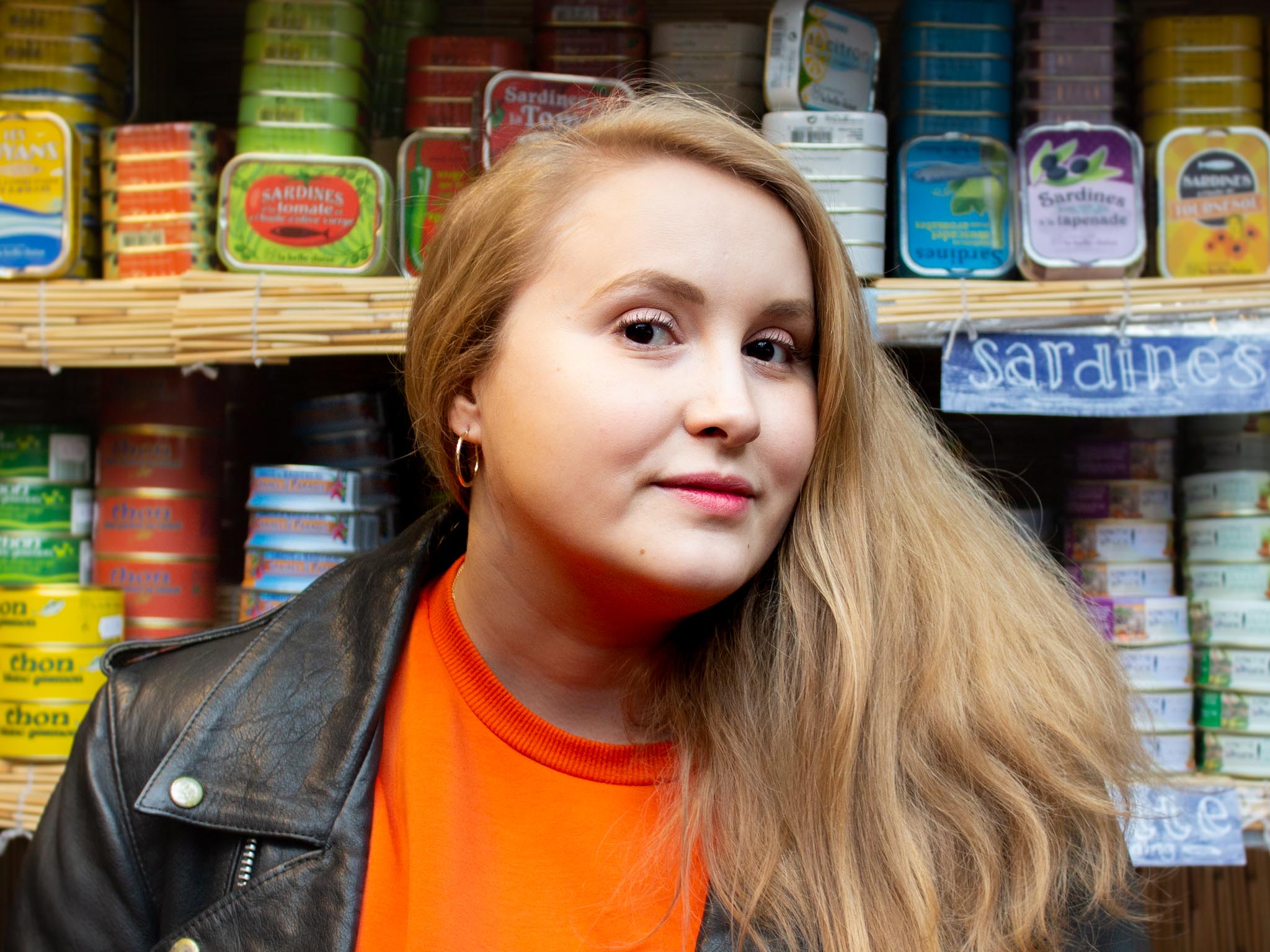 Ailis started out at British GQ, where a month of work experience turned into 18 months of working on all sorts of projects, writing about everything from motorsport to interiors, and helping to put together the GQ Food & Drink Awards. She then spent three years at the London Evening Standard, covering restaurants and bars. After a period of freelancing, writing about food, drink and homes for publications including Conde Nast Traveller, Luxury London and Departures, she started at Homes & Gardens as a Digital Writer, allowing her to fully indulge her love of good interior design. She is now a fully fledged food PR but still writes for Homes & Gardens as a contributing editor.