How to dress a dining table – with linens, ceramics, flowers and more
Be the hostess with the mostess with our top tips on how to style your table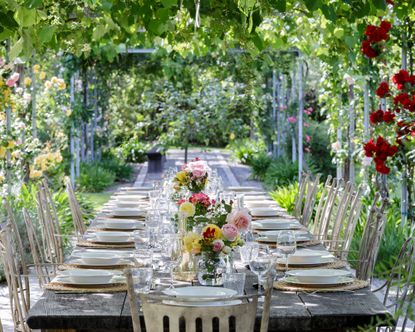 (Image credit: Future)
Sign up to the Homes & Gardens newsletter
Decor Ideas. Project Inspiration. Expert Advice. Delivered to your inbox.
Thank you for signing up to Homes & Gardens. You will receive a verification email shortly.
There was a problem. Please refresh the page and try again.
Dressing your dining table is a wonderful way to set the mood for a party or dinner, while showing your family and friends that you care.
After so many months of not being able to host, we're embracing being able to have guests over once more, and style our spaces accordingly.
We've compiled the ultimate how-to on how to create the atmosphere for your event using your dining table as the focal point, from practical tips to centerpiece ideas.
See more: Dining room ideas – inspiration for decorating and furnishing your space
What should I put on my dining table?
When hosting there are key items you should always have on hand to dress your dining table.
The first thing to consider is the flatware and cutlery. Depending on what menu you are serving, layer up the necessary sizes of plates, topped by the bowl, if using. If you prefer to serve rather than host family style, this display still works, as you can simply pick up the correct dish as required to take to the sideboard for serving.
Water glasses and wine glasses should be set out in advance, too. For restaurant level style, lay out both white and red wine glasses on the dining table.
Other must-haves are napkins, water jugs and a beautiful centrepiece.
What can I use to protect my dining table?
If you've invested in a beautiful dining table, there are steps you should take to prevent it from being damaged. The main consideration is prevention, so sealants, table coverings and heat protectors.
What can I put on my dining table to protect it?
Wood dining tables are not only the most popular by far, but they have the most options for caring for the material. When selecting a finish, the most common to choose from are oils, shellac and wax.
Tung oil is favoured by woodworkers as it adds a lovely golden finish to the wood, but note that it will require up to six coats to work as a water resistant sealant.
Danish oil is arguably easier to use than tung oil, as it is absorbed into wood more quickly, and typically takes many fewer coats to become water resistant, so if you're fine with forgoing the added warmth of tung oil this is a good option.
Finally, wax is a traditional way of finishing your dining table. Waxes don't penetrate wood the way the oil will, meaning the final product will look slightly unfinished, but it will be water resistant.
How do you protect a wooden table naturally?
To protect your dining table either after finishing, there are several simple steps you can take to keep it protected.
Always use either a tablecloth or placemats to protect the wood for burns and marks, both under plates and any candle holders. Chargers are ideal, too, sitting beneath a decorative placemat to add further protection to the table. Coasters are hugely important - water rings are nearly impossible to get rid of, so make sure you have plenty to hand.
It's also beneficial to use a cloth to wipe the table after use, first dry to get rid of any excess crumbs, and then wet to prevent any marks from setting in.
What is the point of a table runner?
Table runners are a quick and easy way to both protect and dress a dining room.
A relatively thin strip of material running down the centre of the table, the runner takes the place of the tablecloth over the main area where platters and jugs may be set down, with the chargers and placemats protecting the individual settings.
A table runner provides plenty of scope for inspiration for styling your dining table, acting as a centre point for decor, centrepieces and candles.
What is a good centerpiece for a dining room table?
'An essential dinner party trick for me is creating a great centrepiece on my dining table,' comments Lucy St George, Co-founder of Rockett St George.
'This can be an impressive floral display, candelabra or a collection of candles and objects styled at different heights to add interest and drama to your dining space. The beauty of these finishing touches is that they can be easily changed up to suit the theme of the meal or entertaining occasion and also ensure that the dynamic of the room is ever-changing.'
Try styling for the season by placing a small platter of just-bloomed flowers or recently flowered bulbs instead. If you love a simple look, or are restricted with florals in winter months, look to thin boughs of eucalyptus and other foliage draped simply across the length of the table.
How do I dress my dining table for a dinner party?
When dressing a dining table for a dinner party, as well as all the must-dos of flatware, cutlery and glasses, add extras to make the dinner feel extra special.
Choose a color palette and bring this across the whole scheme, from glassware to flowers, cloth napkins to candles. Place settings, too, are a wonderful way of adding a sense of occasion. 'Layer your table with matching menus and place cards – it automatically elevates even the most simple tablescape,' adds Laura Jackson, who is launching a collaboration with Papier. ' Personalise designs with each guest's name for a chic touch.'
'To complete the look I always ensure that I have plenty of tealights and candles dotted across the table, which when lit, create a mesmerizingly beautiful dancing flame that makes my dining space glow,' advises Jane Rockett, Co-founder of Rockett St George
How do I dress my table for a garden party?
Alfresco dining is the perfect occasion to have fun when dressing a dining table.
''You can easily create a picnic like atmosphere by having the right combination of wares that add color and character to your al fresco experience,' notes Alexandra Champalimaud, Founder of Champalimaud Design. Design around the season, such as using miniature daffodils and touches of pastels in spring, blousy peonies and matching linens for summer, orange and red dahlias and vintage cutlery for autumn.
When possible, look into melamine and plastic glassware. Crockery and glass looks beautiful outside, but it's just not worth the hassle, especially if there are any little ones running around.
How do you make a flower arrangement for a dining room table?
There are so many wonderful ways you can dress your dining table using flowers. Gina Hardy, McQueens Flowers Head of Events, breaks down how to create the perfect look: 'Choose a color palette for your flowers that matches the mood you want to create and the temperament of your guests.'
When it comes to arranging, Gina advises that: 'informally arranged flowers and containers generally look better than rigid, formal arrangements - and they are so much easier to fit on your table wherever you can!'
'Think about the practicalities of flowers for a dinner party,' recommends Gina. 'Keep your florals under 25cm if you're placing directly in front of a guest. No one wants to start shuffling flowers around to see the person opposite, so remember "the conversation will flow if you keep things low".'
'Arrange a couple of stems from your flowers into a small container and place them in your guest cloakroom,' suggests Gina. 'It's a sophisticated touch that carries the theme right through.'
How do you decorate a dining table when not in use?
There are a couple of main ways you might want to decorate your dining table when no party is being held.
The easiest tip is to use the space as a display area for floral arrangements and vases or bowls that you don't want hidden away. Since the area isn't in constant use, but most likely on view, it's the perfect place to create pretty displays that won't get in the way of everyday life.
An alternative solution is to dress the dining table with your crockery and glassware anyway. This means you save on cupboard space, and there's a beautiful tablescape ready waiting, only required a quick dust or wipe and a few fresh, seasonal touches to make your table dinner party ready.
See more: Tablescaping: how to create a beautiful table setting for the holidays
Sign up to the Homes & Gardens newsletter
Decor Ideas. Project Inspiration. Expert Advice. Delivered to your inbox.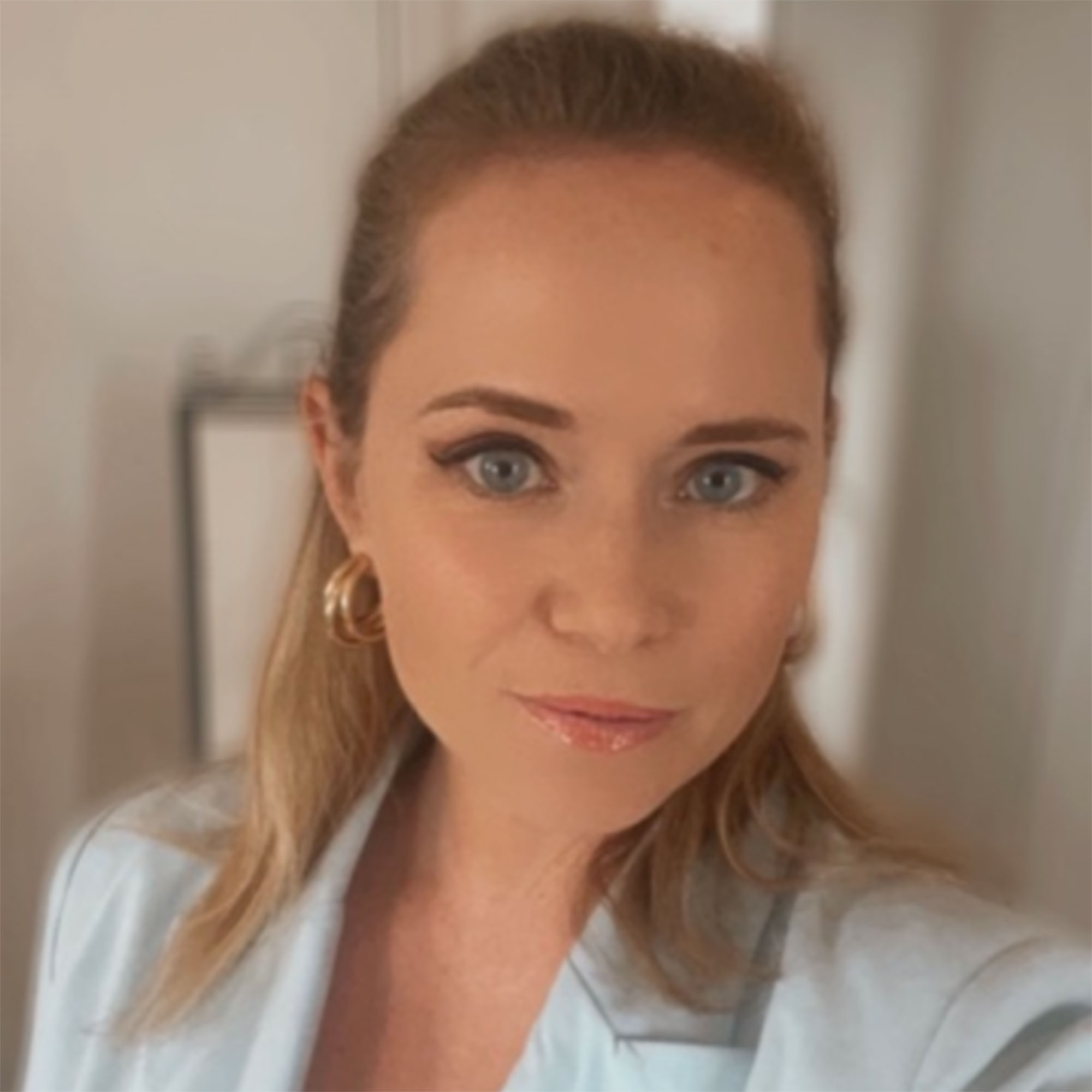 Thea Babington-Stitt is a Content Editor at Future. She has been an interiors journalist for nearly 10 years and has held positions at LivingEtc, Country Homes & Interiors and Homes & Gardens. Currently, she is writing for Ideal Home and Style At Home's websites and magazines.