How to stay warm when dining outside – 6 tips for dining al fresco without freezing
Even the warmest of summer days can give way to chilly evenings – don't let your dining party get caught out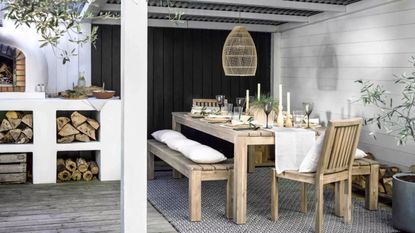 (Image credit: Garden Trading)
Sign up to the Homes & Gardens newsletter
Decor Ideas. Project Inspiration. Expert Advice. Delivered to your inbox.
Thank you for signing up to Homes & Gardens. You will receive a verification email shortly.
There was a problem. Please refresh the page and try again.
When summer rolls around it is natural to take your meals out into the yard, soaking up the last rays of sunshine as the day comes to a close. But as night sets in, so do chillier temperatures – even on the hottest of days.
When planning your outdoor dining set up, working in some clever yet stylish ways to stay comfortable in the evening air is a great way to make guests feel welcome and well cared for – ensuring that you host an evening they'll look back on fondly.
Here, designers and landscapers have shared smart ways you can stay warm when dining outside, and explain how to incorporate them into your outdoor seating ideas – so your guests are not left shivering while you hunt your home for some blankets.
How to stay warm when dining outside
Whether you have an extensive outdoor kitchen and dining suite, or a simple backyard table, these warming solutions are sure to add that little extra ambiance to your outdoor dining – especially if you have invested in the best outdoor furniture for comfort and style too.
1. Cozy up with blankets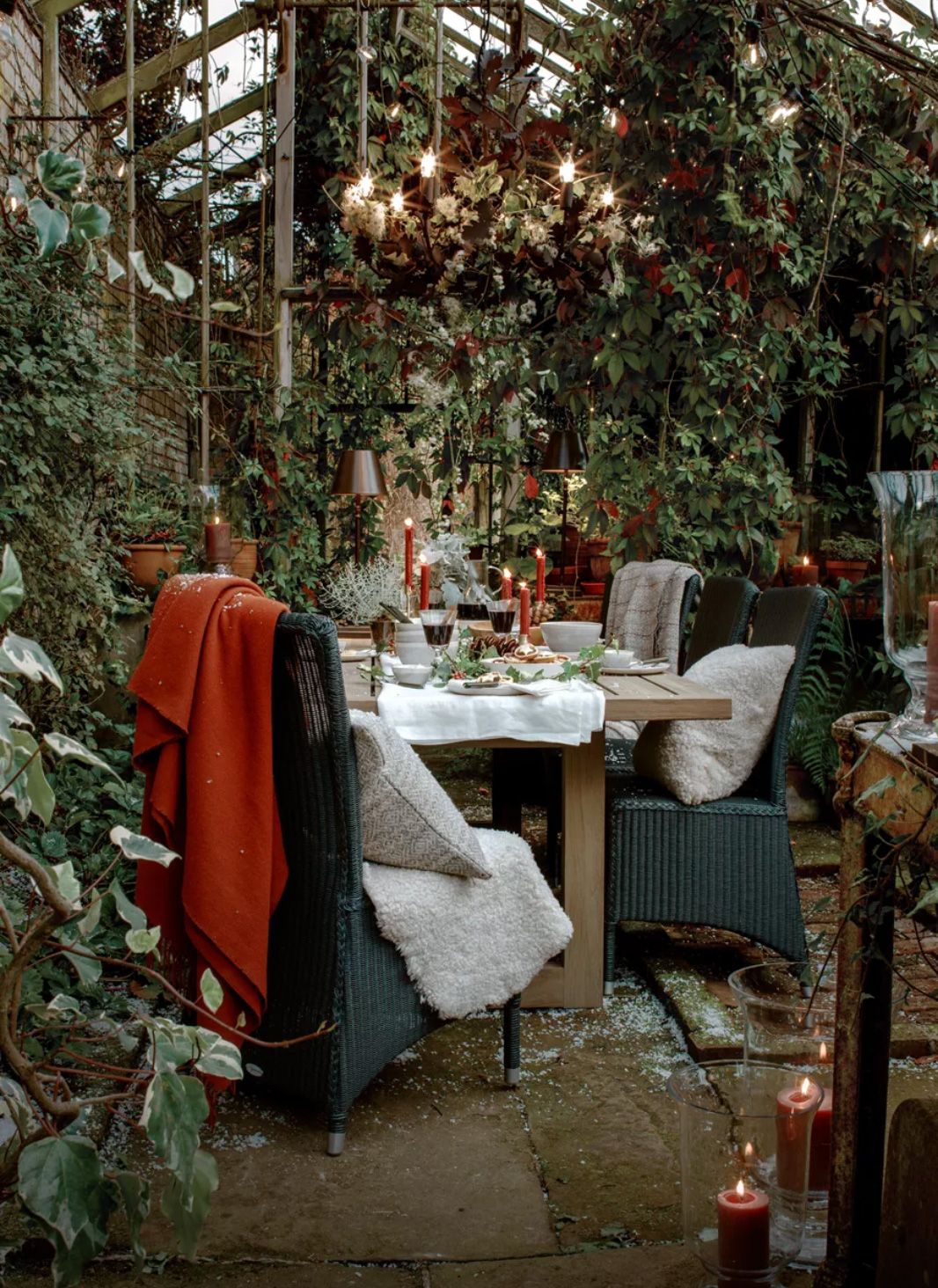 Layering in interior design is not just for inside your home – layering the best throw blankets made from natural materials is also a great way to add a degree of coziness and warmth to your outdoor dining too, says Davin Eberhardt, founder of Nature of Home, a natural home improvement blog.
'Think about using wraps or blankets made of soft fabrics like wool or faux fur,' he suggests. 'These enhance the dining experience by adding a touch of luxury and comfort in addition to serving a useful purpose.'
Folding them on chairs and benches means they are easily accessible to guests as and when they need them, without them having to ask – and can help to spruce up old dining sets quickly and affordably.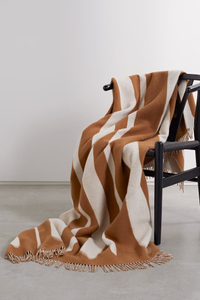 Raawii Wool and Cashmere Blanket | $350 at Net-A-Porter
This Raawii blanket is made in collaboration with creative visionary Nicholai Wiig-Hansen, who draws inspiration from the forms and colors of art. Spun from a sumptuous blend of wool and cashmere, it is patterned with neutral brush strokes that resemble stripes.
Davin has spent two decades in the commercial construction industry as an electrician. Along with his passion for great buildings and architecture, he is also driven by nature. Completing permaculture design training by Geoff Lawton, an early pioneer of the permaculture movement.
2. Add a patio heater
Patio heaters are the next obvious choice for staying warm when dining outside, but they can soon look a little worse for wear due to being exposed to the elements. Luckily, as Izzy Goldberg, landscaper at White Maple Landscaping highlights, there are some wonderfully sculptural options appearing on the market that make heating your outdoor spaces easier – and more stylish, than ever.
'More modern, fashionable pendant patio heaters, like this hanging patio heater from Amazon, can be hung from canopies, pergolas, or arbors like patio lighting, and they often offer a wider coverage than traditional pillar heaters, meaning more of your guests can feel the benefit,' she explains.
3. Create natural windbreaks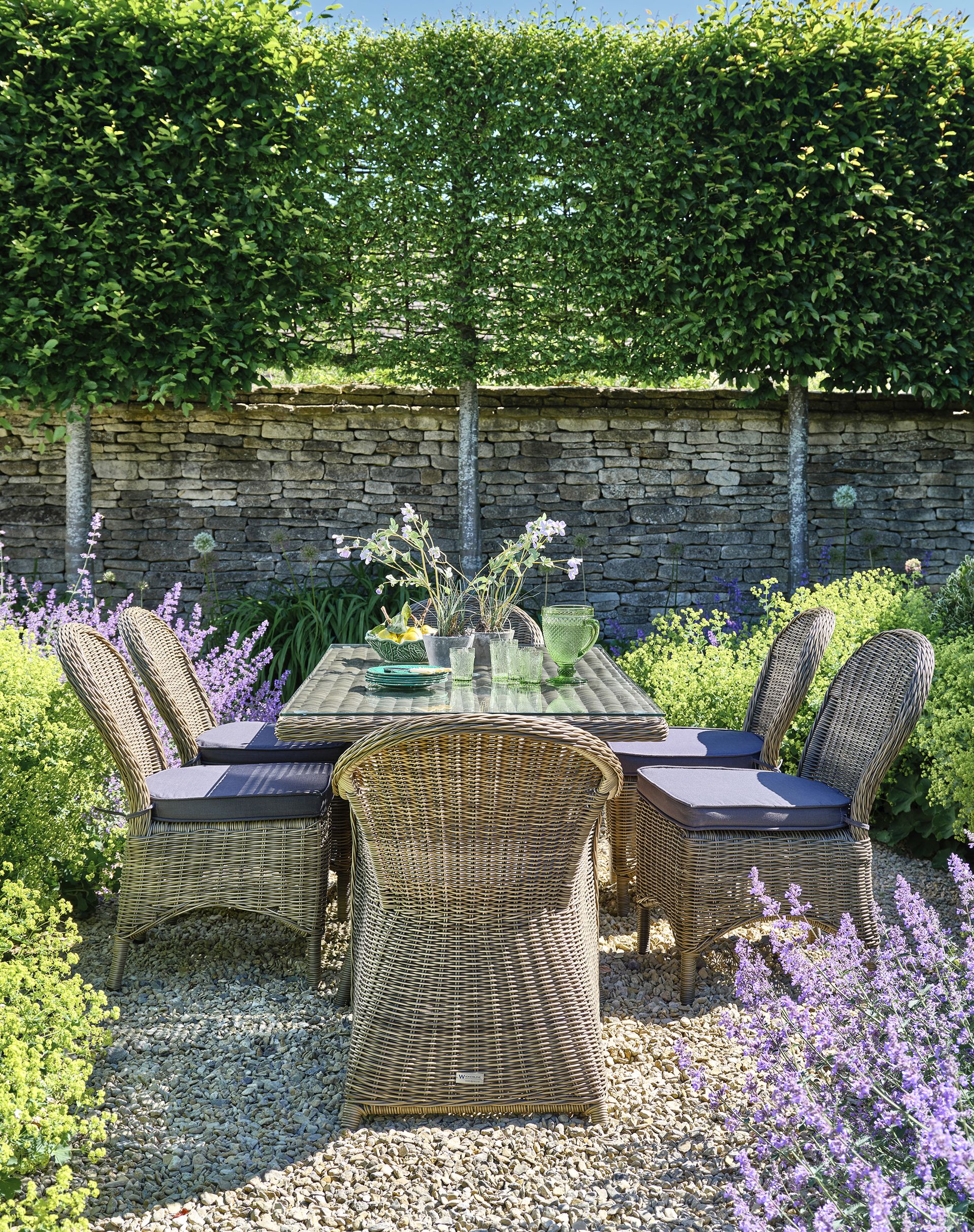 In summer, it is often the windchill that makes us feel cooler than it actually is. If you have a green thumb, you could consider using natural planting to create a garden windbreak from the best hedging plants and shrubs for privacy, creating an intimate enclosed space for you and your guests to relax in, suggests Erica Fecundo, tiny home designer and founder of Hauslein. These can then have lights added to them for extra ambiance.
'To create natural windbreaks, you can use plants such as bamboo, evergreens, and hedges,' she recommends.
4. Prevent draughts with garden structures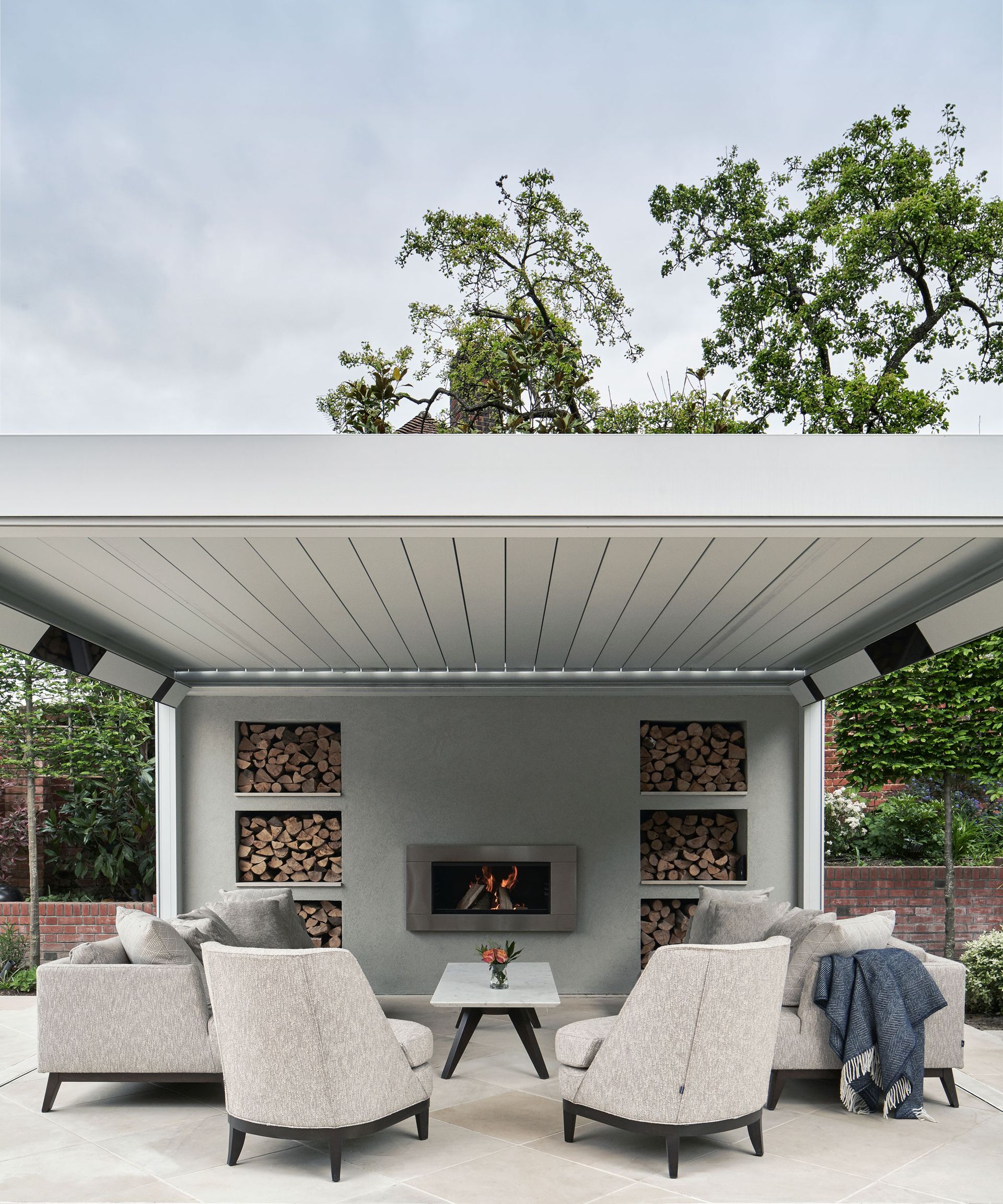 If you are not one for keeping plants alive and thriving, then a more structural windbreak may be a better option, continues Artem Kropovinsky, interior designer and founder of Arsight.
'Features such as lattice screens, vertical garden walls, or even pergolas with climbing plants can provide a barrier against the wind while enhancing the visual appeal of your space,' he says. 'They can also offer shelter from the sun during the afternoon, and the rain too if some unexpected weather hits.'
Based in New York, Artem Kropovinsky, founder of Arsight, has a decade of global design experience. Prioritizing minimalism, sustainability, and authenticity, Artem, alongside his team of professionals, works on projects in the US and worldwide.
5. Layer outdoor rugs underfoot
The best outdoor rugs are great for more than just zoning off your patio. They can protect your feet from cold or dirty patio stones too, making them ideal for warming up outdoor dining areas, Davin Eberhardt, natural home improvement expert recommends. Layering them can add some extra protection while also adding some boho-style interest to your dining area.
Surya Eagean Outdoor Area Rug | From $48.99 at Ashley Furniture
This blue persian styled rug is perfect for brightening up any outdoor space for summer dining, and comes in a range of sizes for any patio.
6. Dine around a firepit
For a truly rustic outdoor dining experience, you can consider adding in a backyard fire pit either instead of or as well as a patio heater to help keep warm when dining outside.
Adding in 'organic components' like fire pits or chimineas, not only offer warmth but also produce a warm and inviting atmosphere, Davin Eberhardt, natural home improvement enthuses. The style that works best for you will depend on the size of your dining space, and how big an area you need to heat. 'Just make sure to keep them away from wooden furniture and structures to prevent sparks and embers from causing an unwanted fire,' he adds.
If you have a large enough space and are looking to redesign your yard, you could even consider an outdoor fireplace built into a covered dining area for a dedicated al fresco garden room.
FAQs
What is a comfortable temperature when dining outside?
When dining outside, temperatures between 70-78F are often the most comfortable, offering a golden zone where you are neither shivering nor sweating while trying to eat. It also helps if it is sunny, without strong winds blowing tablecloths and napkins around while people are trying to enjoy their food.
You can achieve the perfect temperature by adding fans or heaters if needed or eating somewhere under cover to protect you and your guests from the elements.
How do you keep food warm when dining outside?
If eating outside, warm weather will help your food stay warmer on its plate for longer. Alternatively, you can serve dinner family style, with trays of food ready for people to help themselves to in the middle of the table. Keeping the food in the trays and dishes they were cooked in will help them to retain heat naturally, or you could opt to put warming plates beneath your shared dishes to keep them at a steady temperature as guests pick and choose.
---
Making sure you and your guests stay warm when entertaining outdoors means relaxed evenings are not cut short by an evening chill. Add home-cooked food and some comfortable patio furniture and your home will be the go-to for summer nights with friends and family.
Sign up to the Homes & Gardens newsletter
Decor Ideas. Project Inspiration. Expert Advice. Delivered to your inbox.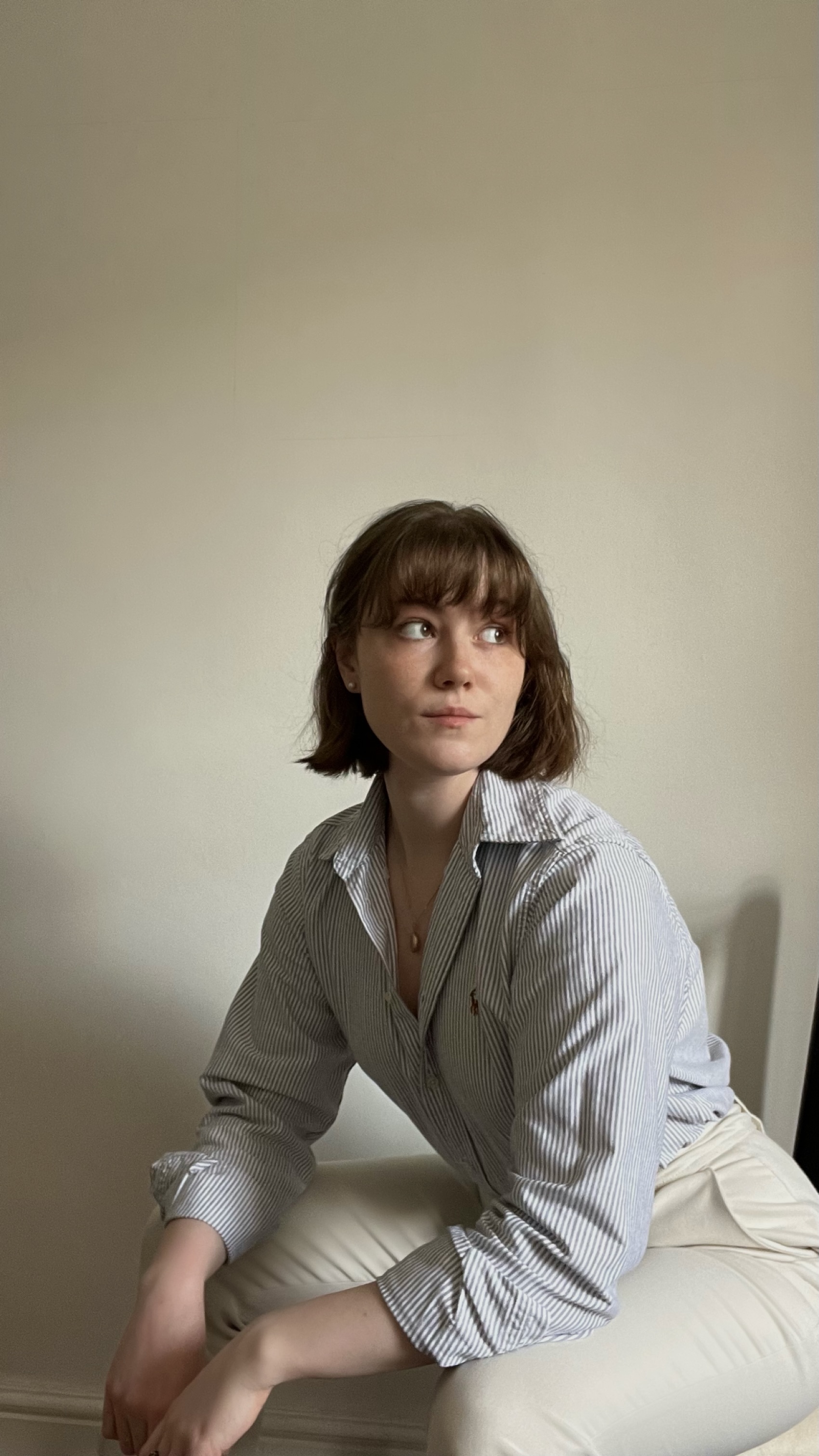 Chiana has been at Homes & Gardens for a year, having started her journey in interior journalism as part of the graduate program. She spends most of her time producing content for the Solved section of the website, helping readers get the most out of their homes through clever decluttering, cleaning, and tidying tips – many of which she tests and reviews herself in her home in Lancaster to ensure they will consistently deliver for her readers and dabbles in the latest design trends. She also has a first-class degree in Literature from Lancaster University.