Best shrubs for privacy – the top 10 varieties to add to your yard
Discover the best shrubs for privacy for a front or back yard that will also add color and interest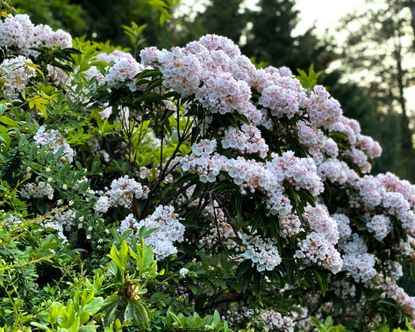 (Image credit: Getty Images)
If you are looking for some of the best shrubs for privacy for a front or backyard, there are many options to choose from that will add color, shelter, and structure to your garden, too.
Along with providing screening from the road or neighboring properties, the best evergreen shrubs can also add color, structure and interest year round.
Using natural barrier options in place of fencing or walls is also among the best wildlife garden ideas for providing habitats and sources of food for a variety of animals, birds and important pollinators.
Best shrubs for privacy
When you're choosing the best shrubs for privacy you'll mostly be landscaping with evergreens due their year round foliage screen, but that's not to say that you can't still include some deciduous shrubs among the planting. Try to envisage how the combination of shrubs will looks throughout the year – some will add differing color, flowers or perhaps seasonal fruit and berries.
If space permits, plant a variety of evergreens and deciduous options, some of which will also be the best fast growing shrubs – particularly useful if you are looking for speedy results.
1. Schip laurel
'Schip laurel is a compact, evergreen shrub that thrives in partial shade and sun. Highly versatile, it grows to heights of 10-14 feet, making it perfect for privacy,' explains Tammy Sons of Tn Nursery.
Prunus laurocerasus 'schipkaensis', also known as skip laurel, is a great option for shrubs for privacy in zones 5-9. If you have a north facing or shady plot and are looking for shrubs for shade, it copes well in shadier environments.
Smaller growing than other laurels, schip laurel can create a more compact, neat natural privacy screen or privacy hedge when pruned and tolerates many soil types.
2. Inkberry, Ilex glabra
'Inkberry, Ilex glabra, can grow a beautifully rounded broadleaf evergreen crown. If a tall shrub for privacy is your goal, avoid named varieties, such as 'densa', 'compacta', and 'gem box',' explains Kathleen Connolly, ecological landscape designer and founder of Speaking of Landscapes.
Also known as evergreen winterberry, Appalachian tea tree and gallberry, inkberry is native to eco-regions in the east and southeast US coast, as well as southern maritime Canada.
As with all choices, make sure you know how to plant shrubs to help them to thrive. 'To keep it in top form, plant inkberry where there's at least moderate soil moisture. It can tolerate light shade as well as full sun. Trim inkberry 6 inches each year to encourage dense leaf coverage up and down the stem,' Kathleen adds.
They are not ones to plant for their flowers, as these are very small, 'but if you plant both male and female inkberries, a host of native birds will thank you for the distinctive blue-black berries midwinter,' Kathleen explains, so the shrub is one to include in your winter garden ideas.
3. Arborvitae 'Green Giant'
Arborvitae 'Green Giant' is a thick dense evergreen that prefers well-drained, moist and fertile soils. It's a great choice because it is a fast-growing evergreen conifer, ' explains Tammy Sons.
The thick growth offers the best privacy and it can also act as the the perfect backdrop for other flowering varieties of shrubs.
It can grow up to 6-10ft (2-3m) so especially useful for providing a screen from neighboring properties.
4. Mountain laurel, Kalmia latifolia
If you are looking for shrubs for privacy that also produce beautiful flowers, then the mountain laurel, Kalmia latifolia, is one for the list.
'The large white and pink flowers are a joy to see in June and July,' explains Kathleen, and can be mixed with other flowering shrubs for beautiful, seasonal displays.
Also known as calico-bush, or spoonwood, mountain laurel 'has a reputation as a shade-lover, but it is happier and healthier in part to full sun,' she adds.
Mountain laurel is native to eco-regions of the eastern third of the US and southern Canada.
'Once established, mountain laurel can tolerate drier sites. If you're after plants for privacy from neighbors, avoid varieties bred for low height; if a tall screen is your goal, avoid cultivars bred for low height,' adds Kathleen. You may choose cultivars bred for low height if you're looking for shrubs for the front of the house, however, as these will not block views, but will help increase your home's curb appeal with the summer blooms.
5. Rosebay rhododendron, Rhododendron maximum
Another flowering candidate for a shrubs for privacy is Rosebay rhododendron, Rhododendron maximum, or American rosebay.
'Native to eco-regions in the eastern third of the U.S. as well as southeastern Canada, this tall shrub displays large white flowers in July. In most locations, this broadleaf evergreen can grow to 15 feet; in the southeastern U.S., it has been known to reach 30 feet,' explains Kathleen.
Rosebay rhododendron thrives in part to full shade, and prefers moist, acidic soil.
6. California privet
'California Privet is a medium-sized evergreen shrub that requires dry soil,' explains Tammy Sons.
'A fast-growing and reliable shrub that is perfect for fast growing hedges, screens, and windbreaks, Ligustrum ovalifolium can reach heights of 10-12 feet,' she adds.
7. Spotted laurel – Aucuba japonica
Spotted laurel, also known as Japanese laurel or Aucuba japonica, to give it its botanical name, is a fast grower, reaching up to 15 feet tall. It can tolerate partial or full shade, so is an ideal choice for shrubs for privacy in shady borders or corners.
With attractive spotted, variegated leaves, that can brighten dark areas, it also bears bright red berries in fall that visiting birds will flock to.
The shrub's dense foliage provides a good windbreak, as well as minimizing road noise if used as front garden ideas.
8. Photinia x fraseri
This lovely evergreen shrub has red, glossy leaves and white flowers in the spring and summer, before maturing to lush dark green foliage.
Photinia x fraseri grows well in full sun to partial shade, and will tolerate normal, clay or chalk soils.
It is a low maintenance shrub for privacy although does not grow as tall as some of the other options, so might be better suited to a front as opposed to a backyard.
9. Forsythia
As mentioned, not all shrubs for privacy have to be evergreen, and if you add in a few deciduous varieties into the mix, it will create more interest and color in your garden.
Forsythia is a good option for providing a living privacy wall from spring to fall once they are in flower and leaf, and grow to about 8-10 feet in height. They produce beautiful vibrant yellow flowers in spring, followed by green foliage.
'Hardy in zones 5 to 9, the shrub is requires very little maintenance and can live for many decades,' says Tammy Sons.
Forsythia is considered invasive in some areas, as it can quickly spread, so bear this in mind before planting depending on where you live.
10. Shrubby honeysuckle – Lonicera nitida
Lonicera nitida, shrubby honeysuckle, or Wilson's honeysuckle, is a fast-growing, hardy evergreen shrub for privacy.
Reaching up to about 11 feet, it's a fairly tall choice, and with densely packed, tiny leaves, it forms a very dense living screen. Added to which it can produce scented off-white flowers in spring and purple-blue berries in fall, so can be a magnet for wildlife, and is pretty to boot.
This shrubby honeysuckle grows well in sun or partial shade, and will tolerate most soil types as long as they are well draining.
What is the fastest growing shrub for privacy?
There are a number of fast growing shrubs for privacy that you can choose if you are keen to establish a natural, living screen as soon as possible.
Shrubby or Wilson's honeysuckle is one fast grower – growing 15-23 inches (40cm and 60cm) per year.
Arborvitae 'Green Giant' can grow up to 3 feet per year, as can California privet.
There are many other options you could try, so carefully read the plant description and make sure you plant the chosen shrub in its preferred conditions to maximize its growth rate.
What can I plant to block neighbors' view?
If you want to block your neighbors' view then it is best to choose a tall growing variety of shrub.
The laurels can all reach a good height, with spotted laurel, schip laurel and mountain laurel all growing up to 15 feet given the right conditions.
Also look to some of the best trees for privacy and screening in a backyard if you're looking for tall plants to block neighbors' views from upstairs windows.
Rachel is senior content editor, and writes and commissions gardening content for homesandgardens.com, Homes & Gardens magazine, and its sister titles Period Living Magazine and Country Homes & Interiors. She has written for lifestyle magazines for many years, with a particular focus on gardening, historic houses and arts and crafts, but started out her journalism career in BBC radio, where she enjoyed reporting on and writing programme scripts for all manner of stories. Rachel then moved into regional lifestyle magazines, where the topics she wrote about, and people she interviewed, were as varied and eclectic as they were on radio. Always harboring a passion for homes and gardens, she jumped at the opportunity to work on The English Home and The English Garden magazines for a number of years, before joining the Period Living team, then the wider Homes & Gardens team, specializing in gardens.