Winter garden ideas – 20 ways to a beautiful winter backyard
These beautiful winter garden ideas can transform yours into a winter wonderland – in easy steps from the world's greatest designers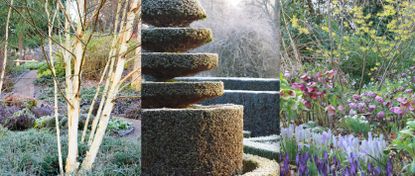 (Image credit: Future)
Looking for winter garden ideas to give your backyard a beautiful finish, even when the weather is dismal? The good news is that winter garden ideas can be just as stylish, architectural and even as colorful as those you might expect to see in a summer garden.
Unsurprisingly, the best garden ideas are achieved by careful winter garden planning – if you can get all the right elements into your backyard in winter, you're guaranteed a beautiful show.
Below, we bring you our favorite winter garden ideas – all achievable, and many low-maintenance and guaranteed to look good winter after winter.
Winter garden ideas
To bring you the very best in winter garden ideas, we spoke to the experts, including Jonny Norton, head gardener at Mottisfont Abbey, a historical priory and country estate in Hampshire, England, and to five designers from the Society of Garden Designers. Here they offer ideas you can use when planning a winter garden.
1. Create structure with beautiful, bare branches
Probably the most important of all winter garden ideas, structure sets the scene for the rest of your winter planting.
Garden designer Louisa Bell MSGD recommends including a framework of skeletal trees with multi-stems or fan-trained figs but also acknowledges the importance of evergreens, saying: 'Buxus, Taxus and Ilex create great structure in the winter garden giving form to borders and creating a foil to emerging bulbs.'
Be sure to knock any snow off box balls though or they will splay apart.
2. Use hedging as a backdrop to winter garden planting
'Structure forms the backbone to a garden throughout the year but is especially important in winter,' says garden designer Lisa Cox. 'Evergreen plants and shrubs play a leading role.'
Choose evergreen varieties that can be neatly trimmed in early fall to stay smart-looking right through to spring when new buds form.
3. Man-made structures can create focal points
Structures such as arbors create interest in summer, of course, but in winter, when the flower beds have died back a little, they can make for wonderful focal points in a winter garden. However, small gardens can benefit from an inventive use of eye-catching materials that take up no space, too.
'Hard landscaping can also provide interest when the softer summery foliage and flowers have disappeared. An interesting wall, for example, or intricate detail in the paving can really help to bring additional interest when bare soil is on show,' says garden designer Lisa Cox.
4. Choose winter plants for bold color
Plants with colorful stems and bark really come into their own as winter garden ideas especially planted en masse for maximum impact.
'If you have the space there's nothing more heartwarming on a dull winter's day than a border of dogwoods,' says Debbie Roberts MSGD, whose colorful winter stems range from yellow and gold through to bright orange, red and purple. Punctuated with the white stems of birch trees and evergreen mounds of rhododendron they can create a spectacular winter display.
5. Plant for fragrance
The best winter plants for pots and borders are those that give structure, color or even scent to your flower bed ideas.
'I love the fragrant plants, such as winter honeysuckle Lonicera fragrantissima and the witch hazels, with their delicate spidery flowers and intense perfume. I see visitors literally stopping in their tracks when they get a whiff of them,' says Jonny.
6. Create architectural interest with ornamental grasses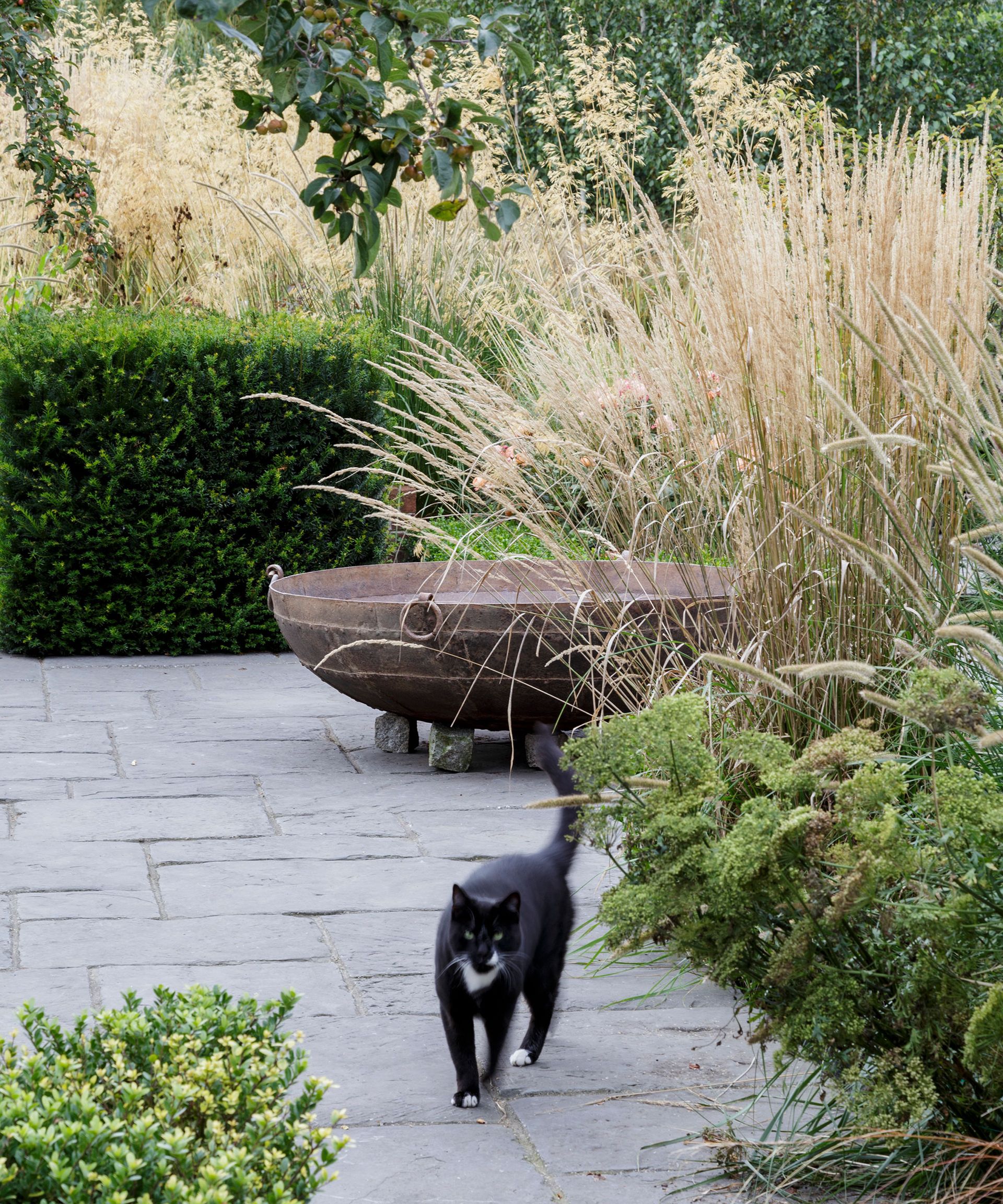 If you learn how to grow ornamental grasses successfully, you will also discover that they make for wonderful winter garden ideas – maintaining their form and sparkling when covered with frost. It's important to knock snowfall off them quickly – this can bend and break their stems, although they will quickly recover in spring.
'Mixing grasses with evergreen plants is also a good idea' add Lisa Cox. 'The movement and softness creating a different dimension against the solid structure of evergreens.' Try Miscanthus 'Morning Light', Calamagrostis 'Karl Foerster', Pennisetum 'Hameln' and Poa labillardieri.
7. Plant evergreens that bloom in winter
Other evergreens offer contrast to more feathery grasses. Garden designer Lorenzo Soprani Volpini uses Arbutus unedo (above) for its dark green leathery leaves; and Euphorbia x martini for texture and Viburnum tinus for the small clusters of white and pink flowers that bloom in January and February.
8. Plant out winter favorites
The best winter flowers include favorites such as hellebores and snowdrops, above. Group them in borders, use them in containers or plant them in hanging baskets. They make wonderful blooms for window boxes, too.
See our guide on how to plant a winter container for some further inspiration.
9. Pick plants for wildlife, even in winter
Wildlife garden ideas aren't just for summer – there's plenty you can do to provide for wildlife when looking for winter garden ideas – both in colder months and for the year ahead, too.
'Biodiversity is the buzzword at the moment and we're trying to include a wider range of plants to attract more wildlife,' says Jonny. 'Mahonias (above), for example, flower in winter and offer pollen to bees that wake early.'
10. Grow your own winter garden veg
Winter doesn't mean it's the end of the growing season. If you've really got into growing your own fruits and vegetables, with all their environmental and health benefits, and are looking for kitchen garden ideas that extend into winter, there are many delicious crops that flourish in the colder months.
Carrots and fava beans are just a few examples and make for a perfect side dish to your Sunday roast.
You can also consider growing vegetables within your greenhouse ideas – however if you are planning to keep your greenhouse operational through the colder months, be sure you know how to winterize a greenhouse.
11. Topiary looks its best in a winter garden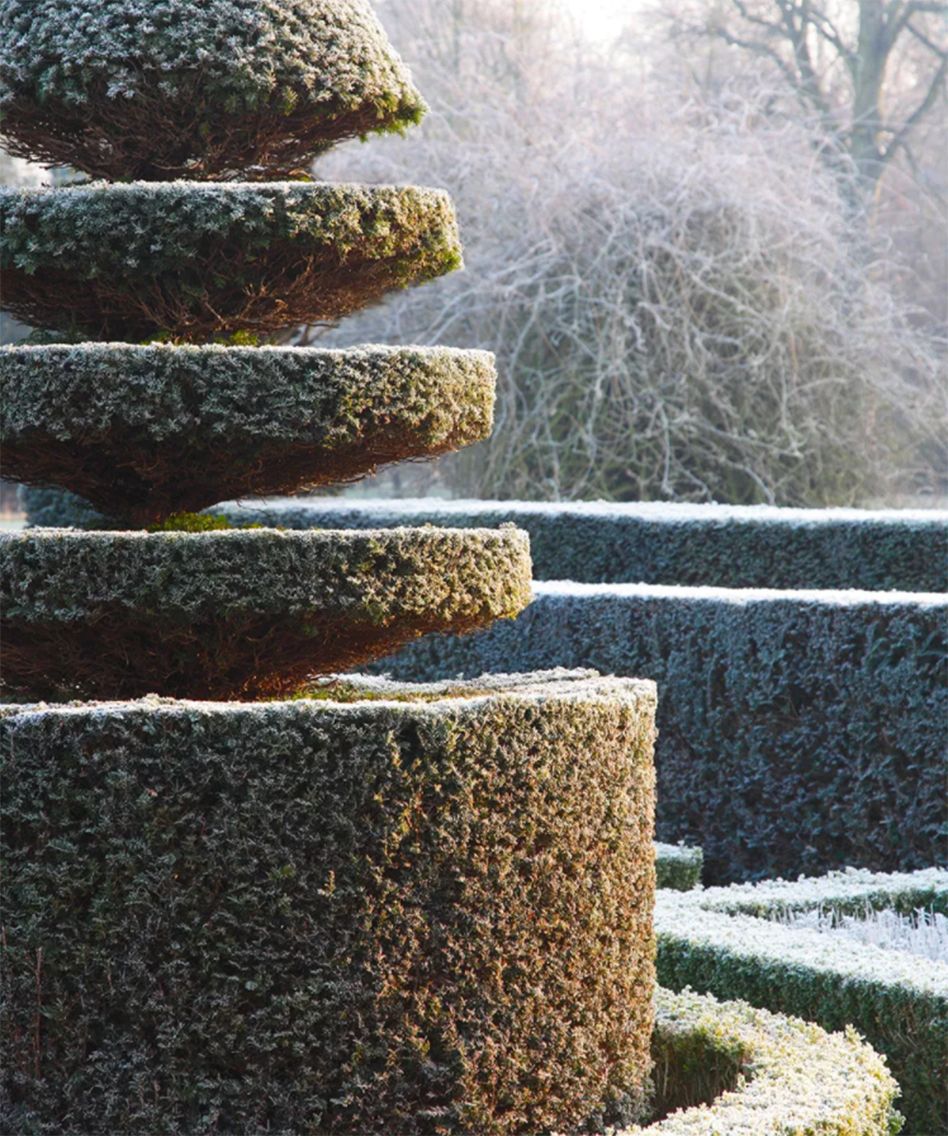 Topiary is a wonderful addition to your list of winter garden ideas. Once the frosts and snows arrive, they take on a whole new dimension, creating stunning sculptural pieces within a space that's much barer in winter than in summer. Of course, they needn't be this large – it's all about the maintenance.
'Many evergreens can grow very big if left to their own devices, so I'd choose those that you can clip into shape, such as yew,' says Jonny Norton.
'Or plant small-leaved hebes, which are fairly hardy and make nice winter features.'
12. Go overboard with winter-flowering bulbs
Container gardening ideas are an easy way to keep a garden looking colorful in winter – and as with winter hanging basket ideas, it makes sense to position them where you can see them.
'I encourage my clients to bring a table close to a window,' says Louisa Bell, 'and to keep a succession of pots filled with bulbs, ivy, cyclamen and auricula. They provide a wonderful splash of color and form close to the house, whilst everything behind has died back.'
13. Group winter flowering plants for added impact
Winter foliage can add the most beautiful textures and muted colors to a garden which is worth remembering when combining plants in a border. If you're looking into how to grow ferns, for instance, they can add wonderful texture to borders.
Garden designer Cheryl Cummings suggests concentrating the effects of flower color by gathering winter flowering species such as helleborus and crocus close together within view of a window or by a path for an uplifting splash of color. Underplant with early narcissus and galanthus for extra flower power.
14. Put up a pergola for evergreen climbers
If your garden lacks shelter, then adding a man-made structure like a pergola could be a good winter garden idea for you. Providing shelter from the winter elements and shade in summer, the pergola is a year-round winner.
15. Pick garden furniture that looks good year-round
The trend for making outdoor spaces an extension of the home shows no sign of slowing down – even in winter, so it makes sense to choose garden furniture – set around a fire pit of course – that can stay outdoors year round. This cuts down on maintenance – you don't have to worry about winter-hardy furniture degrading nor put it away in a garden building – but more importantly, it creates an inviting scene to look at from indoors, on the occasions when it's too chilly to go outdoors.
16. Consider a sheltered space you can use year round
A semi-open sheltered spot that offers a dry spot to sit in winter can look really beautiful – and needn't be difficult to construct. In winter it can provide somewhere to gather with friends; in summer, it can either provide shade or, if set facing south, a private spot to sunbathe.
17. Invest in a chiminea
Take the chill off evenings in the garden with a chiminea or a fire pit. Each is easy to light and uses a range of fuels. The chiminea draws in more air so it will give a stronger heat than a fire basket.
Outdoor heating can come in many guises. From fire pits and chimineas to electric heaters and blankets, there are plenty of accessible and affordable outdoor heating options for large and small winter gardens alike.
18. Hang a bird feeder
Bird houses and feeding birds in cold months are both no-brainer winter garden ideas. Both bird houses and bird feeders need to be positioned where birds won't be vulnerable to predators – as far as possible. This means placing them at least 5ft from the ground. While bird feeders can be positioned close together – near the house allows you to enjoy watching the birds feed – bird houses should be positioned apart – up to 30ft if possible.
19. Invest in garden sculptures and statues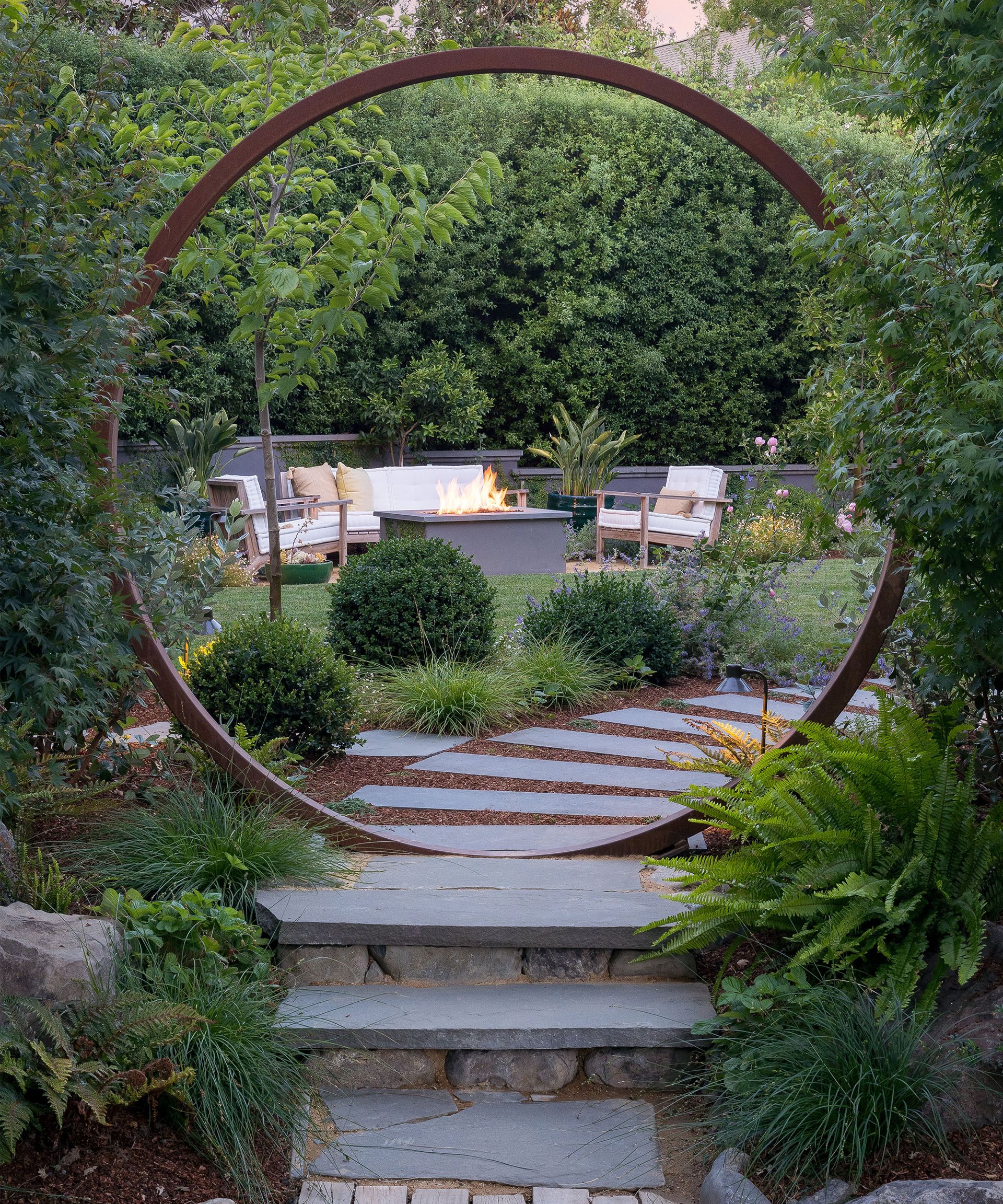 Impervious to weather, garden sculptures should always make it on to a list of winter garden ideas. In summer they will look beautiful, but of course will compete for attention with blooms. In winter, they can frame a view, as above, or perhaps become the focal point of a view from inside the house.
20. Include house plants in your winter garden display
Since we spend so much more time indoors than out in winter, it's always worth in investing in a few of the best winter house plants. From cyclamen to citrus trees, these are the plants that grow well in cool, drafty or heated conditions. Place them near windows or patio doors and you will extend the view of your winter garden ideas from indoors to out.
How do I make my garden look good in winter?
As you would in summer, it's vital to go for a combination of planting approaches to make a winter garden look fabulous.
That means ensuring there are plenty of evergreens to provide color, texture, privacy and shelter for wildlife. Planting for winter flowers and scent is a must, too, so that you can enjoy your garden when you're in it, but also from indoors. Keeping the garden tidy by sweeping up leaves in autumn is important, but don't forget to leave a leaf or log pile for wildlife to live or hide in. Then, of course, rely on containers around the house or at view points within the garden so that you can enjoy some extra splashes of winter color.
Lastly, continue feeding birds in winter so that when there's not much to look at when it comes to flowers and foliage, there's still plenty of entertainment as they arrive in your garden.
Sign up to the Homes & Gardens newsletter
Decor Ideas. Project Inspiration. Expert Advice. Delivered to your inbox.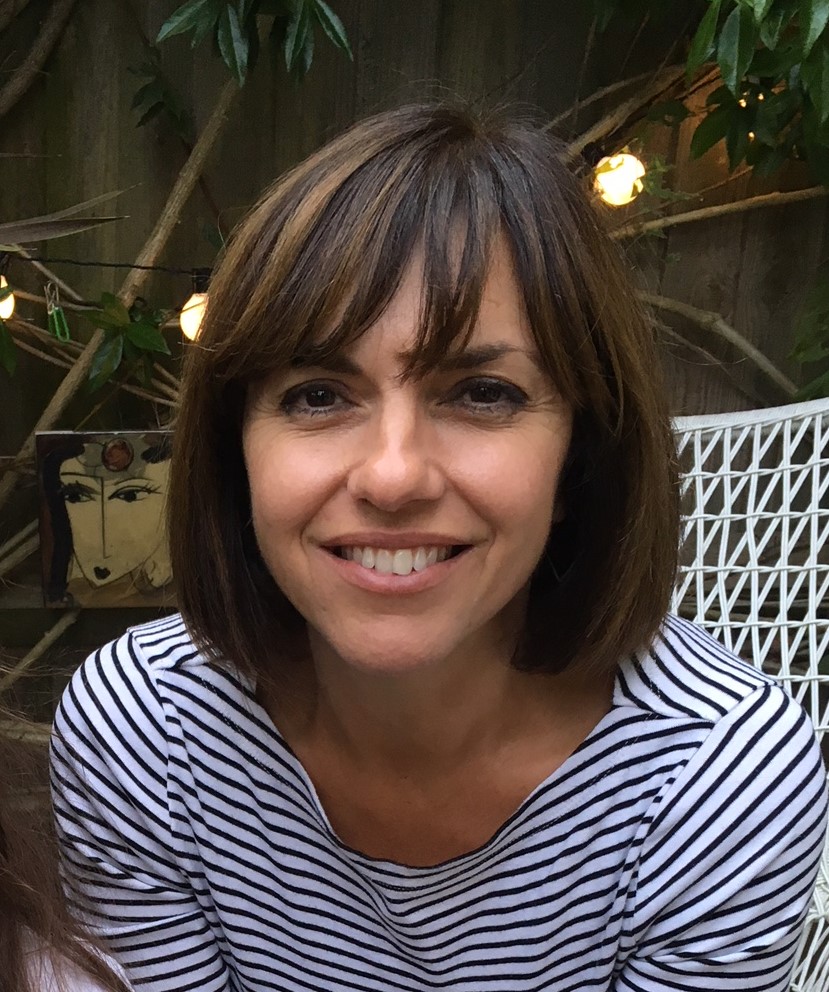 Lucy Searle has written about interiors, property and gardens since 1990, working her way around the interiors departments of women's magazines before switching to interiors-only titles in the mid-nineties. She was Associate Editor on Ideal Home, and Launch Editor of 4Homes magazine, before moving into digital in 2007, launching Channel 4's flagship website, Channel4.com/4homes. In 2018, Lucy took on the role of Global Editor in Chief for Realhomes.com, taking the site from a small magazine add-on to a global success. She was asked to repeat that success at Homes & Gardens, where she has also taken on the editorship of the magazine.