Planning a winter garden: 10 inspiring winter garden ideas and expert advice
Here's how you can transform your winter garden into a winter wonderland in easy steps from the world's greatest designers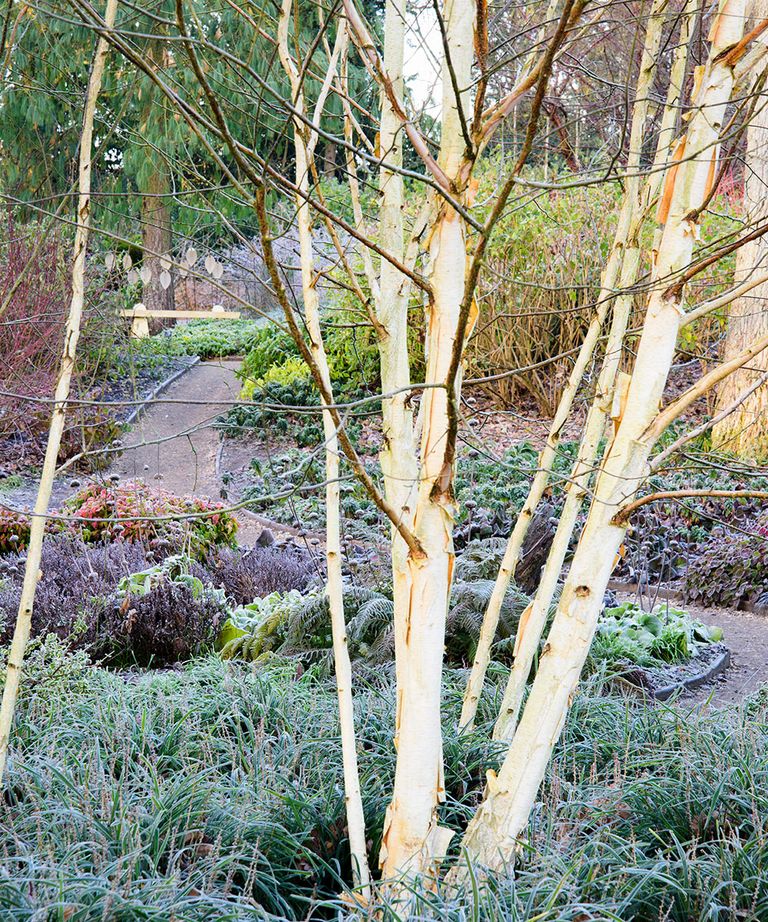 (Image credit: National Trust / Carole Drake)
By Lucy Searle
Planning a winter garden might seem more complicated than just planning a garden for the spring, summer and autumn – but there are plenty of achievable ways to keep your backyard looking super-smart throughout the cold season.
Well-designed winter garden ideas can be full of elegant, architectural foliage, vibrant stems and dramatic colors, wherever you live. 
So if you are looking for winter garden planning advice, ideas and inspiration, look no further – we talked to Jonny Norton, head gardener at Mottisfont Abbey, a historical priory and country estate in Hampshire, England, and to five designers from the Society of Garden Designers to ask them to share their tips on how to take your garden through winter in style.
1. Maintenance comes first in a winter garden
'It's surprisingly busy,' says Jonny Norton. 'We prune the roses and some fruit trees, and clip the trees in our Lime Walk. The glasshouses are cleaned, ready for spring.'
See: How to look after roses – with tips from a National Trust gardening expert
2. Grow the best winter plants
'I love the fragrant plants, such as winter honeysuckle Lonicera fragrantissima and the witch hazels, with their delicate spidery flowers and intense perfume. I see visitors literally stopping in their tracks when they get a whiff of them,' says Jonny.
3. Bring structure to a winter garden
'We have beautiful dogwoods, which form dazzling clumps of colorful winter stems, and the elegant Himalayan birches Betula utilis, with their snow-white stems, which create wonderful structure in winter,' says Jonny. 
'I also love the ghost bramble Rubus thibetanus, which produces tangles of silvery prickly stems that sparkle when dusted with frost.
'The birches and bramble are happy in a sunny site and reasonably moist soil, while the dogwoods, such as Cornus sanguinea 'Anny's Winter Orange', need damper conditions to thrive – a spot by a natural water feature would suit them best.
'Structure forms the backbone to a garden throughout the year but is especially important in winter,' says garden designer Lisa Cox. 'Evergreen plants and shrubs play a leading role, but the hard landscaping can also provide interest when the softer summery foliage and flowers have disappeared. An interesting wall, for example, or intricate detail in the paving can really help to bring additional interest when bare soil is on show.'
Louisa Bell MSGD recommends including a framework of skeletal trees with multi-stems or fan-trained figs but also acknowledges the importance of evergreens, saying: 'Buxus, Taxus and Ilex create great structure in the winter garden giving form to borders and creating a foil to emerging bulbs.' 
Be sure to knock any snow off box balls though or they will splay apart.
Other evergreens offer contrast to more feathery grasses. Lorenzo Soprani Volpini uses Arbutus unedo (above) for its dark green leathery leaves; and Euphorbia x martini for texture and Viburnum tinus for the small clusters of white and pink flowers that bloom in January and February
4. Choose winter plants for color, too
Plants with colourful stems and bark really come into their own in winter especially planted en masse for maximum impact. 
'If you have the space there's nothing more heartwarming on a dull winter's day than a border of dogwoods,' says Debbie Roberts MSGD, whose colorful winter stems range from yellow and gold through to bright orange, red and purple. Punctuated with the white stems of birch trees and evergreen mounds of rhododendron they can create a spectacular winter display.
'Plant them in a spot where they'll catch the sun they can play an even bigger role,' says Lisa Cox MSGD. Her favourites include Acer griseum, rich coppery bark that lights up when the sun catches it.
5. Pick plants for wildlife, even in winter
'Biodiversity is the buzzword at the moment and we're trying to include a wider range of plants to attract more wildlife,' says Jonny. 'Mahonias (above), for example, flower in winter and offer pollen to bees that wake early.'
See: Wildlife garden ideas, from The National Trust's garden experts
6. Use evergreens in a winter garden
'Many evergreens can grow very big if left to their own devices, so I'd choose those that you can clip into shape, such as yew,' says Jonny Norton. 
'Or plant small-leaved hebes, which are fairly hardy and make nice winter features.'
7. Use ornamental grasses for winter gardens
Grasses are a firm favourite in autumn gardens but many of them will retain their billowing shape right through the winter to early spring. 
'Resist the temptation to cut down the spent foliage,' says Debbie Roberts who favours the low billowy form of Hackonechloa macra for its russet winter tones that provide a soft orange fringe when lit by the winter sun.
'On sparkling cold days in the depths of winter the best and longest lasting grasses can transform gardens into Narnia, as their fine lines and elegant shapes are coated in hoarfrost,' says Cheryl Cummings MSGD.
'Mixing grasses with evergreen plants is also a good idea' add Lisa Cox. 'The movement and softness creating a different dimension against the solid structure of evergreens.' Try Miscanthus 'Morning Light', Calamagrostis 'Karl Foerster', Pennisetum 'Hameln' and Poa labillardieri.
8. Don't forget bulbs and pots
Window boxes and pots are an easy way to keep a garden looking colorful in winter but you will need to edit them throughout the season.
'I encourage my clients to bring a table close to a window,' says Louisa Bell, 'and to keep a succession of pots filled with bulbs, ivy, cyclamen and auricula. They provide a wonderful splash of color and form close to the house, whilst everything behind has died back.'
Auriculas start to flower from November and can be brought into the house along with forced bulbs. When going out to check on them, you might even be encouraged to pick up the rake, clear a few leaves and – before you know it – you've spent a few happy hours in the garden.
See: Container gardening ideas – ways to create a lush oasis in the smallest of spaces
9. Make the most of winter foliage and color
Winter foliage can add the most beautiful textures and muted colors to a garden which is worth remembering when combining plants in a border.
Garden designer Debbie Roberts recommends the strong vertical stems of Miscanthus and Pennisetum grasses combined with Perovskia Blue Spire to create a pale, soft and wispy contrast to spent flowerheads.
Garden designer Cheryl Cummings suggests concentrating the effects of flower color by gathering winter flowering species such as Helleborus and Crocus close together within view of a window or by a path for an uplifting splash of color. Underplant with early Narcissus and Galanthus for extra flower power.
10. Take advantage of low winter sun
The low winter sunlight can create magical effects in the garden, silhouetting leafless trees and backlighting tall plants and grasses, especially on frosty mornings.
'Positioning plants to make the most of it will add another dimension to the winter garden', says Debbie Roberts, while Cheryl Cummings recommends positioning a sculpture to add focus and charm whatever the weather.
What do you put in a winter garden?
Other than what's above, you can also look to plant fruit and vegetables for a kitchen garden that will keep on giving throughout winter.
Think: potatoes, garlic, leeks, onions, radishes, then greens such as chard, spinach, kale and bok choi. There's rhubarb, too, for fruit-lovers. 
See: How to grow potatoes – a step-by-step guide
How do I make my garden look good in winter?
As you would in summer, it's vital to go for a combination of planting approaches to make a winter garden look fabulous.
That means ensuring there are plenty of evergreens to provide color, texture, privacy and shelter for wildlife. Planting for winter flowers and scent is a must, too, so that you can enjoy your garden when you're in it, but also from indoors. Keeping the garden tidy by sweeping up leaves in autumn is important, but don't forget to leave a leaf or log pile for wildlife to live or hide in. Then, of course, rely on containers around the house or at view points within the garden so that you can enjoy some extra splashes of winter color.
Lastly, continue to feed birds so that when there's not much to look at when it comes to flowers and foliage, there's still plenty of entertainment as they arrive in your garden. 
See: Monty Don reveals his tips for feeding birds through the winter
My first job was writing a DIY column for a magazine for the over 50s (which seemed a long way off back then). I then moved to a DIY magazine as deputy ed, then freelanced my way around the homes departments of most women's magazines on the market before working on Your Home and Family Circle magazines as homes editor. From there, I went to Ideal Home magazine as associate editor, then launched 4Homes magazine for Channel 4, then the Channel 4 4Homes website before going back to freelancing and running a social media business (you can see where I had kids from the freelancing gaps!). I was tempted back to the world of big business by the chance to work with the great team at Realhomes.com, where I was Global Editor-in-Chief for two and a half years, taking it from a small website to a global entity. I've now handed the reins of the website to our American managing editor, while I take on a new challenge as Editor-in-Chief of Homes & Gardens.