Outdoor seating ideas – 15 ways to make your backyard as comfortable as indoors
Once purely practical, outdoor seating ideas are now just as good-looking, imaginative and comfortable as indoor options. These are our favorite ideas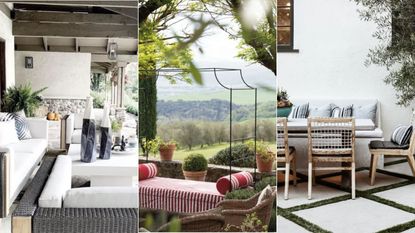 (Image credit: Shoshanna Shapiro / Sho and Co / A House Party in Tuscany / Thames & Hudson / Kate Anne Designs / Jeffrey Brian Riemer)
The right outdoor seating ideas can turn any outside space into a haven, a home from home which will make you want to sit outside every night of the week, all year round.
Choosing the right outdoor seating is key to enjoying your backyard and outdoor space, not just in summer but year-round. But there is such a huge choice available – from huge squashy family-sized couches to neat little wrought iron bistro sets – it can be difficult to hone in on exactly what will suit your backyard ideas, needs, space and budget.
It's possible to pick up a new synthetic rattan outdoor sofa on a metal frame for a few hundred dollars, but most people want to choose outdoor seating that will last and still look good after years of relaxing, entertaining and al fresco events. Or perhaps you would prefer a built-in option that is an integral part of your backyard landscaping ideas?
It's perfectly sensible to be more conservative with your choice of outdoor seating than you would when planning to replace indoor furniture. It can be a significant financial investment – and may even involve making special arrangements for delivery if access to your yard is tight.
So take your time and consider these outdoor seating ideas and expert tips, which should help you make up your mind.
Outdoor seating ideas
Whether you are looking for outdoor seating for your outdoor living room or as outdoor dining ideas, you should always opt for comfort, styles that will stand the test of time and a strong frame and structure built of weather-resistant materials.
Cheapest is definitely not always best; it's worth shopping at the best outdoor furniture stores and paying a few hundred dollars more for outdoor seating that is good quality and comes with a manufacturer's warranty.
If you're interested in wood-framed outdoor seating, the best outdoor chairs are made of teak, which weathers and ages really well. If you like the textured rattan look, natural rattan isn't waterproof, so opt for high quality synthetic rattan instead. To avoid too much damage from sun and bad weather, choose cushion fabrics that are UV and mildew-resistant.
1. Go for a catch-all, family-sized sofa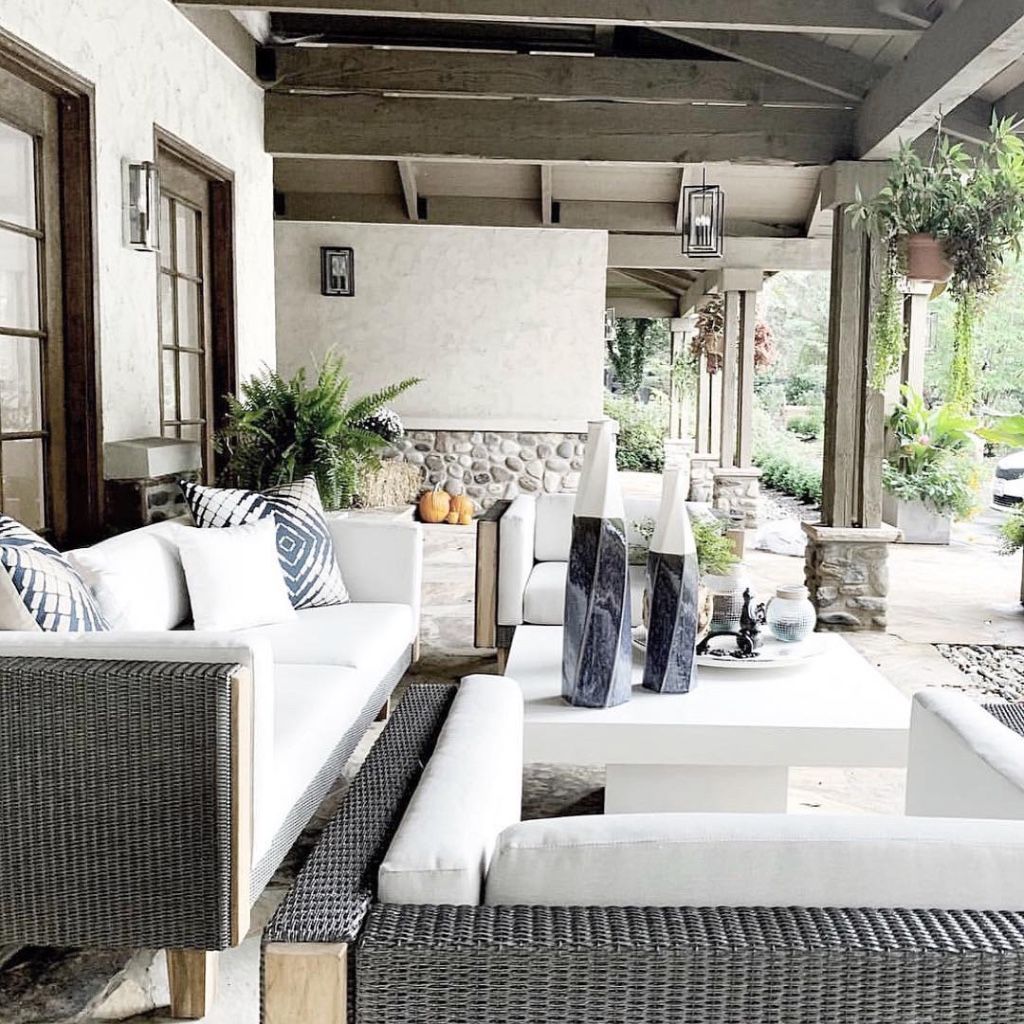 The best patio furniture ideas are those that have been chosen with as much care as is given to the purchase of a brand-new couch for your living room. Treat your outdoor space just like inside of your home; consider who is going to be sitting outside, how it will be used, how often and at what time of day and year. This is vitally important if you are designing an entertaining garden.
Asking yourself these questions will help determine how many actual seats you need and how flexible your seating options need to be.
So, for instance, with a sofa, you might consider a mix-and-match arrangement; seating that allows you to stretch out fully and relax alone, but doubles up as a family berth. Practical, space-saving touches such as built-in tables for ease and armrests for comfort are all worth thinking about.
Or, group your outdoor seating ideas as you would indoors, with a couch and armchairs gathered around a coffee table, atop an outdoor rug.
2. Get your outdoor seating's proportions right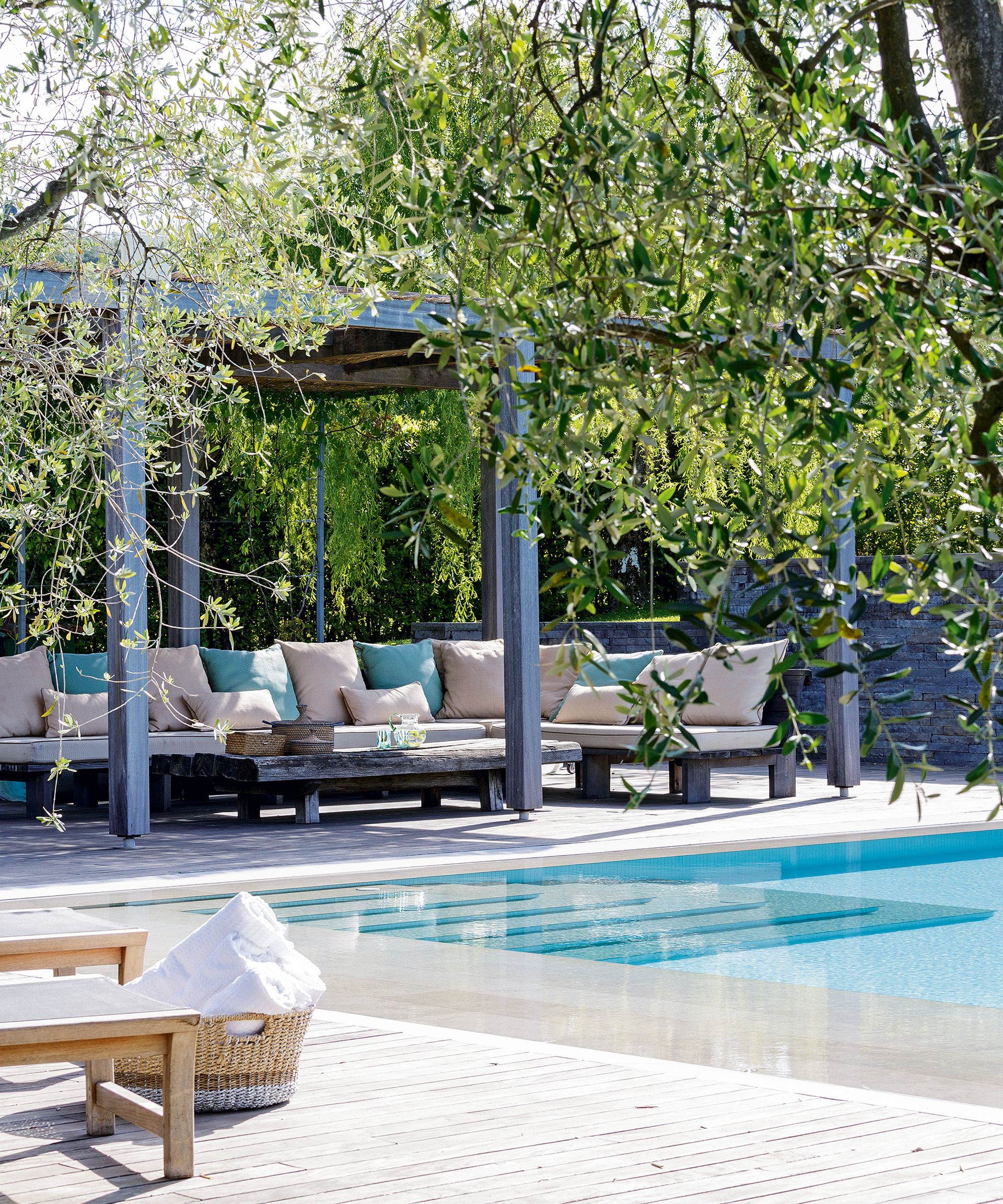 Being comfortable in your outdoor seating is not all about the depth of the cushions or the angle of a chair. You also need to factor in the space you have available and how you and your family and guests will move around that space when the seating is in place, especially if you are looking at pool area ideas or pool patio ideas.
'You should carefully measure the space you have before you go out shopping, making sure there is enough room between each piece for easy access and stretching legs,' says Richard Searle, product manager at garden furniture company Kettler.
Remember, there's no such thing as one-size-fits-all when it comes to finding outdoor seating. If your space is limited, don't over-stuff it with a huge L-shaped sofa; chose a neat contemporary style instead, or two armchairs with a useful table in between.
3. Choose carefully for small backyards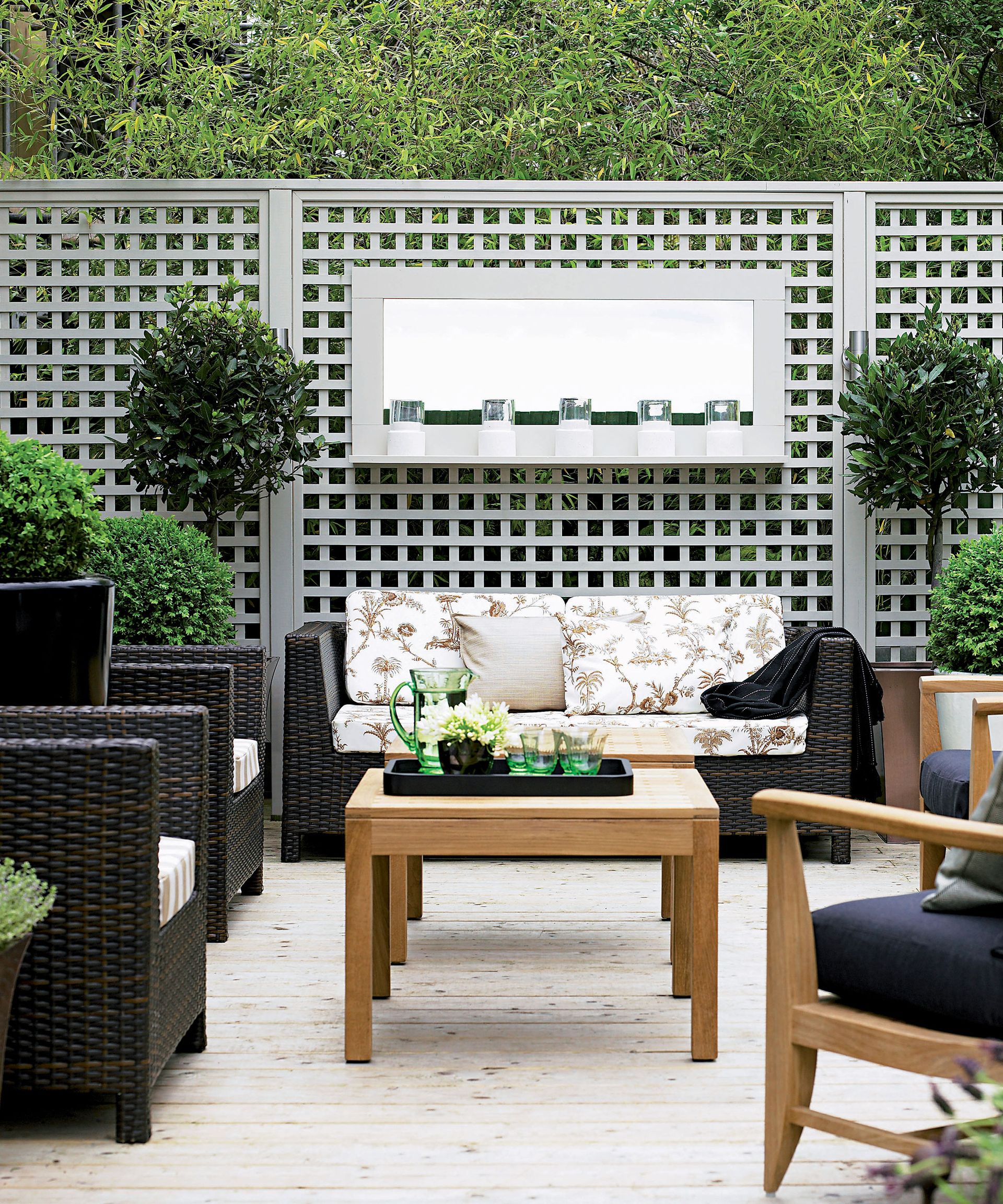 A L-shaped corner unit provides an ideal outdoor seating solution, especially in small backyards. However, although it maximizes the space available for seating, a corner unit can be clunky and visually over-bearing.
You might want to break up the seating instead. This allows for more flexibility and can be more supportive to individual needs, especially if you're often going to find yourself seating a large group of people of differing ages.
'If a corner unit isn't for you, there is also a variety of outdoor sofas available too with armchairs to match,' says Reilly Gray, founder of outdoor furniture company SUNS Lifestyle.
'These tend to give you a bit more flexibility as you can play with the setup. You may even want to place an armchair further down the garden to create a secret outdoor reading nook, or simply have a space to escape a garden party.'
4. Find inspiration for outdoor seating in hardscaping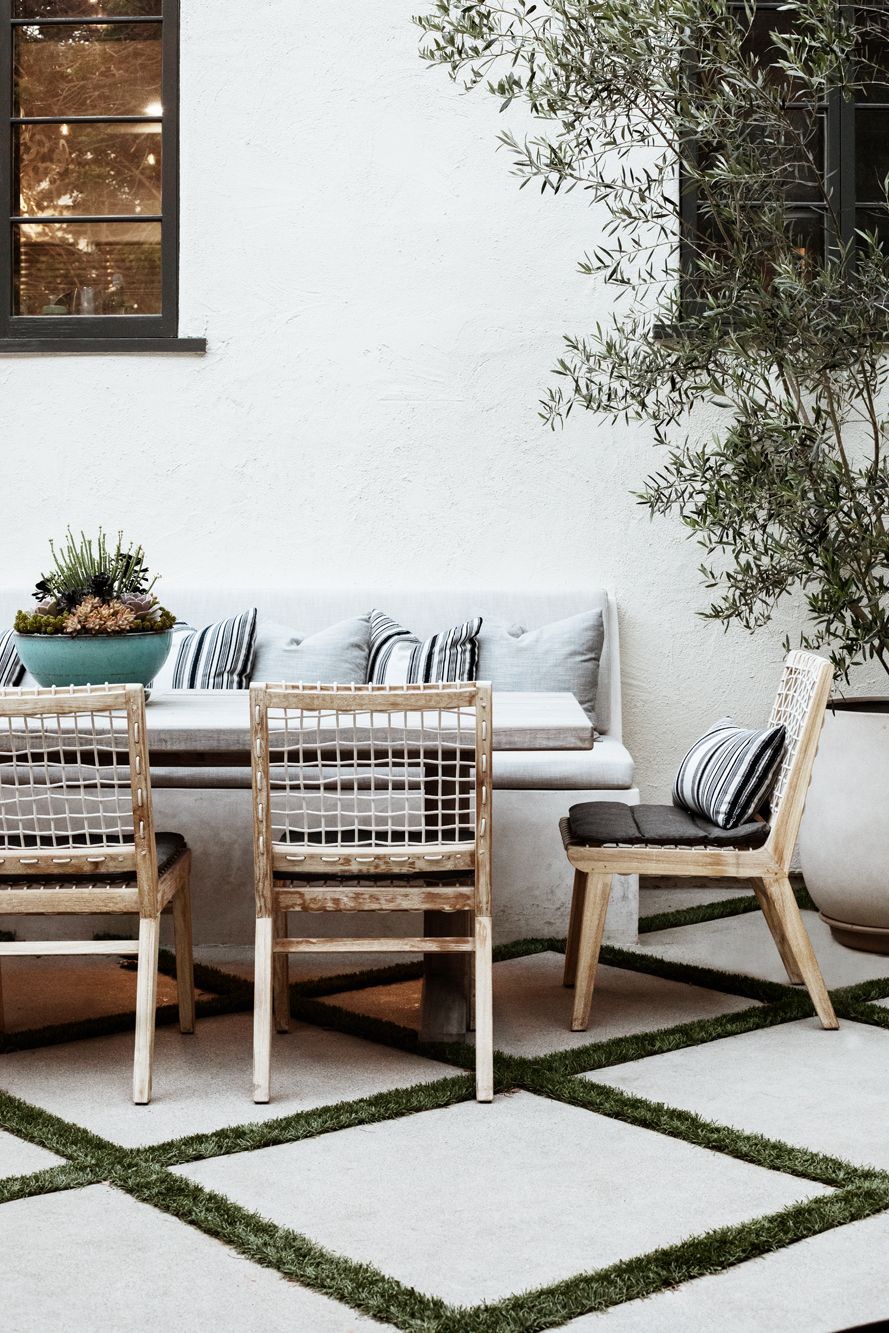 How your backyard is designed and the plants, flowers and trees you already have in place will help to determine the kind of outdoor seating you should choose.
'If you have trees for shade, it would make sense to use it as a starting point to create a relaxing area which would demand a comfortable seat, even a hammock,' says Lucy Searle, global editor in chief of Homes & Gardens. 'Or, perhaps you want to create a sleek, space-saving feature with built-in seating, whether for lounging or dining? In which case a variation on the built-in seating above is a good option.'
Outdoor seating can be a very dominant feature, so think of the overall scheme. Seating with sharper, squared edges and neutral tones will suit a slick contemporary outdoor look; if your garden is brimming with cottagey roses and you're keen on creating a romantic vibe, go for generous curved seating with plump cushions.
5. Make space for an open-air, laid-back office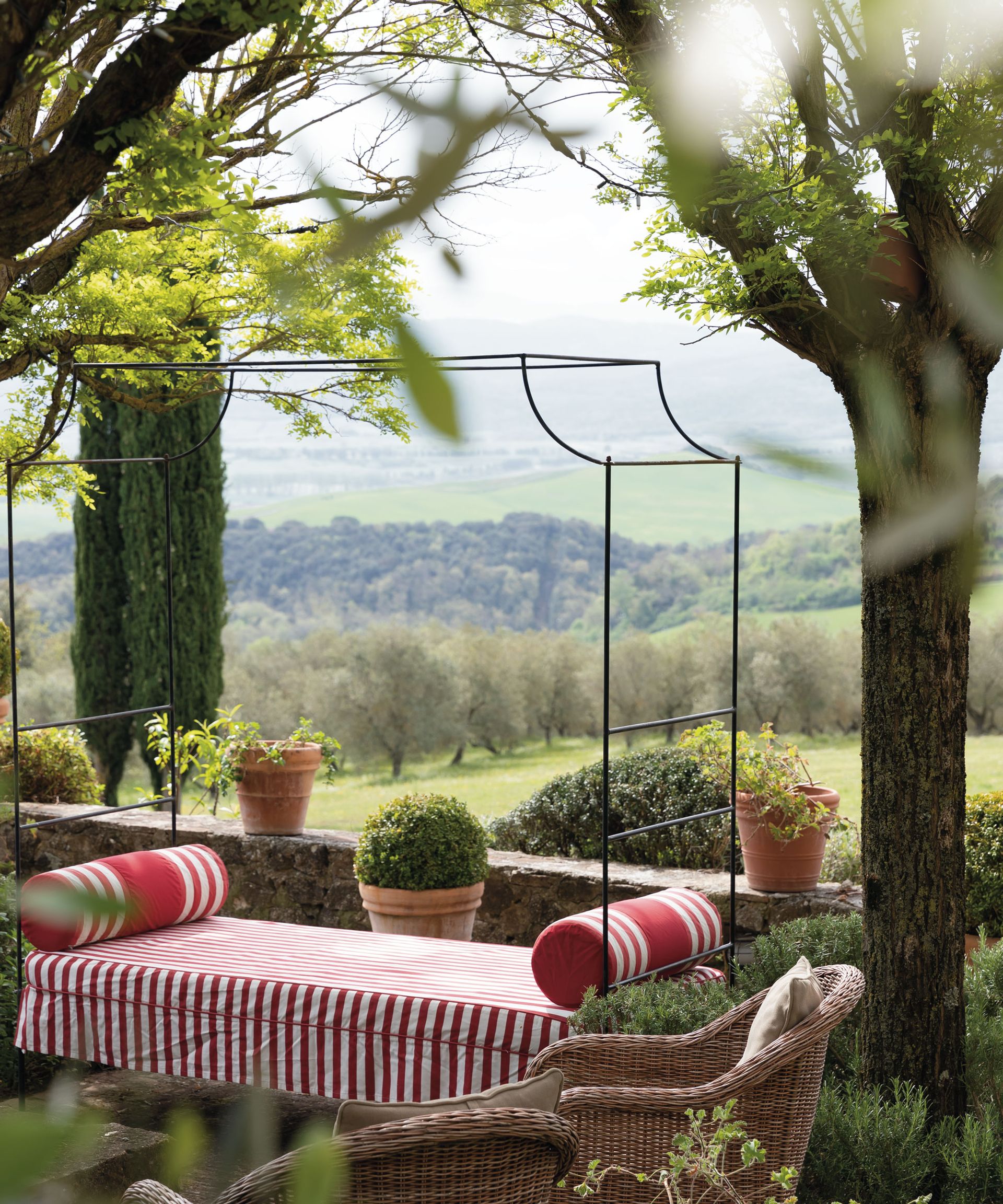 So many of us now work from home at least a couple of days a week. During warmer months it's a shame not to be able to take the laptop outside and soak up some rays too. If you're choosing outdoor seating for this purpose, it's got to be both comfortable and suited to your working style.
'Something like a high-backed chair, with a footstool, is perfect for a more casual work from home set-up, and will easily work outdoors,' says Andy Baxter, managing director of outdoor furniture company, Maze Living. 'Or, you may like to consider a daybed or pod chair. This will provide shade from the glaring sun but is a more comfortable solution than a typical table-and-chairs set-up.'
6. Choose a bespoke bench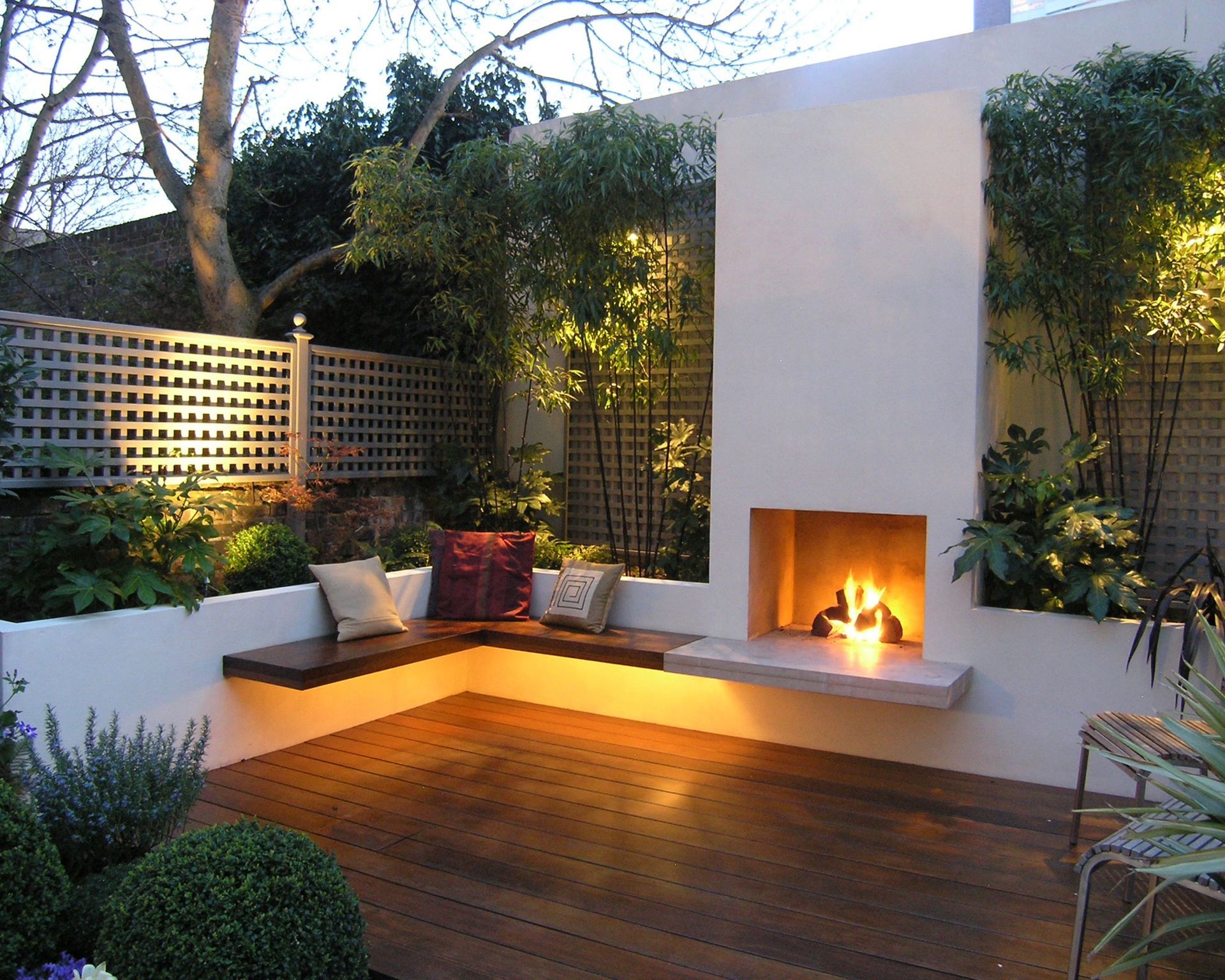 If you have limited space, or a tricky backyard layout, the most effective solution could be to go bespoke and have a built-in backyard bench designed. This is a good option to explore if you're renovating the whole outdoor space; you can incorporate your specially-built outdoor seating into the overall landscaping design.
It's a lovely idea to bring in planting alongside bespoke outdoor seating; add side-beds with fragrant and colorful flowers and herbs. Built-in bench outdoor seating can also be designed with storage in mind. Lift-up lids provide the ideal place for storing cushions, tools and children's outdoor toys, during colder months.
Or, you can group outdoor seating like this around outdoor fireplace ideas or backyard fire pits.
7. Choose seating for your front porch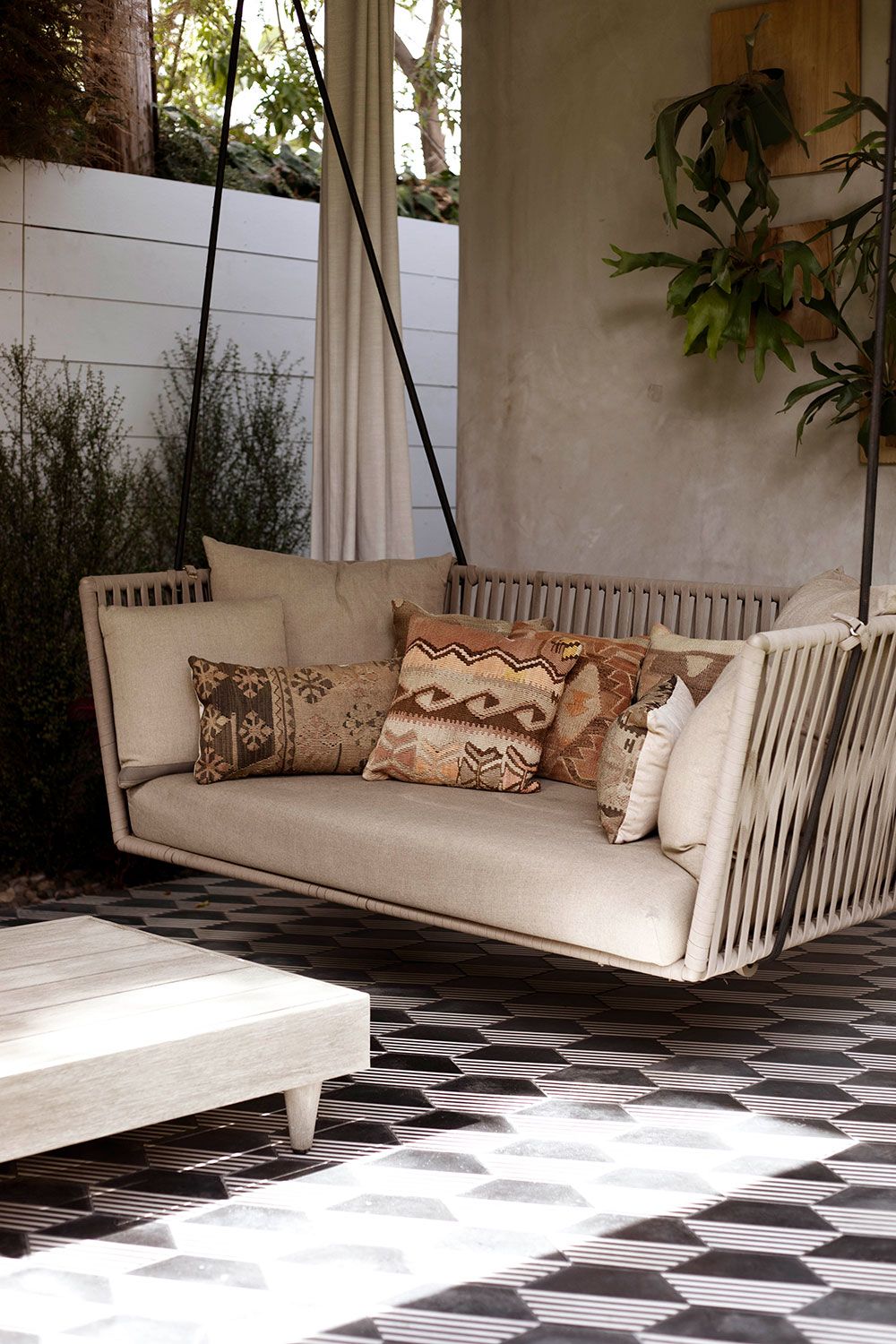 If you are looking for front porch furniture ideas, decadence is a must, and you can achieve that by including swings and hammocks in your outdoor seating ideas.
There's something about the motion of a moving seat that makes anyone feel relaxed. And a hammock, either suspended between two trees or positioned on a metal or wooden stand, is the perfect cocooned space to take an afternoon nap, whatever your age.
If you love the wow factor, a stylish teardrop or egg-shaped swinging chair is an impressive addition to any backyard. These arched, suspended chairs add a touch of boho chic to any outside space, and can easily be taken indoors in fall and winter.
8. Buy outdoor seating that suits the local climate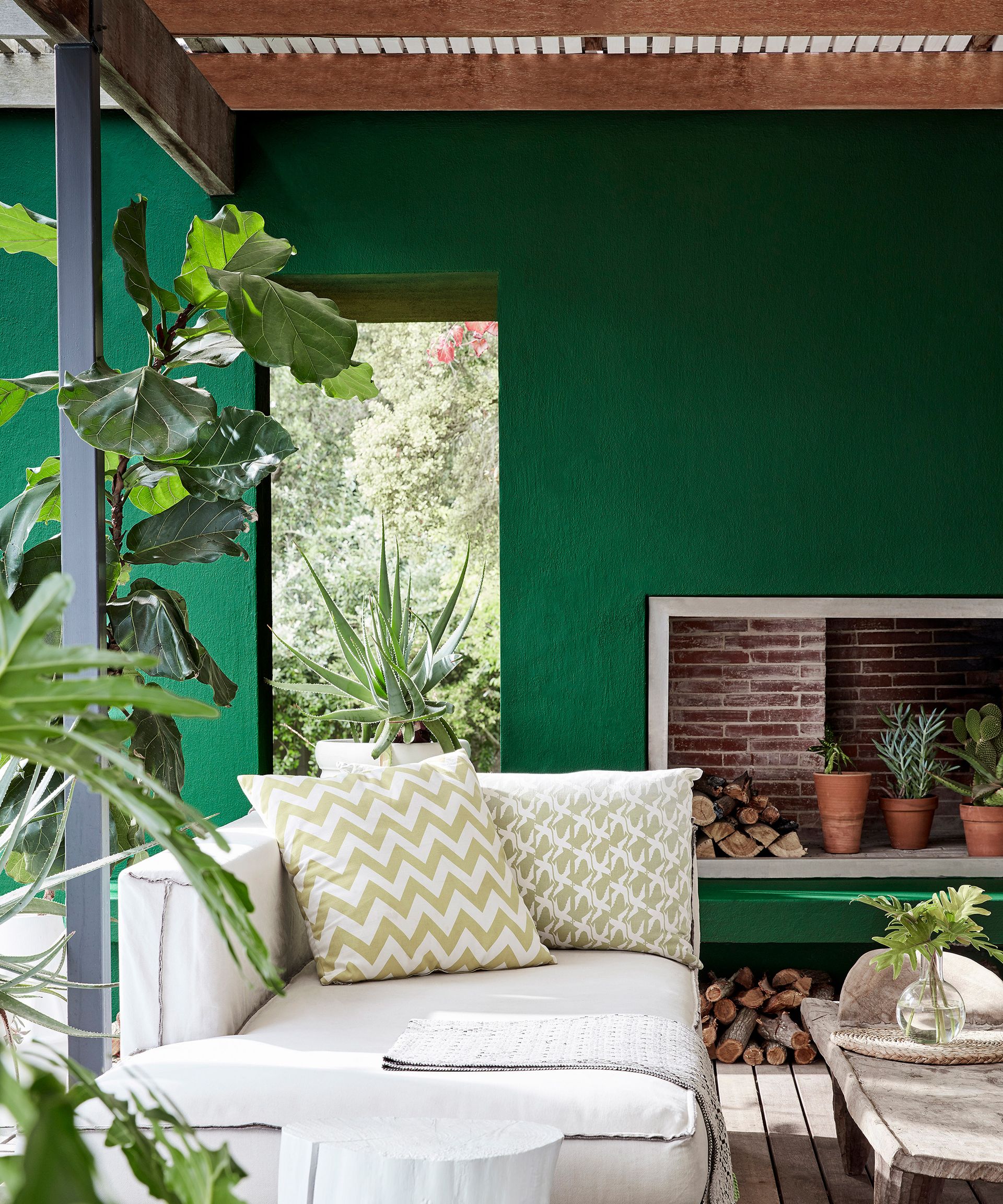 If you live an area prone to extremes of climate – and these days, who doesn't? – you want outdoor seating ideas that will withstand the harshest of weather. So before you look at anything else, check the frame.
Aluminum is the hardest-wearing and most weather-resistant frame material for outdoor seating. It's sturdy, solid and rust-resistant, hard to dent or damage, and moisture won't cause rust. It's especially good in coastal and high humidity areas.
If you are looking for the best wooden outdoor furniture, sustainably-produced hardwoods such as teak are a good choice too, but will require more maintenance, including an annual oiling, sealing or varnishing. With wood-framed outdoor seating, check that bolts and fastenings are ideally brass and super-strong to guard against rust and fatigue.
Plastics and metal are also commonly used for frames. Assess the quality and rigidity. Try to choose plastic and metal-framed outdoor seating that comes with a manufacturer's guarantee.
If your outdoor seating is under cover, you can afford to be more relaxed with the frames, though it is still ensuring how tough the cushion fabrics and fillings are and their water-resistance.
9. Look for flexible seating to suit your space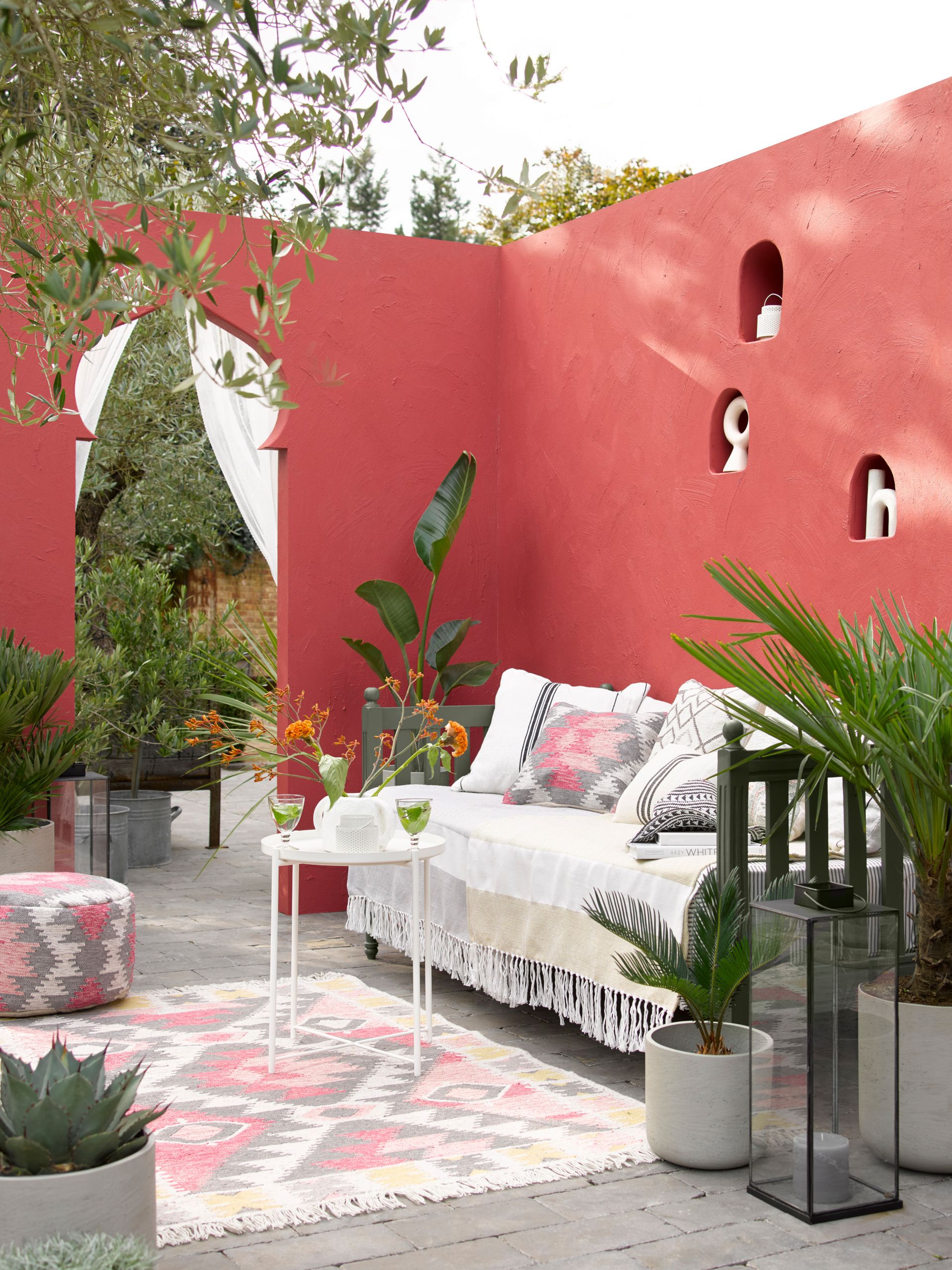 Modular outdoor seating is one of the most useful of outdoor living inventions, especially for smaller gardens and backyards where flexibility is important; switching from cozy seating for two to plenty of space for family and friends to sit down and relax at parties and gatherings.
'However, be aware that on the occasions when you're not sitting on all the pieces of a modular furniture set, perhaps wanting to use the space for something else, you need to have somewhere to put the parts you're not using,' says Lucy Searle. 'Always make sure that there is room in your outside space to store them away.
'An alternative is to choose multiple smaller pieces of furniture that can sit separately in various parts of the backyard for most of the time, then be easily moved when there is a gathering.'
10. Zone your back yard with outdoor seating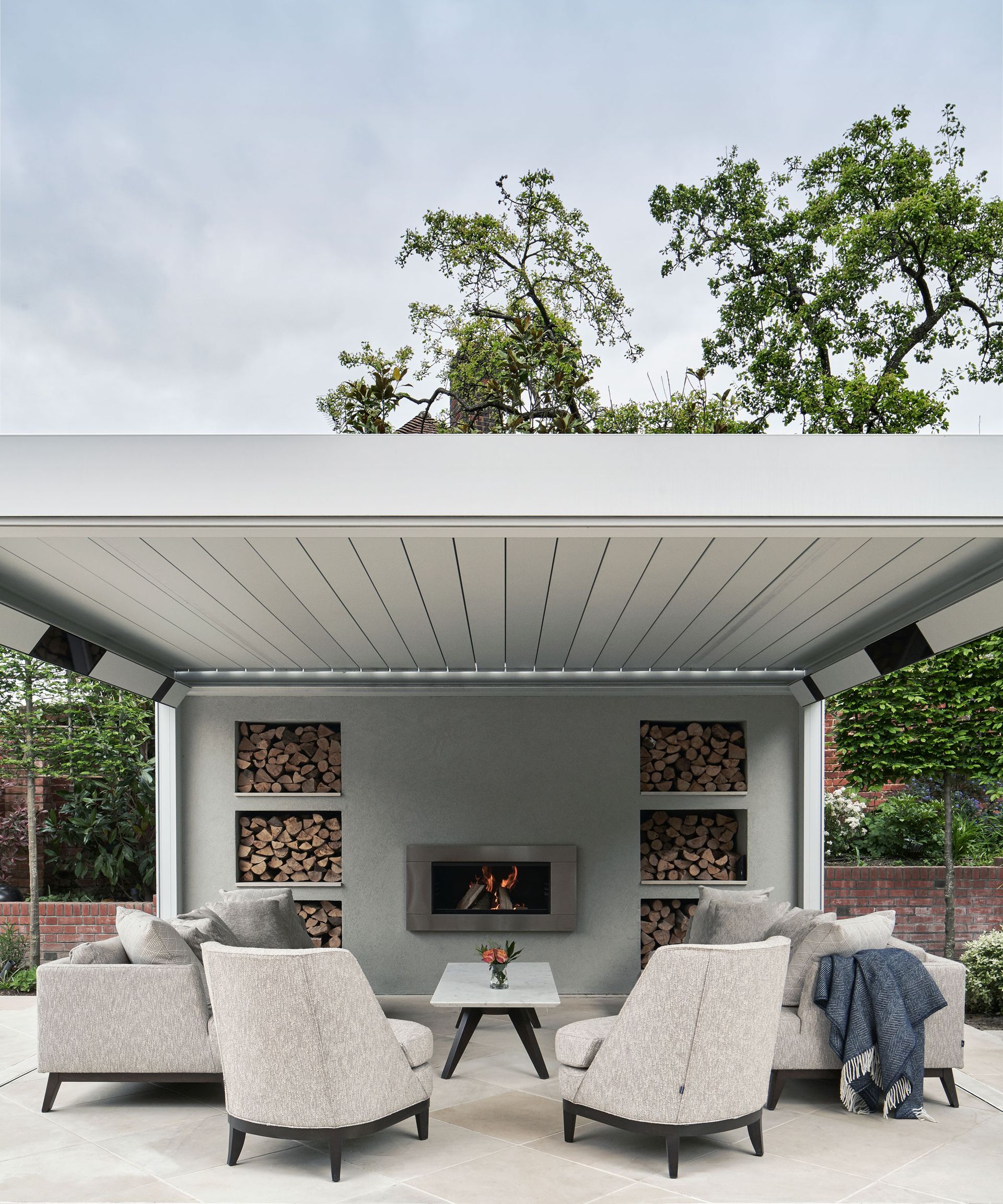 The best aspect of planning outdoor seating is all that wide open space to play with, even if you only have a backyard or patio.
So think garden zoning to give your seating purpose rather than scattering it about with no clear function. When considering how to plan your outdoor seating zones, bear in mind natural features such as a breath-taking view – could be urban or rural – and where the sun rises and sets. Or, perhaps you're gathering outdoor seating around a landscaping feature, such as a fireplace?
You'll want somewhere comfortable to sit to enjoy these special moments. Catharina Björkman, Scandi interiors expert at stove company Contura likes to zone outdoor seating areas to maximize light and warmth. She might use chairs and a table, outdoor sofas and sun loungers to delineate the purpose of each zone, which she marks out with planters, flower-beds, gravelled, lawned, decked or paved areas.
'This approach will help to create that definite 'extra room' feel for your outdoor seating,' she says. Adding a canvas shade or awning over your seating not only provides protection from the sun on hot days, it also creates a cozy 'ceiling' above your outdoor room.
11. Link indoor and outdoor spaces with furniture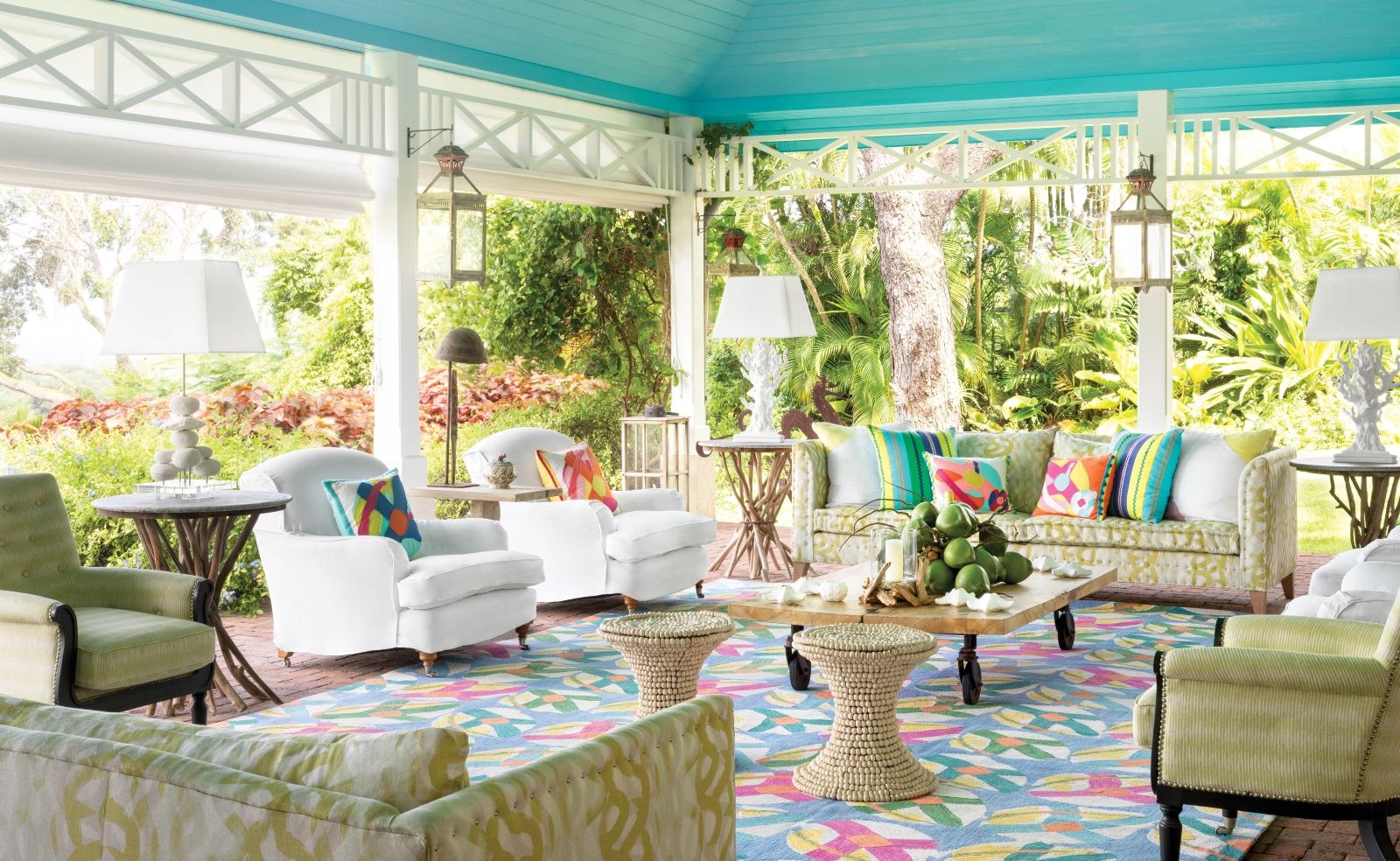 A seamless feel which carries through from indoors is the key to creating welcoming outdoor living space you will want to use all year-round. If your interior is minimalist, for instance, vintage outdoor seating will look odd and disjointed. Achieve visual harmony by choosing outdoor seating which echoes indoor furniture in terms of shape, style and shade, although you can pick a main outdoor seating color which tones in or complements, rather than tries to match up exactly with the interior scheme. So go for a navy blue with white walls, or a beige with darker browns indoors, perhaps.
Martin Waller, founder of global design brand Andrew Martin, says a quick and simple way to strengthen a visual connection is to add outdoor scatter cushions that reflect the colors and textures of indoor textiles. An outdoor rug echoing an indoor rug would perform a similar trick, shown here masterfully in a space designed by Kit Kemp.
12. Create a comfortable outdoor dining area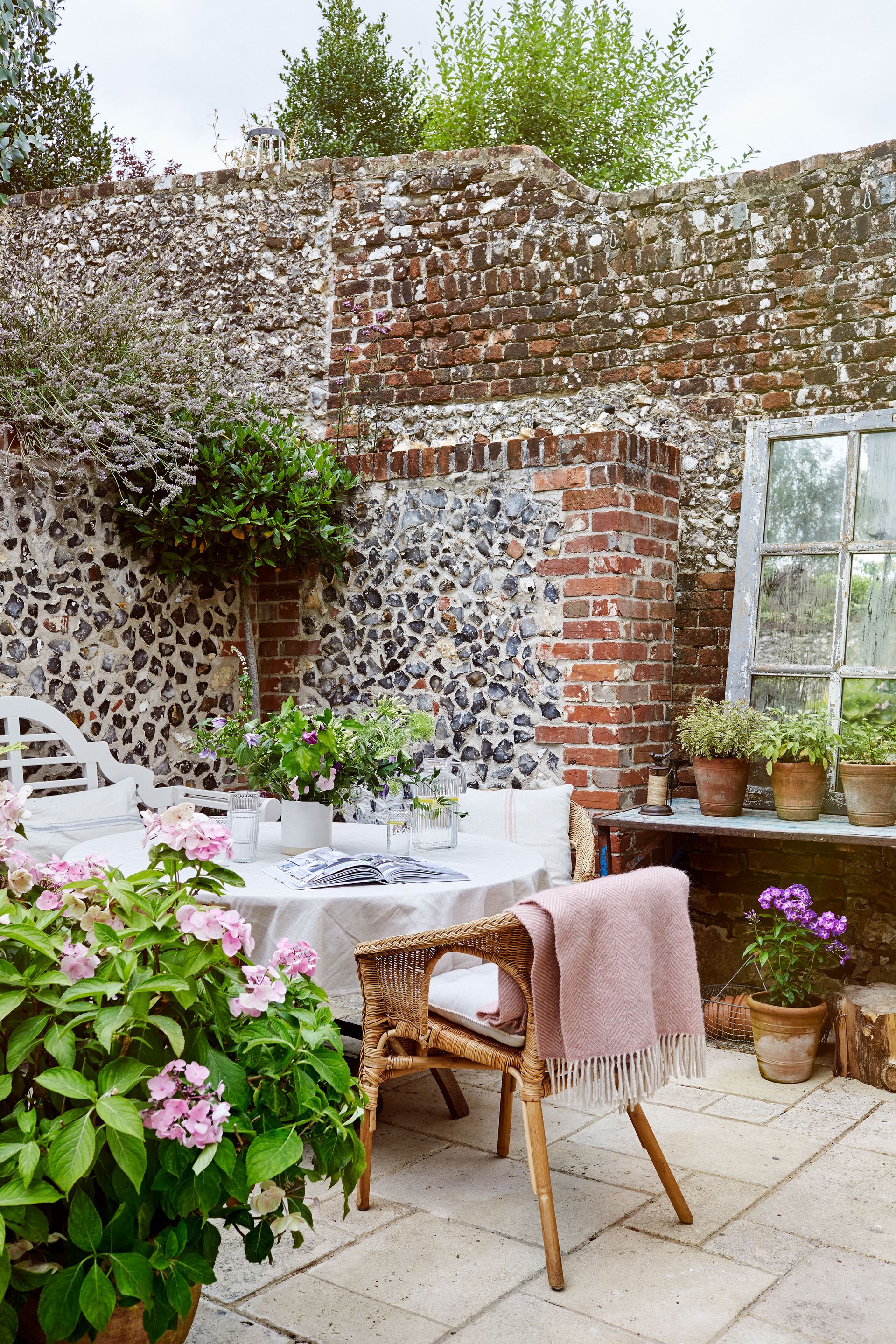 It's vital that outdoor dining chairs are as welcoming as those indoors, though they will need to stand up to the weather. It's also important that they match up to your backyard's theme or landscaping.
This Georgian cottage has characterful historic flint-walls, and the relaxed dining setting features a classic Lutyens bench, designed by the Arts & Crafts architect Sir Edwin Lutyens, alongside vintage cane chairs for a traditional feel.
A relaxed linen tablecloth, cushions in vintage French linen, and a pastel wool throw make the perfect soft touches so that the space feels cozy and welcoming.
If you are looking for furniture for a small backyard ideas then round tables are a practical solution as the circular shape is far easier to fit into tight corners. Outdoor mirrors are also a brilliant way to create the illusion of space.
13. Make time for tea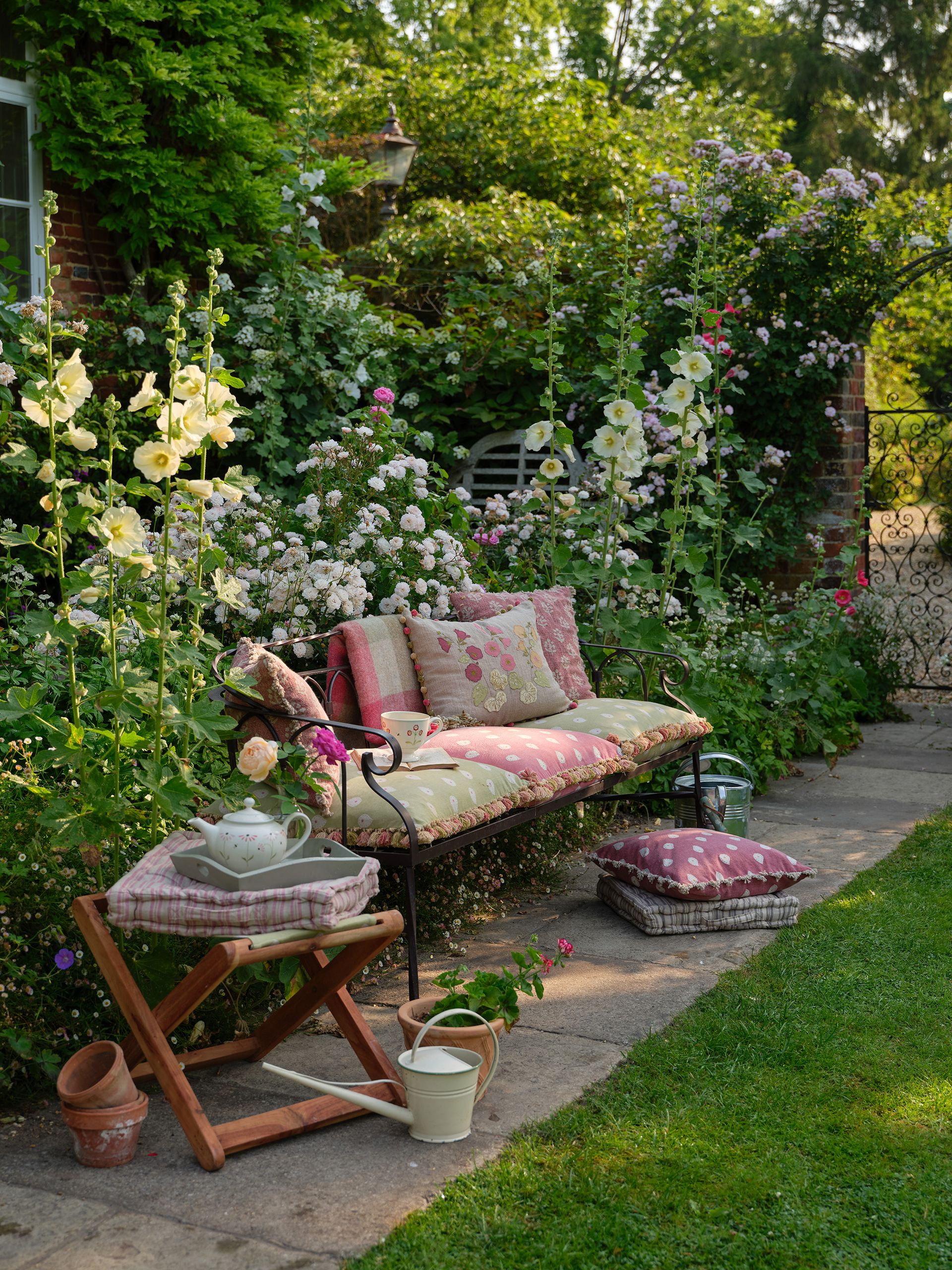 A beautiful garden bench is guaranteed to enhance any outdoor space, whether it's for having tea with friends, relaxing with a good book or simply to sit back and admire your hard work in the backyard.
Positioning a number of benches throughout the garden is a brilliant way to make the most of different areas and vistas and allows you to enjoy the outdoor space as the sun moves throughout the day. Nestled amongst the flower beds, a bench is the perfect spot to immerse yourself in the sights, scents and sounds of nature – this wrought iron design would beautifully complement a traditional backyard.
'I begin to create pockets of outdoor rooms once the spring delights have bloomed. I tend to position our handmade wrought iron bench in multiple secret spots capturing those perfect times throughout the day into the evening,' says designer Susie Watson.
14. Create a seating area under a pergola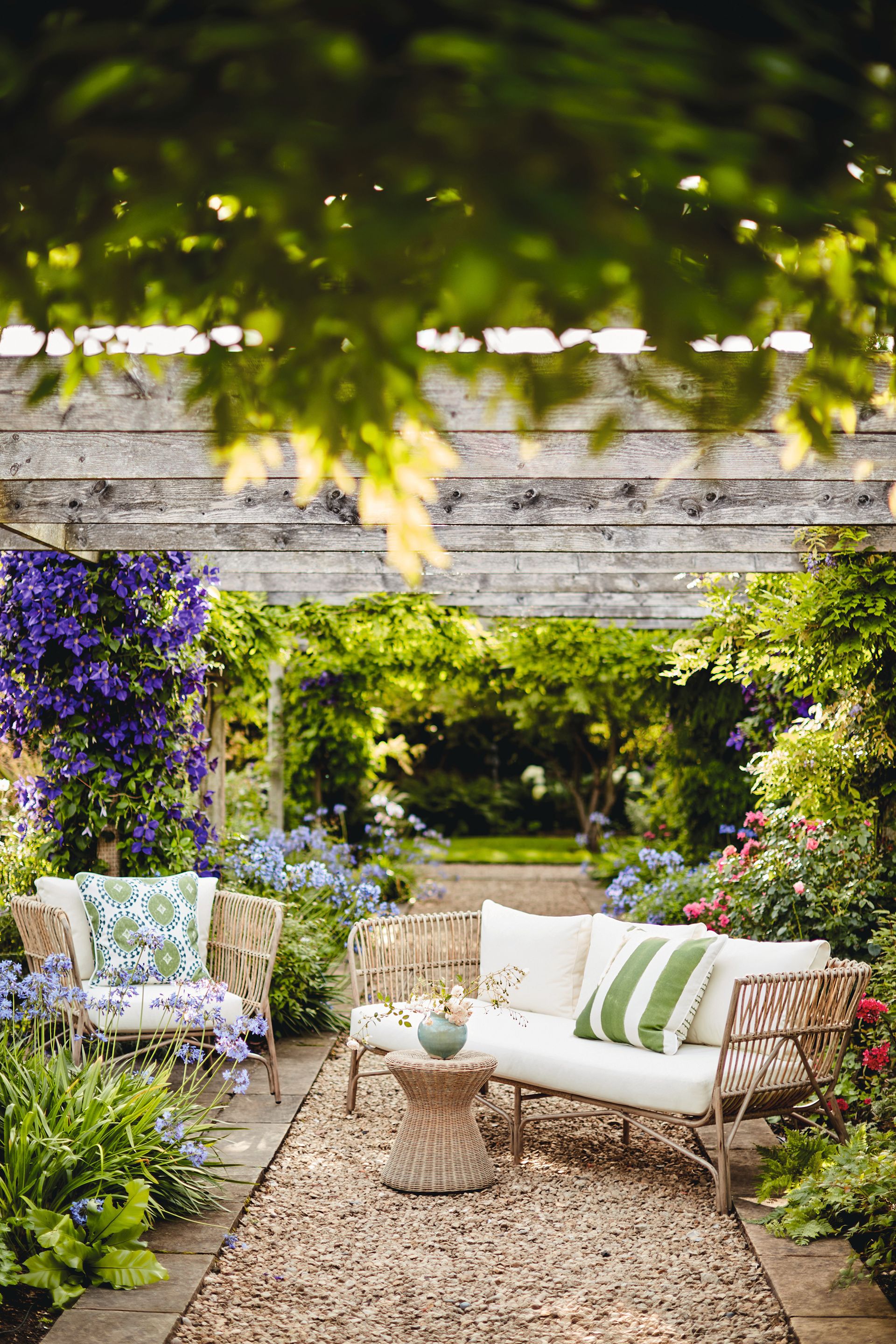 During the summer months the backyard can make a fabulous extension of your living space, and what could be better to make it feel like home than a cushioned outdoor sofa and armchair set?
'Comfortable outdoor seating is key to making sure it's a place you'll want to spend time in, and somewhere you can easily spend the whole day,' says Sue Jones, creative director at Oka. When thinking about where to position it, 'look for a quiet, shady spot where you can really switch off,' she adds.'
Arranged underneath a pergola covered in flowering climbers, a sofa set is an idyllic place to spend lazy afternoons surrounded by nature, or it could be positioned on a patio and used for entertaining guests on a summer evening.
Inspired by on-trend cane furniture, this new design from Oka is stylish yet practical, plus its discreet frame helps it seamlessly blend into its natural surroundings. 'The reed-like rope is inspired by traditional weaving techniques but is waterproof so can be left outside when it's raining,' says Sue, 'the cushions are shower proof, too.'
When putting the finishing touches to your outdoor living room Sue adds that 'accessories are just as important outside as in, too, so look for pieces that will add a little interest to your garden: vases, outdoor-friendly cushions and a side table or two will help recreate the welcoming feel of your sitting room outside.'
15. Style up a small patio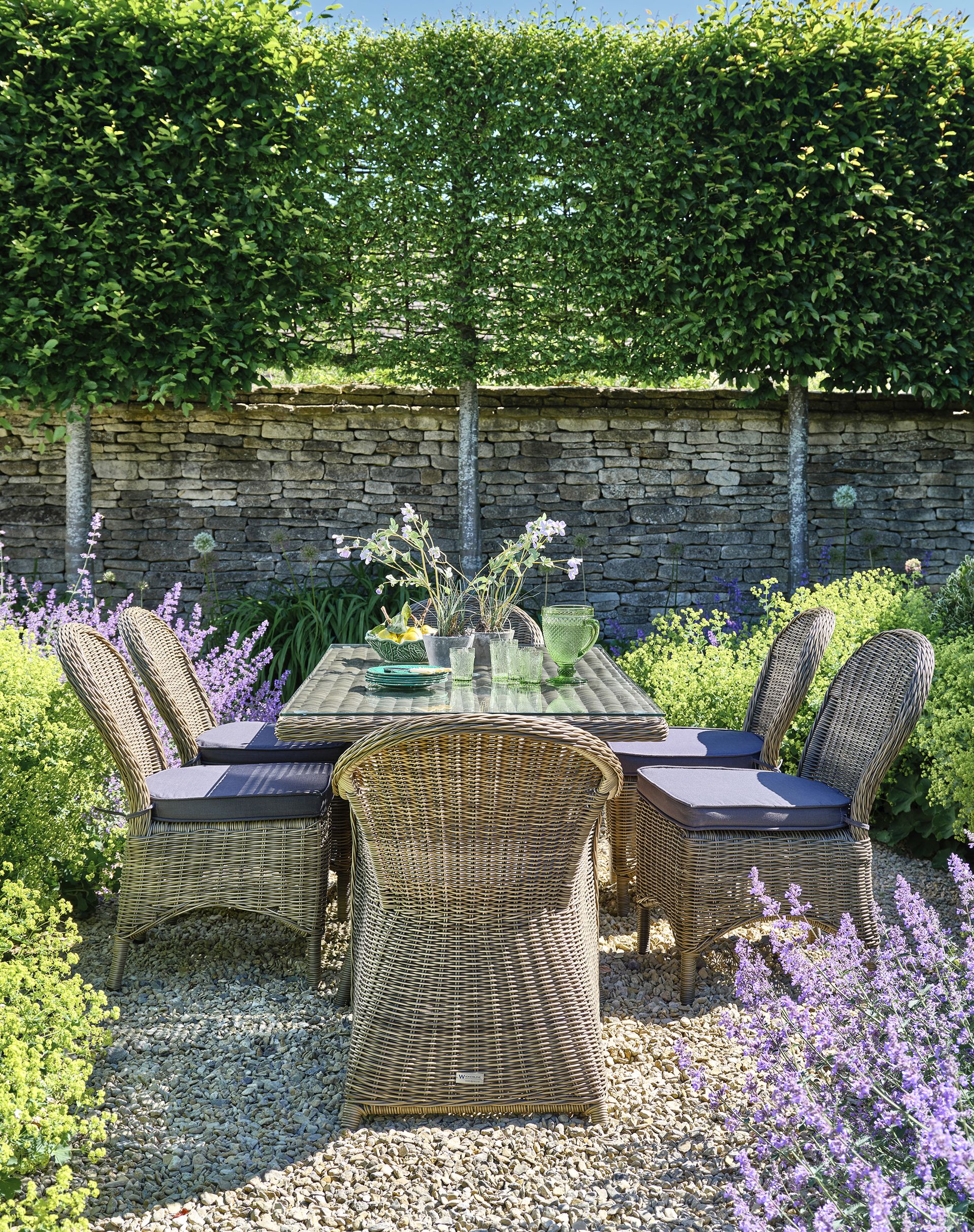 There's something truly magical about dining alfresco immersed in nature. If you love entertaining outdoors then consider adding garden privacy ideas to create a secluded outdoor dining space and investing in a large dining table and cushioned chair set where guests can dine in comfort.
Edged with pleached trees, and surrounded by swatches of vibrant Alchemilla Mollis and spires of purple, bee-loving Nepeta, this gravelled area makes a picturesque and private setting. For a dining set that beautifully complements the tones and textures of a country garden, try a weatherproof rattan design with elegant curved chairs.
What is on trend for outdoor seating?
Gray may no longer be the immediate go-to shade for interior schemes, but its ubiquity is taking longer to shift outdoors – probably because we tend to hold on longer to outdoor furniture than indoor sofas and chairs.
Signs are however, that the typical charcoal/anthracite L-shaped sofa in synthetic wicker is being superseded by a fresh focus on mix and matched natural shades such as beige and ecru, rather than one block color.
However, brands such as Liberty and Designers Guild are leading the way with beautifully bold prints in bright primaries on outdoor upholstery.
There are also a lot of natural structural materials such as bamboo, wood and 'real' wicker coming through. Aluminium frames for seating, combined with natural woods is also a strong trend.
We'd say going forward into next year, think furniture that uses a combination of aluminium, teak and weatherproof fabrics in neutral colors such as grays, beiges and washed-out, natural wood.
Sign up to the Homes & Gardens newsletter
Decor Ideas. Project Inspiration. Expert Advice. Delivered to your inbox.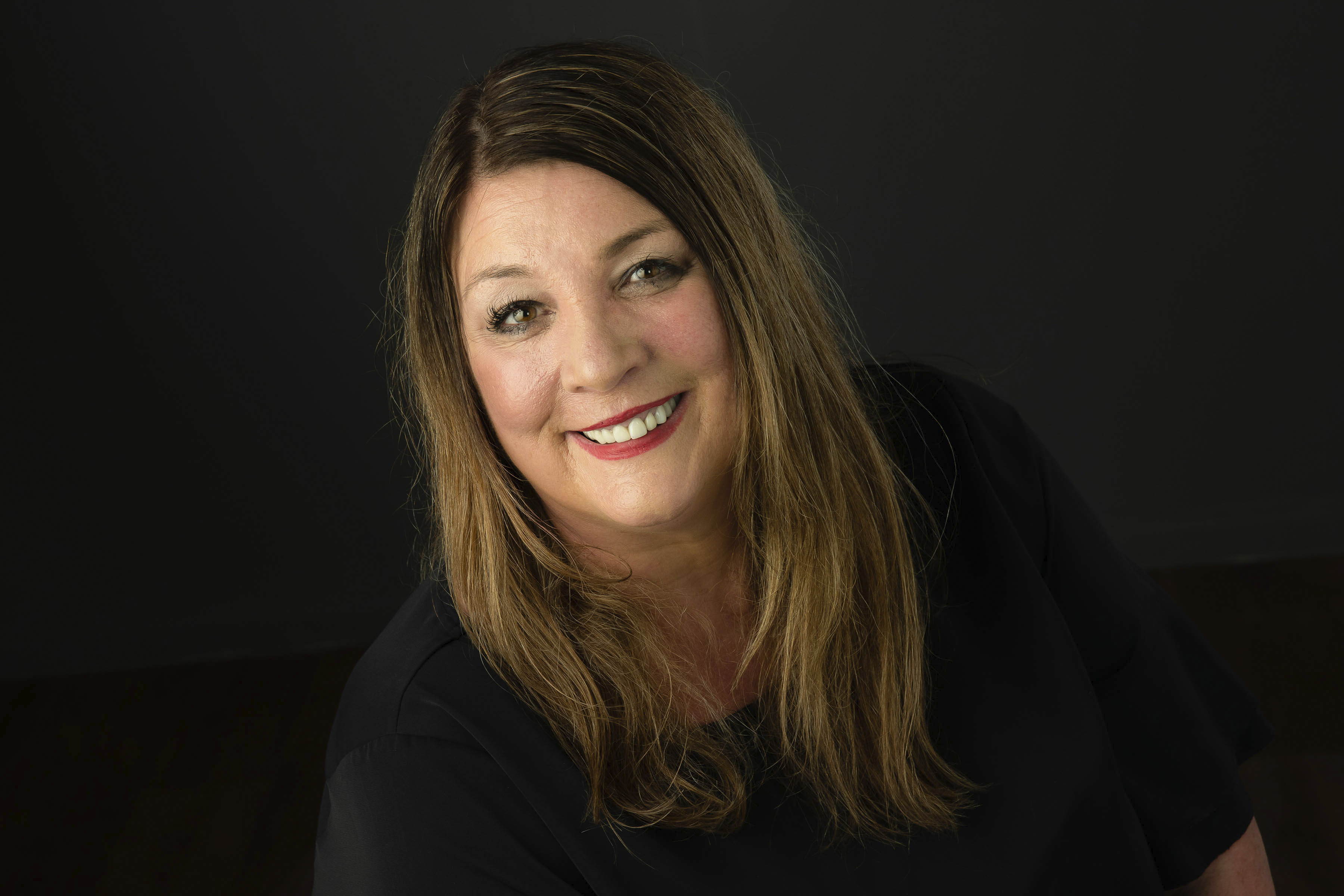 Jayne Dowle is an award-winning freelance gardening, homes and property writer who writes about everything from swimming ponds to skyscraper apartments, for publications including Sunday Times Home, Times Bricks & Mortar, Grand Designs, House Beautiful and The Spectator. Awarded the Garden Journalist of the Year accolade at the Property Press Awards in 2021, she has a degree in English Language and Literature from the University of Oxford and a lifelong love of homes, interiors and gardens. Her first memories include planting potatoes with her grandfather and drawing houses. Her own garden - her fourth - at home in a 1920s house in Yorkshire, is south-facing and on the side of a valley. It's a constant challenge.