Pool area ideas – 20 tips for designing a garden pool area
These pool area ideas will help you design a swimming pool that is practical, stylish and perfectly complements your garden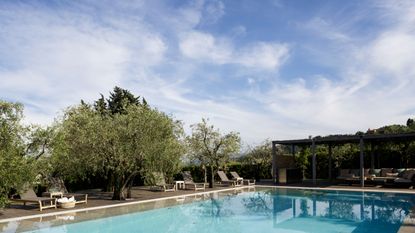 (Image credit: Mark Bolton)
Sign up to the Homes & Gardens newsletter
Decor Ideas. Project Inspiration. Expert Advice. Delivered to your inbox.
Thank you for signing up to Homes & Gardens. You will receive a verification email shortly.
There was a problem. Please refresh the page and try again.
Create the perfect pool setting with these pool area ideas, for a place to relax, enjoy and entertain during the warmer months.
Sympathetically designed, a pool area should complement the rest of your yard, rather than it simply being a functional addition, so it's important to know how to carefully choose pool area ideas to include in your design.
The loveliest pool ideas use attractive materials that suit a the architecture of the home and the local area's characteristics. They offer chic dining and seating areas, boast beautiful planting, and feature atmospheric lighting for gatherings after dark.
Examine the options for yards of all sizes and styles.
Pool area ideas
From the best-looking, safest materials for underfoot as pool landscaping ideas, to clever ways to provide shade and privacy, or where to position a pool, here we look into the practicalities of pool area ideas.
1. Design a pool area to complement the garden landscape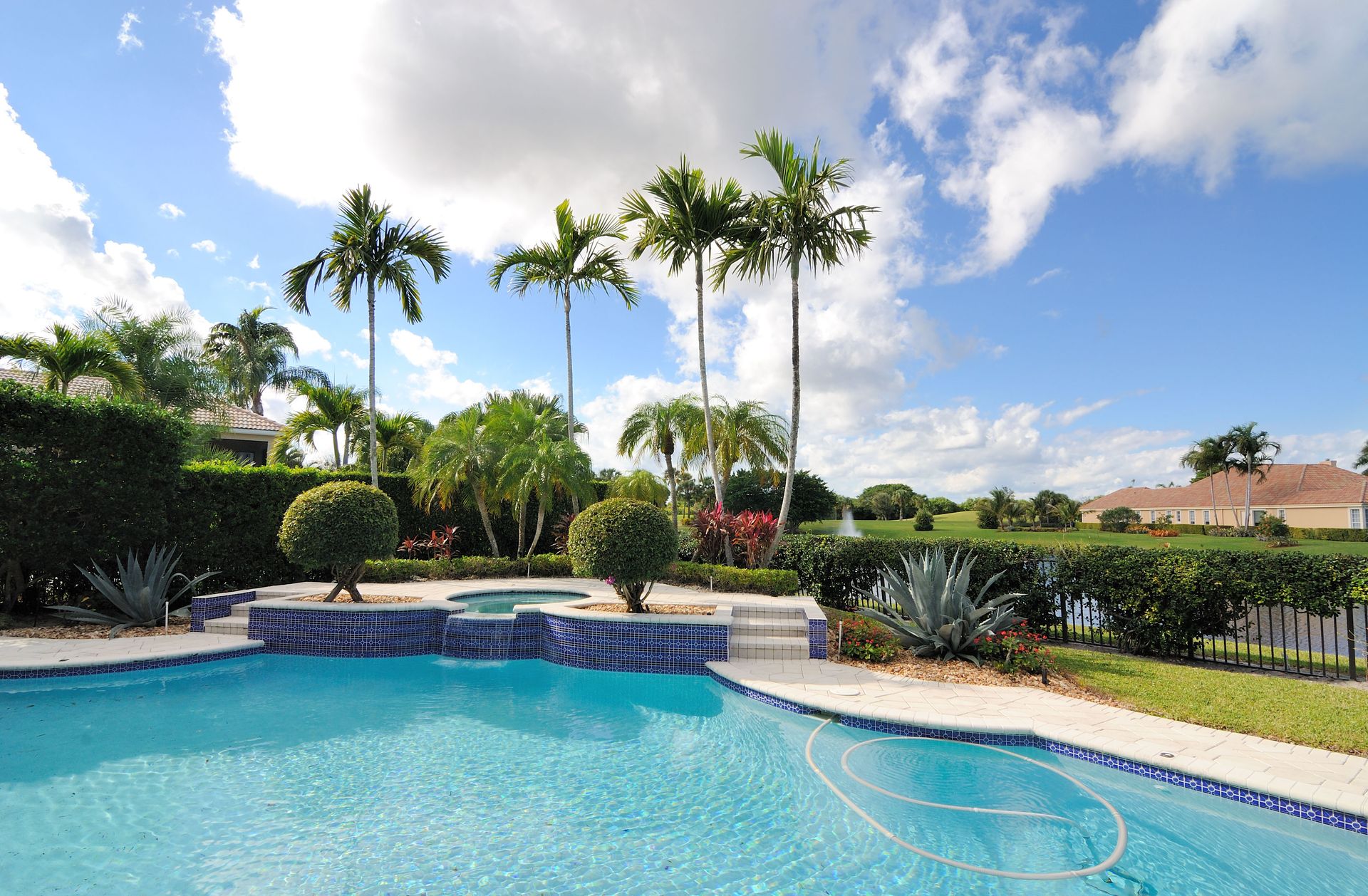 A garden pool area 'must be designed so it is part of the scene, complementing the architecture of your home and surrounding landscaping. Consider the shapes, lines and forms in the wider garden – the swimming pool needs to be sympathetic to that masterplan design. For instance, if the garden has lots of organic lines, then a rectangular pool will look out of place,' explains landscape designer Marcus Barnett.
A pool area idea needs to be considered in the context of wider garden ideas
'We choose materials that are right for the place, and outdoor pool patio ideas, in particular, need to sit easily in their landscape or else they feel alien. Stone color should therefore be sympathetic to the place, but also whatever pool building or structure is near a pool,' adds garden designer Libby Russell of Mazzullo & Russell.
2. Consider patterned pool tiles
Tiling within the pool needs a lot of research and deliberation.
'The days of bright blue or turquoise swimming pools are probably gone. There is so much choice now, but it is very difficult to visualize what tiles will look like in scale, when wet, and when they are in shallow or deep areas of the pool,' says Marcus Barnett.
'A patterned effect can look really good – just as in the sea you have textures in the sand and rock pools and areas of light and dark, and if you extrapolate that theme you can come to a series of different tile colors that in isolation look strange but on mass look enchanting,' he adds.
3. Position the garden pool discretely
Position the pool 'in a discrete or hidden area, not seen immediately from the house, as pools are not attractive in winter when all one sees is a cover,' advises Libby Russell.
'It is good to get afternoon sun on the main seating area, but also ensure the site is sheltered and not windy, but consider the views from the pool. The ground must be flat, but you can use the natural garden topography of a sloping garden to hide the pool,' she adds.
'My pool in our garden is a hub of life during the summer but hidden all winter. It is designed so one cannot see it from the house, only the top of the pool house which fits in well with the vernacular architecture and is sympathetic to the site.'
4. Consider dimensions
When designing a pool area, it's vital to consider how much hardscaping your backyard idea requires around the pool.
How much furniture will be located there? Should it incorporate distinct seating as well as a dining area? How much space do you want to allow for circulation?
'A generous border of hard landscaping around the pool allows for sun loungers and the ability to walk without worrying about getting to the edge,' says Marcus Barnett.
The other advantage of a larger area of hardscaping can be to prevent a lawn from being splashed by water containing chlorine or salt water, which could damage it. Narrow margin? Perennial ryegrass and Bermuda grass are salt tolerant.
5. Choose hard landscaping sympathetic to the site
When you're considering pool landscaping, bear in mind that repeating the paving stones used in other zones of your yard can be a sound tactic, creating a harmonious look.
Alternatively, you might choose to distinguish the pool area with a different paver. If so, make sure its color is sympathetic to other hardscaping as well as the planting, and the materials from which your home is built for a consistent design.
'If there is a large area of pool landscaping, a combination of finishes in the same material can lessen the overall impact, such as large slabs, steps or pitchers cut from the same stone. There is unity in material, but the different scales add an appeal,' says Marcus Barnett.
6. Keep in mind safety
Whichever material you choose for the hard landscaping, the location of the pavers require that you pay attention to their slipperiness. Walking around with wet feet, plus the splashes from the pool create a potential hazard.
'Smooth, non-slip paving, such as sawn, natural stone is better, as riven stone has toe-stubbing ridges. Stick to mid-tones – dark paving can get very hot underfoot, while white or near white becomes dazzling in bright sunlight,' advises John Wyer, CEO of Bowles & Wyer.
Marcus Barnett recommends repeating the pavers used elsewhere in the yard, but swapping to a finish such as bush-hammered or flamed to create a non-slip surface. Look also for sawn finishes, and avoid smooth honed pavers.
7. Think durability
Patio ideas for a pool area need to be hard wearing enough to cope with the foot traffic of the area, as well as the furniture kept there. However, it's also essential that the material selected can deal with salt or chlorine.
Don't be afraid to choose natural stone, if this is your preference. 'You might think there would be problems with a real stone surround,' says garden designer Dr Peter Reader MSGD.
'In reality there is usually no, or very little, problem. Indeed for a number of other reasons (appearance and non-slip surfaces) natural stone makes for a very good pool surround.
Travertine, limestone and sandstone are all popular and the fact that they absorb a small amount of water actually improves their non-slip characteristics.
That said, all stones vary to a degree in their properties depending on type and provenance. It is always sensible, therefore, to use a reliable stone merchant who can provide you with details on a particular stone's performance and suitability for a pool side.'
8. Choose the right planting
Planting choices 'will be dictated by how exposed the site is. In sunny but breezy spots, ornamental grasses work really well – the feathery fronds look good at all times of year, especially in late summer when the pool is likely to get a lot of use, and they create very little leaf litter,' says John Wyer.
'Taller multi-stemmed shrubs work well when combined with ground cover. Lavender, nepeta and similar scented plants can make a lovely surround to pool paved areas,' he adds.
'Think about the atmosphere and view from both around the pool and when one is swimming. We try to create a character around a pool in keeping with the atmosphere of the garden,' adds Libby Russell.
'In my pool, all the planting is very soft and dreamy in keeping with our valley site, with wildflowers and romantic roses followed by lots of pots full of salvias and agapanthus. Espalier apples frame the site, while large clumps of species roses provide a romantic barrier between the pool and the tennis court on the surrounding bank.'
9. Factor in heat underfoot
It's not just the anti-slip properties and durability of pool pavers that need to be considered. They will heat up in the sun, and need to remain comfortable enough to walk on.
For regions with hotter temperatures, opt for pavers that are lighter in color.
Factor in glare as well. While ultra contemporary backyard designs often feature very pale pavers, these might prove dazzling in high sun and make the space uncomfortable to be in.
10. Strike a softer note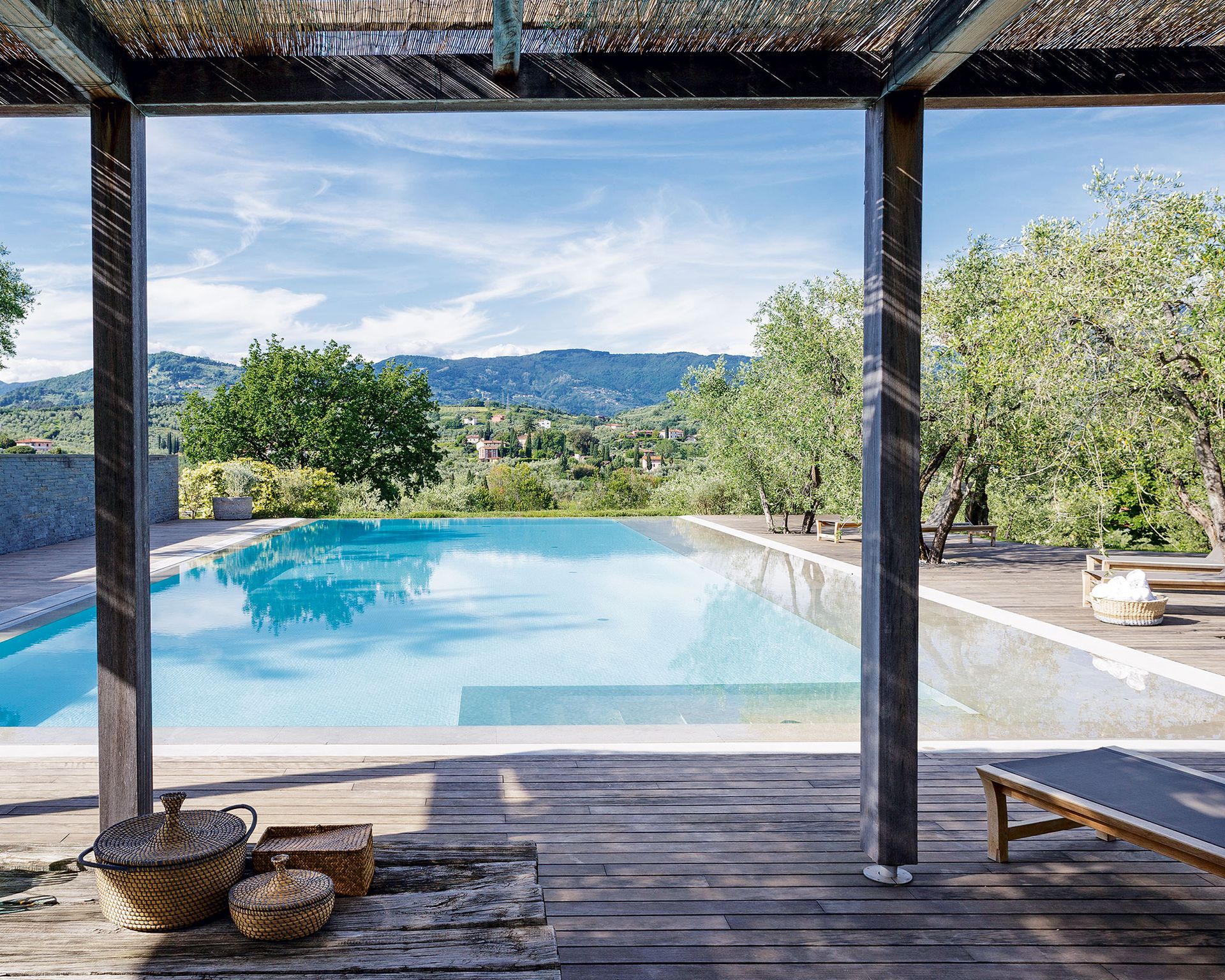 Don't rule out using deck ideas as an alternative to pavers when deciding how to design a pool area.
It's another way to create a cooler feel underfoot, and can also help blend the pool area into the surrounding landscaping, or link it to a home with wood siding.
Choose a wood such as cedar, teak or ipe that will stand up to the demanding conditions, and bear in mind that it will have maintenance requirements.
'Another option to consider is using some of the non-slip composites instead (made from polymer and wood fiber) which are sustainable and much more durable,' says Fellow of the Society of Garden Designers and CEO of Bowles & Wyer John Wyer.
'If you're absolutely sold on the wood look, you could use non-slip porcelain planks, which are available in a wide variety of wood-like finishes.'
11. Decide on coping
Think about whether you install the same pavers right up to the edge of the pool, or go for a second material for the pool coping, in other words, its edging.
This can focus attention on an interesting pool shape, as well as make the design of the pool area richer in detail.
Pay attention to the edge of the coping as well, and how this complements the rest of the backyard design. A square-edge coping appears clean and modern, while a bullnose has a softer effect.
Meanwhile, coping with an edge that drops down can give the pool area a more luxurious look.
'Having pool copings made from the same material as the paving makes a huge difference to the appearance,' advises John Wyer.
12. Incorporate a pergola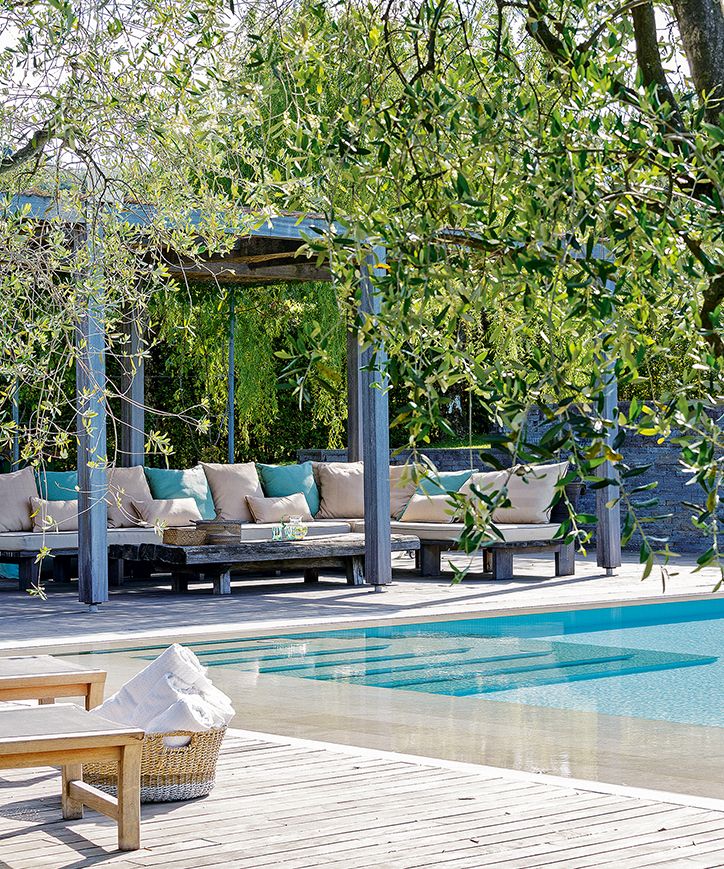 Pergola ideas can introduce welcome shade for seating or dining areas by the pool to allow them to stay comfortable for day-long use.
Choose a version with a roof, and consider whether your location also means it needs to include the option to shade the sides when required.
Adding a pergola to the pool area also has the benefit of creating vertical lines that add interest to the design and make the area around the pool feel larger by drawing the eye upwards.
13. Try terracing
Sloping gardens can be boon when considering how to design a pool area.
With the pool above ground, the coping can double as a seating area overlooking the rest of the space. Alternatively, consider terraced seating with a view to the pool at the lower level.
Composite decking can be a useful material choice to create terraced areas, and its care needs are minimal.
14. Create a screen
Garden screening ideas will be needed if your pool is overlooked. However, you might also want to consider screening it as part of the overall design of the backyard, or to ensure the pool is not a major feature of the space when its cover is on and it's less attractive.
And of course, if your pool area is entirely open to the elements, you might like to consider garden shade ideas to create some relief from hot sunshine.
There are lots of options for screening. 'In a larger wrap-around garden, the pool can be to the sunny side of the house and slightly out of sight from the main garden,' says Dr Peter Reader.
'Many garden designs create "rooms" within the wider space and so the pool area can be compartmentalized off as part of the wider design. This can be done by the use of walls, hedging, or other planting, as well as simple hardscape structures like trellising.
'Both trellis ideas and planting have an added advantage over more solid structures like walls in that they can have a degree of transparency which allows the spaces to be separated and yet still linked.
Examples might be a trellis that has a greater or lesser amount of climbers on it, giving screening that you can moderate. Plants like tall grasses or pleached trees can create a similar effect. The advantage of the shared planting between the two areas is that it also adds continuity to the wider garden design.
'Another option is to sink the whole pool area to create a sunken garden. This can obviously be a more expensive option as it requires a greater amount of dig out, but it delivers the benefits of hiding the pool, providing privacy and also potentially shelter from the wind.'
15. Light up the pool area
If you're wondering how to design a pool area that's atmospheric as well as safe after dark, clever pool lighting ideas are key. The patio needs sufficient light for family and guests to move around at night with the edge of the pool and the water clear to see.
Take a lead from garden and landscape designer Janine Pattison, who uses color-changing LEDs in and around pools to allow different moods to be created easily.
Less is more when it comes to pool lighting, in the opinion of Libby Russell
'We like subtle pool lighting, or none at all in rural sites. There is usually ambient lighting from the pool house and some soft uplighting of planting which can often be enough to set the mood,' says Libby Russell.
'Dark water better reflects the surrounding elements of the pool and you won't get reflection if you light the swimming pool. Ideally you need a series of scales of lighting that can be dimmed or made brighter to make sure the swimming pool can be used in all situations,' adds Marcus Barnett.
16. Make space for a pool house
If you have a medium or large yard, and it falls within your allotted costs to build a pool, it's worth upping the size of the pool area to make space for some creative pool house ideas. The building can echo the lines of the pool with elegant curves, for example, and complement the contemporary or classic style of the yard design.
When it comes to designing a pool house, as well as creating space for changing in and out of swimwear without trekking into the house, it's also a shady spot to enjoy when the day is at its hottest.
But a pool house can also provide a place to store furniture in winter, tidy away the extras that go with a pool such as rafts, noodles and so on. You could even include a section to stash pool chemicals safely away in its design.
Pool house design 'must be led by the architecture of the house and surrounding buildings. Often they will be in complementary stone or wood, but when working with a contemporary building or a site not seen in conjunction with the main house, one can do a much more contemporary pool house design,' says Libby Russell.
'Think carefully about where it is positioned so it doesn't cast shade on the pool and if it's used for relaxing and entertaining, that it has the best views of the pool,' says Marcus Barnett.
17. Mix pool area finishes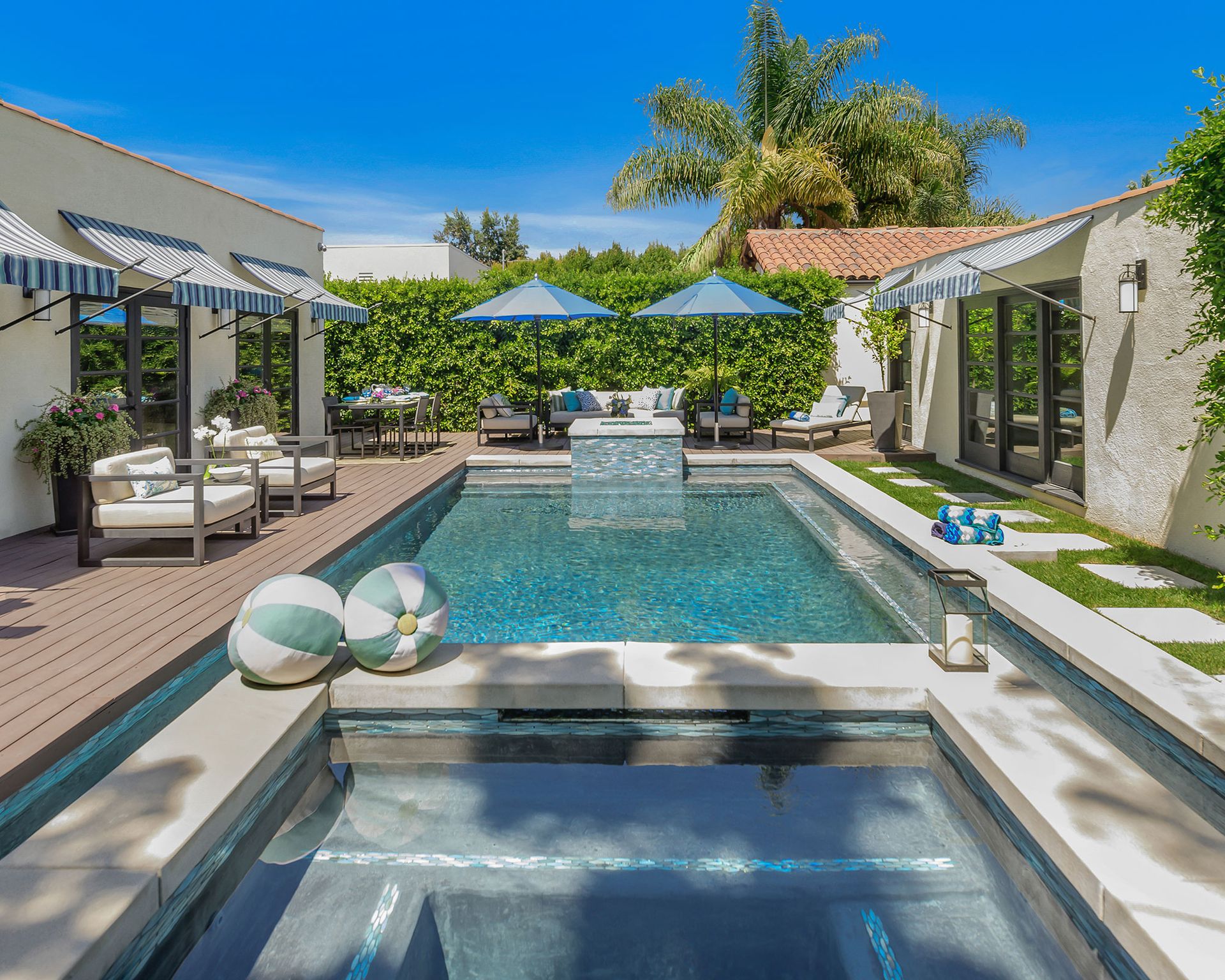 To create a pool area with plenty for the viewer to enjoy visually, try garden zoning by mixing hardscaping materials.
Christopher Grubb, an interior designer and founder of Beverly Hills-based Arch-Interiors Design Group used decking, concrete, tile and grass for this stylish space in order to create a design that keeps the eye moving.
Consider following his lead by using different levels, too, in order to distinguish separate zones.
'A combination of timber decking and stone paving can help to break up and decrease the overwhelming sense of a large area of hard landscaping. Timber has different colors when wet and dry and will obviously age to a silvery patina, which can work beautifully in certain settings,' says Marcus.
18. Create harmony with pool accessories
Pool accessories need to be in harmony with the overall design.
'Think about the position of loungers, so there is space and they are in the correct aspect as far as orientation is concerned. Keep it simple and not try to over complicate or over beautify what is around the swimming pool,' says Marcus Barnett.
'Pots around the pool are important – I use oranges for scent and a semi-formal shape alongside a rhythm of pots of mid-late summer flowers and interesting plants, from agapanthus to Iochroma,' says Libby Russell.
'Large planters can also add an element of texture when you have a smooth natural stone around the pool, and also a dash of color from a plant that isn't elsewhere in the pool area,' adds Marcus.
19. Hide away machinery
Keep out of sight unsightly plant machinery in a pool house or tastefully designed building.
'If you don't want a pool house, you can, for instance, plant a hedge beyond the pool area hard landscaping and planting, for hiding the less sightly filtering systems and machinery, with a gap in the hedge for access. But you have to think about how the treatment of the boundary around the pool looks from the exterior. It has to be worked into the overall design of the garden,' says Marcus.
20. Provide protection from the wind
Consider protection from wind when deciding on pool area ideas, although this has to be balanced with the risk of blocking the view.
'It is a balance to strike, whether you want a view out and therefore the possibility of wind, or it's not something you are too worried about. It is a trade off, ' says Marcus.
In this pool design by garden designer Harriet Farlam, high level screening is provided by pleached hornbeam, Carpinus betulus.
The pool area is wrapped with a combination of sculptural lawn banks, new and old brick walls and linear trellis. Layers of pleached and multi-stem trees function to softly enclose the pool garden and divide it from other areas, while also providing subtle wind protection as well as creating views and vistas out to key areas and focal points within the wider garden.
What can I plant around my pool area?
There are many option for what you can plant around a pool area, but the key is to 'be leaf aware. If you have a deciduous tree, at some stage in the year it will shed its leaves which will always find their way into the pool so you will have degrees of maintenance issues. Keep it simple and not try to over complicate or over beautify what is around the swimming pool,' advises Marcus Barnett.
'You may go for a mass planting of grasses around the pool to draw on the natural environment, or perennial planting to add some color. But it has to be considered in the masterplan of designing and building the pool,' he adds.
For a coherent yard design, follow the style of the rest of the space. However, not every plant will be suitable for a location near the pool.
'You should choose plants that won't shed leaves into the pool. Bamboos are one to avoid for this reason, particularly on the up-wind side,' says John Wyer. 'Instead, opt for low-growing herbaceous, clipped topiary and smaller grasses to bring in some movement and texture.'
Borders can be used to divide the pool area from the rest of the yard, subtly distinguishing one zone of the space from another and introducing a softer element that will contrast with the hardscape and horizontals of the pool area.
Be aware of potential issues, though. 'Pools are built so that the paving surround runs off, away from the pool. So if you have planting around the pool area, consider installing a gravel French drain so that chlorinated water doesn't damage the planting,' says John Wyer.
If you have an irregular-shaped yard, planting can be a way of filling the spaces created by a rectangular pool area within it.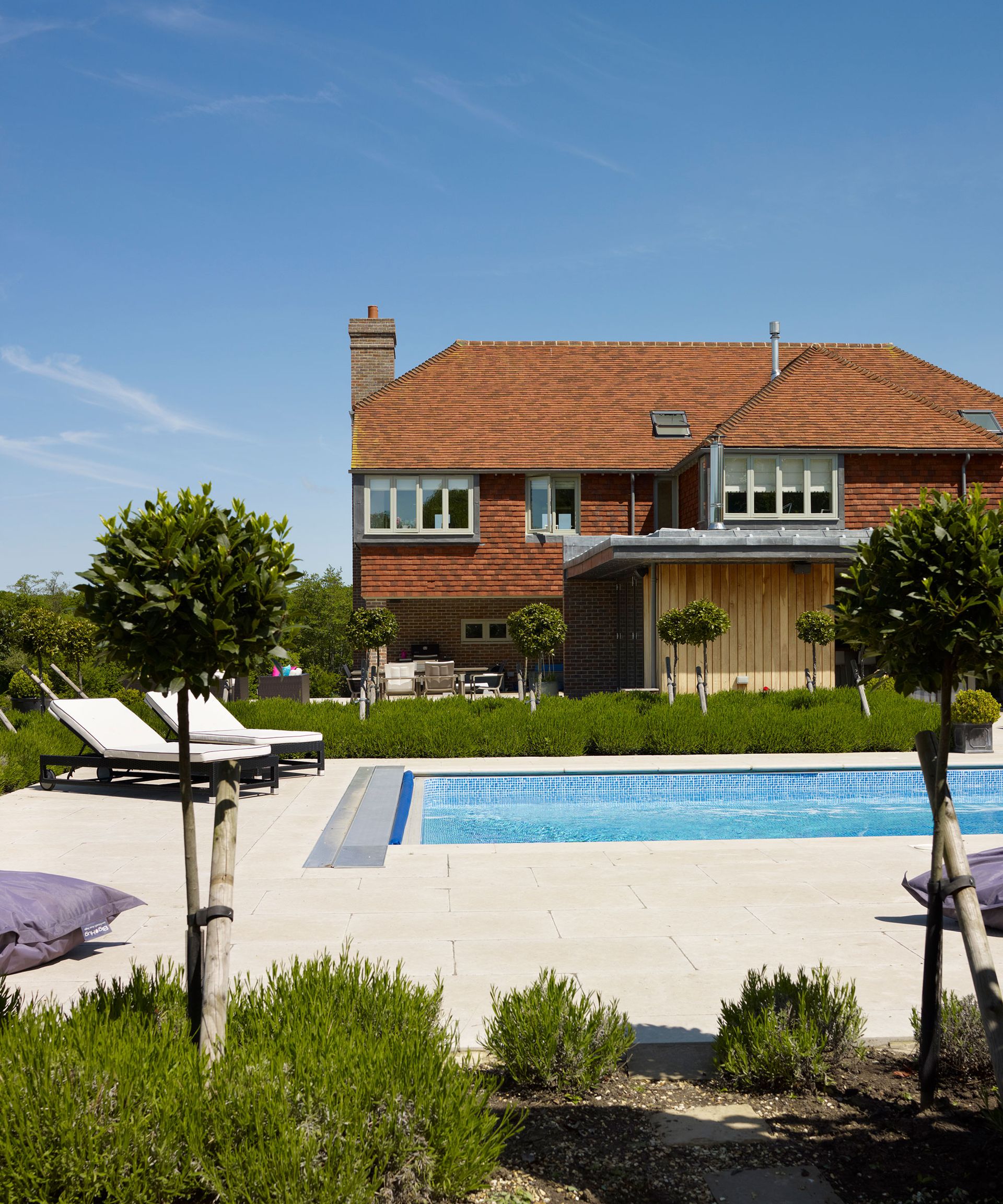 How do you build a good pool area?
To build a good pool area make sure it fits naturally into the yard. You could opt for an overall design that zones the backyard into different areas plus use similar plants and subtle screening so that the pool and wider yard flow into each other, suggests Dr Peter Reader.
But there are alternatives. 'A pool doesn't have to look like your classic bright blue pool at all,' says Dr Reader.
'It can be styled and constructed out of materials that make it look like a crystal-clear pond. This can create a much more naturalistic and relaxing pool experience and on a chillier day you can leave the pool open and simply view it as a pond. Attractive historical tiling mosaics on the bottom of the pool can really add to the atmosphere and create a story or air of mystery.
'You can go one step further and put in a natural swimming pool. These have become increasingly popular recently and deliver a completely different pool experience.
They cleverly use natural filter systems and the poolside planting to keep the water clean and safe and therefore do not require any chemicals. Large areas are kept for open swimming and play, but you can also include quiet areas where you can sit amongst the waterside planting and observe the wildlife that visits.'
How can I decorate my pool area?
To decorate a pool area and add color and energy opt for an accent color for patio umbrellas that can be picked up on patterned throw pillows and outdoor rugs. Add planters with summer blooms, too.
If your pool parties tend to stretch into the evening, dress up the area with lanterns to add soft light and design detail or use outdoor string lighting ideas to add atmosphere. You can stave off any late night chill and create a focal point with a fire pit or outdoor fireplace along with throw blankets you can offer guests. And for table settings for day or night-time dining, choose colorful china and glasses.
Sign up to the Homes & Gardens newsletter
Decor Ideas. Project Inspiration. Expert Advice. Delivered to your inbox.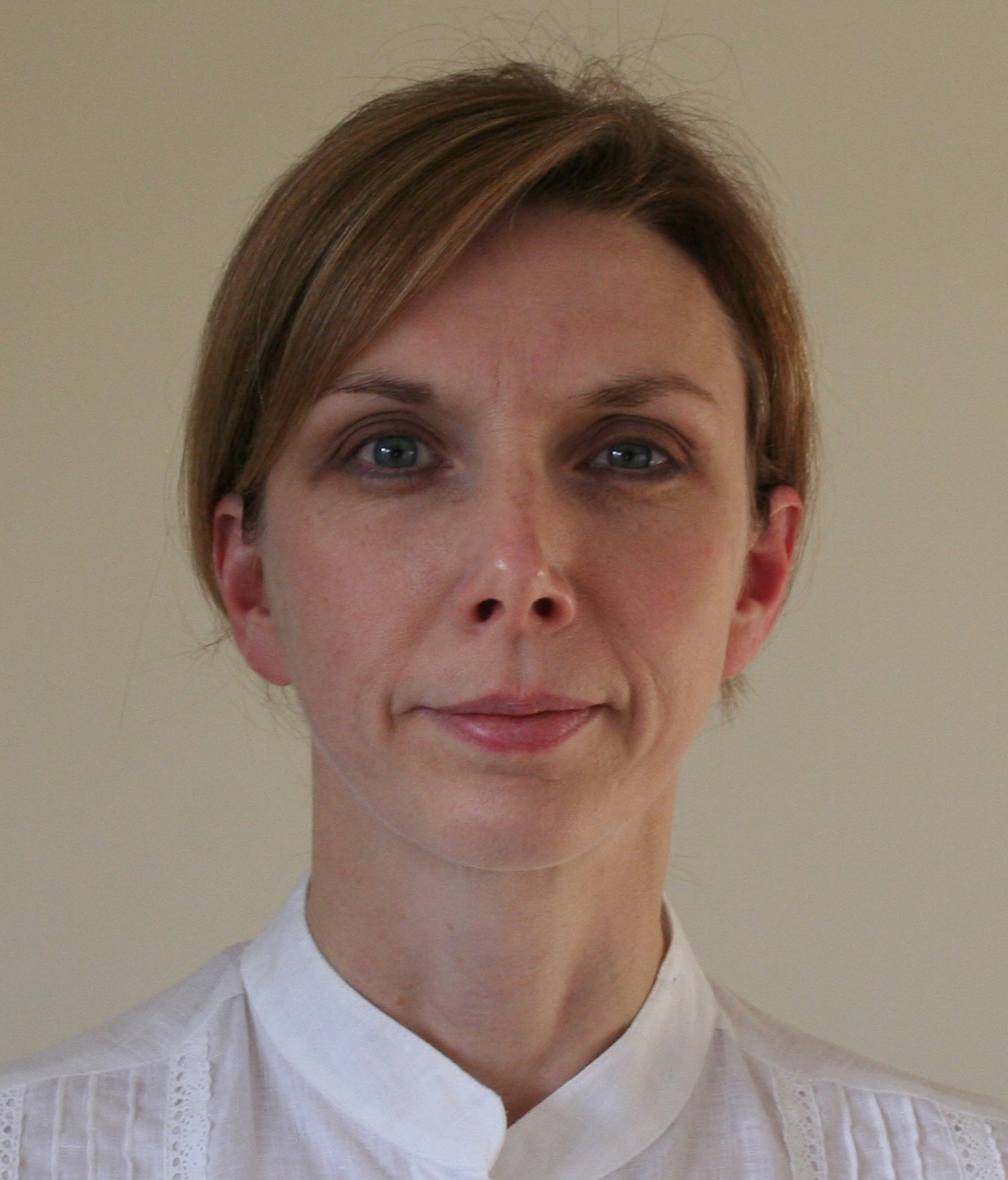 Sarah is a freelance journalist and editor. Previously executive editor of Ideal Home, she's specialized in interiors, property and gardens for over 20 years, and covers interior design, house design, gardens, and cleaning and organizing a home for H&G. She's written for websites, including Houzz, Channel 4's flagship website, 4Homes, and Future's T3; national newspapers, including The Guardian; and magazines including Future's Country Homes & Interiors, Homebuilding & Renovating, Period Living, and Style at Home, as well as House Beautiful, Good Homes, Grand Designs, Homes & Antiques, LandLove and The English Home among others. It's no big surprise that she likes to put what she writes about into practice, and is a serial house renovator.
With contributions from