Designing a pool house – Emma Sims Hilditch reveals her professional tips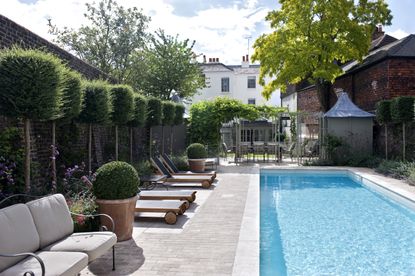 (Image credit: Sims Hilditch )
Designing a pool house will be an integral part of your planning if you are landscaping for a new pool or looking for pool ideas for next summer. However much space you have, pool house design needs to fit in with its surroundings, use materials that complement that of other landscaping – and be fitted out perfectly inside.
We asked Emma Sims-Hilditch, founder of design agency Sims Hilditch for her advice on tackling pool house design.
'One of the parts of the home that my team and I have real fun designing during the summer months are pool houses. A pool house may be an exterior building, such as an outbuilding or barn, or it may be that you have an indoor pool and are seeking to resurrect something inside your home. Either way, the same design tenets apply, such as creating a pitched ceiling to give rise to a lofty, well-ventilated space that imbues an airy, luxurious quality.
Designing a pool house – step-by-step
Before you begin browsing pool house ideas, take note of Emma's advice to get the very best from your space.
'The ultimate role of a pool house is to provide somewhere that brings home comforts and practicality closer to the poolside, and wet feet and soggy towels away from the main home. It is therefore important to approach the design of it with function, form and fun in mind,' says Emma.
'Below I share a few ideas and suggestions for those of you who are about to, or hope to soon be, embarking on designing a pool house of your very own,' she says.
Concentrate on your pool house's orientation
Before you consider pool area ideas, consider the position of the pool house and how much light it gets. In a sunny, hot climate, you may want to site it in natural shade; or perhaps you want to open it up to sunlight?
'When it comes to the building, you should contemplate just how much sun you hope to receive and at what times of day. Bi-fold doors are incredibly useful in pool house design. Placing them on three walls for example, will open up the space enormously and connect it in a very compelling way with the outdoor space.'
Designing a pool house with a bathroom – and laundry
'Of course, you will benefit from a changing area with a bin for wet towels and baskets for pool toys and goggles.
'A washing machine and tumble dryer cabinet is additionally ideal and of course a shower or wet room stocked with lovely toiletries.
'Even an outdoor shower if you want to re-create the sort of luxury resort you might see in more exotic climes.'
Designing a pool house – with a kitchenette
'I will always seek to include aspects like an area to store plenty of drinks in a cool environment and a miniature hi-speed dishwasher so that used glasses and plates need not have to be brought back to the main house.
'If there is room, a counter area with a sturdy, practical top such as zinc, and svelte bar stools are a worthy addition too. Together, they form a sort of kitchenette.'
Let practicality lead when it comes to decorating a pool house
'I would strongly advise letting performance, durability and ease of living rule your decision-making when it comes to pool houses.
'I love to use rustic floor tiles, such as terracotta brick, with underfloor heating to keep it warm in cooler moments and to help the room dry out.
'I will often design with exposed stone or brick walls too because they will not suffer at all when splashed with water.'
And of course, it's likely that any choices you make when designing a pool house will affect your choice of materials for pool patio ideas – both will need to reflect the design and materials of your home, and ideally look appropriate amongst their natural surroundings.
Make it your pool house design cozy
'Blankets, scatter cushions, and lanterns are my go-to touches for adding a cosy touch to a pool house.'
Consider curtains to soften a pool house's lines
'I will always be somebody who truly values what curtains bring to an interior. A pool house is no different.
'Here, I favor natural linen curtains without any interlining. They give that dreamy, romantic floating appearance as though you could be in the South of France or even the Seychelles! They are discreet for a changing area also, but without being so private as a proper changing room. It is a home after all.'
What needs to be in a pool house?
What needs to be in a pool house really depends on how much space you have and how often you will use it.
At a very basic level, you need a convenient changing area and airing/storage for towels, swimwear and any swimming equipment, such as children's toys.
With more space, it is useful to have seating, an area for showering and relaxing – if you need to get out of the sun or if a chilly wind gets up. With a ton of space, an outdoor kitchen is a fabulous bonus. And if you want to use your pool house for exercise, a home gym is a fabulous option, too.
What is a good size for a pool house?
Pool house designs tend to average at around 9ft by 13 ft, but if you have more space to include more useful features, there is no reason yours can't be bigger. As long as its size is in proportion to the size of the garden and, importantly, to the pool, it will not look out of place.
Sign up to the Homes & Gardens newsletter
Decor Ideas. Project Inspiration. Expert Advice. Delivered to your inbox.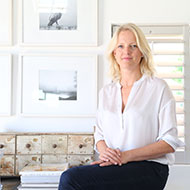 Founded in 2009, the Sims Hilditch design practice has become one of the most trusted and respected in the industry. Its couture approach combines interior architecture, interior design and procurement management within one concept-to-completion, fully bespoke service. Creative Founder, Emma Sims-Hilditch is passionate about her belief that good design can transform not only how people live but also how they feel.