Outdoor string lighting ideas — 10 pretty ways to illuminate your backyard
Be inspired by these outdoor string lighting ideas and give your backyard a magical ambience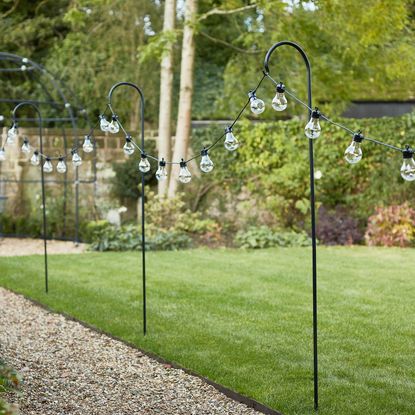 (Image credit: Lights4Fun)
Outdoor string lighting ideas can bring a joyful atmosphere to your outside space.
Using these exterior lights is one of the quickest and easiest ways to illuminate any plot for nighttime dining and entertaining.
Outdoor lighting ideas come into their own at night, but this style of lighting, strung above a table or seating area, will look pretty in the daytime too.
The beauty of string lights is that they can be hung from pergolas and trees, nestled in foliage, and draped from the house or a building in the backyard when you want to introduce their magical sparkle, so they're a really versatile outdoor lighting solution.
To inspire you to decorate your space with the best garden ideas, we've rounded up the most attractive and simple to achieve string lighting ideas out there.
Outdoor string lighting ideas
1. Suspend them low above a dining table
Turn any meal into an occasion by installing garden lighting above a dining table.
To achieve this effect, you'll need a generous length of lights, and you should arrange them relatively close to the tabletop so it and the lights work together to create an eye-catching feature.
Bear in mind that the rule for outdoor lighting hung above a table is the same as inside a home, even though we're talking about string lights: they shouldn't be so low that they block diners on opposite sides from one another's view.
2. Wrap string lights around tree trunks
If you're lucky enough to have mature trees in your backyard, their substantial bases are the ideal location for string lights. Simply wind the lights around the trunks to draw attention to their lovely forms.
Check cable lengths before you buy, especially when string lights need to be used with an outlet. You may need a system with connectable cables to reach the features you want to illuminate.
3. Follow the shape of a branch
Don't lose the benefit of the feature trees and shrubs in your backyard after dark.
String lights wrapped around branches can draw attention to their wonderful natural shape, so they remain as focal points of a yard design instead of fading into obscurity after dusk.
If you're looking for easy-to-install, eco-friendly string lights, solar garden lighting ideas can be a good option. They can charge up during daylight hours and shine for hours after dark.
4. Add string lights to a pergola
If you are considering pergola ideas for your backyard, embrace the opportunity it offers as a convenient framework for hanging string lights.
They can soften the lines of the structure if it's without plants or before they've had a chance to grow up and around it. The lights will also twinkle among the flowers and foliage of mature climbers on a pergola.
String lights are great if you're looking for patio lighting ideas, especially when the patio is combined with a pergola, as they can provide background lighting for a seating or dining area.
But consider using them on other yard structures, such as arches and arbors, as well so you can appreciate the verticals in the space after dark.
5. Put string lights in a parasol
Instead of taking a parasol down once the sun has disappeared from the sky, use it as a magically illuminated feature above a dining table. The structure of a sunshade is perfect for twining string lights around.
You could use a long conventional strip of string lights, but easier to set up are versions specially designed to fit the shape of a parasol.
Pick from those that are light strips or designs with LEDs or bulbs projecting from the cable. Or, as here, a combination of the latter two.
6. Team with pendant lights
String lights make for appealing overhead lighting on their own, but they also look great in combination with pendant lighting for the yard.
Consider this option if your plot is large or you have a long garden, as the mixture of lights will make a statement even when seen at a distance.
The pairing of string lights and pendants is also a sound choice for a large table, illuminating the top across its length and width to create the correct level of light for dining.
7. Choose shapely string lights
If your backyard includes immature plants or the area's compact dimensions mean you don't have room for large specimens, there might seem less opportunity to decorate them with light.
However, small garden ideas can still include string lights. Choose lights that are shapely and let them create the detail young or small plants may not deliver. Battery-powered versions mean there's no need to have an outdoor outlet either.
8. Size up for impact
One of our favorite outdoor string lighting ideas is to scale up to those with large bulbs.
They'll deliver the look of a series of pendant lights above a table to create a spectacular setting after dark but they're simple to set up and can be moved around to different locations.
They can be used over a table as an outdoor dining idea, too. If that's the case, use poles located at either end of the table as support for the string lights.
9. Take advantage of nature
Use string lights to transform a group of trees in the yard into an appealing dining area.
Draping the string lights from the lower branches can define the dining zone, and you can take advantage of the natural shade for comfort, even in the hottest part of the day. The lights will make the zone a draw at night, too.
10. Line a path with string lights
Lining a pathway with string lights suspended by shepherd's hooks is a really pretty way to define the thoroughfares in your garden by night.
The same effect could be created against fences, when decorating a garden wall, or to nestle the string lights into shrubbery or flower beds. Space the hooks evenly to create a neat finish.
How do I decorate my backyard with string lights?
There are a whole host of ways to decorate a backyard with string lights, making use of both planting, the yard's structures, and the house.
Try dressing trees of all sizes, along with shrubs, with string lights to illuminate their shape when night has fallen. The plants don't need to be particularly sizeable. String lights can be nestled amongst foliage with lights twinkling between the leaves. Larger trees can also be handy anchor points for long strings radiating across the yard.
String lights can be hung from fences and walls, as well as the dividers between different zones of the yard in addition to being draped on its natural features. Think about locating them in arches, pergolas and arbors, too.
Use string lights to decorate the outside of your home. Strip lights are great for ceilings, and they make enchanting front porch lighting ideas, too. They can also be attached at one end to the exterior of the house and strung across a patio for dining or entertaining.
How do you hang string lights in your backyard without trees?
To hang string lights in your backyard without trees, you can use poles in their place. The big advantage of putting these in is that you can install them exactly where you want in order to locate the string lights above a patio or other zone. And because they're easily moveable, you don't have to fix them in place.
Use timber 4x4 posts if you prefer a natural material. This may repeat one that you've used as part of your hardscaping in any case. Make sure the timber is pressure treated to avoid rot, decay and insect damage. Alternatively, use metal poles, which have the advantage of being slimmer and more discreet.
Bear in mind that the string lights could be hung from the house or a yard building at one end to reduce the number of poles you need.
Adding a structure like a pergola to the yard is also an option. Although this is a bigger project, it does double up as a place to grow climbers and can be used to create shade along with providing a framework for string lights, so it could be worth the investment of time and money.