Solar garden lighting ideas – 18 pretty, energy-efficient designs
Enjoy your garden even after sunset with smart solar garden lighting ideas. From practical solutions to dramatic effects, there's something for every outdoor space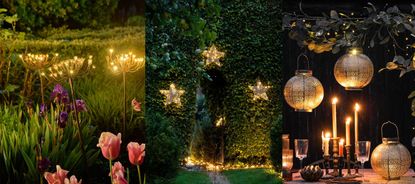 (Image credit: Sparkle Lighting/Ben Anders/Rockett St George)
Sign up to the Homes & Gardens newsletter
Decor Ideas. Project Inspiration. Expert Advice. Delivered to your inbox.
Thank you for signing up to Homes & Gardens. You will receive a verification email shortly.
There was a problem. Please refresh the page and try again.
Smart solar garden lighting ideas offer a sustainable and decorative way to light your outdoor space. Helping you to make the most of your garden after sundown, solar garden lighting ideas will create a cozy and welcoming area for you to relax on a late summer evening.
As with all outdoor lighting ideas, well positioned illumination can turn patios into extra rooms, illuminate dark borders and corners and illuminate key features such as trees or sculptures. Solar garden security lighting can also help keep your garden safe.
'Nothing fits more naturally into your garden than adding solar garden lighting ideas.,' says Mark Feldman, chief home officer of Riverbend Home. 'Not only are they eco-friendly, they come in very different styles so you can add something classic, like these black lanterns, along the edge of your garden, or you can have some fun and add a great touch of whimsy amongst your plants. If you love a splash of color, mosaic gazing globes are a great choice to place beside a garden bench.'
Solar garden lighting ideas
Why design a garden with solar lights? It's a no-brainer. Solar power has transformed backyard lighting ideas. Not only can the fittings be cable-free, but they cost nothing to run and can be moved around whenever you choose.
Powered by specially designed batteries which store energy from the sun during the day, they automatically switch on at dusk, providing a soft glow for several hours at night. It's a good idea to position the solar cells in a sunny spot, to get the best charge during the day. If you're still unsure of where to start, make sure you know how to install garden lighting before you begin.
'There are three major types of solar garden lighting options: post-top and pole lamps, ground or tabletop floor lamps, and recessed or accent lighting that fit flush into the wall,' says garden expert and founder of Urban Organic Yield Lindsey Hyland. 'Depending on your personal preference, you can choose a low light scheme with a perimeter set of lamp posts along the yard; an illuminated pathway leading up to and around your home; or subtle lighting that accents your flowerbeds, trees, and other landscaping features without being too bright or obtrusive.'
1. Add decorative solar stakes to your border
Solar garden lighting ideas are a great way to illuminate dark borders and add interest to your plot come nightfall. Drawing the eye down the length of the garden they provide a pretty backdrop, whether viewed while relaxing from the patio or from the window of your home.
Consider solar garden lights with interesting architectural structure to add height and character. These pretty Wild Fennel solar stakes are a natural fit amongst the tulips and will look pretty in the day time too.
Solar stakes are one of the easiest solar garden lighting ideas to install. Simply stake the lights in the location you want and then stake their adjoining solar panel out of sight, just make sure that it's still in receipt of sunlight. Come nightfall your garden will be a blaze with pretty twinkling lights.
2. Use solar lighting to illuminate borders and greenery
If you have trained climbing plants up a fence or on the walls of your house, then consider integrating solar garden lighting ideas into the design to illuminate the foliage and blooms. The perfect partner for living wall ideas, they will bring an added dimension of character to your scheme and will extend the wall's interest into the evening.
There are plenty of trellis ideas that would provide the perfect framework to the best climbing plants that would look great alongside solar garden lighting ideas.
3. Incorporate solar lights into your front porch
Solar garden lighting ideas are not just limited to stakes and spot lights. There are a plethora of different designs to suit every style and situations. If you're looking for front porch lighting ideas, then a hanging solar light is a great choice. Offering more of a lifestyle look than the harder staked designs, it offers a pretty glow that will provide a warm welcome to your home.
4. Use solar lighting ideas to light paths and driveways
Don't forget to extend your solar garden lighting ideas into your front yard landscaping ideas, after all the front of your house needs to extend a warm welcome to visitors as well as offering a clear path to the front door.
There are plenty of different front garden lighting designs, however, solar is a great low maintenance option that requires minimal disruption to install. This is particularly useful for front yards which usually feature more hard landscaping than backyard ideas.
'Solar is often the money-saving, hassle-free option for lighting the front of your house. With solar, you don't have to worry about plugs, outlets, or cords. Solar lights use rechargeable batteries to power them. When the sun is up, your lights are charging! The batteries can also last up to seven years. As long as solar lights get enough sun, they're a reliable option. If the electricity goes out in a big storm, the lights remain on so you can safely get into your driveway. You don't have to worry about power surges or brownouts either,' says Mitchell Elworthy, founder and director of The Lighting Outlet.
5. Create a focal point with a selection of solar pendants
Pendant lights aren't just for dining room lighting ideas – they can also make a beautiful statement as part of your patio lighting ideas. If you're looking to add a few pendant lights above an outdoor dining table or an outdoor sitting area, then solar is the best option.
Unlike electric designs, solar garden lighting ideas require very few wires. While some designs have a wired panel that can be staked into the ground, some designs, like these pendants, have their solar panel attached to the shade and so have an almost magical appearance of illuminating without being plugged in.
6. Use solar lights to line a driveway
Driveways can be difficult to navigate come nightfall. Their borders become less defined and as such adding solar garden lighting ideas alongside your driveway can offer a practical addition. They can also have a decorative benefit, creating a warm pathway to the front of your home.
'Do you have beautiful trees lining your driveway? Place driveway solar uplights under each tree to illuminate the landscaping. Solar-powered uplights come in a plethora of styles, sizes, types, and colors. Do you want to light all your trees along the length of the driveway but that feels overbright? Alternate some of the lights with different colors that aren't as bright as white lights,' says Mitchell Elworthy.
Illuminating the front of your home is also worth considering alongside other garden security lighting to help make your home as safe as it can be.
7. Use solar lighting ideas for low-effort illumination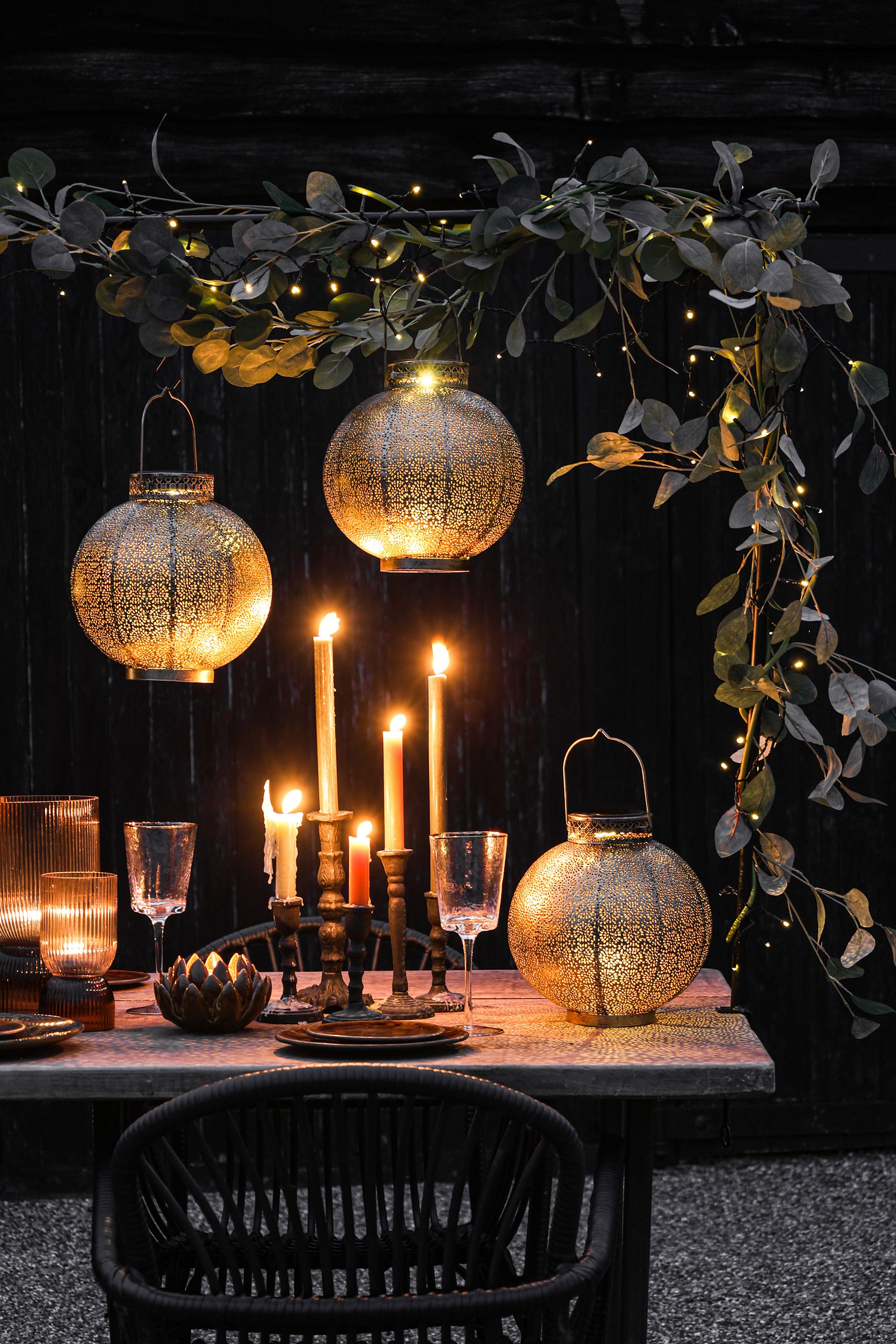 If you don't have a power point for mains electricity outdoors, solar-powered lights can be used instead. They look pretty and are a versatile option that will fit with most schemes, as you're not dependent on a cable to the mains power supply. However, they don't throw much real light and only last as long as the sunlight charge. Therefore, if you live in an area with low-levels of sunlight, solar lights are best reserved for decorative lighting rather than essential illumination.
Fairy lights are brilliant for covering fences, screens or shrubs and creating a pretty backdrop to your space, while hanging solar lanterns paired with pretty candles provide the perfect atmospheric illumination for an al fresco evening.
8. Trail lights over an archway to guide the way through your garden
Adding structure and height into your garden is a key part of your garden design. However, when night falls, your hard work becomes invisible. Consider integrating solar garden lighting ideas into your arches and arbors to illuminate these features and add height to your plot come nightfall.
Pair with the best evergreen climbers for interest in both day and night.
9. Choose a solar lantern for a sustainable and flexible option
For cozy, intimate lighting sometimes all you need is a lantern or two. Perfect for placing on a garden coffee table or al fresco dining table, they provide gentle illumination and can easily be moved when needed.
With its sophisticated minimalist aesthetic, these sleek steel lights feature an inset solar panel and integrated LED bulb, meaning nothing compromises its elegant design.
10. Go eco with outdoor solar lighting
Who needs electricity or candles when the sun can do all the work? Outdoor solar-powered lights have come a long way in the past few years, with the latest good-quality designs providing a strong glow. Here, a simple solar light fixture positioned next to a cozy dining spot will do all the hard work come evening.
11. Light a garden path or walkway
Lighting also serves a practical purpose in the garden, especially when you have a path and steps. Post lights are usually cemented in place, though the more easily-fitted solar garden lighting ideas do the same job yet are simply screwed into place.
12. Fit low-level lights on a garden path
Low-level lights can either be fitted close to the path edges to wash over the paving or be set further back, creating pools of light. Make sure any solar garden lighting ideas are angled to avoid glare.
13. Use solar outdoor lighting to show off planting
Solar garden lighting ideas work best when it is planned in layers, with some areas left dark so that others stand out more.
Choose a few larger features to highlight with a spotlight, which can either be set into the ground on a spike, or fixed to a tree branch to direct a pool of light downwards. If the solar light fitting is black or olive green, it will blend into the background.
14. Create ambience for al fresco dining
If you're lighting a terrace or patio that's attached to the house, it helps to think of it as a room. When installing garden lighting, choose lights that provide a wash of light on to an exterior wall. Lighting low features such as a raised planter, low wall or bench by the dining area from beneath is effective, casting a warm glow on to a decking or paving and creating a wonderful ambience for garden parties.
15. Light up a garden party
Inexpensive string lights are one of the most versatile solar garden lighting ideas. Wound around branches, decorating the entrance to a gazebo or trailed along the top of a garden fence, there are so many different outdoor string lighting ideas and they're the summer equivalent to fairy lights.
They come in all sorts of fun designs, including mini lanterns and stars and you can find string lights with a solar panel at one end, or alternatively opt for plug-in lights.
16. Hang solar string lights on a tree
Many of us abide by the 'right plant, right place' mantra, so the same applies to lighting. Choosing the right types of solar garden lighting ideas for the right spots will help create a range of effects – from pools of light that highlight plants on the ground to stake lights that illuminate a garden path.
Even a string of fairy lights strung through a small tree or lanterns hung from branches will make eye-catching features as dusk falls. To save energy use, go for solar lights. As well as keeping the costs down, these have the added benefit of giving out a warmer light.
17. Consider the surrounding wildlife
Artificial light can affect wildlife, disturbing garden birds, disorientating moths that use natural light to navigate, and affecting the breeding cycles of certain animals.
The key to minimizing disruption to any wildlife in your garden is two-fold. Firstly, stick to solar lights or warm, soft bulbs rather than bright, dazzling lights or floodlights. And secondly, think carefully about positioning: direct light down and choose step lights with hoods to reduce the glare.
18. Charge your solar lighting
Have you ever wondered why your solar lights have stopped working? Fret not! You may need to reposition them during the day. The panel on solar-powered lights should be in a bright position during the day, and not shaded by foliage. Try moving your panels to a space that receives more daylight to get your solar garden lighting ideas back to their bright selves.
Can I put solar lights in my garden?
Yes, you can put solar lights in your garden. In fact, solar garden lighting ideas are one of the easiest ways to add lights into your garden. Consider a few spike lights to instantly transform your space.
'One of the best things about solar garden lighting ideas is that they are powered by the sun, so you don't have to worry about replacing batteries or plugging in lamps. In addition, solar lighting doesn't produce any emissions, making it a more environmentally friendly option. And since it doesn't require any wiring, solar garden lights are a great way to add some light without having to do any major construction or electrical work,' says Lindsey Hyland.
Do solar powered outdoor lights work in winter?
Yes, solar powered outdoor lights do work in winter. Believe it or not, the sun is still mighty powerful in the winter, even if we can't see it with the naked eye. And as outdoor solar lighting is waterproof, it can be left outside all-year long.
'Solar-powered spike lights come in so many different styles, colors, sizes and are energy-efficient. Look for spike lights with an IP rating of 54-65. This means the lights resist dust and weather. When using outdoor lights under a patio or porch roof, a high IP rating isn't as important. If you're lining a driveway or outside walkway, use lights with at least a 54 IP rating,' says Mitchell Elworthy.
Do outdoor solar lights really work?
Yes, outdoor solar lights really do work. Not only are they cost-effective, but they are also an eco-friendly way to illuminate your gardens and walkways. They also require limited maintenance, and are easy to install, as most modern solar landscape lights are completely wireless.
What are the brightest outdoor solar lights?
One considerable drawback with solar landscape lights is that they're not as bright as electric fixtures. We recommend that you choose a solar light fixture that has a built-in battery to provide up to eight hours of illumination, and a built-in sensor that will turn on automatically at dusk, and turn off at dawn.
How can I light my garden without electricity?
You can light your garden without electricity by using solar garden lighting ideas. Avoiding the disruption of laying wires underneath your patio, borders and paths, solar lights are easy to install and will turn on automatically. However, the only downside is that they need to be placed in an area that receives ample sunlight during the day as they won't charge if they are placed in shaded areas.
Sign up to the Homes & Gardens newsletter
Decor Ideas. Project Inspiration. Expert Advice. Delivered to your inbox.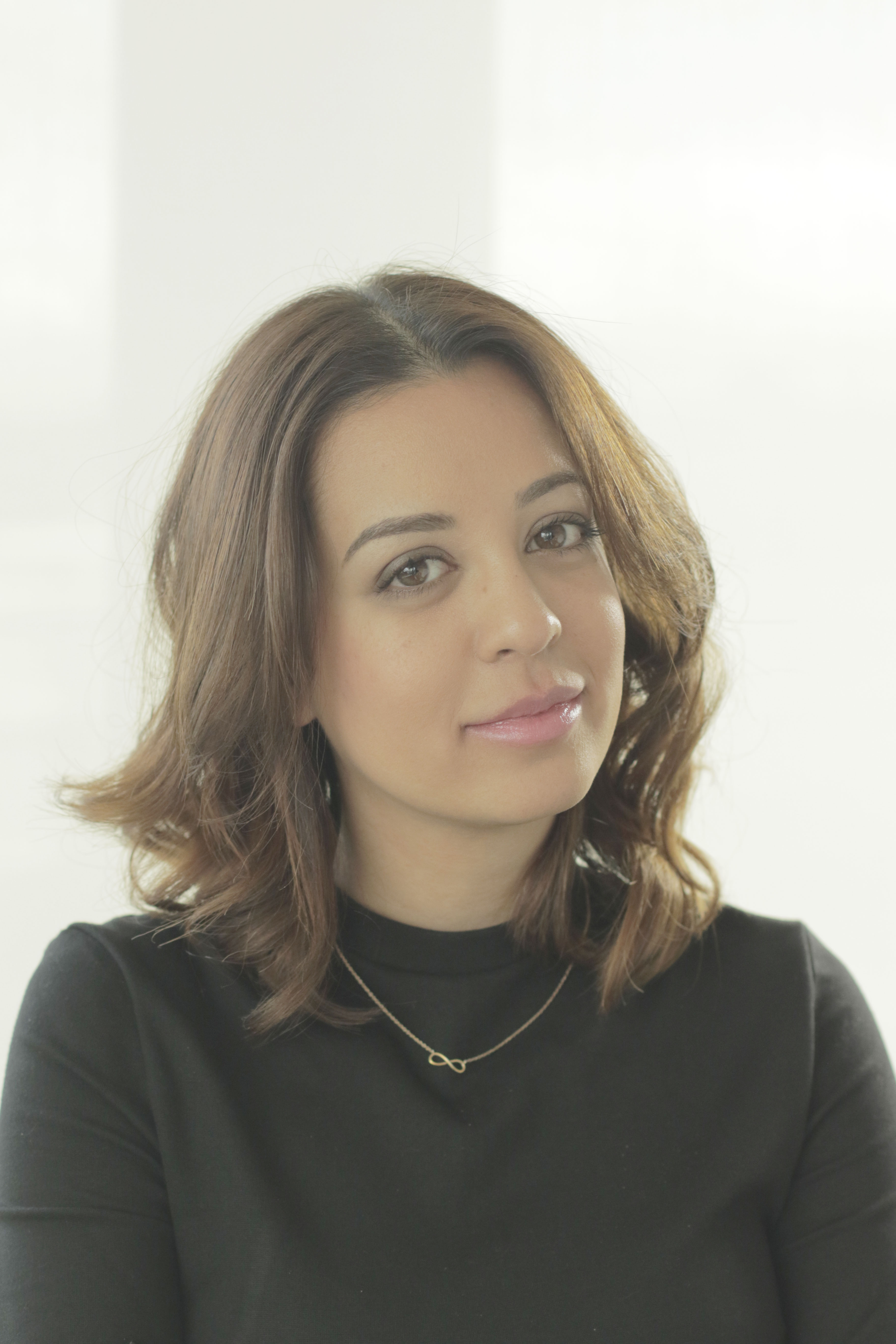 Jennifer is the Digital Editor at Homes & Gardens. Having worked in the interiors industry for a number of years, spanning many publications, she now hones her digital prowess on the 'best interiors website' in the world. Multi-skilled, Jennifer has worked in PR and marketing, and the occasional dabble in the social media, commercial and e-commerce space. Over the years, she has written about every area of the home, from compiling design houses from some of the best interior designers in the world to sourcing celebrity homes, reviewing appliances and even the odd news story or two.