How much does it cost to build a pool? Your swimming pool budget questions, answered
It's the ultimate indulgence – but in reality, how much does it cost to build a pool of dreams?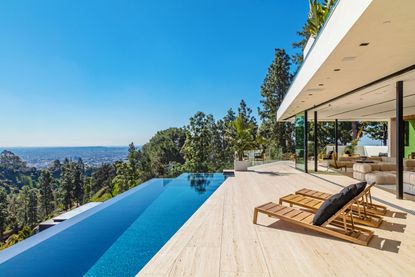 (Image credit: Simon Berlyn/Compass)
Sign up to the Homes & Gardens newsletter
Decor Ideas. Project Inspiration. Expert Advice. Delivered to your inbox.
Thank you for signing up to Homes & Gardens. You will receive a verification email shortly.
There was a problem. Please refresh the page and try again.
You may be wondering – how much does it cost to build a pool? As soon as the mercury rises, we all dream of a beautiful swimming pool to dive into for a refreshing dip.
Installing a pool is a big job with many factors to consider. Stylish pool ideas done properly will certainly need a healthy budget – particularly if you want to surround your swimming pool with landscaping, a deck, or even your dream poolside cabana or more elaborate pool house ideas.
But, for many, the spend is worth it. The promise of precious family moments, poolside parties, sun-soaked lounging and outdoor fun is certainly hard to resist, making a pool one of the most enduring backyard ideas around.
How much does it cost to build a pool?
Building an outdoor pool is not something you can do on a whim – or a small budget.
Lead designer at Compass Pools, Alex Kemsley, explains: 'Outdoor pools average $111,000 (£80,000).
'The main cost is the pool shell and filtration. Surrounding paving is not normally included in the main pool cost. This would be for a one-piece pool or fibreglass pool.
'We say customers should budget upwards of 30% of the pool cost for the surround and their pool landscaping ideas.'
How much does it cost for different types of pools?
Alex Kemsley, lead designer at Compass Pools, highlights the average costs for the main types of pools available:
'Created using concrete blocks as the base with a vinyl liner, this is one of the cheapest ways of creating a permanent pool, but it's not without its drawbacks,' says Alex.
'Concrete is unforgiving of any ground movement, so the base can crack. Liners also require replacing every five years, and can be fairly prone to punctures.'
Estimated cost: $35,000 to $100,000 (£25,000 to £70,000)
Fiberglass and polyester pool
These are delivered in one piece and craned into an excavated hole. Alex says: 'This means they are quick to install and require little maintenance.'
'Unfortunately, however, they are prone to osmosis. This is when ground water passes through the shell and into the pool, which can cause staining and sometimes even failure of the shell.'
Estimated cost: $30,000 to $65,000 (£20,000 to £90,000)
Just like the fiberglass pool, ceramic pools are lifted into an excavated hole.
Alex says: 'Installation is quick and easy, and ceramic pools benefit from the benefits of one-piece fiberglass pools, but without the risk of osmosis. A durable option.'
Estimated cost: $70,000 to $210,000 (£50,000 to £150,000)
Concrete swimming pool with tiles
'Concrete pools have the advantage that they can be built into any shape or size,' says Alex. 'They're extremely stylish and durable, but also very costly.'
Any drawbacks? Alex comments: 'They can be time-consuming to install, and the weather can play havoc with installation too.'
Estimated cost: $60,000 to $210,000 plus (£45,000 to £150,000+).
What are the main outdoor swimming pool costs?
There are a number of steps and costs to consider when you're taking on a pool project.
Mindy O'Connor of Melinda Kelson O'Connor Design, talks us through a few:
This involves digging the hole with heavy machinery and then removing and hauling away existing soil if it can't be spread anywhere on site (and sometimes trees or rocks).
Concrete, fiberglass, or vinyl pools will have a range of prices and durability.
Concrete, the most expensive, allows for more complicated curving shapes, tiling the surface, and greater longevity.
An in-ground pool will be surrounded by pool patio ideas such as stone or concrete pavers, brick or tile, or wood decking.
All of these materials have varying labor costs as well as distinctive looks, safety, and maintenance demands.
Lighting should always be factored in, both within the pool and in the surrounding landscape and patio elements. Pool lighting ideas to consider include pool deck in-ground lighting, uplighting surrounding trees, washing surrounding walls with lights, and step lights.
Megan Matharu, of Vision Comfort Lighting, agrees, saying: 'Pool lighting ideas can make all the difference when creating the ultimate summertime experience. It can help create ambiance and style, while also keeping the pool area safe for those late-night dips.'
From a simple summer house to a brick building incorporating a shower, toilet and changing area, you'll need to factor in the cost of a pool house if you are tempted by the prospect of a garden room to sit beside your swimming pool and facilitate any pool party ideas you may be fantasising about.
Are there any hidden pool costs to consider?
If you are wondering 'how much does it cost to build a pool?', Mindy warns to take hidden costs into consideration. She says: 'When the costs of the creation of the pool itself are initially quoted, some homeowners aren't aware of the extent of the additional costs for the surrounding landscape.
'A new pool will need to be well situated in the landscape, often involving an additional patio beyond the immediate 3-4" surround for the pool, with seating areas, paths and patio planting ideas for interest and shade.
'Additionally, most township codes require fencing around a pool, so garden fence ideas also need to be thoughtfully addressed and included in the budget from the outset.'
Can you build a pool for $20,000?
The answer is yes, but it won't necessarily be a sleek, stylish addition to the garden, and certainly won't incorporate any extravagant pool area ideas.
Alex Kemsley says: 'You could probably build a DIY liner pool for $20,000 as long as you can leave all the soil on site and not have to truck it away.'
Sign up to the Homes & Gardens newsletter
Decor Ideas. Project Inspiration. Expert Advice. Delivered to your inbox.
Ruth Doherty is an experienced digital writer and editor specializing in interiors, travel and lifestyle. With 20 years of writing for national sites under her belt, she's worked for the likes of Livingetc.com, Standard, Ideal Home, Stylist and Marie Claire as well as Homes & Gardens.