Reading nook ideas – 10 ways to create a cozy hideaway for relaxing with a book
These reading nook ideas offer inspiration for intimate and comfortable places to spend time with a favorite author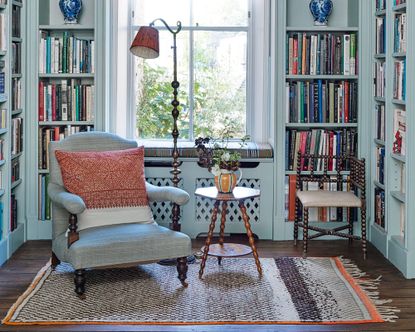 (Image credit: Future)
Reading nook ideas can take advantage of a home's features such as a bay window or an alcove. But they can equally be designed into a square or rectangular room, allowing these regularly shaped spaces to provide the cozy surroundings you crave.
A reading nook should be intimate, so creating one or even a few around a home won't involve the sacrifice of large amounts of space. What is crucial, though, is seating to spend time on, and colors and textures that are appealing.
To provide inspiration, we've collected favorite reading nook and bookshelf ideas together with wisdom on their design from the experts.
Reading nook ideas
On the list of potential reading nook ideas are spaces in corners, alcoves, and even under the stairs that feel cocooning. But consider custom-building as a way to create book storage ideas and reading nooks as well as using furniture to demarcate a snug and quiet place to enjoy spending time. You can also incorporate these ideas when learning how to decorate a den.
1. Build a nook into bookshelves
Looking for reading nook ideas suitable for larger spaces? Consider building a nook into custom bookshelves. This is one of those clever home library ideas that could have the proportions to fit a living room sofa in a larger room, or be armchair-sized in a smaller one.
'This used to be a formal living room,' says Kim Armstrong, owner and principal designer of Kim Armstrong Interior Design. 'The client had a large collection of books that were one of the items that were able to be salvaged after a house fire completely destroyed her previous home.
'I added these built-in living room shelving ideas to hold the few surviving items. I left space to nestle a sofa, which I think creates a cozy living room. We used a complimentary color scheme of soft orange and turquoise blue to create a warm and vibrant reading room.'
2. Combine a reading area with storage
You may not be designing a home library, but bear in mind that living room storage can do double duty in providing a reading nook if you opt for a design like this one from Lauren Ramirez Interiors which includes a window seat made comfortable with an upholstered pad and pillows. The drawer below the seat and the cabinets either side can provide the additional space for books when library shelving is filled, but could equally tidy away household items.
While this nook offers good daylight, a wall light introduces the task lighting needed for reading after dark.
3. Maximize comfort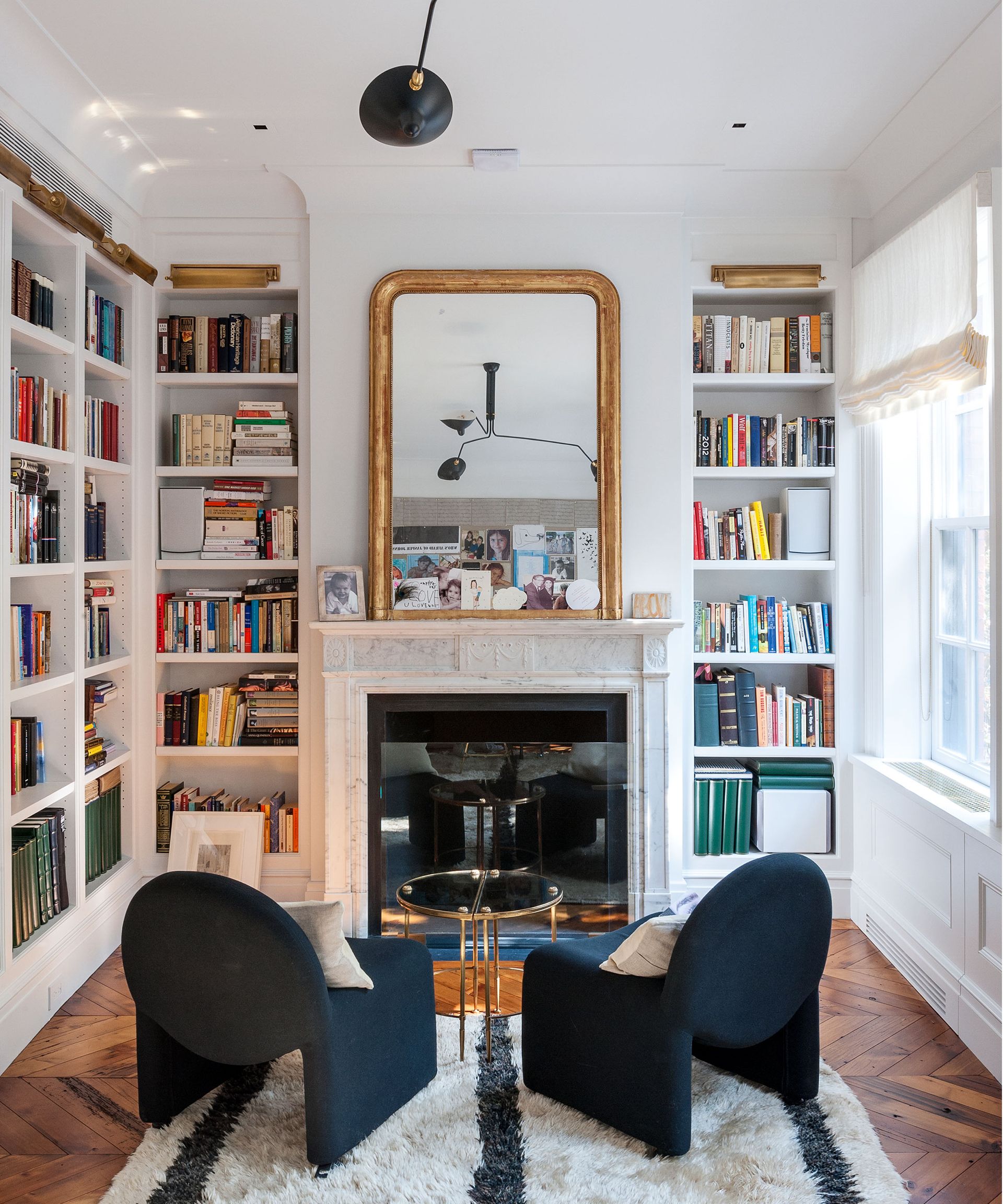 Designing a home library might be your desire, but if a separate space isn't available, the same cozy sanctuary atmosphere can be created in another room.
'It could be in a sitting room, study, bedroom or even a well thought-out space under the stairs,' says Louise Wicksteed, design director of London and Gloucestershire-based interior designers Sims Hilditch.
'Use this opportunity to get creative with furnishings by choosing cozy pillows and throws to create your relaxing haven. Downlighting or wall lights are great options that look aesthetically pleasing but also work well for reading.
'We also recommend recessing shelves into the walls of the nook to store books.'
4. Use a bay window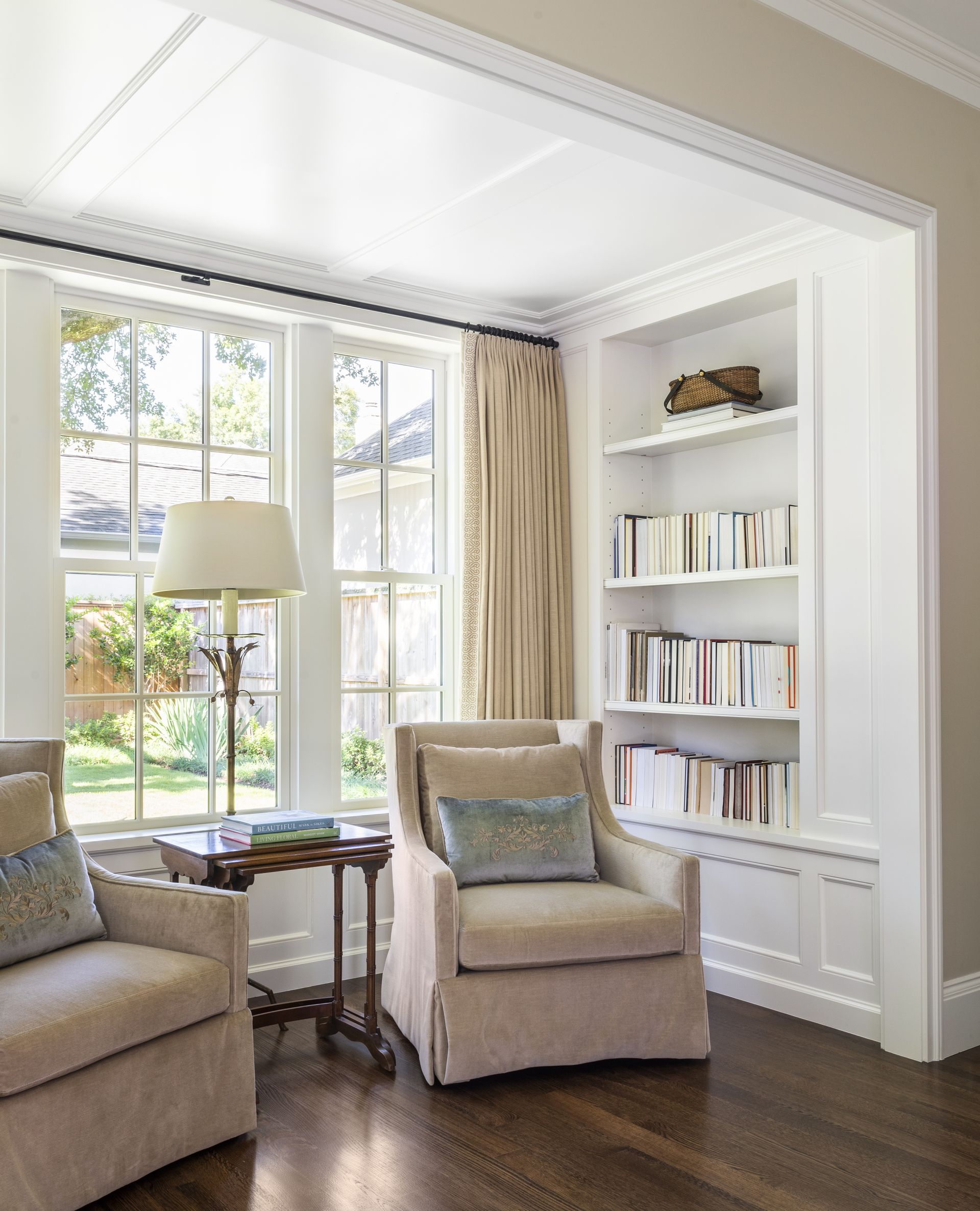 A home's architecture can provide reading nook ideas, and one of the options with the ideal characteristics could be a bay window. A larger bay might have room for a pair of readers in twin armchairs in the cocooning space – as in this interior by Lucas Eilers Design Associates.
A large bay window area can additionally provide space for living room bookshelves along with seating, but even a small bay offers all the potential required to create a peaceful solo spot furnished with a single armchair to curl up in.
5. Give kids a reading nook
Think reading nook ideas for a kid's room ideas to lead them into loving books from an early age. This nook is built into the wall of bedroom storage and the circular design is exclusively child-sized, which any kid will appreciate.
Follow the example of this design by upholstering a kid's nook all round to create the snugness that makes it an extra tempting space to occupy.
6. Use enticing color
Draw the eye to a reading nook by opting for upholstery that introduces a pop of color, attention-grabbing pattern, or both, for the seating as in this design from Meg Lonergan Interiors. The warm color of the bench seat makes it an inviting spot to take it easy with a favorite novel.
When building a nook into custom shelving, think: bookcase styling, using the same color for the storage and the backdrop to the nook, as here, is a good tactic to make it a more enclosing – and therefore tantalizing – niche.
7. Opt for a spot with a view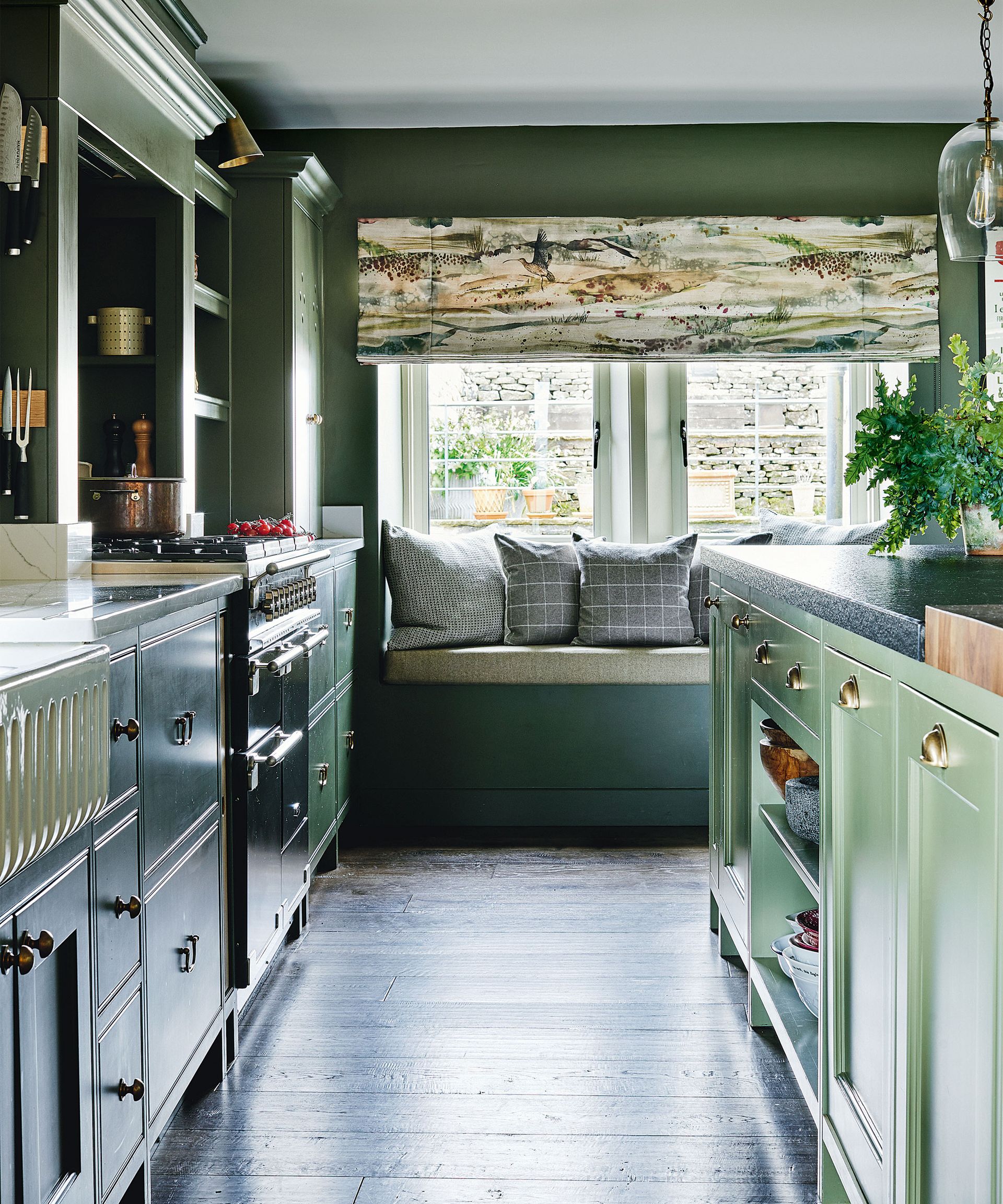 A window seat makes for a fabulous reading nook and, in an interior from Lucinda Loya Interiors, this one is a contemporary take on a traditional home feature that maintains the clean modern lines of the space.
Obscure glass for the lower part of a window can maintain the sitter's privacy in a nook that's overlooked without stopping daylight entering the room, while clear upper panes allow a beautiful view to be seen when you look up from the pages of a book.
8. Use a landing
The proportions of a staircase landing can make it – like a bay window – a natural candidate for a book nook, and turn it into a destination in its own right rather than merely a circulation space.
A striped carpet leads the eye to the armchair in this home and bookshelving is located in the opposite corner so reading material is at the ready.
9. Recline in style
Think about selecting a chaise longue in place of an armchair for ultimate reading comfort. It's a choice that signals luxury – this is a perfect partner for bedroom bookshelf ideas.
In this Meg Lonergan Interiors design, neutrals rule for the reading nook's chaise, drapes, the Roman, and the walls to soothing effect. Even the books on the shelves follow suit with colorful spines turned towards the back of the shelves.
10. Let architecture take the lead
Use a space with impressive architectural features – like the beams in this home – to provide the super cozy niche needed to spend quality time with a novel.
Here, the timber makes an alcove into which a chair can be nestled, while the horizontal beam above doubles as book shelving that's been supplemented with a simple rustic shelf above.
Dark wood for the chair and side table make a subtle contrast with the lighter aged timber of the old beams.
How can I make my reading area cozy?
To make a reading area cozy, the seating you select, the extra touches of comfort, and the atmosphere created are all crucial.
'Whether a window seat, comfy chair and ottoman, chaise lounge, or even a small sofa, finding a cozy spot in one's home for a reading nook is vital,' says Maggie Griffin, founder and lead designer of Maggie Griffin Design. 'Make it a fun, relaxing space where you can wind down at the end of the day.'
Whichever seating you use, add throw pillows as well as blankets to make your seat comfortable, warm, and tactile. Think comfort underfoot, too, with a deep pile rug layered on to hard flooring.
And while good task lighting for reading is essential, think mood lighting, too, to make the area atmospheric and warm.
What is the best color light for reading?
The color of light ranges from cool white light to warmer yellow shades and this 'color temperature' is indicated in kelvins (K).
'For studying or in the work place cooler light temperatures from 3000 to 6000K are usually used to keep the brain stimulated, awake and help it retain information,' explains Estefania Marquez, a senior lighting designer at John Cullen Lighting.
'In the residential environment, using warm task lights from 2700 to 3000K are ideal as this color temperature helps to relax the eye while reading and improves your sleep quality. Look for products with around 450 lumens from 6 to 9 watts that are low glare with a long lifespan and dimmability for added flexibility.
'In addition the reading light source should be a focus beam to cast light in the area required.'

Sign up to the Homes & Gardens newsletter
Decor Ideas. Project Inspiration. Expert Advice. Delivered to your inbox.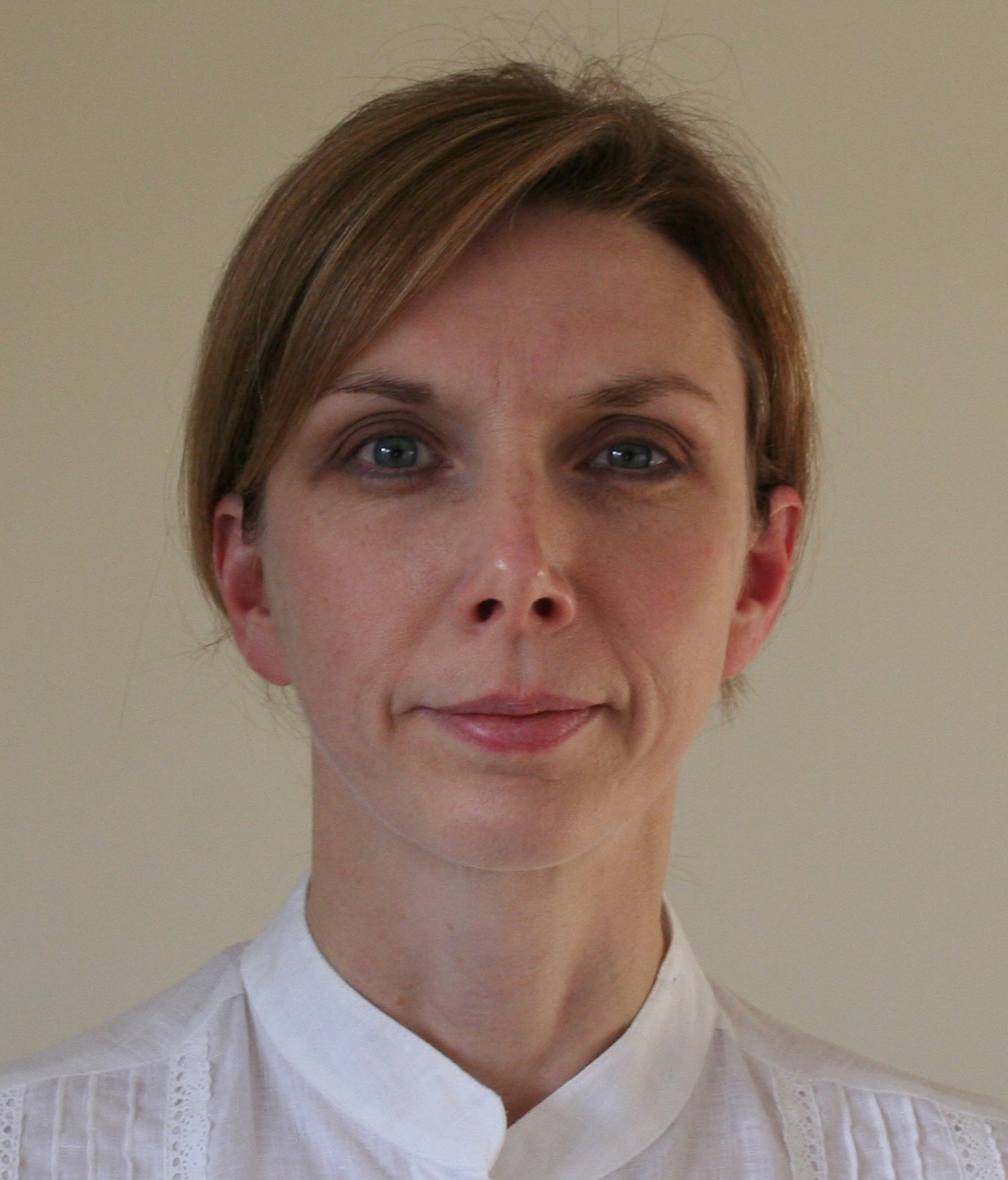 Sarah is a freelance journalist and editor. Previously executive editor of Ideal Home, she's specialized in interiors, property and gardens for over 20 years, and covers interior design, house design, gardens, and cleaning and organizing a home for H&G. She's written for websites, including Houzz, Channel 4's flagship website, 4Homes, and Future's T3; national newspapers, including The Guardian; and magazines including Future's Country Homes & Interiors, Homebuilding & Renovating, Period Living, and Style at Home, as well as House Beautiful, Good Homes, Grand Designs, Homes & Antiques, LandLove and The English Home among others. It's no big surprise that she likes to put what she writes about into practice, and is a serial house renovator.