Bedroom bookshelf ideas – 10 stylish bookshelves for bedside reads
These bedroom bookshelf ideas will keep books within easy reach, stylishly

(Image credit: Future)
Finding space for favorite books and latest reads can be a challenge. But bedroom bookshelf ideas are ideal for anyone who likes to end the day with a spot of night-time reading. Rather than cluttering up the floor with books or crowding out bedside tables, they can bring order and a calm appeal to a space – a must in a bedroom.
Unless an exceptionally-avid reader, your bedroom isn't likely to need as much space for books as other areas of the home, such as a living room or library area, so bookshelf ideas don't need to be too extensive. But lack of space can be a problem in many bedrooms, so space-saving bedroom bookshelf ideas that are neat and discreet is key.
Bedroom bookshelf ideas
The first point to think about with book storage ideas is to assess what space is available and the volume of books that you're likely to need to cater for. A few well-placed shelves or a book-filled headboard might be sufficient for a small amount of books, or opt for built-in shelving or reading nook ideas with storage if there are lots of books to find space for.
1. Make use of awkward alcoves
Discreet bedroom bookshelves that don't overcrowd the room is essential in bedrooms where space is tight. Positioning the bed centrally with the alcoves either side utilized for shelf storage is a clever use of space that allows the bedroom to flow better.
Built-in alcove shelves are easily accessed from the bed, but run from midway to ceiling to allow bedside chests to be positioned against the lower section of wall. Bedside lamps are replaced by hanging pendants to free-up table space while still providing light for night-time reading.
'Bookcases can work well in every room,' says interior designer, Suzy Hoodless. 'Aside from sitting rooms and kitchens, they can be positioned on both sides of the bed in a master bedroom or at a low-level height in children's rooms so that they're easily reached. And in guest rooms it's nice to have a selection of books that refer to the house, the area or the people living there.'
2. Save space with sleek built-ins
Utilize wasted wall space either side of windows to create scaled-down home library ideas. Made-to-measure shelves can be slotted into a narrow section of wall, rather than eating into the room's floor plan, so the bedroom will feel less crowded.
Keep colors calm and cohesive so that the bedroom feels relaxed and restful. Too many visual distractions can make a bedroom feel chaotic and isn't conducive to a good night's sleep. Match bookshelves to wall color, curtains and soft furnishings so that the coloring blends in and the space feels less busy.
3. Utilize the spare room for storage
If a guest bedroom is seldom-used, then how about designing a home library setup to make better use of its potential? Swapping a full-sized bed for a pull-out sofa bed will free up valuable floor space leaving room for floor-to-ceiling bedroom bookshelves that can be filled with favorite reads. Try painting shelves and walls in a vibrant, co-ordinating color that will create a seamless look and make a small space feel bigger.
'One of the first things I discuss with clients is space planning. We need to establish the requirements for each room,' says Suzy Hoodless. 'To me, there's nothing more indulgent and luxurious than an inviting room full of books, with comfortable seating and good lighting.'
4. Incorporate easy-access storage around a bed
Having books within easy reach of the bed makes great sense, so built-in bedroom bookshelf ideas surrounding the headboard is a clever use of space that makes books easy to access. Bespoke joinery can be designed to accommodate wall size and bed dimensions, including cabling for bedside lighting that can be discreetly hidden for a sleek look.
'Our client wanted the primary bedroom to feel cozy and the main attraction is a bookshelf that channels that ambiance,' explains Meg Lonergan at Meg Lonergan Interiors. 'Paint colors from Farrow & Ball are unusual and add extra warmth to the room, further enhancing the coziness of the space.'
With this kind of arrangement, it's worth knowing how to style a bookcase, since it will be the focal point of the room.
5. Keep books within easy reach
If bedroom space is tight, consider looking beyond the boundary for extra upstairs storage. Upper landings are often under-utilized spaces and if the area leads to bedrooms, it can make a great location for a set of communal bedroom bookshelves or a getaway reading nook.
Most books don't require much depth – aside from hefty coffee table books – so even the narrowest of landings should be able to accommodate a slimline set of shelves. Bookshelves built around and above a doorway are another option that will make full use of wall height to accommodate more books.
6. Make space for a cozy reading nook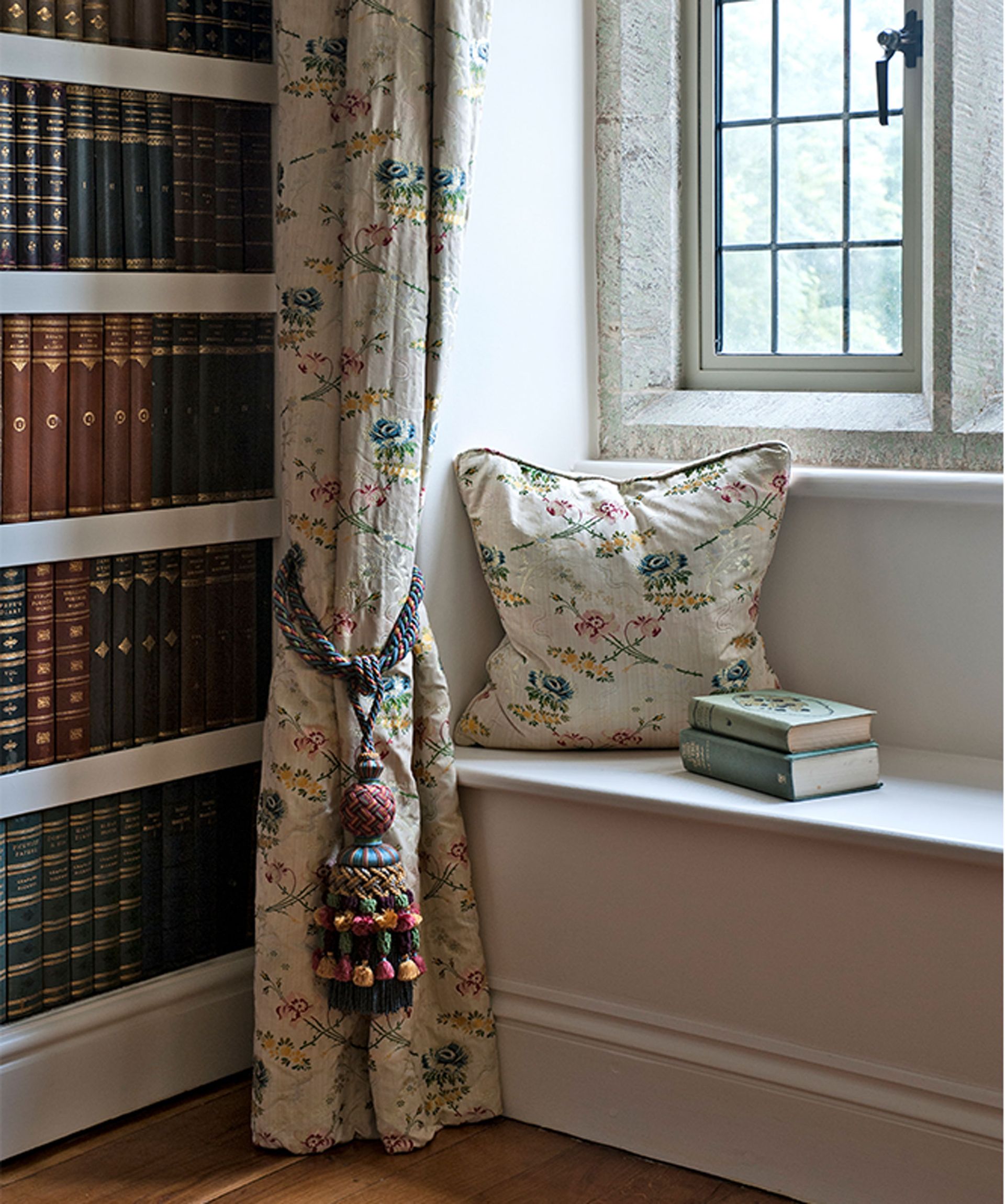 Take advantage of quirky architectural details, such as wall alcoves and window recesses in bedrooms to create getaway areas where you can set up a mini home library area. Look to window seat ideas with comfy seat pads or cushions plus a bedroom bookshelf located close by within easy reach for a lovely place to read.
Assess what type of books you are likely to be housing in built-in bedroom bookshelves in advance. Work out the height of shelves by deciding how many paperbacks, novels or oversized art books you have and what you will need space for. Fixed shelves at a uniform height create a more ordered look or consider adjustable shelving if you prefer more flexibility.
7. Consider bedside lighting options
Installing bedroom bookshelves gives an opportunity to think about bedside lighting ideas at the same time. Adjustable wall-mounted lights are a space-saving option that will free up bedside table space and can be wired-in when shelving is fitted so that cabling stays hidden.
'Bedrooms are practical as well as relaxation spaces, so plan your lighting accordingly,' says Charlie Bowes, director of Original BTC. 'Use a mixture of task, mood and accent lighting to create a layered scheme that will work at any time of day and across the seasons – cozy in winter, light and airy in summer.'
'Consider different types of light fitting, not just the light they provide. Wall-mounted lights are great space-savers in small, low-ceilinged rooms and are ideal for creating a clean, boutique hotel look. Or think creatively, floor lights with adjustable arms or even a pair of low-hanging pendants can make dramatic bedside lights.'
8. Go low with book storage in attic bedrooms
Space can often be restricted in attic bedrooms, with sloped ceilings and eaves making ceiling height lower in places. Bespoke built-in bedroom bookshelves that follow the angle of the ceiling will maximize the space to its full potential and are worth considering. Built-in shelves are an easy option for a carpenter or joiner to install.
If your budget is limited, consider an off-the-peg solution to get around the problem instead. Low-level, half-height bookcases or modular shelving will fit neatly below the angled area of roof and provide plenty of space for books in a teenager's bedroom or attic study space. Put several bookcases together to create a long run of shelving.
9. Cover all levels with nursery bookshelves
Make use of alcoves in box bedrooms and children's rooms by building in floating shelves that run from floor to ceiling. Low-height shelves make books easier to access for little ones and shelf content can be adjusted and rearranged as children get taller.
Paint shelves and alcoves the same or a similar color to walls so that they blend in for a more cohesive look. Paler colors will help create a feeling of spaciousness with small bedrooms and extra visual interest can be added with bright books and colorful toys and accessories.
10. Squeeze extra storage into guest bedrooms
Factor-in space for a few bedside books in a spare room or guest bedroom so that visiting friends and family will feel welcome and comfortably at ease. A narrow ledge or run of shelving against one wall can do double duty as a resting spot for bedside essentials such as an alarm clock or glass of water, plus space for a row of night-time reads.
Can you put a bookshelf in a bedroom?
A bookshelf can be installed in any room – and if you are a book lover, then factoring in space for bedtime reads will be essential. Just as when considering living room bookshelf ideas, the biggest considerations are how much space is available, as well as how many books you need to find a home for. Bespoke built-in bedroom book shelves can be tailored to suit your exact requirements and can be designed to accommodate the size of bedroom and any quirky architectural details. A freestanding bookcase will make a less-pricey option and can be moved should you decide to rearrange the bedroom at a later date.
Where should a bookshelf go in a bedroom?
It makes sense for books to be located as close to the bed as possible so that they can be accessed more easily. Built-in headboard shelving or alcove shelving either side of a bed will put books within arm's reach – plus the benefit of having books stored in one location (rather than all around the bedroom) will make the space feel neater and less cluttered. Above all, bedroom bookshelf ideas should help make the space feel calm and orderly, rather than chaotic, for a more restful night's sleep.
Lisa is a freelance journalist who has written about interiors for more than 25 years and has worked on all the major homes titles, primarily Ideal Home, but also including Homes & Gardens, Country Homes & Interiors, Style at Home, Livingetc, Woman & Home, Easy Gardens and Good Homes magazines. Lisa writes about interior design and decor ideas for Homes & Gardens.