Bedside lighting ideas – 10 ways to brighten bedtime
Brighten up your sleep space with these top bedside lighting ideas from the experts in the know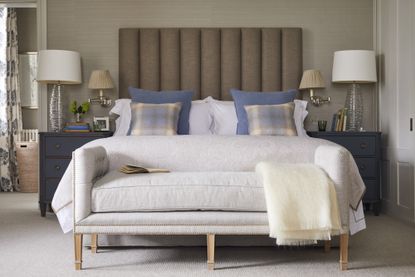 (Image credit: Sims Hilditch)
When considering bedside lighting ideas, it's always recommended to remember that the results need to be a balance between stylish and functional.
'Bedrooms are practical as well as relaxation spaces, so plan your lighting accordingly,' says Charlie Bowles, director of Original BTC.
'Use a mixture of task, mood and accent lighting to create a layered scheme that will work at any time of day and across the seasons – cozy in winter, light and airy in summer. Consider different types of light fitting, not just the light they provide, too.'
Bedside lighting ideas
From pretty pleats to fabulous fluting, hanging bedside pendants and rattan wall lights, we've rounded up a host of brilliant bedroom lighting ideas so that you can add your favorites to your bedroom ideas wishlist.
1. Incorporate bedside lighting into your headboard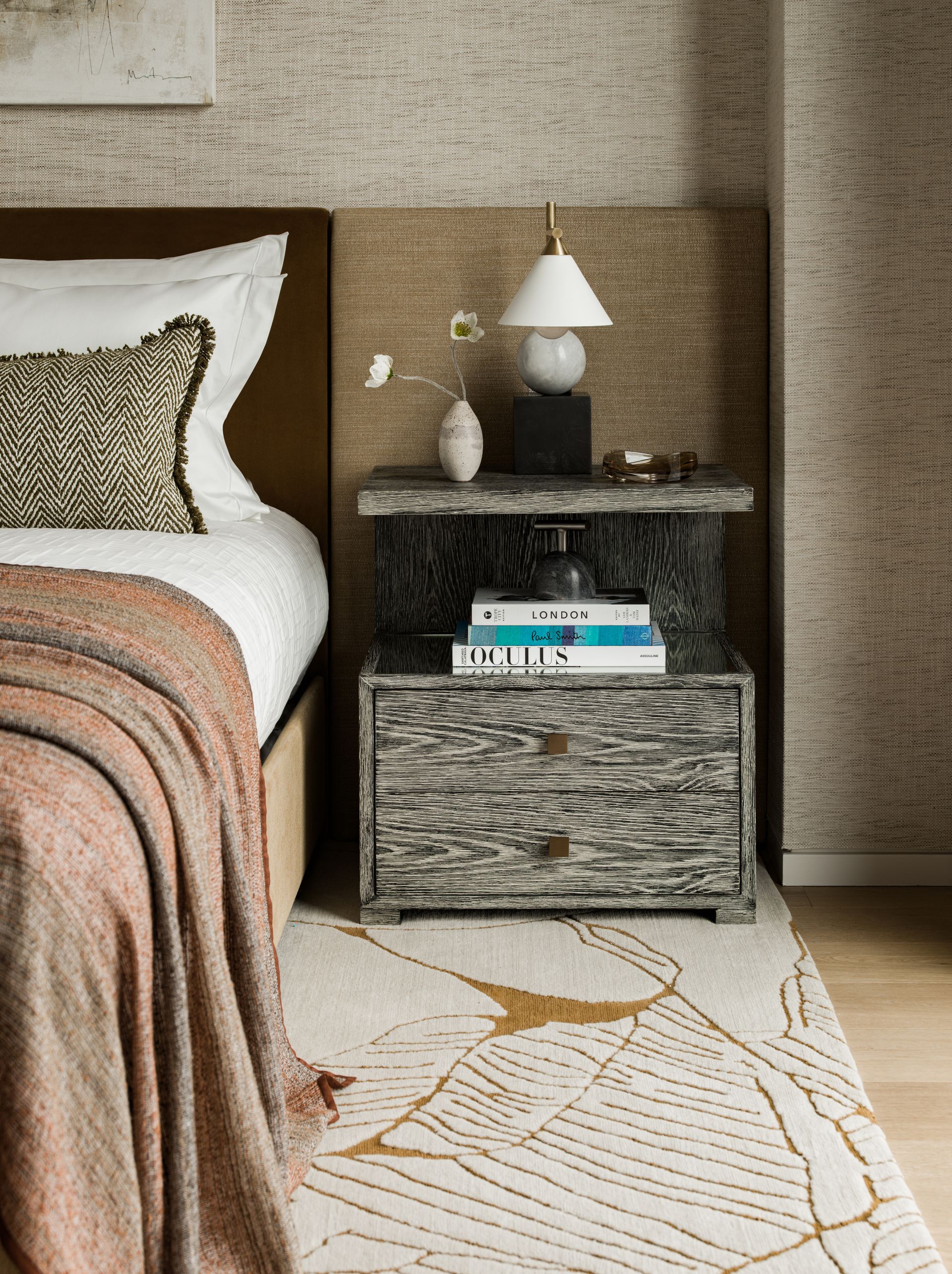 Bedroom lighting ideas can set the tone for an entire room scheme – and here, simplicity is key, with a small but stylish lamp incorporated cleverly into one of the many headboard ideas by design studio Elicyon.
'Having a statement light is a way to really define and even lead the style and feel of your bedroom,' says Xander Shreenan, interior designer at home décor brand Dowsing & Reynolds. 'These can range from geometric industrial styles to cloud-like formations and even feathered lights, it all depends on how you wish to feel in the space.
'Whichever style you're drawn to, choose one that can really anchor the room and be the inspiration for the rest of the décor.'
2. Embrace a period look
Traditional bedroom ideas call for bedside lighting ideas that match the style, color, pattern and curves of other furniture in the room. It might be that a stand out bedside table or dressing table inspires the choice of your bedside lighting, it may be the bed ideas you are looking at dictate your choice. And if you want a look that's not too coordinated, consider an eclectic choice, as in this bedroom designed by Kit Kemp.
3. Wall mount bedside lighting ideas to save space
In a room that has little or no room for bedside tables, you can be more creative with bedside lighting ideas – and wall mounting them over the bed is a good option where space is tight.
'It is always good to create different areas of light in a bedroom so think about how many sources of light you have,' explains Xander Shreenan. 'Combine bedroom ceiling lighting with bedroom wall light ideas, floor lamps and table lamps, as all of these can create "zones" in your bedroom to give different feels and functions.'
Charlie Bowles, Director of Original BTC, says: 'Consider different types of light fitting, not just the light they provide. Wall-mounted lights are great space-savers in small, low-ceilinged rooms and are ideal for creating a clean, boutique hotel look. '
4. Treat your lighting like a work of art
Lighting as a design focal point in a bedroom is a trend that adds character.
Martin Waller, Founder of Andrew Martin, goes further to say that you can choose pieces that could be considered a work of art.
He says: 'Choose bold designs featuring sculptural shapes, interesting texture or coloured glass to make a style statement, even when the light is switched off. Think of your lamp as an art piece or sculpture, like a design-led finishing touch.'
Megan Matharu at Visual Comfort, emphasizes the point, adding: 'Bedrooms should not have just one sole source of lighting. Sculptural table lamps should be used in conjunction with ceiling lighting. As the hours tick on and darkness falls in, floor and table lights provide a more ambient glow.'
This lamp is by Porta Romana.
5. Add a sleek hotel finish with a bedside pendant light
If you're looking for something a little different for your bedside lighting ideas, try installing low-hung bedroom ceiling lighting ideas for an ambient, modern and chic look.
Embrace the natural look with rattan pendants, go industrial with matte black or antique brass, stay neutral with white china, or add glamor with gold.
The low height will ensure there isn't too much glare from the light source, offering a soft-focus for tired eyes.
Original BTC's Charlie Bowles says that 'a pair of low-hanging pendants can make dramatic and stylish bedside lights'.
5. Double up on wall lights and table lamps
You can't have too many bedside lighting ideas, so don't be afraid to install bedside wall lights as well as using bedside table lamps.
It creates a stylish look by introducing different textures, and is practical as well as pretty; a wall light is good for reading at night, while the soft glow of a table lamp is perfect as the first light to turn on in the morning.
Louise Wicksteed, Design Director for Sims Hilditch interior design studio, agrees, adding: 'We often suggest a layered approach to our clients. By creating a range of lighting such as wall, floor, overhead or table the clients can alter the mood of the space as they wish.
'The bedroom can then be tailored to the client's preference, for example where they might be an avid reader, we would suggest installing task lighting by the bed or perhaps in a reading corner to create a softer and more calming aesthetic.'
6. Remember that rattan is not just for ceiling pendants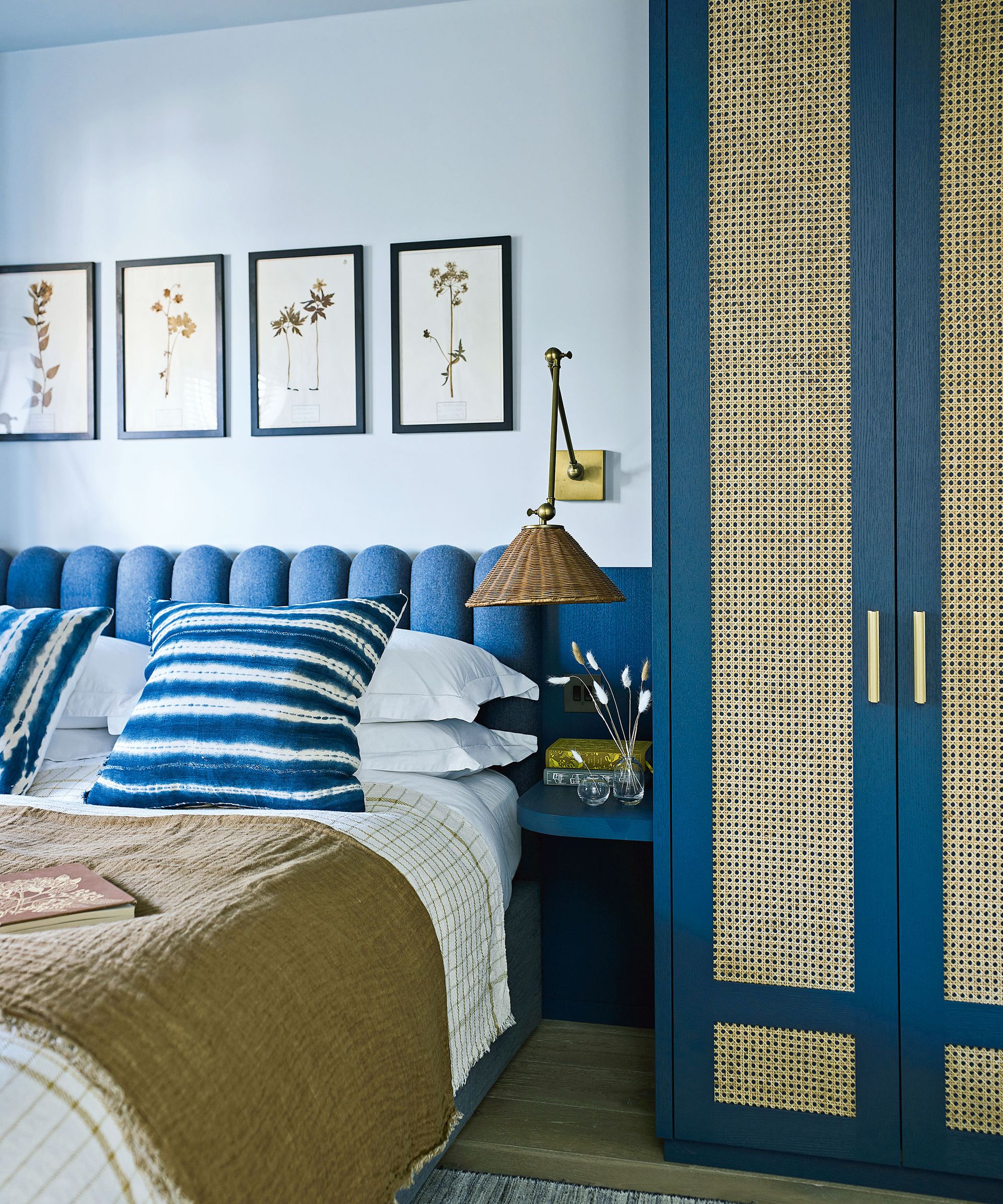 The popularity of natural materials continues to rise and, while the Scandi trend may have moved on a little, elements of it are still extremely relevant.
Using sustainable sources and bringing the outside into your interiors for a calming space that reflects nature is a desired design aesthetic for 2022. We love how in this bedroom natural bedside lighting ideas have been paired with rich, royal blue.
7. Put a bedside wall light on an extendable arm
Practicality is key with bedside lighting ideas, and having bedside lamps that are flexible is a wise option. This bedside wall light allows for an up-and-down and side-to-side positioning so that reading can be done sitting up or lying down.
8. Make space for fabulous fluting
It's not just lampshades that are getting textured – fluting on bases and hard materials is also a chic look with its design influences hailing from the Art Deco era.
White fluted lighting is a particularly effective stand-out look when paired with the botanical or Chinoiserie wallpaper trend, or contrasted with a dark hue behind it.
9. Choose an Anglepoise bedside light for a vintage look
If you are after a laid-back look for your bedroom that's practical, too, choosing an anglepoise is a good move. 'Here, the industrial look of the lamp contrasts pleasingly with the soft furnishings to take the country style of the space in a more contemporary direction,' says H&G's Editor in Chief, Lucy Searle.
10. Match bedside lighting ideas to headboards
Bedside lighting ideas can look very pretty if they are coordinated with bedlinen or the headboard. This look works particularly well in a more traditional bedroom – as shown with this Warner House fabric.
Where should bedside lights be placed?
Bedside lights should be placed between 12 and 18in above the top of your mattress if you like to read lying down or 6in above your shoulder as you sit up in bed if you prefer to read in a seated position; if you are hanging bedside wall lights, around 30 to 36in above the top of the mattress will work. The bedside light should also be between 8 to 12in from the edge of the mattress, depending on the width of the lampshade and base.
Knowing how to plan bedroom lighting properly like this can make the difference between a sucessful bedroom scheme and one that's less than perfect.
What height should bedside table lamps be?
Bedside table lamps should be 24 to 30in high, from base to the top of the lampshade. However, this height may need adjusting, depending on the height of your bedside table compared to that of your mattress. You will also want to consider how you use bedside table lamps – sitting up or lying down? If you sit up to read, any bedside lighting ideas you consider can be at the taller end of the scale; if you lie down to read, they can be shorter. The key is to ensure that when you're reading, the light falls comfortably over your book, and doesn't direct itself into your eyes.
From an aesthetic point of view, bedside lights should be the same height, whether they match or not.
Sign up to the Homes & Gardens newsletter
Decor Ideas. Project Inspiration. Expert Advice. Delivered to your inbox.
Ruth Doherty is an experienced digital writer and editor specializing in interiors, travel and lifestyle. With 20 years of writing for national sites under her belt, she's worked for the likes of Livingetc.com, Standard, Ideal Home, Stylist and Marie Claire as well as Homes & Gardens.