Headboard ideas – 23 handsome headboard designs and designers' tips
These headboard ideas will transform your bedroom and create beautiful focal points. Interior design experts share their secrets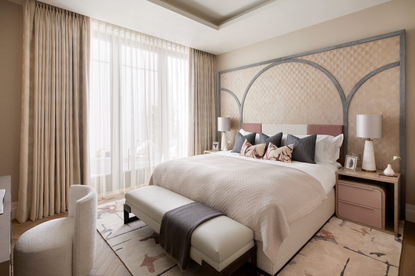 (Image credit: Elicyon)
Want to create a focal point in your bedroom? These headboard ideas will help you transform a bland space into a showstopper.
Using a wide range of decorative fabrics, opulent velvet trims and clever design details, interiors experts show us just why we should all be paying more attention to our headboards.
These headboard ideas below are creative, fun and flamboyant, and will offer inspiration no matter what bedroom ideas you have chosen.
Headboard ideas
Headboard ideas can totally transform a bedroom – but there's much more to them than simply placing a padded board behind your bed's head. We consulted the experts in bedroom design – and bring you our favorite headboard designs.
1. Have a headboard bespoke-made to complement decor
'There's no right or wrong option for the shape and size of a headboard, it's entirely up to you and your room design. One important consideration, if budget allows, is whether to have a headboard handmade bespoke or purchase one off the shelf,' says Cecilia Halling, creative director at Elicyon
'The benefit of having a bespoke headboard is that it will be entirely unique to your space, and you're able to be much more playful and selective with the fabric and add piping and trim details to complement your material scheme.'
2. Wrap bedside tables into your headboard design
We love how this headboard is backed into a niche lined with complementary materials.
'We've experimented with headboards that wrap around the bedside tables, so although the tables are freestanding it gives the impression of continuity. This layering of furniture and textiles typically helps to extend the width of a room, longer headboards are often used in smaller rooms or rooms with shorter ceiling heights to help extend the space,' says Cecilia Halling.
3. Create a cocooning effect with a wraparound headboard
A subtle nod to the cosseting feel of a traditional half tester is a headboard that is winged at both sides.
Take this a step further when commissioning a bespoke design and think about extending it beyond the width of the bed to create a niche that is generous enough for a bedside table.
In a large bedroom, this is a discreet way to up the comfort factor without disturbing the clean lines of a pared-back scheme. With neutral schemes, use texture and material with your headboard and bed ideas to generate warmth and interest.
'Recently we created a bespoke curved headboard with wings where the frame hugs the mattress, which created a soothing cocoon feel,' continues Cecilia Halling.
4. Embrace the latest headboard trends
'Color and pattern are being used frequently in headboard designs, contrasting fabrics help to create a wow factor. Adding a band of cord trim, a fringe or a timber beading really helps to elevate the design – for example, a patterned headboard with an elegant velvet border is a subtle but effective design detail,' says Cecilia Halling.
'We tend to start with soft textures at the center of the room design, and then layer with pattern so the room doesn't feel overwhelming. It is after all, meant to be a tranquil space to relax at the end of a long day.'
5. Combine lighting into headboards
'Another headboard trend we're implementing in many of our projects is hanging lamps either side of the bed to create interest and intimacy as well as to free up useful bedside table space. It's about layering the space to create a luxury look,' says Cecilia Halling.
6. Cheat a headboard with wallpaper
'I'm typically not a fan of a feature wall but if you add a simple timber profile around the edges of the wallpaper it frames it beautifully and makes it feel more like a headboard element than a wall feature. Wallpaper just one wall and frame it with a timber bead which will allow you to go for a very simple and plain headboard in front,' says Cecilia Halling.
7. Combine fabric and wallpaper to create a unique headboard
'Painted wall panelling may be a cheaper alternative to wallpapering the focal wall. If you add upholstery within the center panel you may not even need a headboard,' says Cecilia Halling. 'Choose a simple cotton or linen fabric for your headboard but elevate it by giving it a fun shape and adding a cord trim or contrast piping.'
8. Be brave with pattern pairings
This kid's bedroom idea in Singapore-based interior designer Elizabeth Hay's home is a masterclass in clashing patterns.
Matching a bedside lamp to a key piece of furniture – in this case, the headboard – brings the scheme together and makes the animal theme feel more sophisticated.
Hay used a print called Small Elephant by Les Indiennes for the lamp and headboard, and mixed up the scale of patterns in the rest of the room for a vibrant effect. The larger the lamp, the bolder your pattern should be to make an impact.
For interior design projects in small bedrooms such as this one, consult a firm like Ensemblier, which specialises in bespoke headboards and can help create something similar.
9. Cover the entire wall
Take a leaf out of an updated 1970s suburban American design vibe – minus the shag pile – and consider covering the entire wall behind the bed with a series of low-rise, upholstered panels in a graphic fabric – or go super-sized as with this panel.
10. Use a room's existing features
Unused chimney breasts or alcoves can be expensive to remove – or replace entirely – yet they often take up valuable space for a bed. One solution is to integrate the chimney breast into a bedroom accent wall that covers the entire wall behind the bed.
Niches can be used to create shelves, incorporate bedroom lighting ideas and disguise radiators. These details are offset with luxurious materials, including an upholstered headboard, woven bedding and plush carpet.
11. Choose a complementary headboard
With patterned walls, choose a plain fabric that complements the colors in the wallpaper and experiment with the shape of the headboard instead.
In this luxury bedroom, the baroque-style silhouette of the Origo design by Oka adds a bit of a punch to the pretty country-house florals.
12. Make your headboard work hard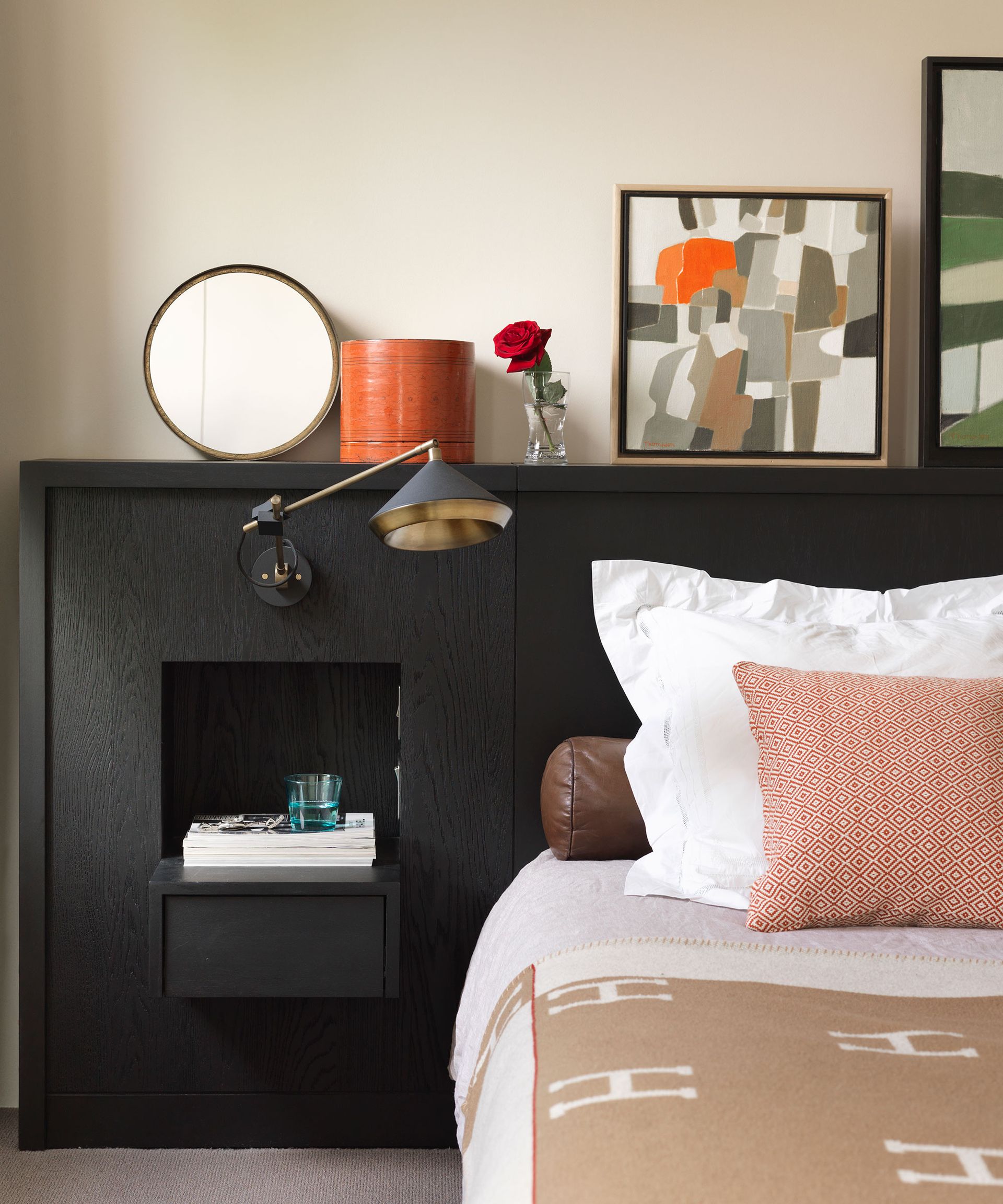 Get the most out of an integrated headboard by making it work as hard as possible.
If you're looking for bedroom storage ideas, opt for a headboard like the one shown above. This low-slung design incorporates plenty of shelf space on top for displaying favorite objects and pictures, a bedside table and an adjustable task light for reading.
13. Introduce bold colors and patterns with upholstery
An intuitive creator with a love of beauty, interior architect and designer Natalia Miyar approaches design with an understanding of balance and proportion, so it comes as no surprise that she is best known for her use of color and pattern.
Make a break from safe neutrals and upholster the bed in a bright playful fabric that will make it the star attraction.
'The headboard itself can be scaled up or down to introduce a new perspective, think of it as a frame within the room,' she says.
For added impact, paint the wall behind in a bold, co-ordinating shade.
14. Upholster with velvet
Natalia Miyar also recommends building contrasting layers of texture in the bedroom. Choose velvet for its silky smooth texture, luxurious sheen and soft finish.
The designer regularly decorates with deep rich shades, which sit perfectly against a decorative wall in a softer palette, creating contrasts of texture and pattern.
If you're wondering how to style a bed, look to this space for inspiration. A bold headboard has been matched with tonal accessories, lighting and beautiful fabrics to introduce news shades of color and interest into the room.
15. Add detail with a stud design
Studs are a great way to add texture and detail to a headboard without going overboard.
Creating a smart border around the edge of the headboard, metal studs further attract the eye towards the statement piece as well as introduce a metallic contrast to the warm, rich textile upholstery.
Natalia suggests using metal elsewhere in your room, such as on a statement mirror or lamp, for continuity and consistency.
16. Scale-up your headboard
For a larger room, Natalia adds definition and interest with an oversized headboard.
'Proportion is so important; I like to use large-scale furniture as it makes a space seem bigger and more luxurious,' she says. 'The key is to choose carefully.'
With a very large headboard, it is important not to overcrowd the room. The designer suggests choosing slim, metallic shelving, folding stools and small, neutral colored chairs to ensure the bed is the central focus.
17. Add pattern to a plain bedroom with a headboard
If you're building interest into a formerly plain scheme, mixing patterns is the best way to do so and a focal headboard is an impactful first step.
'Mixing patterns is one of the most enjoyable parts of a design scheme,' says textile designer Bethie Tricks.
'I tend to use the rule of three as a starting point, pulling together patterns that share a similar color or design element to ensure they echo each other subtly while adding variety and a sense of continuity.'
18. Pick a headboard idea that's a pleasing contrast
A headboard needn't be the focal point of a bedroom. You might want instead to use it as a grounding element in a scheme that features adventurous bedroom wallpaper ideas, for example.
'Bedrooms are deeply personal spaces and should be decorated accordingly,' says Joa Studholme, Farrow & Ball's color curator. 'If you are tempted to just have a feature wall of wallpaper, then it is best to use the wall behind the bed to ground the room.'
19. Pick soothing shades for a headboard
You can use headboards to play with pattern, as in the bedroom above, where both horizontal and vertical stripes with equal weight have been used to create a neat visual trick to make the bedroom feel both wider and taller.
However, when introducing bold patterns, it's important to consider color carefully.
'The bedroom is somewhere you want to relax, unwind and switch off every day. Tranquil blue tones and calming neutrals are known for their relaxing and regenerative powers,' explains Zoffany designer Peter Gomez.
20. Match the headboard idea to the bed frame
A scheme that shows real attention to detail will always look more carefully curated and elegant.
Here, the headboard fabric has been pulled right through to the bed frame to bring pattern into the room in an impactful way.
'Using the biggest pattern on the floor in the form of a rug helps to anchor a space,' says textile designer Bethie Tricks.
'Apply another on one of the main pieces of furniture, such as a headboard or armchair, and finish with either a patterned wallpaper or curtain fabric. You can then pick out colors from these patterns to finish the scheme when choosing your bedding and other decorative accessories.'
21. Add color with a tiled headboard idea
Entirely practical, tiles used for a headboard will stay looking like new for years, and are perfect for a contemporary bedroom.
A tile pattern that mimics fabric will create an elegant look and matte tiles in chalky colors will be subtler than any with a polished finish. This new Scandinavian-inspired Hexagon Split Shift collection is by Bert & May.
22. Layer in colors with headboard ideas
'Color-blocking on walls, softened by an embroidered fabric headboard, is a dynamic scheme for a bedroom. A plain white wall and classic white bedding allow the colorful elements to sing out and take centerstage. Each piece here has been carefully chosen to work within the overall scheme. And no one piece overshadows any other. They each have enough air and space to be enjoyed in all their individual beauty.
23. Consider headboard ideas for four-posters
Four poster beds also have headboards – and these can range from grand to subtle.
'Four poster beds are making a contemporary comeback – the way we've been incorporating these grand frames into bedrooms is often with drapes or canopies, which adds a softness to the space,' says Cecilia Halling.
'If you'd prefer to let the wall treatment be the focal point, then it's better to choose a bed frame and headboard that is low and discreet, so the attention is on the wider wall. If you use a patterned wallpaper you can pick an accent color from it and use in a plainer form for the fabric on the headboard to marry the two together.'
Can you put a headboard on a bed frame?
Yes, you can put a headboard on an existing bed frame. Although traditionally it is easier to attach a headboard to a bed frame of a similar size, it is also possible to fit an oversized headboard to the wall behind the bed.
What is the reason for a headboard?
A headboard is an important element of a bedroom for numerous reasons.
From a functional point of view, you need a headboard to cushion your head and back when you are sitting up in bed, and to protect your head from the wall. A headboard will also stop your pillows from slipping down behind the bed frame.
Headboards are vital for aesthetic reasons, too. They provide a focal point, can introduce color, pattern and texture, and can help to correct and improve a room's proportions and visual impact.
Sign up to the Homes & Gardens newsletter
Decor Ideas. Project Inspiration. Expert Advice. Delivered to your inbox.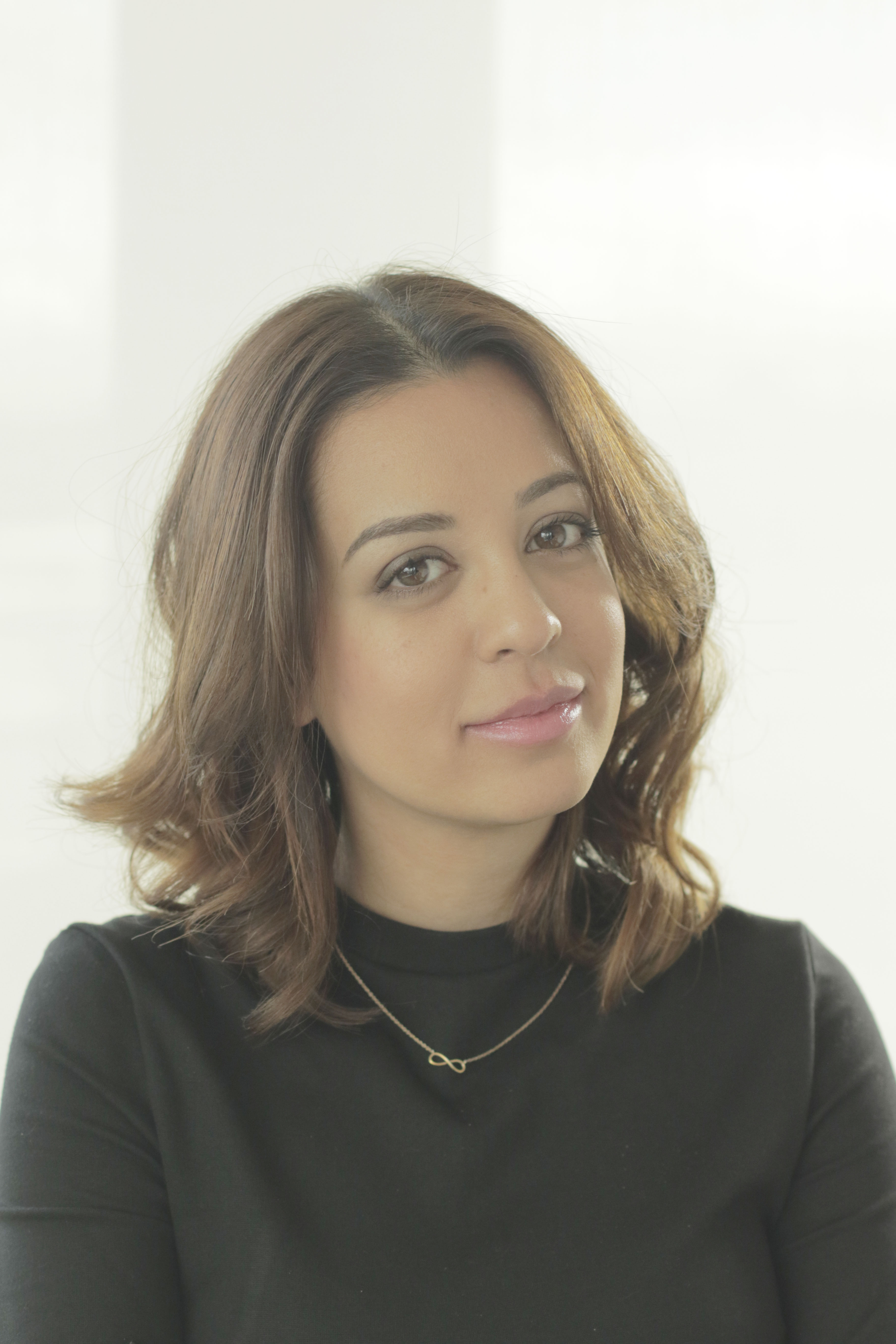 Jennifer is the Digital Editor at Homes & Gardens. Having worked in the interiors industry for a number of years, spanning many publications, she now hones her digital prowess on the 'best interiors website' in the world. Multi-skilled, Jennifer has worked in PR and marketing, and the occasional dabble in the social media, commercial and e-commerce space. Over the years, she has written about every area of the home, from compiling design houses from some of the best interior designers in the world to sourcing celebrity homes, reviewing appliances and even the odd news story or two.