How to mix patterns in a room: an interior design masterclass
Getting the balance of patterns just right is key to a room's success. Here's how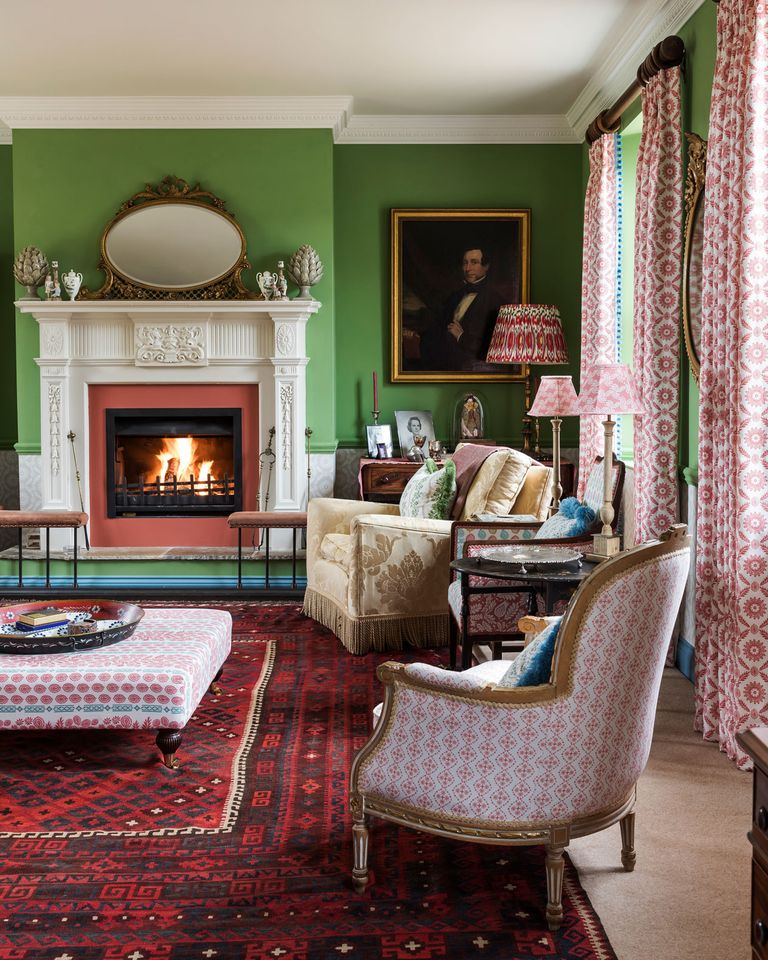 (Image credit: Charlotte Gaisford)
By Lucy Searle
If, like us at H&G, you have a deep-seated love of interiors, knowing how to mix patterns in a room is just one of the many skills you need to master. So who better for us to ask to give a masterclass than Charlotte Gaisford, a British fabric and wallpaper designer known for her expert pattern combinations?
'As a fabric and wallpaper designer, I embrace using lots of pattern in my room schemes and I do not shy away from it at all,' explains Charlotte. 'The famous interior designer David Hicks said that if you can't do pattern on pattern then don't do it. I find that many people struggle to mix patterns, so have pulled together some tips and ideas based on my approach in my own home.'
Keep reading to find out how to combine patterns and prints with plains like an interior designer.
See more: Wallpaper ideas – gorgeous decor for every room
How do interior designers use patterns?
Follow Charlotte's step-by-step masterclass to mix patterns successfully.
1. Start with the showstopper fabric
'I always choose my main fabric (usually for the curtains, or the headboard) first,' says Charlotte. 'These are the main focal points of the room. I am often asked for help choosing fabrics for rooms which have already been painted. To me this is a big no-no because the choices of fabric are immediately restricted.
'It is much harder to find a fabric that gels with you than paint and it is so easy to find a paint colour that goes with a fabric, as there are so many paint colours out there.'
2. Find other fabrics to mix with your showstopper fabric
'Once you have found your showstopper fabric you can then find other fabrics that will combine with your choice. It always amazes me how people focus only on choosing one fabric for a room by just looking for the curtain fabric.
'It is important to consider the other soft furnishings in the room that also need fabric: cushions, upholstery, window seats, headboard, valances and so on. It would all be very boring if you used the same fabric for all of these, so you need to think about the whole scheme.'
3. Keep the color palette simple
'I like to keep my color palette simple and only use two or three colors within a scheme.'
4. Take pattern scale into account
'When choosing pattern you also need to take into account scale. Scale is important and can really help pull an idea together, the main thing being to mix the scales from large to small.
'Within the scale idea you also need to think about what type of pattern you want to use.
5. Narrow down your pattern choices
'I use this easy-to-remember way of choosing patterns which always works and ensures interest and contrast:'
'Choose one, two or three colors (I will go into this later)'
'Use only one large scale (showstopper) fabric'
'Choose medium or small-scale designs for all-over complementary patterns
'Find a pattern which reminds you of a stripe, but it isn't necessarily a true stripe
'Pick a pattern which reminds you of spots, but it isn't necessarily a spot. Remember – you can have as many smaller scaled fabrics as you like but the rule is to only use one large scale showstopper in the room'
Tip: 'Like many other designers, I tend to design patterns within a collection to be used together, so if you look within a collection you can usually find your complementary fabrics.'
6. Layer and mix patterns slowly
'Planning and decorating a room should be fun and enjoyable! Add things slowly and enjoy shopping for the different elements. Make the room an experience in its own right. I worry when people try and match things which are outside the room. They are just making life so difficult for themselves.
'To me, each room in my house is an experience, you open the door and are surprised and hopefully delighted. Be bold and brave, use the rules, maybe mix them up a bit every now and again, once you are confident, mix your patterns and go for it!'
Using pattern in a living room
'Keeping cohesion in mind when using many patterns In my drawing room (above and below), I chose contrasting colours of green, red and gold for a strong dramatic effect, but I put together six different patterned fabrics in the curtains, cushions and lampshade.
'All the pattern here is in similar two colors which brings this scheme together to ensure that although the patterns are different scales they are not conflicting with each other.
'If you look closely, I chose the showstopper Rosie Open Red fabric for the curtains, the cushions are Betty Red (reads as a medium scale/stripe), Lulu Pink (reads as a spot) and there is a proper striped cushion, Poppy Dark Pink too.'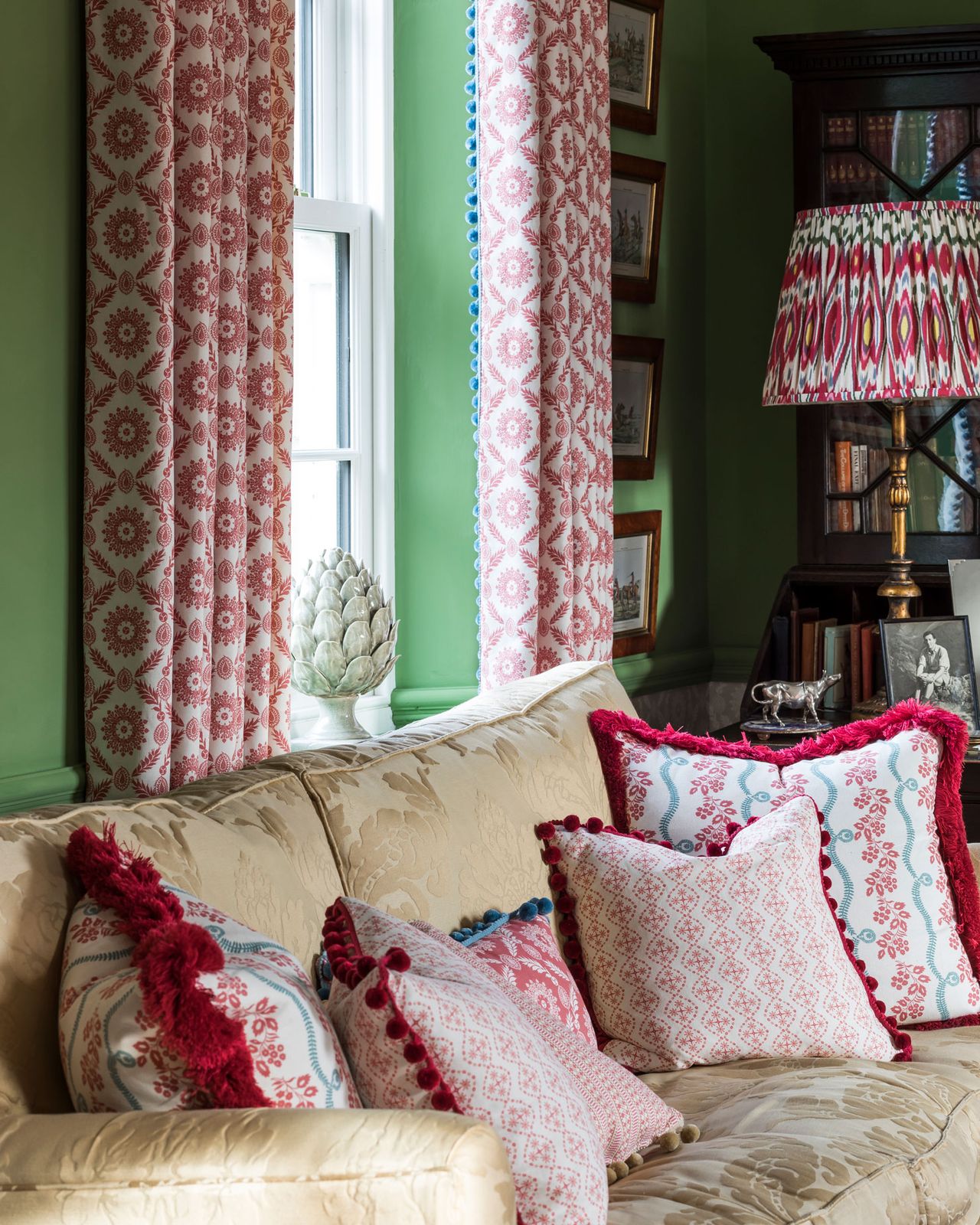 'I had to keep the sofa, so the colour scheme was created around it. Edward Bulmer Invisible Green paint completes this scheme. It is a bit of a statement colour but is so warm and welcoming in the room and works as a simple contrast amongst the pattern.
'As this is one of the main rooms in my home, I added plenty of textures and highlights through trimmings, pom poms and fringes too and tied these in with the blue skirting board paint color.
'You can see from this photo that the colour palette is simple, the patterns are different but connect in color and scale.'
See more: Living room ideas – inspiring ways to decorate and furnish your space
Using pattern in a bedroom
'There is a simple strong color palette with bold pattern in my recently decorated pink spare bedroom. I used Pink Vases wallpaper as a showstopper pattern on the walls and then used Paxos Pink fabric on the headboards which could be classed as my stripe.
'The cushions were Pretty Ayre Burnt Raspberry which reads as my spot. The little cushion at the front was a cushion bought many years ago which shows a stripe, albeit horizontal. It also provides a slight surprise to stop the scheme from being too coordinated.'
'The white bed linen creates a calm contrast with the strong colour and pattern. I really only used two colors in the main scheme, pinks and an ochre colour. I kept everything else neutral and I brought in some block color with a bright bedspread.
'Using and mixing scales is a great way of putting a room together. You really have to avoid mixing large scales together as this will lead to the fabric designs fighting with each other and can lead to design problems. If you use small, medium, large scales, spots and stripes it will all come together.'
See more: Bedroom ideas – inspiration for decorating and furnishing your space
Using pattern in a hallway
'I like to keep the colors simple in my own home, so that I can add in more over time, if I wish and change the look. I recently decorated my hallway which was a walk-through room; it was quite wide and it could not really be used for anything specific. I wanted to make it a more interesting space.
'I organised to have panelling put around the room and then wallpapered above it, in Ottoman Blue wallpaper. For me, this created a really strong effect and gave the room atmosphere and texture.
'I didn't really need to add any other colours, but I added a pink chair as a highlight just to bring in a little more interest and a small amount of contrasting color and warmth, (any more would have detracted from the main space).
'One brightly coloured patterned cushion would create the same effect and can really bring a whole scheme together and make it zing.'
'I then added an eye-catching rug from OKA to add even more warmth. This then became the showstopper pattern in this room scheme.
'The wallpaper provides the stripe effect and the fabric on the curtains (Ginoo dream blue), the small-scale spot (and perhaps, unusually, the less dominant pattern).
'The chair fabric is the medium scale ( Georgie Girl 2 Pinky) with the cushion (Sharanshar Storm).
'By using a limited color palette, I was able to mix pattern scales and add pattern in a less conventional way.'
See more: Hallway wallpaper ideas – smart statement wallpapers for your hall
Fabrics and wallpapers from Charlotte Gaisford
My first job was writing a DIY column for a magazine for the over 50s (which seemed a long way off back then). I then moved to a DIY magazine as deputy ed, then freelanced my way around the homes departments of most women's magazines on the market before working on Your Home and Family Circle magazines as homes editor. From there, I went to Ideal Home magazine as associate editor, then launched 4Homes magazine for Channel 4, then the Channel 4 4Homes website before going back to freelancing and running a social media business (you can see where I had kids from the freelancing gaps!). I was tempted back to the world of big business by the chance to work with the great team at Realhomes.com, where I was Global Editor-in-Chief for two and a half years, taking it from a small website to a global entity. I've now handed the reins of the website to our American managing editor, while I take on a new challenge as Editor-in-Chief of Homes & Gardens.