Fluting: 9 times interior designers have inspired us with this key new look
Fluting is the latest new look to character and texture to our homes...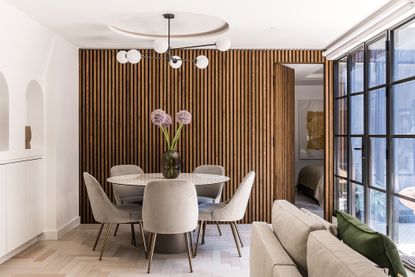 (Image credit: Day True)
Fluting is a classic look in interior design that is enjoying a renaissance in modern home decor. It's a fantastic way to add texture to a room as well as giving a little nod to Art Deco glamour.
See: Interior design trends 2021 – the 20 top looks for the year ahead
And, while you might have seen it many times in architecture, the look is now becoming a key feature inside our homes, from kitchen cabinets and kitchen islands, to vanity units, shower doors, sinks and lighting.
Below, see how fluting has been used by five interior designers – and get inspired for your own fabulous fluting project.
What is fluting?
Fluting is a truly ancient technique used in architecture. Fluting is usually a series of shallow grooves that run across a surface, creating a pleasing play of light. Typically, this effect might have been used to make columns seem perfectly round, thinner and more elegant.
Today, it is used for our interiors in all kinds of applications for exactly the same reasons – plus it's a useful way to add texture to an otherwise minimalist decorating scheme.
Helen Parker, deVOL's creative director, says fluting is 'tactile, traditional and a little different, with a certain decorative quality'. She adds: 'It has a charm, a character and a delightfully wholesome feel to it, it is certainly not a boring look but somehow retains a sense of simplicity and nostalgia. In these times of bolder interior decoration and less minimalism, it seems an easy way to include a little more texture and interest.'
1. Fluting to give a kitchen island that extra chic-shock
'I love texture,' muses design and renovation expert Laura Butler-Madden. 'In all of my designs I like to keep color palettes fairly serene and incorporate nature and texture wherever I can to add interest and depth.
'Fluting is something I have always loved; when we started working with Blakes London on the kitchen designs, it was something we were really keen to use on the island. We considered a natural wood fluting initially, but I really wanted the stunning wooden flooring from Trunk to be able to shine, so I chose a stunning gloss finish in the same color paint (Holland Park) from Mylands that we used for the main cabinetry. I love the contrast of the textures, as well as the gloss paint contrasting with the matt finish on the cabinetry.'
She adds: 'I'm not generally very trend-led with my design work – I prefer to create spaces that are elegant and timeless. I think that fluting will be popular for many years to come.'
See: Kitchen island ideas – guaranteed to make a statement
The fluting in the kitchen island above, designed by Australian Maek Residences, makes a wonderful contrast to the black elsewhere in the kitchen, and is the perfect backdrop for the smooth curves of the pale wood furniture.
Photo by @jody_darcy; styling by @tatulli_designstudio; furniture and accessories by @mobilia_ and @loamaustralia.
2. Fluted wall divides and doors for light-flooded privacy
Interior design studio Day True uses fluting to great effect in dividers and glass panelling.
'Fluting texture is a detail we have been seeing more and more in interiors,' says Hayley Robson, creative director, Day True. 'We usually see it as vertical shallow grooves running along a surface, which adds texture and promotes a play of light. It takes inspiration from architecture that dates back to ancient times. In kitchens we use fluted glass in cabinet doors (below) and in bespoke feature elements such as glass divides (above).
'In bathrooms we have seen fluted details in furniture and basins, and also in the form of shower screens (below). We love to use fluted panels as wall features to create a dramatic backdrop, the vertical pattern creates the perfect way to hide a join or conceal a door.'
3. Fluting on kitchen cabinetry to create a statement
How fabulous is this statement yet serene green fluted kitchen? Victoria Spencer-Eves of VEVES interior design says: 'Fluting is a fantastic way to add texture and depth to an interior, without adding an obvious pattern or ornamentation which could date quickly. For our project, The Art House, we applied fluting to the lower kitchen doors, which balanced out the double height space. Our clients love the finish; it's incredibly tactile.
'When creating something bespoke, it's important to calculate the spacing between the flutes, so you don't end up on a half flute between doors, so it can take some mathematics!'
She adds: 'Textural finishes have always been the mainstay of our design work, which is largely inspired by architecture and rooted in minimalism. They invite you to touch them, creating a direct interaction between the piece and the owner, which really appeals to us as humans, I think.'
See: Kitchen cabinet ideas – the materials, styles, colors and trends to know
4. Fluted vanity unit – for elegance and texture in a bathroom
We're not sure why every home doesn't have a blush pink vanity unit after seeing this beautiful design by Ham Interiors (above).
'We love using fluted pieces in our schemes, they add great texture and in the right finish they can be used in both contemporary and traditional schemes,' says Katie Cox, interior designer at Ham Interiors, who created the look with her client @karitacole.
She continues: 'The vanity unit shown is one we make as part of our Studio Ham collection, we were initially inspired by our favourite Swedish antiques where a reeded finish often adds great character and detail to very simple pieces of furniture.'
Below, New York-based Michelle Gerson Interiors has been more ambitious in the bathroom (below) with a wide vanity unit with drawers and cabinetry cut into the fluting. Cabinetry by @ciuffocabinetry; photo by @marcoriccastudio.
5. Use fluting as a detail only
Fluting can just be a detail within a larger space – including it adds texture and interest and will make any room look more expensively decorated. This kitchen is by Bayswater Interiors; design @lindyegalloway; photography, @chadmellon.
6. Add fluting in furnishings
We love the fluting in the banquette of this dining space by California-based Dart Studio. Part of a wider renovation to make the kitchen and dining room a more sociable, open-plan space, the fluted seating area is inviting and restaurant-smart.
7. Fluting for a hotel-style headboard
It's safe to say that Russian interior design agency Quadro Room is a fan of fluting, using it to great effect in their bedroom designs as headboards. The fluting, whether used vertically to create the impression of grandeur, or horizontally for a hotel-style luxury feel, is fixed to the wall behind the bed so that is more of an installation than a piece of furniture.
8. Art Deco fluted lighting
Fluted lighting inspired by the glamour of the Art Deco era is really having a moment.
Emily Bizley, of Studio Bizley, says: 'The current trend for fluting and reeding is a bit of a nod to the elegance of a bygone age ('30s Art Deco) but its current popularity is made possible by modern manufacturing techniques like CNC cutting – say, for fluting and reeding used to articulate surfaces on joinery. It is a great way of adding texture to a scheme – the repetitive lines and curves allowing light to play over the surface.'
She continues: 'In the bathroom above, the wall lights, made of individual glass rods, and reeded glass on the cabinet echo one another and add a layer of fine straight lines to a bathroom which includes a very monolithic solid ceramic bath and basin, as well as the swirly organic surface of the Arabescato marble. The aim is to create a balance and a harmony between these things. The reeded glass gives a bit of finesse and restraint.'
9. Fluting as walls
Fluting as a wall material can be used in a number of intriguing ways. Above, in this dining room designed by Day True, it is creating definition in an open-plan space, creating an architectural foil to the bank of windows on the adjacent wall and – no doubt – providing acoustic insulation.
Below, open fluting is used to divide a galleried open-plan space by London-based Studio Clement from an upper hallway. The fluting is open at the back, allowing strips of daylight to filter through into the upper floor; from below, it creates architectural interest, warmth and texture. Photography by Eduard Hueber.
Sign up to the Homes & Gardens newsletter
Decor Ideas. Project Inspiration. Expert Advice. Delivered to your inbox.
Ruth Doherty is an experienced digital writer and editor specializing in interiors, travel and lifestyle. With 20 years of writing for national sites under her belt, she's worked for the likes of Livingetc.com, Standard, Ideal Home, Stylist and Marie Claire as well as Homes & Gardens.