Decorating with stripes – smarten up a room with these elegant looks
From highly tailored pinstripes to bold and broad lines, the diversity and timelessness of stripes makes them suitable for every room of the house, as our gallery of ideas demonstrates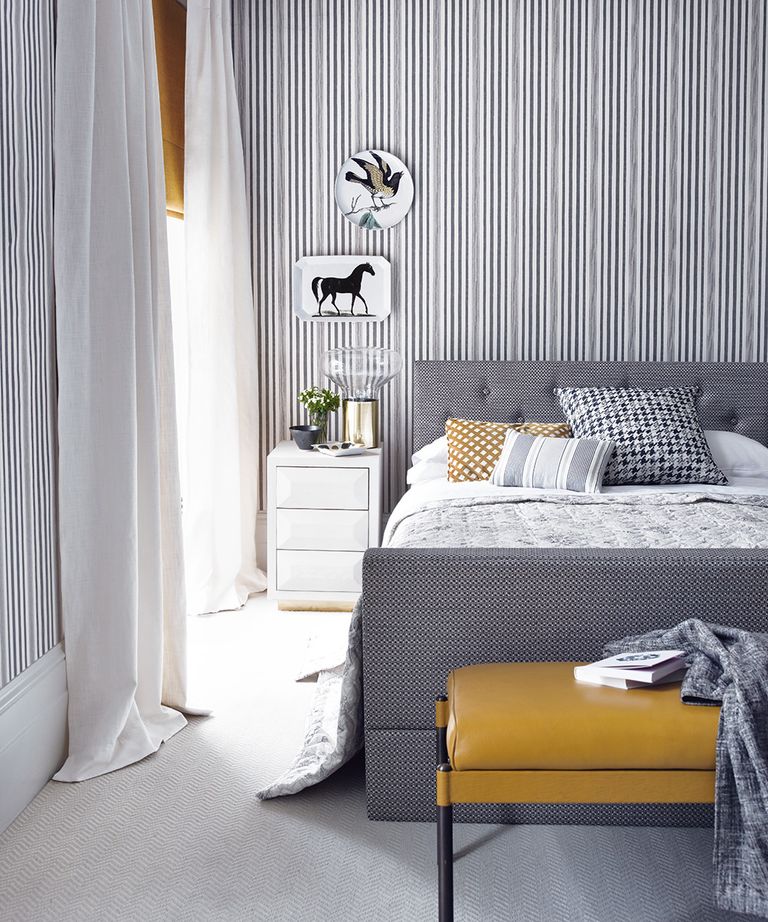 (Image credit: Simon Bevan)
If you want to know how to decorate with stripes, we recommend you take a look at our gallery of inspiring ways to use a classic stripe in your scheme.
'Stripes bring order and structure to a space and have the ability to redirect the eye. When incorporated into an interior scheme, they inject a dose of understated elegance and sophistication.' 
See: Interior design tips – decorating secrets for the world's top experts
'I'm drawn to layering when designing an interior scheme, and incorporating stripes into the design provides the perfect structure that can then be contrasted with other designs, pattern and colour,' says Roselind Wilson, founder of Roselind Wilson Design.
Classic and playful in equal measure, this season's stripes on fabrics, furniture and accessories have reignited our love affair with this timeless trend.
Appreciated for their dirt-defying nature, stripes were initially confined to high-traffic areas, such as stairs, but their appeal is now spreading. Taking inspiration from the fabric world where stripes are everywhere, flooring has now caught up and offers a far greater choice of designs than ever before.
1. Design a unique and colorful kitchen backsplash
Create a striped backsplash with horizontal tiles in colors that match the scheme. This design brings a playful touch to the kitchen counter (while also resolving the problem of having to choose just one of the many delightful colors in this gorgeous range from Claybrook Studio). 
A little rattan shade adds textural contrast with the smooth shiny tiles and black countertop. Often, kitchen spaces can feel quite clinical and functional, so the addition of color and pattern such as this helps to bring a decorative edge to a practical part of the home. 
See: Kitchen backsplash ideas – make your kitchen's vertical surfaces shine
2. Pick stripes for flooring to create a visual trick
A smart stripe – whether wide or narrow – is a classic pattern that will visually elongate and widen a room, just as floorboards do. 
A striped rug against an otherwise plain background is a powerful tool in interior architecture – it has the effect of redirecting the eye and reshaping a space.
Rugs are a simple option, but carpet is fashionable, too. 'Striped floor coverings began to be introduced into homes about 10 years ago in a rather tentative way when the first collections arrived on the market,' says Lorna Haigh, Head of creative, Alternative Flooring. 
Be creative with flooring – a horizontal stripe a graphic and anchors the scheme. Black and white is a much stronger accent when paired with a bold color. 'Today, the floor is increasingly being used as the 'fifth wall' and pattern gives a room instant character and vitality. Brightly colored striped floors provide an opportunity to inject color and set contrasts,' continues Lorna Haigh.
Striped carpeting on stairs makes a design statement as soon as you enter a house, but it needn't be limited to this area. More people are finding the confidence to play with different breadths and scales throughout the house, from broad to ticking and pencil stripes. Fitzroy runner by Roger Oates.
3. Decorate bedroom walls with stripes to exaggerate space
Stripes tend to create the illusion of space: vertical stripes make ceilings look higher and horizontal ones make rooms appear wider, so they are perfect in spaces that are quite compact. Using vertical stripes in an already large room accentuates the ceiling height and expansive nature of the space.
Bold stripes on walls and fabrics bring a classic feel to any room. In a bedroom they work best in soft, pretty shades such as the pale sage and dusty pink tones used here. 
For contrast the headboard has been upholstered with the stripe running horizontally to stand out against the vertical stripe of the wallpaper behind and to exaggerate the width of the headboard. 
Check patterns are happy partners for classic stripes and they work together in harmony, as with the blanket and cushions used here on the bed. 
4. Make stripes the focal point in upholstery
A pair of matching armchairs upholstered in a classic pale mint stripe create the main focal point in this living room. The pale pink walls complement the soft minty stripes and the black and white hues. 
A large scale monochrome gingham check ottoman stool sits happily alongside the stripe chairs. Stripes and checks are a classic combination that never go out of style. The sleek black lines of the coffee table and cabinet add definition and ground the elegant scheme. The carefully pared back color palette creates a harmonious feel, pulling all the elements together. 
5. Choose stripes in monochromes for impact
Pairing stripes and checks together makes for a harmonious scheme. This classic combination of patterns works particularly well in this monochrome black and white palette. Mix scales for added impact, as with the finer, thin stripes here sitting alongside the large scale black and white checks of the gingham. 
A monochrome backdrop like this allows for more colorful elements in accessories and flowers to pop out in contrast. An ottoman like this in a living space is not only a comfortable footstool for lounging, but also provides extra seating when there is a larger gathering, and works perfectly as a coffee table, using the tray as a firm surface for displaying objects. 
6. Bring stripes into the bathroom
Stripes will give a bathroom that Hamptons look that's easily elegant – but avoid matching them. Instead, make the most of the decorating opportunity in this smallest of rooms by picking contrasting stripe styles and colors, but keep the space simple and stylish by sticking to just two colors – plus a neutral.
7. Dress your garden with stripes for a classic look
Picking stripes for a garden will look elegant and colorful, while still being sophisticated. As with other spaces, limit yourself to a main color with a couple of accent shades to retain a calm finish you find relaxing. 
How do you decorate with stripes
The key thing to remember when decorating with stripes isn't the width of the stripes themselves – these can be successfully varied within one room – but the colors you use in the space. Because stripes are so visually arresting, it is better to use just three colors in any single space decorated with stripes – a main color and two accents – plus, of course, white.
With these three colors, the calmest, most successful of rooms will be decorated with similar tones so that the stripes are the focus, not the color contrasts.D
Do stripes make a room look bigger?
Stripes do make a room look bigger. Whether laid on the floor, on the walls or in fabric or upholstery, stripes visually lead the eye away, creating a neat space-enhancing trick. Vertical stripes, therefore, make rooms look taller, while horizontal stripes make rooms look wider – or longer – depending on where you are standing.
What patterns go with stripes?
All patterns go with stripes, as long as the colors within the different patterns are chosen to complement each other. Stripes go particularly well with checks and spots for a graphics-inspired scheme, but they also look super-smart and are great for setting off florals.