Wallpaper trends 2021 – the most stylish ways to dress your walls
The latest inspirational wallpaper trends will help you update your home and add interest to any room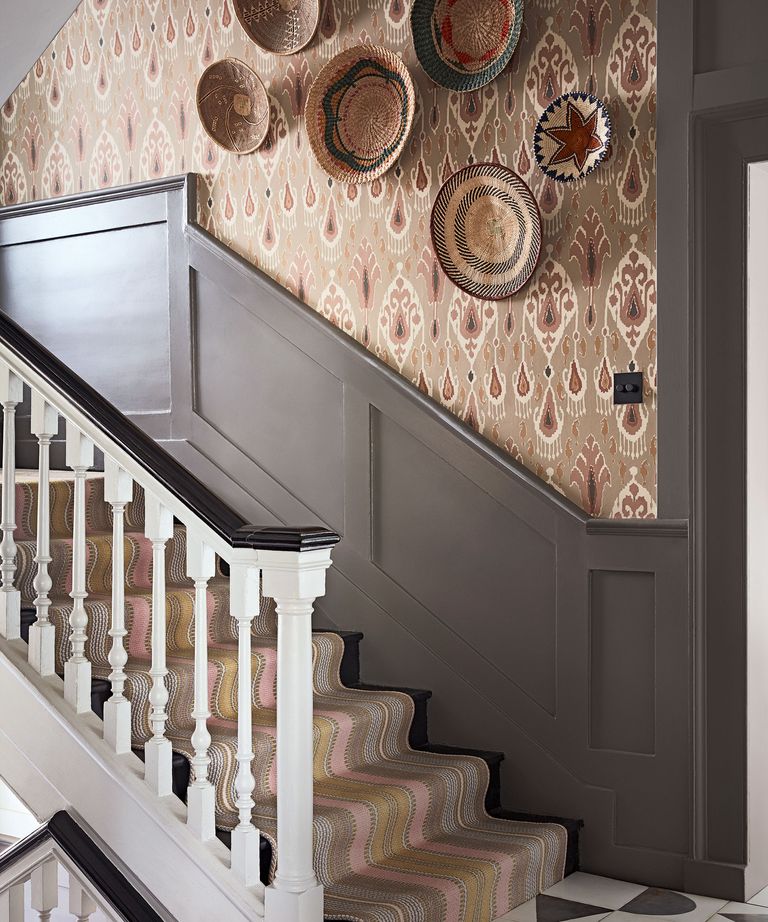 (Image credit: Jon Day/Future plc)
Start your search for wallpaper trends with a little insider knowledge to truly get the best out of the new collections in 2021.
Wallpaper is a key trend for 2021, and the insatiable appetite from consumers doesn't look like abating any time soon.
Whatever your taste, there are wallpaper ideas for everyone, from traditional florals and trompe l'oeil, to contemporary geometric and tropical patterns or animal motifs and architectural designs.
The progress in new printing techniques and finishes is constantly pushing the boundaries, and the availability of new substrates makes it even more exciting.
'Gone are the days of just printing on paper. You can now embellish corks, grass-cloths and silks with pretty much any design. The usage is also bolder and braver. If you have the confidence, there are endless possibilities,' explains David Harris, Design Director at Andrew Martin.
Wallpaper trends
1. Maximalism
Maximalism is an interior design trend that's back in a big way for 2021, and we predict that this daring look is here to stay.
In bold contrast to the understated, this living room decor idea reveals the design world's wild side. An arresting mix of leopard prints, pleating and patchworks, together with stars, stripes and metallic hides, demonstrates that more can be more.
2. Florals
Florals are big news for 2021 interiors and can be adapted to suit any space, whether it's vintage, retro or contemporary. These new season designs have upped the style stakes and make it easy to work beautiful flowers into your décor.
Start off by thinking about color. The palette you choose will guide your decisions when it comes to choosing floral designs and will act as the basis for pulling your scheme together.
When working floral prints into your home, think about the scale of the flowers in the patterns. Large prints can make small rooms appear even smaller so stick to daintier designs to create an illusion of space.
The bathroom idea shown above features a tapestry of blooming botanicals; a design that focuses on one floral and ferns. Designed by British artist Natasha Coverdale, Electric Poppies is one for 'snuggling down with a good book', advise Lick.
3. New chintz
Now more than ever we are taking inspiration from the past to influence the present.
It is often noted that we hark back to bygone eras in times of uncertainty, and that certainly rings true for the new chintz trend. After all, creating a decorating scheme is a bit like a love affair, and it's certainly as much about the heart as it is the head.
Fortunately, the new chintz look is all about sophistication and style.
Full of movement, color and exuberance, the Graham & Brown Wallpaper of the Year 2020: Bloomsbury Neo Mint, shown in the bedroom idea above, celebrates the vastly influential creative output of the Bloomsbury Set – a group of intellectuals, philosophers, artists and friends who lived and worked in the area in the first half of the 20th century.
'A radical break from traditional Victorian and Edwardian décor, the group's liberated modern style became hugely influential in the decades that followed,' says Paula Taylor, Color and Trends Specialist at Graham & Brown.
4. Bold palettes
Colors have also gone the same way with neutrals edging away from the gray (dare we say it) and moving more towards the warmer tones to beckon in the return of brown furniture.
Don't be afraid to combine different patterns.
'Mix classic designs such as stripes or florals with exotic styles such as ikats and Turkish Kilims. Avoid making the space look too busy by choosing patterns in colors that complement each other,' says Martin Waller, Founder of Andrew Martin.
5. Nature's finest
Sustainability is at the forefront of our minds, and it will only escalate further as time goes on. An increased awareness of the finitude of our natural resources has led to an increased desire to repair, repurpose and recycle.
Visible repairs are celebrated and emphasized, and durable, natural, and woven materials are championed. Bolder greens are also taking over from the midnight blue bringing in the biophilic trend of wellness through plants and foliage.
'Any reference to bringing the outside in will have an impact on wellbeing with the plant trend that just keeps on growing,' explains Maryanne Cartwright, Design Manager at Graham & Brown.
6. Graphics
This year has seen us all searching for security and structure amid the chaos. An escalating need to impose systems of order and control in all facets of life, from wellness trends to dating apps, has seen a rise in popularity for simplified, structured design.
Interiors referencing elemental geometric arrangements, subtle raised relief and monochrome palettes channel the comfort found in pattern and routine.
7. Archival
A turbulent environment of political and social unrest has led to a yearning for designs which reflect values of authenticity, humanity and trustworthiness.
Craftsmanship and heritage designs are celebrated and familiar natural motifs are favoured, as shown on the bedroom accent wall above. We are more willing to invest in designs that have meaning and have been lovingly created than mass produced products.
During a period of uncertainty it is not uncommon for certain elements of nostalgia to set in as we reach for the archive when choosing our next wallpaper.
8. Murals
Scenic and mural wallpapers continue to be a huge trend for 2021. From serene painterly flowers and textures to atmospheric panoramas, scenes and murals put your walls center stage and offer a variety of extraordinary statements for your walls.
'Fine art-inspired wallpaper is having a moment with life size art murals proving popular. However, don't blindly follow trends and above all, only choose a style if you really love it,' says Martin Waller, Founder of Andrew Martin.
9. Faded glamor
Decadent and romantic with more than a hint of rock n roll, this trend embodies the Hollywood glamor of the 1920s but with a modern twist.
Look out for lush botanicals in rich reds and inky blues set against a brooding black backdrop for a dramatic, opulent finish.
10. Panels
Panels are big when it comes to bedroom wallpaper ideas for 2021. It's not overly common to have paneling in a bedroom, but if you live in a period property – or got them built in to add character to a plain space – you have plenty of space to play with wallpaper.
Previously a living room trend, adding a statement paper in slices like Cole & Son's Botanical Lilac, allows you to go bold with color and pattern without overwhelming the room. Choosing a natural inspired scheme and colorway keeps things calming, too.
11. Texture
Gone are the days when wallpaper was a one-dimensional piece of paper on the wall. As printing techniques develop, the number of surfaces that can be printed on increase.
One of the most comforting wallpaper trends is introducing texture to the walls. Choose a hessian wallcovering for the ultimate cosseting effect, and let the coziness commence.
12. Chinoiserie
Chinoiserie is another wallpaper trend which has been in and out of fashion for many years. Historically associated with grand country manor homes, this technique has been modernised and updated is a fresh new way.
Harmony with the natural world is a feature of Chinese landscape painting and this tranquility is perfect for the bedroom.
In the master bedroom idea shown above, a dream-like, misty mountain paper covers an oriental-style screen, with a palette of soft gray and blue, enhancing the scheme's calming allure.
13. Impressionism
Look to impressionist artworks and sponge paintings for inspiration. The effect is incredibly soft and somewhat dreamlike, perfect for a bedroom or a room where you like to relax.
The abstract artwork trend is still hot in all areas of the house, but this softer interpretation is the perfect bedroom wall decor idea.
14. Dark, dramatic colored wallpapers
Dark colors used to be avoided, as often this would be misinterpreted as making a room seem dark and dingy.
However, with an eclectic use of space, well-placed shapes and smart living room lighting ideas like in the space shown above, deeper royal blues and luxurious emerald greens are making a comeback.