Decorating with pattern – 11 ways to embrace print at home
Be inspired to inject color and personality to interiors with these tips and ideas for decorating with pattern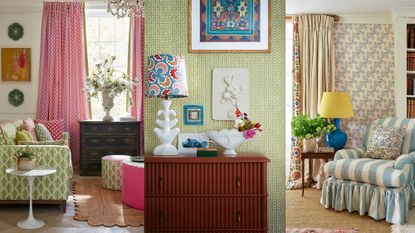 (Image credit: Vanessa Arbuthnott / Future / Sarah Vanrenen)
Whether introduced through wallpaper, fabrics, furniture, or small accessories, decorating with patterns is a wonderful way to bring instant personality and new life to interiors.
From timeless stripes and checks to flamboyant florals and bold geometrics, there are so many options available, not to mention a vast archive of historic designs to draw from, plus, depending on the scale you choose and how they are used they can be used to create all sorts of moods and looks.
Used wall-to-wall, patterns can instantly transform a room, but using them in smaller doses over furniture or accessories can also be a valuable tool for bringing depth and interest to more pared-back schemes. There's also the matter of scale to consider – do you want a large-scale design to bring a wow factor or a subtle small-scale design that will bring a gentle pattern that's easy to live with?
If you love patterns and are in need of beautiful decorating ideas, we've rounded up an array of inspiring ways to decorate with patterns along with some handy tips from the experts.
Decorating with pattern
It can be daunting to know where to start when decorating patterns as the possibilities within interior design are endless. Not only is there a varied selection of wallpaper ideas and fabrics to choose from, but there's also endless scope for layering and experimenting with different combinations.
If you're wondering how to mix patterns in a room, there are no strict rules, however, there are some design principles that can be a helpful guide – read on to see our round-up of inspiring schemes and handy expert advice.
1. Use pattern as a starting point for a scheme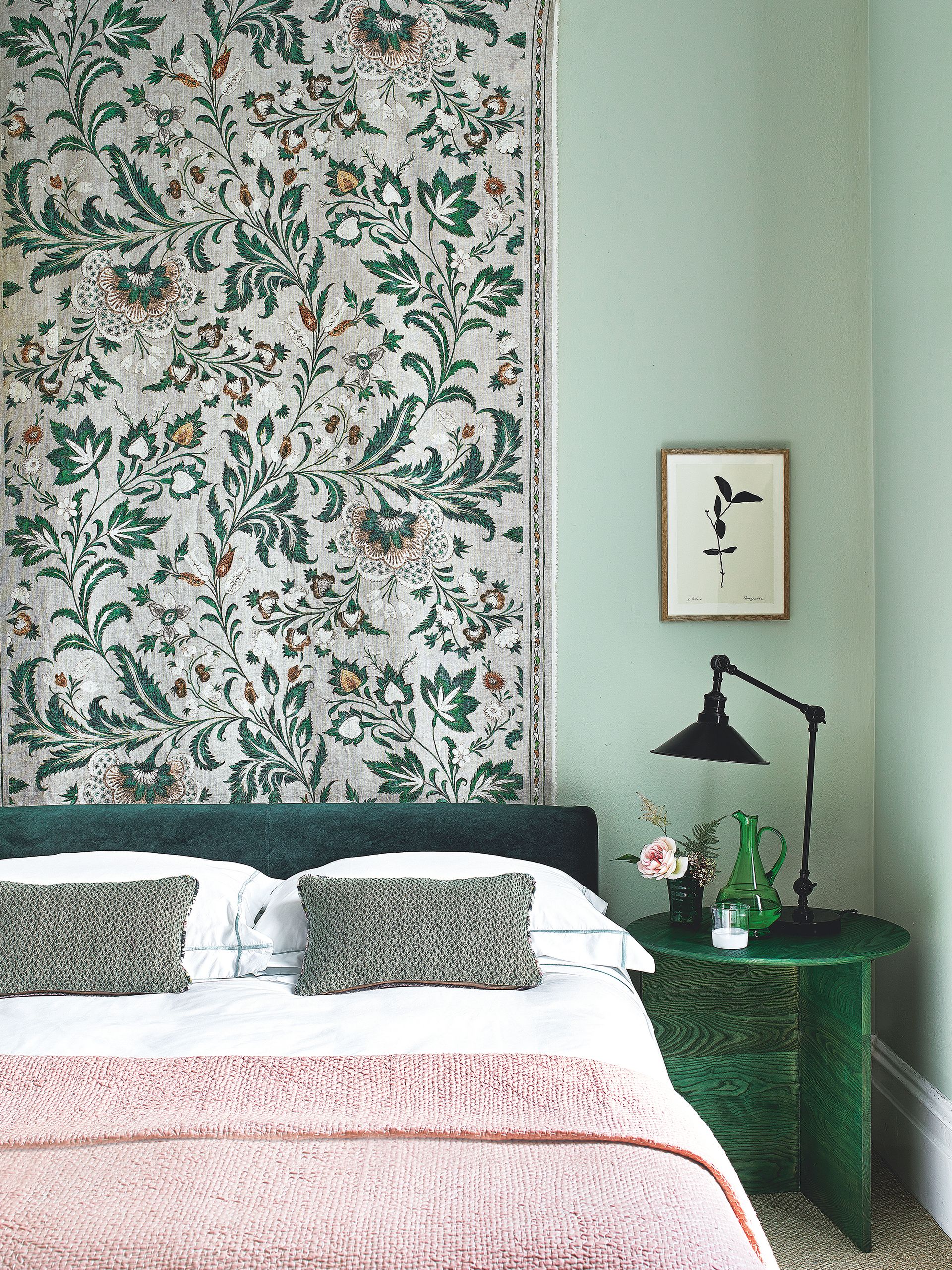 Be it wallpaper, fabric, or even a lampshade, a pattern can be a great source of inspiration if you're struggling to decide on room color ideas or color combinations for rooms. Similarly, patterns can also be a useful finishing touch for pulling together colors within a room.
'Small prints that include multiple colors, are wonderful for building a scheme around,' says Kate French, creative director of wallpaper brand Dado. 'Pick out one or two colors to use as your palette, and then throw in a couple of details in a contrasting hue for a pop of surprising color.'
In this green bedroom, a panel from Lewis & Wood beautifully coordinates with the soft pink, sage, and deep green tones used throughout the space.
2. Choose small-scale prints for subtle depth and interest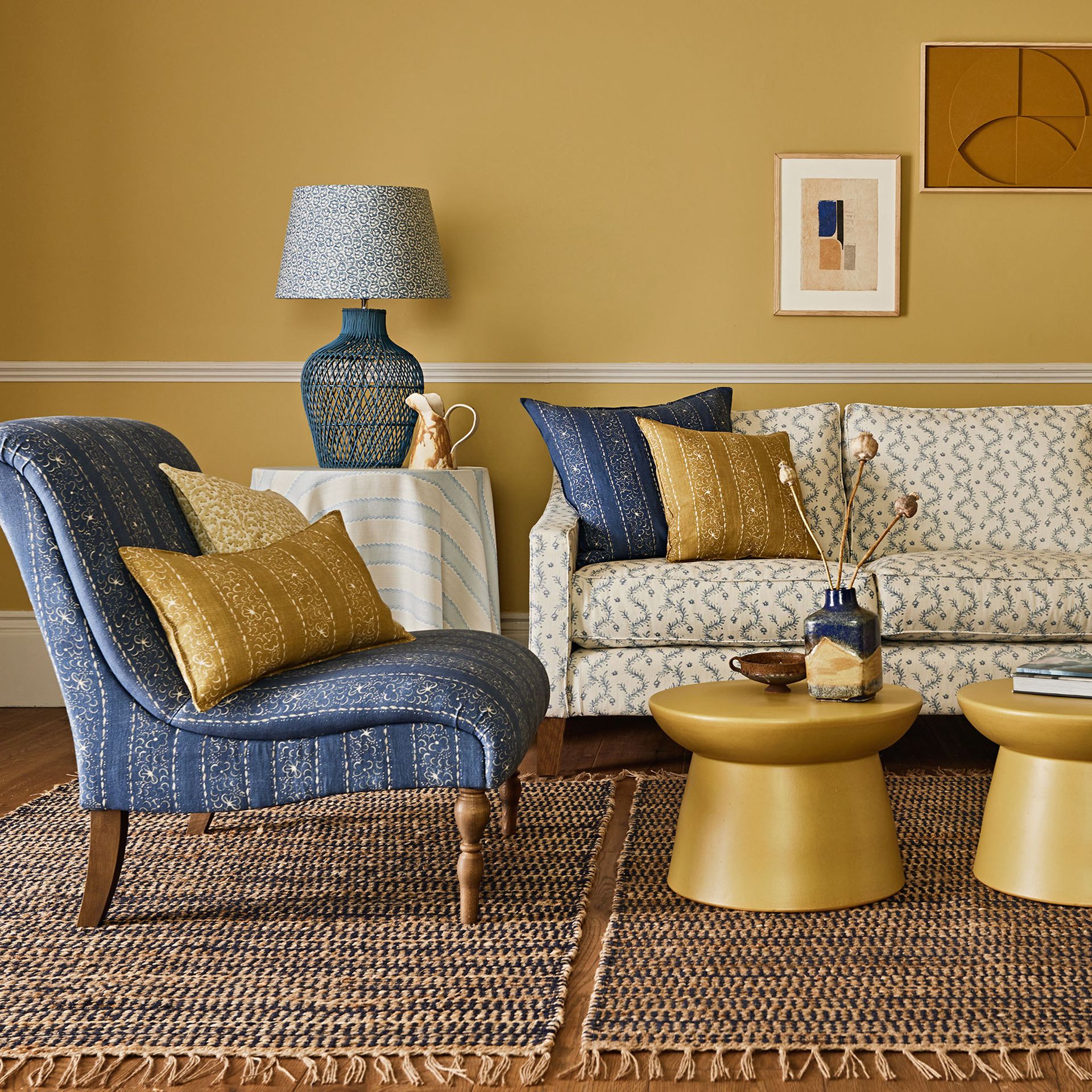 Using delicate repeat prints over upholstery is a wonderful way to bring subtle interest and depth to rooms with plain walls.
Celebrating the versatility of dainty designs, Linwood's new Small Prints collection features 10 timeless prints designed to bring easy-to-live patterns into the home. Ranging from painterly trellis patterns to delicate trails, the prints work well on their own, but can also be easily layered together for a richer look. In this yellow living room, an armchair in Fortune Teller, a sofa in Magic Lantern, and a lampshade in Hopscotch all combine to temper the bold walls.
3. Choose contrasting colors for an eclectic look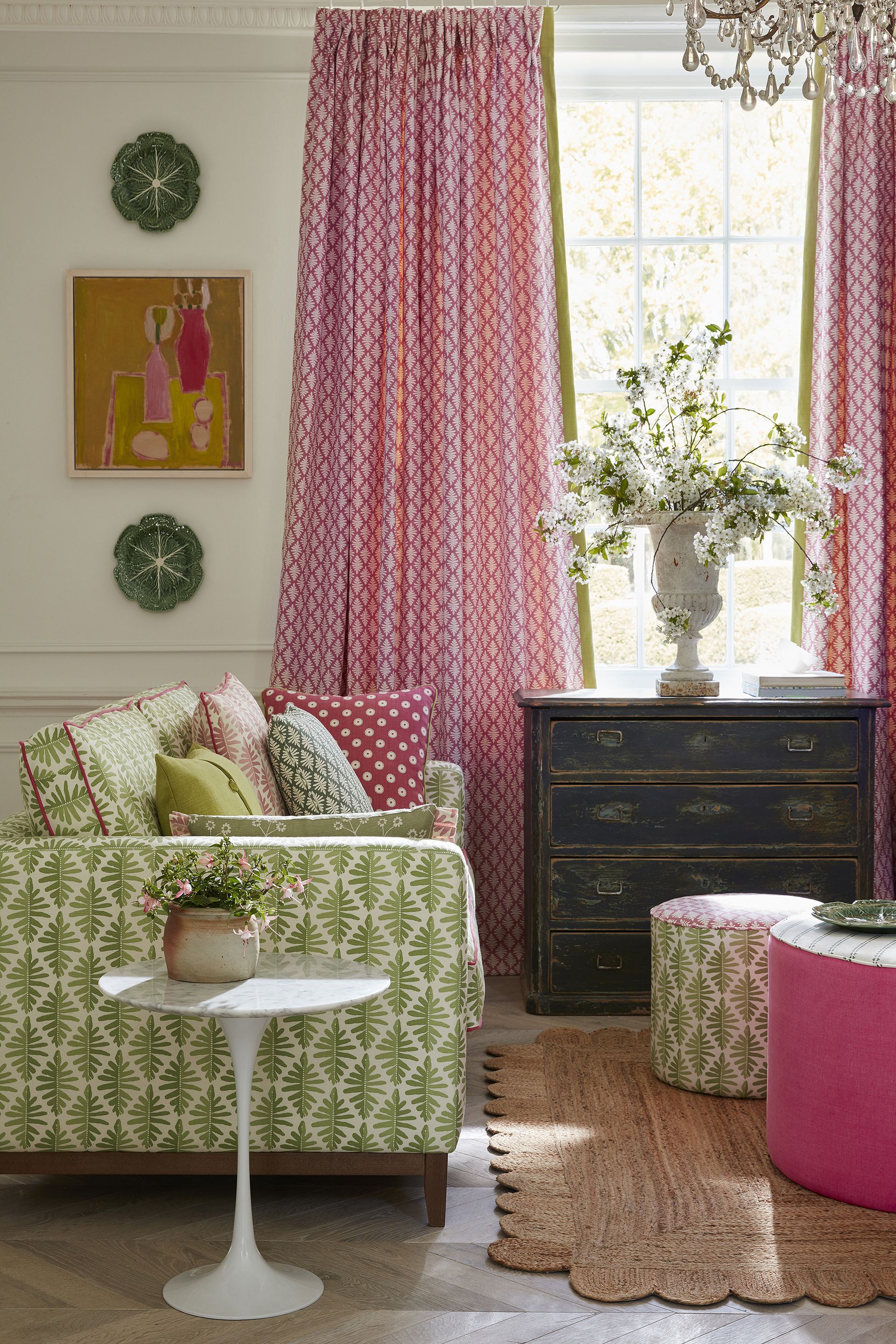 Decorating with patterned fabrics is a great way to introduce color without it dominating a space – for a unified yet playful feel try layering complementary designs in contrasting shades.
'I have discovered that pattern on pattern can look wonderful, it's all down to the color palette,' says fabric designer Vanessa Arbuthnott. 'Choose about three colors and mix and match them in a room with small prints on upholstery, cushions and even lampshades. The room will need to be 'grounded' by a plain fabric, maybe for the curtains or for the sofa, to create a foil for the flurry of small prints.' In this colorful living room idea, Vanessa's Fairford sofa in Wild Fern, Moss is paired with her Little Fern, Mallow on curtains.
4. Start small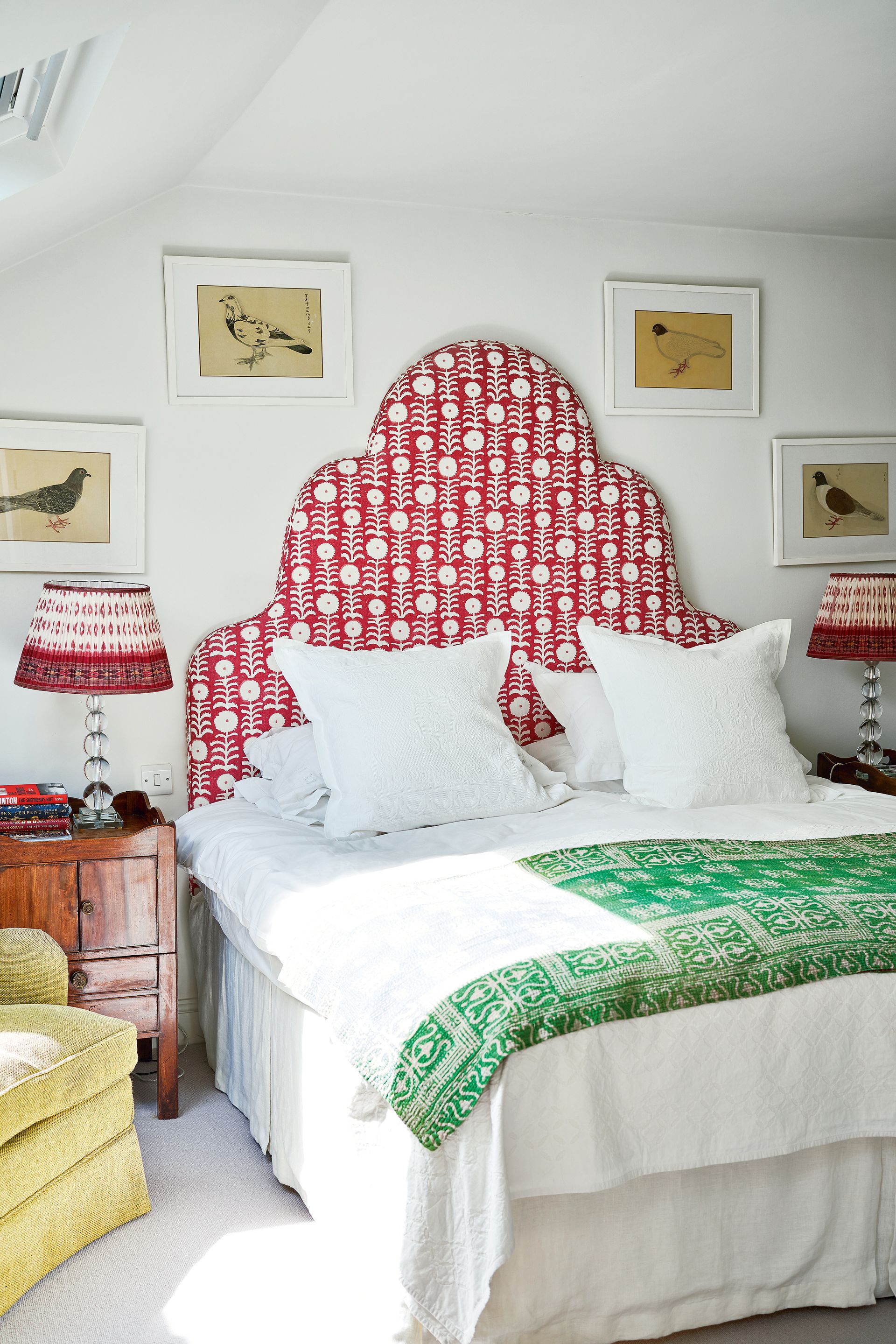 If you're cautious about decorating with patterns then limiting it to small areas is a good place to start. For a fun focal point in an otherwise neutral master bedroom or guest bedroom try upholstering a headboard in a bold, patterned fabric. For a small bedroom, a small-scale repeat design will provide enough interest to draw the eye without dominating the space.
5. Create a timeless look with stripes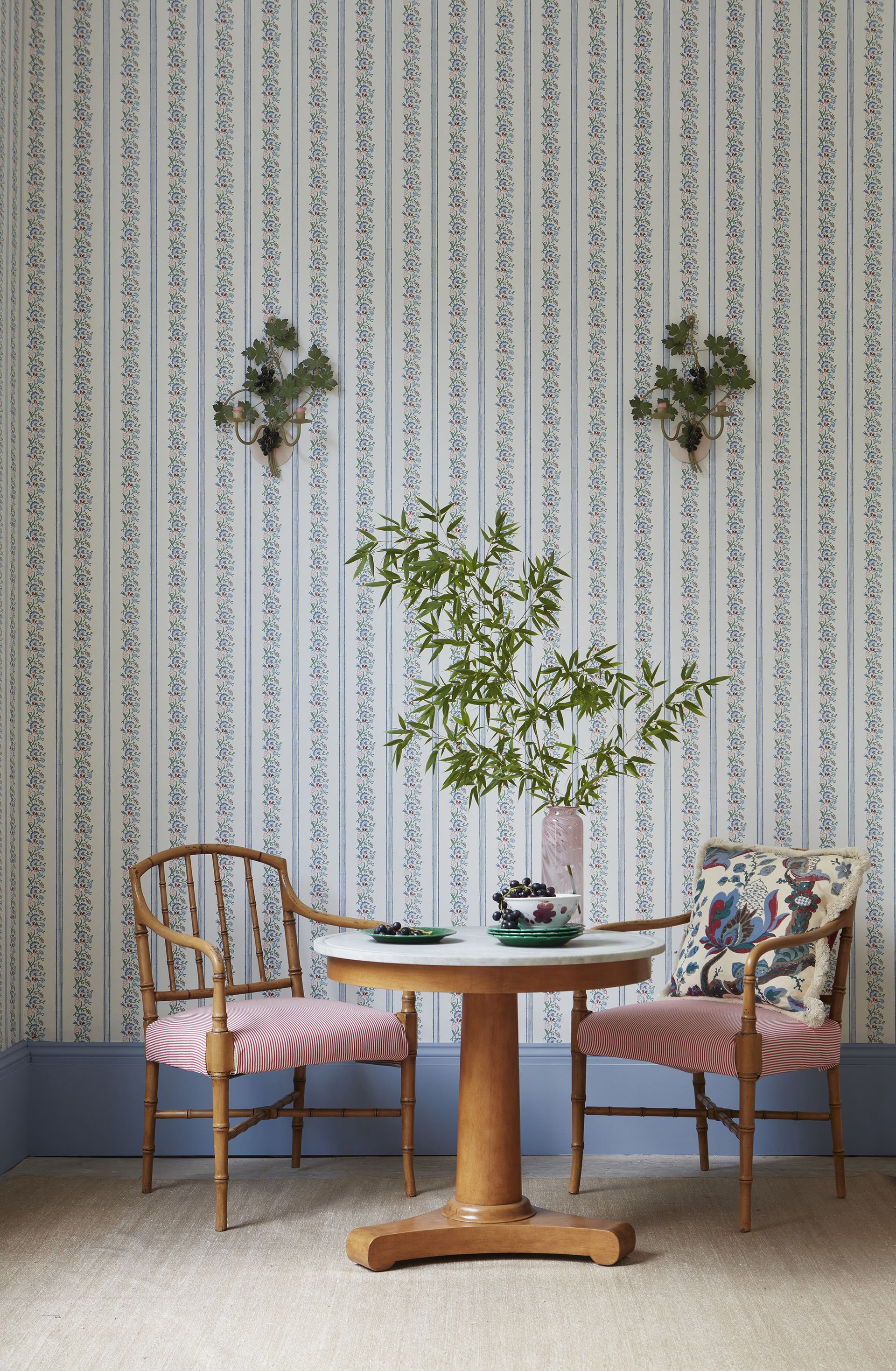 If you're looking for a timeless print you can't go wrong by decorating with stripes. Featuring dainty floral designs inspired by folk embroideries of Eastern Europe, this small-scale Trousseau wallpaper from the Daydress collection at Dado Atelier will bring a feminine feel to any room and offers a lovely mix of tones that can be picked out as accent colors for use on furniture and accessories. You could even pick out a color for use on interior woodwork.
6. Don't be afraid to mix different prints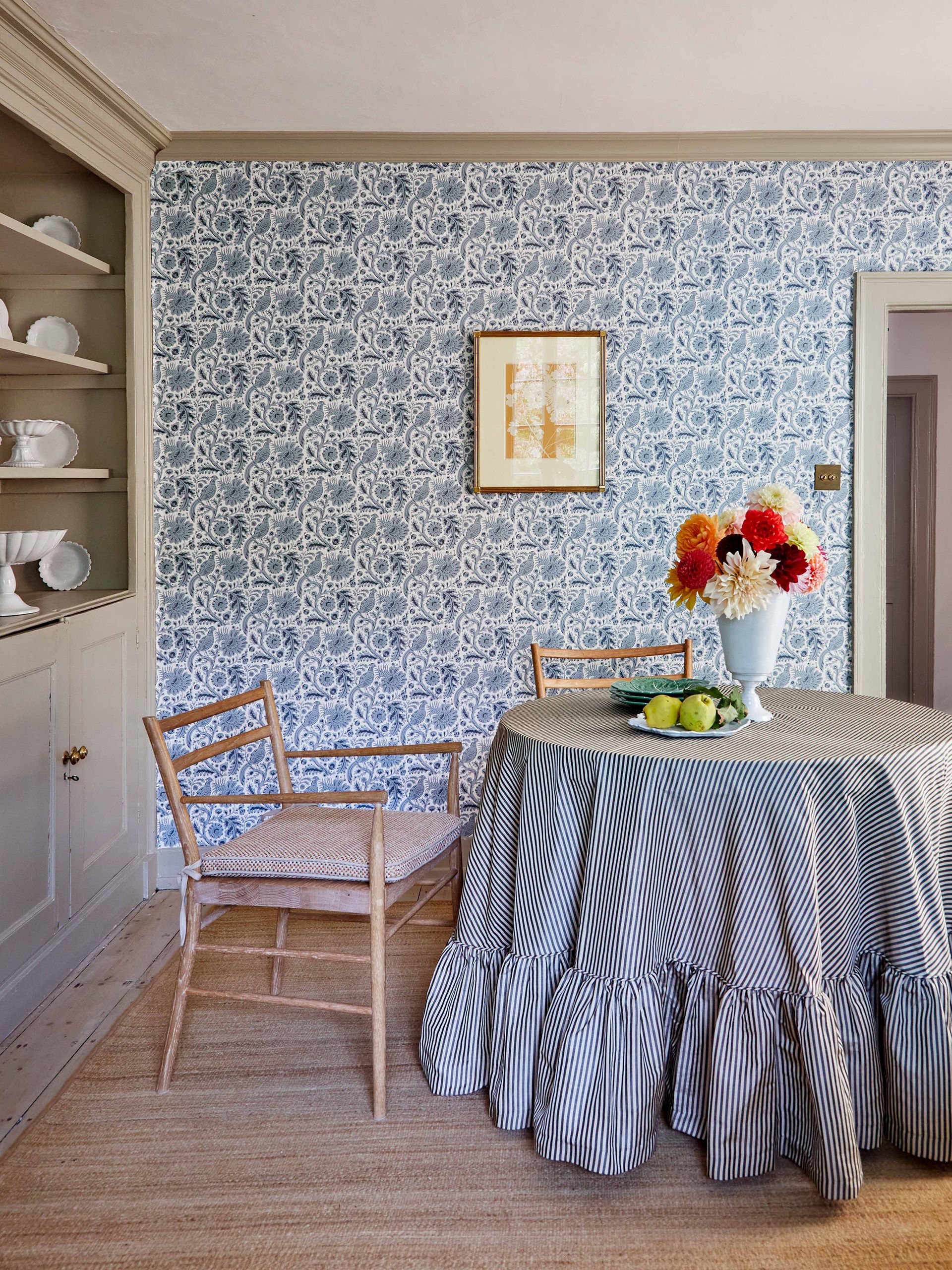 Mixing prints in different scales is an easy way to create depth and interest. For an eclectic bohemian living room throw caution to the wind and mix colors and scales galore, alternatively, for a look that is engaging but still restful, use a small-scale pattern in similar tones.
'Layer together designs at different scales and in different styles a considered color palette for an eclectic look that also feels refined and elegant,' says Kate French, creative director at Dado.
7. Choose a scale to match the mood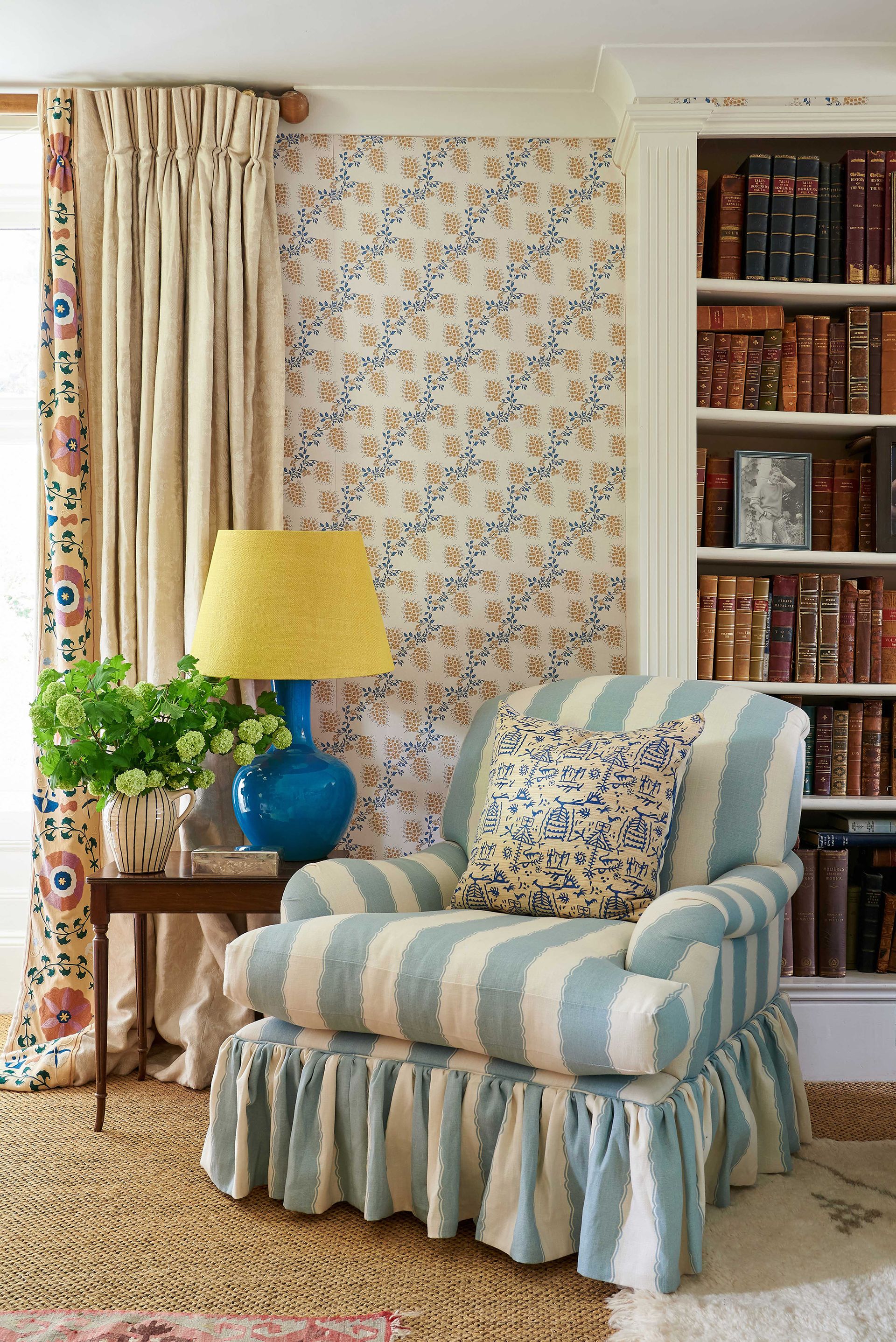 When it comes to choosing patterned wallpaper, be sure to take into account the size of the room and the look you create say the experts, as different designs can impact the mood and feel. 'Wallpapers have the power to make small rooms look cozy rather than cramped and larger spaces appear grand rather than minimal,' says interior designer Sarah Vanrenen.
'If you wish to deliver a light and airy atmosphere, look for designs that have space between the motifs, whilst a busier allover pattern will envelop the space making it feel intimate and cozy,' adds Kate French, creative director at Dado.
8. Use small-scale prints as a subtle backdrop for collections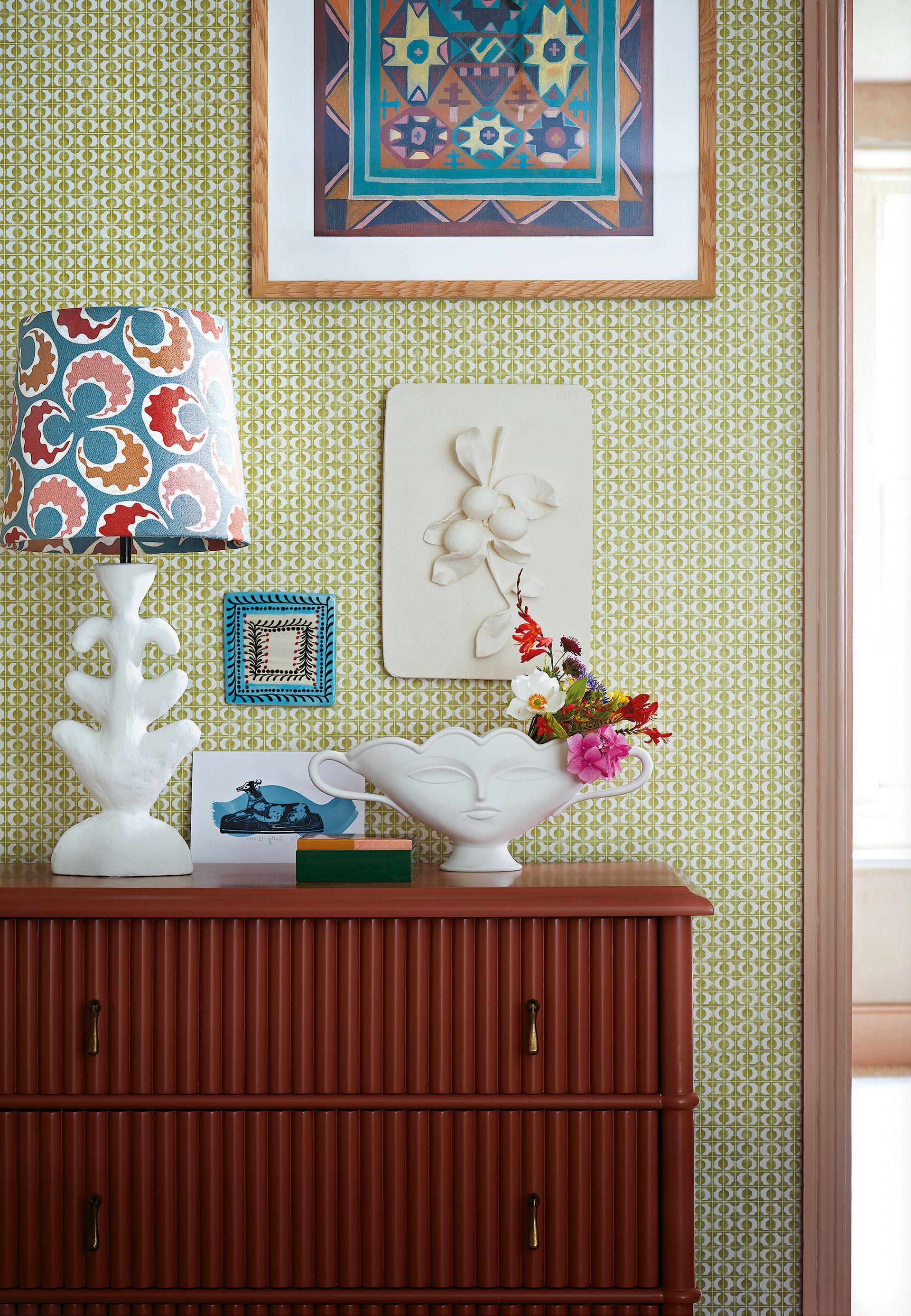 Simple, small-scale repeat wallpapers work particularly well as backdrops for decorating with art and decorative objects. Here the Seto Mini wallpaper in Spring by Brook Perdigon at The Fabric Collective beautifully sets off a curated display.
'Simpler small prints in a single color work wonderfully to add design detail without overpowering a space, they act almost as a plain, providing a perfect backdrop to artwork or a host of other prints and patterns, but bring with them their personality and detail,' explains Kate French.
9. Use pattern to bring an element of surprise to practical spaces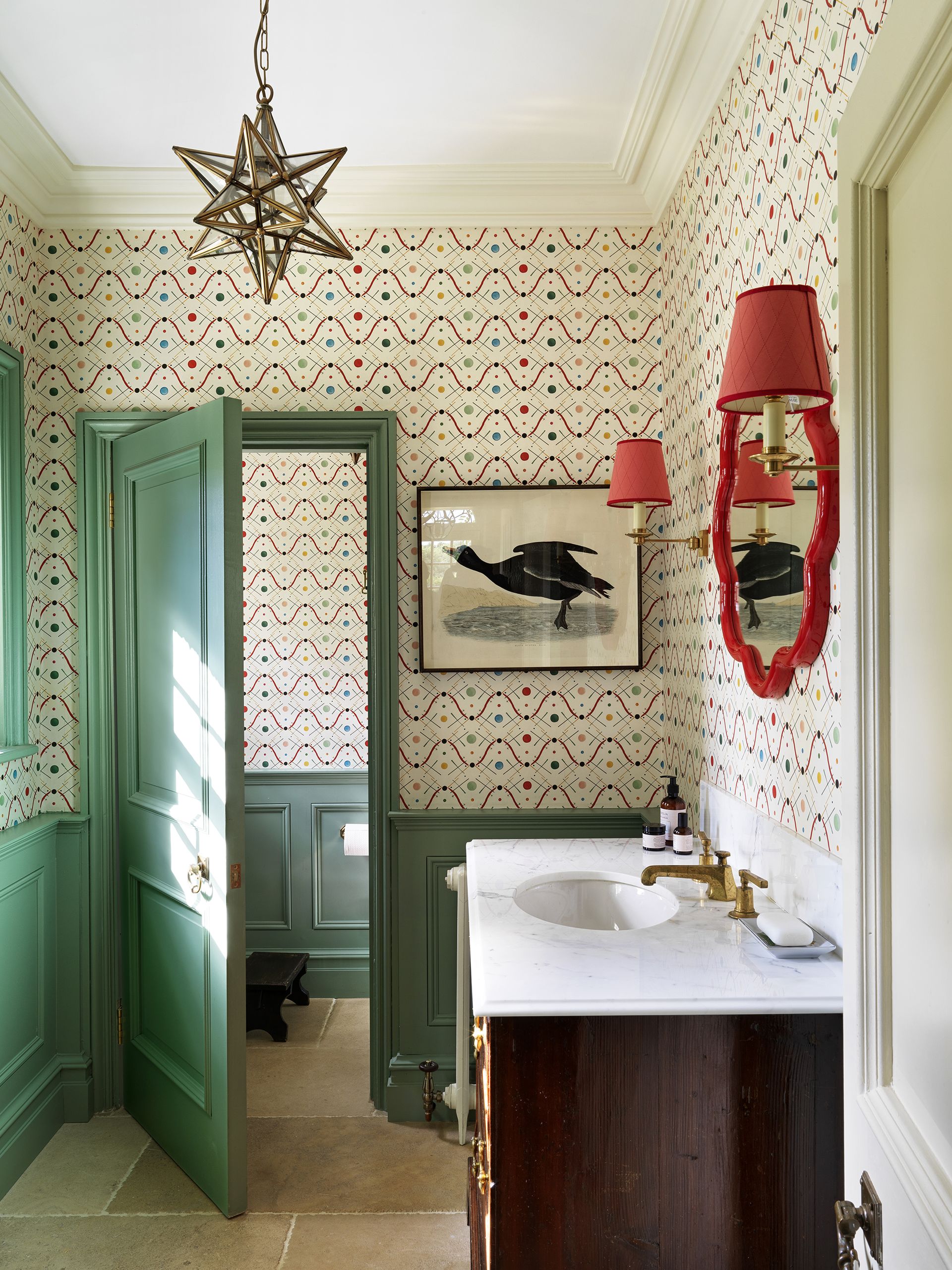 As transient spaces bathrooms and downstairs cloakrooms can make fabulous rooms for decorating with patterns. With its playful, hand-painted geometric design repeated on a cream base, Ottoline's Improvisation wallpaper makes a fun talking point and offers plenty of options for complementary colors. To balance the busy design, why not pair bathroom wallpapers with painted paneling as done here by Salvesen Graham?
10. Create calm with nature-inspired designs
To evoke a feeling of tranquility and calm then take a cue from nature and harness its nurturing properties with a sinuous botanical wallpaper. Decorating with botanicals is a look that works anywhere in the home, but nature-inspired prints are particularly suited to restful spaces like bedrooms.
'There will be a small print that's perfect for every room, with pretty florals, botanicals, and trailing designs working in bedrooms and living spaces, and bolder graphic prints or stripes working well in hallways, kitchens, and more energetic dining spaces,' says Kate French.
'As we continue to focus on the importance of well-being in the home, biophilic design continues to be very popular, not only giving an instant connection to the beauty of the natural world but also offering a sense of escape and relaxation,' adds Andy Greenall, creative director at Paint & Paper Library.
11. Make a statement with flamboyant florals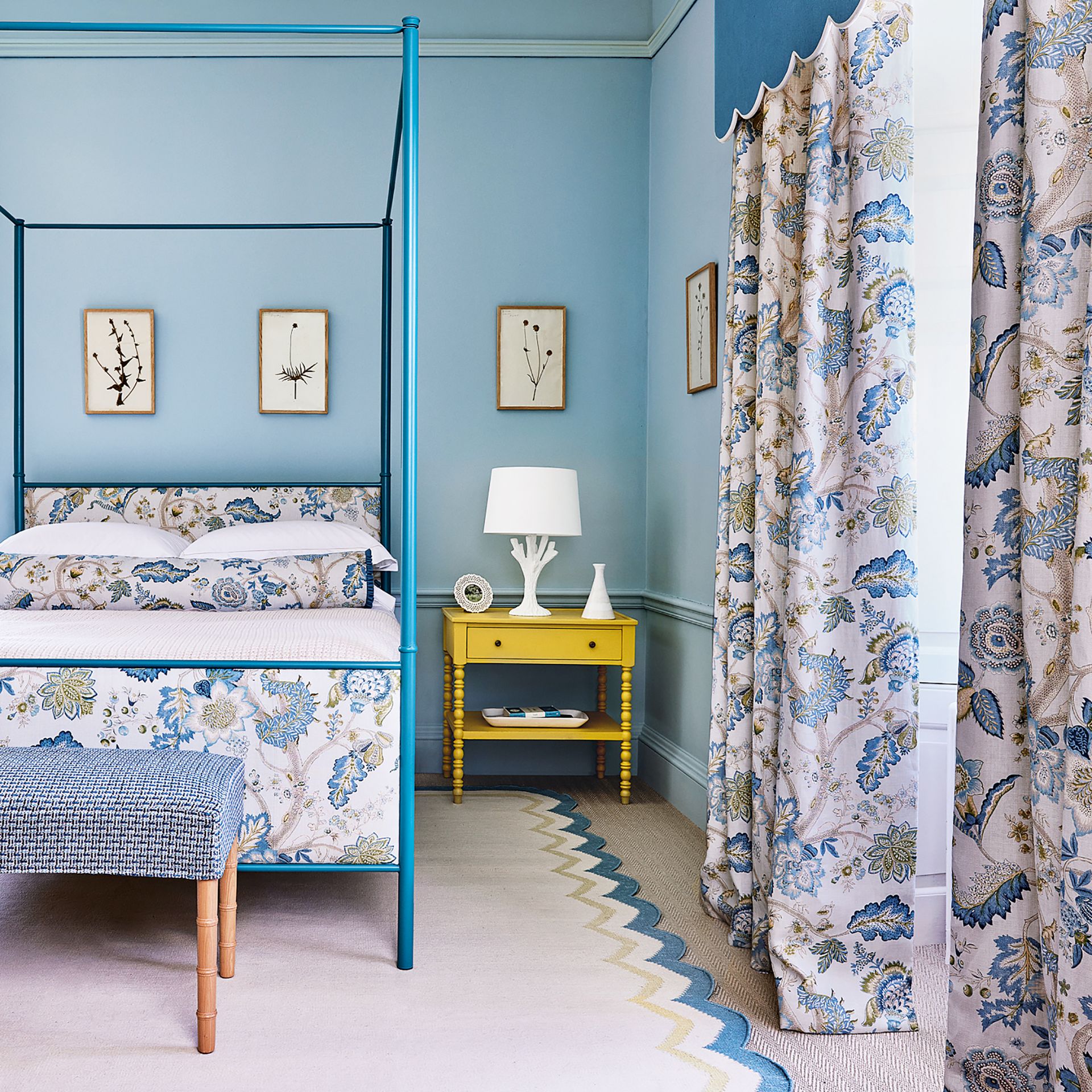 If you're looking for traditional decorating ideas you can't go wrong with chintzy florals. Used wall-to-wall in a dining room they will bring drama and a sense of occasion, but if using them in a bedroom limit them to curtains, a bedframe, or a small armchair to make sure the room remains restful and consider balancing the print with plains.
'Using the same pattern on two items in a room creates cohesion, however, don't make it too matchy-matchy,' says John Smigielski. 'You need to add elements of surprise – the bedroom would be rather dull without the dark blue pelmet, the footstool with its tweed-style weave and the dash of yellow from the bedside table. It's all about little surprises.'
How do interior designers use patterns?
There are different approaches to take when it comes to decorating with patterns and there is no right or wrong. Many interior designers suggest starting with a pattern you love, be it on a fabric or wallpaper, rug, or even a cushion is a great place to start when developing a color palette for a scheme.
'At Linwood, we would always recommend choosing a favorite design – which will be the star of the show – and then building the scheme by layering,' advises John Smigielski, marketing director at Linwood. 'Throw in large-scale florals with small-scale stripes but unite the look by choosing complementary colors so it feels unified.'
Is it okay to mix patterns?
Mixing patterns is a great way to bring color and depth into interiors but it can sometimes be tricky to do. The key to success when mixing patterns is to make sure the colors and scales are balanced. If you're looking to create an eclectic, bohemian, or maximalist look then feel free to get experimental and mix contrasting colors and tones, however, often when layering patterns it is best to keep within a specified color palette to ensure the scheme is harmonious and unified.
When decorating with fabrics, 'choosing a selection of fabrics that repeat certain colors but which vary in scale is a good place to start,' says Saffron Hare, creative director of fabric house James Hare.
'We find layering these around a room is an easy way to decorate and we try to reflect this in our decorative books. In each collection, we always include one key design that is multi-colored, as it enables the decorator to go off in all directions.'
Sign up to the Homes & Gardens newsletter
Decor Ideas. Project Inspiration. Expert Advice. Delivered to your inbox.
Pippa is Content Editor on Homes & Gardens online contributing to Period Living and Country Homes & Interiors print issues. A graduate of Art History and formerly Style Editor at Period Living, she is passionate about architecture, creating decorating content, interior styling and writing about craft and historic homes. She enjoys searching out beautiful images and the latest trends to share with the Homes & Gardens audience. A keen gardener, when she's not writing you'll find her growing flowers on her village allotment for styling projects.