Traditional decorating ideas – inspiration for timeless interiors
Ideas and inspiration for creating comfortable spaces brimming with classic elegance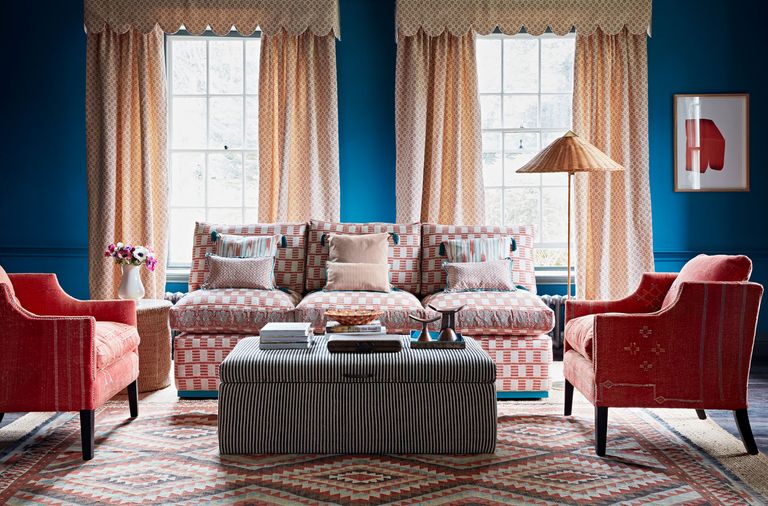 (Image credit: Future)
By Pippa Blenkinsop published
Traditional decorating has timeless charm and comfort at its heart, making it a popular choice when it comes to interior style. Far from being drab or dated, traditional interiors are easy-to-live-in, homely spaces that are designed to stand the test of time.
Taking inspiration from design history, and centered around quality rather than trends, the style is guaranteed to bring classic elegance year after year.
If you are looking to decorate in a traditional style, consider turning to nature for inspiration and embracing flora and fauna prints and natural paints, as well as investing in antique or high quality furnishings.
Read on to discover more traditional decorating ideas and inspirational interior design advice from the experts.
1. Choose romantic floral prints
Imbued with the enduring beauty of nature, floral prints will ensure a timeless feel. 'From pretty and romantic to classic or contemporary, floral designs vary as much as the blooms themselves, but all have an evocative charm,' says Daniel Slowik, associate design director, Sibyl Colefax & John fowler.
'Traditional florals imbue a room with a country-house feel, which has an associated romantic appeal. Balance them with simply styled furnishings to prevent the look from becoming overpowering.
'For example, a bold print on walls or as curtains could be offset by antique painted furniture so the room retains a calm air, or key colors in the pattern can be picked out and combined with other items in the room to create a harmonious, ordered feel.'
2. Embrace classic stripes
Timeless and so easy to coordinate with, striped fabrics are a brilliant choice for upholstery and window treatments in traditional interiors. Whether it's a French ticking linen, perfect for country homes, or chic wide-stripe cotton like this Devon Stripe above from Ian Mankin, perfect for Georgian-style properties, there's a striped fabric to suit every style of property.
3. Layer up complementary fabrics
Layering up fabrics in stylised flora and fauna prints is guaranteed to make a room feel timeless and elegant but the key is in combining a variety of complementary designs in different scales and colours, as Saffron Hare, creative director of fabric house James Hare, explains.
'Choosing a selection of fabrics that repeat certain colors but vary in scale is a good place to start,' she says. 'We find layering these around a room is an easy way to decorate and we try to reflect this is in our decorative books.
'In each collection we always include one key design that is multi-coloured, as it enables the decorator to go off in all directions. We then have fabrics we call "color carriers", which contain three colors, such as the Knot Garden, which enables you to move between colours to take a scheme in a certain direction.
'Then we always include "color enforcers", such as the new Gardyne, a screen-printed design which is a semi plain,' she explains. 'We always include a lot of neutrals, too. For those that are less easy with pattern, plains can always be lifted by adding decorative trims.'
4. Use calming colors inspired by natural pigments
Grounding and timeless, the colors of nature make a great foundation for creating a traditional scheme. 'Natural colors are often the ones that we feel most comfortable with using in the home as they are reminiscent of the tranquillity of the outdoors,' says Ruth Mottershead, creative director at Little Greene paints.
'We've seen almost a decade of grey, so people are now beginning to look for those warmer tones. This isn't about a return to magnolia or beige, these are natural tones for a timeless interior. As we're spending so much time at home, it's more important than ever to turn it into a sanctuary.'
See: Grey living room ideas – classic ways to use this timeless shade
When decorating in she suggests to, 'focus on how you would like the space to make you feel rather than current trends,' adding that 'the new Stone palette works really harmoniously for classic neutral schemes, but can also be combined with stronger highlights of color if you're looking to create something a little more contemporary.'
Also, if you live in a period property, it's worth considering decorating with the period in mind, says Little Greene director Ruth Mottershead, 'all our color cards feature a period key, so you can see which era each shade originates from. This can be really useful if you're looking to create a scheme that is in-keeping with the age of your property.'
5. Choose bespoke timber cabinetry
As the room where we spend the most time, it's important to take time to get the kitchen exactly how you want it. For a design which will endure across the years it's worth investing good quality bespoke cabinetry in the elegant proportions of a simple shaker design, as well as remembering less is more, as Helen Parker, creative director at deVOL, explains.
'Before you leave the house, look in the mirror and take at least one thing off,' I love this quote from Coco Chanel and I think it works not only for your wardrobe but for your home too,' she says. 'Stand back and hold back when designing all the elements of your kitchen and don't be tempted to buy things to fill every space. People often try too hard to get a look they have seen on Pinterest and to theme their kitchen with all the things they love and want to show, but hold back.'
Choosing an easy-to-live with neutral is a timeless option – you can see our traditional white kitchen ideas in our inspirational picture gallery – but if tastes should change, the solid wood doors can be easily be taken off, sanded down and repainted to give a fresh new look to the space without having to fork out on new cabinetry.
See more traditional kitchen ideas in our dedicated gallery.
6. Decorate with heritage wallpapers
Decorating with heritage prints will bring classic elegance to interiors, and luckily there are so many to chose from, including designs refreshed in modern colorways perfect for the 21st century and putting twist on the traditional.
Ever since their creation in the mid-to-late-19th century, the prints of Morris & Co have witnessed enduring appeal. Rooted deeply in the natural world, the timeless prints, which capture the simple pleasures of brambles, blackbirds and garden blooms, have continually been reinvented to bring natural beauty to interiors.
'Inspired by the longevity, simplicity and richness of the iconic designs, architectural interior designer Ben Pentreath has collaborated with Morris & Co to continue this story, bringing an exciting new dimension to the fabrics and wallpapers with his Queen Square collection.
'I find it extraordinary that Morris & Co. patterns, developed in the mid to late 19th century, are still as fresh and relevant 150 years later as they were then. Morris was a master of pattern and repeat; I find his patterns unequalled in their simultaneous simplicity and richness, and we return to them again and again in our work,' says the designer of their timeless appeal.
7. Choose colors that complement the style and period of your home
When choosing paints for a traditional decorating schemes first look at what you've got, explains Edward Bulmer, color expert and founder of Edward Bulmer Natural Paints.
'Always use the architectural period features as your starting point, such as the floor or the fireplace,' he says. 'These can prompt the hue and weight of color – for instance Ethereal Blue works brilliantly with mid oak floorboards, and Cerullian Blue with those of darker oak.
'The most crucial thing is the tonality and this is the backbone of our color range. If the tonality and weight suit the room and the house, then the color is genuinely a matter of choice. I try to keep neutral tones in communal areas and reserve stronger colors for the rooms we dwell in. I am less interested in impressing the visitor than creating a harmonious backdrop to everyday life.'
8. Furnish with antique pieces
Capturing the elegance of bygone eras, made by hand using traditional methods and baring the patina of age, antique furniture is a brilliant way to make spaces feel homely and characterful and are likely to last and last.
Passed down to the homeowner through the generations, this antique Knoll sofa oozes classic elegance with its curved arms and pleasing proportions.
9. Take inspiration from historic architecture
The beauty of traditional interiors is their authentic original features. If you're lucky enough to have a home with beautiful period features, such as this stunning English Elizabethan manor, with its original panelling and stone fireplace, then preserving these prized details will ensure traditional charm. Alternatively, try installing newly-made painted MDF panelled panels inspired by historic designs for a traditional country feel.
10. Splash out on an elegant roll top bath
When it comes to creating as luxurious, traditional bathroom, an authentic cast iron roll top is a must-have. Taking center stage in this elegant eau de nil and cream scheme, this Catchpole & Rye bath has been custom-painted to beautifully co-ordinate with Colefax & Fowler's Snow Tree wallpaper in Aqua above base panelling for classic, feminine feel.
See our traditional bathroom ideas for inspiration and more ways to decorate.
11. Choose curtains for a classic, cozy feel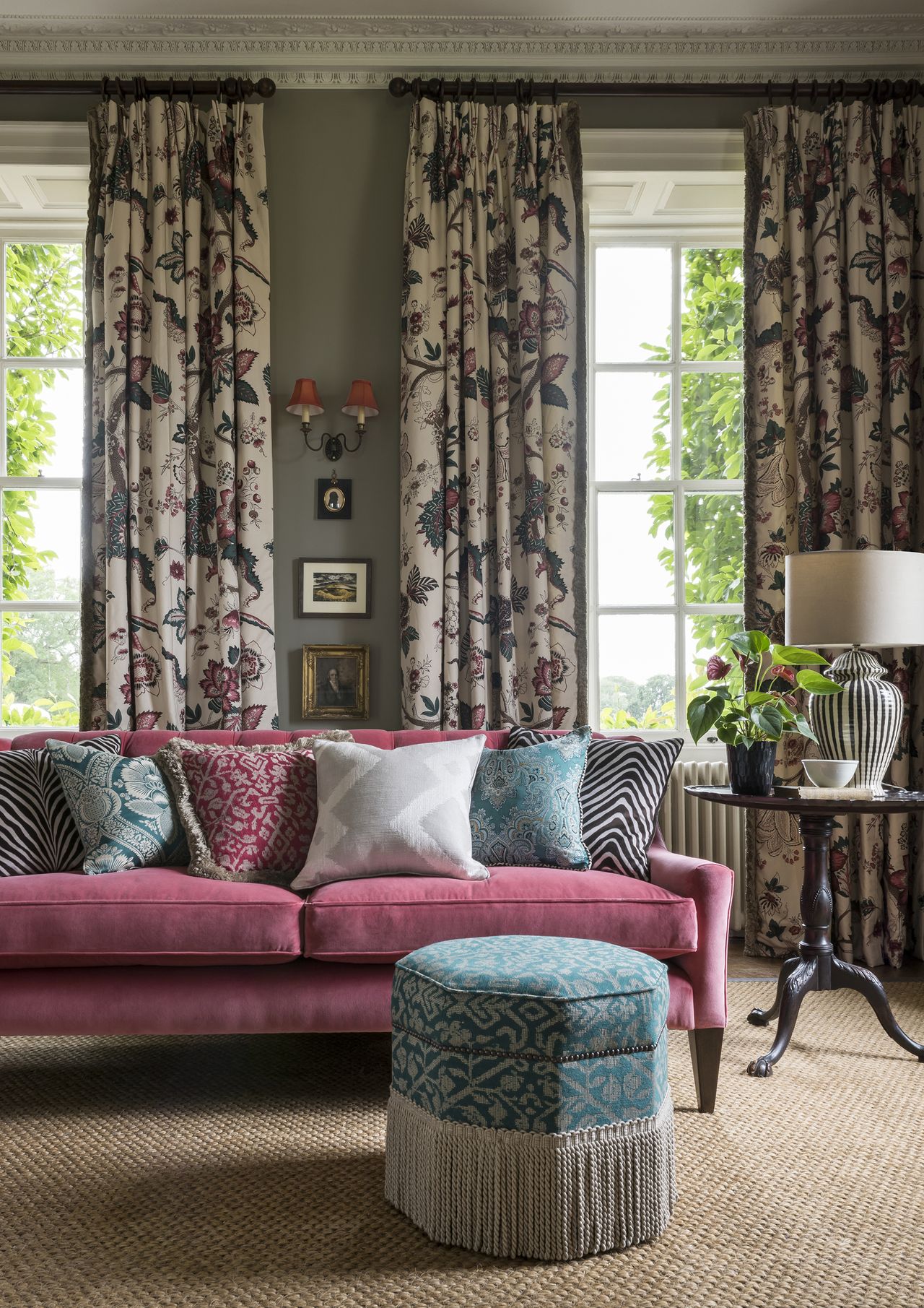 When it comes to window treatments there are numerous kinds to chose from, but for a cosy, traditional feel curtains are the way to go. These floor to ceiling drapes in Palampore Archive fabric by Warner House brings a hint of pattern and a nod to history to this living room without being overpowering.
12. Pay attention to decorative details
We have good news for lovers of traditional decorating ideas: trimmings and frills are back on trend for this year. Yes, the beloved decorative details that were so big in the 1980s are back with a contemporary makeover. Add them to sofas, curtains, cushions and even lamps for a detailed finish that's layered and lovely.
Lover of all things vintage, floral and country, Pippa has been working in interiors media for 10 years. A graduate of Art History, and Style Editor for Period Living magazine, she is a nostalgic soul who is passionate about historic architecture and traditional craftsmanship. When she's writing about homes and gardens you'll find her pottering on her Gloucestershire allotment, Pippa's Plot, where she grows flowers for styling her own home and interiors shoots.